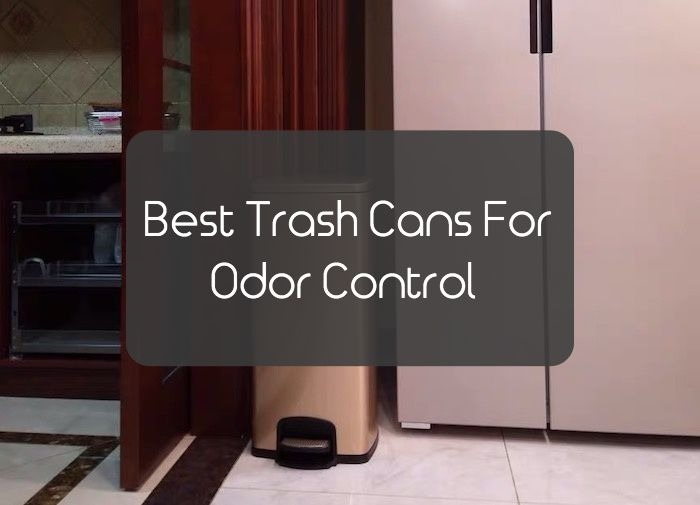 We are reader supported. When you purchase through links on our site, we may earn an affiliate commission. Also, as an Amazon affiliate, we earn from qualifying purchases.
No one wants to come to a stinking home or work in a kitchen that smells like garbage. Fortunately, we have trash cans to take care of that but they don't have to look like the waste you put inside them. Who says garbage bins can't be an epitome of beauty and functionality?
Trash cans can be cool and chic too. They can match your décor and look great in the kitchen while concealing the wastes and bad odor within. However, with so many options and features available, choosing a garbage bin for your home is easier said than done.
To make it easier, our team spent hours diving in the sea of dumpsters, reviewing and comparing products to find the best trash cans for odor control. Read on to find the detailed reviews of each product with its features, benefits, and downsides.
If you are in a hurry and don't have the time to read all the reviews then we would suggest that you go with our editor's top pick – iTouchless Touchless (shop now) that boasts a smart and sturdy construction with intelligent technology that enables you to dispose of wastes without touching the bin. It also keeps bad odor away and comes at a reasonable price.
| | | | | |
| --- | --- | --- | --- | --- |
| Features | iTouchless SoftStep | iTouchless Touchless | GLAD GLD-74507 | AmazonBasics Trash Can |
| Dimensions | 13 x 16.8 x 26 inches | 13 x 12 x 22 inches | 16.4 x 14.2 x 29.1 inches | 14.8 x 13.6 x 26.4 inches |
| Weight | 13 pounds | 6.4 pounds | 12.38 pounds | 12.65 pounds |
| Filter | Activated carbon filter | Activated carbon filter | Cloroxtm odor protection | NA |
| Capacity | 13.2 gallon | 8 Gallon | 20 gallon | 10.5 gallons |
| Material | Stainless steel | Stainless Steel | Stainless Steel | Stainless Steel |
| Fingerprint-proof | Yes | Yes | Yes | Yes |
| Warranty | 1 Year Warranty | 1 Year Warranty | 5-year limited warranty | NA |
| | See Price | See Price | See Price | See Price |
---
Elegant, shiny, sleek, and compact, what's not to love about this iTouchless SoftStep trash can. Besides its gorgeous design, the exterior is made from smudge-resistant and fingerprint-proof stainless steel that is so easy to maintain. It can beautifully complement any kitchen or office décor. The can comes with an ergonomically-designed steel pedal designed to last over 25 years. With minimal force on the pedal, you can easily open and close the lid without making any noise. The smooth performance and sturdy construction keep it working like new for years.
The iTouchless trash can comes with an effective odor control system with the filter capable of absorbing and neutralizing bad odor in a natural way. So, you always come back to a nice smelling home, regardless of what you have in the dustbin. The removable inner bucket makes it easier to dispose of the waste and clean it separately. The non-skid base has rubber pads to ensure that it stays firmly on the ground and it can easily fit any standard trash bag of 13-gallon capacity. The manufacturer backs up the product with a two-years service and dedicated customer support.
Products features and specifications
Measures 13 x 16.8 x 26 inches
Weighs 13 pounds
13.2-gallon capacity
Durable Stainless Steel
Lasts over 200,000 steps
Custom bags not needed
Sturdy, smooth pedal
Slim and space-saving design
Antimicrobial, fingerprint shield
1 Year Warranty
Customer/ User reviews
Most people are impressed with not just how well this trash can keep bad odor away from home, but also how good it looks in the kitchen. Users have also said that the trash bags are easy to replace and fingerprints can be cleaned with minimal effort. A few users have cautioned that a few parts broke after some months but the manufacture stands behind their products and send replacement parts quickly.
Conclusion
If you are looking for a smart and fashionable garbage bin to match your contemporary kitchen and complement the décor, this iTouchless SoftStep is the right choice. Overall, this is a good looking and highly functional trash can at a reasonable price.
---
Do you like all home appliances to be smart enough to work with sensors? You don't need to compromise with your garbage bin because iTouchless has just the thing for you. This touchless sensor kitchen trash can is fully automatic and opens the lid by sensing the motion of your hands, making it an extremely convenient and hygienic product to use. It also comes fitted with one natural carbon filter to absorb all the bad odor so that you come home to a fresh-smelling environment. We also love the sturdy and smudge-resistant stainless steel construction that makes it easier to keep clean.
The trash can sport a sleek and stylish cylindrical design that goes well with any kitchen or office décor. It can be powered by two ways – 4 D batteries (not included with the product) or AC adapter. The 8 Gallon capacity in its round shape ensures that it can hold a lot of trash at once, which makes it perfect for a busy kitchen or crowded office. As a space-efficient trash bin, it provides 25% more capacity than a regular trash can. The manufacturer stands behind the product with a full-service promise and dedicated customer support.
Product features and specifications
Measures 13 x 12 x 22 inches
VisioSense- Visual Status Alert
Reflx Technology- Instant Lid Re-open
Stainless steel body
8-gallon capacity
Absorb X Technology
Larger capacity per inch
Extra-wide 9.25″ opening
Activated Carbon filter
Dedicated customer support
Air vents for airflow
1 Year Manufacturer's Warranty
Customer/ user reviews
Customers seem to love the bit of technology and convenience iTouchless brings into everyday appliances, making home smarter. Some users have said it helps in keeping their dog away from the trash can as the automatic shut-down lid scares furry friends away. While the sensors work great (they miss rarely) and can look extremely attractive, some people think the quality of the product can be improved.
Conclusion
If you love the feeling of having appliances that pick up sensors and act accordingly then you will be glad with this trash can. It works as promised and does a great job of keeping your kitchen or office smelling good despite having a load of waste within. We feel this is one of the best garbage bins for odor control.
---
A large family with a super busy kitchen or a big office needs a garbage bin with huge capacity, and we recommend the GLAD GLD-74507 trash can. With an enormous 20 gallon capacity, it is capable of accommodating 50% more waste than any regular bin and requires you to take out the trash bag fewer times. You can use any standard black bag of 20-gallon capacity and the bag ring keeps it neatly tucked into the sides without falling inside, making it easier to take the garbage bag in and out of the trash can. There's also a rear bag compartment to store extra bags for later use.
We are impressed with the Cloroxtm odor protection technology that absorbs the bad smell and inhibits the growth of bacteria, thus keeps your house healthy. Made from sturdy stainless steel, the trash can boasts a robust and durable construction. The exterior is fingerprint resistant so it stays smudge-free and easier to clean. It comes with a quiet step operation with a soft-close lid closure to ensure smooth and convenient use. The manufacturer stands behind the product with a 5-year warranty on material and workmanship defects. It also comes with a 30-day money-back guarantee.
Product features and specifications
Measures 16.4 x 14.2 x 29.1 inches
Weighs 12.38 pounds
20 Gallon size
Stainless steel exterior
Antimicrobial lid protection
5-year limited warranty
No fingerprints
Noiseless and smooth operation
Easy garbage bag storage and dispenser
Customer/ User reviews
Users enjoy the immense capacity of this trash can and its ability to hold a lot of waste without having to empty it often. People have praised the modern design and sturdy exterior that makes it look great in any kitchen decor. A few users have cautioned that the trash can comes with one major design flaw and that it requires three hands to pull out the garbage bag (due to an inner lid that does not stay in place).
Conclusion
People who need a really large trash can or don't like replacing the garbage bags too often will appreciate its huge capacity. This product is well built and smartly designed for use in large families or offices. At this price, you get a highly convenient and useful trash can.
---
Add a dash of modernity to your kitchen space with this rectangular-shaped garbage bin from the AmazonBasics family. Beautifully designed and compactly shaped, this can helps to keep your wastes properly concealed and matches well with your kitchen décor. The exterior is made from smudge-resistant stainless steel material and minimal look gives it a neat appearance. The lid closes softly to ensure that it does not make any noise and the effortless manual foot level gives you hands-free convenience each day. This multipurpose waste bin can be placed in the office, laundry room, or bathroom, to experience functionality with style.
Despite the sturdy contrition, the trash can is extremely lightweight and includes an inner basket made from a heavy-duty plastic material. This basket can be easily pulled out of the trash can for easy disposal of wastes. With a capacity of holding up to 10. 5 gallons of wastes, you don't need to empty the trash can too often. We love the lid stay open mode that keeps the cover at 90-degrees, which makes it easier to replace the trash bag. There are non-slip rubber pads at the bottom side of the garbage bin to ensure that it stays rooted on the ground. The foot pedal is also well-built and strong enough to survive up to 100,000 steps.
Product features and specifications
Measures 14.8 x 13.6 x 26.4 inches
Weighs 12.65 pounds
10. 5-gallon capacity
Quiet and Soft-Close Lid
Stainless Steel Construction
Soft-close lid
Fingerprint proof
Smudge resistant
Customer/ User reviews
Those with small kitchen have said that this sleek and compact trash can fits perfectly into space, adding a bit of modernity to space. People love the way the lid closes smoothly without any making any loud bang hence there's no disturbance in the environment. A few users have said that the outer steel construction is sturdy but slightly thin and that the inner plastic basket has a chemical smell that goes away after some time.
Conclusion
This is one of the most affordable trash cans in our list, hence we don't mind if it does not last that long. You will still get a good value for the money spent on it. Overall, we feel this garbage bin a great buy for kitchens in city apartments and small offices. 
---
Tips To Choose The Right Trash Can
When buying a trash can, some important things to consider are the location where you plan to keep them, the volume or capacity required, and compatibility in terms of manual or automated lid lifting.
The waste disposal container you choose should have a tight lid that locks the bad odor inside and prevents invasion by insects and bacteria.
Look for features that make it easier to handle the garbage bin. You can benefit from wheels, rollers, dollies, or handles. Removable tops or vented options are also useful.
Be mindful of the emptying schedule and whether you can use reusable bags in the trash can. If you need to empty them often and use custom bags every time then this is not a cost-effective solution.
Related Article:
6 Best Air Freshener For Litter Box Area
Badger 15ss VS 900 (Here's The Difference)
5 Easy Steps To Organize Your Kitchen Utensils