7 Best 4000 Psi Pressure Washers To Buy In 2023
There's nothing like a clean and stain-free house, but sometimes outdoor stains and dirt can be hard to get rid of. House owners look for various options that clean effectively and take less time too. Pressure washers are one of them and they are highly regarded for their ability to remove industrial-level stains too.
While they are amazing at cleaning outdoor areas, especially concrete, no two pressure washers are the same. These appliances are not interchangeable as they differ widely in terms of capacity, design, power, specifications, and where they are meant to be used.
Pressure washers less than 5000 Psi are low-pressure units used for cleaning outdoor spaces without causing any damage or serious hazard. If you looking for domestic use then we recommend using the best 4000 Psi pressure washer available online.
We know it's challenging for the average consumers to find that perfect product out of so many brands and models available online. To make your task easier, we have handpicked some of the best products after carefully reviewing, comparing, and analyzing them.
Read on to find the complete review of items carefully selected by us. If you are in a hurry to order then we recommend the Generac 8872 XC Series 4000PSI 3.5GPM Commercial Grade Pressure Washer. It boasts sturdy construction, looks great, and delivers a powerful performance of cleaning the concrete floors and other surfaces.
This gas pressure washer comes from the house of Simpson, and it belongs to their Aluminum Series 4200 PSI at 4. 0 GPM. It boasts a lightweight, yet sturdy aircraft-grade aluminum construction and houses a powerful HONDA GX390 engine with a durable CAT triplex pump.
The ALH4240 includes a 50-inches hose, an ergonomic spray gun, and five connect nozzles to give you a perfect blend of maneuverability and performance. It is designed in a way to cater to the demands of heavy-duty outdoor cleaning on concrete floors and so on.
This pressure washer works perfectly for those who are in the business of wood restoration, deck cleaning, graffiti removal, paint preparation, and other professional cleaning services. It is backed by a 3 year limited warranty on engine, 5-year limited warranty on pump, and 1 year limited warranty of frame.
Product features and specifications
Measures 38 x 24 x 26 inches
Weighs 124 pounds
Honda GX390 engine
Cat industrial Triplex plunger pump
13" Premium pneumatic wheels
5 quick connect nozzle tips
100% functionally tested
User/ Customer reviews
Users are impressed with the capacity of the washer that helps to clean the dirt from the driveway or walkway with ease. People have also mentioned that the engine is also nicely muffled for a large engine and the 50-foot hose is perfect for any domestic needs. A few customers have warned that the customer support is not that helpful in case of any damage.
Conclusion
The SIMPSON Cleaning ALH4240 (see Amazon) is a well-built air pressure perfectly suited for domestic use and it comes with the required accessories to help you clean with ease. Equipped with pneumatic wheels, it's easier to take the machine from one place to another. Overall, this gas pressure unit offers you a good value for money.
---
This heavy-duty and CARB Compliant professional pressure washer comes from the family of Generac and belongs to the XC series. It is gas-powered and equipped with a 13 horsepower GX390 Honda engine to take less effort and time to clean the large areas with ease.
The Generac 8872 features a well-designed and insulated gun and wand assembly, with five quick-connect nozzles to give you immense power for cleaning dirty areas. It also houses a CAT Brand Triplex Plunger Pump that keeps the engine cool, and lets it perform quietly and reliably.
Made from an innovative aircraft-grade aluminum frame, the pressure washer also comes with thermo sensors that help prevent overheating of the unit in bypass mode. The double-padded shock-absorbing feet ensure the safety and the product comes backed by a lifetime manufacturer warranty.
Product features and specifications
Measures 51 x 23 x 32 inches
Weighs 150 pounds
Honda GX390 engine
Adjustable pressure unloader
Aircraft-grade aluminum frame
Pneumatic tires
50 mesh inlet filter
Low oil indicator shut down
User/ Customer reviews
Users have highly praised this 4000 PSI gas pressure that is extremely easy to start like most Honda motors and comes with a good quality hose and gun. People are also happy with the performance and power of the unit that helps in cleaning dirty outdoor areas effectively. Some users have warned that a few fittings are cheap and tend to corrode soon.
Conclusion
The company has done a good job with not only the sturdy and effective construction of the unit but also with the customer support which is very efficient. They go out of their way to give advice and suggestions to customers to help them make the maximum use of the product. All in all, we feel this is really a good investment to keep your home exteriors clean.
---
The Champion's commercial duty 4200-PSI gas pressure washer features five nozzles,10-inch tires, a 50-foot high-pressure rubber hose, and an AR Triplex Brass Head pump.
Powered by a Champion 389cc engine, this unit provides professional cleaning power in a practical design.
When it comes to robust and efficient outdoor cleaning, the Champion Power Equipment 4200-PSI Gas Pressure Washer emerges as a standout choice. This pressure washer offers a powerful cleaning solution tailored to handle a variety of tasks with ease.
What we really like about the Champion washer and the reasons why it's on this list are:
Effortless Maneuvering: With its low profile design and sturdy tires, moving the pressure washer is convenient and efficient.
Effective Detergent Use: The onboard detergent tank and hose make applying cleaning agents hassle-free.
Responsive Support: Champion's customer support has been praised for its helpfulness and quick response.
Product features and specifications
4200-PSI pressure rating with 4.0-GPM flow rate
Designed for commercial duty and professional cleaning power
Equipped with five quick-connect nozzles: 0˚, 15˚, 25˚, 40˚.
50-foot commercial-grade steel braid reinforced high-pressure hose with ⅜" Quick Connects
2-foot detergent hose for the onboard 1-gallon detergent tank
Hose storage strap and onboard storage for hose, trigger gun, and spray wand
Powered by a Champion 389cc engine with a 1.6-gallon fuel tank and low oil shut-off sensor
Operates at 68 dBA from 23 feet, EPA certified for reduced environmental impact
Backed by a 2-year limited warranty and FREE lifetime technical support.
User/ Customer reviews
Users who have experienced the Champion Power Equipment 4200-PSI Gas Pressure Washer. have been consistently impressed by its performance and convenience. I checked all Amazon reviews (yeah, I do that. I like to take informed decisions):
Exceptional Cleaning Power: The pressure washer's 4200-PSI rating and 4.0-GPM flow rate deliver impressive cleaning power, effortlessly tackling various outdoor cleaning tasks.
Versatile Nozzle Options: The inclusion of five quick-connect nozzles provides users with versatility, allowing them to adapt the pressure washer's performance to different cleaning needs.
Durable Build: Users appreciate the robust steel frame and commercial-grade components that ensure the pressure washer's longevity and reliability, even under demanding usage.
Convenient Storage: The hose storage strap and onboard compartments for hoses and accessories simplify storage and keep everything organized.
Conclusion
The Champion Power Equipment 4200-PSI Gas Pressure Washer lives up to its name by providing cost-effective professional cleaning power for a range of outdoor cleaning tasks. With a combination of high-performance components, practical features, and a focus on durability, this pressure washer has garnered positive feedback from users. Whether you're tackling patio cleaning, vehicle maintenance, or other outdoor projects, the Champion 4200-PSI Gas Pressure Washer offers a reliable and efficient solution backed by Champion's reputation for quality and support.
---
The next product on the list is NorthStar Gas Cold Water Pressure Washer that is equipped with a 2000 watt motor and features a pressure as high as 3800 psi at 3.5 GPM. It serves best to help you round with the domestic needs such as cleaning the driveways, terraces, decks, ships, RVs, and so on.
The pressure washer comes with four adjustable nozzles and a removable soap bottle with four nozzles to provide different intensity of pressures that suit various cleaning applications. You can fill up the soap bottle with your choice of detergent and spray it over the surface to improve the cleaning performance.
The NorthStar Gas Cold Water Pressure Washer comes equipped with an automatic total stop system or TSS that automatically shuts down the pump to save energy. This power cord with embedded GFCI can be used safely on all types of external sockets. We are impressed to know that the product comes backed by a two-year warranty and if you are not happy with the unit, you can always claim your 30-day full refund.
Product features and specifications
Impressive Cleaning Capability: With a robust 4200 PSI pressure rating and a 4.0 GPM flow rate, this pressure washer is engineered to deliver uncompromising cleaning power.
Reliable Kohler Engine: Powered by a Kohler engine, the pressure washer offers consistent and dependable performance, ensuring you have the necessary force for demanding cleaning tasks.
Adaptable Nozzle Selection: Choose from five quick-connect nozzles (0°, 15°, 25°, 40°, and soap) to tailor the pressure and spray pattern, providing versatility for different surfaces and cleaning needs.
Commercial-Grade Durability: Constructed with commercial-grade components, this pressure washer is built to withstand rigorous usage, ensuring longevity and reliability.
Long-Reach Hose: The 50-foot non-marking hose is both flexible and abrasion-resistant, allowing you to access hard-to-reach areas without frequent repositioning.
Triplex Pump Technology: Equipped with a high-quality triplex pump, the NorthStar Pressure Washer ensures consistent water delivery, contributing to its exceptional cleaning efficiency.
Professional Spray Gun: The pro-style spray gun and lance offer precision and ease of use, empowering you to target dirt and grime with accuracy.
Onboard Detergent Application: The integrated soap dispenser simplifies the process of applying detergents, enhancing cleaning effectiveness for various surfaces.
Compact Design: Despite its powerful performance, the pressure washer's compact design and sturdy wheels make it surprisingly portable and maneuverable.
User/ Customer reviews
Most users have said that the pressure washer machine is a powerful machine that comes with a few parts that are easy to assemble together. Many customers have said this is a must-have cleaning tool for your home or vehicle. A few customers have warned that the sprayer leaks a lot of water although everything else works pretty fine.
Conclusion
This NorthStar Gas Cold Water Pressure Washer (See Amazon) is all you need to get your fences, cars, home, walkways, and driveways sorted and dust-free. It not only boasts a sturdy construction but also features a powerful motor and adjustable nozzles to get the job done efficiently. Overall, we feel that this unit delivers an amazing price to performance ratio.
---
If you are seeking electric washers then we recommend the PowRyte Elite Power Washer (see Amazon) that comes powered by a sturdy 1800 Watt copper motor. It is capable of generating a maximum of 4500 PSI water pressure at 3.5 GPM water flow for enhanced quality cleaning to get rid of dirt, grime, rust, and gunk.
The electric pressure washer comes with 4 different nozzle tips that eject cold water with pressure to clean different types of surfaces such as cement, siding, washes decks, pools, pavement, cars, trucks, RVs, ATVs, outdoor furniture, garbage cans, animal cages, and more.
The PowRyte pressure washer comes with a 35 feet long cord and a GFCI plug to ensure user safety. It includes a 25 ft high-pressure hose that gives you a much larger washing area. There is a water inlet temperature of 104 degrees Fahrenheit. Total Stop System(TSS) switches off the pump automatically to save energy and add more years to the machine.
Product features and specifications
Robust Cleaning Power: The pressure washer delivers a maximum pressure of 2200 PSI, ensuring efficient removal of dirt and grime from various surfaces.
Wide Cleaning Coverage: With a high flow rate of 1.8 GPM, the PowRyte Electric Pressure Washer covers a substantial area, making quick work of your cleaning chores.
Durable Build: Built with longevity in mind, the pressure washer's sturdy construction and quality components contribute to its lasting performance.
User-Friendly Design: The integrated Total Stop System (TSS) automatically shuts off the pump when the trigger is not engaged, saving energy and prolonging the pump's life.
High-Pressure Hose: The 20-foot high-pressure hose provides ample reach and flexibility during cleaning tasks.
Warranty Assurance: The product is backed by a one-year warranty, providing peace of mind for your purchase.
User/ Customer reviews
Many users have appreciated the exterior solid construction and motor power that helps in creating a tough pressure to remove the dirt and grime. Some customers have mentioned that the description seems to be misleading as the motor cannot generate 4500 psi as mentioned.
Conclusion
While some users have raised a question regarding the psi mentioned in the product description, nevertheless the PowRyte Elite Power Washer 4500PSI (shop now) is a good choice for domestic use. It is a handy product to have at home to keep the walkways, driveways, patio, and backyard clean and spot-free. Overall, this is a good buy for sure.
---
This is an efficient and powerful gas pressure washer by TEANDE, a brand known for offering high-quality pressure washers. Equipped with a 7.0HP 4-stroke OHV engine, this pressure washer can generate a maximum pressure of 4200 PSI and 2.8 GMP of water flow.
The unit comes with a 25ft high-pressure hose that can be used for cleaning various surfaces and easily moved around. There is also a 3.6L gas bottle to provide enough detergent to help you clean more efficiently. There are 5 nozzle tips to help you reach the hard to reach corners on terraces and walls.
The Power Washer TEANDE is fortified by robust steel framing and uses abrasion-resistant materials in the making to stay more dependable, strong, and anticorrosive. It also comes backed by a two-year manufacturer warranty and professional tech-support for the customers.
Product features and specifications
Maximum pressure – 4200 PSI
7.0 HP 4-stroke OHV Engine
25ft High-Pressure Hose
10in Pneumatic Tires
Ergonomic spray gun
Brass Alloy Joint
Easy to move and operate
2-year warranty service
User/ Customer reviews
Those who have bought the Power Washer TEANDE gas pressure washer are extremely impressed with their buy as it helps them reach to the various corners in the concrete areas. Customers can use the pressure washer on all areas including the garage, walkway, backyard, and so on. A few customers have warned that the machine can be slightly heavy to maneuver around.
Conclusion
If you are looking for a powerful pressure washer for domestic use, we recommend the Power Washer TEANDE. It comes with the right combination of power and features to give you an amazing performance. Overall we feel that this gas pressure washer is completely worth the money you pay for it.
---
This Pecticho Electric Pressure Washer comes equipped with a powerful 1800W copper motor that generates about 5000 PSI at 4.0 GPM to tackle some of the most heavy-duty cleaning jobs. Fitted with a brush motor, the unit is capable of removing dirt and dust from roads, cars, and other concrete areas.
There are five quick-connect nozzles with various sizes such as 0º, 15°,25º, 40° and soap to allow the pressure of different settings from low to high. With a built-in detergent tank, the pressure washer helps to clean a wide range of surfaces and also saves energy by automatically shutting down the pump when not needed.
The Pecticho Electric Pressure Washer comes with a 35 ft cord and UL listed plug to give you more safety and a 26.2 ft high-pressure hose to clean efficiently. It also has a water inlet temperature of a maximum of 104 degrees Fahrenheit for best results on all surfaces.
Product features and specifications
Measures 36 x 15.5 x 15 inches
Weighs 34.2 pounds
5000 PSI and flow 4.0 GPM
1800-Watt copper motor
104 degrees Fahrenheit
35 ft cord with UL listed plug
Five quick-spray nozzles
TSS (Total Stop System)
User/ Customer reviews
Most homeowners find the Pecticho Electric Pressure Washer perfect to meet their light to heavy-duty needs within the house or outdoors. Users are impressed with the intelligent thermal sensors that deliver an excellent performance and prevent overheating.
Conclusion
This is one of the well-built pressure washers that feature a powerful motor that generates a lot of power and helps to remove excess dirt and grime. With safety features against overheating, this pressure washer promises to stay durable for long. At this price, this is one of the best investments you can make to keep your home exteriors clean.
---
Buying Guide: Best 4000 Psi Pressure Washer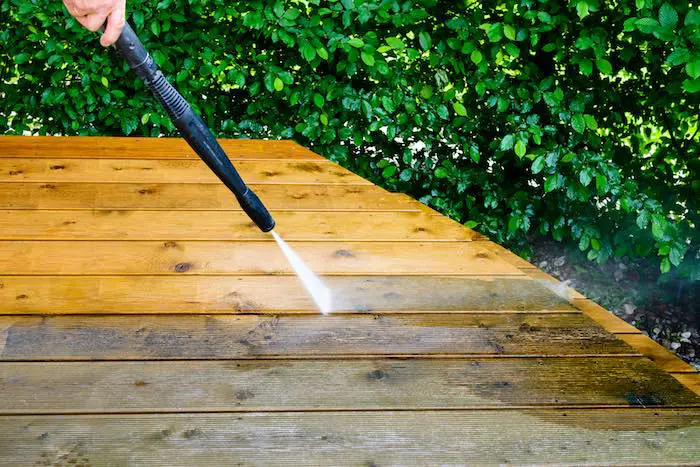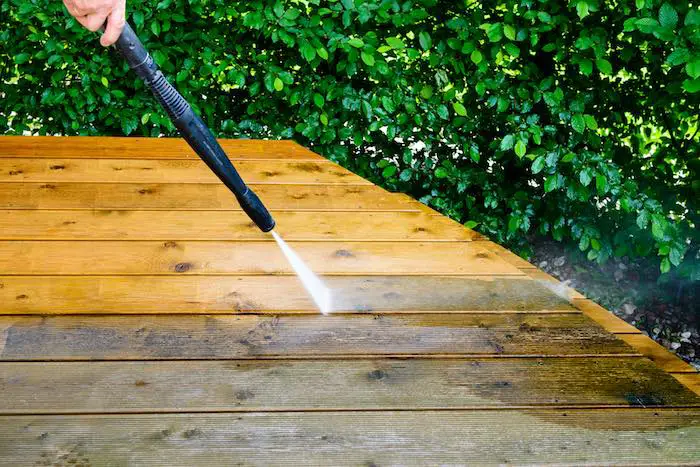 Although the products mentioned above are carefully selected by our team to fit your pressure washing requirements, you may still need to narrow down your search. We have created a list of things that you need to consider to find that perfect unit that meets your specific requirements.
#1. Cleaning power and pressure ratings are not the same things, but different units of measurements in gas-powered motors. They come in different capacities with versions that range up to 15 hp. The engine usually determines the pressure with which water is ejected, and higher the pressure, the more efficient the cleaning job will be.
#2. When choosing a suitable design for your pressure washer, we recommend that you look for a robust frame that should be capable of handling heavy-duty jobs. You may also look for extra features such as inflatable tires and a telescopic handle.
#3. Spray nozzles are useful and vital components that harness the energy of pressure washer, enabling it to produce water sprays. When you don't have the right nozzles, you cannot control all power the machine generates, resulting in terrible coverage.
#4. As the pressure washers are heavy-duty industrial machines, they are mostly fueled by a gas-powered motor. The tank restricts the run time of the washing machine between the fills. As you will need to carry the unit with you wherever you go, we suggest that you choose the right weight that you are comfortable with.
#5. Choosing the right frame is extremely important for your pressure washer as it forms the backbone of the unit. As the frame has the responsibility of holding the gas tank and motor, you need to ensure that it is capable of holding the weight. So, choose a model that is robust, durable, and corrosion-resistant too.
#6. Portability is an important aspect that you need to consider before choosing a pressure washer. Most of the models come with set air-filled tires that are mounted to enable easy movement of the unit. It also helps in moving the machine around and overcoming obstacles. We suggest that you avoid models that have plastic wheels as gravel and sand tend to lock up their movement.
#7. As you will be carrying around the pressure washer to places, we suggest that you choose a model that comes with a telescopic handle for easy access and movement. Some models don't come with handles so if portability is important for you then ensure that you choose a suitable product.
#8. If this is your first high-pressure washer then you must emphasize on choosing a model that offers user-friendly function and operation. Please be aware that these units produce a lot of pressure that may lead to injuries if not handled with care.
#9. When purchasing a high-pressure unit, remember that there will also be many risks involved. So, you need to look for a model that comes with safety features to protect if anything goes wrong. Besides other things, there should at least be an engine kill-switch to prevent the machine from overheating.
#10. Let's not forget the weight of the unit as it will also greatly impact how well you are able to use it. The heaviest part of the pressure washer is the engine, and the frame will comprise 60% of the total weight. You should also consider the size of the gas tank, both when it's empty and when it's full.
Related Questions
What tasks can you accomplish with a 4000 Psi Pressure Washer
These are high-pressure washers that you may use for domestic home tasks such as cleaning the walkways and driveways. You may also use them for a wide range of landscaping and contracting tasks to remove the tough dirt, oil, and grime.
What accessories are best suited for a pressure washer
We suggest going for a spray gun if the model does not come with one already. There are several after-market nozzles that you may choose for your diverse cleaning functions.
Does my high-pressure washer need servicing
Yes, you need to service your high-pressure washer just like you do for your vehicle. For example, if you don't service your car, it may result in an engine failure in the future. It works the same way for pressure washer engines too.
See Also:
4 Best Pressure Washer For Pool Deck
Can You Use Dish Soap In A Pressure Washer
3 Best Pressure Washers With Adjustable PSI