7 Best Air Fryers for Large Families for 2023
When you have several family members living in the same home, then cooking means everything is double or triple it might be for a couple or a single individual household. Buying appliances that fit the needs of a larger family means doing research and looking at the capacity and materials of items to get the right product. This article will go into detail about seven of the leading air fryers for cooking lots of food for parties, group meals, and batch cooking.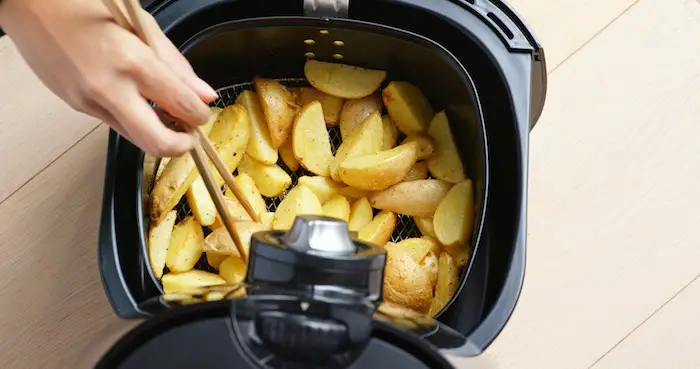 Choosing the right air fryer means getting an item that is versatile. How many different items you can cook and the ways you can use your appliance may be an important factor when you consider air fryers. Some people prefer to bake or air fry while others may want the convenience of a rotisserie for cooking whole ducks, chickens, and racks of ribs.
Selecting an item with an opening big enough to accommodate casserole dishes and whole birds is another thing to consider. For example, people wanting to cook a huge roast need a door that will fit a pan big enough to cook the meat. Items that clean up easy and air fryers with several accessories may also be appealing to buyers.
When you just want to pick an item now, then you might prefer the GoWise Deluxe (learn more). This air fryer comes with a basket, roasting tray, rotisserie rack, and more. The machine can handle over 12 quarts of food. Plus, it doubles as a food dehydrator, allowing you to create more snacks and treats for hiking, camping, and food storage.
Comparing the Top Seven Best Air Fryers
When you love the taste of a crisp French fry or piece of fish, then getting a good crunch on the outside with a soft and juicy middle is crucial. The Instant Omni Pro air fryer lets consumers get this texture on every inch of food with a round basket. This basket sits in the center of the fryer and rotates to get an even cook on everything from sweet potatoes to zucchini, squash, and even chicken strips.
Fryer benefits and features
1,800 watts
Holds up to 16.9 quarts of food
May clean parts in the dishwasher
Door removes for fast and easy cleanup
Food safe materials
10 cooking preset controls
Easy push-button functions and display
Glass door for viewing food as it cooks
Comes with tongs, a drip tray, dehydrator racks, skewers, an oven mitt, and a basket
Cons
Cooking full chickens may cause the food to hit the heating element
Cannot use around people with hearing aids or heart devices like pacemakers
Fried foods come out very dry
Consumer feelings
Many people love using this air fryer as a rotisserie. Some people talk about roasting pork chops and coconut chicken in this device. They appreciate the crisp coating and even texture the machine puts on foods. Some users find there is a learning curve to operating the air fryer. At first, things may come out burnt on one side or raw in the middle until you know how to adjust the temperature and cooking time.
Conclusion
We enjoy using the basket for french fries and chips in this air fryer. The machine cooks them well with an excellent crisp. The Instant Omni Pro air fryer is excellent for teens who want to heat snacks like pizza rolls, mini-bagels, and nuggets. Plus, this model will not heat the kitchen as your oven will do.
---
When you have several people in your home, then it is important to cook a lot of food at the same time. Cooking foods together means getting them done, so that nothing is cold when the meal is complete. The Big Boss No Oil Fryer uses a see-through bowl with a two-piece metal rack you can set on top of the bowl to cook different items. For example, you can put a roast in the bottom of the bowl, and on the top, your carrots and potatoes will get nice and juicy at the same time.
Fryer benefits and features
Two dials for easy choices
Holds as much as 16 quarts as long as you use the extension ring
Cooks with three methods of heat – infrared, convection, and halogen lights
1,300 watts of power
Large capacity capable of cooking an entire turkey
Comes with a recipe book with over 50 dishes you can make in the air fryer
Timer allows you to program the machine to cook for a preset time
Tabletop model makes it easy to cook foods on the picnic table, dining table, counter, or island
Lightweight model makes this product portable for cooking while camping or visiting friends
Use little or no oil
Comes with two cooking racks and an extender ring
Power and heat indicators let you know when the machine is operating
Cons
Uneven cooking when using both racks at the same time
Variable cooking on the same temperature and settings
Light tends to go out early
Consumer feelings
Many buyers say this air fryer is excellent for things like fair foods. Surprisingly, several people say they like to cook bacon in this device. They like that the bacon is less greasy. Not having to worry about burns is another plus. Several people mention the recipe book and how easy it is to make the ideas in it. The only problem seems to be the bulb burning out fast.
Conclusion
We like that you can see clearly through the glass cooking bowl in this model. The popular presets are handy for kids using the air fryer. The Big Boss fryer is compact enough to set on the counter as long as you set it on a potholder or a trivet. This item is fantastic for making barbecue boneless wings.
---
When you want an air fryer that can double as an oven, fryer, rotisserie, and dehydrator, then this machine may be your next purchase. The GoWise Deluxe even comes with a basket for making steak in the device. The push-button controls let you choose the time and temperature easily. Although this appliance is tall and slender, you may want to keep it away from cabinets because it puts off a considerable amount of heat.
Fryer benefits and features
Includes several accessories like a rack for frying skewers, a steak basket, and short trays for dehydrating meats and produce
Stainless steel cooking compartment for easier cleaning
Recipe book with over 50 tempting dishes to enjoy
Drip pan comes out to make cleanup quicker
Cooking range – 120 to 430 degrees Fahrenheit
Large capacity at 12.7 quarts
15 programmed settings
Will fit a five-pound chicken
Comes with a pie pan for making cake, brownies, cookies, and pizza
60-minute timer
Can dehydrate foods for as long as eight hours
Cons
Stainless steel coating may come off when soaking for long hours
The temperature is not always consistent
May need a brush to reach food debris that gets into the holes in the door
Consumer feelings
Overall, people love this little appliance. They say the fryer gives them a diverse range of items to make like chicken, pizza, and fish. Many appreciate the variety of baskets and trays that come with this device. The loud beeping is one drawback several people mention in online reviews.
Conclusion
We like this air fryer because we can make our favorite kabobs in it. From apples, pineapples, and cherries to steak, peppers, and onions, there are dozens of things we can make with this tool. The GoWise Deluxe air fryer is our Top Pick because it has so many excellent features.
When you make delicate foods like souffles and custards, then you understand how important a consistent and constant heat source is to your recipe. The Nuwave Brio uses patented technology to monitor and adjust the temperature to keep it even during the entire cooking process. The digital controls are easy to read with a blue on black color scheme.
Fryer benefits and features
This model uses a removable door to make it better to clean out the inside of the machine
14 quarts of space
Will cook whole chickens rotisserie style
Comes with over 100 cooking settings to use
Three wattage selections at 900, 1,500, and 1,800 watts
Comes from leading innovator Nuwave
Three-tier cooking space
Automatic shut-off connects to the door to stop operation when the door is off
Cook between 60 and 400 degrees Fahrenheit
Delay cooking option
Cons
Door hinge may break prematurely
Metal may be flimsy for heavy foods like large roasts
Need to dial down the temperature for many foods
Consumer feelings
Most people like how many different things you can make in this air fryer. They say it is not as fast as they like, however; it cooks food evenly. Frozen french fries take about 15 minutes, and fresh veggies cook for around half an hour. Moving the trays as you cook will help ensure a better final product.
Conclusion
We like the Nuwave Brio because you can put some meat in for jerky and go for a long morning walk to return to a perfect treat. Better yet, preset the delay for five hours before you leave. The jerky will be ready and cool, so you can pack it to go.
When you love a luscious piece of meat, then nothing beats the texture you get with rotisserie cooking. The crispness of the outside, and the juicy inside, make cooking this way a treat. The Ultrean air fryer is deep and tall enough to accommodate a full-size chicken. It can hold as much as 12.5 quarts of food at once.
Fryer benefits and features
Push-button controls for quick operation
Wipe clean surface makes getting the crumbs easier
Eight accessories including a cooking basket, skewer rack, whole poultry rotisserie, and baking rack
Complies with FDA safety guidelines for food
Meets UL ratings
Dehydrate a variety of meats and produce using three racks at once
1,800 watts of cooking power
Automatically stops when it detects food burning or an electrical change occurs
One button operation with a dial for changing the temperature and length of cooking
Cons
Plastic pieces in the door can melt if the unit gets too hot
Machine may beep and shut off out of nowhere
Door latch may come loose or get too difficult to use
Consumer feelings
Four out of five people like using this no oil fryer for cooking healthier food options. Traditional fried foods like chicken nuggets and potatoes come out with the same texture, yet little or no oil like when deep-frying. Most consumers say they recommend this product to family, coworkers, neighbors, and friends. A few people have trouble with the door latch sticking or becoming loose.
Conclusion
When you want a fryer that will slow cook your tuna, chicken, steak, salmon, and roast, then a rotisserie cooker is an excellent tool. The Dreo Air Fryer Pro MaX 11-in-1 (learn more) uses a see-through door to let you keep an eye on the food without opening it up and losing the heat. This model comes with a fantastic recipe book, giving you tons of inspiration for cooking healthy, new foods.
---
When you need an air fryer that gets the job done fast, then the Instant Vortex Pro may be your favorite pick. This item features an interior large enough to hold a round basket for crisping fries, vegetable chips, and pizza rolls. The air circulator moves a constant heat throughout the oven to prevent burning and raw foods. You can even use this air fryer to proof bread dough for all your favorite pastries and bread.
Fryer benefits and features
Innovative cooking technique puts a consistent cooking surface on all foods
Accommodates two cooking trays at the same time
Nine smart preset buttons let you pick a cooking setting and the timer will do the rest
Push start control and favorite saves remember your temperatures and times
Mobile app comes with over 1,000 recipes for this model air fryer
Better tasting food with much less oil
Accessories are safe for dishwashers
Cons
May be noisy for some consumers
Door might be loose or work loose after using it a while
Small size may still be too big to travel
Consumer feelings
In general, the feeling about the Instant Vortex Pro is that it is an excellent air fryer because you can use it to cook so many different ways. Consumers like the audible temperature ready alert. They also like that you can make everything from pizza to cookies in this machine. The only thing people complain about is how big this model is, even though it says it is a space-saving design.
Conclusion
We adore the small size and convenience of this no oil fryer. Cooking a roast is just as easy as crisping up a batch of fries. The Instant Vortex Pro is simple to operate with just a dial and a few buttons. We like the material on the outside of the machine because the stainless steel comes clean with a quick wipe of soap and water. All you have to do is dry it with a paper towel to get the shine it comes with right out of the box.

---
When you are constantly throwing a party, or you have tons of family over, then having a big air fryer is essential. If you cook several foods for guests, then having a tool like this can help you stay on top of the appetizers. This massive Paula Deen Jumbo fryer is a magnificent product for cooking big batches of foods. This 24-quart capacity air fryer can accommodate several pieces of fish or vegetables at the same time.
Fryer benefits and features
Rapid heat circulation cooks food faster and more evenly than a traditional oven
Healthier option for families using less oil
Glass door for viewing food without opening to prevent heat loss
Will not warp cabinets or heat up the entire room
1,700 watts of power
Patented ceramic interior with several coats of non-stick paint to make cleaning much faster and easier
Push-button controls with pre-set menu selections
Easy adjust temperature control
Comes with two wire racks, a basket, and a crumb tray
Cons
May need a trivet or towel under the unit when using it for long hours
May be too tall or get too hot to use under a cabinet
Consumer feelings
People rave about the Paula Deen Jumbo air fryer. They say it cooks things super fast, and you can make a lot of food at once. Their favorite part is that you can roast, broil, and bake in the same machine. The large pans fit a bag of french fries with ease. People say they like how the food cooks evenly in this model.
Conclusion
We like how easy it is to clean the Paula Deen Jumbo air fryer. This device is super quick to wipe out. The exterior comes clean with a window cleaner or soap and water. The inside wipes out with a little soap and water. A quick dry with the towel, and there is nothing left to do except find your next recipe.
---
Tips for selecting the best air fryer for your family
When you have six or seven people in your household, it can be difficult to cook enough food at once to feed everyone a hot meal. Having a big air fryer can allow you to cook several things together, or you can cook part of the meal in the air fryer while you use your oven or slow cooker for the rest. Using several machines when holding a party is a fabulous way to save time and cook a lot of food at the same time.
Size
The exterior size of an air fryer is just as important as the inside. If the outside is too big for fitting under your counter, then you may prefer a different model. When you need the inside to fit a whole chicken for your favorite dinner, then the largest models with rotisserie sets could be your best bet.
How and where you store your air fryer is another size consideration. If you plan to put the fryer in the pantry when you are not using it, then it needs to be light enough to move often. Whether you can move the machine hot or have to let it cool down is important to some buyers.
Functions
Do you want an appliance that does the work for you? If you prefer to push a few buttons or turn a knob to cook your dishes, then picking a model with a lot of presets can be beneficial. The methods of cooking like on skewers or a baking pan make a difference to many consumers. These fryer products are popular for fast meals on busy days and heating up small servings to avoid using the oven.
Weight
Do you want to move your appliance to clean under it often? If you need an item that is light, then you may want to look closely at the weight of each unit. These numbers are in the quick comparison section at the top of this article. When you have counters that you want to protect, then the weight might be important to check.
Temperature range
What temperature do you cook most of your foods? This number should be the guiding figure in choosing the right air fryer for your family. If you need a model that cooks things up to 450 degrees Fahrenheit, then some of the fryers on this list may not be your first choice. Some of the ranges are in the pros section of this article. To find out more, you can click on any of the individual links to access the product page.
Accessories
What items are important to you when you want an air fryer? Do you want to cook fries without all the oil? If you want to roast, broil, bake, and dehydrate, then the more versatile items may be the most appealing to you. Our Editor's Choice Pick, the GoWise Deluxe, does a little of everything if you are ready to make your purchase now.
If tongs or a removable basket are important, then checking out our product reviews may help you make your decision. You will also find out which items fit an entire bird. Some of these fryers come with baskets and trays to give you more cooking options.
Two questions and answers about air fryers
What is the best way to clean the air fryer
The manufacturer's instructions offer consumer tips about the best way to clean the fryer. Some suggest wiping it clean with a damp cloth, others say you can put the racks in the dishwasher. Still, others say to give the racks a spray with oven cleaner and wipe them clean after letting them sit for a half an hour or more.
We suggest wiping the interior clean with a damp rag to remove crumbs. If you find you have a sticky mess, then using a bit of baking soda and vinegar with a green scrubbing pad is often helpful. Most models come clean with a little dish soap and water.
Can you put the racks and pans in the dishwasher
For some of these machines, you can put the racks in the dishwasher. To find out if the metals are safe for the high heat and spray of this appliance, we suggest checking out the owner's manual. You will find specific care instructions detailing how and when to clean the racks and drip tray in this booklet.
See Also: 4 Best Air Fryer For Whole Chicken