9 Best Dehumidifier For Diverse Purposes For 2023
You are here means you know that sticky feeling on the skin, dampness on walls, and everywhere. If you live in an area that gets pretty fuggy and clammy in the summer or wet season, all you need is a good dehumidifier to eliminate the excess moisture from your environment.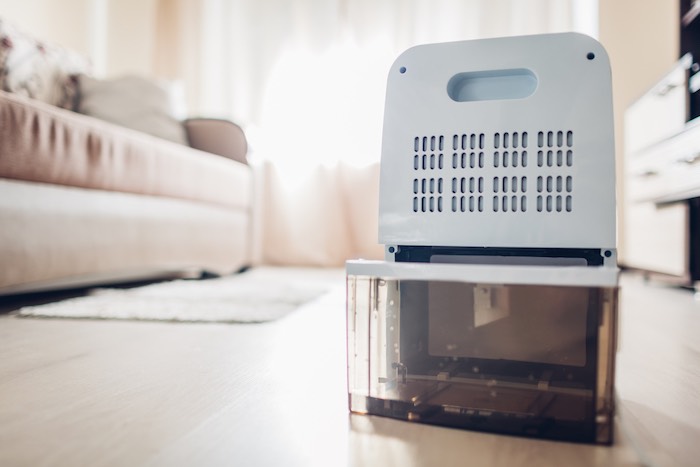 High humidity in the home can cause more damage than just wet spaces and bad odor. It creates a nasty breeding ground for mold and mildew that can have a negative impact on your health, leading to respiratory issues and other health problems.
Unlike a humidifier that injects moisture into the air, a dehumidifier works by removing the excess moisture from indoor air. It pulls all water content in air through an inlet with the help of a fan and an internal compressor. The air travels through cool coils that strip the air of excess moisture and condense them to form water that collects in the tank.
So, if you are in the market looking for a humidifier, you will need to consider a few important things like whether or not it has a pump, the noise level, efficiency of operation, ease of use, controls, portability, and so on. Sounds too technical and confusing?
Worry not, because our team has taken care of all the above aspects and much more while scouring through dozens of dehumidifiers available online. We have done all the hard work so that you can go ahead and choose the best humidifier for your specific purpose. Read on to find out more.
---
Best Dehumidifier For A Crawl Space
The crawl spaces as they sound are crammed areas beneath the houses. Hence they often face problems related to indoor air quality. The most common issue is high humidity levels, resulting from a lack of proper ventilation. This makes house owners look for the best dehumidifier for these spaces.
Neglecting the crawl space may lead to unpleasant consequences in the form of pests, mold, mildew, heavy odors, structural damage, allergy triggers, and much more. We recommend the Aprilaire 1820 Pro Dehumidifier (learn more) to help you dehumidify and make the space usable.
The Aprilaire Dehumidifiers are made in the US with high-quality corrosion-resistant aluminum coils to improve the indoor air quality. The dehumidifier decreases the humidity level below 60% to minimize any airborne virus, mold, and mildew growth. It also prevents bad odor and rotting of wood structures.
Due to its compact size, the dehumidifier can fit through most doors leading to crawl spaces and get between the joists and tight areas. The unit is capable of removing about 70 pints or 9 gallons of water every day. It is designed to cover an area up to 2,800 square feet.
At the end of the day, there are no messy water trays to empty as the smart set-up includes a hose that drains out the absorbed water. Alternatively, you may keep the dehumidifier over the drain and plug it in to start removing water until the desired humidity level is achieved.
Product features and specifications
Measures 25 x 12.5 x 12.5 inches
Weighs 56 pounds
110V AC to 120V AC single phase
60 Hz power sources
Removes 9 gallons (70 pints) of water
Corrosion-resistant aluminum coils
5-year manufacturer warranty
User/ Customer reviews
People are impressed with the results they have received after using the unit for a few hours. Users find the assembly job pretty easy and there's not much to install except the 10 inches drain pipe to remove excess water. A few users have said that the unit is noisy but then it's designed to work in the crawl space so this is acceptable.
Conclusion
If you are looking for a suitable dehumidifier for your crawl space then you must check out the Aprilaire 1820 Pro that has an amazing capacity. Although slightly more expensive than other humidifiers in the market, the extended warranty makes this product worth every penny.
Best Dehumidifier For Cold Basement
The humidity level during winter can get too intolerable in the basement area, with a rise in the growth of mold and mildew. If the relative humidity rises above 50% in cold weather, you will need a humidifier, but if it less than 40% then wait until it reaches that mark.
The dampness, bad odor, and mold growth can be prevented by using the best dehumidifier for the old basement. We recommend the TOSOT 4,500 Sq Ft Energy Star Dehumidifier can also be used in the bathroom or other areas of the house.
This energy-star rated dehumidifier works great at removing moisture from the air in cold basement area without increasing your utility bill. It is capable of removing about 50 pints of water every 24 hours and covers an area of 4,500 square feet, costing less than 30% to non-energy star appliances.
The unit comes with an internal pump that removes any collected water automatically from the dehumidifier, so there is no downtime. Water can either be pumped vertically or sideways up to 12 feet away. The extracted water collects in the bucket until it's full and then internal pump starts to remove collected water.
After you choose the target humidity level, the control panel will display the existing humidity level and turn-off automatically when the desired level reaches. With a noise level of 51 decibels on high speed, it's as quiet as a private street
Product features and specifications
Measures 14.76 x 11.38 x 24 inches
Weighs 48 pounds
Connects to 3/4 inch garden hose
Whisper-Quiet Operation
Energy efficient
50-pint capacity
Drains automatically
Covers 4, 500 square feet
User/ Customer reviews
People living in damp houses have said that the unit pulls water from air like magic and the water bin gets half full in just about 4 hours. Users suggest using the hose instead of the bin because you will need to change so frequently otherwise. A few users have warned about the noise but it actually fades and does not interrupt conversations.
Conclusion
If you have a cold basement that tends to get very damp and moldy, the TOSOT Energy Star Dehumidifier is certainly a wise choice for you. They come in different capacities so choose the one that suits you best and the various settings further help in making the most out of your investment.
---
Best Dehumidifier For Drying Laundry
All of us face situations when we need our clothes to dry quickly for a meeting or date. Some dehumidifiers come with laundry mode to extract the excess moisture from clothes so that they take less time in the drier. It also helps in tackling damages caused by high humidity.
To get rid of dampness or bad odor from clothes, you need the best dehumidifier for drying laundry. We recommend the Ivation 13-Pint Small-Area Desiccant Dehumidifier is specially designed for the bathroom, smaller spaces, laundry, attic, closets, and crawlspace.
The lightweight but powerful 13-pint dehumidifier comes with a highly efficient desiccant rotor that can remove moisture, clammy odor, and mold growth. By lowering the humidity level, it also warms the indoor air to make it more comfortable during the colder season.
With an adjustable humidity control and whisper-quiet operation, the dehumidifier is capable of extracting moisture from small spaces of up to 270 square feet. Hence, it is suitable for the laundry room, boat, or RV. The digital interface allows you to power on and off to adjust the humidity, fan speed, and screen brightness.
The dehumidifier comes with a high-capacity reservoir that can hold up to half a gallon of water. It also comes with a connection hose for drainage. The convenient carry handle makes the unit extremely portable and the washable filter is easier to use.
Product features and specifications
Measures 10.59 x 6.85 x 17.52 inches
Weighs 13.77 pounds
3.8-pint water tank (removable)
Safety auto-stop
Adjustable LCD backlight
Relative humidity meter
Washable air filter
Built-in timer
Covers up to 270 sq feet
User/ Customer reviews
People living in motor homes find this portable little dehumidifier extremely useful to eliminate damp and odor from their small spaces. In some regions where it gets very hot and humid during summer, with no air movement, users find it incredibly useful to dry clothes.
Conclusion
This small dehumidifier turns out to be incredibly useful at removing moisture from areas that have a temperature between 33°F and 104°F. Due to its compact portability, you can use this multipurpose unit in different parts of the house to make the most of it. Overall, you get a good price to performance ratio.
---
Best Small Dehumidifier For Kitchen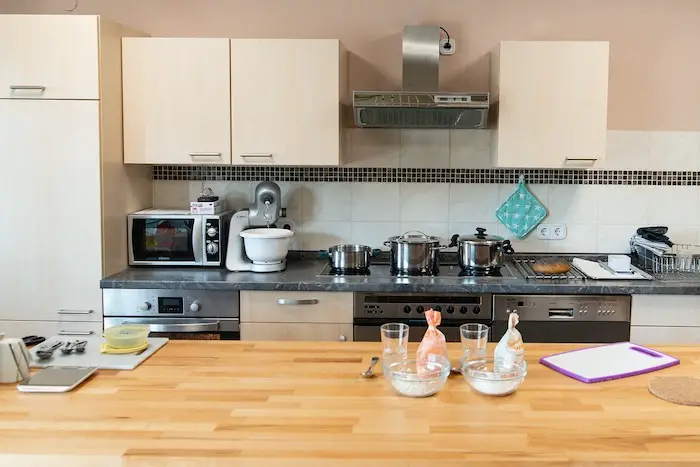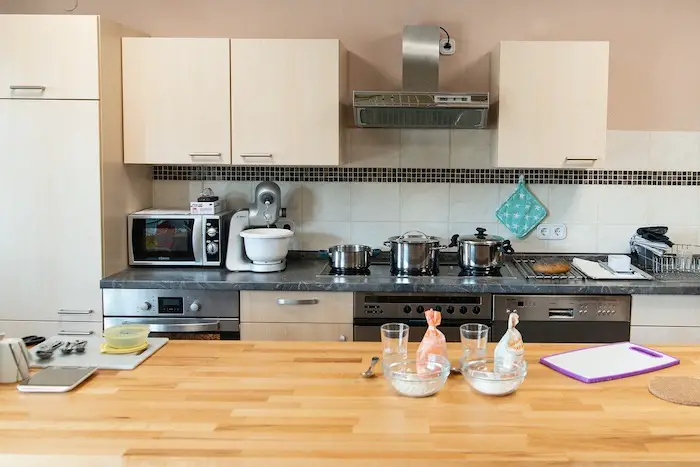 Just like the bathroom, the kitchen is another area of the house that tends to get damp and clammy due to cooking smoke, fumes, and so on. If you don't do anything about it, you may soon notice mold growth and stinking smell. To keep your kitchen fresh and smelling good, you need to control the humidity level.
This is where the best small dehumidifier designed for smaller spaces like the kitchen comes into the picture. We recommend the Pro Breeze Electric Mini Dehumidifier, which is compact, portable, and suitable for high humidity areas. Read on for our full review.
This small yet powerful dehumidifier has a water tank capacity of 52-ounce. It is capable of eliminating about 18 ounces of water every day and works perfectly for a small room size of about 220 sq ft. When the water tank becomes full, the unit will shut down automatically, and LED light turns on to indicate that the tank requires more draining.
The unit includes a built-in Thermo-Electric Cooling Peltier technology that operates without a compressor, so you get whisper-quiet operation in the bathroom, kitchen, bedroom, or office. However, please bear in mind that these mini dehumidifiers work at an optimal operating temperature between 59 and 86F only.
The dehumidifier is also energy efficient with low power consumption, so you may run it all day if you need to. The manufacturer stands behind the products with a one-year warranty and solid customer support. 
Product features and specifications
Measures 6.6 x 9 x 12.69 inches
Weighs 5.08 pounds
Auto Shut-Off and LED indicator
Ultra Quiet and Energy Efficient
Easy to Dispense Water
Compact, portable and lightweight
Large 52-ounce capacity water tank
User/ Customer reviews
People living in high humidity areas have noticed a remarkable improvement in the quality of air, reduction in odor, and mold growth. Users safely operate it throughout the night without any issues and the noise does not interfere with their sleep or work. Those living in Florida say it takes 4 days to fill up the tank in summer while it takes 15-20 days to get half fill in Missouri winter.
Conclusion
Those living in small and compact apartments lack proper ventilation in the kitchen and these dehumidifier work like a boon to make the space more breathable. We would urge you to not underestimate its value due to its small size. The tiny unit is undoubtedly capable of achieving a lot.
---
Best Portable Dehumidifier For Office
The things to consider when looking for a dehumidifier for the office will be significantly different from the one you use at home or garage. In an office, portability may not be the most important things and you may want to look for low noise performance, good capacity tank, and remote control for easy access.
The size of the office you wish to dehumidify and the humidity level also matters a lot. We recommend the Ivation 4,500 Sq Ft Smart Wi-Fi Energy Star Dehumidifier with App. Read on to find out more about it.
This high-capacity dehumidifier delivers a powerful performance by removing about 50 pints of moisture in a day as per standards set by the Department of Energy. The unit is capable of covering up to 4,500 square feet area throughout the year without giving you alarming energy bills.
The energy-efficient and eco-friendly dehumidifier not only eliminates moisture but also prevents mildew and mold, along with other harmful airborne pollutants. It comes with a smart and innovative Ivation app that allows you to control the device, set timers, turn on/ off, etc via Wi-Fi connectivity.
There is a bright and easy to read LCD display that shows fan speed, filter alerts, humidistat, and other settings for easy operation. Due to its low maintenance design and easy remote control, its best suited for office as you just need to plug-in and empty the tank when it gets full.
Product features and specifications
Measures 11.1 x 15.28 x 23.5 inches
Weighs 44.2 pounds
Automatic safety shut-off
LCD Interface with Buttons
Water Level Indicator
2.25 gallons water tank
Covers 4,500 Sq Ft
Remote control via an app
User/ Customer reviews
People love the fact that they can control settings of the dehumidifier via the app from anywhere, making this unit the best fit for a large office, basement, or entire house. Users prefer connecting it to the hose so that water is pumped out without any stagnant water in the tank. Customers also like it for quiet operation and good coverage.
Conclusion
If you need to cover your entire office or home and control the device from anywhere, we totally recommend the Ivation energy-star dehumidifier. It not only lets you control settings via the app but also saves you from having to frequently empty the tank. A slightly expensive product but absolutely worth the money.
---
Best Small Dehumidifier And Air Purifier
If you live in a small city apartment or a small house with not enough space to add too many appliances, you may want something that does a dual job. For indoor air quality in high humidity areas, we suggest using a dehumidifier cum air purifier capable of removing moisture from the air.
Some of the things you will need to consider are the portability of products, size, water tank capacity, and so on. We recommend the Tenergy Sorbi 1000ml Air Dehumidifier for its compact shape and unique features. Read on for more.
This portable dehumidifier from the house of Tenergy comes equipped with the Peltier technology and HEPA filtration to reduce excess moisture and make living spaces more breathable. It also helps you fight against the clammy odor, mold and mildew growth, dust mites, and allergens.
The Sorbi unit comes with a 1-liter water tank that is capable of pulling water close to 750ml a day from environments with 80% humidity levels and 86º F temperature. Lightweight at just 7lbs, this the energy-efficient device comes with a LED indicator, water level sensor, and auto-shutoff feature.
We love the simple plug and play design that makes it simple to use the electric dehumidifier. It works best for spaces up to 200 sq ft – small bedrooms, basement, closets, or bathrooms. The noise levels at 35-42db are very low and the product comes back up by a 2-year extended warranty.
Product features and specifications
Measures 12.4 x 8.5 x 7.7 inches
Weighs 6.91 pounds
Moisture removal 750ml/day
Tank capacity 1000 ml (1 liter)
Covers area 200sq ft
Replaceable HEPA filter
2 year extended warranty
User/ Customer reviews
People living in an extremely humid environment find that this dehumidifier works like a boon to not only make them more comfortable but also protect the office equipment. The users who vape or smoke also find this product extremely useful at keeping the humidity level down. Customers also find the full tank indicator helpful as this saves them from checking the tank frequently.
Conclusion
This dual functional unit works both as a dehumidifier and air purifier to keep the spaces more breathable. Whether you wish to tackle mold growth, damp odor, or smoke, this one unit can take care of them all. At this price, you get a small but powerful unit that lasts good enough.
---
Best Small Dehumidifier For Grow Tent
Do you want to grow your own marijuana plant so that you don't have to deal with suspicious dealers? For this, you may need to get a suitable dehumidifier to replicate the perfect growing environment for these plants right at home.
If you are looking for a small dehumidifier for grow tent then we suggest that you check out the VIVOSUN Small Space Mini Dehumidifier. Read on for the detailed review.
The VIVOSUN Mini is perhaps one of the smaller dehumidifiers in the market, but despite its small size, it has a 400ml moisture removal capacity per day. As an energy-efficient device, it can easily cover small areas of 215-269 square feet without increasing your energy bill.
Due to its modern design, it can easily fit into corners and match any décor. It is best suited for grow tents, basement, larder, wardrobes, and so on. With its built-in handle, it is much easier to move the unit from one room to another.
The device can run continuously for 24-hours until the water tank is completely full. You just need to plug it in and operate with desired settings. It creates less noise and when the tank is full of 1.3L water, the unit shuts-off automatically and the LED indicator turns red to remind you to drain.
Product features and specifications
Measures 7.1 x 5.1 x 11.2 inches
Weighs 4.44 pounds
Covers 215-269 Sq Ft space
Auto-Off when full
15-45℃(45-113℉)
Small 1.3L capacity tank.
Removes up to 400 ml
1-year manufacturer warranty
User/ Customer reviews
The professional indoor gardens find this dehumidifier useful to recreate an ambient atmosphere for plant growth. People are also impressed with how reliable this small device is and its ability to run for 24 hours until the tank is full. A few users have warned about the LED light that can impact the flowering process while some customers wish the settings to be simpler.
Conclusion
This improved and upgraded dehumidifier is a great product by VIVOSUN to help home gardeners maintain the right environment for their small grow-tents. If you have the LED light problem, you can fix this by applying a tape on it. Overall, we feel that this product does what it says and does it perfectly.
---
Best Dehumidifier With Auto Shut Off
Do you find it difficult to remember to empty the water tank? Whether you are one of the forgetful ones or you are too hard-pressed for time, there are humidifiers to take care of that. These products come with auto-shut off feature to prevent water from leaking out of the tank.
Besides stopping the water from spilling out, it's also a safety feature that protects you and your family from mishaps. We recommend the BRITSOU 30 Pints Dehumidifiers that comes with auto shut-off and anti-leakage. Read on to know more.
The energy-efficient BRITSOU 30 Pints Dehumidifier comes with a moisture removal capacity of up to 30 pints of water each day. It works best to dehumidify the damp and clammy rooms of a size up to 1056 sq ft. The unit is designed for large bedrooms, bathrooms, basements, campers, and even RVs.
The unit comes with a built-in humidistat that auto-stops the dehumidifier when the desired level is reached and auto-starts again when the humidity spikes. The adjustable fan speed also adds more flexibility and the easily programmable 24 hours on/ off switch helps in energy savings.
The dehumidifier comes with a 6.56 feet long drain hose and the unit shuts-off automatically when the water tank reaches the 4-Pint (0.5 Gal) limit. If you are too busy to empty the tank manually, just attach the self-draining hose to do it for you. With a noise level of 46 dB (A), the unit is noticeably quiet.
Product features and specifications
Measures 12.2 x 8.2 x 17.3 inches
Weighs 24.9 pounds
30 Pints Dehumidifier
Auto-Defrost & Power-Outage-Restart
Covers up to 1056 sq. ft
4-Pint Water Bucket
Continuous Drain Hose Outlet
Intelligent Humidity Control
User/ Customer reviews
Users have said that the dehumidifier works better than expected in a high humidity environment and it can work continuously for 12 hours with auto shut-off feature activating when the tank gets full. People love the fact that the unit is incredibly quiet so you can sleep without any disturbance.
Conclusion
This is a powerful dehumidifier that doesn't require you to constantly monitor it, so you can simply set and forget without worrying about water spilling out. With the auto shut-off feature, safety is always on your side, plus the direct drain makes it incredibly easy to use the unit. Overall, this is a remarkably effective device at a reasonable price.
---
Best Low Noise Dehumidifier
Do you have a baby in the house or a pet that gets startled by loud sound? If yes then we suggest that you best a dehumidifier with the lowest noise setting so that your baby sleeps peacefully throughout the night, even with the device running at high to medium settings.
When you need to cover a large space and keep the noise low, we suggest the Waykar 70 Pint Dehumidifier. Read on to find out more about its unique features.
When you want it to be powerful yet less noisy, this 70 pints dehumidifier from the house of Waykar is the answer. With a capacity of covering up to 4,500 sq. ft of space, the unit is capable of removing 9 Gallons of moisture in a day to adjust the humidity levels between 30% and 85%.
By running the unit continuously in your living room, bedroom, basement or other large spaces, you can easily maintain a healthy balance of 45%-55% humidity range. The built-in wheels make the unit easy to move plus the ergonomically placed handles make it more portable.
There are four air outlets to boost the dehumidifying speed and the quiet fan ensures that you are not disturbed in sleep or while at work. The fan has four adjustable speeds to adjust as per your requirement. It has an intelligent screen touch control to help you adjust settings with ease.
Product features and specifications
Measures 11.4 x 11.4 x 25.19 inches
Weighs 30 pounds
24-hour Timer
70 Pint Dehumidifier
4 Air Outlets
Automatic Shut Off/On
Child-lock Setting
Intelligent Screen Touch Control
1-year warranty, 2nd-year warranty extension available
User/ Customer reviews
People are impressed with the contemporary appearance of the dehumidifier which looks nothing like a traditional unit. Users also love the powerful performance that helps in removing moisture effectively from an area of over 1000 square feet much faster. A few users have warned that the hose can be too short for use.
Conclusion
Let's get it straight that there's nothing like a whisper-quiet dehumidifier. All products that have fans will make some amount of noise, but it's the noise quality that matters. Despite being a powerful and robust unit, this product is surprisingly quieter than other competitors. Overall, we think it's a great low-noise dehumidifier.
See Also:
Can You Use Steam Mop On Laminate Floors
7 Best Air Purifiers For Mold In Basement
4 Best Moisture Absorber For Your Bedroom
How To Care For Orchids In A Vase