Do you wish to convert your basement into a home gym, music recording studio, or entertainment area? Is the musty mold odor keeping you from realizing your dream? Don't give up yet, because all you need is a good quality air purifier to turn your dream into reality.
The basement area usually lacks proper ventilation and the humidity levels are usually high. As a result, there is unprecedented mold growth in every corner of the room. Lack of window further adds to the woe as there's no inlet for fresh air in the room.
An air purifier not only helps you get rid of the mold spores and musty smell, it also offers a plethora of other benefits for your health. However, with so many brands, models, and features available in the market, it is natural for anyone to feel confused.
To ease out the confusion and help you take the stress out of making the suitable choice, we have shortlisted the best air purifier for mold in the basement. Our team has spent hours reviewing the various products and comparing them to help you make the right decision.
If you don't have time to read till the end, you can go with our editor's pick – AeraMax DX95 (learn more) that comes with four cleaning filters (including HEPA-true filter), coverage of 600 sq feet and touch controls for convenience. To get rid of mold spores and other microorganisms, we recommend the GermGuardian air purifier and UV sanitizer.
| | | | | | | | |
| --- | --- | --- | --- | --- | --- | --- | --- |
| Products | Winix 5300-2 | Winix 5500-2 | Alen | AeraMax DX95 | Honeywell | Holmes | GermGuardian |
| Weight | 18lb | 18lb | 15 lb | 13.52lb | 9.99lb | 22.3 lb | 12.15lb |
| Coverage | 360 | 360 | 700 | 600 | NA | 310 |   |
| Filter | HEPA – True | HEPA – True | HEPA – True | HEPA – True | HEPA – True | HEPA – True | HEPA – True |
| Air Purifier Type | Console | Console | Tower | Tower | Tower | Console | Tower |
| Control type | Digital | Digital | Electronic | Touch | Electronic | Manual/Analog | Manual |
| No of filters | 3 | 3 | 3 | 4 | 3 | 1 | 3 |
| Voltage | 120 | 120 | 115 | 120 | 120 | 100 | 120 |
| UV-C | No | No | No | No | No | No | Yes |
---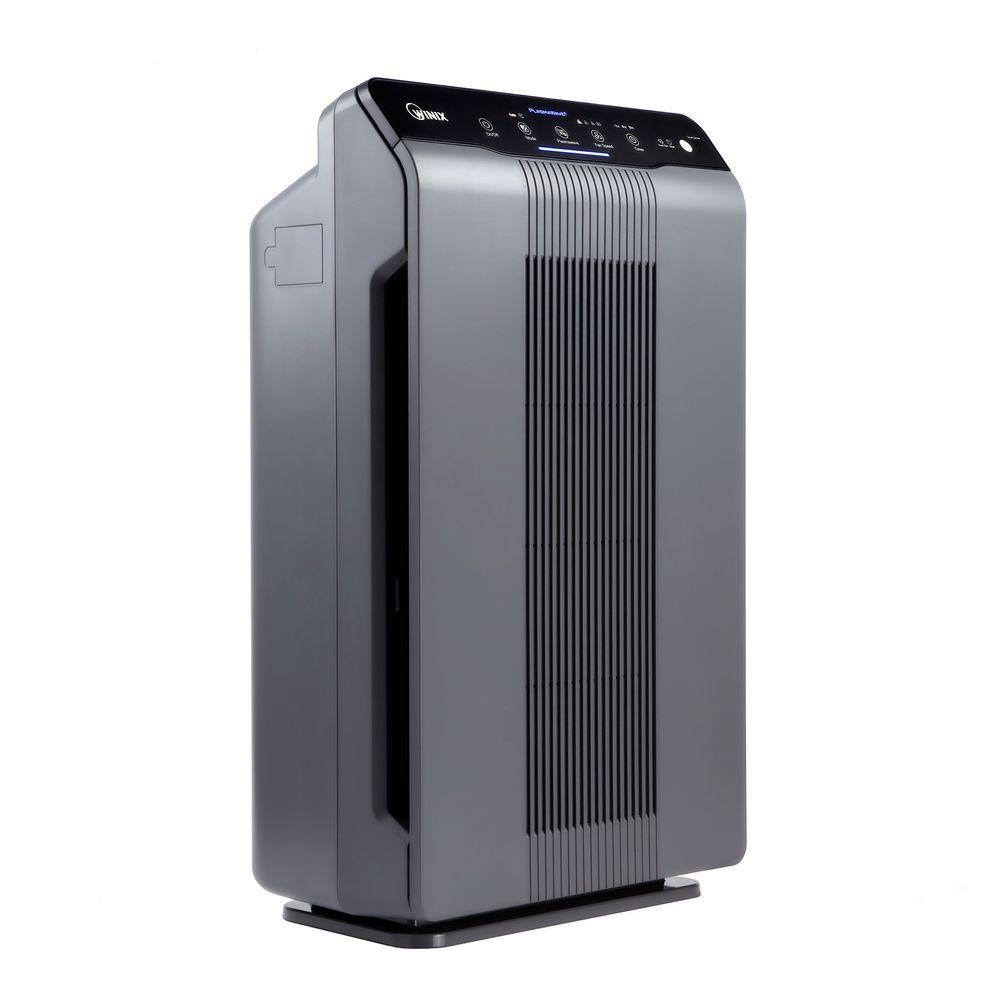 The Winix 5300-2 comes with a super-efficient CADR rating for its sleek design and enhanced cleaning capacity, which is a marked upgrade of the 5300 model. Equipped with a 3-stage air cleaning system comprising of 99.97 % true HEPA filter activated carbon pre-filter and PlasmaWave Technology.
The air cleaner is designed to efficiently remove dust, pollen, dirt, mold spores, smoke, pet dander, volatile organic compounds and the cooking smell in medium to large living areas. There are four fan speeds from turbo speed to quiet mode, which changes depending upon air quality picked up by sensors.
The air purifier covers a room size of 360 sq. ft at a time. You can easily carry it from one room to another as it's a small and lightweight device. When on sleep mode, the quiet operation does not interfere with sleep.
Product features and specifications
Weighs 18lb
Change filter alert
Energy Star qualified
Covers room size 360 sq. ft.
Air quality and light sensors
True HEPA filter
Superior 3-stage air purification system
Medium to large living spaces
4 fan speed
User/ Customer reviews
Customers have mentioned that this sleek little device actually works and one can notice the indicators turn red when there's smoke or bad smell, then it turns orange and back to blue after some time. Most people find the first 3 fan speeds quite and still effective at purifying the air.
Several users have reported improvement in their allergies and respiratory problems after installing this air purifier. People are impressed with not just the performance but intelligent features like auto mode/ sleep mode that saves energy.
Conclusion
With improved features and technology, the Winix 5300-2 is a marked upgrade over its predecessor. Most importantly, it is easy to use and portable to carry from the basement to other areas of the house, if needed. Overall, this is a great air purifier worth your money.
---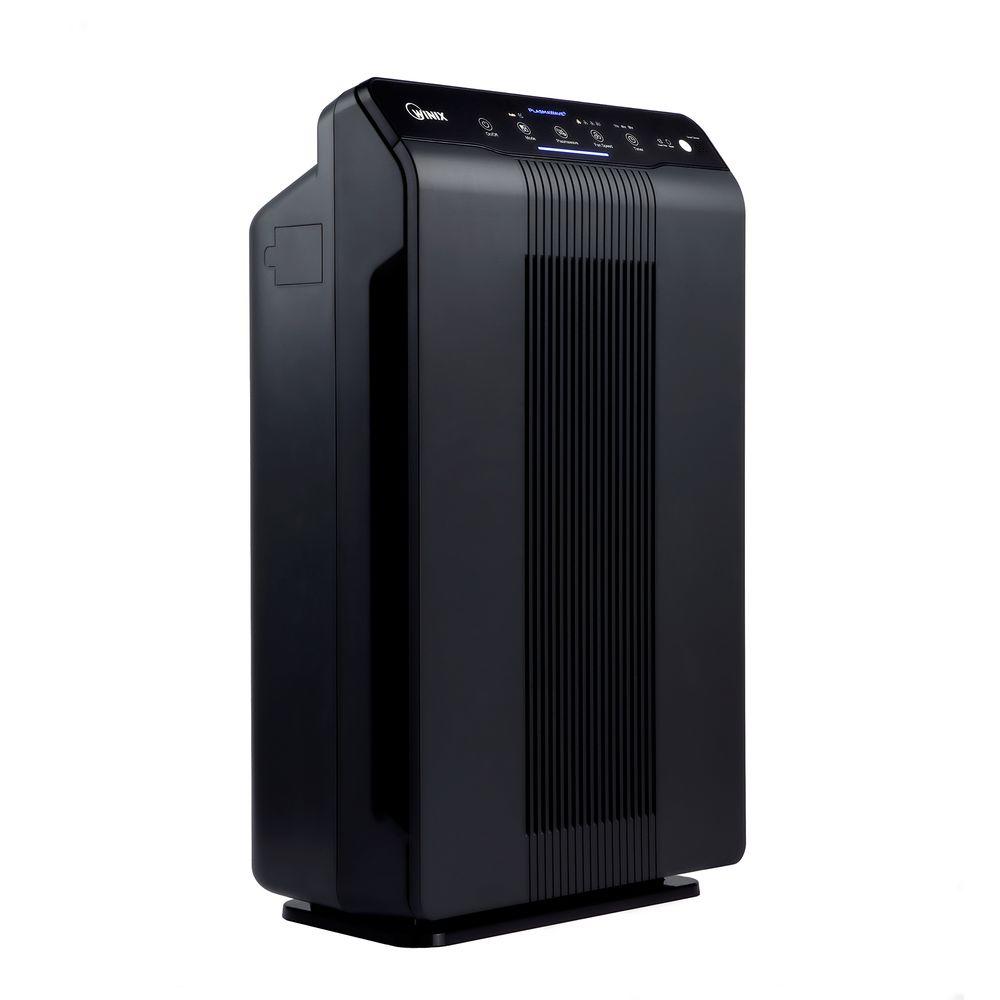 The new Winix 5500-2 replaced the older model with the same name and the current version comes with better features to deliver an effective performance. It features a 3-stage air purification system comprising of True HEPA Filter, AOC carbon filter, and PlasmaWave Technology.
Designed to purify medium to large spaces, the 5500-2 helps in removing pet dander, dust, pollen mold spores, volatile organic compounds (VOCs), smoke and household odors. The washable filter can be cleaned to add more life, and the filter change indicator also tells when you need to replace it.
Once installed, the sensors automatically adjust the fan settings depending on the air quality. As the room turns dark, the light sensors turn dim. The air purifier comes with a remote control to help you change the settings and modes manually without leaving the couch.
 Product features and specifications
Weighs 18lb
3-stage filtration
True HEPA filter
Energy Star certified
Coverage area 360 sq ft.
HEPA – True filter
Change filter alert
4 Fan Speeds
2 Year Limited warranty
User/ Customer reviews
Customers feel that the air purifier is great looking with a lot of features that keep the junk out of the indoor air. Those who live with multiple pets (including bird owners) have also noticed a marked improvement in reduction of odor and pet dander floating in the air.
People love the way the indicator light turns red whenever there is more smoke or cooking smell from the neighbor's kitchen. A few users have said that the sleep mode tends to get a bit noisy than expected, but others don't have a problem with that.  
Conclusion
Although this is not a cure for air-borne allergies, the air purifier has turned to be a boon for people with severe allergies to pollen, dust, and pet dander. If you have mold and musty smell in the basement, the 5500-2 can be a good investment to make it more livable.
---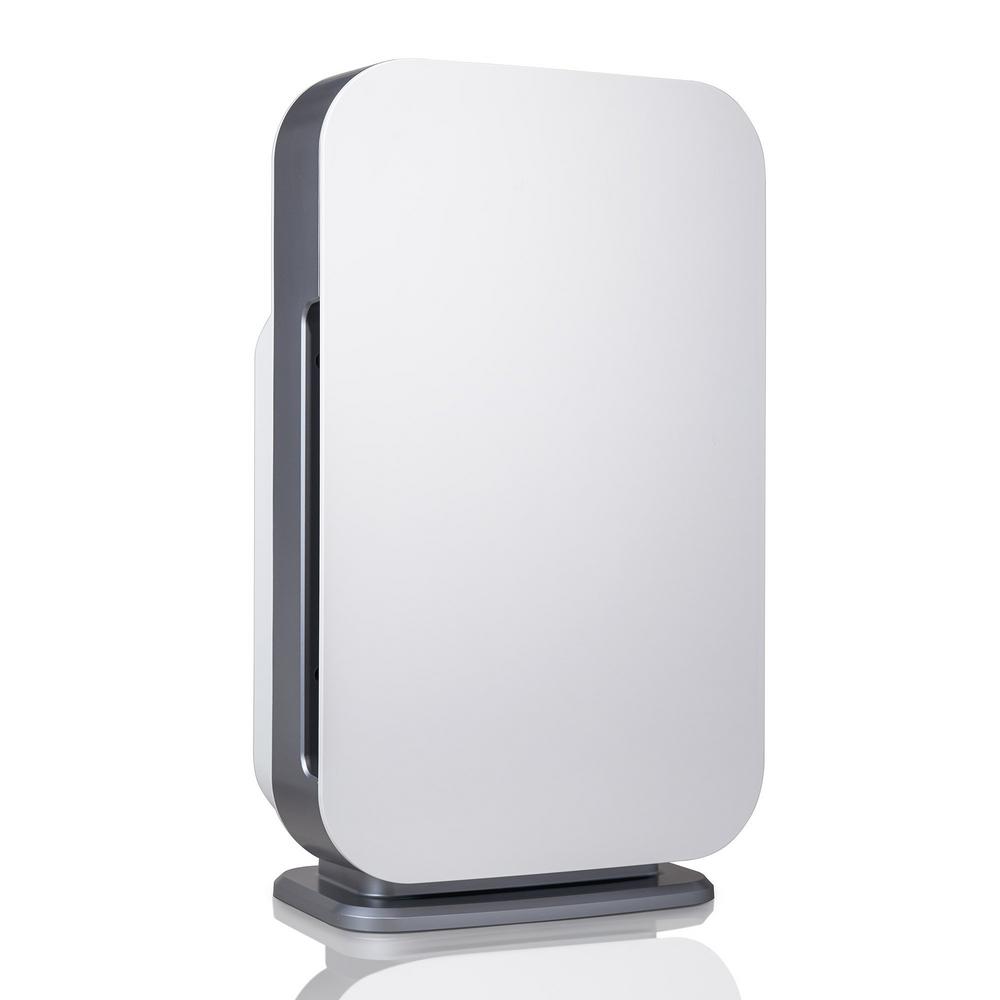 If you have a slightly bigger basement area and would like to have more customizable features in the air purifier then check out this product by Alen. It comes equipped with a true HEPA Silver filter capable of trapping 99.97% of airborne particles as small as 0.3 microns size.
Designed to improve indoor air quality in an area of 700 square feet, it is perfectly suited for basements, bedrooms, living rooms, bathrooms, kitchens, offices, and more. Besides removing airborne allergens, bad odor, pet dander, and dust, the air purifier also kills bacteria and mold spores.
This Alen air purifier comes in a wide range of colors and styles to blend with any décor and accentuate your interiors. As this is a basic device, it does not come with auto settings or sensors. The purifier runs every 30 minutes to purify indoor air more quickly than competitor models on Turbo speed.
Product features and specifications
Weighs 15 lb
Covers an area of 700 square feet
True HEPA filter
Less energy consumption
Remove Allergies Mold and Bacteria
Customizable features
Cleans air in every 30 minutes
User/ Customer reviews
People are impressed with this air purifier that has helped them improve sleep and get rid of musty smells from the basement, laundry room, kitchen and so on. Users have reported that they have experienced a marked difference in their nasal passage, plus air felt cleaner and crisper.
Users have also said that the device does not make any noise in a lowest setting so it can be kept on even while sleeping. A few customers have said that they wished it had an auto feature, which is lacking in the device.
Conclusion
This is a perfect air purifier for a limited space with less ventilation, such as your basement or attic. With easy instructions, you get used to this air purifier really fast. Overall, you will be glad you made the investment when you no longer feel that odd smell as you walk into your basement.
---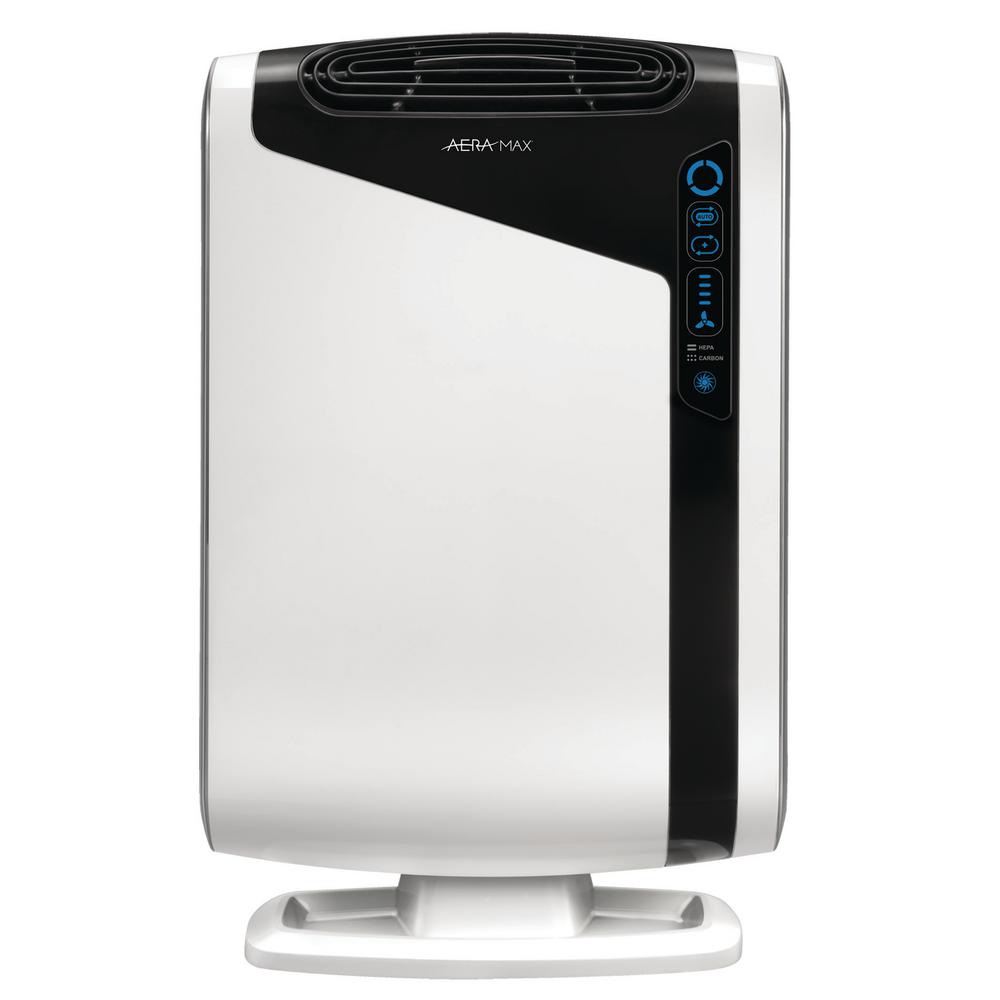 If you live in a highly polluted area, we suggest that you check out Fellowes AeraMax DX95. It comes equipped with a True HEPA filter that can capture 99.97% of airborne particles, up to 0.3 microns size. With a 4-stage filtration system, the purifier promises to make indoor air healthier and cleaner.
The device takes air purification a notch higher by effectively removing mold spores, dust mites, viruses, pollen, allergens, pet dander, and smoke. It comes with AeraSmart sensors that can monitor air quality and adjust the fan speed automatically and cover a room size of 300-600sq.ft.
It also includes a carbon filter that eliminates household odor and large particles. Users can put the device on Aera plus mode to reduce allergic symptoms in cold/flu seasons.
Product features and specifications
Weighs 13.52lb
4-stage hospital-type filtration
HEPA – True filter
99.97% effective
Comes with AeraSmart Sensor
Energy Star Certified
3 year limited warranty
User/ Customer specifications
People who live in a region that gets a lot of pollution and dust are happy with their investment as it helps them stay healthier. Users have noticed less dust accumulation on dark wood furniture and those with asthma have also experienced a reduction in their breathing difficulties.
Customers are also happy that the air purifier is lightweight and portable to carry from one room to another. It also makes less noise expect when put on the highest fan setting, which is highly appreciated by the users.
Conclusion
If you have dust allergies or your basement smells too musty, invest in something that's more powerful such as the Fellowes AeraMax DX95 with four different filters. Overall, it can reduce large to small dust particles and mold spores to make your indoor air breathable and healthy.
---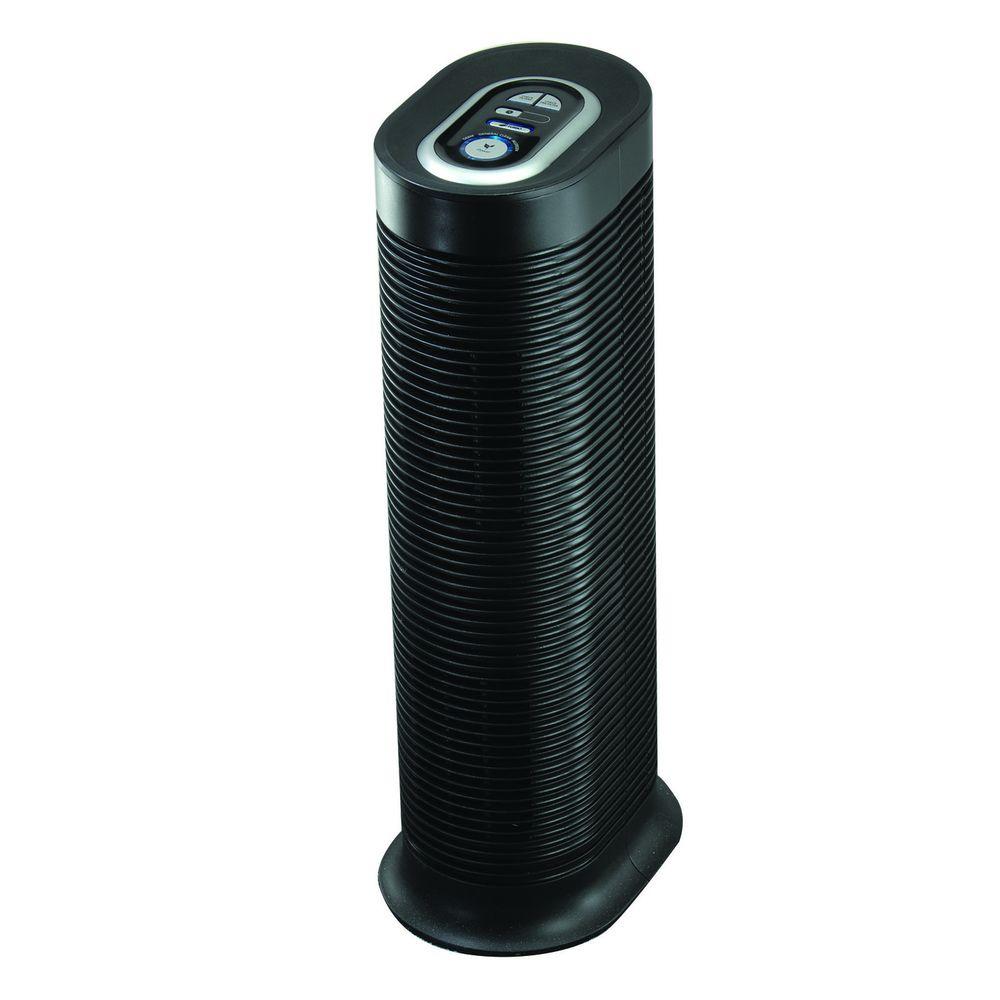 If you are lucky to have a large basement that you wish to turn into a gym or studio, the Honeywell Air Purifier can be a good choice. This is one of the largest air purifiers that promise to make your indoor environment free of allergens, mold spores, VOCs, germs, pet dander, and air-borne pollutants.
It contains a true HEPA filter that can capture 99.5%, allergens and airborne impurities as small as 0.3 microns to give you fresh and healthy air. There are four different cleaning levels that include allergen, germ, and turbo power cleaning levels.
There's an auto shut down feature that stops the device at a pre-set time (2, 4, or 8 hours) to conserve energy while you are sleeping. Besides making the air healthier, the device also circulates air within the room.
Product features and specifications
Weighs 9.99lb
True HEPA filter
Tower construction
Auto shut-off feature
Circulates air 5 times per hour
AHAM certified – smoke 110 dust 120 pollen 130
5-year limited manufacturer warranty
Reduces airborne odors, allergens, VOCs and germs
User/ Customer reviews
People who have severe asthma are often recommended by doctors to use a powerful air purifier like the one by Honeywell. Users love its slim profile which makes it stand out of the way without being a bulky obstacle in the room.
Customers love that the purifier is powerful enough to cover a large room, and the effective filtration system purifies the air within minutes. A few users have warned that the device makes some sound on allergen mode and the light may be slightly disturbing for a few people.
Conclusion
Honeywell is a trusted brand and its air purifiers are tried and tested to work even in the most polluted areas. This model does a good job of removing musty and moldy smell from the basement and other parts of the room. With a 5 years limited manufacturer warranty, we feel this is a risk-free product.
---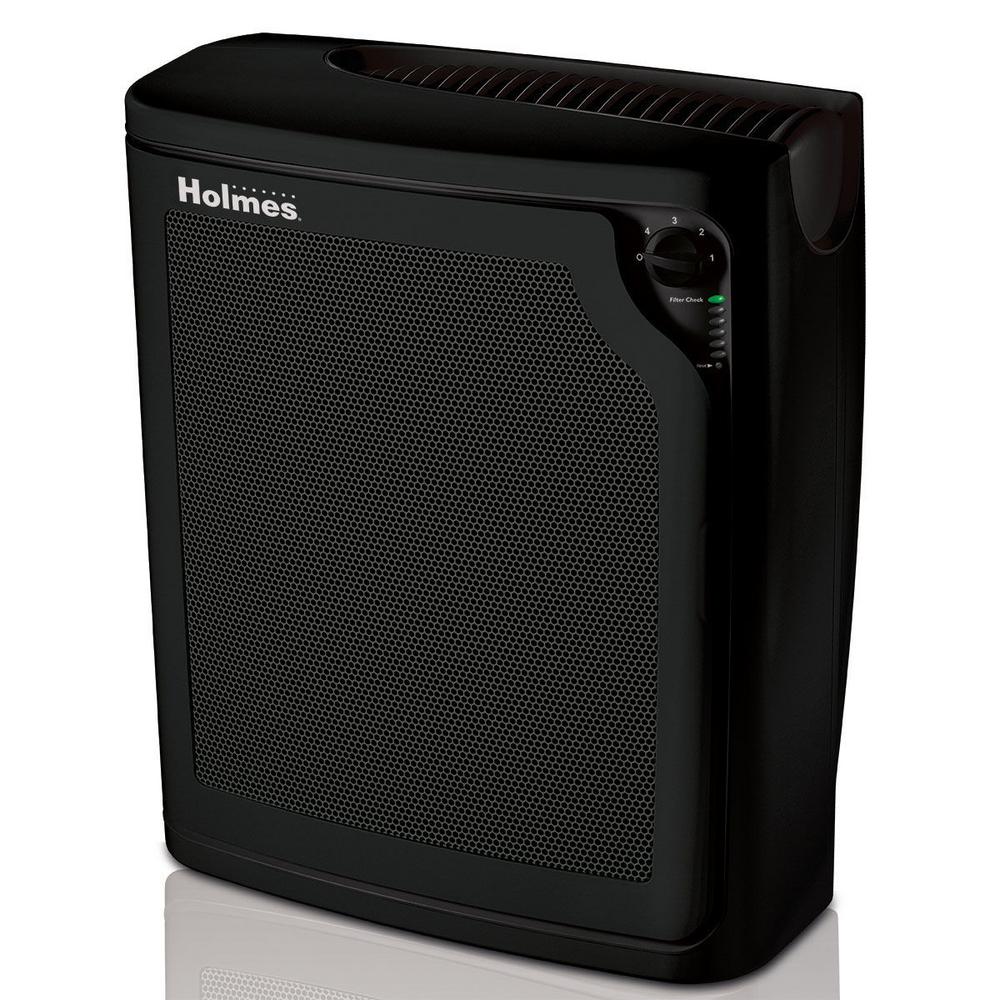 When you want a smart and sleek allergen remover and air purifier, the Holmes stands out with its compact form and artistic appeal. Equipped with a true HEPA filter to trap small airborne particles and ARM and HAMMER-enhanced filter to trap the household odors, this device promises to keep your basement smelling fresh and good.
The fan has 3-speed settings to ensure that you have good and healthy air circulation within the house. It also includes a washable pre-filter that can capture the larger particles to add more years to the HEPA filter, enabling you to breathe more easily. The filter monitor alerts tell you when you need to change the filter to ensure maximum performance.
Product features and specifications
Weighs 22.3 lb
3 fan speed settings
Covers an area of 310 square feet
True HEPA filtration
Removes up to 99.97% of allergens
5 year limited warranty
Manual controls
User/ Customer Reviews
People have said that the air purifier helped them get rid of the sneezing fit every time they stepped inside their basement. Customers have also experienced relief from respiratory problems and reduction in snoring. Some users have said that the noise level is low while others find the high fan speed noisy.
Pet parents and bird owners have also noticed a dip in the level of dander and dust in the air. A few users have warned that there are 3 filters that need to be replaced and this makes changing filter costs higher.
Conclusion
If your basement is over 300 sq feet and has poor air circulation causing mold growth, this device can fix things straight for you. The Holmes air purifier is also highly portable so you can carry it to other rooms when needed. Although it is slightly expensive, the performance justifies the investment.    
---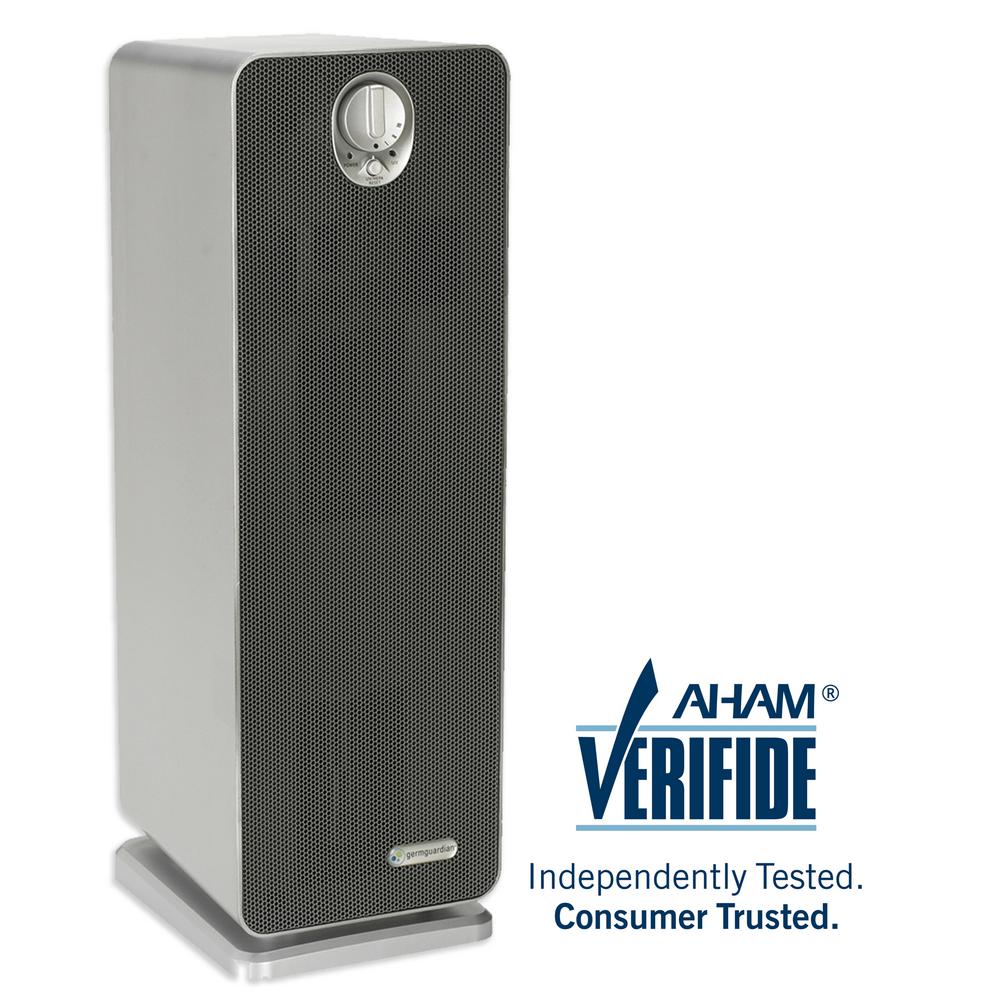 When you want to get rid of mold and mold spores in the basement, check out this 3-in-1 true-HEPA air purifier. Apart from the HEPA filter that captures dust and pollen as small as 0.3 microns, this device also comes with UV-C light to trap the spores and germs.
Despite its tall built, the air purifier is extremely lightweight and perfect to use in small to medium-sized rooms. The stylish appearance complements interiors of a home office, gym or studio. It also comes with simple controls and three-speed levels that offer quiet operation.
Other than removing mold, germs, and other pollutants, the air purifier also eliminates smoke and other household odors. The easy turn-on dial operation makes it easy to use. There are indicators for filter and UV bulb replacement.
Product features and specifications
Weighs 12.15lb
HEPA – True filter
Covers an area of 150
Traps 99.5% of impurities
Activated charcoal filter for smoke
UV-C light technology
User/ Customer reviews
People find this air purifier simple to use straight out of the box and the sleek design matches any interior décor. Users are impressed with the noiseless operation on a low setting but find the high setting very loud.
Customers have reported that they noticed an improvement in their breathing and respiratory problems after installing the air purifier. A few users have said that they wished there were sensors.
Conclusion
If you want to get rid of sneezing and wheezing while working from your basement office then this is a good investment. The UV-C light does a great job of trapping the microorganisms. Overall, it delivers a good price to performance ratio.
---
Top Reasons To Use An Air Purifier In Basement
When we talk about a basement, the first thing that comes to our mind is the damp and mold smell. If you are prone to allergies, entering into a closed basement may send you into a fit of nonstop sneezes. Although the basement area is least ventilated and lacks proper air circulation, you can still make it more livable by using an air purifier.
In fact, this is one of those areas in your house where you will experience an amazing difference after using an air purifier. However, these devices don't come cheap so if you are still looking for reasons to invest in a good quality air purifier then read on.
Better air circulation
Most basements have the same story – no windows and a door that is mostly closed, hence the air inside does not have a way to escape. As a result, the indoor air becomes stale over time and that's why when you walk into the basement, you get that stuffy feeling.
By installing an air purifier, you can not only improve the air circulation within the house but also keep a check on the pollutants that come in along with the outside air. When there's free air flowing within an area, the temperature is also well regulated and the indoor environment feels healthier.
Check on allergens
If you are considering to revamp your basement with a new coat of paint or some interior woodwork, expect a good amount of allergens to creep into the air. If you are allergic to toxic gases or have asthma, you may suffer from a variety of respiratory problems the moment you step inside a basement.
An air purifier comes handy to remove the allergens by trapping them inside the filters. Most of the devices come equipped with a true HEPA filter capable of trapping particles as small as 0.3 microns. Thus, you can see a marked reduction in an asthma attack, sneezes, wheezes, coughs, and so on.
Removes pet hair and dander
If you are a pet owner with furry friends allowed to roam freely within the house and also your basement, a good amount of pet dander can build up in the area. You cannot stop your pooch or kitty from cozying up with you while you work in the basement, so an air purifier is a good solution.
So, any project that involves converting the basement into a home office or gym, will involve installing an air purifier in the list of things-to-do. Just like you use it in your bedroom or living area, the device will make it easier to spend some time in the basement with your pet around.
Less accumulation of dust
Regardless of whether you have a finished or unfinished basement, expect to get a lot of dust indoors when you start using it more often. Dust mites may often cause a plethora of health issues, making it difficult for you to use the basement for any purpose.
The level of dust in your indoor environment may vary depending upon the pollution in your area. When you install a good air purifier, you can notice a marked decrease in breathing and respiratory issues related to dust allergies.
Decrease in VOCs (Volatile Organic Compounds)
Sometimes the basement is in a neglected state and requires a good amount of repair work or renovation to make it livable. So, whether you think about giving it a fresh coat of paint or changing the flooring, the building materials that you use may increase VOCs in indoor air.
Many people are allergic to fumes emitted by paints or adhesives used in interior work. An air purifier can be helpful in removing these toxic gases before the vapors are absorbed by your eyes, lungs, or throat.
Related Article: 7 Best Air Purifier For Vocs And Formaldehyde
Check on the mold growth
As the basement area is dark, damp and high in humidity, they quickly become breeding grounds for mold. This results in the stinking and musty odor that you receive as you enter the basement. An air purifier not only improves ventilation but also eliminates the mold spores from the environment.
As the mold spores are sucked into the filter, they are often destroyed by an ultraviolet light within the device. With the constant use of an air cleaner, you can considerably improve the quality of indoor air.
Crisp and good-smelling air
When there are less allergens, mold spores, and dust in the air, your environment will be cleaner and smell much better. This will spare you from having to use air sprays and perfumes to get rid of the bad odor. The indoor air will be naturally cleaner and fresher too.
Reduces smoke and bad odors
Do you have the habit of smoking cigarettes while working? Is your basement located in a way that you get the cooking smell from your neighbor's kitchen? All that unpleasant odor can be checked with the help of an air purifier.
When you turn on the device, you can see visible smoke from tobacco or food disappear. The activated carbon filter also absorbs the strong odor to make the basement more livable.
Better sleep quality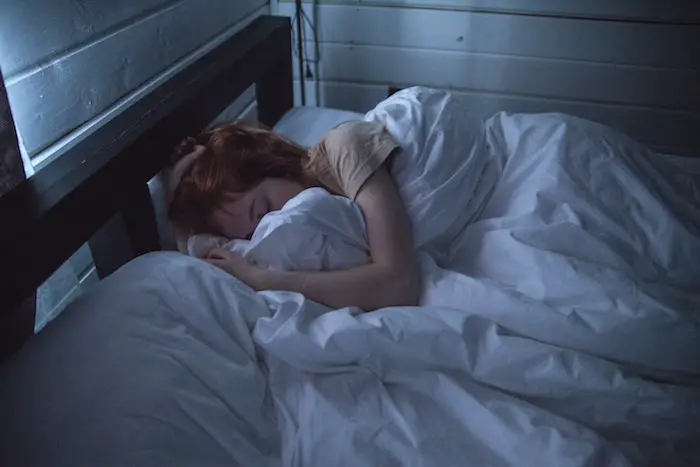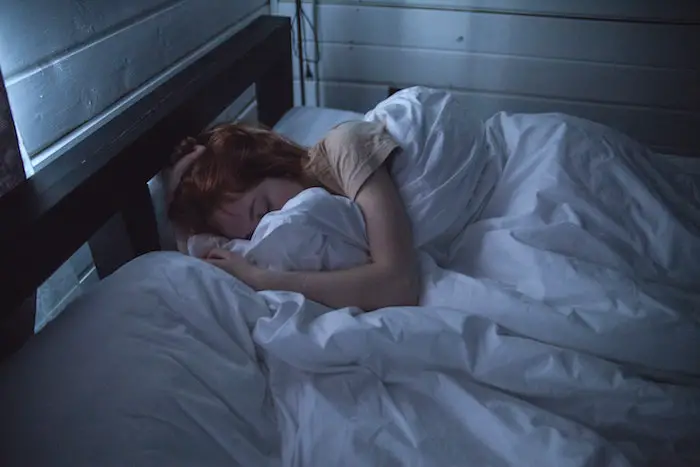 If you are thinking of converting your basement into an extra bedroom or a guestroom then you may want to make the indoor environment more pleasant. Studies have shown that polluted and moldy air can disrupt sleep and cause health problems. 
By installing an air purifier, you can purify the indoor environment to make it more breathable and healthy. It can improve your sleep and turn out to be beneficial for long term health. Research also shows that breathing clean air helps in reducing stress and anxiety.
Things To Look For In An Air Purifier For Basement
We have listed the best air purifiers above based on our reviews and comparison. However, it should be understood that 'best' can have a different meaning for different people living in different locations. The type of device you finally choose should depend on the way you plan to use the basement, the level of pollution in your area, air circulation and so on. Here are a few things to consider:
True HEPA Filter
This is crucial in a basement air purifier because only a true HEPA filter has the capacity to capture very small dust particles (0.3 microns size). This may include allergens, pet dander, mold spores, dust, and numerous other particles.
We strongly suggest that you avoid products that say HEPA-type or HEPA-like because the filter is not the same as a real HEPA filter. If you don't find the word 'True', take it for granted that the filter is of inferior quality.
Ultraviolet Light
If your basement gets a lot of dust pollution along with mold and other allergens, we suggest that you look for an advanced air purifier that includes UV technology. They work by destroying the DNA structure of these microorganisms with the help of ultraviolet light.
As this light is within the air purifier, it does not get released outside. Hence, it does not interfere with your sleep. The UV-C used in these devices is safe for humans and pets.
Activated Carbon Filter
Just like mold gives you a musty smell, building materials release toxic gasses, and the tobacco you smoke also gives unhealthy fumes. As a result, we suggest looking for an activated carbon filter that absorbs all these gases to give you a healthier environment.
While the air purifier does its job, you may also try other methods to prevent or stop the growth of mold altogether. Here are a few common issues and fixes that can be helpful.
10 Tips To Prevent Mold Growth In Basement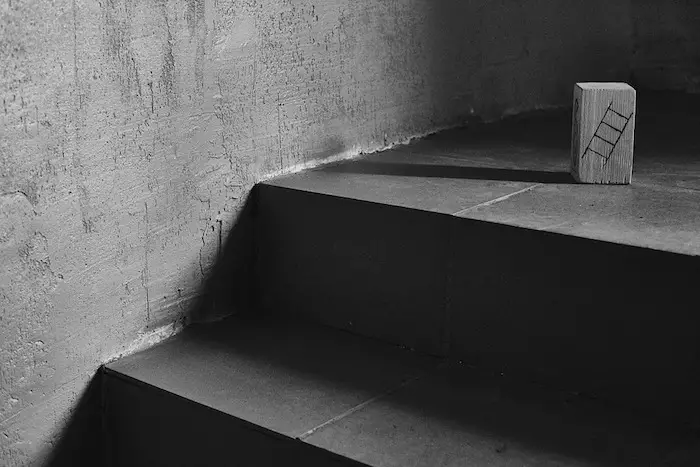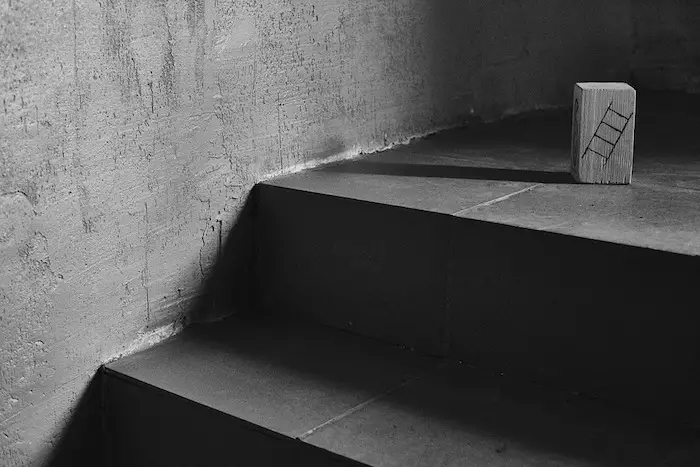 Check the ground level to ensure that it is properly inclined to maneuver water away. It should prevent water from getting inside your basement area and accumulating.
As the temperature falls, air is able to hold more moisture and this leads to a growth of mold. We suggest that you use a dehumidifier, improve air circulation, and position furniture away from walls.
If the basement is filled with junk items such as bags and boxes you don't use anymore, keep them inside garbage bags to prevent contact with mold.
When checking for mold, look for areas other than the obvious and visible surfaces. They tend to spread quickly and often hide in unexpected places.
If there is mold growth in the basement, get rid of the contaminated materials expect those that can be cleaned and reused.
Avoid using carpet in the basement area or any other flooring material that may be susceptible to getting affected by mold.
To get rid of mold, prepare a solution of vinegar, water, borax, and bleach. Put this solution in a bottle and spray on the walls, pipes, windows, and other fixtures. Leave for 2 hours and then clean.
After 2 hours, you may re-spray the above solution in the basement surface and walls. Scrub well and use a brush with handle to reach hard-to-access spots. Rinse.
If you are refurbishing or renovating a basement to convert it into livable space, try to use as many mold-resistant products as you can. We suggest that you use paint with mold-inhibitors, air dryer, dehumidifier, borax solution and so on to prevent mold growth.
Mold growth may also result due to leaking and damaged roof. We suggest that you clean the roof, and inspect regularly for any damage. Fix as required and keep an eye for water leakage and stains after a storm.
Related Questions
Can I use baking soda to remove mold?
If you are looking for natural methods to get rid of mold then baking soda is a good option. Make a mix of water, vinegar, and baking soda. If you don't have vinegar, only water, and baking soda is enough. Dissolve baking soda in water or the solution of water and vinegar.
Spray this solution on the area that has mold growth and leave for some time. When it dries, wipe with a damp cloth to remove mold without leaving behind any bad smell.
Related Article: Easy Ways On How To Get Rid Of Mold On Clothes
Are essential oils good for fighting mold spores?
Although essential oils such as tea tree oil are expensive, they turn out to be more effective than other ways to do spot mold treatment. Spray the oil on the mold spores and do not rinse. Tea tree oil has a strong odor but it will go away after some time and the spores will be effectively controlled.
Why are air purifiers more effective than other ways to remove mold?
The spot removal methods to get rid of mold work temporarily and you need to do it again after some time. Air purifiers come with sensors that can identify the levels of dust, mold, and germs in the air. They adjust settings accordingly to keep working in the background to keep the air clean without your constant involvement. 
Related Article:
Mold Cleaning: How To Get Mold Out Of Carpet?
Concrobium Mold Control Reviews
The Easiest Way To Clean Mold From Wood