Deep breathing can help in purging out the stress. But, what if the air is full of pollutants, germs, and pet dander? No points for guessing that it's going to do more harm than good. The dust and germs don't necessarily come from the outside. The tiny repair you do in your apartment to fix a leaking faucet or creaking door can pollute the quality of indoor air.
So, what is the solution? How to ensure your loved ones breathe healthy air and keep away from respiratory problems? The answer is an air purifier.  If you live in a city apartment, you would want the best air purifier for a small room to keep your indoor environment fresh and healthy.
No matter how polluted the city may be outside due to emission from vehicles, carbon footprints from factories, etc, you can turn your home into a healthy haven with an effective air purifier. If you are in the market looking for one, the number of options available may confuse you.
As a result, I have compiled a list of best purifier for a small room (space) with unbiased reviews of each to help you make the right choice. Check out the details below:
This is a HEPA-type air purifier from the house of Homes and it is capable of removing up to 99% of smoke, pollen, dust, mold spores, pet dander, and odor. The product can filter dust particles as small as two microns to keep your home or office dust free. It is recommended for a room size of 100 square feet and has a smoke CADR level of 60.
The features include 3 cleaning speeds to keep indoor air fresh and pure, dual positioning, and optional ionizer to boost the performance of the purifier. You may select the low speed for noiseless operation when you are at home and choose the highest speed when you are away from home.
Pros
The filter alert technology indicates when the purifier needs a service
It can be placed vertically or horizontally for convenient tabletop positioning
It comes with a powerful carbon booster that eliminates odor
The air purifier filter has a life span of about 4 months
The product can be run 14 hours a day with windows open to effectively fight against allergens
It is energy efficient and hardly produced any noise in the lowest setting
The manufacturer stands behind the product and offers a 3 -year limited warranty
It relieves headaches caused by odor, reduces stress and gives you a good night's sleep
Cons
The purifier has a HEPA-type filter, not the original HEPA filter
The machine may overheat and emit a foul smell after a few months
You will need to replace the filters which are a hidden cost
---
Tired of sleepless night and respiratory issues that make breathing difficult? Gift your family a pure haven by improving the quality of indoor air in your apartment. Get the GermGuardian GG1000 on Amazon, which is one of the best air purifiers for a small room. It provides fresher and cleaner air using UV-C light technology.
Whether you are worried about allergens, germs or bacterial infection, this small yet effective air purifier can handle it all. The product contains a single UV-C light bulb instead of a filter, and it consumes less energy to operate. It also comes with a limited manufacturer warranty of 1 year.
Pros
It can purify the air in a room size of 456 cubic ft in about 1 hour and a room of maximum 1728 cubic ft in 3.78 hours.
It effectively cleans ions in the air, removes bacteria and also eliminates odor to give you fresh air
It sanitizes the air and kills germs so that diseases do not spread in the family
The product produces a mild humming noise that can help you get good sleep
It has a fairly compact design that does not take up a lot of surface area
Cons
The device uses UV-C so it will produce some amount of ozone
The product is effective in controlling pet litter odor by 95% so you can breathe fresh air
It emits some amount of light that may be disturbing for some people
---
This is yet another 3-in-1 Air Purifier from the GermGuardian stable and it's more effective than its sibling in numerous ways. It is made of original HEPA-filter that can eliminate 9997% of dust, germs, and allergens as tiny as 3 microns (mold spores, pet dander, household dust and so on).
The purifier constitutes of a charcoal filter that can remove odors emitting from food, smoke, or pets. It may also come fitted with UVC light technology to remove airborne bacteria, germs, and viruses. There are three-speed controls and the lowest speed operates quietly to keep your home clean and odor free.
Pros
It sports a compact design that fits well in any small room of about 100 square feet
The filter change indicator comes handy as it tells you when to replace the filter
The manufacturer stands behind the product and offers 1-year limited manufacturer warranty
Activated carbon filters may be added to increase the life span of the device and trap the bad odor
The UV-C light helps in killing airborne germs such as influenza, staph, and rhinovirus
The product is easy to set-up and does not make a lot of noise while operating
Cons
The purifier may get overheated and does not switch off automatically when heated
Some people may not like the white noise coming out of the device
---
The GermGuardian undoubtedly makes some of the best air purifiers for a small room and their 4-in-1 model is just what you need for a kid's room. As the name suggests, this model is capable of performing four different tasks – sanitizes air, acts as a ceiling projector, traps allergens, eliminates odor. It comes with a CADR 60 for dust, 68 for pollen, and 35 for smoke.
The product includes a HEPA Filter that can capture 9997% of allergens and a Carbon filter that reduces odor. It is equipped with UV-C light technology (optional) to reduce viruses, germs, and mold spores in the air. With 3 speed options, the purifier runs quietly with low white noise.  The filter needs to be changed every 6-8 months depending on the frequency of use.
Pros
Multiple levels of cleaning help in cleaning and sanitizing air
Three fun projector themes to decorate the ceiling at night
UV-C technology keeps the environment bacteria and virus free
It comes with a filter replacement reminder so you can breathe easy
The compact design of the purifier ensures that it can fit in all spaces
The product uses original HEPA filter that works effectively and as promised
It offers good value for money and 1-year limited manufacturer's warranty
Cons
The cords are made of lead and include a warning to wash your hands if you accidentally touch it
---
This compactly designed and smart looking device comes with a HEPA and activated carbon filter. It is capable of eliminating 99.97% of air impurities including dust particles, smoke, pollen, bad smell, mold spores and so on. The device is ozone free and can filter out particles as small as 0.3 microns without release ozone to the air.
InnoGear features three fan speed levels and a turbo sleep mode to clean the environment rapidly. The sleep mode ensures a quiet operation without disturbing your sleep. It also comes with timer settings to shut down the purifier at frequent intervals to conserve energy. Apart from purifying the air, it also eliminates bad odor. It works best for a room size of up to 200 sq-feet.
Pros
Sanitizes the air quickly in just a few minutes to give you a germ-free and odor-free environment
Effective at improving indoor air for people who suffer from allergies, asthma or other respiratory issues
The compact design of the device makes it perfect for home or office
The indicator light tells you when it is time to replace the filters
There are different modes like Turbo mode and Sleep mode to suit your needs
The manufacturer stands behind the product and offers replacement and repairs if needed
Cons
On Turbo mode, the device makes a loud noise that can interfere with your other activities like watching TV, etc.
---
This compactly designed air purifier comes from the house of Dyson (see Amazon) and it claims to remove about 99.97% of pollutants and microscopic allergens. It keeps your family safe from seasonal allergies and the overall environment stays pollution free.
This smart air purifier is capable of automatically monitoring, purifying and reporting the results to the Dyson link app. It is also Amazon Echo (see how to set up) enabled so you can command Alexa to turn your Dyson purifier on or off. Even on night mode, the purifier works quietly with dim LED light to ensure a peaceful sleep.
Pros
The purifier connects with Dyson link app to control actions and show updates
It is easy to set up and change the filter
It dramatically increases the quality of air and also improves air flow
It can be used in any small room or office to purify indoor air
The product sports a compact design and can be installed anywhere with ease
It is effective in removing dust, pollutants, bacteria, pet dander, and odor
It reduces allergens so your family stays healthy and sleeps well too
Cons
It makes a slightly loud noise, which may be disturbing for some people
---
Just as the name suggests, this is a 3-in-1 air purifier containing HEPA filter that can trap about 99.97% of dust, pet dander, pollen, smoke, mold spores, and odors. The device is perfectly suitable for a 10X10 room and anything above may impact the performance of the device. It is also outfitted with UV-C light technology to destroy the microorganisms such as bacteria, germs, fungi, and viruses.
PureZone air purifier boasts silent operation with a noise level of just 30dB, thus it also aids in improving sleep. The product also comes with an automatic timer that automatically shuts off the device after 2, 4or 8 hours of use.
Pros
The device has a compact design and it fits in almost any space
It can be set-up in a few seconds for easy and efficient operation
The manufacturer offers 5-years warranty with customer support of 7 days a week
The 3-speed fan settings help you better accommodate the needs of the room
With the filter reset indicator, you know when to change the filter
The operation is so quiet that you hardly know that it is in the room
It proves to be excellent in improving the quality of air in case of forest fires, etc
It provides great relief for people suffering from asthma and other respiratory issues
Cons
The fan speed is weak even if you keep at the highest setting.
---
Best Air Purifier For Small Room: Buying Guide
Not many people are aware that the indoor air they breathe may be more polluted than outside air. As we spend a substantial amount of our time indoors, it's essential to ensure that we breathe in fresh and germ-free air. However, buying an air purifier is not as easy as said.
When buying an air purifier, you need to consider several things to ensure that the product meets your specific requirements. From the room size and type of filter to the manufacturer's warranty and availability of parts, every aspect needs your attention.
I have compiled this ultimate guide for you after extensive research to make your task easier. Read the information below to make a wise choice and avoid any impulsive decisions.
Why do you need an air purifier?
This is perhaps the most important question you may need to ask yourself before buying an air purifier. Considering the fact that different models are capable of performing different activities, it is important to first consider your air purifier needs.
If you are looking to improve the quality of air in general, you may consider the models featuring HEPA (High-Efficiency Particulate Air) filters. They are proven to remove 99.97% of airborne allergens as small as 0.3 microns in size.
As one of the most powerful and effective air filters in the market, HEPA can eliminate dust mites (see my previous articles on how to get rid of dust mites), pollen, mold spores, pet dander, and ragweed. However, if you have a specific requirement, then you may want to check out the following aspects:
For allergies: If you or anyone in the family is prone to seasonal allergies, you need to look for an air purifier that offers allergy relief. They usually have multiple layers of filters including the HEPA filters to eliminate the indoor allergens.
For asthma: If you have a respiratory disease, chemical pollutants or odor may trigger the symptoms. Hence, you will need a specific chemical air purifier or asthma air purifier to remove odor and allergens from the air.
For smoke: If you live in a location that has industries releasing huge amounts of smoke or you are allergic to fireplace soot, cigarette smoke, etc, consider getting a special smoke air purifier that can remove the unpleasant odors from the environment.
For pet allergy: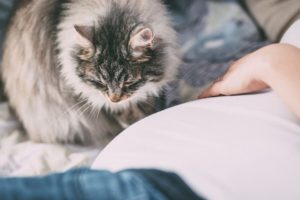 You may love your Toby or Tiger like your child but pet dander can create a lot of nuisance. If you find it difficult to breathe because of the nasty odor in the house, get a special HEPA air purifier to control pet allergy.
For chemical sensitivities:
A newly painted house or repair work may often cause nausea and headaches due to the presence of chemicals in the air you breathe. If you are sensitive to chemicals, consider buying an air purifier that helps you control the multiple chemical sensitivities (MCS).
There are special models of air purifiers made using materials that trap the chemicals and do not release them to the environment.
What size of air purifier is perfect for your needs?
The air purifiers have a certain capacity hence you need to choose the right model that meets your specific requirements. For this, you will need to consider the size of the room (square footage) where you intend to use the purifier.
To do this, multiply the length and width of the area or room where you will be installing the purifier system. With the data available, find an air purifier that can match the square footage area of your room. You can find the specific information under the manufacturer instructions 'Suggested Room Size',
If you are looking for a special air purifier to manage asthma or allergies, look for a product that offers air change per hour rate or ACH. It refers to the number of times an air purifier can filter the entire volume of air in a span of one hour.
The specially designed air purifiers can clean the air about four times per hour for asthma and allergy sufferers. Purifying air four times per hour ensures that the product cleanses the air thoroughly and filters out any microscopic allergens that make it difficult to breathe easy.
When looking for an air purifier with ACH, I would recommend that you look for 'room size for 4 ACH' specifications. Match the square foot area of your room with the ACH value to determine the effectiveness of the air purifier.
Here's a standard guideline for choosing the best air purifiers:
Small size air purifiers are designed for bedrooms or small offices up to 299 square feet area
Medium size air purifiers can purify indoor air in a room covering an area of 300 to 699 square feet
Large size air purifiers can remove pollutants and germs in rooms measuring 700 to 1,900 square feet
If you wish to buy a purifier for the entire house, check out the exclusive whole house models.
You can also have a look at my previous article for bigger air purifier reviews
What type of features do I need?
After you have finalized the size and type of air purifier you need, look further for the special features and specifications. Some of the extra features may include handles for convenience, caster wheels, remote controls, digital controls, filter change indicators, multiple fan speed, air quality sensors and so on.
The extra features help in adding more convenience to the overall operation of the purifier. It also gives you more control over the settings and the performance of the product. You may also choose the wi-fi air purifiers that can be controlled via your mobile phone. To save energy, look for air purifiers that come with energy star rating by EPA.
What type of maintenance is needed for the air purifier?
Proper maintenance of your air purifying system is essential to guarantee a long life for your product. If you are using a model that comprises a filter, you must remember to replace the filter at regular intervals as recommended by the manufacturer to maintain a high level of purification.
Whether your air purifier has just one filter or comprises of multiple layers of filters, you will need to change them at different intervals. For example, the HEPA filter may last for one year, the activated carbon filter may last 6 months, and the pre-filter may last for only 3 months.
When you go shopping for an air purifier, you must also take into account the frequency at which you may need to replace the filters and the cost involved. The standard filter life is usually mentioned in the product specifications.
Some simple models may use just one filter so you bear the cost of replacing just one filter. Other models may include multiple filters such as ultraviolet light filters and allergen filters to sanitize the air and kill germs.
Where will you install your air purifier?
This is another important aspect of buying an air purifier. The place you keep the product will have an impact on the overall quality of indoor air in your home or office. Remember that the portable air purifiers are basically designed to purify the air in just one room, so you will need to buy separate units for different rooms.
To ensure portability, you may select a unit that comes with handles or caster wheels for easy portability. This is suitable for small rooms. For bigger homes, you may choose purifiers that can be connected to your HVAC system to sanitize indoor air as you cool or heat your home.
Different Types Of Air Purifiers In The Market
HEPA Filter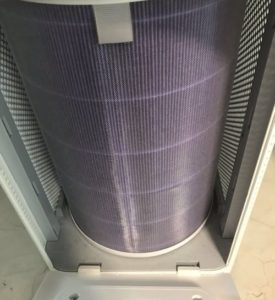 While the filters may vary and the features may be less or more, the air purifiers are generally categorized into two different types – HEPA Filter Air Purifier and Ionic Air Purifier.
The HEPA filter air purifier is a good choice for those who are sensitive to allergies or suffer from respiratory issues such as asthma. These filters are capable of eliminating about 99.97% of particles as small as 0.3 microns size.
If you are wondering how small is 0.3 microns then let me tell you than human hair measures about 2 microns, and it is usually 4-5 times larger than most of the airborne contaminants.
The HEPA filter is highly effective at trapping microscopic particles that trigger symptoms of asthma and allergies. If you wish to get rid of toxins such as mold spores, pollen, pet dander, etc, this is the most recommended type of air purifier you can buy.
As this type of device uses a physical filter, it's good at capturing all particles and preventing them from getting released back into the air. Thus, it works best for the allergy sufferers and asthmatics who seek long-term relief.
Ionic Air Purifier
This type of air purifiers does not use a paper filter to remove dust particles or allergens from the air. They operate by emitting charged particles on to the air. These ion particles trap the airborne germs and sanitize the air.
After forming a bond with the allergens, these charged particles usually fall on the floor. When they are equipped, they are usually collected on a collection plate. The biggest advantage of using the Ionic air purifier is that it is capable of removing microns as small as 0.01 size, 3 times smaller than a HEPA filter.
The downside of this technology is that the charged particles can cause complications for asthmatic patients. Another disadvantage is that all ionizers do not come with a collection plate for charged particles. This means hazardous particles falling on the floor may re-enter the atmosphere.
The thing that works in their favor is that they are one of the cheapest air purifiers available in the market. So, if you have budget constraints, you may check out this style of purifiers but make sure you weigh the downsides too.
Electrostatic Filters
Similar to ozone generators and ionizers, the electrostatic filters operate by charging the particles present in the air. After the particles get charged, this type of air purifier collects them all within the device.
The collection plate that contains the charged particles can be removed and washed before reusing. The electrostatic charges are capable of killing the microbes, particulates, and mold spores that are trapped in their high-quality air filter.
Related Article:  HEPA AIR PURIFIERS ARE MORE EFFECTIVE THAN ELECTROSTATIC AIR PURIFIERS
Activated Carbon Filters
Another popular type of air purifier uses activated carbon filters that are effective at trapping the gasses and odors that pass through them. Some filters are strong enough to filter out the volatile organic compounds.
Large dust particles may also get easily trapped in the activated carbon spores. If you feel that the standard air filter is not effective enough to handle bad odor in your home, an activated carbon filter is what you need.
Filters with UV Lights
Air purifiers that contain UV light filters have the ability to take care of microbes and viruses. The UV lights can be conveniently installed in your HVAC system. You may install one over the coil to prevent the mold spores from growing.
If you live in a region that has frequent forest fires or you suffer from respiratory issues, consider pairing a few technologies together. For example, a high-MERV filter coupled with UV light for those suffering from asthma.
Features To Consider When Buying An Air Purifier
If you are buying an air purifier for the first time, chances are you will not have an idea of the features to consider. I have listed down the most essential and standard features to ensure that you make an informed and wise choice.
Fan:
The air purifiers come equipped with a fan in order to suck in the air for filtration purpose. The noise you hear in a purifier is mostly due to this fan. If you want your purifier to work quietly, look for a model that does not include a fan.
In the models without a fan, the air circulates naturally in the room. However, tests have shown that purifiers with a fan are more effective at removing dust, germs, and pollens.
Programmable Timer:
This convenient feature allows you to set a timer for the device to run for a few hours prior to using a room. It can also be used to turn off the device automatically.
Indicator for servicing:
If the air purifier is clogged with dust, it won't work efficiently. Thus, the servicing indicator comes handy. It lets you know exactly when the unit requires servicing.
Carrying handle:
If you are seeking portability, get a model with a carrying handle. A handle makes it easier to move the purifier from one room to another.
Remote control:
With remote control, you can adjust the settings of an air purifier from any location of the room. This is an essential item when buying a purifier for the entire house.
Dirt-sensor: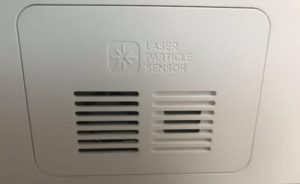 In some high-end models, the unit senses the level of dust or dirt in the indoor environment to adjust the fan speed accordingly.
Different speed levels:
With the low, medium, and high-speed levels, the purifying unit adjusts as per your cleaning needs. You may set it at a lower setting while you are sleeping or working, and use the high mode when it's seasonal pollen time.
Ionizer:
If you choose to buy a unit that uses an ionizer to attract dust particles via static electricity, make sure it does not produce any ozone. It is usually mentioned on the box or in the manual whether or not it produces any ozone, which is a lungs irritant.
Washable pre-filter:
Some models come with a washable and reusable pre-filter that can easily collect large particles. This preliminary filter helps in extending the life of the main filter. However, not all models have this feature so choose wisely.
What Are The Extra or Optional Air Cleaning Features?
Apart from the standard purifying features mentioned above, there are also some extra and optional features worth considering. They can help in enhancing the performance of the products and make your home a safe haven.
Ultraviolet light technology
If you are looking for an air purifier that can help in creating the most germ-free breathing environment, the answer would be Ultra Violet (UV) light. It sends out electromagnetic radiations capable of breaking down the DNA of viruses, bacteria, and germs. The particles become almost harmless after that.
Furthermore, the ultraviolet purifiers are safe for you as well as the pets around you. The spectrum used in the UV purifiers falls in the safe zone.
An extra layer of carbon filter
When buying an air purifier, the most important thing in mind would be creating a breathable and healthier environment to breathe. However, another important aspect that goes unnoticed is removing odor and smells. This is where a carbon filter comes into the picture. It can help you eliminate bad odor caused by soiled baby diapers, cigarette smoke, pet, cooking, and much more.
If you are looking for a special purifier that cannot only give you a healthy breathing environment but also a fresh smelling home, get a carbon filter upgrade.
Choosing An Air Purifier
After you consider the features and extra options mentioned above, read the labels present outside the packaging. It will give you an idea of the CADR rating and effectiveness of the device for a specific area. While electric purifiers are the most common types of units available, you will find a wide range of attractive styles to suit your interiors. Remember to check the reviews to see how real customers react to the product.
The air purifier not only removes dust, allergies, and pollens but also helps you breathe easy inside your home. If you suffer from asthma, allergies, or COPD, the purifier helps you make an informed choice. Armed with additional information about CADR ratings, you can further buy a product that meets your diverse requirements.
Related Questions
What does CADR mean in air purifier?
The clean air delivery rate or CADR is a numerical representation that shows how effective a purifier is at removing the dust, pollen, allergens, pet dander, and cigarette smoke. It shows the volume of air sanitized by the filtration system. As a standard rule, if the CADR is higher, the air purifier is more effective.
The Association of Home Appliance Manufacturers evaluates the different models of air purifiers and assigns a number. This number is mentioned in the purifier specifications to help the customers make an informed decision.
The CADR ratings are determined on the basis of a test. As the tests are always conducted on the same room size, the ratings may be as follows:
For Tobacco Smoke – recommended CADR rating 10 to 450 CADR
For Dust – recommended CADR rating 10 to 400 CADR
For Pollen – recommended CADR rating 25 to 450 CADR
What is a good CADR rating?
If the CADR rating is higher it can filter more particles in a minute for that size of particles. The consumers may use the rating to compare the purifiers from different manufacturers. The defined particle size ranges are 0.5 to 3 µm for dust, 0.09 to 1.0 µm for smoke, and 5 to 11 µm for pollen.
Do air purifier work?
Yes, the air purifiers work but they cannot or should not be used as the only means of cleaning your home environment. It should be used in conjunction with regular cleaning, dusting, mopping, disinfecting etc. If you are looking to get rid of allergies, I would recommend that you get purifiers that include HEPA filters as they work better than the ones comprising of ionizers.