Who doesn't like having sparkling floors in the house? I am sure you do. Other than keeping your house floors clean and germ-free, it also helps in creating the perfect first impression on the guests who walk into your home. Taking good care of the floors is also an investment that you do in maintaining your home.
Now, considering the increasing amount of dust and germs in the environment, it is essential to not just clean but sanitizes the floor. Out of the different types of mops available in the market, I recommend the microfiber mop for various reasons that I will mention below.
So, if your heart is where your home is and you want to ensure a safe haven for your loved ones, you need to invest in a good quality microfiber mop. However, it is easier said than done because choosing the best microfiber mop from hundreds of options can be challenging.
In this article, I have reviewed and researched some of the top-selling models to help you find the best microfiber mop that suits your needs. In the unbiased reviews, you will find the pros and cons of each product to make it easier for you to compare the products and make a smart choice.
This is a professional quality microfiber mop from the house of Microfiber Wholesale (see Amazon). It works well on different types of floorings made of laminate, hardwood, tile, concrete, and stone. The package includes two wet microfiber mop pads, one microfiber dust mop pad, one heavy duty aluminum mop frame, and one 6 inches adjustable stainless steel handle. It also comes with two free premium microfiber cloths.
With the microfiber mop, you can clean thoroughly and more efficiently in less time. These pads can be machine washed and they are more cost-effective than disposable products. The dry mop enables you to clean large debris such as dirt, pet hair, and dust; while the wet mop allows you to deep clean with ease.
Pros
The handle can be adjusted to suit your height so you don't have to bend over while mopping
It includes long pile microfiber that can pick up more soil and debris than a standard mop
It gives you the benefit of 360-degree maneuverability for everyday use
It was a wide and ribbed aluminum frame that adds more strength and durability to the mop
The mop pad is machine washable so you can use it hundreds of time, hence it is eco-friendly
There is a hole at the end of the handle to hang the mop in a closet
It dramatically reduces the time spent on cleaning and leaves no streaks
Cons
The microfiber needs a break-in period to work well
The mop does not have much scrubbing power making it difficult to get rid of tough stains
This is a contemporary-style cleaning system that comes with a convenient bucket design. It comes with a built-in wringer which enables you to remove excess water without using your hands. The deep cleaning microfiber towel enables you to remove and absorb the dirt with ease. It features an advanced foot pedal design that enables a user to control the moisture level with spin wringing.
The O-Cedar mop and bucket system also feature an exclusive splash guard to keep the splash and spray within the bucket at the time of wringing. It gives users the ability to control the amount of moisture applied to the floors for quick drying for specific floor types. The deep-cleaning microfiber removes as well as absorbs the hard-to-remove dirt and grime.
Pros
The simple foot pedal system to activate the mop makes it easy to use
It gives you the freedom from having to bend down or wringing with your hands
The unique triangular mop design makes it easy to clean all corners of the room
The product comes with a flexible mop head that can rotate 360 degrees for easy maneuverability
The mop is safe to use on the hardwood floor as well as tiles floor
The mop head can be machine washed to keep it clean
The handle can be adjusted to make it comfortable for you while mopping
Cons
The handle may be too short for tall people as there are two extensions only
The mop head is tiny and covers a small area while cleaning
If you are looking for a product that does two jobs with ease, check out this sleek mop from the house of O-Cedar. The mop has a dual-sided head with chenille and microfiber for both wet as well as dry cleaning. The dual-action of the microfiber mop gives you effective and efficient cleaning in less time. Furthermore, the mop head is eco-friendly and it can be washed and reused a hundred times.
The mop features a dense chenille side which works great at picking up large dirt particles including pet hair. It can also be used for sweeping the floor to remove dry dirt and dust particles. The dual-action of the mop with microfiber side comes equipped with rough strips to scrub and deep cleaning the floor. The mop is attached to a sturdy and easily adjustable telescoping handle that can be extended up to 56 inches.
Pros
The handle height can be adjusted to suit your needs and then twist-locked to maintain that height
The mop works great at cleaning hardwood floor, linoleum, and tile floor
It does a good job at removing dry dirt and large particles like pet hair
The mop head can be washed in the machine several times to stay clean
It is more cost-effective than using a vacuum cleaner
The mop is convenient to handle and it can sweep and mop around the corners with ease
Cons
The twist lock to adjust the handle does not stay in place
The mop head cannot last 100 washes in the machine
If you are looking for an easy and quick solution to clean your floors without leaving ugly streaks or dirt, check out the Professional Microfiber Mop. No more bending down to sweep or mop and having pet hair flying around the house as you try to clean with a broom. This professional Microfiber Mop All-in-1 kit comes with three advanced and super-absorbent microfiber pads that can last for several cleaning sessions.
No more tugging a bucket along for cleaning and as the mop head picks up fur and hair like a magnet. The pivoting head makes it easier to reach out to the difficult to access areas. It comes with a heavy duty and long telescoping handle that can be fully adjusted for different people. The manufacturer stands behind the product with a money back Guarantee and excellent customer service.
Pros
The lightweight of the mop does not put a lot of force on the wrist when you do housework
The different aspects like length adjustment, twist-tightening and un-tightening can be done with ease and does not loosen up as you work
The dust head does a great job at cleaning the ceiling fans as well
The handle is sturdy and gives you a good grip so that you can perform various tasks with ease
If you have pet hair and fur flying around the house, this mop can do a great job
Their customer service is world class and they leave no stone unturned to make customers happy
Cons
The mop keeps flipping when wet and you need to be very patient to avoid this
Some people feel the mop pad does not do a great job at absorbing liquid
This is a high-grade commercial mop that is perfectly suitable for cleaning apartment, home, dorm, office, basement, bathroom or laundry areas. The handle is made of strong aluminum alloy which makes it lightweight and easy to use. The pads are washable, hence they can be reused several times. The extra length of the handle makes it possible to sweep or mop difficult areas with ease and without bending.
The package includes two mop heads, one handle, two microfiber refills, and two scrubbing pads. Dry mop can be used to remove dust, dirt, and pet hair; while the wet mop can be used for cleaning hardwood, tile, vinyl, linoleum, and cement flooring. The greenwash mop system works great for both adults and kids.
Pros
The turbo cleaning system cleans two times faster and traps more dirt than a standard mop
Scrub pad removes even the toughest stains from grout lines and extra dirty areas
The microfiber mop is extra thick and comes with an advanced gripping technology
The pads can be machine washed and reused up to 100 times
The aluminum handle can be adjusted and extended to meet your needs
The swivel head moves 360 degrees to help you clean the tough areas
Cons
Pet hair sticks well, but other dirty particles don't stick so well
Some people find the head too small to cover large areas quickly
This is one of the latest and most powerful wireless electric mops that can clean the house like a dream. The mop is lightweight, just 2.84lbs so you can clean a large area without straining your wrists. It comes with a floor scrubber that works well for wood and tile flooring. The powerful spin system enables the mop to spin at the rate of 120r/minute.
The mop system is easy to operate and it can remove the stubborn stains with ease. It comes equipped with a floor scrubber that can operate continuously for 40-50 minutes with a 3.5-4 hour of quick charging. It comes attached with a 300 ml water tank at the bottom which sprays as the mop wipes the surface to provide efficient cleaning.
Pros
The lightweight and cordless design makes it easy to clean the floor without having to bend over
This is a powerful and advanced cleaning system that offer three functions –  buffing, cleaning, and polishing.
It has an indicator that turns red to show when there are low charge and the machine charges quickly to become ready to use again
You don't need to apply any pressure at all as the scrubbing pad removes the toughest stains with ease
The product comes in three different pieces and it is easy to put them together
Cons
The scrub pads are ineffective at cleaning the grout lines
It is battery operated so you may have to charge in between if you plan on cleaning a large area
The Ultimate Buying Guide: Best Microfiber Mop
Why Do You Need A Microfiber Mop?
Let's start with understanding why at all you need a microfiber mop. While the traditional cotton mops are the standard cleaning tool used for most janitorial tasks, the ones made of microfiber material have several benefits that make them a better option.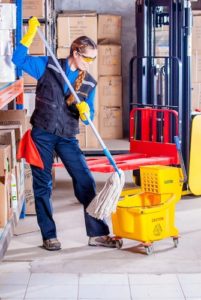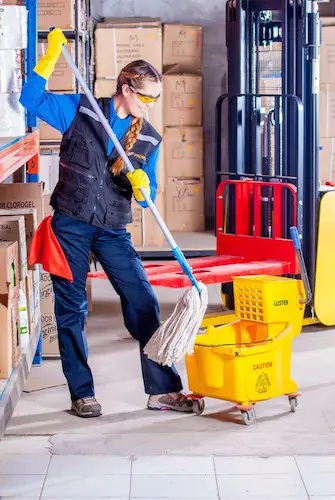 # Delivers a better cleaning performance
The microfiber mops are extremely efficient at cleaning dust than the traditional mops. They can get to the tough-to-clean areas and cervices where a cotton mop cannot think of reaching. With a microfiber mop, you can deep clean like nothing else.
#Reduces time and boosts productivity
Mopping the floors is a time-consuming task but you can speed-up with the help of a microfiber mop. With this cleaning tool, you don't have to wring out to remove dirty water or dip it in another solution.
The microfiber mops also help users save a lot of time. On average, a traditional mop may take about 40 minutes to clean the floor but a microfiber mop can do it in just 20 minutes. Thus, microfiber mops boost productivity by taking less time to complete a task.
#Fewer Instances Of Worker Injury
The microfiber mops are considerably lighter and they weigh less than the traditional ones. They are also ergonomically designed to comfortably fit into a user's hands. As they are advanced tools, they are built with user safety in mind. Hence, they are easier and safer to use than traditional mops.
# Less use of water and chemicals
The microfiber mops are built in a way to use 10 to 20 times less water than the traditional cotton mops. As only a few models of microfiber mops use chemicals for cleaning, this greatly helps in reducing the procurement costs and monthly water bills.
# Minimizes the risk of cross-contamination
The health care facilities prefer using microfiber mops in their standard cleaning procedures. They reduce the risk of cross-contamination of diseases between patients. According to some state laws, the cleaning staff in medical facilities must change the cleaning solution after doing each room.
Things To Look For When Buying A Microfiber Mop
As there are different models of microfiber mops available, you need to consider several things when buying one. I have made it easier for you to find the best microfiber mop for your home use. Here are some key aspects to consider:
Type of surface that you will be cleaning:
With a microfiber mop, you can clean two different types of floors – dry floor and wet floor with equal ease.
Dry Floors (for example hardwood flooring)
To remove dust and debris from dry floors, you simply need to brush the area with a microfiber mop. The small-sized fibers are highly effective in picking up the dust particles on the floor. People with hardwood flooring prefer this type of mop as the materials complement each other.
After sweeping all the dust from the floor, you need to replace the pad on the mop head. After shaking off the dust from the mop, rinse it clean with warm water. You may also wash it thoroughly in a washing machine.
For the best results, I always recommend using a dry mop to remove dust, pet hair, and other dry particles before cleaning with a wet mop. This makes cleaning less messy and more efficient.
Wet Floors
When you use water for cleaning, the microfiber mop becomes one of the best cleaning tools you can use for any situation. You simply need to mix water and cleaning solution to get an effective mix that can kill up to 99% of germs, dirt, and dust particles. To use a microfiber mop on the wet floor, you need to follow these steps for cleaning:
First, wet the pad of the mop with water
Remove excess water until the mop pad is adequately damp, not dripping wet
Re-attach this damp pad to the mop head and start cleaning
After you are done, rinse out the mop with warm water or you may even machine washable.
The microfiber mops work great on different types of floors such as marble floors, hardwood floors, linoleum floor, and practically any other surface that you can think of. They are resistant to chemical solutions and also resistant to scratching. Hence, you don't have to worry about your floor getting damaged.
Size of the room
The type of microfiber mop you buy will also be highly dependent on the size of the room you will be cleaning. For example, to clean a small room you will need a mop that is small enough to reach the corners.
For large sized rooms, you will need a larger mop that can efficiently clean larger surfaces. Although you can clean a large area using a small mop, it will be time-consuming. With a large mop, you can sweep a lot of dust at once in an effective manner.
Type of dirt or dust you will be cleaning
People living in different regions will have diverse cleaning requirements. For example, if you live in a green countryside, your house will have less dust on the floor, however, a city apartment may have floor covered with a thick layer of dust and dirt.
If you clean with traditional mops, some amount of dust remains on the surface. When you want a thorough and deep clean, a quality microfiber mop comes handy as it can remove the dust hidden in the floor.
Always bear in mind that the dry dust and dirt should be removed first before wetting the area. After the floor gets exposed to moisture, the dry soil get stuck to the floor and removing them becomes difficult.
Ease of use
This is another important aspect that you need to consider. Take into account the weight of the mop to determine its maneuverability. If the mop is too heavy, you will have a tough time carrying it in your hands and moving it on the floor. The mop must be lightweight enough so that you can move it around with ease.
Besides the weight, the mop should also come with a swivel head that makes it easier to maneuver on the floor. Also, remember to ensure that the model you choose scores high in terms of moisture management. Check our unbiased review to find this information.
Is the mop head washable?
Most of the mop heads are washable, but you should still take it into account when buying a product. The advantage of getting a washable mop head is that you can manage your cleaning time more efficiently. The maintenance also becomes low in such models. You just need to drop the pad or head in the washing machine to make it squeaky clean. Some mops can be cleaned as much as 100 times.
How To Choose The Best Microfiber Mop For Your Flooring
Hardwood Flooring
Wood flooring, whether laminate or hardwood looks great but requires some maintenance. It should be cleaned with less amount of water because moisture can seep inside the laminate and spoil the flooring. You need to use a dry mop to vacuum clean the dirt and debris.
Once done, dampen the microfiber mop pad with water mixed with a cleaning solution recommended by the manufacturer. Mop the area until the pad has the capacity to soak more dust. When it darkens, rinse with water to get the best quality cleaning.
If you have hardwood flooring, I would recommend buying a microfiber mop head with disposable covers so you can ensure clean floors every time.
Stone flooring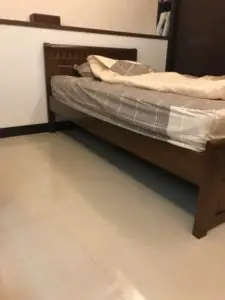 The beauty and elegance of stone flooring are incomparable, however, you need to take good care by using the best microfiber mop. Most importantly, floors made of natural stone should not be cleaned with harsh acid as this can lead to discoloration. Always use natural pH cleansers or you may use plain steam or water.
You must also not use any type of scented products on stone flooring or this may lead to discoloration. There are steam mops available that come with different steam levels to clean the surface with less water.
Ceramic and Porcelain flooring
The sealed porcelain and ceramic tiles can be cleaned easily with a microfiber mop pad. However, cleaning the dirt trapped in grout lines may be challenging. Even if you have a squeaky clean floor, a discolored grout may look ugly.
I would recommend that you always select a dark grout for your flooring to prevent ugly lines. In case you didn't have the opportunity to choose the grout, try a home remedy instead. Make a mix of baking soda and water and paste it over the grout lines, Now, sprinkle some vinegar and allow it to foam. This process will clear out the grout lines and make your floor look sparkling clean.
Vinyl and Linoleum flooring
Floors made of sheet vinyl can tolerate moisture hence they can be steam cleaned. Avoid using acid for cleaning as this can damage the linoleum and excess water can seep under the edges and spoil the flooring. When the floor dries, touch the surface to ensure that it is not sticky.
If the floor is sticky, clean again using plain water and sponge mop. The linoleum and vinyl tile must be treated in a gentle way. Here's a quick cleaning recipe:
Mix a little liquid dishwasher soap with warm water and spritz on the floor. Now, wipe away the unclogged dirt with a good quality microfiber mop.
What's The Correct Method To Clean Floors
I recommend cleaning from the top to bottom and let the force of gravity help you as you clean. Start with wiping the ceiling fans and remember to dust the corners between ceiling and wall. Wipe the tabletops and cabinets so that all dust and dirt falls on the floor.
You should first use a dry microfiber mop to remove all the big particles and dust that can become messy if it comes in contact with water. Always use a mild cleanser that does not leave a sticky layer on the surface and only collects dirt. If you prefer cleaning with water, use a small bucket will less water and change the water frequently.
You can have a look at my previous article for more info: 10 Tips For Mopping the Floor To Make It Clean Enough to Eat On
Why Is The Significance Of GSM
When looking for the best microfiber mop, you will often come across GSM, which refers to the density of microfiber towel. A towel that features a GSM of 600 is considered to be thicker and softer than the ones that have a GSM of 400 or 500. The GSM towels are designed to suit the needs of sensitive surfaces that require delicate cleaning.
For the general use, a microfiber towel with a GSM of 300 may be enough. These towels are capable of cleaning the door jams, carpets, wheels, and exhaust tips. If the towel has a higher GSM, it will have better absorbent quality and a higher price tag.
So, you need to choose a microfiber towel based on the type of area you will be cleaning. Matching the towel characteristics with the job available at hand can help you save money and clean dust more effectively.
Different Types Of Microfiber Towel GSM Density
Here are the different types of microfiber towel GSM density you can find in the market. Choose the one that suits the cleaning needs of your home or office.
Short Pile
The microfiber towel containing short pile is mostly used for general purpose cleaning and they can have a GSM of 220. You must ensure that the towels are absorbent enough to use on the non-sensitive areas such as wheels, windows, and door jams. They can clean up to 90% of the dust on the ground.
Medium Pile
The medium pile towel features a GSM level of 300 and they are smoother and softer than the short pile towels. I recommend using the medium pile towels for removing wax stains etc. For dirtier jobs, you must use a towel with a much higher GSM level.
Long Pile
The long pile towels are considered to be safe for most surfaces. They usually have a higher level of GSM. These towels are one of the smoothest, softest, and most useful towels available in the market. I recommend using this type of microfiber towel for cleaning the interiors and buffing tasks.
How To Identify The Quality Of A Microfiber Towel
Even before you start looking for a microfiber mop, you need to understand and be able to identify the quality of microfiber towel. You can tell the difference in quality by performing a few tests such as the follows:
Test 1:
Place the towel against your skin and feel the softness of the material. Is the towel able to trap the dirt on the skin surface? If yes, then you have a quality towel made from split microfiber.
The split microfiber sport an asterisk shape design and they are capable of trapping dirt like none other. Most of the superior quality towels in the market are made of the split microfibers.
Test 2:
Now, place the microfiber towel in the direction of light to see how much light passes through it. The high-quality towels that have a dense weave will not stretch a lot when exposed to light. However, the low-quality ones will actually allow a lot of light to pass through them. This simple test will give you an idea of how durable a product is before making a purchase.
Knowing The Size Of The Microfiber Mop
When purchasing a microfiber mop, you need to consider the task it will be performing. Most of the microfiber mops available in the market are measured in ounces. If your mop has a higher ounce rating, this means it will have a larger head.
You will want a microfiber mop with a size that is suitable for the specific needs of your project. If you have a larger room, the mop head should also be large enough. This way you can clean the rooms more efficiently than the traditional methods.
Related Questions
What is microfiber made of?
Microfiber is a mix of polyamide and polyester material in the ratio of 80:20. It is capable of trapping dust and dirt particles effectively and give your floor a sparkling look.
What types of floors can you clean with a microfiber mop?
This type of mop can be used to clean different types of floors such as hardwood, vinyl, tile, marble, linoleum, and so on. It can also be used to clean plastic, glass, and ceramic surfaces.
What are other uses of the mop?
You may use the best microfiber mop to clean cars, kitchen, showers, windows, dirty garages, sinks, walls, under furniture and so on.
Do I need a chemical cleaner for microfiber mop
It completely depends on how you wish to clean your house floors. With a microfiber mop, you can clean up to 99% of dirt with water alone. If you add vinegar to water, it can give you better results. I would recommend that you avoid harsh cleaning solutions or bleaching solutions while cleaning.
Can I clean the microfiber pad?
Yes, most of the microfiber pads that come with the mop can be washed with ease. You can both rinse and dry the pad by putting it in the washing machine.
How does a microfiber mop work?
The microfiber pads comprise of tiny nylon and polyester fibers that are positively charged, causing the dust and dirt particles to stick to them. They are much more effective than the traditional cotton and sponge pads at pushing the dirt on the floor and picking up the tiniest specks without leaving any streaks.
What makes microfiber pads an eco-friendly cleaning option
The microfiber pads attached to the mop can be machine washed and it can be reused more than a hundred times, which makes them an eco-friendly cleaning option. They are much more cost effective than the disposable pads that are thrown away after every use.
See Also:
Can We Use Washing Machine Daily
Can You Use Dish Soap In A Pressure Washer