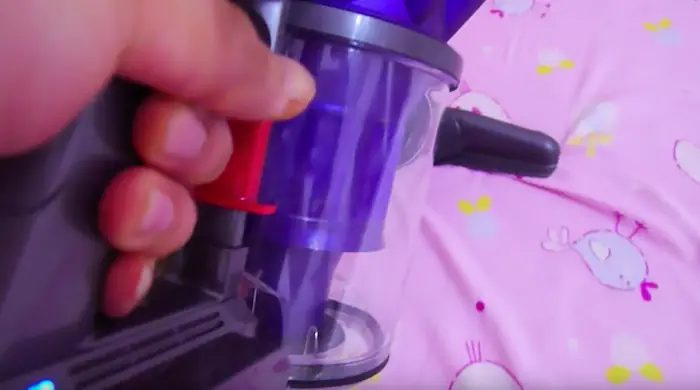 We are reader supported. When you purchase through links on our site, we may earn an affiliate commission. Also, as an Amazon affiliate, we earn from qualifying purchases.
There was a time when vacuum cleaning was like a big chore that took almost a day or nearly half of it, but not anymore. The vacuum industry is slowly realizing the need for easy to use, handheld vacuums that may not be as powerful as the full-fledged ones but they get the work done reasonably well.
Understanding this concept, Dyson has been one of the pioneers of robotic cordless vacuums that work great for houses that have babies and pets. Today we will review the Dyson V6 Baby + Child Handheld Vacuum (See Amazon for more information), which is one of the several portable vacuums from the Dyson stable.
The handheld series has brought us a plethora of upgrades and options like Baby+Child, Car+Boat, Trigger, Top Dog, and Mattress. Each of these has almost the same features and differ only slightly in terms of the accessories shipped with every model.
Key Features Of The Dyson V6 Baby + Child
The handheld vacuum is small in size and lightweight making it possible for users to clean the house with one hand and hold the baby with the other. It is cordless and ergonomically designed for ease of use.
Powered by Dyson digital motor V6, it is one of the most effective handheld vacuum that can get rid of dust mites (see different ways), fine dirt particles, and pet hair that are not easily visible to the naked eye.
The product features 15 cyclones that are arranged across 2 tiers to work in tandem to increase the pressure and air flow. This makes it possible to capture even the finest dust and dirt in the attached bin.
The wide nozzle is engineered in a fashion to suck up large and small dust particles from the upholstery and cribs to make your home safe and clean for your baby.
It comes with extra Dyson-engineered tools specially designed for pet owners in the package – wide nozzle tool, crevice tool, stubborn dirt brush, combination tool. The tools are light and they can be used for quick cleaning.
The vacuum can deliver 20 minutes of powerful suction with a run-time enhancing trigger, which means that the battery power is only utilized for vacuum cleaning.
The fade-free battery has been re-engineered and customized to give you 1.5 times more power than the previous models.
Power and Performance
If you are planning to purchase this handheld vacuum, I would say that you will be happiest if you have realistic expectations from it. The product may not give you the same results as a full-sized vacuum as it's considerably less in terms of power. You will need your good old corded vacuum cleaner anyway.
However, the biggest advantage you will receive from using this product is in terms of convenience. As a result, it works perfectly for situations where convenience overrides power. For example, if you need to clean heavy duty carpets, it might not be so effective. But, if you are looking for an easy and portable handheld vacuum cleaner that can suck up dust, pet hair, dirt, crumbs, and leftovers thrown by your kids in the car seats, this Baby+Child vacuum is your thing.
This handheld vacuum can be used on any day for some quick cleaning on the countertops, behind the fridge, staircases, sofa sectionals and so on. The mattress tool comes with a reasonably good cleaning radius, however, we prefer the extension hose and mini motorized tool that is available with Car+Boat.
In terms of battery life, we would have liked the extra 10 minutes that come with the V7, However, the 20 minutes run-time is not that bad for quick cleaning. The battery takes about 3.5 hours to charge and we wish this was slightly shorter as there are many cheap robotic vacuums in the market that only take about 2-3 hours to charge.
Pros
The handheld vacuum is so lightweight, you can easily move it around the house. As it is cordless, you can use it in any room for cleaning. No more lugging around with the heavy full-size vacuum every time your child makes a mess or pet creates havoc.
The Li-ion 'fade free' battery implies that the suction power remains steady throughout the run time. This is a great advantage over cheap vacuum cleaners in the market where the suction loses power as the battery goes down.
We appreciate the run-time enhancing trigger, which means that the battery is used only when the device is turned on. If you only use it for 10 minutes and keep it away, you will still have some battery life left in the product. This means you don't have to charge it often if you only use the device for short clean-ups.
The Dyson V6 comes with a washable filter which means you can clean the filter when it gets dirty and reuse, without having to buy a new one. This feature makes the product much more cost effective.
This portable cleaning device sucks up almost anything and everything that you want to get rid of. From toddlers mashing up food on the floor to pets that shed hair like crazy, the Dyson handheld vacuum makes cleaning a breeze.
Dyson stands behind its products and offers a two-year warranty on the parts and labor. If you have any issues, contact the customer care for replacement or repair.
The hygienic emptying bin that comes with the vacuum cleaner operates with the touch of a button comes handy to do the cleaning without any mess. However, be careful to not fill the bin to the close as the dust emanating from it may trigger allergies.
Cons
It takes about 3.5 hours to charge completely and a full charge will only last for 20 minutes when used on a regular setting. If used in the maximum setting, it will last only for 6 minutes.
The product does not come with a wall mount which may be a letdown for people who wish to hand the vacuum cleaner in the closet or somewhere in the wall. Fortunately, Dyson offers a wall mount that you can buy separately to work with that model.
Some users have complained that the Dyson V6 makes a lot of noise during operation, which can be a disadvantage for someone who wishes to do some cleaning while the baby sleeps.
The LED light at the back starts flashing after you have used it continuously for 5 minutes but it shuts off after that. The boost mode is most effective but lasts only for 6-minute maximum.
Dyson V6 Baby + Children Handheld Vacuum Demonstration
Difference Between Dyson V6 Baby+Child and the V7 Car+Boat
The V7 Car+Boat(see Amazon) is one generation ahead of the V6 Baby+Child, so it goes without saying that the former has many upgraded features that you will not find in the latter. These differences are mostly in terms of the accessories sent with the package and overall performance.
While we are focusing on the Dyson V6 Baby+Child, we thought of bringing to the surface the simple differences to make your buying decision easier. The biggest visible difference is in terms of battery life as you move from 20 minutes to 30 minutes, giving you a clear 50% increase in usability.
The extra 10 minutes in V7 comes handy when you need to clean a minivan or dust the nursery without having to take out the full-sized vacuum. The Car+Boat also comes with a 12-volt car charger that enables you to partially charge the V7 when you are not using it to clean.
Besides the charger and run time upgrade in the V7, the V6 also comes with a larger emptying bin, a.15 gallon tank to hold pet hair, cereal, dirt and other pet and child-related debris. The bigger empty bin and tank add more weight to the V7, making it 3.8 pounds as compared to V6's 3.4 pounds. The slight change doesn't make a lot of difference holding it in your hands and ability to clean while carrying a baby or not.
Although Dyson markets the V7 as their strongest handheld vacuum, we feel that the power levels of both the products are almost the same. Both the products have the same maximum air watt rating at 100. The real difference is in the list of accessories offered with both vacuums.
The mattress tool is missing in the V7 but it includes almost all other tools you can find in the V6 plus a mini soft dusting brush, a mini motorized tool, and an extension hose. Another bonus is the quick release connections for all tools that come with V7.
Why Buy The Dyson V6 Baby + Child Handheld Vacuum
If you have trouble makers in the house (both kids and pets) then a Dyson V6 Baby + Child can be a life savior for you. Its ease of use and portability comes handy in situations when you need to clean up quickly but don't have the time or energy to fish out a full vacuum cleaner.
If you compare the product with other handheld vacuum cleaners by companies like Black n Decker, you will realize that those models don't even pick half of what you can clean with V6. The powerful suction does not fade with battery life and effectively works at sucking out dust mites, dirt particles, pet hair and so on.
Overall, it is slightly pricier than other handheld devices in the market. But, as they say, you get what you pay for and it turns out to be true in relation to the Dyson V6 Baby+Child