From spicy traditional curries to the idli-dosa batter and everything in between, Indian food is extremely varied and colorful like the country itself. Although it appears simple, the cooking process includes numerous spices and sauces in the right proportions to get that vibrant and lavish look
Unlike western food that is mostly baked or grilled, Indian food will require you to use your blender for making various spice mixes. If you are outside India, it can be hard to achieve the same taste and flavor without a perfect Indian blender designed to pulverize the spices, lentils and make curry paste.
In today's review, we will help you recreate the traditional and modern Indian delicacies at home, regardless of where you are located. You just need to equip yourself with the best quality blender for diverse Indian foods to mix the right spices, creams, and liquids for the recipes.
If you are looking for a perfect blender for different types of Indian food, it's easy to get confused with so many options available in the market. Do you want the one that can make the best curry paste and chutneys? Or, the model which is best for South Indian dishes?
To help you with decision making, our team has scavenged the market to find the best quality blenders for grinding, chutney making, batter preparations and so on. Read on to find our recommended product with its unbiased review comprising of benefits and downsides for different types of Indian cooking.
Editor's Top Picks
---
#1 Best Blender for Indian Cooking in the USA
When you want the smell of aromatic spices and taste the flavor of traditional Indian cuisine in your US kitchen, we have found the best product for you. The Vitamix is a reputed family-owned company that understands the diverse requirement of Indian cooking.
They have some of the best blenders designed to help you make batters, doughs, sauces, and pastes in a matter of minutes. We recommend the Vitamix E310 Explorian Blender (learn more) because we feel that it delivers spot-on when it comes to creating a wide range of ingredients needed for recipes.
Made in the USA with the finest materials, the Vitamix E310 is built to last. It features great power and comes with intuitive controls to give you a helping hand when preparing Indian meals. From making smooth purées and chutneys to pulverizing frozen and making batters, the blender can handle them all.
With 10 variable speed controls, the powerful Vitamix motor enables users to create healthy and whole-food recipes. The 48-ounce container is perfect for blending ingredients for a small family meal. The aircraft-grade stainless-steel blades are robust enough to crush the toughest ingredients like nuts and frozen food.
The tamper design of Vitamix blender works great at processing the thick and stubborn blends without having to scrape the sides. The thermal protection system and radiant cooling fan make it safe to operate the blender for longer durations. We also love the self-cleaning feature that makes the machine clean itself in 30 to 60 seconds.
Features and specifications
Measures 11 x 8 x 18 inches
Weighs 11.5 pounds
48-ounce container
High-performance motor
Precise container design
Stainless steel blades
Electrical Ratings-120 V
3-inch diameter cutting blade
User/ Customer reviews
People are impressed with the performance of this blender at making various dips, sauces, chutneys, and batter. Users have also commented on how easy it is to assemble and how well the unit fits in the kitchen cabinet without taking a lot of areas.
A few users have said that the canister does not fit well so the user has to hold it while food is blending or else the blending will move on the countertop. Some customers have also warned that water may leak from the top.
Conclusion
If you want to play safe with a quick and easy blender that can help you with a wide range of pulsing, pureeing, and blending requirement then Vitamix E310 is a great choice. Although slightly on the expensive side, we feel that this blender from the Explorian series lasts enough to be worth every penny.
---
#2 Best American Blender For Indian Cooking
Many people traveling from India to the USA often think of carrying their mixer grinder with them, but this is no use. You will not only have to pay extra freight for the additional baggage, but the mixer will also not be compatible with the power supply in the US, which is 110 V 60 Hz.
Hence, we suggest that you get the best American blender for Indian cooking as these units are built in a way to be compatible with the power supply in your US kitchen. After reviewing numerous products online, we recommend the KitchenAid KSB1570ER 5-Speed Blender (See Amazon).
With this 5-speed classic blender in your kitchen, you have the power to chop, stir, puree, and pulverize a variety of ingredients for Indian cooking. The robust Intelli-Speed Motor uses its senses to identify the ingredients put into it and accordingly maintains the optimal speed.
The superior quality stainless steel blades combined with the powerful electronic controls help in creating a fast blending motion for exceptional results. It comes with one unique 56-ounce BPA-Free pitcher that works well with all types of ingredients.
We like the exceptional Soft Start feature that allows the machine to start at a slow speed and pull all ingredients into the blade before gearing up to the selected speed. The Steel-Reinforced Coupler helps indirectly transferring the power from the motor to the blade.
Product features and specifications
Measures 8.5 x 9 x 16.3 inches
Weighs 10 pounds
Intelli-Speed Motor
Soft Start Feature
56-oz. BPA-Free Pitcher
Steel-Reinforced Coupler
Clean-Touch Control Panel
Sturdy die-cast metal base
1 year limited warranty
User/ Customer reviews
People find it a good midrange blender that comes with variable speed to perform different blending activities for Indian food cooking in your American kitchen. Users are happy to find a mixer grinder that can take both wet and dry ingredients with ease.
Many customers have even compared it to a Vitamix blender without the high price tag. A few users have warned that there is no way to thoroughly clean the jar without removing the blades.
Conclusion
If you are looking for the best American blender that can perform at various speed levels of blending for different ingredients used in Indian cooking then this is a good choice. Although there is only one pitcher, the different speed settings help you perform a wide range of cutting, chopping, and pulsing activities with ease.
---
#3 Best Blender for South Indian Cooking
South Indian Cooking is also all delicious dips, dosa batters, and chutneys to lend a sweet and sour taste to your dishes. So, if you want to make a smooth batter to roll out crispy dosas as you get in Chennai then you must invest in a good quality blender with a powerful motor.
We recommend the Preethi Eco Twin Jar Mixer Grinder that has an Indian look and feel to it. As the flagship of the Preethi brand, this product is a must-have for every homemaker interested in making South Indian cuisine in their US kitchen.
We love the Indian(ish) name of this brand which makes it obvious that it can help you with Indian cooking. The Eco Twin is equipped with a powerful 550 Watts motor that uses 110v to make grinding of soaked rice, pulses, and other ingredients into a smooth paste much easier.
The 1.50-liter jar comes with a nice removable multi-purpose blade, and you can convert it into a 1-liter jar with Flexi lid. The small 0.50 liter chutney jar also comes with a fixed multi-purpose blade, which can be turned into a further smaller 0.30-liter jar by replacing with a Flexi lid. So, you actually get 4 different capacities jars without sacrificing a lot of space.
The jars and blades are made of high-quality stainless steel material, and each product is tested to endure a lot of water load without rusting. The mixer grinder comes UL approved to provide additional safety for the users.  We are impressed to find that the manufacturer stands behind the product with 12 months guarantee of free service.
Features and specifications
Measures 13 x 8.6 x 12.6 inches
Weighs 9 pounds
110V 60hz, 550-Watts
1-Year warranty
1.5L (w/Flexi Lid to 1.0L)
0.5L (w/Flexi Lid to 0.3L)
Stainless jars and blades
User/ Customer reviews
People who love south Indian food are happy to find a mixer grinder that can do wet grinder with ease for longer durations to meet the requirements of a recipe. Users have mentioned that they have used the unit for grinding idli batter, dosa batter, groundnuts, and coconut with great ease.
Many native Indian customers living in the US have said that the product is a replica of what you get back in India, just that it is suitable for US electrical requirements. A few users have said that the blender is lighter than expected.
Conclusion
When you want a blender capable of taking more load, easily blend liquid ingredients, and operate for a longer duration than the Preethi Eco Twin Jar mixer grinder is a good fit. Although the blender never stops with overload, we would suggest that you keep the load moderate to keep it working for long. Overall, it is one of the best blenders for south Indian cooking.
---
#4 Best Blender For Indian Chutneys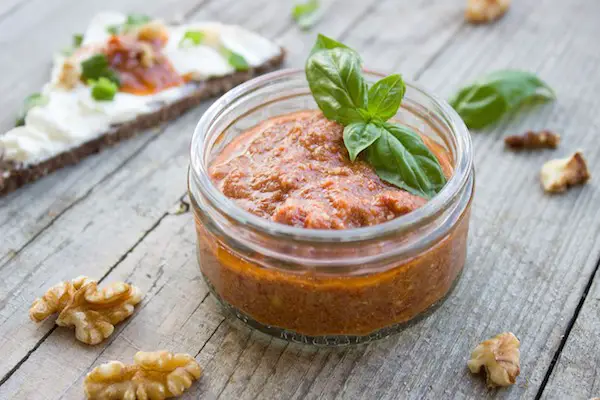 Sweet, sour, and tangy, chutneys are like the heartbeat of Indian food. They go well with various delicacies ranging from pakoras and vadas to paranthas and dosa. You need the perfect small-sized jar with precise and sharp blades to pulverize various ingredients to make chutneys.
As chutney making requires the blending of wet ingredients into a fine and smooth paste, you need to choose a product carefully. We recommend the Blendtec Total Classic Countertop Blender for its simple design and minimalist approach. Let's find out more in its review below.
When all you want to make is a quick chutney, dip, or sauce, the Blendtec Total Classic Countertop Blender with its easy blending cycle makes your task simple. It features six pre-programmed cycles, one-touch buttons, and 10 manual speed controls to give you different textures of chutneys.
The powerful motor pulverizes everything into a smooth paste so you save time in chopping or dicing ingredients before blending. The unit gives you full control to help you adjust your blending time. It comes with an LCD display that shows you the cycle time remaining.
The BPA-Free a 75-ounce jar comes with a 32-ounce blending capacity, suitable for both wet and dry ingredients. Made from an 80% thicker stainless steel forged blade, it is stronger than other blades, yet saves you from pokes and cuts due to its dull edges. This blender self-cleans itself in less than a minute with water and a little soap.
Features and specifications
Measures 7x 8 x 15.5 inches
Weighs 7.28 pounds
Stainless-Steel forged blade
BPA-Free FourSide Jar
Volts 120, Watt 1560
Cord: feet 35inches/3 feet
8-year manufacturer warranty
User/ Customer reviews
People are pleased with the robust power of this blender to pulverize almost anything that you throw at it – vegetables, fruits, or herbs to make a smooth paste. Users also like the square jar design that makes it easier to pour and clean after use.
A few users have said that the warranty is not as solid as you will need to send back a broken or damaged blender for them to determine whether to replace or not. Some customers have mentioned that the sound can be loud when using frozen ingredients.
Conclusion
The Blendtec Total Classic Countertop Blender has the potential to become your favorite kitchen appliance to make chutneys, smoothies, juices, and lots more. It not only looks fashionable on the countertop but also lets you blend different ingredients together in 60 or 90-second settings. All in all, a blender aptly designed for those quick morning jobs.
---
#5 Best Blender For Indian Dosa Batter
If you are from India settled in the USA or you visited India recently, I am sure you will carry back with you a lot of memories related to Indian food. In South India, dosa is a traditional food that you get almost everywhere from the five-star restaurants to the street side shops.
When you crave to enjoy the authentic taste of Indian dosa in a foreign land, you need the right set of tools to make it happen. We recommend the Vitamix, Red 7500 Blender, one of the well-known brands for their quality products and performance.
Making dosa batter requires a well-built blender that can do wet grinding of tough ingredients like rice and lentils, and the Vitamix 7500 fits the bill perfectly. It comes with ten variable speed controls to help you get to refine and smooth batter with culinary precision.
The blender comes with a low profile 64-ounce container which is enough to make dosa batter for small family and friends. It also perfectly fits in kitchen cabinets without demanding a lot of real estate. The aircraft-grade and robust stainless steel blades are built to pulverize the hardest ingredients and give you perfect results every time.
The high-performance motor is powerful enough to do a lot of blending to feed a crowd without getting overheated. Like all Vitamix blenders, this unit is also self-cleaning. You just need to add hot water, a few drops of the liquid dishwasher, and run it on high speed to get it clean in 60 seconds.
Product features and specifications
Measures 17.5 x 7.7 x 9.4 inches
Weighs 13 pounds
Low profile blender
Made from platinum material
Hardened stainless steel blades
64-ounce container
Pulse feature
Ten variable speeds
User/ Customer reviews
Users have said that when you need to make a smooth dosa batter to feed a group, this Vitamix blender never lets you down. You can operate it constantly for a longer period without requiring to stop and let the machine cool down.
Besides its amazing performance, people have also hailed it high for its attractive and impressive looks with minimalist design. A few users have warned that this blender does a good job at wet grinding, but may not have a similar effect for dry grinding.
Conclusion
After reviewing several blenders we feel that the Vitamix, Red 7500 is perfectly suited for dosa batter making. It can take a lot of liquid along with solid ingredients and pulverize them all into a smooth paste. When you want to make dosas crispy and crusty like they do in India, invest in this best blender for Indian das batter.  
---
#6 Best Blender For Indian Spices
The lip-smacking taste and unique aroma of Indian food comes from the use of freshly grounded spices such as turmeric, coriander, cumin, and so on. The use of authentic spices not only enhances the flavor of food but also make it more visually appealing.
Many people tend to use a coffee grinder for blending spices but this is not recommended. We suggest that you use a blender specially designed for ground spices, such as the NutriBullet Pro – 13-Piece High-Speed Blender/Mixer System. Let's check out its review.
This is a high-speed blender system with a powerful 900 watts motor, capable of grinding the whole foods and toughest ingredients. You just need to load it up with whole spices, nuts, or hard fruits, twist and blend to achieve perfectly grounded ingredients for your Indian cuisine.
The mixer system includes high-grade stainless steel blades that use a cyclonic action to pulverize the toughest ingredients. It includes BPA-free high-performance plastic cups that are highly durable and long-lasting. Besides grounding spices, you can also make smoothies, shakes, and nut butter.
We also love the hassle-free cleaning of NutriBullet Pro by using just water and soap. You can put the cups inside the dishwasher for cleaning. The unit comes backed by a one-year limited manufacturer warranty to perfectly complement the kitchen.
Features and specifications
Measures 12.01 x 7.72 x 15.94 inches
Weighs 5.5 pounds
900 Watts powerful motor
Stainless steel extractor blade
Hassle-free cleaning
BPA-free plastic cups
Limited warranty only
User/ Customer reviews
Most users are pleased with the power and performance of the NutriBullet Pro at blending tough ingredients, however, a few customers have said that the speed can be too much for some people. A few users have pointed out that the blender works incredibly well for the dry ingredients but the same cannot be said about wet items.
Conclusion
Turning whole spices and nuts into fine powder takes a lot of power and speed, both of which you can find in NutriBullet Pro. It is no doubt one of the best high-speed blenders for making Indian spices. Overall, we feel this is a good investment.
---
#7 Best Blender For Indian Curry Paste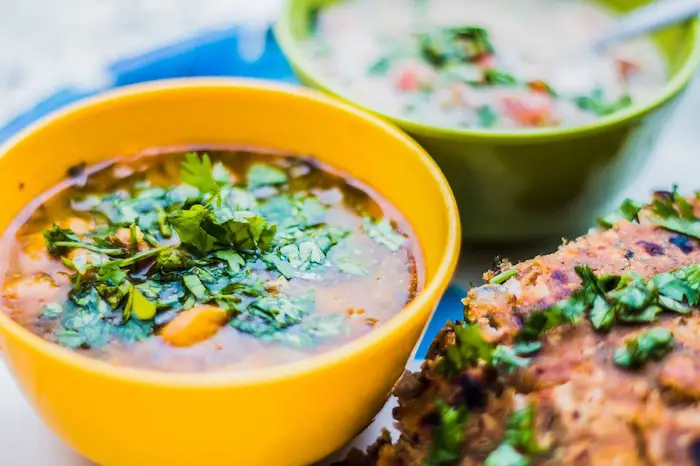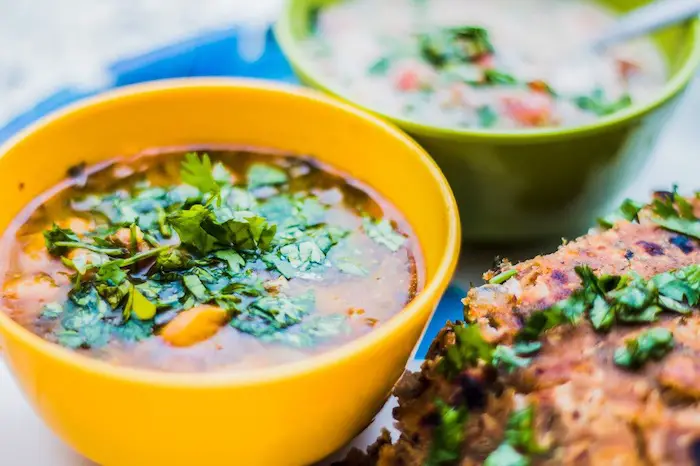 When you want to fire up your Indian gravies, all you need is the perfectly done curry paste. You will need a blender that is capable of pulverizing different types of ingredients together to form a puree that can go with chicken curry, stew, or vegetables.
We found the Ninja Professional Countertop Blender best fit for this purpose.  So, if your cravings for Indian food primarily comprises of curries then here's what you need to know. Read on to find the Ninja mixie review.
This Ninja Professional Blender comes with incredible crushing power with its 1100 watts professional motor, which is capable of delivering 3 speeds. It comes with a 72-ounce crushing pitcher that can crush ice or hard ingredients into the powdery texture in a matter of seconds to form smoothies or curries.
The robust six-blade assembly is designed to handle diverse types of ingredients used in making curries. They are also capable of pro-extractor blades that can break down veggies and whole fruits to make refreshing and nutritional juices.
The product includes two 16 ounces Nutri Ninja Cups with lids that are great for taking your nutrient-rich and personalized drinks wherever you go. Most detachable parts of the blender are dishwasher safe and BPA free, making them safe for your family.
Product features and specifications
Measures 8 x 6 x 17 inches
Weighs 7.6 pounds
Made from BPA free plastic
1100 watts of power
64 oz. max liquid capacity
6-blade assembly
Single-serve blending
User/ Customer reviews
Those who have used this blender for making smoothies and curry paste are completely in love with the speed at which it pulverizes all the ingredients. Users are also impressed with the powerful motor that adds more durability to the product.
Some customers have raised concerns about the lid leaking some juice at times. A few users have also said about the blender making a lot of noise but it can be muffled with the help of a blanket or old cloth.
Conclusion
When you want the richest and thickest curry paste, Ninja Professional is undoubtedly your go to blender. With incredible power and perfect blade assembly, you can make smooth blends of varying quantities. Overall, a perfect any addition to any kitchen.
---
#8 Best Ninja Blender For Indian Cooking
Ninja home appliances are known for their innovative design and technology that adds more comfort in whatever you do. If you are interested in cooking Indian food in your American kitchen, you will need a blender that is capable of performing a lot of functions.
We recommend Nutri Ninja Personal and Countertop Blender as the best Ninja blender for Indian cooking for its minimalist design combine with advanced technology. Read on to find a detailed review of the blender.
We hail the Nutri Ninja Personal blender as one of the best for various reasons such as the total crushing technology which is capable of pulverizing ice and frozen items. The auto IQ technology is perfectly timed with intelligent blending programs to take the guesswork out of the job.
The powerful stainless steel blades couples with the 1200 watts of professional performance power of Nutri Ninja are capable of breaking down. From fruits and vegetables to seeds and nuts, the blades are capable of making pastes, chutneys, batters, or smoothies of them as you wish.
With five manual blending programs, you can easily control your blending speed. The blender also includes small, regular, and jumbo Nutri ninja cups with seal lids and sips. The detachable parts of the blender are dishwasher safe so you can easily clean them after every use.
Product features and specifications
Measures 7 x 10 x 17.5 inches
Weighs 10.1 pounds
1200 watts of power
Total Crushing Technology
18, 24, and 32-Ounce Cups with Spout Lids
5 manual programs
User/ Customer reviews
Users have said that this blender is so powerful that they are yet to find something that it cannot handle or puree in minutes. Customers are happy to find that the blender and its cups come engineered with several safety features.
Although the manufacturer calls the blender jars dishwasher safe, users have said that they have to take the feet and handle apart every time in order to do so. A few customers have also said that the limited warranty is actually pretty limited.
Conclusion
This Nutri Ninja Personal blender may soon become one of the most frequently used home appliances in your house. We love the incredible power and speed with which it sucks everything down to deliver a professional and powerful performance at a reasonable price.
---
#9 Best Vitamix Blender For Indian Cooking
If you have Indian curries and chutneys in your mind, you need a multi-purpose blender to bring that rich flavor and authentic taste in your American kitchen. With the perfect set of ingredients and the right blender, this can be possible.
Vitamix is one of the trusted brands for its high performing blending technology. We recommend their Vitamix 5200 Blender Professional-Grade for its various benefits that we have discussed in its review below:
This professional blender from the house of Vitamix has everything you want to enjoy restaurant-style Indian food right at home. With its easy-to-adjust speed, you can achieve a variety of texture needed for blending lentils and rice for the batter, herbs for chutneys, and vegetables for curries.
The blender has a large dial at the front to give you full control of your blending speed according to various ingredients. The large-sized 64-ounce container is suitable for blending ingredients medium to large batches. It comes with a radial cooling fan and thermal protection system to enable you to work for longer durations without getting the unit overheated.
The hardened stainless steel blades are made of aircraft-grade material, and they are designed to handle the toughest ingredients. From the first blend to the last, it gives you high-quality service every time. You can self clean the Vitamix machine in less than 60 seconds with just warm water and a drop of dish soap.
Product features and specifications
Measures 8.75 x 7.25 x 20.5 inches
Weighs 10.56 pounds
Hardened Stainless-Steel Blades
Self-Cleaning 30 to 60 seconds
64 oz. container
Electrical Ratings: 120 V, 50/60 Hz
7- year full warranty
User/ Customer reviews
Those who have got this blender to make Indian food at home say that it has become a way of life for them. Users are happy to make all types of batters, chutneys, pastes, and curries in this blender to have all their cravings sorted.
Customers have also pointed out that it makes less noise while operating. A few users have said that while it's good for liquid ingredients, you will not get the same results with dry items like spices.
Conclusion
Whether you want to blend, heat, chop, or emulsify, the Vitamix 5200 Blender Professional-Grade delivers good results. With basic controls and minimal design, it's perhaps the best Vitamix blender you would want to get your fix of Indian food.