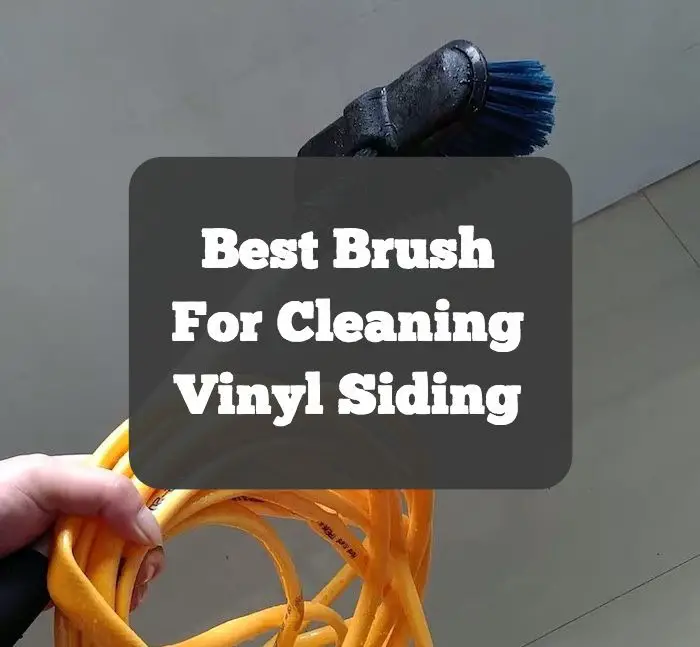 We are reader supported. When you purchase through links on our site, we may earn an affiliate commission. Also, as an Amazon affiliate, we earn from qualifying purchases.
House owners who don't want to be worried about the exterior, prefer installing vinyl sliding as they need very little maintenance. They are not prone to warping, peeling, or cracking, so you don't have to deal with the hassles associated with wood siding. You only need to keep them clean and luckily that's easy to do with the best brush for cleaning vinyl siding.
As a part of house exteriors, the siding takes a lot of beating from the dust, dirt, grime, and extreme temperatures outdoors. Unlike wood, vinyl does not deteriorate so fast and if you take good care of them, they can last for a really long time. Spring season is the best time to show some extra love to your vinyl siding and cleaning them does not take too long.
Armed with the right type of brush that can reach out to heights and clean all corners, you can accomplish the task easily. In this article, we have reviewed some of the best brush for cleaning vinyl siding. Read on to find their key advantages, downsides, real user impressions and so on to help you make the right choice.
For those who are in a hurry to order, we recommend the Camco RV Flow-Through Wash Brush that comes attached with an extension pole that can reach 71 inches when extended. It can be used for both dry and wet cleaning using soft brush bristles and a built-in squeegee.
This is often regarded as the 'do it all' soft bristle brush (shop now) that does a good job at removing dirt, grime, and dust from sidings, patios, deck, trucks, RVs, and more. You may use this versatile brush as a deck scrubber, car dust brush, floor scrub brush, solar panel cleaner, and so on. The 6 to 24 inches extendable pole enables you to access hard-to-reach areas with ease.
The soft bristles are textured to prevent the brush from scratching the cleaning surface such as vinyl sidings, car paint, and so on. It works as an excellent duster brush to remove cobwebs from tight spaces and corners. The handle is easy to grip by hand and the lightweight aluminum telescopic extension pole lets you do the cleaning tasks without straining your hand.
Product Features and Specifications
6-24 Foot Docapole Telescopic Pole
Versatile use of brush
Textured soft bristles
Light-weight aluminum pole
Comes with attachments
User/ Customer Impressions
Most people are happy with their purchase mainly due to the telescopic pole that is well-made, sturdy, and lightweight. Users find it easy to reach the sidings on the tops, and other difficult to access areas without having to climb on a ladder, so it minimizes the risk involved in cleaning.
Although most people are impressed with the extension pole, others have cautioned about the size of the brush that comes with it. People find it rather small and not so useful for cleaning really dirty sidings. You may need to buy a good brush separately, so this is slightly disappointing. Other than that, users are happy with the extra attachments that come with the product.
Conclusion
This is an anywhere, anytime brush you can use to clean the vinyl sidings, solar panels, satellite dishes, patio railings, outdoor furniture and so on. The long telescopic handle makes it easier to reach high areas and remove dust, cobwebs, and dirt in order to enhance the face value of your home. Overall, this is an all-purpose cleaning brush at an affordable price.
---
If cleaning your vinyl sidings, showers, RVs, marine boats, driveways, and patio give you headaches then consider buying the EVERSPROUT scrub brush (learn more) with soft bristles. The bristles are so soft that they do not cause any scratches on the surface while scrubbing, plus there is a rubber bumper over the scrubber that protects the area from the damage.
The soft scrub brush comes attached with a lightweight, telescopic pole that is 7 feet in a shortened form and maximum 19 foot when stretched. The handle contains dual no-slip foam material that provides good traction and comfort to give you a good grip. The stage extension pole enables users to reach high areas with great ease, without the need of any ladder. So, you can stand on the ground and reach more than 20 feet to remove dust, dirt, and cobwebs.
Product Features And Specifications
Pole weighs 1.5 lbs
Eversprout Extension Pole
Eversprout Deck Brush
Dual no-slip foam
7-to-19 Foot Pole
100% Risk-Free Satisfaction Guarantee
User/ Customer Impressions
Customers who have used the product for cleaning vinyl sidings are pleased with the results as the brush helps them reach up to 27 feet and keep the exterior of the house clean. One user has mentioned that the pole is light, yet difficult to handle when fully extended. When shortened, it is much easier to manage the pole.
People who have bought the product also love it for multipurpose use such as cleaning a two-story house, boats, decks, patio, and so on. Few users have cautioned about the brush not being up to the mark or not as advertised, but the customer support always listens and sends replacements to those who are not satisfied with their purchase.
Conclusion
This scrub brush is not only well-built and sturdy but also performs as promised to help you keep your home exterior clean and gorgeous. Overall, this is one of the best brush money can buy for multi-purpose cleaning without any risk involved.
---
Does the thought of cleaning vinyl sidings make you cringe? We bring for you the review of Camco RV Flow-Through Wash Brush (shop now) with an adjustable handle and built-in squeegee that promises to make the task seem like a breeze. No more ladders and difficult to handle cleaning tools. Just one ultimate product can handle the exterior cleaning of your house, including the sidings, driveways, patio, and garden furniture.
The product includes a locking brush head with rubber corners to avoid scratching or damaging the surface you are cleaning. It features a locking head to ensure that the wash head does not move or spin when in use. It also comes equipped with an adjustable handle that measures 43 inches in shortened form and can be extended to become 71 inches long.
Product Features And Specifications
43 inches up to 71 inches long
Built-In Squeegee
Locking Brush Head
Water Flow Control
Wide Cleaning Head
Large Soft Bristle Brush Head
User/ Customer Reviews
Those who have bought the Camco wash brush are mostly happy with the speed at which it helps clean the surface. Users are happy that it takes a fraction of the time to clean vinyl sidings, patio, and even car. People compare the sturdiness and built to the good old scrub brushes of the past that were high on quality.
Customers are impressed with the fuzzy ends that do a better job at cleaning the entire surface instead of just working on certain spots like stiffer bristles do. While most users are happy with the telescopic handle, brush, and rubber part, some have cautioned about the rod snapping after a few uses.
Conclusion
This well-designed brush does a good job of cleaning vinyl sidings and a variety of other surfaces without causing any scratches. You can reach the high areas without climbing a ladder and even the lower parts of the vehicle without bending down. A wonderful product that's worth every penny!
---
Don't go with the name. This cleaning tool may not sound so fancy but it has what is needed to be the best brush for cleaning vinyl siding, gutter, boats, cars, and so on. It looks like built specifically for the job and the thick caterpillar noodles made of microfiber material can easily remove dust, dirt, and debris. The brush can also remove stains caused by rusting and algae formation.
The CHOMP Microfiber mop can also be used for wet cleaning the exterior of the house with ease. It can be attached to any standard extension pole to reach high areas. Just dip the mop head in the water and wet clean the high sidings, ugly black streaks on the trims and so on. The brush glides easily on irregular areas and rough surfaces to clean like new. When the brush becomes dirty, wash it with clean water and it is like new again.
Product Features and Specifications
Patented cleaning tool
Washable and reusable
Thick caterpillar noodles
Microfiber mitt
Environmentally-friendly and non-toxic
User/ Customer Impressions
People who have used the CHOMP tool for cleaning gutter, sidings, trims, and other surfaces are extremely happy with the results. A customer who cleaned 21 years old gutter covered with mold, moss, and algae, using this product remarked that the gutter looked like new.
Most customers are happy by the way the brush handles both wet and dry cleaning tasks in hard to reach areas. While people like the performance of the brush and its ability to get attached to any extension pole, some customers had issues screwing them tightly to a pole and they wished it came with a pole of its own.
Conclusion
While this cleaner tool is mainly advertised as a gutter cleaning brush, it can also be used to wash trailers, sidings, trims, and so on. We love the way the brush has been built to clean different surfaces with ease and perfection. Overall, we think this product is what all house owners need to have in their cleaning kit.
---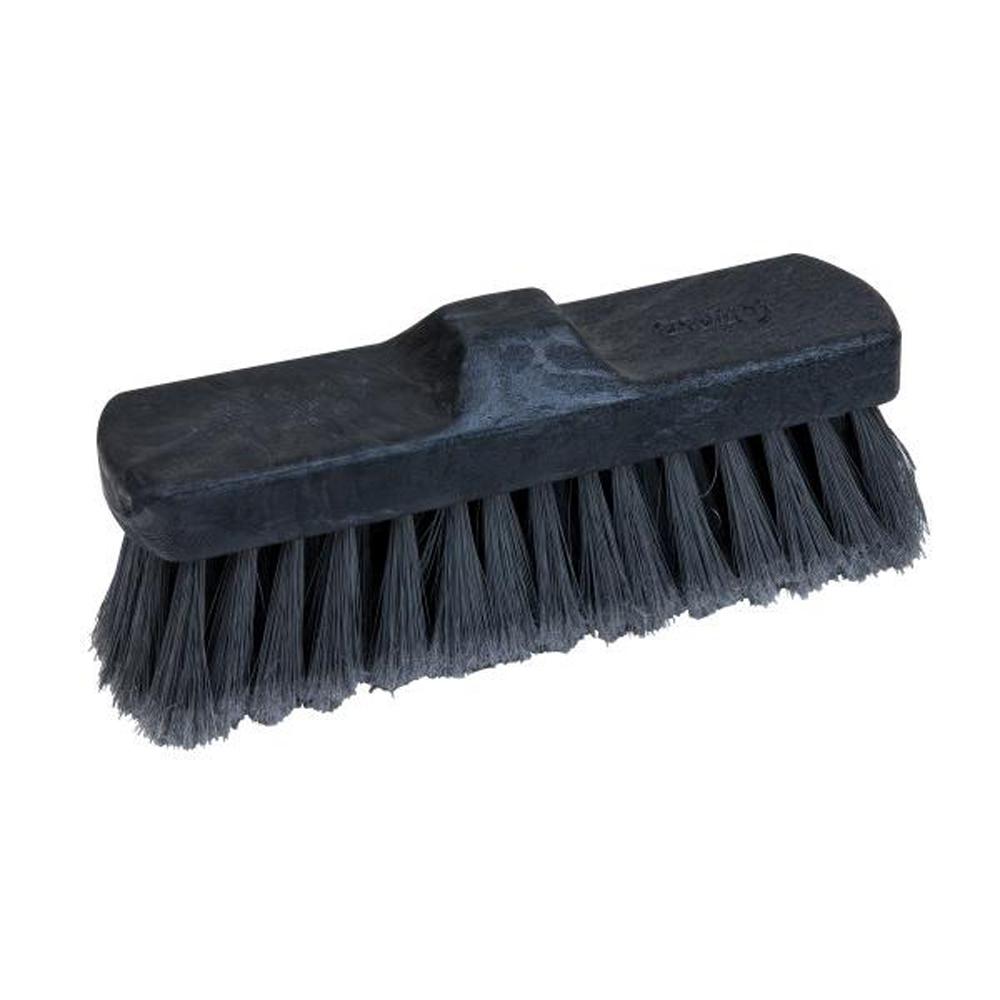 If you had been using old traditional cleaning methods to clean the sidings, wooden trims, and shutters, then it's time to make the switch and try something new. Aptly named as the Quickie Siding Scrub Brush (see more), this product promises to cut the time spent in cleaning considerably and give you clean and sparkling house exteriors in a fraction of the time you spent earlier.
This sturdy brush includes a resin flow-through block and a poly-fiber brush. It can be easily attached with any standard threaded handle to reach out to the high area to remove dust, dirt, and cobwebs. Thus, it eliminates the need for a ladder and reduces risks to half. You may also use the brush to clean glass windows and other surfaces without the fear of getting scratches. It can be used for both wet and dry cleaning.
Product Features and Specifications
9 inches scrub
Made from Polypropylene
Soft bristles
Siding and rood brush
Stable base
Fits standard threaded handles
User/ Customer Impressions
People are generally happy with the performance of this small yet useful brush that can be used for cleaning sidings and rooftops. Users find it easy to attach the brush to any threaded handle and access the hard to reach areas.
At this price, buyers are happy to find a cleaning brush that comes with many features, has good size, gives a good performance, and feels sturdy to hold. People have also tested it to clean gutters and it has delivered impeccable results every time.
Conclusion
Overall, this Quickie 9 in. Siding Scrub Brush is designed really well and has a hole in the handle area to allow water or soapy liquid to flow through and enable a wet mopping if needed. All in all, we feel that this product offers good value for money.
 Our Recommended Vinyl Siding Cleaning Solution
Now that we have told you about the best brushes you can use for cleaning vinyl sidings, make sure you use the right cleaning solution to get the best results. After using and reviewing several cleaning products, we found that the Mold Armor FG503 E-Z House Wash by W.M. Barr and Company is the best fit for the job.
Manufactured by a company that has been in business for over 60 years, this powerful formula removes mold, mildew, and algae stains from different types of surfaces without the need for scrubbing. This cleaning solution can be used for dirt, dust, typical marks and also heavy stains.
You will need a sponge, roller, tank or garden sprayer to remove stains and get clean looking sidings, concrete surfaces, trims, fences, painted decks, and more. Dilute one part of the solution with 3 parts for water for regular stains, and use the product at full strength for heavy stains and soils.
Related Questions
Can I use liquid dish soap to clean vinyl siding?
Yes, you may mix regular liquid dish soap with the cleaning solution to get some additional cleaning power.
You may want to have a look at another article: How To Mop A Floor Properly?
How often should I clean sidings?
For best results, the sidings should be cleaning twice every year and more frequently if they are susceptible to algae, mold, and mildew growth. If you are planning to put up your house for sale, cleaning is essential to increase the property value.
What is the best time to clean vinyl sidings?
Choose a mild sunny day for cleaning sidings as the heat will not be uncomfortable, yet there will be enough sunlight to dry the sidings quickly. A change of season is also a good time to take care of all the dust and grime left behind.
See Also:
How To Clean Dried Polyurethane From Paint Brush
5 Best Pool Brush For Pebble Tec
Does Bleach Damage Vinyl Siding?
How To Remove Vinyl Print From A T-Shirt