Think of a kitchen, and you simply cannot imagine one without a cooktop—it's that essential in a kitchen existence. After all, a cooktop with a burner or even four to five of them is the most basic appliance you need to be able to cook your food in less time and without any hassle.
Over time, humble cooktops have given way to our present-day advanced ones that are sophisticatedly designed and rich in features. However, there are so many options available on the market that choosing one that perfectly meets your specific needs can be tough.
Your preferences will likely vary based on your cooking needs, the number of people in your family, your personal taste, the time you spend cooking every day, and so on. You will need to consider these factors, too, before selecting a cooktop that will meet all of your requirements well.
To make this selection process easier for you, our team has reviewed more than a dozen cooktops available. After careful analysis and review, we have handpicked just a few products to help you find the best cooktop with Wi-Fi capabilities. Read on to find complete reviews of each product selected by our team.
If you are in a hurry and lack the time to read until the very end, we simply suggest that you opt for the 30-inch Samsung cooktop in fingerprint-resistant that includes five burners. It is a perfect example of convenience meeting with modern technology and design. Users can enjoy the comfort of analog knobs and advanced digital Wi-Fi and Bluetooth technology, providing them with hassle-free cooking.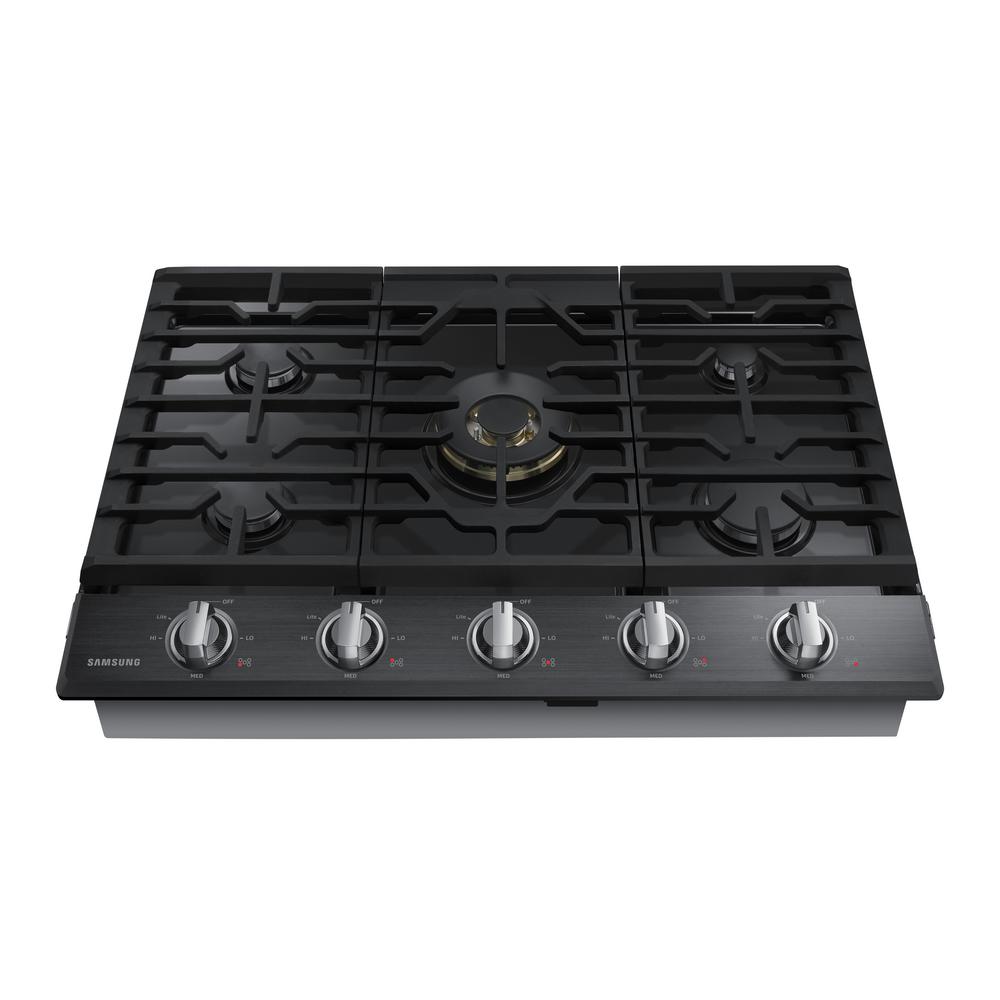 The first item on our list is this 30-inch Samsung gas cooktop that promises you a powerful and precise cooking experience. It includes a 22,000 BTU dual power burner with a complete array of temperature options ranging from high heat to a low simmer.
With this gas cooktop, you get to enjoy the comfort of analog knobs right alongside the highly advanced digital Wi-Fi and Bluetooth technology built into the appliance. You can prepare numerous meals to meet your needs with the use of the removable cast iron griddle included with the product. You can also simplify your cooking experience by syncing the cooktop to the hood, allowing the vents to turn on automatically and as needed.
This gas cooktop comes in two stainless steel colors options, and the black variation has a nice fingerprint-resistant finish. We love the blue LED knobs as well that let you know whether or not the cooktop is on even from a distance. The cooktop's Wi-Fi connectivity also enables you to monitor the cooktop remotely using your smartphone for ultimate convenience.
Product features and specifications
22,000 BTU true dual power burner
Blue LED knobs
Liquid propane conversion kit
Continuous cast iron grate design
Front linear controls
Available in regular or black stainless steel
User/Customer Reviews
Most customers who have bought this product have been pleased with the performance and functionality of the cooktop. Several users have mentioned that this Wi-Fi-enabled cooktop was easily installed on their granite counter. People have also said that the burners work well and that the simmer function is perfect. A few customers have warned that the warranty excludes cosmetic defects, though.
Conclusion
This 30-inch Samsung gas cooktop with Wi-Fi (shop now) enabled controls gives you a hassle-free and quick cooking experience. It has a nice black fingerprint-resistant finish that shines and adds more sophistication to your kitchen. Overall, we feel that this product offers a good price to performance ratio.
---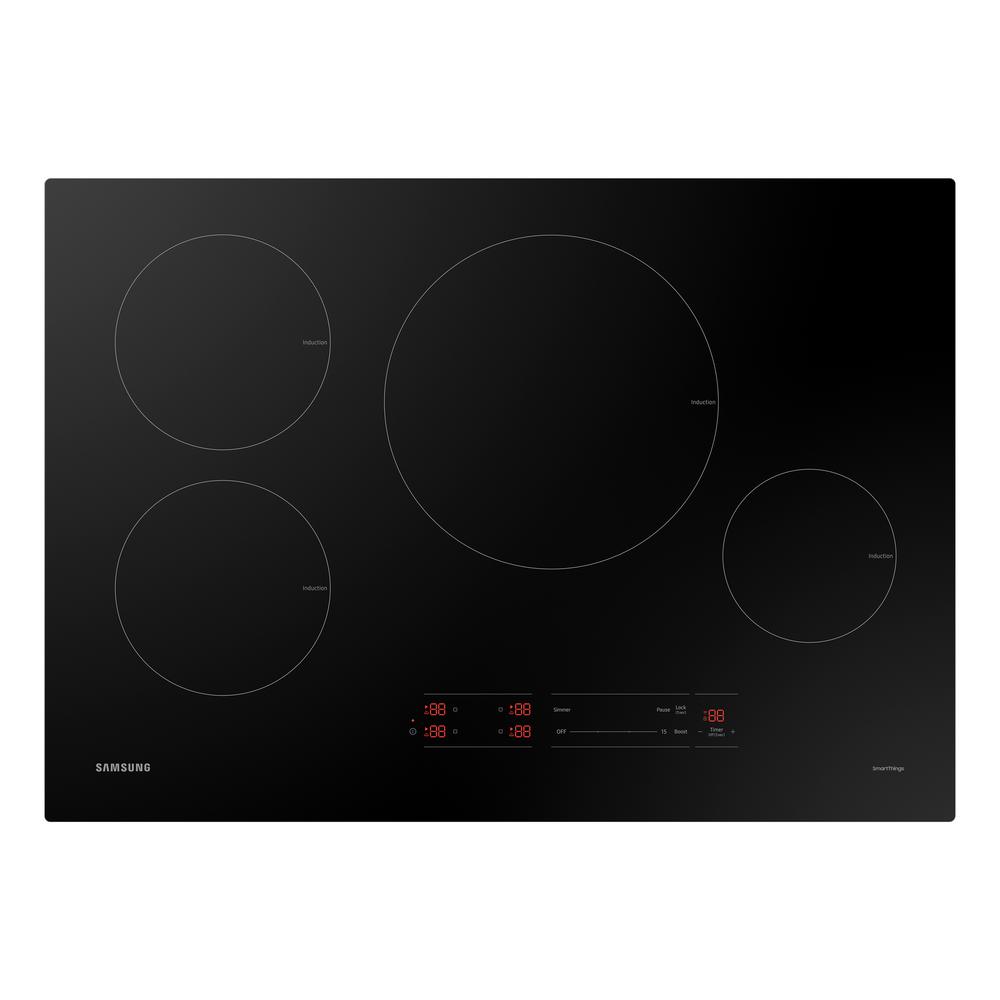 Another option from Samsung, this is a 30-inch modular induction cooktop that gives you a good blend of innovative technology and fast performance. It helps you save both energy and time to give you a hassle-free cooking performance in the kitchen.
The induction burners on this appliance come with precise temperature controls that help you lower or increase the temperature settings as required to avoid spilling due to over-boiling and ensure proper cooking of all of your prepared meals. All four burners on the cooktop come with a "Power Boost" mode too that helps you boil water faster when you have less time.
We love the Wi-Fi connectivity of this cooktop, making smartphone-based adjustments available with all Android and iOS devices using the SmartThings App. GPS-based automation is available when the cooktop is not in use, too. The glass cooktop and glass touch controls feature an intuitive design that's easy to use and control.
Product features and specifications
30-inch cooktop size
Digital display
Pan presence sensor
Simmer element
Warming zone
Digital controls
"Power Boost" mode
Precise temperature control
User/Customer Reviews
Several users have said that they purchased this induction cooktop at a good price compared to other models available on the market. Most people are pleased with the functionality of the cooktop as well as the Wi-Fi options, which they've stated are quite neat. Customers have also mentioned that this cooktop heats induction-compatible cookware fast and brings water to a boil in 3 minutes or less.
Conclusion
The 30-inch Samsung smart-induction modular cooktop comes with energy-efficient features to make any user happy. Its Wi-Fi connectivity capabilities also enable you to control the appliance's settings using your smartphone. Overall, we feel that this product is worth your hard-earned money.
---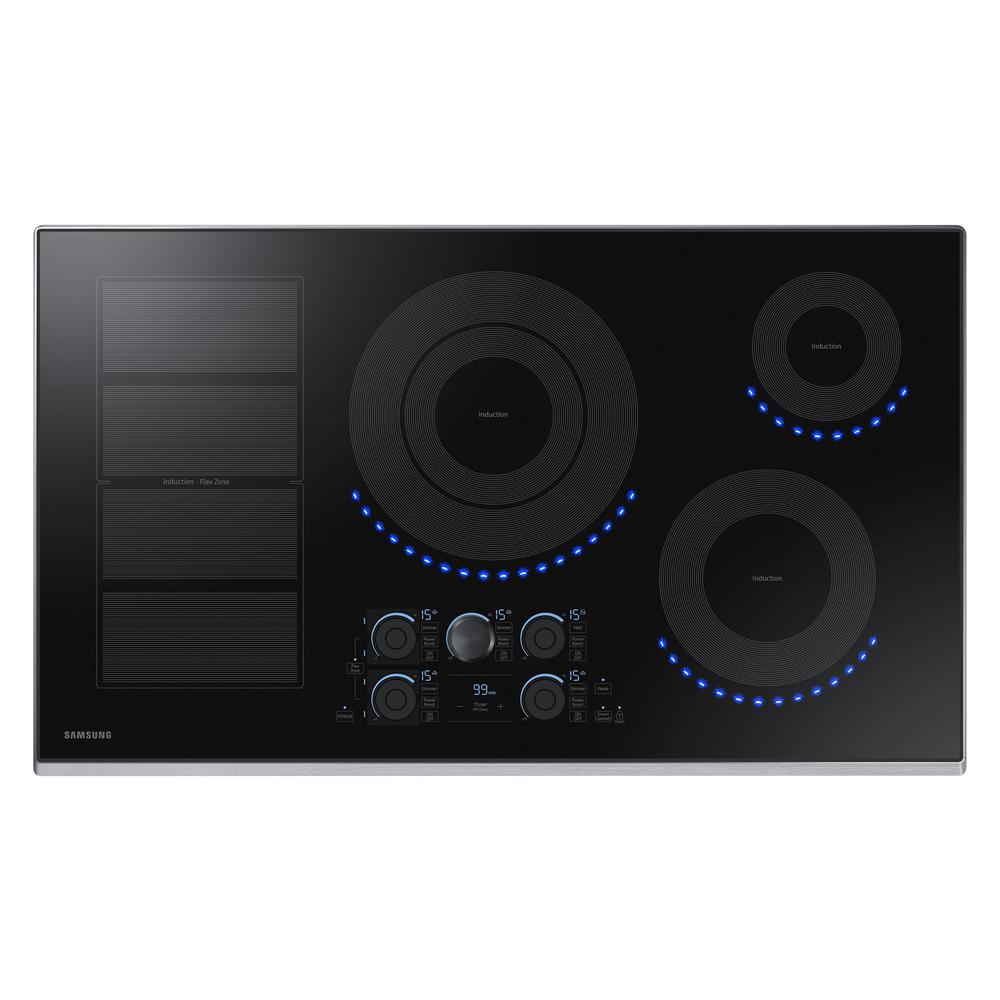 This Samsung induction cooktop presents some of the most advanced cooking technologies along with a nice cooking surface. Its flexibility of the cooktop's burner sizes can easily accommodate a wide range of pot and pan sizes. This cooktop can also be installed over an oven with ease.
The Flex Zone large cooking area is designed in a way to give you optimal flexibility plus digital analog controls and digital touch controls.
The Power Boost focused heat of this Samsung induction cooktop additionally helps in increasing the intensity on any burner to give you faster cooking times. We love the Wi-Fi connectivity as well that lets you control the cooktop remotely using your smartphone. This cooktop can also be synced to a Samsung range hood to automatically start the lights and fans when needed.

Product features and specifications
36-inch size
15 heat settings
Virtual LED "flame" lights
Bluetooth-connected
Wi-fi connectivity
Digital analog controls
ADA Compliant
User/Customer Reviews
Most people love the design of this cooktop and the nice shiny surface that adds plenty of value and visual appeal to their kitchen. Users have also said that it helps them save time and energy while ensuring that their food gets cooked faster. A few customers have said that the adjustable induction burners have had issues with identifying the pots and pans; additionally, these surfaces are also hypersensitive to moisture.
Conclusion
This 36-inch Samsung induction cooktop (learn more) has a nice stainless-steel trim that impresses with its style and design. It has a nice virtual flame feature and an easy-to-read LED display. This cooktop is also Wi-Fi-connected so you can easily control it with the help of a smartphone app.
---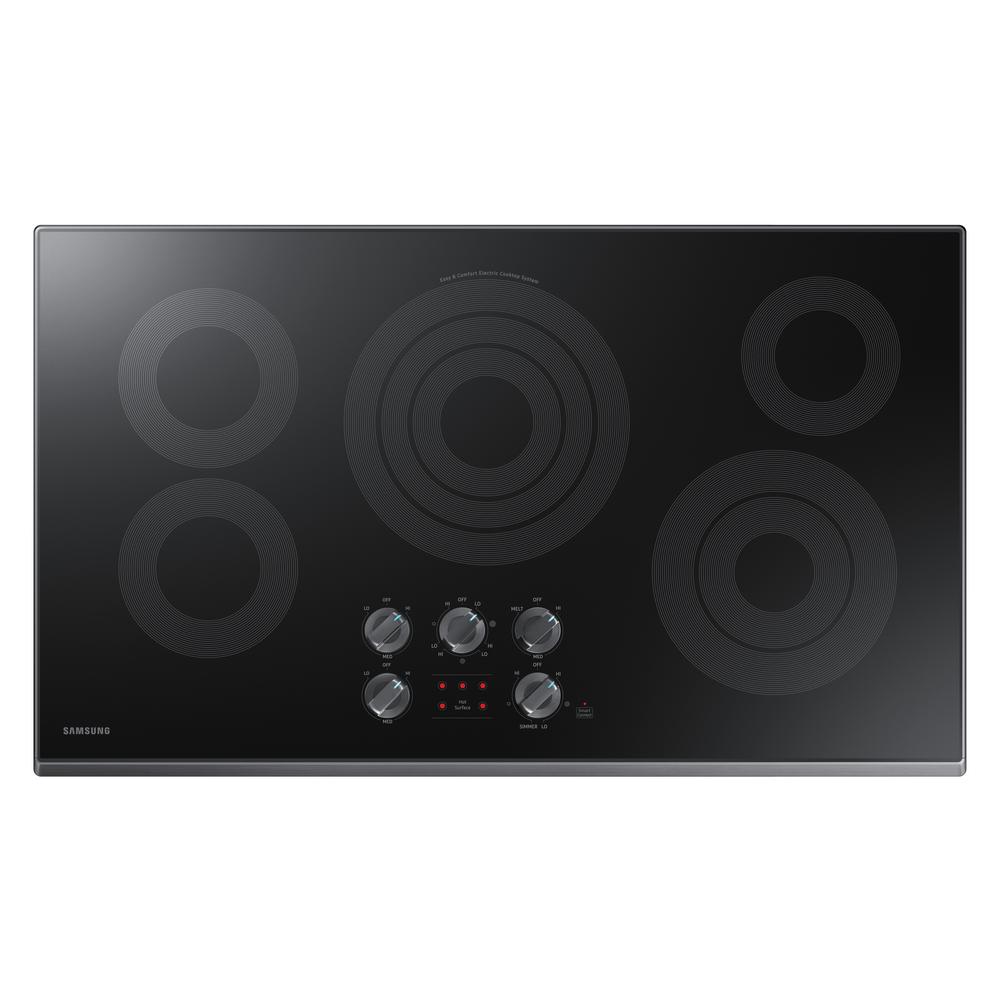 Yet another advanced Samsung electric cooktop, this option also comes with a fingerprint-resistant finish and stainless-steel body. It is comprised of five cooktop elements as well as Wi-Fi connectivity to address a wide range of cooking needs with ease. The blue illuminated LED knobs help you easily know when the cooktop is on or off.
The premium design of this cooktop adds a lot of value to the kitchen while the smooth glass-ceramic surface makes cleaning much easier. Being a very versatile cooktop, the numerous burner options allow you to boil water, melt chocolate, or simmer sauce without interfering with any of the other features during use. With the amount of included features on this model, there's something to meet nearly all of your needs.
Product features and specifications
36-inch cooktop
Indicator Light
'Hot Surface' indicator light
'Heating Element On' indicator light
Can be installed over a wall oven
Black stainless steel
1 Year Manufacturer's Warranty
User/Customer Reviews
Most people have said that this induction cooktop is sleek and that it perfectly complements a modern kitchen. Users were impressed with the sleek design and fingerprint-resistant black stainless-steel exterior that is easy to clean and maintain. A few customers have also said that the number of burners and the spacing between them is great.
Conclusion
The 36-inch Samsung Radiant electric cooktop is a significant and remarkable update from the previous models. It has five burners instead of four to help the cooking work get done quicker than ever before. Furthermore, the easy Wi-Fi connectivity can be synced with your home network to remotely control the cooktop via your smartphone app.
---
Related Questions
Is a smart cooktop connected to the Internet?
Similar to other smart appliances, a cooktop with Wi-Fi connectivity is connected via the Internet to allow the users to control the appliance from anywhere. Thus, you can control the temperature, cooking time, heat settings, and so on straight from your phone.
Is it safe to connect appliances to Wi-Fi?
When an appliance gets connected to one's Wi-Fi for the sake of app control, it does become basically a general-purpose computer that is open to hackers. However, if your home Wi-Fi connection is secure with the latest security software, you need not worry.
See Also:
Difference Between Jambalaya And Paella
16 Things You Can Put In Alfredo Pasta
4 Best Dutch Ovens For Deep Frying
8 Best Pressure Canners For Glass Top Stove