If you are looking to elevate your kitchen multitasking capabilities and achieve the pinnacle of home cooking luxury, double wall ovens with air fryers are your best bet. These consist of two built-in ovens that are vertically stacked or arranged side-by-side in your kitchen and that come along with an integrated air fryer.
This appliance set has separate cooking areas to let you cook different types of dishes in less time. With these, entertaining a large group of guests for brunch of dinner becomes a breeze. You can have your roasted chicken, fries, fish, and steak all cooked at once with separate cooking times, temperatures, and other variables adjusted as needed to make cooking multiple dishes quick and easy.
However, now we come to the most challenging part: with so many double wall ovens on the market, how do you find out which set is better than the others and which brand gives you the best overall value and variety of capabilities? To make this easier, our team has scoured the internet to find the four best double wall ovens that come with an air fryer for 2022.
We have reviewed and analyzed a plethora of double wall ovens to find the most suitable ones for you. Read on to find complete reviews of each product. If you are in a hurry, we simply suggest that you opt for the 30-in. Smart Double Electric French-Door Wall Oven with Convection by Café for precision cooking and performance that entertains.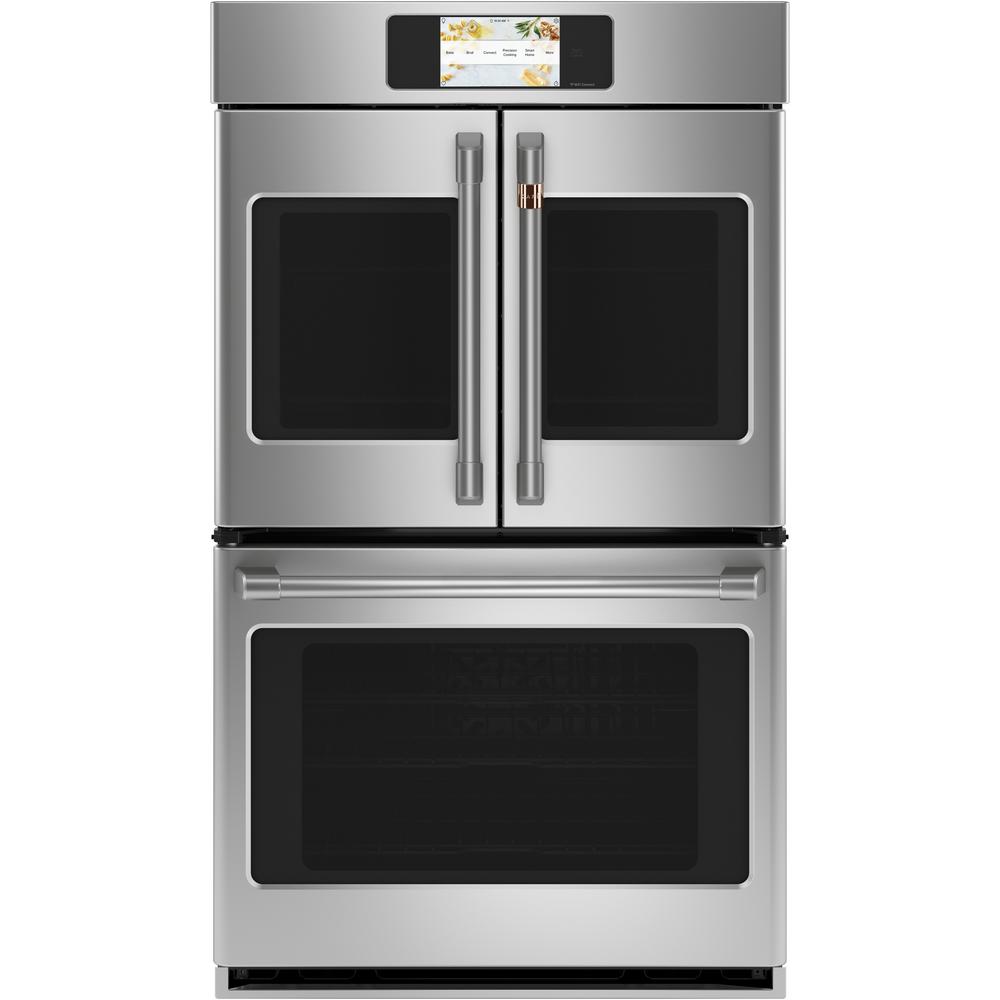 This 30-inch double wall oven is stylish and smart with a unique line of hardware and a seamless and contemporary design. It comes backed with amazing features that complement both the design and function. The French-door design with customizable handles and finishes exudes a professional look as well.
Users can easily navigate this wall oven's settings with the help of a stunning full-color display that gives your kitchen an unexpected touch of sophistication. The purposeful French-door design lets you open both doors with a single hand and access your food with convenience.
There is no hassle or need for preheating either. You can save time with various precision modes. We love the True European Convection with direct air that lets you cook deliciously crisp and fried foods without the use of too much oil. The roasts and meat get cooked to a perfect level of doneness with the help of a temperature probe, too.
Product features and specifications
30-inch size
Stainless steel finish
LCD touch screen
Air fryer for healthier, crispier food options
Smart Home enabled
Works with Alexa, Google, and the brand's proprietary app
Limited 1-year entire appliance warranty
User/Customer Reviews
Most users are thrilled with the stylish fold-out doors and advanced Wi-Fi features that make this appliance a class apart. Some people have also said that the appliance looks gorgeous and has a professional feel to it. A few customers have also mentioned that the functions and touch controls are easy to use, making it extremely user-friendly.
Conclusion
The Smart Double Electric French-Door Wall Oven (shop now) is a well-designed multifunctional kitchen appliance that comes with multiple features. It not only looks gorgeous, but it is easy to operate and lets you cook your food like a professional. Overall, we feel that this oven and air fryer combination appliance is just what you need and a great value for the money.
---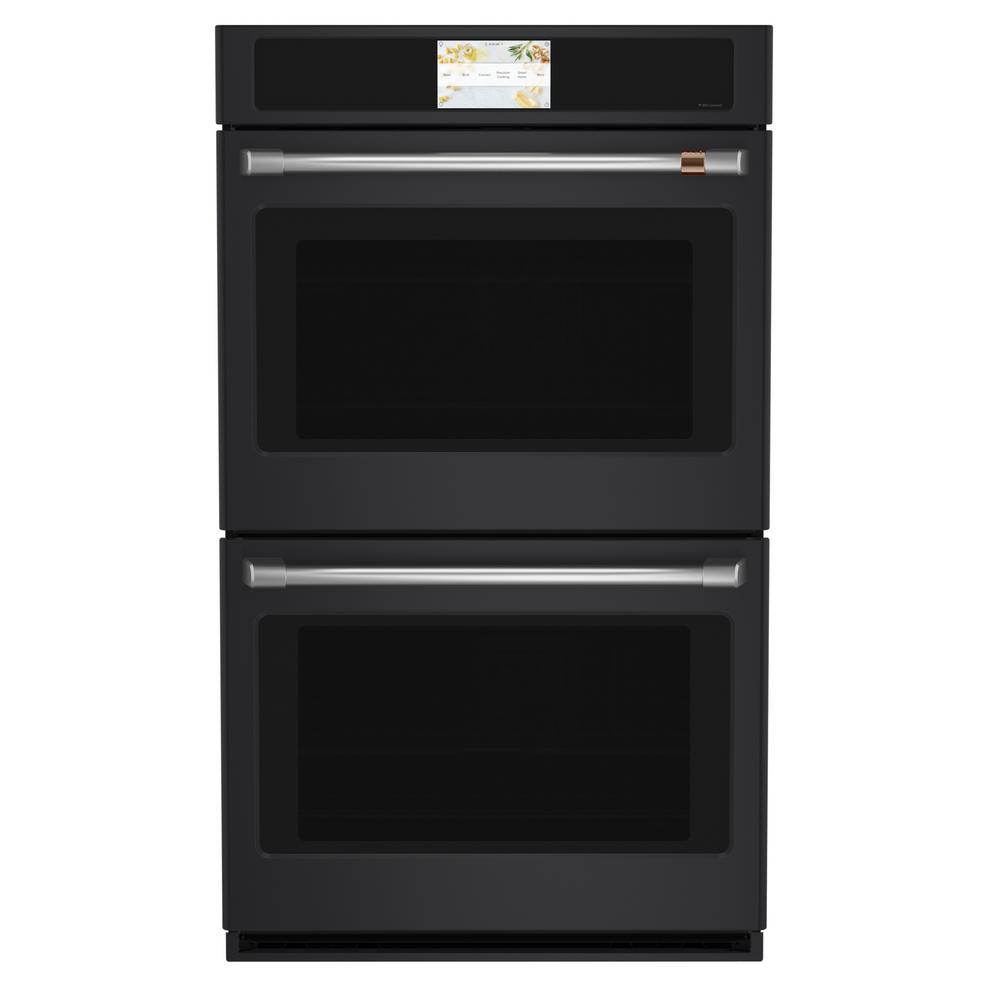 The next product on our list is this double electric wall oven that comes with built-in Wi-Fi and is powered by the SmartHQ app. This app will help you manage the various aspects of your kitchen with the help of a voice assistant. It also lets you enjoy the latest features by downloading the cooking upgrades to the appliance without any hassle.
There is an integrated camera in this oven that allows you to check the status of your dishes from anywhere at all without having to open the oven door. It livestreams video of your food that's cooking right on your smartphone. This appliance also includes a food dehydrator that lets you make your own homemade chips, spices, and dehydrated fruits.
We were impressed by the large, 7-inch touchscreen with its full-color display and easy-to-navigate settings. The precision cooking modes simplify the cooking process and automatically track progress and temperature adjustments. The manufacturer stands behind the product with a limited 1-year entire appliance warranty as well.
Product features and specifications
30-inch size
Self-cleaning
Dual-zone cooking
Air fryer
Broiler included in oven
5 cubic feet capacity
7-inch touchscreen display
True European convection
User/Customer Reviews
Several people have called this a "dream oven" as it comes with a warmer in addition to the air fryer to cook healthier and less oily food and also keep dishes warm for longer. Several users have mentioned that the appliance appears to have more features than they realized. A few customers have warned that the upper fan needed to be replaced though as it produced a stinky smell after multiple uses.
Conclusion
If you are a versatile cook who likes to entertain friends often and cook a lot of food, this double wall oven with its built-in air fryer can save you time and improve your cholesterol levels, too. You can easily cook a variety of food in less time while using less oil than other cooking methods. Overall, we feel that this amazing kitchen appliance offers an amazing price to performance ratio.
---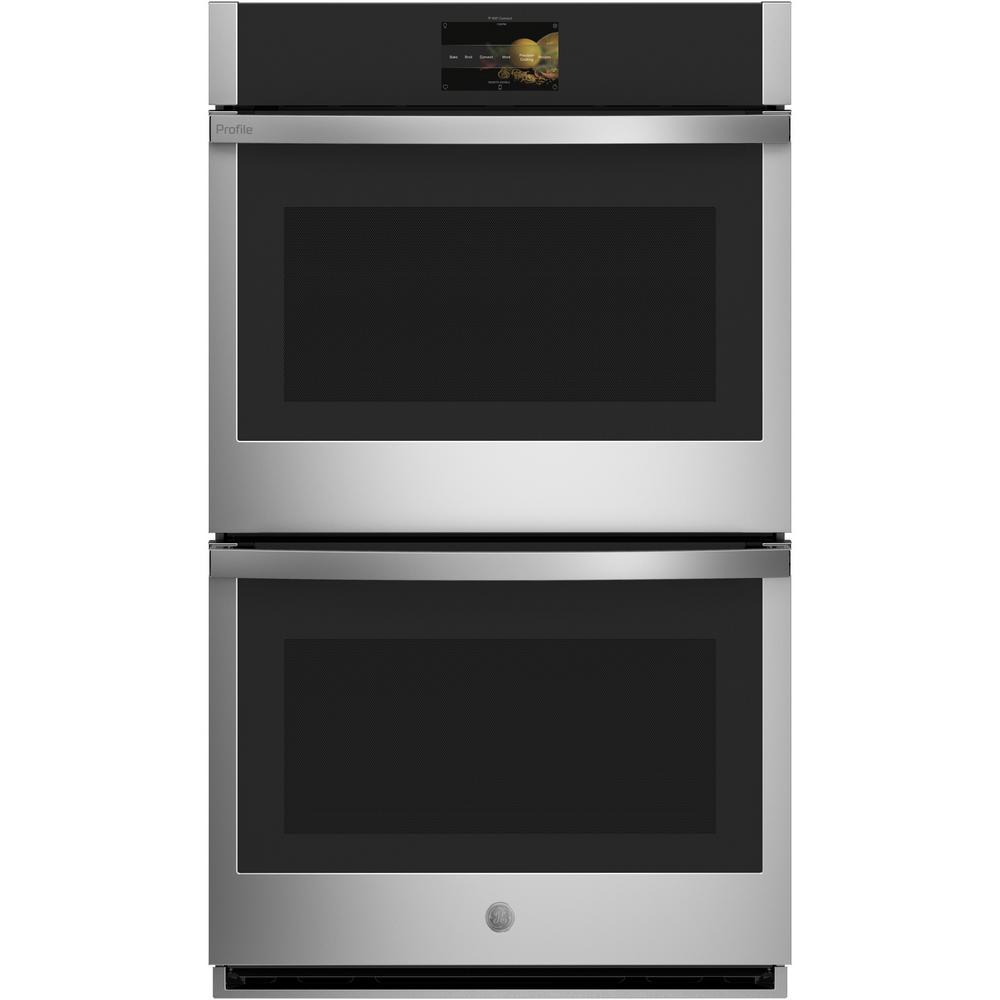 GE offers one of the smartest latest appliance technologies in a contemporary design to change the way you live. We love this smart double wall oven that features a bold and dramatic look; plus, it's loaded with a plethora of features to bring style and innovation to your kitchen.
GE wall ovens are designed to perfectly fit with your existing GE Appliances, just with some slight modifications. This oven set comes with advanced features like in-oven cameras for streaming live footage of your food being cooked, precision cooking modes, and automatic adjustments to regulate the oven temperatures as needed.
This double wall oven includes a brilliant, bright, and interactive 7-inch touch display to program the oven with ease. It also has true European convection, and the air fryer maximizes your results when it comes to chicken, turkey, and other familiar favorites. With the GE Appliances Kitchen app, you can easily save time by preheating and monitoring the oven as well.
Product features and specifications
30-inch size
Bluetooth enabled
Brilliant 7-inch touchscreen display
In-oven camera
Precision cooking modes
Hot air frying
Soft-close door
Limited 1-year entire appliance warranty
User/Customer Reviews
Many users have said that replacing their old GE appliance with this new one was a breeze with its easy installation and user-friendly features. People have mentioned that the air fryer works great, and food comes out crisp on the outside and juicy on the inside. Several customers have also mentioned that they love the built-in camera that lets you see how your food is cooking inside of the appliance without disturbing the temperature by opening the door like with standard ovens.
Conclusion
This is an easy-to-use and highly efficient double wall oven that also has an air fryer to help you prepare a versatile spread in less time. It not only cooks quickly but also comes smartphone-enabled to make cooking far less of a hassle for you. Overall, we feel that this double wall oven is worth your hard-earned money.
---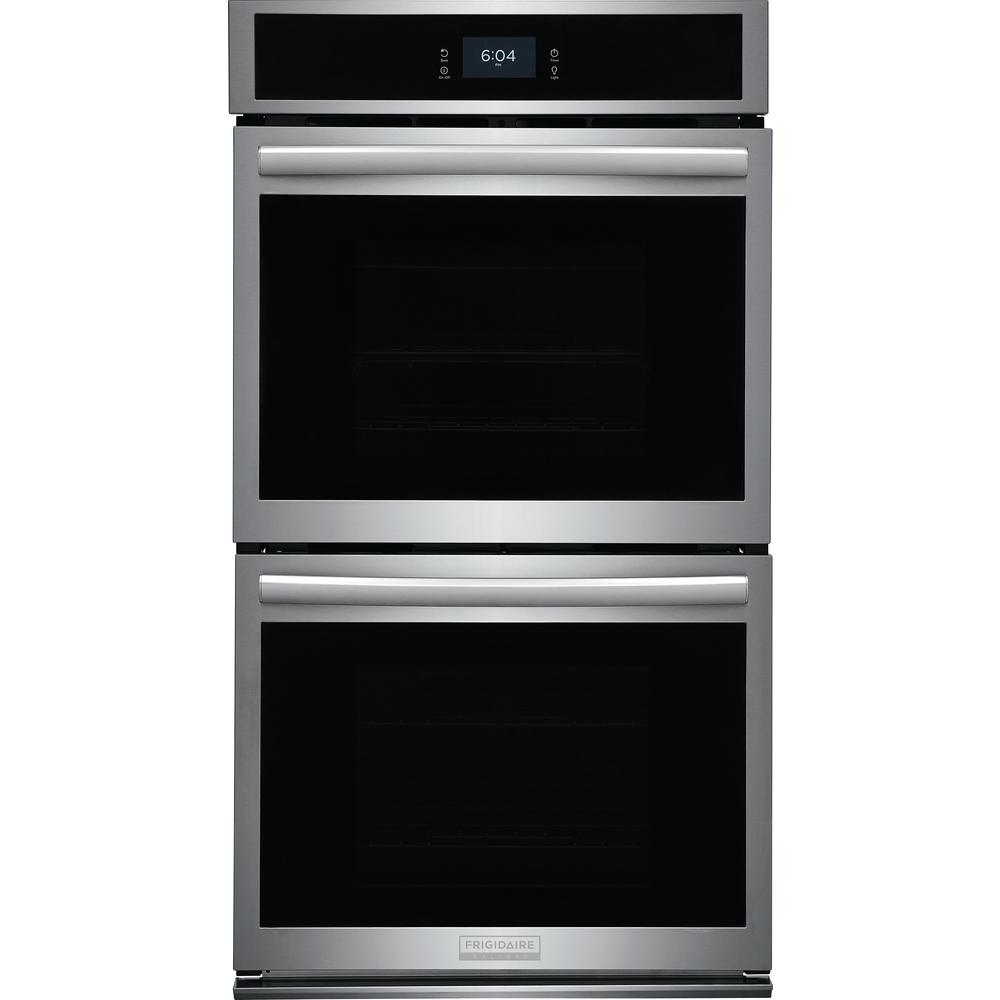 Last but not least on our list is the Double Electric Wall Oven by Frigidaire. This is a 27-inch unit that comes with a complete and advanced convection system. It comes with various cooking modes such as Air Fry, Slow Cook, No Preheat, Steam Bake, Steam Roast, Convection Roast, Air Sous Vide, Convection Bake, and more.
This wall oven also includes a convenient temperature probe, touchscreen digital control panel, and a smudge-proof stainless steel finish. We love the appliance's smart performance that lets you start baking immediately without wasting any time pre-heating the oven.
This 27-inch Frigidaire Gallery double wall oven is designed to fit perfectly in your existing cabinet cutout of the same measurements and configuration. You can enjoy a hassle-free experience whether cooking with the Slow Cook option, Sous Vide options, or even using the Steam Bake setting. This oven easily allows you to lock in the moisture within your food and cooking them flawlessly without losing the unique flavors.

Product features and specifications
27-inch size
Steam clean
Automatic convection
ReadyCook air fry tray
Smudge-proof stainless steel
Premium touchscreen control panel
User/Customer Reviews
Those who have bought this product have said that the installation was quick and easy; plus, it completely changed the entire looks of their kitchens. Many people have said that they are happy with the bake, convection bake, and air fry settings in one appliance. A few customers have warned that the touchscreen may be slightly fussy for some users, however.
Conclusion
The Frigidaire Double Electric Wall Oven is a great-looking and easy-to-use kitchen appliance that delivers amazing results. It comes with precise settings, a true temperature probe, and various advanced features to make cooking any types of dishes both quick and fun. Overall, we feel that this oven delivers more than you could ask for.
---

Related Questions
Which is better: an oven or an air fryer?
Air-frying is a healthier way to "deep fry" foods without the use of too much oil. However, oven-baking helps in preserving the good nutrients while filtering out the bad ones. This makes oven-baked foods healthier than most air-fried foods, although air-fried foods are certainly more healthy than their oil-fried counterparts.
Can I cook frozen foods in my air fryer?
Air fryers are the perfect appliance to help you cook frozen foods when you are cooking finger foods for a party or simply making evening-time snacks. This type of appliance makes your fried foods crispy from the outside without losing the moisture from inside, so you'll have perfect fries, meats, and other foods every single time.
See Also:
Can Silicone Bakeware Go In A Toaster Oven?
Can You Put Plates In The Oven?
4 KitchenAid Countertop Oven Reviews
Can You Put Enameled Cast Iron In The Oven?