Snuggling with your pooch is perhaps one of the biggest joys of life. However, any pet owner with a dog that sheds will tell you that dealing with hair everywhere is a constant struggle. As the pup ages, he starts to shed like crazy and you can find his fur balls on the couch, car, clothing, and so on.
Well, you can't stop loving your dog for this so the key to overcoming the hair-trouble is to choose dog-friendly furniture. The type of fabric you choose for your couch can make a world of difference. For old couches, you may cover them up in microfiber or denim fabric to repel dog hair.
If you are looking for a new dog-friendly sofa then we have done the homework to save you time and confusion. Our team has reviewed more than 20 different couches made from different materials from leather and polyester to silk and microfiber to shortlist the best couches for shedding dogs.
Read on to find the reviews of some of the best pooch-proof couches that accommodate both yours and your dog's lounging needs. We have also including a quick buying guide at the bottom to further help you narrow down your options and make the right choice.
If you don't have the time to read until the end of this article then we recommend that you go with our editor's choice Armada Black Leatherette Upholstery Sofa. Made from an easy to clean leatherette, it features a chic and luxurious look. The sturdy frame and legs with metallic-silver grey finish add an air of sophistication, plus the storage space is like a cherry on the cake.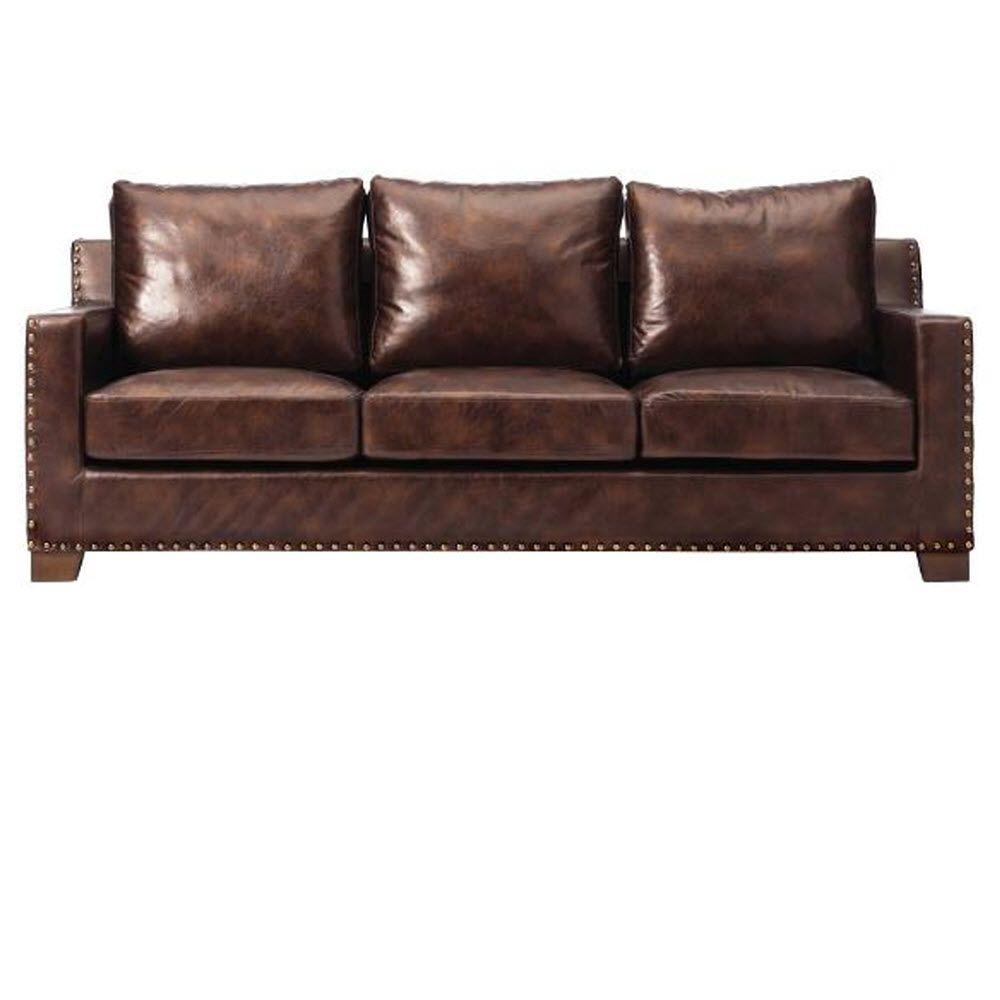 If your Fido sheds a lot and you need a nice comfy leather couch then check out the Garrison Brown Leather Sofa. Made from brown bonded leather, this sofa adds a lot of sophistication, elegance, and comfort to your living area. The gently tapering back and block wood legs further give it a bold profile.
We love the antique cherry finished legs that perfect complements brown leather and silver nail heads accentuates the overall appearance. The frame is made from plywood, solid wood, and foam fillings that are used to give the couch a durable and sturdy build.
The square-shaped arms and tufted back design add a timeless appeal to the couch. There is enough space to allow three people to sit together comfortably. It's long enough for you to nap with your dog by your side, without having to worry about hard to clean fur as the material repels hair.
Product features and specifications
Weighs 133 lbs
Brown color
Unfinished Wood
Tufted back design
Faux Leather
Nailheads, Removable Covers
Rectangle shape
Assembly required
User/ Customer reviews
Most people found that the sofa was extremely easy to assemble after it arrived and it felt really sturdy to use. Users are also impressed with the comfortable size and the color of the couch that camouflages any dirt or stain marks. A few users have said that the leather does not feel very soft and supple, hence it may develop cracks soon.
Conclusion
If you are looking for a reasonably priced dog-friendly couch then get the Garrison Brown Leather Sofa which looks classy like any leather sofa, although it is made from faux leather material. The material repels hair so cleaning dog fur won't take much time. Overall, we feel this is the right choice to have your dog-hair story sorted.
---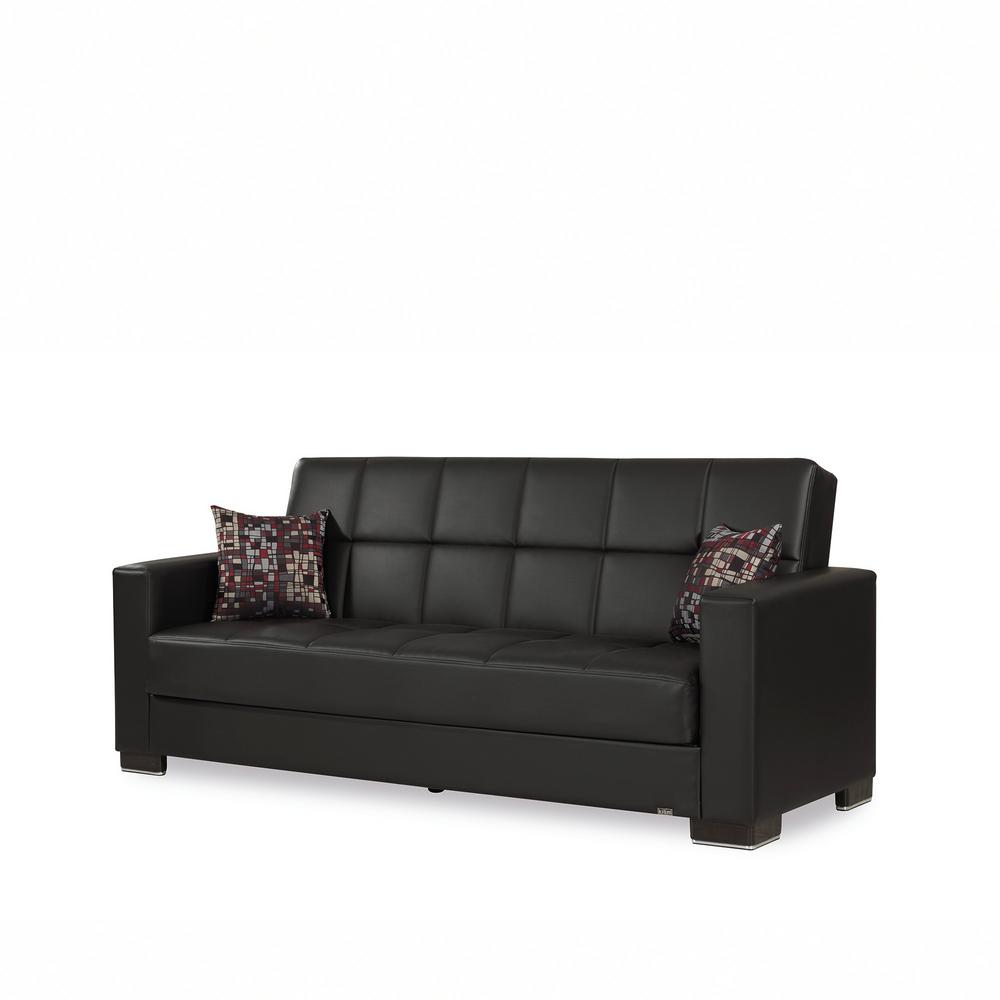 You don't have to give up on style and aesthetics just because you have a shedding dog in the house. Adorn your living space with the Armada Black Leatherette Upholstery Sofa (learn more) to impress your guests and also make it easier to snuggle with your pet without having to worry about cleaning up later for hours.
We love the bold square design and shiny black leatherette upholstery that lends an air of sophistication to the living space. The gorgeous body fabric blends fashion and function effortlessly to breathe life into your interiors. It also repels dog hair to let you cozy up with your Fido for as long as you want.
The black color makes dog hair less visible and as the material repels dog hair, it's easier to brush off and clean. We love the extra storage space beneath the sofa body to hide away the clutter. It can also be converted into a full-size extra bed for guests staying overnight.
Product features and specifications
Measures 88 in. x 30 in. x 35 in
Weighs 170 lbs
Seats 3 people
Dog-friendly
Durable and carefree upholstery
2-decorative throw pillows
Hidden storage space
Sleeper-convertible sleeper sofa
Easy breezy assembly
Maintenance in minutes
Users/ Customer review
People have mentioned that assembling the sofa was easy, and the upholstery makes the couch look luxurious and classic. Users have also said that the frame is extremely durable and the unit is so heavy that it requires two people to move it around.
Those who got the sofa for extra storage space and bed are also extremely pleased with its use. A few customers have said that the user manual in German which makes it hard to understand the assembly instructions.
Conclusion
The high-quality build and design of the Armada Black sofa add a lot of visual appeal to any living space. Pet owners love this product as it gives you ample space to snuggle with your dog and the leather material repels hair to make it easier to vacuum clean or simply dust off the fur. Overall, we feel it's a small price you pay for comfort, style, and function.
---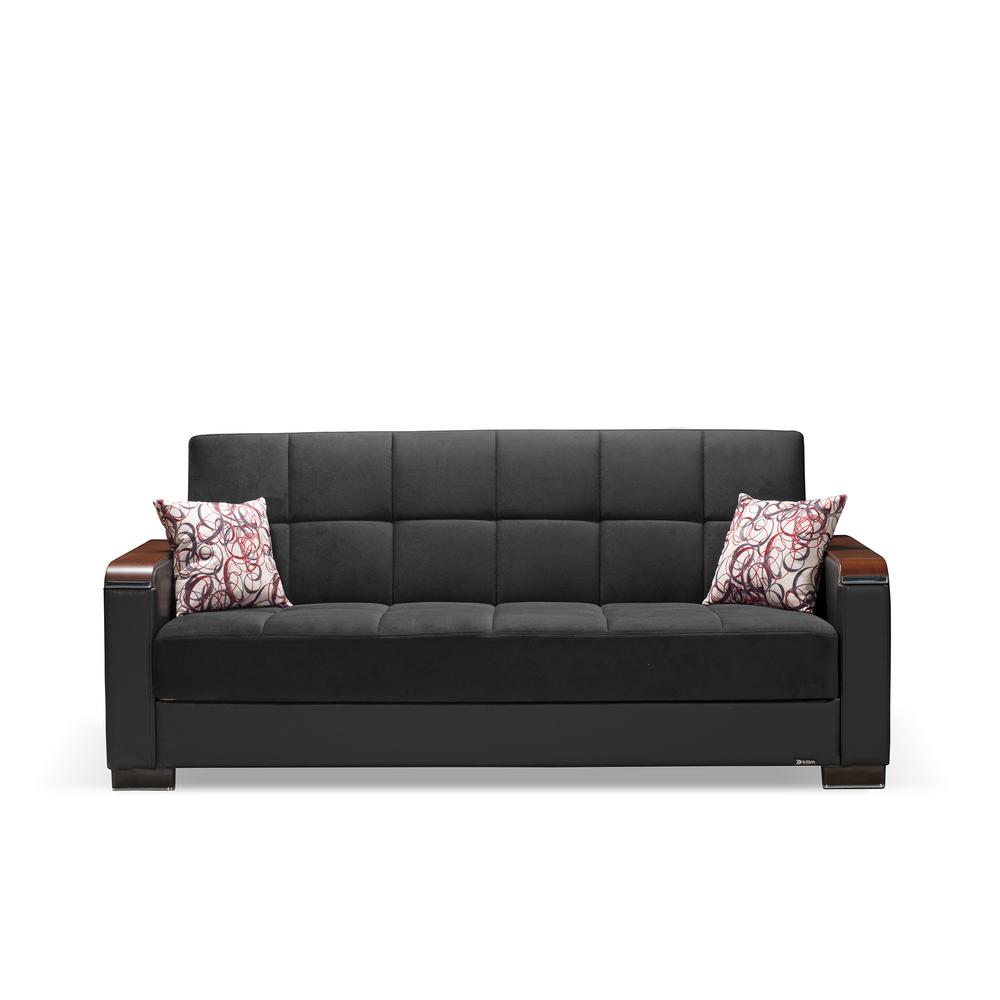 Living with pets in a small apartment can be hard and crazier if your dog sheds a lot of hair everywhere he relaxes. We bring for you the Armada black wooden armed sofa that not only serves as a space saver for modern homes but also adds a lot of versatility to your décor.
Made from hair-repelling microfiber material, the Armada sofa features classy wooden arms and a clean-lined flair to give your living space a neat look. We love the bold and classy design, coupled with a hidden storage unit that helps you keep the area clutter-free.
The wooden arms blend traditional style with contemporary appeal. Besides offering your storage space, the Armada sofa can also be converted into a sleeper bed for friends doing a sleepover. The click-clack technology makes it easy to fold down the backrest to bring your sofa in a flat position.
Product features and specifications
Measures 88 x 22 x 35 inches
Weighs 170 lbs
3 in 1 sit-sleep-store functions
Click-clack technology
Seamless zero-wall mechanism
Convertible sleeper sofa
2-decorative throw pillows
Options in rich colors
Wooden-top arms
User/ Customer reviews
Those who have bought the Armada Black Wooden Armed Sofa have mentioned how luxurious and elegant this piece of furniture makes their living area appear. Users like the fact that the sofas are available in different color shades to match interior décor.
Customers have also mentioned that given the fact that the sofa includes a microfiber cover, dog hair does not cling on to it, thus making it easier to clean up after a snuggle session .
Conclusion
If you are looking for an attractive and highly functional microfiber storage sofa then we recommend the Armada Black Wooden Armed Sofa. The classy wooden arms offer a breathtaking contrast to the visual appeal of the product. Extra storage space and easy to maintain microfiber cover makes this sofa a must-have for all dog lovers.
---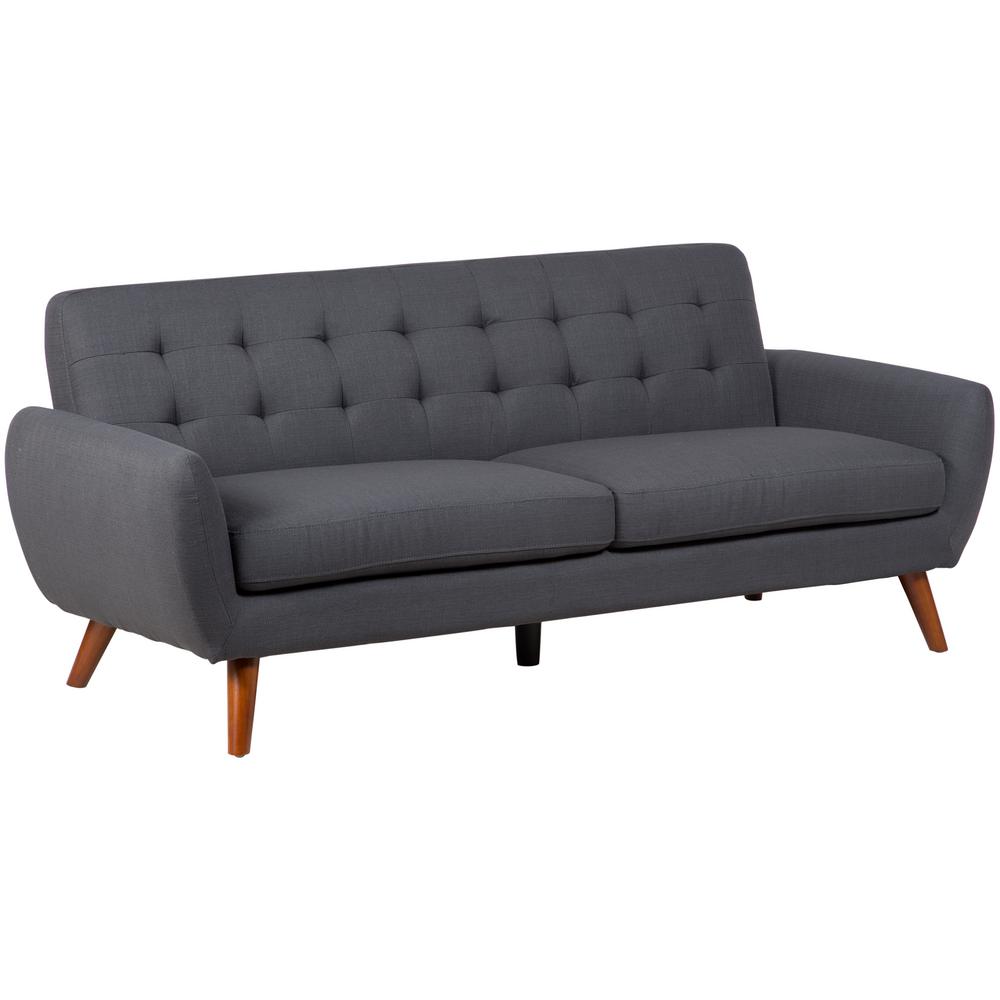 Who says a pet owner's house should look like a shabby den? Make your living room ooze comfort and elegance with this Daphne Gray Mid-Century Modern Sofa. This exotic piece of midcentury furniture creates a modern statement with its tailored profile, sleek angled wooden legs, and tight seatback.
The sofa is covered with microfiber material, which means it repels dog hair and you will not have a hard time cleaning all that fur your dog sheds while sitting on it. There is enough room in the couch for 3 people to sit comfortably, or accommodate two people and a dog.
We also like the flared solid wood legs that add more stability and durability to the couch. The dimensions are just perfect to fit through the door and assembling the unit is hassle-free. Pair it up with a nice coffee table and you have your living room décor sorted, without having to worry much about your aging pooch.
Product features and specifications
Assembled height 33 inches
Weighs 94 lbs
Microfiber upholstery material
Mid-Century Modern style
Tufted back style
Rectangle shape
Comes in 3 colors
User/ Customer reviews
Most people are happy with the style and design of the couch that has a minimalist approach, yet the tufted back design adds a lot of oomph to it. Pet owners love the fact that it has microfiber upholstery which makes it easier to remove dog hairs. A few users have said that they wished there was manufacturer warranty for the product.
Conclusion
If you are looking for a stylish and well-built couch that you can use comfortably with your aging pooch that sheds a lot of hair then the Daphne Gray Mid-Century Modern Sofa is a good choice. At an affordable price you not only get a dog-friendly sofa but also a piece of furniture that adds value to your interiors.
---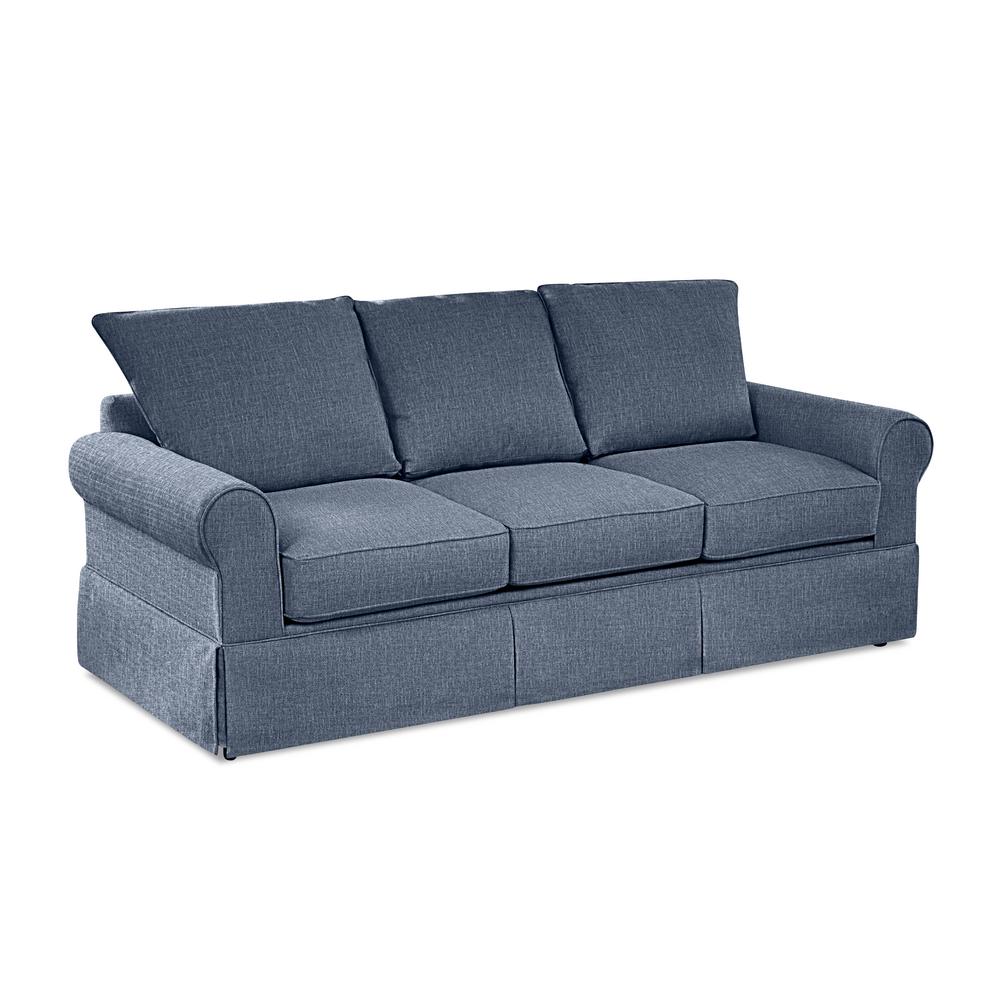 The cool blue denim never loses its charm so why not add a timeless appeal to your living area with the Addison Queen Size Sleeper Sofa in Denim. The bonus is that you also get a dog hair repellent fabric that lets you enjoy hours of cuddling with your Fido on the couch, knowing that cleaning up later will be easy.
The entire sofa comes covered in a semi-aniline leather material that beautifully highlights the English rolled arms, curved sides, and front arm pleats. We love the attached stately box-style back cushions that are filled with fiber to give an enhanced level of comfort to your guests.
The seat cushions also filled with high-density foam that provides long-lasting comfort and uniformity in shape even after several years of use. The manufacturer uses imported materials, 3D drafting tools, and expert craftsmanship that delivers unmatched quality.
Product features and specifications
Measures 82 x 36 x 35 inches
Weighs 200 lbs
100% Polyester
Handcrafted in the USA
Removable Cushions
Classic style
1-year manufacturer warranty
User/ Customer reviews
Users have said that the denim is superior quality and the imported materials used in the sofa give it a plush and comfortable feel. People find the exterior cover made of Polyester extremely durable and easy to use with the dog in the house, because hairs don't stick to the couch. A few customers have pointed out that the couch is too heavy to move from one place to another.
Conclusion
If you have a dog that sheds an awful amount of hair daily, a denim couch like the Addison Queen Size Sleeper Sofa can make your life easier. It also scores high marks in terms of comfort and durability. Overall, we feel that this luxurious denim sofa is what you need to make your home dog-friendly.
---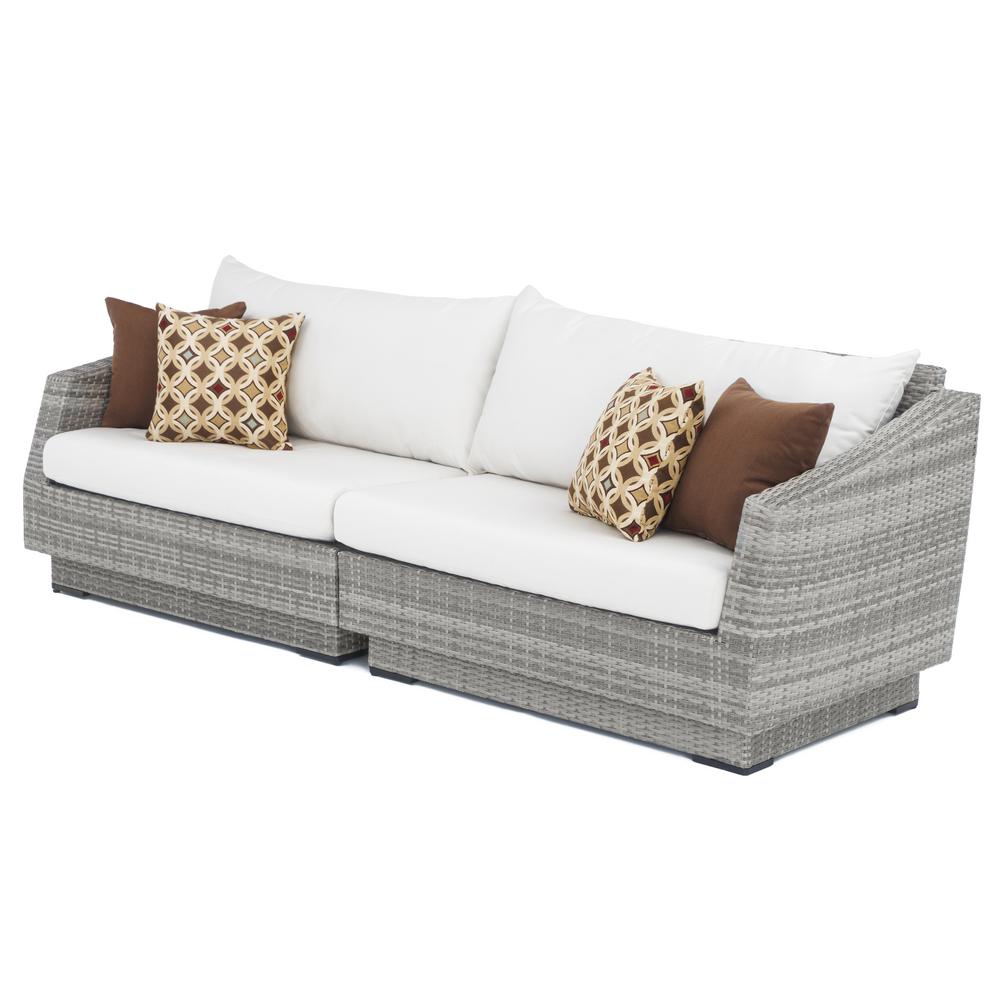 We know an outdoor canvas couch may appear out of place in this list, however, experts believe that this is one of the best materials for shedding dogs. Whether you keep it in the patio or in the living room, the Cannes 2-Piece sofa will not only infuse charm to your interiors but also make cleaning much easier.
We love the gorgeous grey, hand-woven, polyethylene wicker material that gives your indoor or outdoor living space a breath of fresh air. The structure is built from powder-coated aluminum that will last for several years and the weatherproof foam cushions add comfort and durability in all seasons.
The cushions are covered in all-weather Sunbrella fabric which is fade resistant and also dog-hair repellant. So, any person with several pooches in the house looking for a durable and dog-friendly sofa can benefit from using this one. Made from fully recyclable materials, the sofa is maintenance-free and backed by a one-year warranty.
Product features and specifications
Measures 96 x 33 x 31 inches
3 layer weatherproof foam cushions
Made from 100% recyclable materials
1-year manufacturer's warranty
Fade-resistant Sunbrella fabric
4 accent pillows in canvas chestnut
Virtually maintenance-free
User/ Customer reviews
Most people have said that the gorgeous weather-proof canvas sofa is extremely easy to assemble and the overall design looks great in any space. Users are also impressed with the fade-resistant fabric and sturdy aluminum frame that is built to last for long. A few users have said that the cushions feel a bit hard but they get softer with use.
Conclusion
Sharing the same roof with a hair-shedding pooch means a lot of work to keep your house tidy but you can reduce the hard work by choosing the right furniture such as the Cannes 2-Piece All-Weather Wicker Patio Sofa. Besides being a beautifully designed and sturdy couch, it comes with a one year warranty on frame and fabric.
---
Tips To Help You Choose The Best Dog-Friendly Couches
If you are a dog parent, you must bear in mind that your pooch will lose some amount of hair all the time, and this will only increase as he ages. You can't tell your pooch to stay away from the couch, so here are a few tips that will help you choose the most dog-friendly sofa for your home.
#1. Tightly woven fabric
Having a knitted or loosely woven fabric on your couch is a complete recipe for disaster as the hairs will get tangled in the fabric. Hence, we suggest that you choose a tightly woven material like denim, microfiber, or canvas to get fur and dirt roll out with ease.
#2. Love for leather
Ask any pet parent and they will say that leather is the best choice for living rooms, provided you don't mind the slightly distressed look. Try to get real leather is possible and not the very smooth ones that may get scratched. Leather is not only durable but also easy to clean and maintain, plus you can buff off the marks with a quick polish.
#3. Merge indoors with outdoors
Yes, we strongly suggest that you bring the outdoor couches inside the living area because acrylic fabric such as Perennials and Sunbrella are great for pets. The fabric is not only strong and beautiful, but they also repel dog hair, making them easier to maintain.
#4. Hide when possible
Having a sofa with texture, patterns, and darker colors can help in camouflaging the pet hair and dirt until you get the time to clean it up. If you have an old pooch that sheds white hairs, we suggest that you get a lighter fabric to hide the fur.
#5. Know what to avoid
While the slightly textured fabric is good, we would suggest that you avoid the heavily textured fabric as dog hair can get trapped in the threads. We suggest that you avoid fabrics like velour, velvet, silk, and brocade as they serve as magnets to dog hair.
Related Questions
How To Clean Dog Hair From Microfiber Couch
No matter how much you avoid, your microfiber couch will attract dog hair. If there's a lot of hair, you may use a vacuum cleaner with a hose attachment to remove them quickly. Alternatively, you may use a slightly damp cloth to remove the hairs.
See Also: How To Remove Pet Hair From Bedding
How to make my dog shed less
It's normal for every healthy dog to shed hair and the quantity varies depending upon the breed and age. You can reduce the shedding of hair by grooming your dog and brushing his hair regularly. If your pooch has started shedding too much hair than normal, consult with a veterinarian to find out the cause behind it.
See Also: 5 Best Floor Duster For Pet Hair Reviews