When you have trees all around your yard, then it may be important to have the tools to trim these plants. While you can always call a tree pruning service to come and get rid of the overgrowth, you may find you need these tools for other things. For example, when a heavy thunderstorm passes through the area, then branches can break or hang from the trees. Removing these wayward pieces might be necessary to keep your home and occupants safe.
If you want to give your yard a manicured look all year long, then it is important to keep a good pair of loppers in your shed. People who have fire pits often use the trimmings to fuel a cozy fire to roast marshmallows or hot dogs. With the right lopping shears, you can keep your trees neat, and you will have kindling for your backyard fires.
On this list, you will find our favorite six pairs of loppers. These tools have a range of features and capabilities that we will discuss in more detail below. Some are resistant to water damage and corrosion while others have longer handles or a telescoping design.
For those of you in a hurry to make a purchase, then we suggest going with our Editor's Choice pick, the Barnel USA Professional Cutter.
Comparing the Top Six Loppers
| | | | | | | |
| --- | --- | --- | --- | --- | --- | --- |
| | Barnel USA | Corona Dual Cut | PowerGear | Melnor | Fiskars | Corona Comfort GEL |
| Cutting Diameter | 2.5 inches | 2 inches | 2 inches | 2 inches | 2 inches | 1.5 inches |
| Weight | 3.1 pounds | 3.8 pounds | 4.0 pounds | 3.3 pounds | 3.4 pounds | 3.2 pounds |
| Length | 36 inches | 32 inches | 32 inches | Telescoping from 28 to 37 inches | 24 inches | 25 inches |
| Color | Steel with black handles | Steel with red handles | Black and yellow | Multi-colored | Steel with black | Steel with red |
| Corrosion resistance | Yes | No | Yes | No | Yes | Yes |
| Sap Groove | Yes | Yes | No | No | No | Yes |
---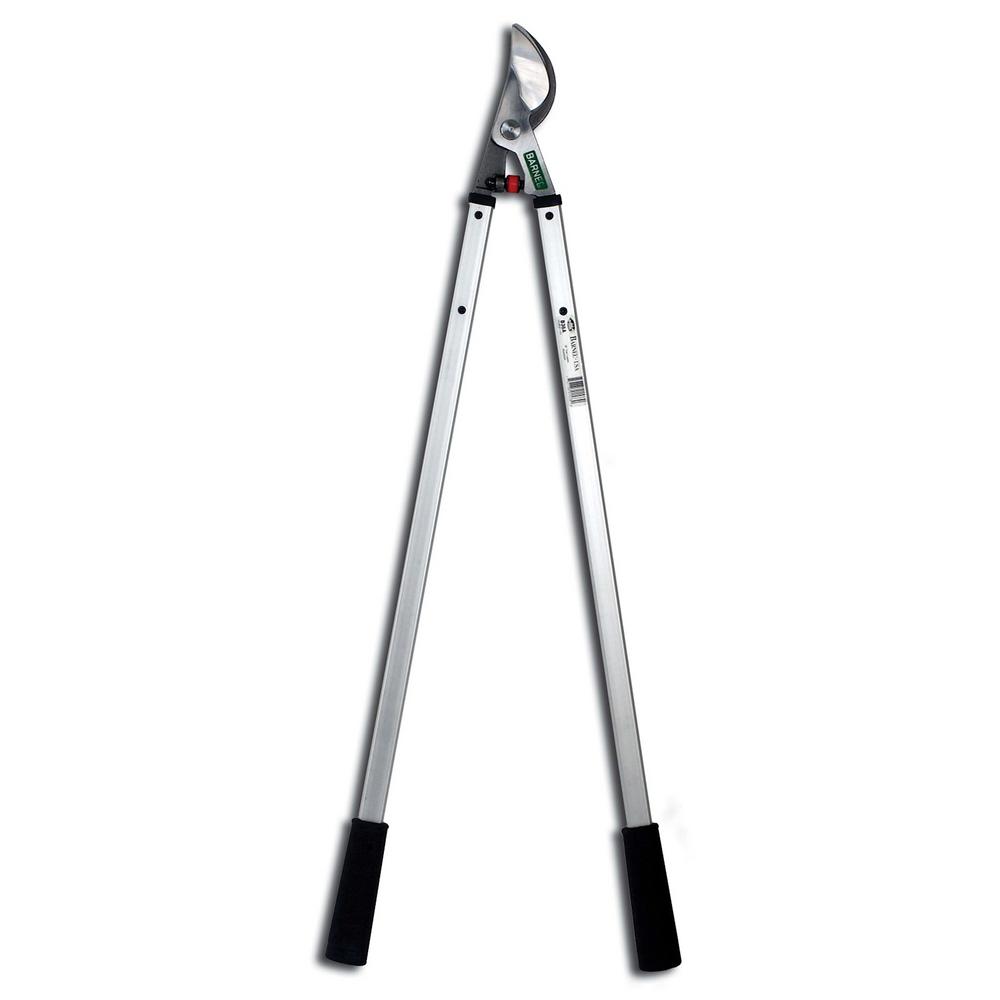 We feel the Barnel Loppers offer you the best features for your time and money. For these reasons, this product is our top choice. With steel jaws and a hardened cutting surface, these choppers will get through the thickest twigs and small tree pieces you come across in your yard.
When you have a tree with several diameters of branches, then it may be important to have a tool with a large cutting capacity. These loppers have the largest cutting diameter out of the six. Another great thing about these trimmers is the large sap groove. The sticky substance will stay clear of the cutting edge and go through the opening instead.
Product features and pros
Large curving design helps users reach and pull tall branches to the tool
Longest handle on the list at 36 inches
Center bolt self-lubricates to prevent seizing and sticking
Comfortable grips make it easy to hold and operate the loppers
Robust aircraft-grade material ensures these loppers will last a long time
Forged cutting blade keeps the edge sharp
Rust-proof construction
Wide sap groove to prevent sticky blades
Shock absorbing material prevents users from clanging the handles together
Cons
Grips are not as long as some on the list
Most expensive item out of the six
Consumer reviews
People often like these trimmers because they hold up to large branches. The professional design means the loppers are robust and ready to handle many species of plants and trees.
The large opening for sap means these cutters do not get the sticky residue all over the blades. Consumers appreciate not having to clean the cutting surface every time they use the tool.
Final thoughts
Since these loppers are so long, we feel they help us reach higher up on the tree. The longer handle means less time standing on a ladder. We like the Barnel USA Loppers as a top pick because they have a durable frame and more features than most of the rest of these choices.
---
Do you want a tool that helps you complete your yard work faster? You may appreciate the Corona Dual Cut Loppers for the fact that both the blades cut branches instead of just the main hook. These powerful forged cutters let you precision trim and get the big branches out of your way.
The dual cutting surface showcases a more prominent hook to give you a better cut. The box handle design gives users more grip strength to power through the harder woods and thicker limbs. When you want an accurate cut, then all you have to do is put your hands up higher on the handle to get the control you need.
Product features and pros
Patented blade style and cutting area
Two cutting zones for custom trimming
Forged steel handles with an ergonomic design for strength
Shock-reducing bumper to minimize soreness
Two sharpened cutting blades
Steel bypass design
Cuts up to two-inch branches
Sap groove to allow sticky residue to stay clear of the blades
Cons
No corrosion protection
No fulcrum at the cutting edge
Blades may need regular sharpening
Consumer reviews
Most buyers like these loppers for their heavy-duty design. They say these cutters open up to almost 180 degrees. Consumers often appreciate the handles staying intact and in place.
One thing that concerns some buyers is how fast the choppers lose their edge. They say that after a full day of use, these cutters do not cut all the way through the material the next time you use them.
Final thoughts
We appreciate the wide opening of these loppers. With two blades, our trimming time is a lot faster. You can get the cutting edge around any two-inch piece of greenery you want. We would like it better if the steel Corona lopper blades were as tough as the wooden handle version.
---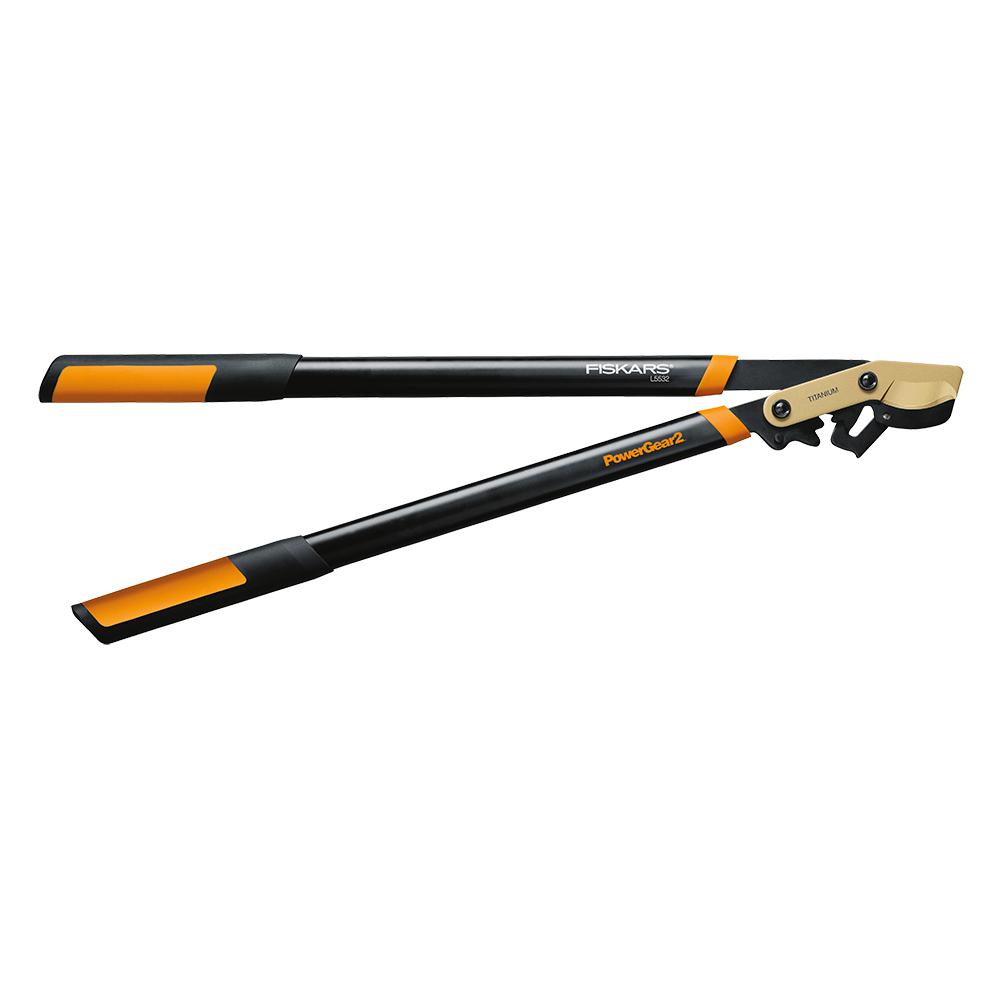 If you do not have the hand grip to spend all day cutting branches, then the PowerGear 2 Loppers may be the right tool for the job. These loppers make it much more comfortable for the user to chop large diameter limbs. When you need to cut down the branches to a size small enough for the city to collect, then you may appreciate how fast these loppers work for the job.
Since these trimmers use a gear drive to power through the harder and larger branches, the user does not have to put in as much energy. The gear action saves your arms so that you can do more yard work or other chores.
Product features and pros
Gear drive provides leverage to reduce user input
Patented design to put more force into the center of the cut where the branches are the densest
Stay sharp blades with a titanium coating to protect the cutting surface
Full steel construction
Coated design reduces sap sticking to the blades
Bypass style
Cuts branches as large as two inches thick
Contoured grip for comfortable use
Cons
Have to open the choppers almost 180 degrees to cut large diameter branches
May be too heavy for some users
No sap notch
The blade is not forged
Consumer reviews
The majority of buyers love these loppers because of the mechanical action. They say the gearing helps you cut through thick sticks and branches. One thing they wish for is a bump stop for these loppers.
The primary problem most people have with this tool is the need to open up the handles to get the hooked finger around large branches. Most consumers say you have to open the tool to 180 degrees to get the hook part to go around the stick.
Final thoughts
We like these loppers because they are super quick to use on small diameter limbs. However, using them on big ones means more opening and closing, but the gear action slices through the plant matter like butter. You may appreciate the PowerGear 2 Cutters for routine chopping instead of clearing a lot of overgrowth.
---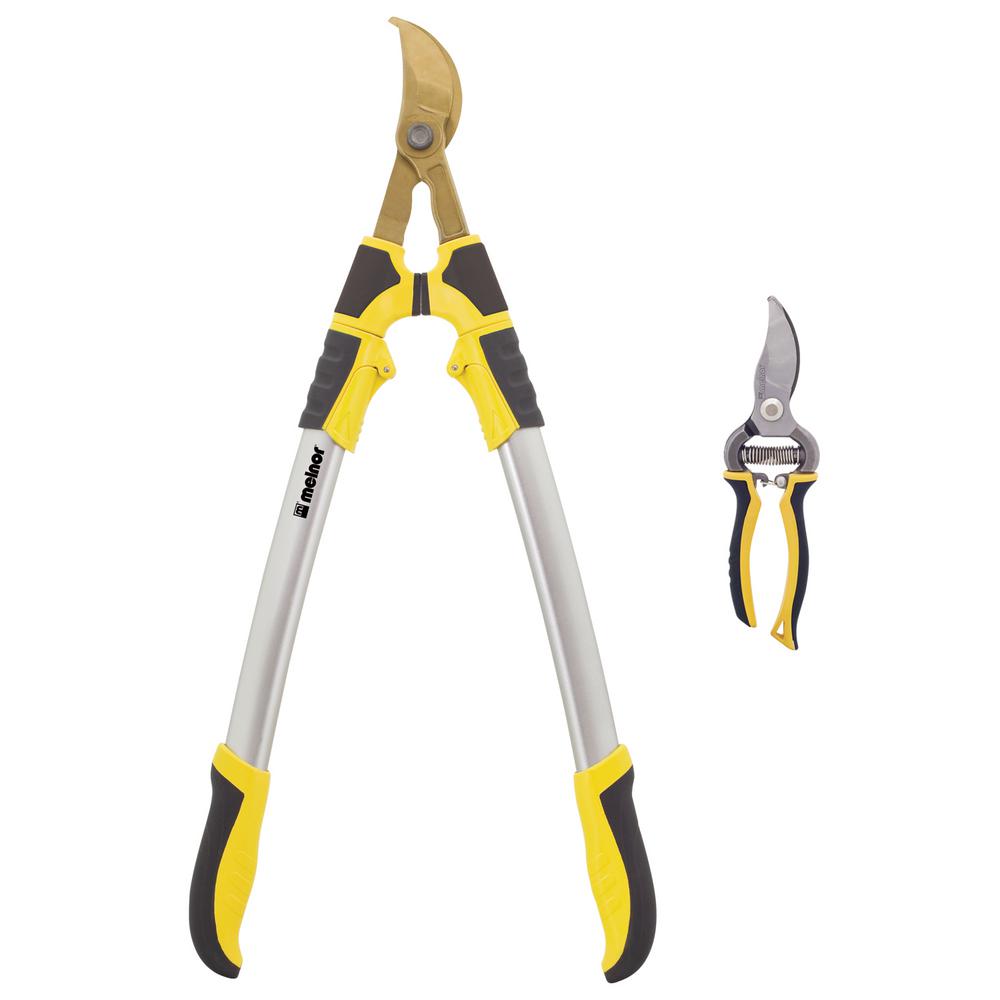 Trimming the bushes and trees is fast with an excellent pair of loppers, but sometimes you can use a smaller set of pruners to do the job. For example, you may want to tidy up a delicate bush, or you have rose bushes and trees to trim. For these jobs, a combo tool set may be a better option.
The Melnor Combo kit comes with both tools. You can use the pruners for your smaller diameter cuts, and the loppers work well for big sticks. The manufacturer makes these tools out of forged steel and carbon. This material holds the edge a lot longer keeping your tools sharp and ready for cutting.
Product features and pros
Two powerful cutting tools with hard steel blades
Bypass pruners use a spring to help minimize hand action, saving you from achy fingers and hands the day after
Telescoping handle takes loppers from 28 to 37 inches
Bypass design
Titanium coating minimizes sap collection on the cutting surfaces
Slip-resistant handles with ergonomic cushioning
Pruners have an opening to hang them on the wall or a peg board
Four-inch lopper blades
Cons
Not resistant to rust
No rubber shock absorber
No opening for sap
Consumer reviews
Many consumers are happy to have a kit that cuts one and two-inch limbs. Having the option to use two tools is convenient. The smaller pruners allow buyers to get into tighter spaces.
The biggest benefit of these loppers is the extendable handles. When you want a shorter pair of cutters to keep the weight close to your chest, then leaving the cutters at their shortest is a great option. Extending the handles fully allows you to get close to the fork in the branches. Then, consumers can cut off the entire piece of a limb in one go.
Final thoughts
We agree with the buyers that the telescoping handle is such a convenient feature. These cutters can help you get to the top of a small tree without the ladder. With the pruners, the Melnor kit can tackle small and large branches.
---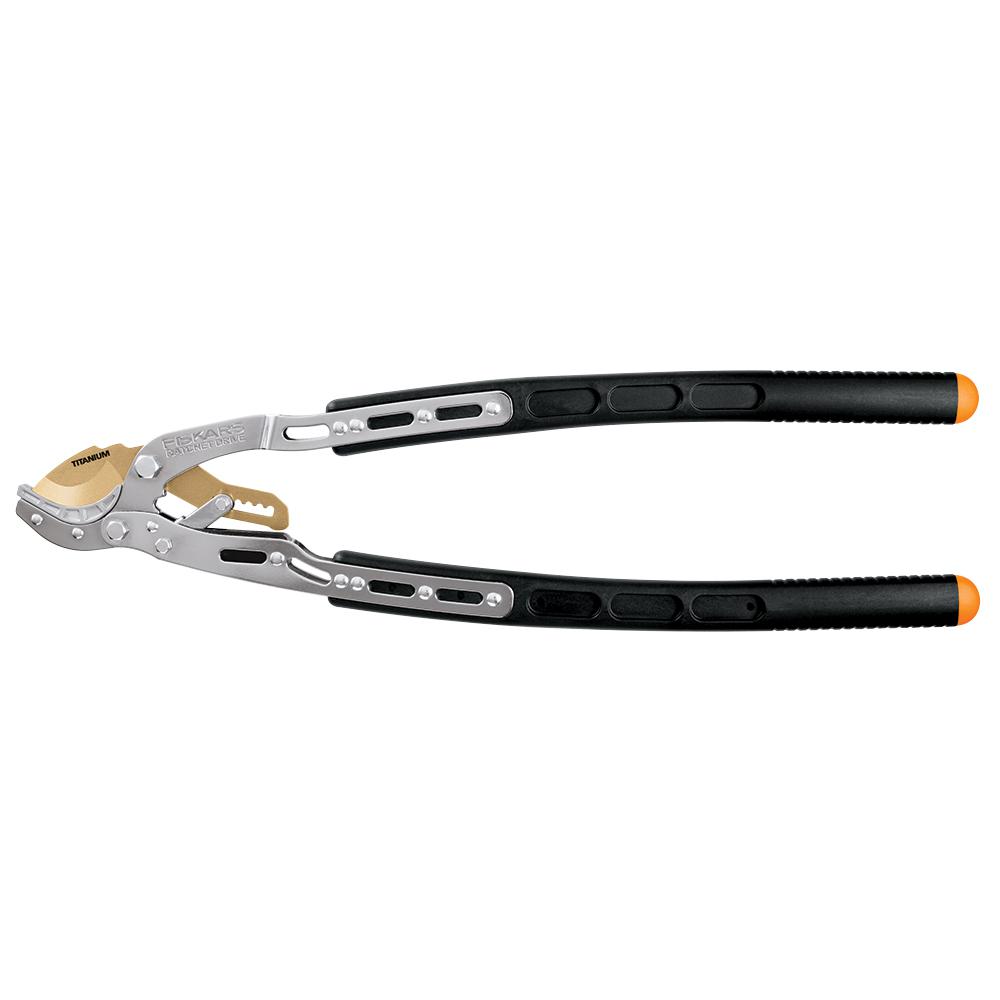 The Fiskars loppers are an anvil cutter, not a bypass design. These trimmers let you go straight onto the branch and make the cut. There is no need to turn the cutters sideways to get them on the limb. They use a hardened steel blade design that requires little sharpening.
This tool uses a titanium coating that helps protect the metal and prevent deterioration. The covering also keeps the blade slippery enough to stop sap from sticking to the cutting edge. A comfortable grip provides padding to protect the hands while you make the small squeezes necessary to get through large limbs.
Product features and pros
Two-inch cutting range
Hardened steel blade frame with precise grinding to get the necessary angle for sharp cuts
Durable rubber handles provide cushioning for lengthy use
Special titanium coating to reduce cutting resistance and help retain blade sharpness
Entire design is built for a lifetime of rugged use
Ratcheting design ensures deep cuts without the force of regular loppers
Great for using in thick brush
Cons
Requires more squeezing than bypass loppers
Some users find the handles break away from the blade
Consumer reviews
Several buyers feel these choppers are excellent for getting into dense areas. They appreciate how much the ratcheting action helps them power through thick branches and bushes. The anvil design means there is no need to open the cutters up to 180 degrees to get around the biggest sticks.
One thing that some buyers did not like about these cutters is the constant squeezing. To cut through the branch takes a bit of on and off action to get through the greenery. Cutting live branches takes a few squeezes, but the ratcheting effect helps power through the thickest ones.
Final thoughts
We appreciate the way you can grasp the branches without a huge space to open up the jaws of the tool. These cutters are better for dead growth, but they still work well for chopping large trees and shrubs with new growth. We feel the Fiskars ratcheting loppers would be an excellent addition to a set of garden tools that includes bypass cutters and pruners.
---
If you have a large property, then you understand how important it is to have an excellent pair of cutters to keep everything tidy and trim. Having a tool that can stand up to lots of trimming is critical to staying in control of plant growth. The Corona loppers are shorter than the rest of the choppers on this list, but they allow you to get into fence rows and thick brush around sheds and garages.
You may like the contoured grips on this tool because they make this equipment more comfortable to use for long hours of trimming and chopping. Corona uses an ergonomic design that lets your fingers settle easily into the grips for less slipping and rubbing.
Product features and pros
Dual curving blades provide more stability for cutting bigger diameter branches
No-rust coating keeps the blades from sticking together when sap gets on them
Tempered steel cutting blades
Cuts branches as thick as 1.5 inches in diameter
Built-in impact absorption reduces shoulder and arm tiredness
Integrated sap opening
Cons
Cutting edge may not hold up as well as the company says
Works better on dead branches
Consumer reviews
Many buyers like these choppers for the handle stability and grip comfort. They say these cutters are great for working on a lot of trees. Consumers appreciate the durable grips with ergonomic design.
The drawback of this style cutter is there is not enough leverage to minimize the energy the user must put in to cut through thick branches. The larger diameter sticks require a lot more effort when alive causing these loppers to wear down fast say some buyers.
Final thoughts
We think the Corona Comfort Gel loppers are excellent for people with arthritis. They are small enough to get into tight spaces. However, they are tough enough to cut the densest twigs.
---
Two lopper questions and top answers
Can you clean choppers with a titanium coating
Yes. This protective layer is durable enough to withstand cleaning with rubbing alcohol. Washing off the loppers will not remove the exterior coating.
What is the thickest branch you can cut with these loppers
The tools on this list can cut between 1.5 and 2.5-inch branches. Most of the loppers cut greenery up to two-inches.
See Also:
How To Care For Miniature Rose Bushes
Ultimate List Of Fragrant Orchids
How To Clean Garden Tools With Vinegar