5 Best Snow Blowers For Wood Deck for 2023
It's again that time of the year when you wake up to see a white blanket of snow covering your walkways, decks, and patios. Some places have snow season lasting up to the spring season. No matter how beautiful it looks, clearing all that snow means a lot of work.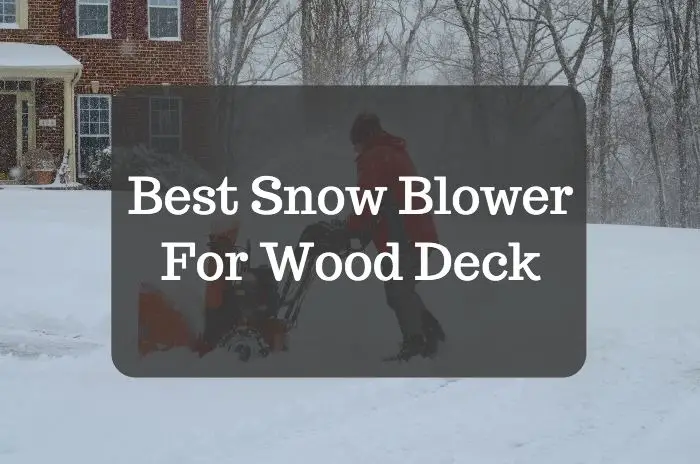 Big and powerful snow blowers do a fantastic job at removing the snow on driveways and walkways but you can't use these beasts on areas like wooden stairs, decks and patios. You will need a special snow blower that is particularly designed for delicate jobs without harming the surface.
If you are in the market looking for the best snow blower for wood deck, you will need to consider many factors as the weight, maneuverability, re-charge times, blade quality, etc. We have reviewed some of the top brands available and handpicked snow blowers meant for the job.
After hours of reviewing different models by various brands, we recommend the Snow Joe iON100V-21SB that weighs less but has incredible power. It has a runtime of 30 minutes and removes up to 16 tons of snow per charge. If you are in a hurry to purchase, you can buy it straightaway from the link below.
| | | | | | |
| --- | --- | --- | --- | --- | --- |
| Features | Toro 38381 | Snow Joe iON15SB-LT | Snow Joe iON100V-21SB | Snow Joe 24V-SS11-XR | WEN 5662 Snow Blaster |
| Dimension | 36.2 x 18 x 47 in | 42.1 x 34.9 x 17.1 in | 29.8 x 21.8 x 37.4 inches | 55.1 x 11.8 x 8.7 inches | 40 x 18 x 37 inches |
| Weight | 24 lbs | 23.8 lbs | 62 lbs | 12lbs | 32 lbs |
| Power | 15 Amp | 2.5 Amp | 5 Amp | NA | 13.5-Amp |
| Clearing Width | 18 in. | 15 in. | 21 in. | 11 in. | 18 in. |
| Throwing distance | 30 ft. | 20 ft. | 30 ft. | 20 ft. | 20 ft. |
| Power source | corded-electric | Lithium iON Battery | Lithium iON Battery | Lithium iON Battery | corded-electric |
| Directional | 160° adjustable chute | 180° adjustable chute | 180º auto-rotate chute | NA | 180° adjustable chute |
---
Rated as the number one brand for electric snow blowers in the US, this machine is capable of moving up to 700 pounds of snow per minute for efficient snow clearing. Powered by a 15-amp electric motor, it throws snow to a distance of up to 30 feet.
It works perfectly for delicate surfaces like wood patios, decks, and other residential areas. Users can choose between high, low, and medium settings with the blower's zip deflector plus the 160-degree chute helps in discharging snow in several directions.
The patented Power Curve technology does an excellent job at clearing a path that is 18-inches wide and 12-inches deep. The product also comes with an ergonomically-built handle that provides a good grip and the lightweight design makes it easier to maneuver. The easy rechargeability and cord lock system ensure that you don't have to stop due to interrupted power.
Product features and specifications
Measures 36.2 x 18 x 47 inches
Power Curve Technology
24 lbs
6-Inch Wheels
15-amp electric motor
Easy Controls
Telescoping and adjustable handle
Two-year warranty
User/ customers
Most users are happy with the maintenance-free machine that does not require gas or oil to turn, but it's so lightweight that almost anyone can use it.
People with back issues are impressed with the performance and how quickly it helps them clear the path without putting any pressure on their backs. However, we cannot ignore that many customers have mentioned it is not suitable for places that get heavy snow.
Conclusion
If you live in an area that gets light to medium snowfall, and you need a lightweight electric snow blower (shop now) to clear wooded areas like deck and patio then this is a good choice. Available in three different capacities, customers can choose what is perfect for them. Overall, good value for money.
---
Snow Joe is a well-known brand that specializes in developing smart and innovative outdoor tools to keep your home in the best condition throughout all seasons. Powered by EcoSharp technology, this single snow blower (learn more) runs on a rechargeable 40V lithium-ion battery and delivers a quiet run time of 30 minutes. It is capable of throwing snow at a distance of 20 feet. As a versatile product, it can be used on small walkways, sideways, and driveways, but it is most suitable for decks, patios, and stairs.
The cordless snow blower is also easy to set up and operate with a simple push-button. It is equipped with a heavy-duty 2-blade plastic auger that is capable of clearing 440 pounds of snow in one minute and clears a path 15 inches wide and 8 inches deep.
The adjustable handle optimizes the user's comfort and does not put any pressure on the hand or back. Our team was happy to find a product that needs no pull-cords, tune-ups, gas, or tangled extension cords.
Product features and specifications
Measures 42.1 x 34.9 x 17.1 inches
Weighs 23.8 lbs
iONMAX technology
500 W brushless
40-volt lithium-ion battery system
2-blade durable plastic
30 minutes of run time
180° adjustable chute
Eco sharp technology
User/ customer reviews
Buyers have claimed that this is one of the best investments they have made to keep their houses free of snowballs. Users are happy with the power and performance with which the machine is capable of cutting through a thick path and clear the way.
Single women and those with arthritis or back issues are happy to find a snow blower that does a good job, despite being small and light.
Conclusion
The ability to cut snow 8 inches deep and a run time of 30 minutes makes this product a must-have for areas that get a lot of snow fall. As it's battery-powered, you don't have to worry about filling gas oil, and not to forget zero carbon emissions for a cleaner environment. Overall, we feel this product has everything it needs to be called the best snow blower for wood deck.
---
This cordless snow blower kit is powered by a 2800 W brushless motor which optimizes the motor performance, extends motor life, and reduces noise vibration. It is equipped with dual 2.5 W LED headlights that come handy for snow removal at night time. We were impressed to find auger assisted drive that helps in propelling the unit effortlessly forward through the snow. The maximum auger speed is 16 tons per charge, while the minimum speed is 12. 5 tons per charge.
When it comes to performance, the snow blower kit does a great job by clearing a path 21-inches wide and 12-inches deep. The integrated scraper bar situated at the bottom further allows you to clear the ground without damaging the driveway, pavement, or deck. The unit comes with a 100-Volt 5.0 Ah battery with Ecosharp technology that provides a runtime of 30 minutes on a single charge.
Product features and specifications
Measures 29.8 x 21.75 x 37.4 in
Weighs 62 lbs
2800 W brushless motor
Dual 2. 5 W LED headlights
20 ft Max throw distance
5.0 Ah battery
30 mins run time
2-blade paddle auger
2 years warranty
User/ Customer reviews
According to users, this electric snow blower may not be as powerful as a gas-powered unit, but it does an excellent job of removing snow. Most people feel that the 30-minutes runtime is enough to clean their walkway or deck area, and some others prefer adding a 2.5 Ah battery to get extra 15 minutes. Although slightly pricey, people don't mind paying some extra because it saves from backache and gets the job done faster.
Conclusion
If you want to give gas-powered blowers a miss and try something that's lighter yet powerful then check out the Snow Joe iON100V. The ability to use it cordless at night time makes it one of the most sought after products in this category.
---
Are you tired of trying to clear the snow with a traditional shovel? Try this Snow Joe electric snow blower that comes powered by a robust 400 W motor, capable of moving up to 1,620 lbs. of snow with each charge. The highly ergonomic and lightweight unit comes with an adjustable handle to avoid any pressure on your back. It also includes a 24V iON+ 4.0 Ah rechargeable lithium-ion battery which is capable of giving you a quiet run time of 27 minutes.
The snow shovel comprises of two high impact blade and low-temperature paddle auger that are capable of throwing snow to a distance of up to 20 feet. It also helps in creating a path that's 11 inches long and 7 inches wide with every pass.
Although not meant for heavy-duty cleaning, it works fine for removing snow from deck, porch, and patio area. The manufacturer stands behind the product and provides two-year warranty on every purchase.
Product features and specifications
Measures 55.1 x 11.8 x 8.7 inches
Weighs 10 lbs
iON+ 24-Volt lithium-ion battery
2-blade high-impact
27 minutes runtime
Ergonomic, lightweight design
Compact design
Easy storage
Removes 1620 lbs of snow per charge
User/ customer reviews
People who have used this product are full of praise regarding the ease of installation, use, and how well it performs despite being an inexpensive product. Users are happy that it gets the job done as expected. Those who have health issues and find it difficult to use a traditional shovel are extremely pleased to not have to manually lift the heavy shovel filled with wet snow.
Conclusion
With the 24V-SS11-XR, Snow Joe proves it again that they are the leader of power tools needed for different seasons. If you are working on a budget but still need a good quality snow thrower then this cordless shovel kit comes across as the perfect fit. Overall, it delivers a reasonably good price to performance ratio.
---
Gone are the days when you had to go out with a shovel to remove the snow or drudge with a huge and heavy gas-powered thrower. With the WEN 5662 Snow Blaster Electric Snow Thrower, you can work in style and get back to enjoying the snow. Operating this equipment does not take a lot of effort and it is capable of removing up to 490 pounds of snow in a minute. The powerful 13.5 Amp motor is capable of shooting snow to a distance of 20 ft.
The machine comes with a quick-adjust chute that can rotate 180 degrees to throw snow in different directions. The lightweight structure and 6-inch wheels enhance mobility and make it easier to move around with the snow blower.
Using the electric snow thrower is easy without hurting your back. With each pass, it can clear snow 18-inches wide and 7.8 inches deep. The WEN snow thrower delivers unmatched performance by removing up to 1150 cubic inches of snow with each auger rotation.
Product features/ specifications
Measures 40 x 18 x 37 inches
Weighs 32 pounds
13.5 Amp motor
2000 RPM Auger
Lightweight Design
6-inch wheels
Height adjustment lever
Power bar
Carrying handle
Multi-direction chute
2-year warranty
User/ customer reviews
Buyers are impressed with how easy it is to install the product in just 15 minutes without any additional tools. Users are also happy with the ease of operation as you just need to plug in the system and switch on the power button to get started.
The throwing distance and ability to turn and adjust the shoot are also highly appreciated. A few users have cautioned that it tends to clog if the snow melts, making it a challenge to clear the snow. Some others think that it does not perform as good as a gas-powered blower but does the job anyway.
Conclusion
If you are looking for a sturdy and reliable snow thrower to scoop away snow from your walkways, driveways, and deck without damaging the surface, this one delivers an incredible performance.
The ease of operation and amazing flexibility helps you kiss goodbye to discomfort and enjoy your time in the snow. All in all, this can be called the best snow blower for a wood deck, patio, and other residential areas.
---
Factors To Consider When Buying The Best Snow Blower
While all the snow blowers mentioned above are capable of delivering a good performance, the best product for you may vary depending on your needs. For example, someone living in an area that has a long winter and severe snowfall may need a more robust machine than someone who gets less snowfall. Here are a few important factors you must consider before buying.
Maneuverability
When working on your deck or patio, you may need to get up and down the stairs several times, or walk-in tighter spaces. Hence, we recommend looking into the maneuverability of a product. Look for a small and lightweight snow blower if you have several steps or stairs, and get a product with wheels if you need to cover a large flat area.
Safety
You may also consider the safety of yourself and your family when removing snow from delicate areas such as patio or deck. In tight spaces, you will need a snow blower that is easy to lift and move. Secondly, you will want a snow blower that is specifically built for using on the wooden deck so that the surface does not get damaged. Snow blowers with plastic blades are a better choice than steel blades when it comes to cleaning decks and patios.
Storage options
After the job is done and the weather has cleared, you will need to store away the snow blower. The large machines need a lot of space while the gas-powered ones need to be kept in the garage or outdoor sheds. So, consider a few important factors such as weight, size, and ability to fold the snow blower in order to stack it in compact spaces.
Safety Tips To Remember
Make sure you buy snuggly fitting jackets and pants when using a snow blower. Avoid anything that hangs loose like a scarf.
Wear gloves to keep your hands warm while you hold the machine or else you may lose control over it if your hands become too cold.
Wear non-slippery shoes and safety glasses to prevent a fall and protect your eyes. You must also wear earplugs if needed.
Always stay in your position behind the snow blower when it's working. If you need to check the auger or chute, first stop the motor and then check.
When using the machine, watch out for traffic, people, and objects. Keep an eye for half-hidden newspapers and dog toys as they can damage the motor, causing some repairs.
Related Questions 
How to keep a snow blower from clogging?
Coat the chute and auger of a snow blower with non-stick spray which works just like cooking spray to protect the blades from clumping, sticking, or clogging with snow.
What is the average run time of a battery-powered snow blower?
With a single charge, a battery-powered snow blower can give you a run time of 30 minutes. Some people prefer using additional batteries to increase the run time duration.
Why is it harder to clear wet snow?
Wet and melting snow, especially the ones treated with de-icing material tends to be very sticky. When the snow melts, it packs more readily together and freezes to other surfaces. Hence, we recommend clearing early before the snow starts to melt to avoid these challenges.
See Also:
6 Best Leaf Blower For Wet Leaves
6 Best 30 Inch Snow Blower Reviews
5 Best Snow Blowers For Steep Driveway
5 Best Snow Blower Gloves