6 Best Air Freshener For Litter Box Area 2023
We love our furry friends, but dread cleaning the urine, poop, saliva, and other accidents around the house. The awful smell emanating from the litter area is not only embarrassing, but your pet will also refuse to use a dirty litter box. The olfactory senses of your Tommy or Bella are 14 times more than you, hence it's important to keep the litter area clean and cover the smell with a good deodorizer.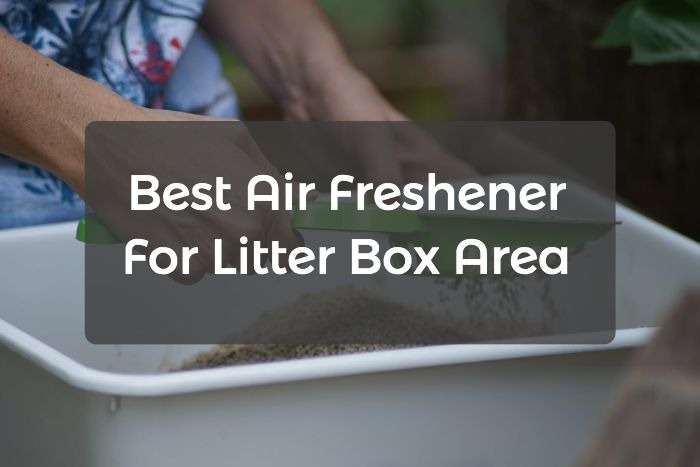 Fortunately, pet lovers like you and me have created special air fresheners that can eliminate the strong ammonia smell coming from pet feces. This makes life easier for your pets and also saves you from living a nightmare or thinking about getting rid of your furballs. All you need to do is buy the best air freshener for the litter box area and you will not have to clean a dozen times a day!
With so many brands of litter deodorizers available in the market, it might be slightly challenging to choose a product. Our team has worked hard to take the stress out of your buying decision and picked the top 7 products that do a good job of neutralizing the strongest smelling litter boxes. They freshen up the indoor air to make life more comfortable with pets.
After reviewing, analyzing, and comparing many products, we feel that the Rocco & Roxie Litter Box Odor Eliminator offers unbeatable results. It defeats odor at the molecular level to keep the litter box odor-free and you hardly feel any cat smell when you walk into the house. It's also safe for pets and people, so it's a win-win deal.
---
If you are worried about your house smelling awful, get rid of the odor, not your furry friend. Here's a convenient little machine powered by advanced photocatalytic technologies that are used by NASA to keep their International Space Station clean. The package includes a motor fan and a flat USB power cable to enable the smooth extension and continuous running time. It can also be used with a power bank to provide short term portability.
We were happy to find that the product is tested and verified by Photobiological Safety Testing. As there are no chemicals or hazardous by-products involved,  it is harmless to kids and pets. The unit consumes less than 3W per hour, so it will cost you just 50 cents per month (if used 24/7) to keep your home smelling fresh and nice. Accessories like gel pad and built-in magnet make it easier to install VentiFresh on metal or non-metal surfaces.
Product features and specifications
Weighs 7.2 ounces
2.48 inches x 2 inches
Flat USB power cable
Less than 3W per hour
Maintenance-free
Light sensor
Compact size
Easy installation
User/ Customer reviews
People living in small apartments with pets have found this product useful at removing bad odor, especially bad-smelling cat litter boxes. Users are happy to come home to a nice smelling environment and their pets also feel more at ease. Customers have confirmed that the fan makes a humming noise but not something that feels disturbing. A few users have cautioned that this product works only for cat litters and not for other odors.
Conclusion
If you have a small apartment with less ventilation and need an air freshener that takes less space but does a good job at eliminating odor then this is a good choice. Even if you let it run continuously, it does not consume a lot of power. Overall, it offers good value for money.
---
You have probably heard about scented candles eliminating odor, and today we bring for you the Natural Soy Wax Candle that promises to make your environment odor-free. Specially formulated with odor neutralizing elements, the candle effectively removes any unpleasant smell and bad odor coming from the litter box or pet bed. As the candle is enriched with a blend of essential oils and premium fragrances, it leaves a pleasant aroma without being overpowering to the senses.
We were impressed to find that the candle is made from eco-friendly and 100% natural soy wax, which is a renewable resource. It comes with a cotton wick and contains no paraffin or dye, hence it burns cleaner. With a burn time of 60 hours, it delivers a safe and long-lasting use. Made in the USA, the product stands tall in terms of quality and comes with a full money-back satisfaction guarantee.
Product features and specifications
Measures 3.5 x 3.5 x 4.5 inches
Weighs 1.74 pounds
Comes in 20 different scents
100% soy wax and cotton wick
60 Hours Burn Time
Non-toxic
Reusable Glass Jar
Eco-friendly
Made in the USA
100% customer satisfaction
User/ customer reviews
Some buyers who foster kittens or have several pets at home have mentioned that this product works like magic to remove all the urine, poop, wet cat, and fart smell. People like the beautiful jar that contains the candle and the fragrant smell that makes the house feel fragrant. Some users feel that the price is too high for a candle but the results are extraordinary, hence they don't mind paying.
Conclusion
If your house stinks really bad due to sick kittens, untrained cats, or you run a foster home, consider investing in this product to enjoy your job without having to worry about the stinking odor. Although slightly pricey, we feel this product has everything needed to be the best air freshener for litter box area.
---
If you love pets like your family members, your house needs not stink awful. This smart odor control eliminator works great on carpets, bedding, furniture, hardwood flooring, or walls, to remove the smell of urine or poop. It can also be used in the kitty litter box to keep it fresh and usable for your pet. This not only keeps your house smelling good but also saves money and time, by increasing the time gap between litter box changes.
This all-natural spray (learn more) is made of safe and non-toxic elements which make it harmless for pets and humans. The natural enzyme-based technology absorbs the ammonia vapors emitting from the litter box and replaces it with a refreshing pine scent. Our team loves the fact that it is also available in a 2-ounce bottle accessory that you can carry with you in your bag wherever you go with your pets.
Product features and specifications
Weighs 1.8 pounds
24 oz quantity (200 ml)
Proven microbial action
Natural and safe
Environment-friendly
100% refund guarantee
Urine odor remover
User/ customer reviews
Pet owners are elated to find an easy spray that eliminates the odor from litter area and other areas of the house that stink due to cat spray or accidental poop. Users find this product extremely easy to use and even carry in their luggage when traveling with pets. Customers find the smell refreshing and many have stated that their pets like it too, without overpowering the senses.
Conclusion
Enjoy living with your pets without having to deal with bad odor. This Stink Free Odor Eliminator is just what you want to walk into a nice smelling house. The travel pack is just what you need when going on vacation with your furry friends. All in all, a good buy for all pet lovers.
---
The next product in our list of best air freshener for litter box area is from the house of Citrus Magic. As the name suggests, this is a clean, solid, and long-lasting scent that brings you the odor-fighting benefits of natural ingredients like baking soda. The unique formula contains powerful odor eliminators that work as an amazing solution for pet areas and rooms such as litter boxes and cages. The refreshing citrus fragrance or pure linen fills the air and eliminates bad odor for up to 12 to 14 weeks.
We were happy with the performance as the air freshener did a good job at removing tough pet odors in a 350 sq ft room for 8-12 weeks. The safe, natural, and effective products are non-toxic as they do not contain any harsh chemicals. Thus, you don't have to worry about the health of your pets or family members.
Product features and specifications
Weighs 3 lbs
Contains 20 oz (560 grams)
Available in two scents
Convenient Pack of 2
Lasts up to 12 to 14 weeks
No harsh chemicals
User/ customer reviews
Budget-friendly buyers are happy with their purchase as it comes in a pack of two that lasts really long and delivers a good performance. Those who you have multiple pets at home, use the odor eliminator at different areas of the house to eliminate bad smell. Some users have cautioned that the potency decreases after a few days and perhaps the deodorizer would work better if they were smaller in size.
Conclusion
If you are looking to save some money and at the same time find a solution to get rid of the bad litter box odor from your home then this product by Citrus Magic is a good buy. However, please remember that you get what you pay for, and this holds true in this case.
---
If you are the kind who does not want a temporary fix but a complete solution then check out this NonScents Cat Litter Deodorizer. It is a scientifically developed zeolite formula that not only masks the bad odor but nullifies them at the source so that the litter pans become completely odorless. Unlike other products that contain hazardous chemicals and overpowering scents, this powerful formula is fragrance-free and does not contain any chemical additives. Thus, it's safe for your pets too.
We found that the deodorizer is four times more concentrated which helps it neutralize even the strongest odors in the litter box. This ensures that the litter box lasts longer and saves you money. Just sprinkle some NonScents over cat litter to cover the solid wastes and you will soon enjoy an odor-free environment.
Product features and specifications
Measures 2.6 x 2.6 x 6.2 inches
Weighs 1 pound
Available in 5 sizes
Fragrance-free
Non-toxic
Easy application
Users/ customer reviews
Although the company promotes this product as fragrance-free, users said that it has a slight bleach smell that mellows down after some time and you hardly feel it or the odor of litter box. People are happy that this product lasts long and gives them an odor-free environment at home. Some people it useful to the extent that they now dump the litter box once a month instead of weekly.
Conclusion
We find this cat litter deodorizer not only effective but also very easy to use. So, if you are looking for something powerful that does not just mask the smell but eliminates it from the root level then this is a good choice.
---
If you thought cat lovers and nice smelling homes can't go hand in hand then you must try the Rocco & Roxie Litter Box Odor Eliminator. This formula constitutes essential oils that work at the molecular level to neutralize the bad odor and keep the litter box smelling fresh. The product mixes well with all types of litter to wick away the moisture and enhance its life. This means less scooping and extended litter life as you don't need to replace the box often.
Our team was happy to find that the makers have taken into account the safety of your pets, kids, and planet.  The product is made of natural, non-toxic, and 100% biodegradable material that effectively absorbs the moisture from feces and urine. This reduces the strong ammonia smell coming from the litter. Both you and your pets can enjoy breathing in an odor-free environment. The product may also be used for neutralizing smell coming from garbage cans, kennels, trash compactors, and animal carriers.
Product features and specifications
Weighs 14.1 ounces
Natural deodorizer
Non toxic
100% biodegradable
Made in the USA
Safe for pets and people
User/ Customer reviews
People who use the product go to the extent of saying that it eliminates litter odor so effectively that guests can't tell if cats live in the house. Users also find it really easy to apply the product and they are happy that it does not contain any chemicals, hence safe for pets.
Conclusion
The Rocco & Roxie Litter Box Odor Eliminator is made of everything needed to be the best air freshener for the litter box area. It not only absorbs, but locks in bad odors and you will have to worry about less scooping of the litter box. Overall, a product that focuses on providing 100% customer satisfaction.
---
5 Tips To Reduce Litter Box Smell And Messes
Scooping daily is a good habit that not only makes your cat happy but your nose will also bless you. If you are too busy to do that, invest in one of the air fresheners mentioned above to mask the smell and buy some time.
Wash the litter box thoroughly with soap and water at least once a month. Wear gloves to protect your hands from pathogens and germs. Avoid using harsh chemical cleaners as the strong smell can make your cat avoid the litter box completely.
The litter boxes get scratched as the cat uses her paws to bury the wastes. They become hiding places for bacteria. So, we suggest that you replace the litter box at least once a year and use an effective deodorizer to keep it smelling good.
If you have multiple cats at home, or you add a new feline member to your family, make sure you have separate litter boxes for each. Let them have their own personal space so that they are comfortable using them.
Don't tuck away the litter boxes in some compact area or confined spaces as this will become the most dreaded section that both you and your cat will avoid. Instead, keep the box in a well-ventilated place in the apartment or house to allow the smell to dissipate with air circulation.
Related Questions
How often should I scoop out the contents of a litter box?
The general rule of thumb is twice a week for clay litter, but depending on the number of cats and the odor, you may need to replace every other day. If you use one of the air fresheners mentioned above, it can dissipate the smell, allowing you to clean less frequently.
What's the best way to clean a litter box?
We recommend using warm water and a mild detergent such as liquid dish wash soap. You can also make a natural cleanser with baking soda and warm water to get rid of the stains inside the litter box.
Related Articles:
How To Remove Pet Hair From Bedding
Best Air Purifier For Small Room Reviews
4 Best Air Freshener For Musty Smell