We agree that washing machines are a big investment. Something that's supposed to make your daily chores lighter and life easier should not give you headaches. While a little washer dance, rattle, and shakes are common, they can be annoying for you and those living above and below your apartment. Besides being a pain to your ears, loud bumps and thumps can also damage the appliance.
When looking for high-powered washing machines to get rid of the toughest stains, you must also consider the noise level. Luckily, there are a few appliances that operate quietly and produce very low vibration. We know it can be confusing to choose from so many different brands and models, hence we have done the homework to help you pick the best washing machine for low vibration.
We spent several hours sifting through dozens of models, comparing their features and function, and studying customer reviews on them. Based on our research and analysis, we feel that LG Electronics Front Load Washer with Steam and TurboWash delivers noiseless operation despite a spin speed of 1300 rpm. It consumes only less energy, and is both stackable and steam function enabled.
| | | | | | |
| --- | --- | --- | --- | --- | --- |
| Features | LG Front Load Washer | LG Mega Capacity | LG Washer with TurboWash 3D | Samsung HE Champagne | Samsung HE Champagne |
| Capacity | 5.2 cu. ft | 4.5 cu. ft. | 5 cu. ft | 4.5 cu. ft. | 4.2 cu. ft. |
| Weight | 225lb | 134.5 lb | 146.9 lb | 201 lb | 193.8lb |
| Style | Front load | Top Load | Top Load | Front load | Front load |
| Power | 10 amps | 5 amps | 5 amps | 15 amps | 15 amps |
| Energy (kWh/year) | 125 | 130 | 110 | 80 | 94 |
| Max spin speed | 1300 | 950 | 950 | 1200 | 1200 |
| Wash cycles | 14 | 8 | 14 | 10 | 8 |
| Wash speed | 5 | 3 | 5 | 5 | 4 |
| Wash temperatures | 5 | 3 | 5 | 5 | 4 |
| Tub/ Drum | Stainless Steel | Stainless Steel | Stainless Steel | Stainless Steel | Stainless Steel |
| Smart Home | Enabled | Enabled | Enabled | Enabled | Enabled |
| Steam Function | Yes | No | No | Yes | No |
| Stackable | Yes | No | No | Yes | Yes |
---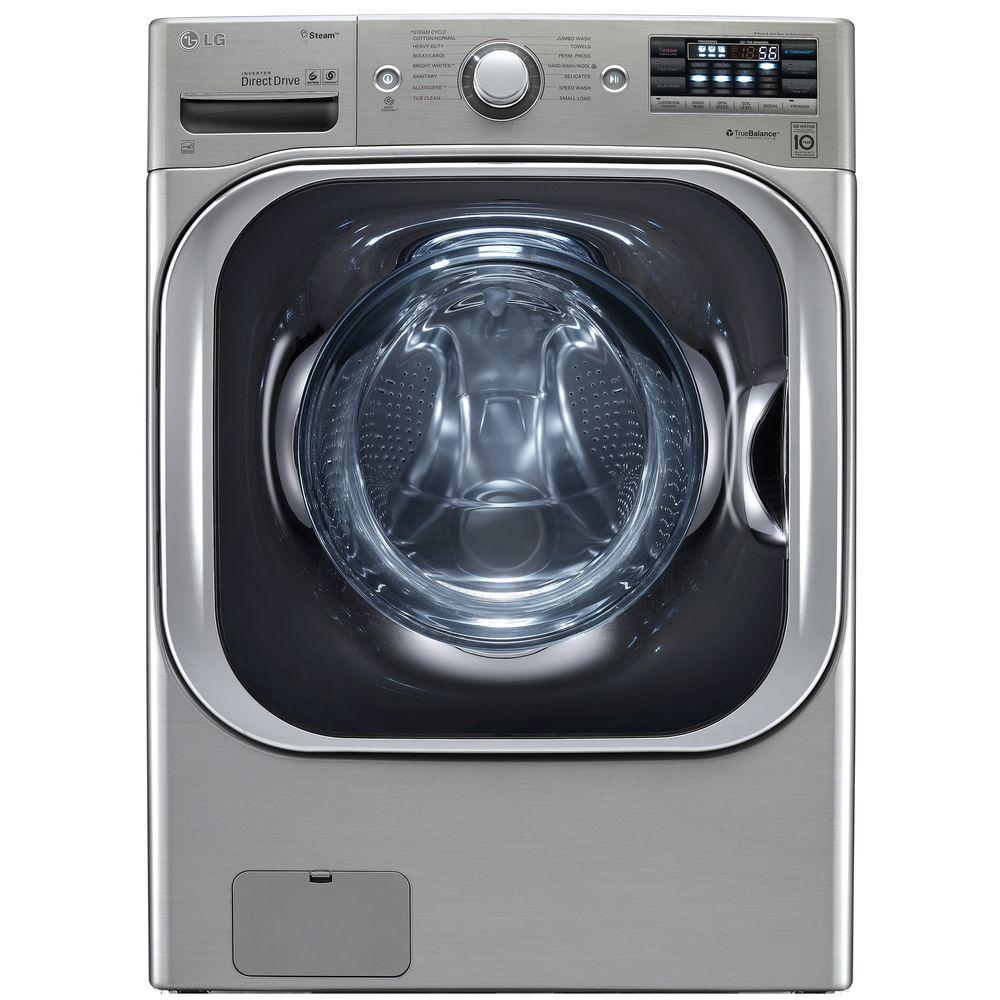 Would it not be great to wash a king-size comforter and other beddings in a single load, and also save 30 minutes per load? LG Electronics' High-Efficiency Front Load Washer with Steam and TurboWash technology makes this possible. With a stackable washer that has a mega capacity to tackle a heavy load, this is industry one of the largest capacity washer meant for residential use.
We are impressed by the Truebalance anti-vibration system that significantly cuts down the washer vibration to enable a smooth and quiet performance. Even if you keep the washer on the second floor, the upper and lower floors are unlikely to get disturbed by the vibration and noise. Another feature we love is the revolutionary Turbowash technology that enables you to do large loads faster and cleaner. The steam technology treats your clothes gently and eliminates wrinkles/odors from clothes.
Product features and specifications
Large 5.2 cu. ft capacity
6 different wash motions
Stackable design
30 minutes per load
Electronic control panel
Energy Star rated
14 wash cycles
AAFA- Certified Allergiene
NSF-certified sanitary
10-year limited warranty on motor
User/ Customer reviews
Users are extremely elated to be able to reduce their wash time in half with this super large washing machine that can handle multiple comforters at once. People with more family members are pleased to be able to wash all their darks together and not have to run machine twice a day to wash all laundry. Customers are also impressed with the sensor dry system that adjusts the drying time so that clothes come out really dry.
Some users have mentioned that the washing machine is significantly quieter than other front load machines and the vibration is relatively low. Another much-loved feature is the wrinkle guard which ensures that clothes come out looking good even if you forget to take them out on time. A few customers faced technical issues that were immediately handled by customer support.
Conclusion
If you are looking for a large capacity washing machine that's not just big in size but equipped with some high-end features to give you an amazing performance then look no further. Although slightly pricey than competitor products, you get more than what you pay for. Overall, a great buy!
---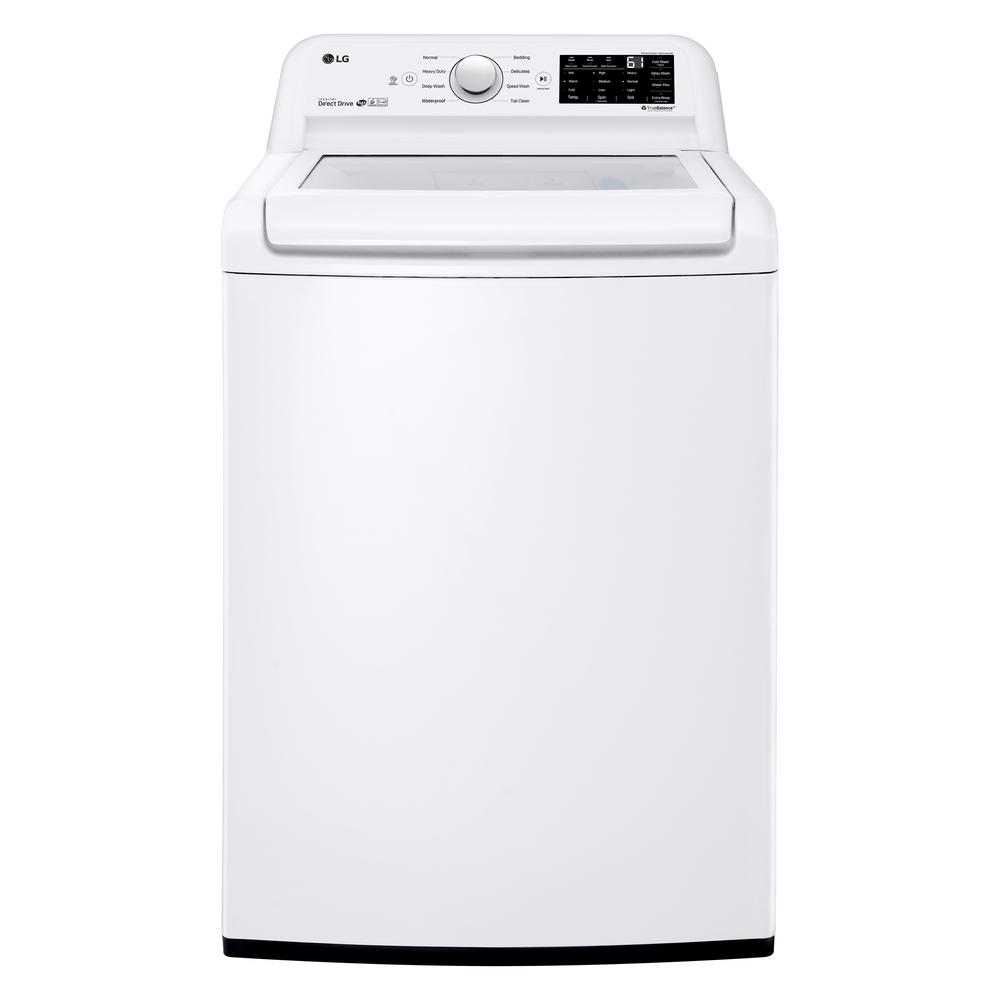 If you prefer top loaders over front and have a family of 4 or less, you may want to check this 4.5 cu. ft. Mega Capacity Top Load Washer from LG Electronics (learn more). The LG Direct Drive Motor and tub spin independently in different directions to generate a powerful water flow and increased spaces to do more load in less time. As we are looking for the best washing machine for low vibration, we focus on the TrueBalance anti-vibration system that reduces noise and produces smoother vibrations so that you can hardly tell the washer is on.
There's a reason why we love LG – it comes with TurboDrum Technology that provides the agitator effect without damaging clothes, plus the 6Motion technology gives you different wash motions for different clothes. As a high-efficiency machine, it uses less water and less energy so you get a lot of savings per load. The TubClean Cycle also helps in making periodic maintenance hassle-free and keeps your washer smelling good.
Product features and specifications
Full stainless steel tub
4.5 cu. ft. capacity
Energy Star rated
6 different wash motions
ColdWash technology
Dual LED Display
SenseClean System
SpeedWash Cycle
Intuitive Dial-A-Cycle controls
10-year limited warranty on motor
Users/ customer reviews
People who have used the washer to clean really dirty and smelly clothes are surprised with the results as clothes come out clean without any pre-soaking or pre-treatment. Users are happy that the unit can hold a lot of clothes at once and use less water and less drying time to get the job done faster.  Most buyers have mentioned that setting up the washer is easy and instructions are simple to follow.
Those who have dealt with noisy washing machines in the past are super impressed with low vibration and noiseless operation. A few users have mentioned that the washer has a delicate wash cycle of one hour which is pretty long and needs to be fixed.
Conclusion
If you live in an apartment or house with neighbors close by, LG's Mega Capacity Top Load Washer saves you and others from loud vibration and noise. The washer is also well-built with smart technologies that deliver a super cleaning performance. Overall, this is an investment you will be proud of!
---
The third product on our list also comes from LG and it has earned this position for its TurboWash 3D technology, SmartThinQ technology, and anti-vibration system, besides the other amazing features. The mega 5.0 cu. Ft top load capacity makes it a great choice for a big family, and minimize wash times considerably. TurboWash3D ensures gentle care, ColdWash gives you water savings, and the SmartThinQ app helps you control wash cycles and other settings with your smartphone.
When it comes to performance, we are impressed with the innovative 6Motion technology that brings you the benefit of six different wash motions in each cycle. The tub is made of non-rusting and durable stainless steel with no nicks to damage delicate fabrics. You don't need to do the periodic maintenance of your washer as the TubClean Cycle uses multiple water jets to clean the tub and door. If there are any issues, the SmartDiagnosis feature helps the service center identify the problem over the phone or app.
Product features and specifications
5.0 cu. Ft capacity
Energy star rated
Smart Home enabled
ColdWash technology
6 different wash motions
10-year limited warranty on motor
TubClean Cycle
Stainless steel tub
30% less energy consumption
User/ customer reviews
Customers are happy to discover that there's no agitator in the machine, but the opposite spin of the bottom and tub creates enough agitation to clean dirty clothes. Despite all fancy features and smart controls, users are happy that the washer makes practically no noise or vibration, so you can hardly operating hear it from the next room.  
People find the intuitive controls easy to handle and the installation is also a breeze in most cases. Any issues are effectively and immediately handled by customer care. Users are happy to save water, energy, and even time with its use.
Conclusion
If you want a large capacity washing machine that comes with the trust of LG, lots of additional savings, low vibration operation, and ability to control via smartphone, this product from WT7300 Series is the answer. Overall, we feel this product is worth the money you pay.
---
When you want a large capacity washer capable to remove even the toughest stains without any pre-treatment, check out the Samsung's front load washer with steam. With a 4.5 cu. ft. capacity, it can manage a lot of load in less time and the steam helps in getting rid of the stains. The machine also comes with a self-cleaning feature that helps in keeping the washer drum clean and fresh. We love the Smart Care function that allows you to troubleshot any issues with your smartphone.
More than anything we were impressed by the VRT Plus Technology that greatly reduces noise and vibration to give you a quiet washing performance. The interior drum pattern is designed to extract more water from clothes so that they come out relatively drier. There are 10 preset wash cycles, plus you can add more and adjust other settings depending on your needs. The striking design, gorgeous colors and beautiful finish also complement the interiors.
Product features and specifications
4.5 cu. ft. capacity
Energy-star certified
Self-cleaning
Smartphone app
Space-saving design
ADA Complaint
7 Additional Washing Options
10 Preset Washing Cycles
5 Temperature Levels
VRT Plus Technology
User/ customer reviews
Most users are pleased with the ease of installation and simple controls that makes using this washer a breeze. People are also extremely happy with the machine performance because dirty jeans come out really clean. However, a few customers have mentioned that their old LG washing machine cleaned better.
When it comes to vibration, people have mentioned that it's so noiseless that they have to keep checking to ensure that it's working. People are also happy with the mega load capacity and ability to save water on each load.
Conclusion
If slow vibration is your priority and you are a fan of Samsung products then we would recommend this washing machine (shop now). Besides the noiseless operation, the high-efficiency washer comes with a lot more smart and intelligent features worth considering.
---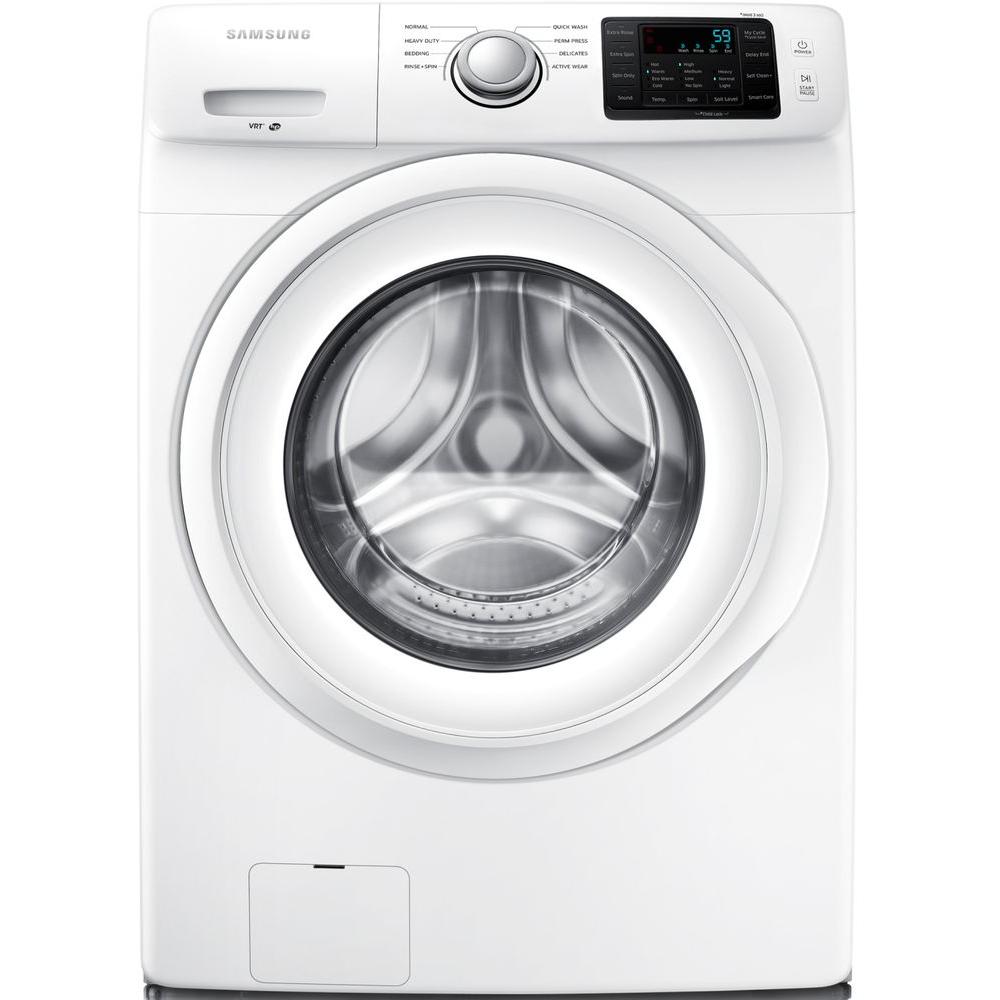 Do you have a big family with tiny tots and furry friends that make laundry a big chore? This 4.5 cu. ft capacity front load washer from the house of Samsung allows you to do a lot of laundry in less time. With the smart Care feature, you can control and troubleshoot any issues from your smartphone app. When it comes to vibration and noise level, VRT Technology does an excellent job of cutting it into half, so you hardly notice that it's working.
We love the stylish exterior of the washer and the interior diamond drum design that extends fabric life by treating them gently. The impressive 1200 RPM maximum spin speed gets the job done faster. The 8 preset wash cycles and the 9 different options help you get more out of every load. The Self Clean feature reminds you to clean the washer after every 40 cycles to keep it clean and germ-free without the use of any harsh chemicals.
Product features and specifications
4.2 cu. ft capacity
Diamond drum design
1200 RPM maximum spin speed
8 preset wash cycles
9 different settings
Child lock and door lock
4 temperature settings
3 spin settings
3 soil settings
10-year limited warranty on motor
User/ customer reviews
Many users are happy with the Samsung washer as it gives them remarkably clean clothes using less water per wash cycle. People are happy to be able to complete their laundry job in 30 minutes so that they don't have to spend the weekend doing many rounds and drying clothes separately.
Those who have recently upgraded to Samsung front loader after their old washers died are surprised at the low vibrations. Despite the many good reviews, we can't ignore the dissatisfied customers who had to face several technical issues after some months of good use.
Conclusion
The Samsung 4.2 cu. ft. High-Efficiency Front Load Washer is well-built, sturdy, and compliments the interiors really well. It does not vibrate like a standard washing machine and saves water during wash cycles. While we can't really call it the best washing machine for low vibration, it is still worth considering due to affordable pricing.
---
Tips To Reduce Washing Machine Vibration
If your current washing machine shakes and vibrates so loud that your neighbors can tell you are doing the laundry then you probably need to do something about it. The ultimate solution is, of course, getting the best low vibration washing machine. However, if there's still time to replace your existing machine then here are a few tips that can help you reduce the annoying noise.
Balance an uneven load
Similar to any other appliance, your washer also needs to be properly balanced in order to function properly. To create an equal balance, spread out the large and bulky items such as bedsheets and comforters. Smaller items like should be balanced well, equally on the sides.
Make sure the floor and machine are well aligned
While your washer may seem to be on a plane level, it might be an illusion for you. We hope you will be able to make some adjustments to the washer feet to bring it to a level. Make minor adjustments and keep checking until you get the level right.
Is your stacked unit secure?
If you have a stacked unit, the washer and dryer will typically be stacked one above the other with the help of a metal frame. Check to see if the connections are secure because they might be the reason for vibrations. Always make sure you install stacked units on a sturdy and leveled floor.
Buy anti-vibration pads
If you are annoyed with the vibrating noise created by your existing washing machine, consider buying anti-vibration pads. These are easy and economical means to absorb noise and minimize vibration. You may also get the more affordable solution that includes small pads for each washer feet.
Make sure the floor is sturdy
If the entire floor shakes and vibrates when the washer runs, consider adding braces to the ceiling of the level on which the washer stands. This should make the floor stable and sturdy enough to minimize vibrations. Alternatively, you may use a plywood sheet of 5/8″ or 1″ thickness under the appliances.
See Also:
Can We Store Water In Washing Machine
Will Oil Paints Ruin A Washing Machine?
5 Best Washing Machine For Heavily Soiled Clothes
How To Use Fabric Softener In Washing Machine Without Dispenser
Can I Keep A Washing Machine In The Bathroom?