Multi-functional technologies are amazing items that enhance our lives and help us keep up with our busy lifestyles. From convertible furniture to accessories with lots of uses, there are tons of items that will do several things for you. Many people do not think of a desk lamp as a transformational piece, but the seven items we have on this list may become your favorite household items.
The ability to use a desk lamp for several things at the same time can make your night or day much easier. The seven items on this list feature lamps that charge your devices and offer other functional attributes. The hardest part will be picking out a favorite because we still have trouble choosing just one.
When you want a fun product that doubles as a mood setter, multiple color options might be the most concerning feature. If you need a light that will turn itself off when you fall asleep, then keep reading. We have seven spectacular options that will let you choose the best lamp for your needs from this list.
If you are in a rush to pick an item, then we think you will appreciate the TaoTronics LED light (learn more). This lamp is sleek and stylish with a timer to ensure you do not waste energy. The fast charging system ensures your devices get to full charge in little time. Plus, there are several lighting options and an additional USB port for charging a second device.
Comparing the Top Wireless Desk Lamps
---
When you want a light that will tell you the time and offer you several lighting options, then a desk lamp with multiple functions may be essential. The LumiCharge LED desk light provides you with ten levels of brightness to give you the exact setting you need. You can even change the tone of this light.
Product features and benefits
Three configurable points
Ten watts of charging power
Qi Fast charging
Night light senses when you get up to light the way
LCD display with calendar, clock, and temperature
Lightweight model
Touchscreen controls
Charges all phone and tablet models
Appealing metal tone and futuristic design
Lamp cons
Some lamps may not supply a consistent charge – seller is happy to provide exceptional customer service
Needs something on the bottom to prevent slipping and sliding
Buyer's remarks
Consumers are pretty happy about this lamp. They appreciate the different points of configuration; however, they say the range of motion may be lacking. The convenience of this model is the top feature among buyers.
Final thoughts
This desk lamp is compact and slim, allowing it to fit in tight spaces. The night light and clock are our favorite attributes. We also like the variety of light with the LumiCharge Desk Lamp.
---
When you want a light to put near the bed or your favorite seat on the couch, one with a stereo is preferable. The Ampulla Masdio combines a trio of popular items into one stylish lamp. This light charges your phone and iPod while playing your favorite music.
Product features and benefits
Cherry wood Bluetooth speaker
Stellar contemporary tree design
Digital speaker display sits on top of the lamp
Music amplification and higher quality sound
Primary lights are lower to promote better sleep
Several dimming options
Wireless charging for small devices
Lamp cons
May not switch songs correctly
Pauses music automatically
Buyer's remarks
Most people like the position and action of the on and off switch. They like there is no writing or design on the shade because there are no shadows. Some people feel the lamp is not a good value for the cost. The lamp is also smaller than most buyers expect.
Final thoughts
The adaptable light is convenient for people who want to read some nights and spend time having a quiet conversation on other occasions. The Ampulla Masdio lamp is small enough for bedside shelves or small desks. We appreciate the way the speaker broadcasts in every direction.
---
When you want a simple lamp that you can control whether or not your eyes are open, then a central panel is convenient. The TaoTronics TT-DL050 uses a forward-facing touchscreen to make operating quick and simple. Six buttons and a brightness indicator organize the lamp functions for easy operation in the dark.
Product features and benefits
Five light options
Six brightness settings up to 600 Lumens
Aluminum frame is light and sleek
USB port on the back of the lamp
7.5W for iPhone, 10W for Samsung
Several configurable points for a wide range of light angles
Lamp remembers the last settings and automatically uses them the next time you turn it on
One hour shut-off
Fast Qi charging
Power saving operation is safe for the eyes
Lamp cons
Components may not be high quality leading to premature breaks
Wireless charging may not work very long
Buyer's remarks
Many people say the brushed nickel look is an appealing quality of this lamp. They like the responsiveness of the touch panel. The biggest complaint is the top is heavier than the bottom, letting the lamp fall over if there are a lot of vibrations or movement in the room.
Final thoughts
The power button on this item is a bit bright in a dark room. This lamp is a fantastic gift option for college students and anyone who needs a desk lamp. The TaoTronics TT-DL050 is easy to operate in the middle of the night.
---
When you want a lamp that doubles as a charger, then this desk light is an item you may want to look at closer. The Cozoo LED Desk Lamp comes with two outlets and three USB slots to let you power several devices at once. The ratings on this light say it will last for over 40,000 hours.
Product features and benefits
Charges large items like laptops and small devices like phones and Smart watches at the same time
Five-foot power cord
Lightweight at under two pounds
Automatic eye protection
Fireproof materials
Maximum 530 Lumens
48 LED's and three brightness settings
Lamp cons
Does not swivel and only reaches a 90-degree angle
USB chargers may stop working prematurely
Buyer's remarks
Consumers appreciate being able to change the height of the lamp. They say the two outlets are a pleasant addition since most desk lamps do not have this feature. Buyers like that they can charge their laptops with this lamp. They do not like that some of the components fail early.
Final thoughts
We like the dozens of LED lights on this model. The value of this product makes it more appealing. The Cozoo Desk Light has a one-hour timer that automatically shuts off the unit when there is no activity.
---
When you have a phone that is always going dead, then a great charging unit is a must. The TaoTronics LED uses Hyperair technology to charge one 10-watt for Samsung or 7.5-watt for iPhone. The lamp offers regular Qi charging for other devices.
Product features and benefits
No flicker light
Five colors and five brightness levels
Adjusting arm lets you put the light over your workspace or reading area
Base rotates to give you more configurable options
One-hour timer shuts the light off automatically
Remembers your preferences and uses them when you turn on the light the next time
400 Lumen maximum brightness
Metal frame is durable
Night light mode cuts back on eye tiredness
Lamp cons
Blinking indicator when the timer is on can be annoying to some people
Lamp may work some of the time and not others
Buyer's remarks
Consumers like the variety of light options for this lamp. They say the lamp is acceptable for nightstands and end tables, however; it works best as a desk light. They like the night light and timer. Some people say the light can turn on by itself, which is bothersome. Others say it seems to act weird or dim when charging items.
Final thoughts
We like that you can fold up the arm on this light to sit it in a small space. The night light feature is our favorite mode. The TaoTronics Desk Lamp charges all our items quickly, allowing us to get back to our day faster.
---
When your desk is your workstation, it is important to have excellent lighting. The Otus Architect Lamp is a convenient accessory because you can move the light to shine over your drawing or crafting area. This ten-watt light has three color options for reading or working.
Product features and benefits
Durable aluminum frame
Dimming light
Memory keeps the last light settings on record
25-year life span
Eye protection
No glares and flickering – light remains constant
80 percent more energy-efficient than standard light bulbs
Shade swivels for different angles
Three adjustable points for more configurations
600 Lumen maximum brightness
Lamp cons
Does not charge as fast as some wireless desk lamps
The light is not bright enough for some with full arm extension
Buyer's remarks
Most consumers appreciate the ease of use with this lamp model. They say you can move it around to any spot on the desk. Many say they wish it comes with a USB port. Taking your device on and off the charger can cause the settings to change.
Final thoughts
This lamp is very popular because you can move it around in many ways. You may need to use two hands to reposition the light. The Otus Architect Lamp emits light sideways to make sure there is no glare.
---
When you want a stunning lamp to put on your desk or bedside table, then this light is appealing. The shade houses dozens of hidden LED lights, giving it a striped light effect. The Enklov Table Lamp (see more) uses an infrared switch for powering the unit on and off.
Product features and benefits
Uses an Alec lamp shade to protect the eyes
Softer light with less glare than most lamps
Qi wireless charging system
Five color and brightness options
Touch controls make it easy to operate the light at night
10-watt fast charging system
Wattage:24 watts
Lamp cons
Seller is not good at communicating when there are issues
Lights turn on a different brightness every time
Buyer's remarks
People love how modern and stylish this lamp looks. It is easy to put it together. They like how stable this model is versus similar lamps. They say the price is affordable. The only problem is sometimes the wireless charging unit stops working.
Final thoughts
This model light is very appealing. We love the traditional shade with hidden LED lights. The Enklov Lamp is an excellent option for bedrooms, dorms, offices, studies, and more.
---
Considerations for selecting the right desk lamp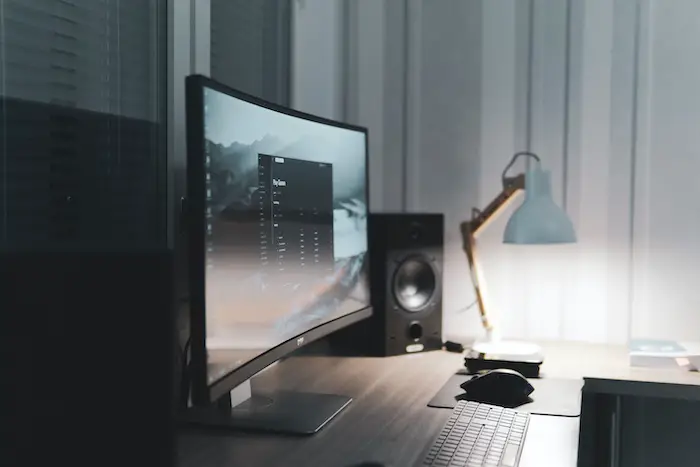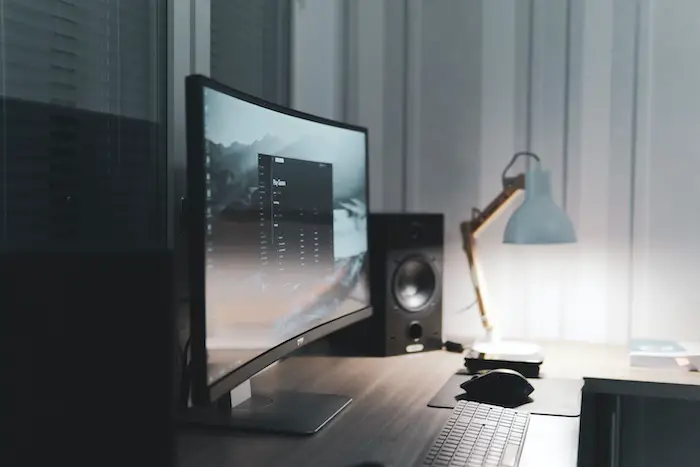 Light options
When buyers look for a desk lamp, several brightnesses or color modes are often preferable. Having the ability to use the lamp as a night light and for working is helpful. Models with a variety of settings let you dim the light when reading or you want to relax. Whether you want direct light or light directed to the side is another thing to consider when choosing the best desk lamp for your home.
Weight
The heaviness of the lamp is an important factor for many buyers. If they have a lot of weight on the desk, then they may not want a light that weighs over five pounds. Other lamps can have more weight at the top of the frame, making it unstable or allowing it to fall over.
Functionalities
What features you want with your wireless charging lamp can make the difference between which one you choose for your home. Some options come with controls that are easy to reach in the dark. Others have calendars or wired outlets to charge large computers. Models with timers are appealing to many people who like to read. They can turn on the light, and if they fall asleep, the timer will shut off saving energy.
Configurations
The different angles and movements for each lamp on this list vary. You may want a lamp that you can extend over the top of your monitor. If you want a lamp that will move across the entire desk, then an architect model might be the best option for your needs. If you need a simple lamp that will fit in the corner of a desk, then most of the models will serve this purpose.
Charging capabilities
How many devices you want to charge at the same time may be a deciding factor when you look at desk lamps. Some options on this list can charge as many as five items at the same time. Others can only charge one or two.
A couple of the desk lamps come with fast chargers while others use standard boosting capabilities. The speed of charging is important to many buyers, so checking out the individual product reviews will help you decide. Whether you need only wireless charging or want USB or outlets for charging is vital to many consumers.
Two Desk Lamp Questions and Answers
Does the lamp charge phones using cords
Some of the models on this list use both wired and wireless charging methods. Others have only USB ports or wireless charging. You can check each of the product reviews to find out the specifics on each model.
Can you adjust the direction of the light
Yes. All these lamps feature a swivel or joint you can move around to put the light where you need it the most. Some will move to different angles while others will adjust to fit over your workstation.
See Also: 5 Best Desks for Cable Management