4 Best Dish Sponge That Doesn't Smell 2023
Doing the dirty dishes is not an idea of spending some 'good time' and we get it. Do you know what turns this chore into a hideous one? That stinky sponge filled with billions of bacteria having a ball at your expense! Even a whiff of that stinky odor may make you want to puke and the smell may linger on your fingers for a really long time.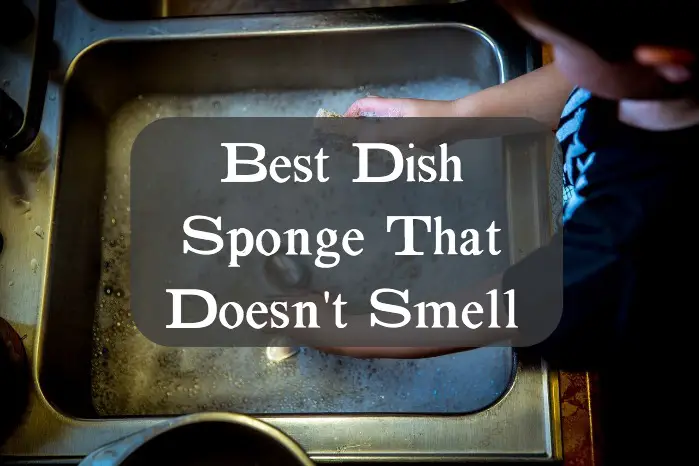 While we can't reduce the pain of scrubbing dishes, we can make it less gross by using the best dish sponge that doesn't smell bad. With that in mind, we have reviewed dozens of products in the market and shortlisted our top four based on various factors that we will discuss below.
Read on to find out the unique features, specifications, and benefits that make these handpicked products so sought after. We have also compared the product features to help you choose the best dish sponge that suits your needs.
If you don't have the time to go through the reviews, we recommend the O-Cedar Multi-Use Scrunge Scrub Sponge which has two sides that are perfect for cleaning all types of dishes and surfaces. Build from sturdy high-quality material, it is built to last 20% longer than standard products.
---
This modern scrubbing sponge from the house of STK is made from silicone to improve upon the traditional sponges. Besides being 100% bacteria and antimicrobial-resistant, the sponges also prevent the growth of mold, mildew, resulting in bad odor. The tough scrubbing power not only makes them great for cleaning pots and pans but also other dirty surfaces.
The silicone scrubber not only cleans better than fiber sponges, but it is also less abrasive so you don't have to worry about scratching the surfaces. You can get a thorough clean up in just half the time. As the sponges have a porous texture, they naturally hold less soap while cleaning two times better. Our team was impressed to find that the product comes with a 100% money-back guarantee with no questions asked.
Product features and specifications
Measures 4.25 x 3 x 1 inches
10 Packs
Extra thick
10x More Durable
Anti-bacterial and anti-microbial
Zero Smell Technology
100% Mold and Mildew Free
100% Scratch-Free Scrubbing
User/ Customer reviews
People who use this product regularly are satisfied with the good scrubbing power that helps them clean dirty dishes quickly, without scratching the surface. It holds soap suds and water well, but food particles do not stick to it. A few users have mentioned that the sponge is slightly more slippery than traditional cellulose sponges, but the zero odor makes it a good choice.
Conclusion
While this product has a decent scrubbing power, it's not meant for those who don't have a dishwasher and need a sponge to do heavy-duty scrubbing for all the dirty dishes. The large spores and antibacterial silicone material ensures that it remains odorless and works great for light scrubbing jobs.
---
If you are tired of the bad smell emitting from traditional sponges, you may want to give sponges, scrubbers, and rags a miss and try out the NO ODOR Dish Cloth from The Crown Choice. As per the company, this all-purpose dishwashing cloth can last longer than 7 traditional sponges. Made of polyester, the dishcloth not only cleans well, it's quick-drying capacity prevents bad odor caused by bacterial growth.
Thus, the dishcloth is easy to sanitize and stay odor-free even after several months of uses. As a low maintenance product, it can be easily cleaned in the washing machine or dishwasher. You can use the cloth on all types of surfaces such as stainless steel, non-stick, anodized, glass, crystal, and porcelain without the fear of causing scratches. Even if you wash tough stains and food residue like melted cheese, the large hole patterns allow food to get washed out quickly.
Product features and specifications
Measures 10 x 10 x 0.1 inches
Weighs 1.28 ounces
Non-absorbent
100% scratch-resistant
Low maintenance
Highly durable
Fast Drying
Odor-free
Machine washable
User/ Customer Reviews
Many people who have bought the product like it so much that they prefer keeping one for dishes and another for cleaning counters.  Users love how it holds a lot of water and creates soap suds like dream to clean quickly and efficiently. The cloth not only does a better job than a sponge but also lasts much longer, this paying back its cost price in a few weeks.
Conclusion
If you are looking for a scrubbing and cleaning tool that is odorless and lasts better than sponge then this is certainly the thing to choose. We love how the cloth reaches into the nooks and cranny of different utensils to clean like a dream. The durability and long-lasting ability make it a good value for money.
---
If you are like many others who wish the traditional sponge was odor-free and more powerful then consider your prayers heard. The O-Cedar Multi-Use Scrunge Scrub Sponge is probably what you have been looking for because it is designed in a similar fashion like a traditional sponge. However, the rippled surface increases the scrubbing power and it does not stink like a regular kitchen sponge. It is not only odor resistant, but also safe for all bakeware and non-stick cookware.
Our team was pleased to find that Cooks Illustrated honored the scrub sponge with the title of 'The Best Kitchen Sponge' in its May 2019 edition. It works well on almost all types of surfaces, no matter how sturdy or delicate. It is also recommended by the Teflon non-stick products. Cleaning the sponge is pretty easy. Just rinse thoroughly and air dry after every use. Sanitize once a week by cleaning in a dishwasher.
Product features and specifications
Measures 4-1/4 x 3 x 1 inches
Weigh 5.6 ounces
Comes in a pack of 6
20% more scrubbing power
Rinse-fresh technology
Rippled surface
Recommended for non-stick coatings
User/ Customer reviews
Users are happy to get a durable and non-smelling sponge on one side and a sturdy scrubber on the other which can tackle tough greasy surfaces with ease. Customers also find the product easy to maintain as it comes out fine after a rinse, and when it gets too gunky, a nice wash in the dishwasher does the job. However, it's worth noting that some people complained about blue dye coming out of the sponge when cleaning.
Conclusion
O-Cedar has been in the market for long enough to know what the customers want and this product seems beautifully created to meet those needs. If you are tired of having to change the sponges weekly, consider buying this scrub sponge that gives you the benefit of two without any stinking odor. Overall, a great buy!
---
Yes, Christmas is around the corner and if you are not in the mood already then here's your chance to bring home some Christmas Stocking Stuffer Dish Scrubber. These dishwashing sponges (learn more) are so colorful that it's difficult to believe that they are meant for cleaning dirty dishes. Made from 100% polyester material, the dish scrubber lasts much longer than any other kitchen dishcloth, rag, or sponges. These Korean style scrubbers have two layers for extra durability and strength, plus they don't stink even after several uses.
We love how well the dish scrubber cleanses the dishes without causing any scratches, and they work well on all surfaces including copper, chrome, anodized, glass, crystal, porcelain, and non-stick cookware. Maintain the scrubber hygiene is easy as you just need to put it inside the dishwasher to make it clean and odorless. Rinse after every use and food particles come out easily. This also prevents mold and bacterial growth.
 Product features and specifications
5 pieces set, fruit-shaped
Made from 100% polyester
100% Non- Scratch
No odor, no mildew
Machine washable
Loop for hanging
User/ customer reviews
Customers find these kitchen sponges not only adorable but great to use because of they last longer, dry quickly and don't stink even after many months of use. Some people are so impressed with the product that they even gifted these to their friends. A few users have mentioned that the scrubber works even better with warm water as the bristles get hardened up.
Conclusion
If you have been looking for the best dish sponge that doesn't smell and looks great in the kitchen then this product is just what you need. At this price, you get five beautiful sponges that will last several months, so they offer good value for money
Related Questions
How to sanitize your dish sponge?
A quick way to sanitize your dish sponge is to put it inside the dishwasher. If you don't have a dishwasher, soak it in soapy bleach water or soapy vinegar water to remove any food particles stuck into it, remove odor, and kill any bacteria that may be present.
Related Article: 6 Smart Tips to Make Dishwashing Easier
How often do you need to change the dish sponge?
You may need to change the dish sponge once every month or every two weeks depending on the type of sponge you use. Some of the products mentioned above are highly durable and they can last for months.
See Also:
Can You Use Hand Soap To Wash Dishes
Can You Use Dish Soap In A Pressure Washer
Can I Use Dish Soap To Clean Oven?