4 Best Push Broom for Fine Dust 2023
Cleaning up after completing a DIY woodworking project or any task is of great importance, not just for the workmanship but also for your family's safety. Unfortunately, some people overlook or leave it for later. Today, we will talk about the best push broom for fine dust that are designed to make your task easier.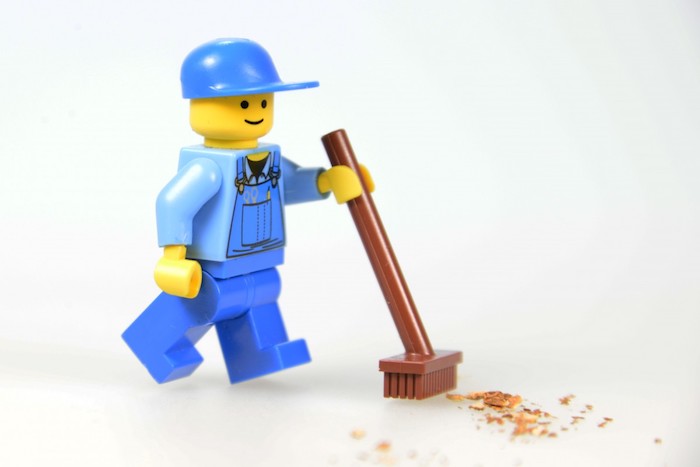 The type of brush needed for cleaning job depends on the nature of dust and debris you are dealing with. For fine dust, you will need a broom with soft and pliable bristles but for picking up sand or sawdust, you will require slightly coarser bristles.
Another important concern is durability because the push brooms may have to withstand heavy usage with the handle breaking or the bristles coming out. To help you choose the right product out of the many models available in the market, we have reviewed some of the best push brooms handpicked by our team.
If you are in a hurry to buy a product, we recommend that you get the Patio and Deck Brush which includes a push broom and a scrubber broom head to handle different surfaces with ease. After reviewing many models we feel that this product offers excellent value for money.
---
Whether you are looking for a fine broom for your commercial shop or home use, the O-Cedar Professional Smooth Surface Push Broom promises to do a decent job. It is made of heavy-duty plastic material to ensure good durability and use. It comes equipped with a Maxi-Lok technology along with an anti-rotation socket that keeps the broom head from rotating or coming out loose.
The broom head contains soft bristles with feather tips to efficiently clean the finest dust. Customers get a 100% satisfaction guarantee by the manufacturer. The plastic block is well-built to last for long without warping or bending with use.
Product Features and Specifications
Weighs 3.15 pounds
Made of sturdy plastic material
24 inches broom head
Soft Feather-Tip bristles
Maxi-Lok technology
User/ Customer Impressions
Those who use this broom are pleased that it's lightweight, easy to set up, and works as expected. Users have mentioned that the bristles do not stick, making it easier to clean with efficiency. Customers have also said that it's good for cleaning fine dust but not meant for gravel or dried dirt. Some people have cautioned about the handle falling apart after a few uses.
Conclusion
The broom looks good and well-built for the job. While we are concerned about the handle not able to last in a few cases, but the plastic definitely appears to be sturdy. Overall, we feel that this product offers good value for money at the price.
---
The next product in our list of best push broom for fine dust again comes from the family of O-Cedar. This is an ultimate multi-surface broom (learn more) meant for rough outdoor use. It includes a secure head and the block is made of heavy-duty plastic material that won't bend, crack, or warp with use. The memory bristles are capable of retaining their shape to deliver a sweeping performance. The Maxi-Lok technology ensures that the head stays in place inside the socket without getting loose.
The push broom has sturdy inner bristles to deal with large debris and softer outer bristles to sweep fine dust particles. Our team was impressed to know that both the bristles and the plastic block are made from 80% recycled materials. The makers recommend this product for sidewalks, garages, decks, and other outdoor surfaces.
Product Features and Specifications
Weighs 2.45 pounds      
18 inches brush head
Maxi-Lok technology
Sturdy handle
Eco-friendly
User/Customer reviews
Users are happy that the inner bristles are made of recycled soda bottles, hence they are doing their part for the environment by buying this product. The inner bristles are stiff enough to move tough objects and the outer bristles are soft making it a favorite among customers who use it to remove snow from cars, leaves from walkways, and so on. While it's a great lightweight broom, some people have mentioned that it's too fragile to last and the brush frayed after first use.
Conclusion
If your walkway gets covered with snow in winter and falling leaves in autumn, this is the perfect lightweight push broom you can use to clean up. Please bear in mind that the product is not built to withstand rough use but delivers a good performance for lighter cleaning jobs.
---
It's true that the way you maintain your house exterior enhances or diminishes the overall value of your property. There's nothing like a neat patio or garden area, and this Patio and Deck Brush Combo Set promises to make your task easier. Made from heavy-duty material, this professional-grade outdoor brush comes with a steel pole and two attachments. It includes a push broom head with stiff inner and soft outer bristles, and a tough scrubbing head made of short stiff bristles.
The tough scrubber head comprises of a built-in scraper edge that helps in eliminating the stubborn dust and grime. The EVA foam layer on the handle gives you a good grip and the additional clips make it easier to dismantle and store the broom when not in use. The product works best for sidewalks, decks, driveways, garages, patios, and lawns.
Product Features and Specifications
Weighs 2.8 pounds
EVA foam grip
18-inch push broom head
10-inch tough scrubber head
55-inches pole handle
1.5-3 inches bristles
100% Satisfaction guaranteed
Free return policy
User/ Customer Impressions
The customers seem to be elated with the quality of product as it feels sturdy on the hand and does a good job at cleaning the porch, patio, or deck. Users are pleased with the benefit of two different brush qualities that make it easier to perform different types of household activities. A few users have mentioned that the clips were broken when they received the product. In such a case, you may want to contact the customer care.
Conclusion
If you are looking for a product that does the dual job of a push broom and a tough scrubber then check out the Patio and Deck Brush Combo Set. Whether you want to clean fine dust from your patio area or remove large debris from the walkways, this product gets the job done with ease. Overall, a great buy worth your money.
---
Alpine Industries is an established name in the cleaning industry, well known for making innovative and solution-based items for the institutional and commercial markets. Designed for both home and business use, the Smooth Surface Push Broom boasts high-quality construction. It comprises a handle with a reinforced metal tip, and a sturdy plastic block that won't bend, break or warp. The head includes softer yet durable bristles that are designed for sweeping fine dust and dirt, without getting frayed.
The push broom comes with an easy-grip and sturdy handle that provides enhanced comfort and good control for cleaning tasks. It comes with a hanging hole for convenient storage. Users can choose from an 18-inch and 24-inch size depending on their needs. Each size models come with dual-threaded holes to enable you to switch the sides for even wear over time.
Product Features and Specifications
Weighs 3 pounds
18-inch and 24-inch sizes
Flexible bristles
Use both indoors and outdoors
Heavy-duty construction
Reinforced metal tip
Dual threaded holes
Detachable head
Versatile use
User/ Customer Impressions
Those who have bought the product are happy with their purchase because it is just as they had expected. People find it easy to set up the product by just tightening two screws and the lightweight of the broom put less pressure on the wrist. A few users have mentioned that the handle tends to unscrew from the base while sweeping.
Conclusion
Whether you want to brush a smooth surface or concrete flooring, the Smooth Surface Push Broom by Alpine Industries can handle all types of dust. With two different size options, you have the liberty to choose the one that suits your requirements. At this price, you get good value for money. It is definitely one of the best push brooms for fine dust.
---
Related Questions
What is meant by flagged bristles?
There are many brush models that come with flagged or feathered bristles. They are called so because they are made of split ends that reduce the stiffness and increase dust and liquid retention capacity. The soft and synthetic fiber does a great job of dusting in fine sweeping motion without scratching the surface.
What type of block is most preferred?
The bristles of a brush are either set in a structural foam or block that may come in different styles and sizes. While the traditional wooden blocks have been around for quite some time, more users prefer the sturdy plastic blocks that are resistant to warping, bending or breaking. They are also resistant to water and last really long.
See Also:
How To Get Rid Of Concrete Dust In Basement
7 Best Air Purifiers For Mold In Basement