Whether you are an Indian or a fan of Indian food, you probably know by now that pots and pans of unique shapes and sizes are used in Indian cooking. There's also an extra bout of spices and oil that makes the utensils greasier and difficult to clean than otherwise.
Needless to say, this makes choosing the best dishwasher for Indian cooking in USA slightly trickier. You will need to ensure that there are wash cycles that are capable of removing tough grease and spices odor and enough space to accommodate the various utensils.
If your American kitchen witnesses an Indian menu numerous times a week, then it's only wise that you look for a suitable appliance capable of handling the chore. We know it's easier said than done to find that perfect dishwasher out of a sea of brands and models available.
Take it easy and enjoy your Indian delicacies, because our review team has done the homework to make cleaning easier. We have spent hours scouring the Internet and reviewing a plethora of dishwashers to find the ones that are best suited for Indian cooks.
Read on to find the unbiased reviews of products handpicked by our team. If you are too busy to go through the entire article to the end, we recommend to you our editor's pick – KitchenAid Top Control StormWash Tall Tub Dishwasher. It's sleek, stylish, more accommodating with a third rack, and also features Fan-Enabled PRODRY for superior dry without the need to rinse.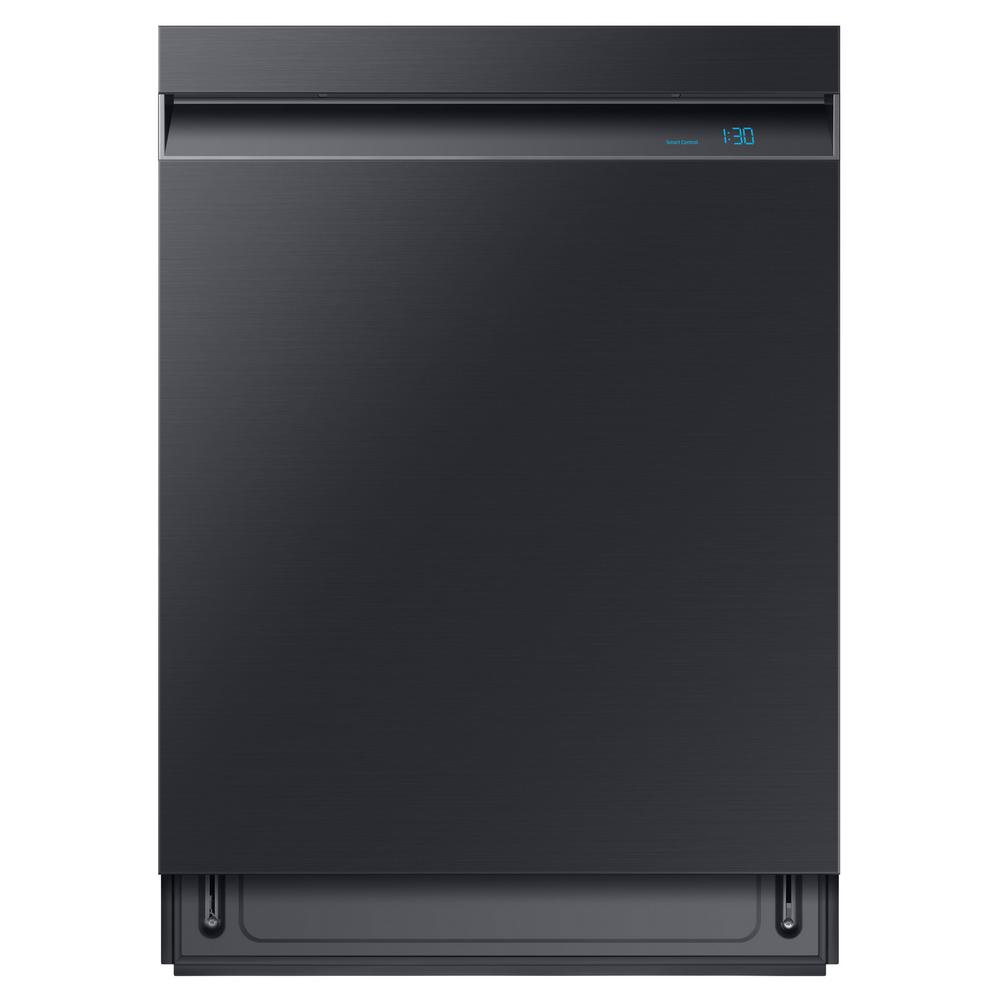 The first on our list is this 24-inches top control tall tub dishwasher from the house of South Korean giant Samsung. It features a Linear Wash technology with a unique sliding spray bar to provide corner to corner coverage for ultimate cleaning of all cookware. There's a flexible third rack to make room for silverware.
We are impressed by the Zone Booster that provides an extra water stream to clean the tough stains in pots and pans. The wash cycles are whisper quiet with 39 dBA to let you run the appliance at any time without disturbing the neighbors. You can remotely control and monitor the dishwasher using your Smartphone's Wi-Fi connectivity.
In a single load, you can wash up to 15 place settings, which works perfectly is you like to entertain guests often. The AutoRelease Door automatically opens to circulate air and quicken the drying performance. The exterior of a dishwasher is fingerprint-resistant to prevent smudges and ensure that it looks great always.
Product Features
24 Inches size
15 A energy
Black Stainless Steel
39 DBA noise level
3rd Rack
Automatic Temperature Control
Cycle Status Lights
Fingerprint Resistant
Tier III energy efficiency

User/ Customer reviews
Users have said that buying the top edge technology in the premium class has paid off as the appliance is extremely smooth and classy. Some people have also said that it's so quiet that they have to double-check to ensure that it is running. A few customers have complained that the product was damaged when it arrived but the customer care took was responsive and friendly.
Conclusion
If you looking for a dishwasher that belongs to the top of the line and performs like a dream then the Samsung Top Control Linear Wash Tall Tub Dishwasher (see Prcie) is the best bet. Even though this is slightly on the expensive side, it enhances your kitchen décor and makes dishwashing easier than before.
---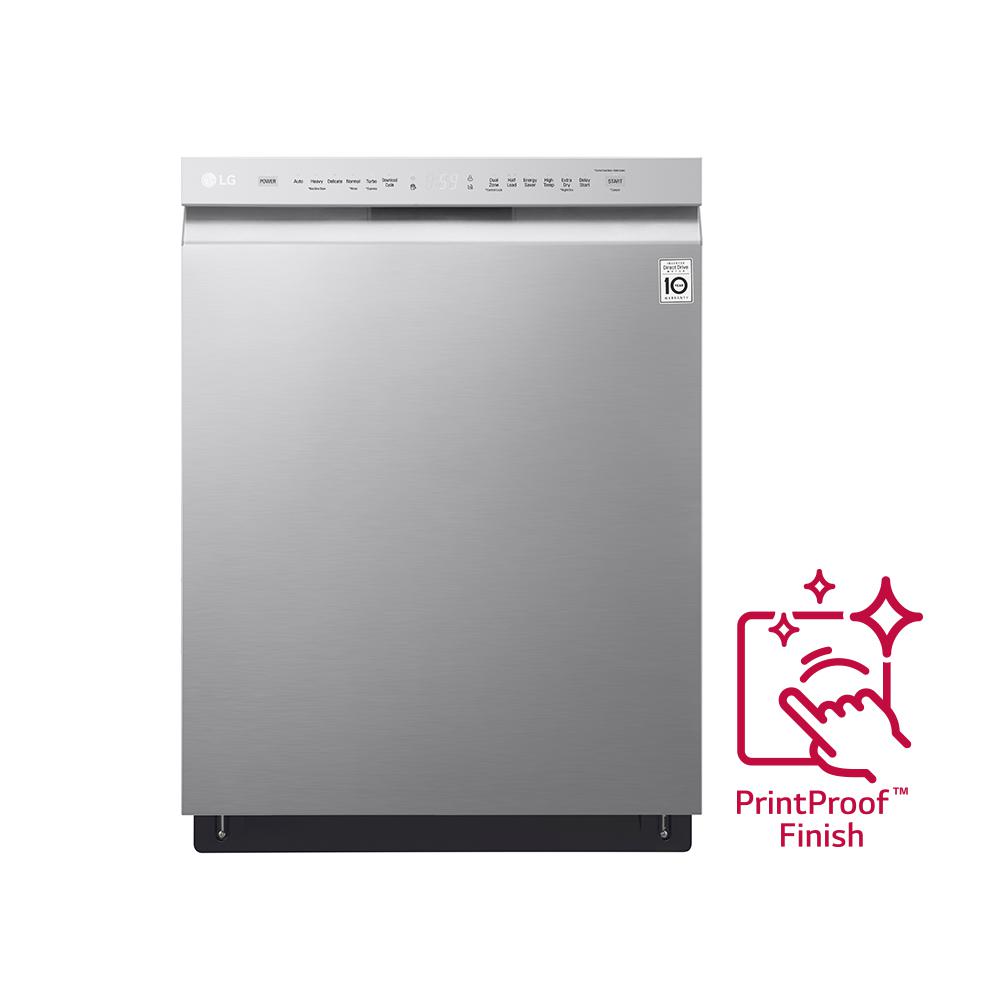 After reviewing a dozen products online, we have handpicked this LG Front Control Built-In Tall Tub Dishwasher (see Homedepot) is one of the most recommended. Equipped with LG's QuadWash system, this dishwasher uses Multi-Motion arms that come together to provide optimum cleaning coverage and EasyRack Plus gives you a custom racking experience.
LG boasts a convenient front control design that makes it easier to preview and then choose the settings as per your needs. With a whisper-quiet 48 dB cleaning, you can run the machine at night without interrupting others. For more convenience, LG's NFC Tag-On technology allows you to download new wash cycles from your smartphone
We love the LG Auto Cycle that allows users to senses the level of dirty dishes and set the wash cycle accordingly. The Dual Zone technology helps in varying the water intensity in the upper and lower racks. This is further backed by a 10-year manufacturer warranty on direct-drive motor.
Product Features
24 Inches size
Stainless Steel finish
Auto, Pots and Pans, Rinse and Hold cycles
Tier I energy efficiency
Front Control
Delay start and temperature wash
User/ Customer reviews
As per users, the performance of this LG dishwasher is quite similar to Bosch but comes with a better price tag for the bonus. Some people have said that the cycles are pretty long to ensure that the grease is properly removed from pots and pans. Customers love the fact that it comes backed by a solid manufacturer warranty.
Conclusion
If you are someone who does not want to experiment and prefer to stick to a trusted brand then we recommend the Front Control Built-In Tall Tub Dishwasher by LG. With stainless steel exterior, autocycle, front controls and drying system, the unit has all that you need to keep your dishes used in Indian cuisine clean.
---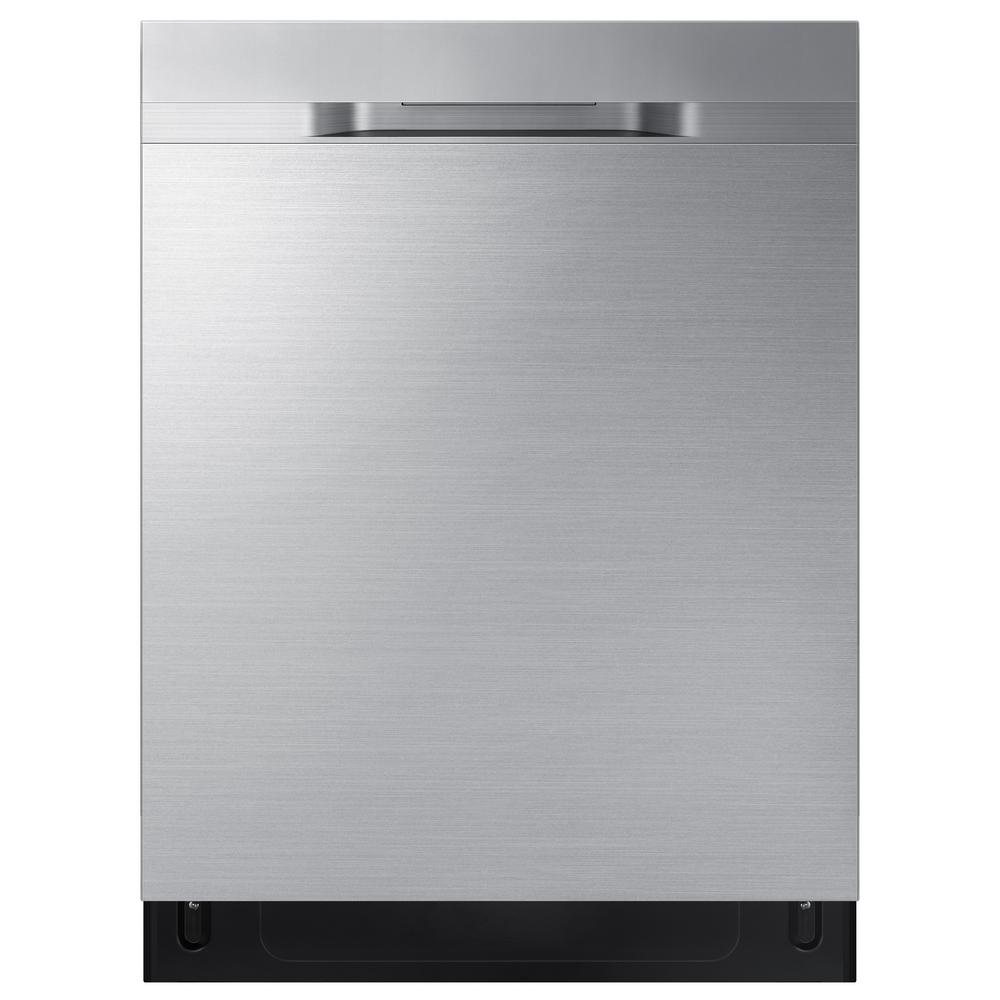 The next product on our list is the 24 inches Top Control StormWash dishwasher from the house of Samsung. This built-in appliance with heavy-duty Stormwash functionality is replete with rotating spray jets capable of cleaning every inch of the cookware to remove the stubborn stains and grease.
The easy-to-adjust upper rack lets you maximize space to accommodate more dishes at a time. There's an integrated panel with digital touch control that makes it easier for users to select nay functions. With a 48 dBA sound level, the dishwasher gives you a silent and quiet kitchen.
This Energy Star certified appliance comes with an AutoRelease door function that circulates air to speed up the drying performance. We are impressed to know that the manufacturer stands behind the product and backs it up with a 10-year limited warranty on chopper blades, racks, and stainless steel tub.
Product Features
Stainless Steel finish
Automatic Temperature Control
Cycle Status Lights
Filtered Water
Hidden Controls
Leak Detect system
User/ Customer reviews
Those who have bought the Samsung dishwasher are extremely happy with the way it fits in well on the counter and installation is hassle-free. Some people have also said that they are impressed with how this unit matches with other Samsung appliances in the kitchen. A few customers have said that the dishes on the top rack never come clean.
Conclusion
If Samsung is one your mind and you want a more powerful dishwasher to clean your Indian cookware in a USA kitchen, we suggest that you get the Top Control StormWash Tall Tub Dishwasher. Overall, this is a gorgeous dishwasher that adds more value to the kitchen at a fair price.
---
If you want a dishwasher that adorns your kitchen s much as it cleans then check out the KitchenAid Top Control StormWash Dishwasher. With amazing features like Fan-Enabled ProDry System, it delivers an unmatched and lets you dry washed dishes without rinsing aid.
There is a third level rack that adds extra space for cleaning flat and long cooking tools such as the long spatulas that are so common in Indian cooking. It adds 35% more space and also helps in accommodating mixer beaters and food processor blades.
The dishwasher sports a print shield finish that helps in resisting fingerprints and smudges. This stainless steel coating is easy to clean using a soft cloth and water, so you can cook more and spend less time cleaning. It features a PROWASH Cycle that that lets you choose the best wash cycle based on soil level and adjusts time accordingly.
Product Features
Durable Stainless Steel interior
2 Rows Fold-Down Tines
Fold-Down Shelf
Upper rack Utility Basket
Premium Adjusters
Filter-Based Wash System
39 dBA for extra quiet operation
User/ Customer reviews
Most users have mentioned how quietly this unit performs and the third rack helps in accommodating cutting boards and knives for easy cleaning.  Several people have confirmed that the appliance is really quiet and you can only hear it when water drains in the sink. Some customers have warned that the nit started leaking after some time.
Conclusion
Indian cooking means you will be using lots of fishes; hence the KitchenAid Top Control Built-In Tall Tub Dishwasher comes in handy as it can accommodate more with third level rack. With unique options like bottle wash option, express wash cycle, and extended pro dry feature, this product is worth every penny.
---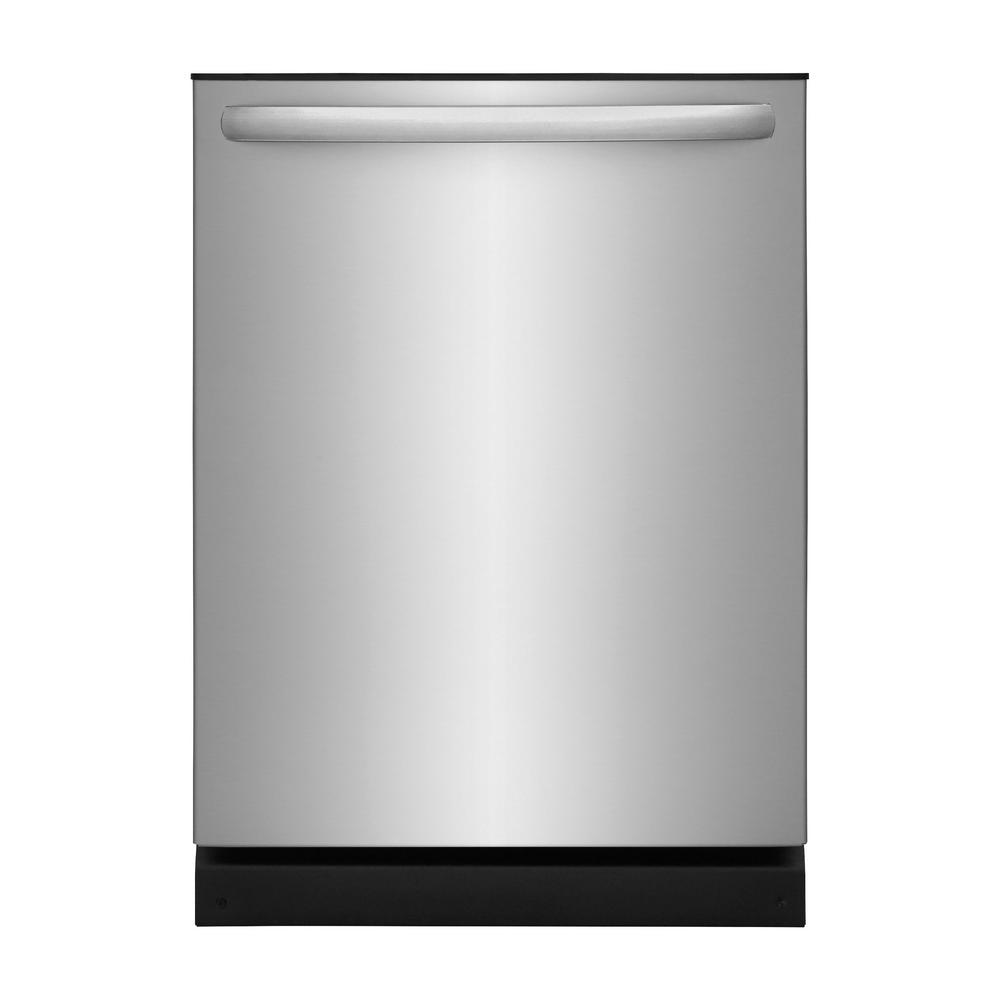 When you want your dishwasher to deliver something extra than standard, we recommend the 24-inches Frigidaire Built-In Top Control Dishwasher. It comes with integrated controls that use OrbitClean Spray Arm technology that provides four times more water coverage to get rid of the most stubborn stains.
We love the ability to set the appliance to run the wash cycle on your schedule, with a 2-6nhours delay start. The Heated Dry system removes all traces of moisture so you don't need to towel dry the dishes before putting them away. With its large capacity and pressure control feature, you get a more efficient wash for your needs.
If you have a baby in the house then you will love this product as it comes with a minimum sound level of 54 dBA for an ultra-quiet operation. The DishSense technology lets you automatically adjust the wash cycle for cleaning as many dishes required. It also features an NSF-certified sanitize cycle that removes 99.9% of bacteria.
Product Features
24 inches size
Top control
Stainless steel exterior
54 dBA sound level
Sensor Wash
Delay Start
Heated Dry
High-Temperature Wash
User/ Customer reviews
Several users have said that this Frigidaire built-in dishwasher complements the kitchen décor and elevates the appearance. The ease of use and simple controls make this a favorite with the elderly and those who prefer not-so-technical appliances. A few customers have said that the dishwasher interior is always wet.
Conclusion
The built-in dishwasher with a black stainless steel finish has a high-end feel and gives a gorgeous look to the kitchen. If you are remodeling your kitchen, this Frigidaire Built-In proves to be the best bet not only in terms of performance and noise level but also the price point.
---
Buying Guide: Things To Consider When Looking For A Dishwasher
While all the dishwashers mentioned above are carefully handpicked for Indian cooking in a USA kitchen, you may still have to narrow down your option based on specific requirements. To make your job easier, here's a quick rundown of the things to consider before placing your order:
Family size
The dishwashers are available in the configurations of 8, 12, and tall tub, so you will need to consider the family size before choosing an option. The 12 place setting unit is the standard choice and it can hold about 12 quantities of dinner plates, bowls, quarter glasses, dessert plates, and saucers. For the large sixed pots, pans, and kadhais, the tall tub works best.
Material types
When it comes to materials, the most common choice is stainless steel and we prefer it over the plastic versions. Steel has the ability to resist stains that are common in Indian cooking and also does a better job at keeping out the odor of spices. The steel tubs are also capable of withstanding higher temperature settings.
Wash Cycles
While there are numerous cleaning options available, you should be able to customize the wash cycles as per your preference and based on the type of dishes you clean. Some of the common options are Only Rinse, Delayed Wash, Rinse and Hold, Quick Wash and Sanitize.
Extra Features
If you are looking for the latest in technology, look for the appliances that come with sensors to help you save power and give you a more efficient cleaning. Some sensors include soil level sensor that chooses a wash cycle based on this, temperature sensors that help in setting right temperature, and detergent sensors that help you know how much detergent to use.
Related Questions
How to make your dishwasher last longer
A good dishwasher will typically last about 10 years but with good maintenance, it may last even more. Make sure you wash the inner, sides, and exterior of the dishwasher regularly, remove any buildup and unclog the drain to make it last longer.
See Also: How To Clean A Dishwasher Without Vinegar?
Do I need a plumber to install the dishwasher
Yes, you will need a licensed plumber to install the dishwasher for you. They need a mini stop valve and a pressure restricting valve. The mini stop tap helps in the easy connection of the water hose to the dishwasher, while the valve helps in adjusting the pressure of water.
See Also:
4 Top Air Purifiers For Indian Cooking In USA
5 Top Range Hoods For Indian Cooking
6 Top Air Fryers For Indian Cooking In USA