5 Best Dusters for Baseboards for 2023
Let's be honest – how often do you really clean your baseboards? Until recently, I have to admit that the baseboards got skipped in my regular cleaning routine. But since I've been spending more time at home, I've started to notice the dust piled along my baseboards and in the corners of my home.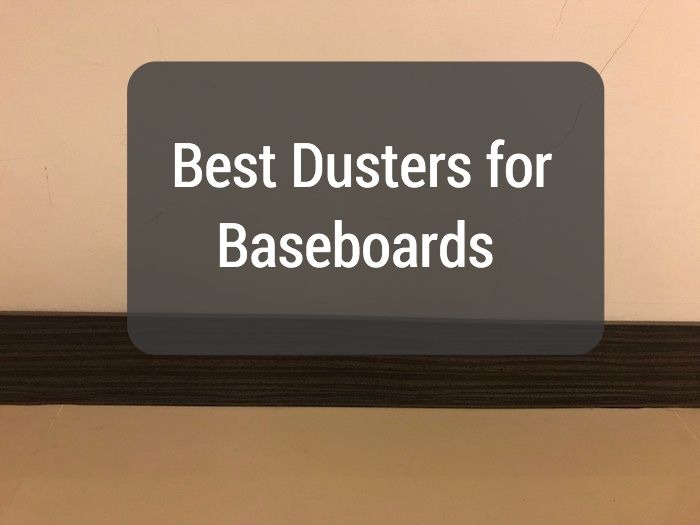 After one long power-cleaning session, I decided I needed a tool to keep my baseboards looking as shiny as they are right now. Dust is easy to remove if you clean it regularly; you just need a duster that can reach those difficult spots.
All of the dusters on this list have long handles and can be washed after every use. After reviewing all of them, I think the OXO Good Grips 3-in-1 Long Reach Duster (learn more) is the best for household use. The pole extends up to 8 feet, which is more than enough to reach on top of my ceiling fan. I also absolutely love the way the duster heads swivel once they're attached; it's perfect for cleaning at odd angles or behind furniture.
---
The EVERSPROUT Flexible Microfiber Ceiling and Fan Duster is a convenient tool that can be used in every part of your home. The pole extends up to 12 feet; when combined with the duster head, you get up to 14 feet of cleaning reach.
But the best part of the EVESPROUT duster has to be the flexible duster head. You can bend the head into any shape you like, allowing you to clean on top of fan blades or behind your fridge. The head is also machine washable, which is great if you hate rinsing dusters in a bucket of water.
Features:
Flexible microfiber duster head
12-foot extension pole
Duster head twists on and off
Pole can be used with other EVERSPROUT prodcuts
EVERSPROUT plants a tree with every purchase
Customer Impressions:
Customers love how high this duster reaches and have commented on the effectiveness of the unique flexible microfiber head. However, some customers complained that the twist-on attachment comes undone if you're trying to clean too vigorously.
Conclusion:
This product is a good choice for general around-the-house cleaning, and it definitely has one of the longest reaches on this list. If you already like EVERSPROUT cleaning products, this might be the duster for you.
---
The Evriholder High Reach Cleaning Kit has everything you need to get your house into tip-top shape. The kit comes with one 10-foot extension pole and three interchangeable cleaning heads. You can use the mop head for serious cleaning, pick up dust with the yellow static duster, or clean those high-up windows with the squeegee attachment.
Where the Evriholder really shines is its extension pole, which is both lightweight and durable. Some long extension poles are too heavy to use, but this one is convenient and easy to move around.
Features:
3 interchangeable cleaning heads for mopping, dusting, and window cleaning
Lightweight 10-foot extention pole
Four telescoping sections for different lengths
Cleaning heads easily twist on and off
Mop attachment is machine washable
Customer Impressions:
In general, buyers have found this cleaning kit to be effective and easy to use. Some people wished that the extension pole was a bit more durable, but overall, they appreciate the convenience of this product.
Conclusion:
If you have high-up windows, this is definitely the cleaning kit to go with; none of the other duster poles come with a squeegee attachment. I also love that you can wash the mop extension and rinse the duster in a bucket of water.
---
The Pure Care Microfiber Feather Duster with Extension Pole is a straightforward dusting tool with a unique twist. The end of this silver-and-yellow pole can be rotated to various cleaning angles, making it easy to clean under furniture or behind your bookcase.
This other great feature of this duster is that the cleaning head is huge. The microfiber material extends around the entire duster head, so you have plenty of space to pick up dirt and other debris. When you're done, simply swish it in a bucket of water for easy cleaning.
Features:
Generous microfiber duster head
64-inch telescoping pole with 3 sections
Collapses to the size of a handheld duster
Adjustable head for multiple cleaning angles
Traps dust until the duster head is washed
Customer Impressions:
Customers love how sturdy and stable this duster is, even when you rotate the head to a different cleaning angle. However, some customers complained that the duster head will eventually wear out. The duster head is not replaceable, so you'll have to purchase a new duster when the time comes.
Conclusion:
If you need a no-nonsense duster with stable cleaning power, the Pure Care Microfiber Feather Duster with Extension Pole is worth considering. Just remember to rinse and dry the duster head after every use to keep it in top cleaning condition.
---
The OXO Good Grips 3-in-1 Long Reach Duster is one of the best dusting tools on the market. The telescoping pole is surprisingly lightweight for how sturdy it is. You can either use it as the 3-foot length or extend the pole to 8 feet long.
The main feature of this duster is the three interchangeable dusting heads. They're all made from microfiber, but they come in different shapes for various cleaning applications. The end of the pole also swivels so that you can clean at different angles.
Features:
3 interchangeable microfiber cleaning heads
Sturdy 8-foot extendable pole
Swiveling head for different cleaning angles
Duster heads are machine washable
Storage clip included for unused duster heads
Customer Impressions:
Customers love how easy this product is to use. However, several customers noted that you need to be careful with your washing machine settings. If you're unsure, try cleaning the duster head by hand.
Conclusion:
I love the flexibility of this duster tool, especially for cleaning baseboards. As far as I'm concerned, the adjustable angle of the duster head is essential for cleaning corners and behind my couch.
---
The EVERSPROUT Cobweb Duster with Extension Pole has an extremely long reach and is the perfect choice for high-up cleaning applications. The pole is also sturdy and stable, so you don't need to worry about it collapsing while you're dusting on top of vaulted ceilings.
My favorite part of this duster is the secure flip-locks that keep the duster head and the telescoping sections in place. Once they're locked, the duster head is nearly impossible to remove – and that's just how it should be for cleaning.
Features:
Soft microfiber duster head and cobweb brush
Stable 12-foot telescoping pole
Strong flip locks keep everything in place
Duster head can bend and fold as needed
Cobweb head is great for underneath gutters or curved areas
Customer Impressions:
Across the board, customers think this duster is stable and easy to use. In particular, buyers loved how easy the flip locks are to use.
Conclusion:
When choosing which duster to recommend, the EVERSPROUT  Cobweb Duster with Extension Pole was actually the second on my list. I love the length of the pole for reaching high-up places, and you can't beat the quality of the duster head. Plus, the purple color will look amazing in your storage closet.
---
How to Clean Your Baseboards
Cleaning your baseboards is surprisingly easy, especially if you clean them on a regular basis. Before you choose cleaning products, consider whether your baseboards are made from sensitive materials like unfinished wood or laminate.
Pre-Cleaning
I forgot to clean my baseboards for a while; when I decided to fix the problem, I had to give them some serious TLC. Here's how to get the dirt and grime off baseboards in any condition; all you need is a sponge, two cloths , and a bucket of warm, soapy water.
Dust your baseboards. You don't want to fill your bucket with dirt, so run over your baseboards with a dry cloth. This will remove any loose dirt or hair.


Wash with a sponge. Dip your sponge in the soapy water, and wring it out. Then, use the sponge to wipe away any stuck-on dirt or grime. Rinse the sponge often to keep it clean.


Dry with a cloth. Most baseboards are made from wood or other materials that aren't resistant to water. After you finish cleaning a section, give it a quick dry to make sure that area doesn't warp or crack.
Regular Maintenance
Now that your baseboards are clean, you're ready to start using your new duster tool. Pick your favorite from this list, and use the following steps to keep those baseboards shiny and clean.
Choose the right duster head. Some of these kits come with different cleaning heads. I recommend using a microfiber static duster with an elongated shape. You may want to tilt it at a slight angle to get the best results.


Extend the pole. Choose a length that lets you reach the floor without bending over. You may want to extend the pole even further to clean behind furniture items.


Swipe over your baseboards. Cleaning baseboards is as simple as swiping the duster head back and forth over them. Keep an eye out for any shiny, sticky, or grimy spots; these areas will need to be cleaned by hand with soap, or they'll attract more dust

Related Questions
What's the best way to clean baseboards?
If you haven't cleaned your baseboards in a while, you should wash them with a sponge and soapy water. Then, keep them clean with a feather duster; you can avoid bending down with an extension pole.
How often should you clean your baseboards?
If you have pets or kids, try cleaning your baseboards once a week. Otherwise, you can clean them monthly or as often as dust starts to build up.