4 Best Snow Shovel for Pavers for 2023
You may find it surprising that there are a variety of snow shovels available for home use. Everything from snow pushers to snow scoops helps homeowners clear their sidewalks and driveways. There are shovels with wide blades and items with skinny yet long shovelheads. Which one is the best choice for your needs? We provide more detail about four of our favorite shovels in this post.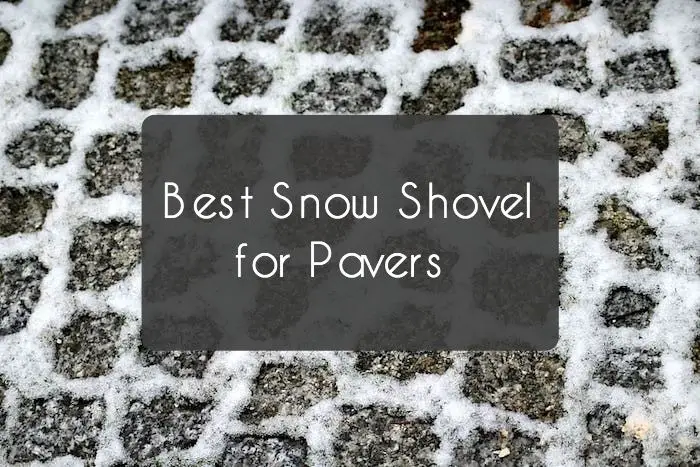 When you have uneven sidewalks, clearing these areas is not as easy as shoveling a flat sidewalk. Yards using pavers as paths are not so simple to clear in the winter. How do you know which product will do the job without damaging the hard work you put in every spring and summer? The shovels in this list work for flat and mixed surfaces.
The National Institute of Health says over 11,000 people experience an injury in relation to shoveling snow. Knowing how to choose the right shovel may seem daunting if you do not know the difference between the types. Since 95 percent of snow shovel accidents happen close to home, it is important to choose the best one for your property and health.
Capacity is another thing people have to consider. How much weight will a large shovel hold? Is it safe to lift large shovels full of wet snow, or is a pusher the better option? We cover both to give you more options. If you must choose a product now, then the J & M JM Enterprises push shovel is a high-quality, wide snow pusher that is built to withstand lots of use.
Snow Shovel Comparison Chart
---
Do not let the light feeling of this shovel fool you. The J & M pusher is an original product. The plower uses a UHMW polyethylene construction, making it durable and strong. This shovel comes in five widths ranging from 18 to 48 inches wide. The commercial-grade models are the 36 and 48-inch versions.
When you need a product you can trust, then we suggest opting for the J & M model. You can assemble this product in a few easy steps. The shovelhead bolts onto the handle. The shovel will never rust, and the blade is safe for wood decks, pavers, and uneven surfaces. We like that the blade sharpens itself as you use the shovel.
Product features and benefits
American product
Patented design
Durable and easy assembly
D-ring grip
Plows snow requiring no lifting
Fiberglass and polyurethane materials
Available in 18″, 24″, 30″, 36″, 48″ widths
Chops ice, pushes snow, and lets you scrape over exterior items like decks
Safe for clearing roofs
Quick-storing wall hook makes stowing easy
Cons
Some users may experience issues with the handle connection

User opinions
Many consumers like how well this shovel removes the snowpack left over after you move your vehicle. This product is a popular choice for many professional snow removal companies. Workers say this model is faster and easier to wield than a snowblower. A few people find the bolts or handle come loose, but many users feel these connections are sturdy and secure.
Conclusion
If you want a snow shovel that does not have a metal strip, then you might like this product. The J & M JM Shovel may take a few days or uses to break in, but we feel this is the best pick of the four on this list.
---
Trying to clear the snow off the walks and driveways when you have a bad back is painful, if not impossible. The GYMAX sleigh shovel tool uses a large, deep scoop to remove large amounts of snow at once. This model pushes the snow, and the tall 60-inch handle makes it comfortable to operate. There are two adjustments for short or tall people.
The wide, long handle lets the user get a solid grip on the pusher. The shovel uses a rugged plastic that withstands heavy snow loads. The flat design helps users push this shovel smoothly over any ground, including yards with brick and stone pathways. To construct this model, all the consumer needs to do is install the handle on the shovel scoop.
Product features and benefits
Lightweight aluminum grip with padding and ergonomic design
Large scoop makes it easier to see when the shovel is full
Attaching the handle only requires putting on two washers and wing nuts
Comes with wheels in the scoop
Two adjustments for height
Nearly two-foot mouth on the scoop
Slides under the snow
Cons
Wheels may break off when using on rough or uneven terrain
User opinions
Snow removal crews like using this product for cleaning heavy snow loads from roofs. Since this shovel has a large capacity scoop, it works well in areas that see heavy snowfalls. While a couple of people mention a problem with the wheels breaking, many users are happy with the weight of this product. These people appreciate how much snow the shovel can move without lifting it.
Conclusion
If you have back issues, weight restrictions, or problems with intense physical activity, then we suggest the GYMAX Sliegh Shovel (see Amazon). This product is light enough for cleaning snow from roofs, garages, and areas with weight restrictions. The wide opening provides stability and helps clear driveways and long sidewalks faster.
---
Do you have a hilly yard? If the sidewalk is a row of bricks leading to stone paths, a driveway with asphalt, and concrete decking, then a versatile shovel may be important. The Stay Safe shovel features a wide scoop with an adjustable handle. This product is tough with a durable polymer construction featuring impact-resistant materials.
This shovel helps even out the weight of the snow as you work. This leveling mechanism helps reduce back strain and prevent injuries. You can purchase a back-saving handle that limits the need to bend over to empty the scoop. Strips of protective material cover the ends of the blade to make it easy to use this product on wood decks, across pavers, and for clearing textured surfaces.
Product features and benefits
Patented product
Excellent for broken paths and sidewalks
Large capacity scoop
Injury prevention system with load evening technology
Five height adjustments
Scratch-resistant blade covers
Cons
Must lay the shovel on the ground to adjust the height

User opinions
This product is useful as a shovel or a pusher. The wide opening helps move heavy snow amounts.
Conclusion
We like this product for the seven patents it holds. If you want a shovel that can handle wet snow, then this auto-leveling pusher may be the best product for your needs. We think the black color of the Stay + Safe Tools (shop now) shovel makes it easy to tell when the scoop is full.
---
When you live in an area where the snow comes in feet rather than inches, then a tough snow shovel is a necessity. The slim, long scoop on the Snowcaster snow pusher lets you move large amounts of precipitation at once. We appreciate the dual-direction construction that lets us push the snow to either side of the driveway.
You may like how fast you can put this shovel together. It takes fewer than ten minutes to build. This pusher is durable and suitable for commercial use. You may like how much this tool reduces the effort you need to move big piles of snow whether you are using it at home or for work.
Product features and benefits
No lifting to empty this shovel
Long blade scoops up more snow and makes clearing big areas quicker
Creates a rowing motion saving energy and reducing muscle fatigue
American product
Only weighs 11 pounds
Cons
Assembly requires some hand tools which are not in the box
Frame may come loose from the scoop

User opinions
Many people love this design because they say it is so much more comfortable to use for cleaning off driveways and large patches. Pushing down on the shovel will not drive the edge into the cracks of the sidewalk. A few people mention this product falls over in the snow no matter which way you lay it.
Conclusion
When you need to remove a lot of snow at once, then we recommend the Snowcaster Bidirectional Shovel. The 36-inch blade means you have a lot fewer paths to shovel before completing the job.
---
Things to consider when selecting a snow shovel
The weight of a product might be important when you need light options or are on restrictions. If lifting a shovel of snow is hurtful, then you may want to buy the pushers that will shove the snow off into a pile instead of you tossing it off to the side. The shape of the handle is important to many consumers. Some people prefer to grip a bar while others like a D handle to prevent their hands from slipping off the shovel.
Answers about snow shovels
Will these shovels catch on cracks in the sidewalk or driveway
The items without metal covers are less likely to snag on uneven ground or surfaces. The J & M model (shop now) is our pick if you want to avoid a problem with snagging.
Are shovels hard to assemble
No. Most of these products only require a way to connect the handle to the scoop. Some feature adjustable handles for users of various heights. These settings are easy to change by loosening a couple of bolts or twisting the height adjuster.
Related Article:
5 Best Snow Shovels For Cars
Can You Use Laundry Detergent To Wash A Car
5 Best Snow Blower For Wood Deck