8 Best Electric Fireplace For Different Purposes 2023
Warmth, comfort, and luxury are the three valuable things that can make your daily living feel like a vacation each day. Sitting cozy by a fireplace curled up with your Fido or Bella and reading your favorite book is perhaps one of the biggest luxuries of life.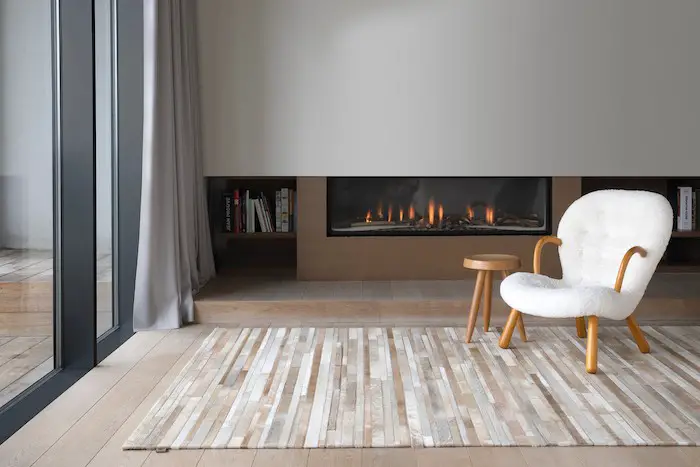 It's not just about the warmth oozing out of a fireplace in chilly winter nights, but the soft glow that exudes from it creates a much-relaxing effect. More than the physical warmth, it provides a kind of emotional comfort that we all crave for in our busy stressful lives.
Today fireplaces go beyond being an instrument for creating warmth indoors. It lights up the ambiance and adds more value to the interior design and décor of your home. With the traditional wooden fireplaces getting banned in several localities, you can recreate that effect with gas or electric fireplaces.
The reason why urban house owners prefer electric fireplaces over the traditional ones is that they are much easier to use and maintain. There are no hassles or mess associated with operating the electrical hearths. You simply need to plug it in and go.
If you are in the market for the best fireplace for different purposes, we suggest that you first take a look at the local laws regarding fireplaces in your area. With so many options, brands, and models, it can be tough to choose one product that suits your requirements.
As a result, we have reviewed dozens of products in each category to come up with the most recommended model. Our study and analysis are based on product specifications, features, performance, comparisons, and customer reviews. Read on to find our reviews in detail.
---
Best Electric Fireplace For Small Room
Traditional wood fireplaces are great but they can messy and pollute the air in a small area. Hence, we suggest electric fireplaces for small rooms. They are a more convenient option to heat up the atmosphere with less mess and pollutants released to the air.
Electric fireplaces consume less power and they are a perfect solution for heating small spaces. After reviewing numerous products, we recommend PuraFlame 30 Inches Western Electric Fireplace. Read on for the complete review.
This western electric fireplace by PuraFlame comes with 3 different flame settings of variable intensities and brightness. With an amazing 100% energy-saving LED technology, the fireplace can be used with or without heat throughout the year. It liberates you from the hassle of cleaning ashes or dust.
We love the sleek and stylish appearance of the fireplace with a clean glass front trim and 3-sided interior brick wall design that goes well with any interior. The resin log that sits high on the grate appears just like a log of wood, giving the electrical fireplace a more traditional look.
The product comes with an adjustable thermostat that functions as supplemental heat for a maximum area of up to 400 sq. ft. However, you must bear in mind that this cannot be used as the main source of heat. We are happy to know that the product comes backed with a one year warranty.
Product features and specifications
Measures 36.02 x 29.13 x 12.4 inches
Adjustable thermostat
One year warranty
Weighs 39.7 pounds
Covers up to 400 sq. ft
Removable handle
11 13/16″ high and 7 1/2" deep log
100% energy-saving LED technology
User/ Customer reviews
Most users are impressed with the beauty this fireplace unit brings to their home décor, with its hot air flow, warmth, and vibrant glow which is not typical reddish. People have said that even if you turn the electrical unit off, it looks like a real log and when it's switched on, it gives the illusion of soft fumes going over the logs.
Conclusion
The PuraFlame electrical fireplace is both a visually and aesthetically pleasing unit that enhances the home décor and supplements main heating systems during cold weather. At an affordable price, you get an attractive looking fireplace that feels solid and well-built. Overall, it's worth the money you pay.
---
Best Electric Fireplace For Large Room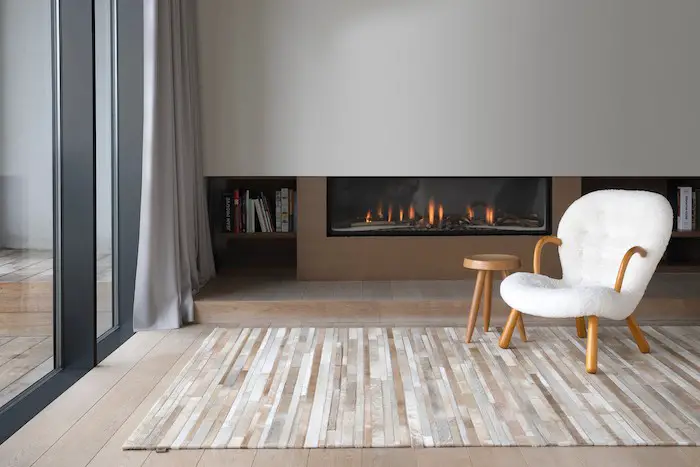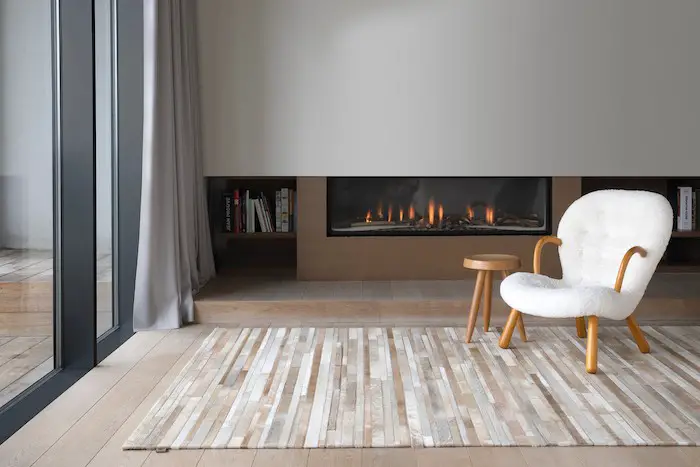 If you are looking for an electric fireplace to cover a large size living area or bedroom, you will need to pay attention to the heating capacity of the unit. Besides being compactly shaped, it should be able to warm the surrounding air without consuming a lot of power.
We reviewed many contemporary designed electrical fireplace units and after carefully reviewing many products for their capacities, we recommend the Touchstone 80011 – Sideline Electric Fireplace. Read on to find out more.
When you look at the Touchstone 80011 built-in electric fireplace, it gives you a feeling of regality that it infuses into any space where it is installed. Designed for recessed mounting in walls, it takes two mounting brackets and two screws to install the 60-inch fireplace.
With its lifelike flames and great intensity of warmth, your guests will hardly be able to tell that this is not a traditional but a wired fireplace unit. There are five different setting options that range from the quiet glow of ambers to the warmth of a powerful blaze. It comes with a built-in sleep timer to automatically turn off the fireplace after a set time (30 minutes to 7.5 hours).
With like-like faux logs and the crystal-clear glass panel, it beautifully replicates the look and feel of a traditional fireplace without the associated hazard, mess, and smoke odor. There are high and low heat options to work as a supplement heating unit when needed in cold and use it for lighting and décor during the warm season.
Product features and specifications
Measures 60 x 5.5 x 21.5 inches
Weighs 62 pounds
Realistic 3 Color Flame
1500/750 Watt Heater
Realistic LED flames
Up To 400 square feet
Two innovative heat settings
Built-in sleep timer
User/ Customer reviews
Those who have used the product have good things to say about the unit that makes a noticeable difference in the room where it is installed. Users are impressed with the ease of installation and value it adds to interiors at home. A few users have mentioned that the unit makes a loud noise while running but the customer support takes care of any repair or replacements.
Conclusion
Large rooms or lavish entertainment units require a bigger yet compact fireplace that is capable of heating the space without looking out of place. The overall design, capacity, and mechanism of this electrical fireplace by Touchstone 80011 offer good value for money.
---
Best Electric Fireplace For Basement
You don't need to spend tons of dollars restructuring your basement to include a traditional fireplace when you can easily add a portable electric unit to meet your needs. The trendy and highly functional electric fireplaces are fast gaining popularity for their ease of use and no-mess design.
Basement areas are usually compact and small so you need to get a suitable unit. After a careful analysis of the electrical fire pits available in the market, we recommend the Tangkula Home Bruxton Electric Fireplace. Read on to find out the complete review.
The Bruxton Fireplace from the Tangkula Home is just what you need to make your basement area more comfortable and cozier during chilly days. This electrical fireplace works like an efficient heater capable of warming up a space of 400 sq ft room to make it more livable.
Equipped with a powerful heating element, the Bruxton Fireplace delivers an incredible performance. The smart LED technology not only gives you a hassle-free and no-maintenance fireplace but also a nice illumination with or without the heat.
We love the exterior finish in warm cherry wood grain, with the black metal firebox insert that looks great with any décor. Made of particleboard, metal, and MDF, the Bruxton Fireplace ships fully assembled. It can be plugged into any standard wall outlet.
Product features and specifications
Measures 7.31 x 22.81 x 22.75 inches
Weighs 27 pounds
Warms up at 400 sq ft room
120 volts of power
Lasts up to 50,000 hours of life
Ships fully assembled
AltraFlame Patented Tech
User/ Customer reviews
Most users feel this is a great substitute for a traditional fireplace as it looks similar to the real thing with artificial log and LED lights that appear like flames. People who bought the unit for their basement are happy with the effect it has on the overall ambiance and décor. A few users have expressed their concern over the fact that there are no solid safety features in the unit.
Conclusion
This is a well-designed and sturdy electric fireplace that does a good job at heating the basement area up to 400 square feet. The only gripe is that the unit lacks safety features such as automatic shut down to prevent overheating. Overall, we feel this is a good choice for anyone looking for an affordable unit. 
---
Best Electric Fireplace For Bedroom
After living rooms, bedrooms see the highest number of fireplace installations to help individuals enjoy a comfortable sleep in winter nights. When looking for the best e-fire pit for your bedroom, you will want to ensure that it suits the room size and has the necessary safety features to operate safely while you sleep.
You may also want to ensure that the fireplace has adjustable settings and low light so as to not interfere with your sleep. After careful analysis and review, we recommend the Xbeauty Electric Wall Mounted Fireplace Heater. Read on to find out the review.
This electric fireplace by Xbeauty can be used both as wall-mounted or recessed built-in wall installation depending on your bedroom remodeling and decor needs. Due to lightweight design, the fireplace can be easily mounted by one person, and it also offers the option for a more aesthetic sideline mounting.
The high intensity LED lights used in the fireplace provides a realistic flame with adjustable brightness and speed levels that can be controlled via a touchscreen panel or remote control. With the different flame settings, you can easily create the desired ambiance for your bedroom.
Equipped with 750W-1500W heating modes, the fireplace unit is capable of heating an area of up to 400sq.ft. As an ETL certified, it uses LED technology instead of gas or oil, making it a safe product. Furthermore, there are overheating protection and timers for enhanced safety.
Product features and specifications
Measures 41 x 22.7 x 9.3 inches
Weighs 43.7 pounds
Dual-mode function flame
750W-1500W heating modes
In-Wall Recessed and Wall Mounted
Touch Screen and Remote Control Function
User/ Customer reviews
People are extremely thrilled with the aesthetic appeal and visual décor this thing adds to their bedroom and living area. Users are happy with the ease of installation and the ability to change the flame levels as per the requirements. A few users have warned about noise during operation but the customer support is responsive towards any issues.
Conclusion
This is a solid and well-built electric fireplace designed for those who want extra convenience and safety features with good aesthetics. Even though the unit is slightly more expensive than other products, the advanced features are well worth the price you pay. Overall, this is a great investment.
---
Best Electric Fireplace For Apartment
Owning a traditional fireplace in a city apartment is like a distant dream, but thanks to the electrical fireplaces, you can enjoy ad a hearth even in the most compact spaces. When looking for a fireplace for your apartment, you will need to take into account the same available and size of the unit.
After carefully studying, analyzing, and comparing numerous electrical fireplaces, we recommend the JAMFLY Electric Fireplace Freestanding Heater for apartment use. Read on to find our detailed and unbiased review.
This small, compact and stylish electric fireplace insert comes with energy-saving ability. It has a convenient and multi-function remote control that allows you to adjust and control the heat and light settings to get realistic flame-like effects from the resin logs,
The illuminated ember bed powered by realistic flame technology, lets you create a comfortable and cozy environment. The heating elements of the unit can easily warm up an area of 400 sq feet, and even when you do not require heat, you may work with just the flame.
As this is an electric fireplace, it eliminates the need for chimneys, special vents, ethanol, propane, or gel cans. Powered by 100% energy-saving technology, it aids in environmental protection and energy conservation. The manufacturer backs it up with a year warranty.
Product features and specifications
Measures 22.5 X 9 X22.83
Two Heat Modes
Realistic Flame Effects
Power Cord: 70 inches
Covers up to 400 sq ft room
Dual control panel
Remote Control Functions: ON/OFF
One year warranty
User/ Customer reviews
Most users have mentioned how beautifully this fireplace fits in their entertainment unit space or wall to enhance the décor. Several people use it for more realistic flames than other products at an affordable price. A few customers have also said that the heat output is really good and it supplements the main heating system during chilly weather.
Conclusion
This is an attractive looking and cute electric heater than can easily fit into a unit or used as freestanding to create a sophisticated look in any apartment. Despite of being an e-fireplace, it sports a very real-like appearance. Overall, this product gives users a good price to performance ratio.
---
Best Electric Fireplace For Under TV
Do you want that traditional look in your living room or entertainment area? Then you will need to look for the best fitting electrical fireplace for under the TV. You will need to consider the space available and proportion to enhance the décor without looking out of place.
After analyzing a wide range of electrical fireplaces of different shapes and sizes available online, we recommend the Ameriwood Home Carver Electric Fireplace TV Stand. Read on to find the complete review of the product. 
This simple yet elegant electric fireplace is a great way to instantly upgrade your living area and add more character to your entertainment unit. It installs with ease and perfectly fits with cabinets in a TV stand to give a cohesive look to your interiors.
The 23" electric fireplace insert complements a 60" flat panel TV and is capable of heating an area of up to a 400 sq. ft. room. It also works as a good supplement to your heating system during winter and may be used without the heat, for the only illumination in the summertime to enhance the overall décor.
Made from white and medium brown laminated MDF and particleboard, the fireplace perfectly pairs with the tempered clear glass door, silver handles, and LED bulbs to create an impressive look. Although the installation is easy, at least two people are needed for assembly.
Product features and specifications
Measures 19.8 x 54.1 x 31.3 inches
Weighs 119 pounds
AltraFlame Patented Tech
Lasts up to 50,000 hours of life
Covers room up to 400 sq. ft.
23" electric fireplace insert
Plugs into a standard wall outlet
User/ Customer reviews
Those who have bought this TV stand are happy with how beautiful it looks in the living room and enhances the décor. Users have said that the fireplace produces good heat output compared to its size and bring a noticeable difference in the environment. A few users have warned that the unit is pretty heavy so you will need help to move it.
Conclusion
This TV stand is sturdy and elegant, plus it comes with a built-in electric fireplace that looks realistic with faux logs and LED lighting. If you don't wish to create a special place for the fireplace then this stand can serve as a great space saver. Overall, this product appears to be built to last for long.
---
Best Electric Fireplace For Heat Output
Are you looking for a high-intensity electric fireplace that not only serves as a décor item or supplement heater but produces a considerable amount of heat? If you live in an area that gets insanely cold during winter, you may be concerned about the heat output of the unit.
Although electric fireplaces cannot produce heat like a traditional firepit, there are still a few models that can deliver a good performance. After reviewing more than a dozen products, we recommend the YODOLLA 29 Inch Electric Fireplace. Read on for complete review.
This electric fireplace not only looks as good as a traditional unit but comes with a variety of settings that make it more useful. There are adjustable settings for heat, dimmer, timer, and temperature functions, along with 5 flame brightness and 3 flame colors options.
We love the classic curved design with highlights that appear like realistic dancing flames. LED light illumination on the faux logs gives it a fascinating burning log effect for a more distinctive appeal. It adds warmth to the ambiance with 700-1500W heat suitable for all environments.
The low-energy consuming fireplace can also be used in summer without the heating effect to enhance the home décor. It comes with easy in-wall embedded installation. The manufacturer stands behind the product with a 1 year warranty and solid customer support.
Product features and specifications
Measures 27.3 x 8.5 x 21.2 inches
Weighs 35.4 pounds
In-wall embedded installation
700-1500W Heat Output
Curved Screen Electric Fireplace
Timer, Dimmer, Heater, & Remote Control
3 flame colors and 5 flame brightness
60°F – 82°F Temperature Setting
User/ Customer reviews
Most users find the set-up part of this electric fireplace relatively easy due to the trim pieces that are already installed. People are impressed with the heat output and capacity of the unit that can be adjusted as per the requirements of varied seasons. Users are also pleased with the excellent customer support that immediately takes care of any replacement or repair issues.
Conclusion
This well-built and sturdy electric heater is capable of actually bringing about a difference in the indoor temperature like a real traditional fireplace. With heat output in varying intensities, it can be used throughout the year to keep indoors more comfortable and elegant looking at the same time.
---
Best Electric Fireplace Log Insert
Unlike a freestanding electric fireplace, the log insert goes inside your wall as a built-in component without the need for venting. These units can be installed in an already existing fireplace by simply sliding it into the mantle or the empty space, making them highly convenient to install.
Don't commit the mistake of getting a freestanding unit when what you need is actually a fireplace insert. After reviewing numerous products online, we recommend the Dimplex DFI2309 Electric Fireplace Insert. Read on for the complete review.
This Dimplex DFI2309 electric fireplace insert lets you reclaim the warmth and charisma of the old traditional fireplace. This elegant electric insert comes with handcrafted logs that are illuminated with the help of gently glowing embers to beautifully replicate the real thing.
This charming insert is designed to easily fit in and work with most existing wood fireplace setups. It injects warmth and brightness to any room, without creating a mess, or posing the risk of open flames. With a power of 1375-watt, the product comes with remote control and patented flame technology.
We love how easy it is to install the insert into any existing fireplace opening, and it uses a standard household outlet to power up the device. There is an inbuilt fan heater to evenly distribute the heat in the surrounding atmosphere. It comes backed by a one-year limited warranty.
Product features and specifications
Measures 25.5 x 21 x 13 inches
Weighs 33 pounds
1 year limited warranty
1375-watt
Easy to install
Built-in fan-forced heater
Full heat, half heat, or flame only
User/ Customer review
Even the pickiest users have said that they like the look and feel of the inserts, and most importantly the ease with which this thing was installed. Users like the mirror-like backdrop that reflects the light and makes it appear like the fumes are rising high above. A few customers have warned that the heater may not be very effective for places that get very cold.
Conclusion
If you want to revamp the look of an old and work out the hearth without spending a lot of money and time, then the Dimplex DFI2309 is the answer. This is a well-made realistic product that promises to last for long. At this price, this beautifully designed insert offers good value for money.  
---
Best Fireplace: Quick Buying Guide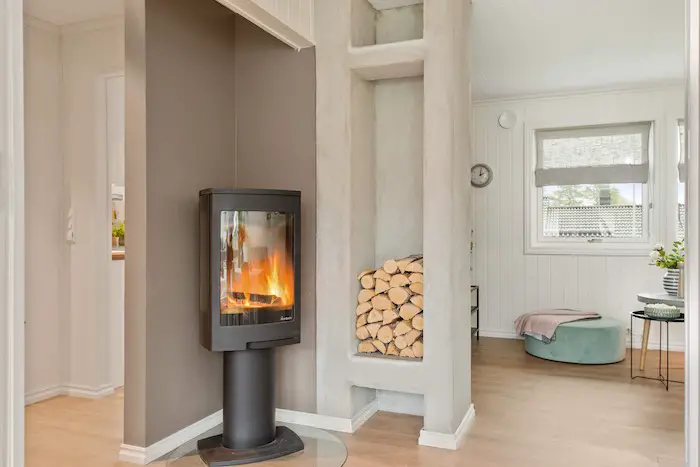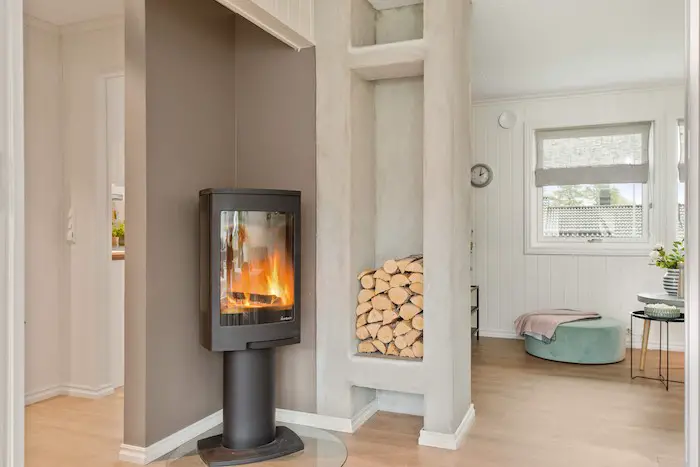 When buying the best electric fireplace for different purposes, the priority of the factors to consider may vary slightly, but they will remain the same. Here are some of the most important aspects that you need to look into when ordering for one:
Style
When choosing a style, you need to ask yourself what's the main purpose of getting a new fireplace. Do you want it as an ornamental piece to enhance the décor of your living room by adding more elegance to the interiors? Or, do you want to use it as a potential heating unit in a basement or bedroom?
The fireplace hearts come in a plethora of styles ranging from modern and sleek to wall-mounted, wood stove-inspired, and rustic units. Depending on the room where you wish to place it, you may want to consider the interior décor and make sure it blends well with it.
Heating capacity
Due to the fact that these electric fireplaces use faux logs instead of real wood, the heat capacity cannot be compared to a traditional fire unit. It cannot be used as a primary source of heat during the chilling winter season; however, they have heating elements that are capable of producing a good amount of heat.
So, if you wish to use the fireplace heater to warm up a certain part of your home, you must consider its heating capacity. You must also take into account the kind of winter your region gets. Most products will include details regarding their heating capacity and the room (sq feet) they are designed to be kept in.
Safety features
While electric fireplaces liberate you from the hassle of wood smoke, ashes, and soot mess, you still remember that these units are powered by a heating element. In several cases, the electric heaters turn out to be the common cause for house fires. As a result, it's important to find a product that comes with built-in safety features.
While the cheaper models are more affordable, they often compromise with the safety features such as automatic shut down in the unit overheats. If you plan to use the fireplace in the bedroom or keep it on for longer periods of time, you may want to look into these details.
Related Questions
Do electric fireplaces consume a lot of electricity
The standard electrical usage of electric fireplaces is about 1,500 watts. So, if you use the fireplace for decorative purpose only without activating the heating element, the operational cost will be somewhere between 0.003 and 3 cents per hour.
What heating element should I consider when choosing an electric fireplace
If you wish to heat any area of up to 400 square feet, we suggest that you use a unit that has an inbuilt fan heater to supplement the main heating system. However, if you are looking for e-fireplaces for large spaces like 1000 square feet, we suggest infrared quartz units.
Is it safe to leave the electric fireplaces operating overnight
While it's okay to leave the electric fireplace operating overnight, we would suggest that you turn them off whenever you can. However, if you use them for heating a bedroom while you sleep, make sure it is a reliable unit with safety features to turn off by itself if the unit overheats.  
See Also: 7 Best Cigar Humidors