Whether you like Gurkhas, Gordos, or Double Corona cigars, having a safe place to put your favorites may be a top priority for you. If so, then a humidor is likely on your wish list. In this review, we will cover seven of the best cabinets for your treasured smokes.
Having a humidor with the right features may be important to you if you plan to store a lot of cigars. If you want to keep your smokes in excellent condition until a special occasion, then a cabinet with lots of features and a well-operating humidifier are crucial. Otherwise, you may find your cigars are dry, taste funny, and burn up too fast.
You might want a case that holds a few of your favorites, or a model that lets you show off dozens of your prized cigars. Whether you want a travel case or a standalone model makes a difference too. We talk about several options that let you choose the finest way to showcase your King of Denmark smokes below.
If you are in a hurry to make your purchase, then let us suggest going with the Mantello Royale Humidor (learn more). This model is small enough to fit on a desk or stand. It is affordable, and you can store up to 50 of your favorite Panatellas for your next event or celebration. Plus, this case features a glass top that allows you to display your cigars proudly.
Comparing Our Top Seven Humidors for Cigars
---
When you store your cigars for long periods, a durable humidor is a must. The Case Elegance cabinet uses a patented humidifying system to ensure a regular moisture level. This case uses a digital display giving you a precise humidity reading.
Humidor features and perks
Walnut coating
Tempered glass top for maximizing moisture evenness
Magnetic top
Tray cover
Comes with a hydro stick and moisture solution
Spanish cedar interior
Company uses sustainable practices
Cons
May not hold the humidity level the company says it will
Requires two weeks to season
No dividers
Consumer remarks about the humidor
Buyers love the digital humidity display with this case. They appreciate the accessory tray where they can keep all their items for smoking cigars. Customer service associates are helpful if there are problems. Some people say they have issues keeping the moisture level high enough for their smokes.
The final word
We like the convenience of this humidor. Our favorite part is the tray where you can put your accessories. The Case Elegance humidor will hold 25 large cigars or 50 small ones.
When you have a lot of cigars to store, a cabinet with plenty of room is essential. The Whynter CHC-251S is a 400 count model with tons of room. The cooler features a fan with no vibrations to reduce operating noise.
Humidor features and perks
Thermostat adjusts between 54 and 66 degrees Fahrenheit
Two pull out drawers
Fan circulates moisture for an even level throughout the cabinet
Spanish cedar interior
2.5 cubic feet of storage room
Stainless steel door with insulated glass
LCD temperature monitor
Inside light for easy viewing
Commercial grade handle
Con
Plastic interior with cedar lining
Fan runs constantly
Consumer remarks about the humidor
Buyers like how you can store cigars in this model for a long time. Many appreciate how this humidor will age your smokes. They say the cabinet is great for hot climates. Some buyers experience issues with the components failing prematurely.
The final word
We love the glamorous look of this humidor. The glass front makes it easy to see our cigars. The Whynter CHC-251S holds a ton of cigars, and there is plenty of room for our cutters and cases.
---
When you want a cigar cabinet that you can set on your desk or a table, then the Orleans Group case may be preferable. This cigar holder is compact and comes with a glass lid. This model comes with a lock to keep people from opening the lid a lot.
Humidor features and perks
Holds as many as 100 cigars
Stylish wood exterior
Weighs under ten pounds
Locking top
Divided interior
Outside humidity gauge – removable
Glass case top for easy viewing
Cons
Plastic humidifier needs refilling often – at least every week
Gauge may not have a tight seal
Consumer remarks about the humidor
Many people say this humidor is a stunning display case for cigars. They like the value for the cost. They say the top sticks tight to the case to keep the humidity level consistent. Several buyers suggest purchasing a higher quality hydrometer for this unit.
The final word
This model is a beautiful piece you can put almost anywhere in your home. The glass top makes it easy to show off your best cigars. We think the Orleans Group humidor makes an excellent gift.
---
The Burl Wood cabinet is a stunning item. You can remove the shelves to make space for your cigar accessories. The Velcro stickers that come with the humidor let you place the moisture sponges anywhere you want.
Humidor features and perks
Brass style hinges
Gorgeous exterior design
Spanish cedar interior
Holds as many as 400 cigars
Top drawer comes with a divider
Center hydrometer makes it easy to check the humidity level
Handles on the side allow you to move the cabinet easily
Brass hydrometer
Honduran Mahogany interior with cedar dividers
Cons
Acrylic see-through panels
May need extra sponges
Consumer remarks about the humidor
People love the capacity of this cabinet. They say the design is very appealing. Some consumers mention the doors do not seal well and suggest a few modifications. Using Loctite on the screws and weather stripping to seal the doors can help maintain humidity levels.
The final word
We like how a light coat of polish makes this cabinet shine. The marbled wood look is very appealing and unique. We suggest purchasing a different hydrometer since the Burl Wood model is known to be off by several degrees.
---
When you want to take your cigars to a friends' house or party, then you need an excellent travel case. If you spend a lot of time on planes, then having a good case to protect your best cigars is important. The Scotte Portable cigar case is a leather product that is durable and secure.
Humidor features and perks
100 percent interior Cedar
Premium leather exterior
Classy ostrich pattern
Inside pockets for cutters and lighters
Strap holds cigars in place
Stainless steel zipper closer
Comes with a hygrometer and a pair of cutters
Weighs under two pounds
Cons
Needs distilled water to add humidity
Will not hold a seven-inch cigar without you cutting off the end
Consumer remarks about the humidor
Buyers love the value of this humidor. They say it will be an excellent gift for anyone who smokes cigars. They like the expensive style of this case. Several people suggest buying a different humidity gauge.
The final word
We like the convenience of the Scotte Portable cigar case. Our favorite part is the Ostrich design and the high-quality zipper material. This humidor is excellent for taking on a trip when traveling.
---
When you want a cigar case that you can place on your desk, then this model is convenient and stunning. The dark brown exterior of the Mantello Royale case is beautiful. Inside are two compartments for cigars and smoking tools.
Humidor features and perks
Holds between 25 and 50 cigars
Rosewood finish
Tempered glass door
Humidity seal for consistent moisture
Cedar divider comes out
Felt lining resists damage
Ring hydrometer on the front of the box is easy to read
Weighs under four pounds
Cons
Consumer remarks about the humidor
Buyers say this humidor is excellent for someone who is just starting to collect cigars. They love the compact size and beautiful finish on the exterior of the case. Many say it is a well-built item. A few people have trouble with the humidor keeping consistent moisture levels.
The final word
We like the hydrometer being on the outside of this model. The wood color is beautiful and makes this an elegant piece for any home. The Mantello Royale cigar humidor is convenient and compact. We like the way the brass hinges and gauge ring contrast with the dark wood color.
---
When you store a lot of cigars, the last thing you want is pests invading your humidor. The Whynter CHC-120S comes with a temperature regulation system that prevents any insects from breeding in the tobacco leaves. It uses a thermoelectric cooler to keep the moisture consistent.
Humidor features and perks
Freestanding model
Low vibration humidor
Comes with a humidity tray and meter
Can adjust the thermostat between 50 and 66 degrees Fahrenheit
LCD display
Removable drawers and shelves
1.2 cubic feet of storage space
Insulated glass door
LED interior light
Durable steel construction
Cons
Heating units do not last
May collect water in the bottom of the unit
Consumer remarks about the humidor
Buyers love the room this cabinet has for holding large amounts of cigars. They appreciate the way the humidity levels stay exactly where they want them. Some people find this model has a tendency to leave water on the bottom shelf.
The final word
We like the capacity of this humidor. We have no issues putting expensive cigars in this model and keeping them for a special occasion. The Whynter CHC-120S cabinet is an excellent size for any room.
---
Tips for Picking a Humidor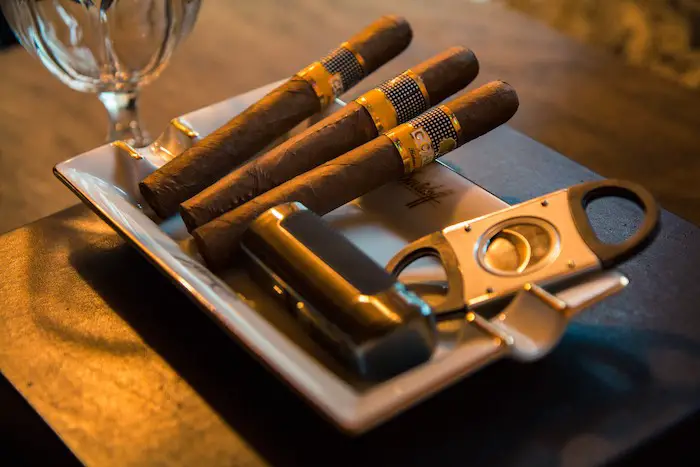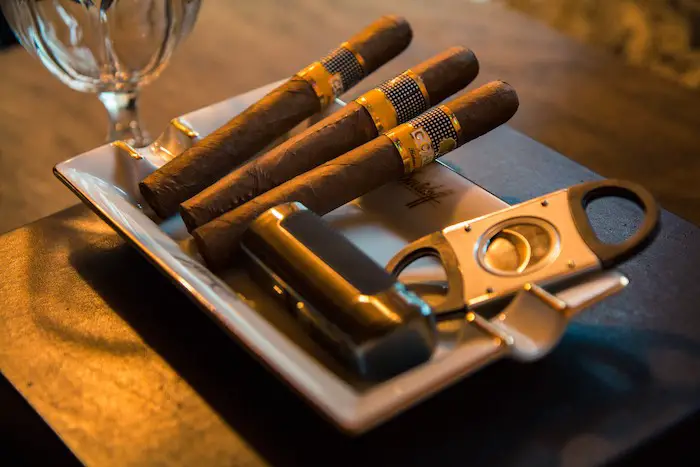 Size
Thinking about where you want to showcase your cigars may be the best way to determine the size of the model you want. If you intend to put your smokes front and center, then it may be best to go with a freestanding unit like one of the Whynter humidors. When a desk model is better for your situation, then choosing a lightweight unit that will sit on an end table, stand, or desk is ideal. There are several options for you to consider on this list.
For people who want to keep others out of their cigars, the Orleans Group humidor features a locking unit. If you do not want to show off your Ghurkas, then a model without a glass door might be more beneficial. People who want to travel with their cigars may want to purchase the Scotte cigar case.
Capacity
How many cigars you want to keep around will help you decide which one of these humidors will work better for you. If you want something small to keep just a few smokes handy, then the portable model or one of the cases that hold between 25 and 50 cigars will work supremely. For large collections of cigars, then one of the higher capacity models that hold upwards of 400 cigars will be the one you want.
Thermostat
The type of hydrometer can make the difference between humidors for you. Some people like an analog display, while others prefer models with digital readouts. Many buyers want to buy a particular hygrometer instead of the one that comes with the unit. Perhaps purchasing the cabinet you want and waiting to see how it operates will help you decide whether you want to buy a separate meter. This characteristic is all about preference.
Accessory storage
If you want a cigar cabinet that has enough room for all your smoking essentials, then choosing a humidor with a drawer for cutters and lighters will keep everything together. The travel case has pockets for these items, so a large cabinet is not necessary when looking for accessory storage.
Materials
Do you want a wood or steel case for your cigar storage? This selection depends on your preference. All the models on this list have Spanish cedar linings or dividers to give your cigars the scent and taste you want. If leather is the most preferable choice, then we suggest selecting the portable carrying case for your cigars.
Two Answers For Top Questions About Humidors
Can you store cigar accessories in this case
Yes. Some of the models on this list feature storage areas for your cigar cutters and lighters. Not all the cabinets have this attribute, so you will want to look closely at the product reviews on this list if this characteristic is important to you.
What is the best way to prep the inside of the cabinet
Most people use distilled water to soak the humidifiers that come with the humidor. You can use this solution to wipe down the cedar shelves inside the cabinet. Outside, you can use a white vinegar solution on the plastic or steel models. For the wood, we suggest using a wood polish to get the best shine on your case.
See Also:
8 Best Wine Coolers For Different Uses
Can I Keep A Washing Machine In The Bathroom?
15 Ways To Declutter Your Home And Get Organized
How To Organize Your Shoes Without Buying Anything?