5 Best Desks for Cable Management For 2023
With everyone working from home, having a desk for this purpose is becoming essential in many households. Comfort is a huge part of sitting for hours. Finding the right stand to put all your technological devices will ensure you want to stay put to get the work done.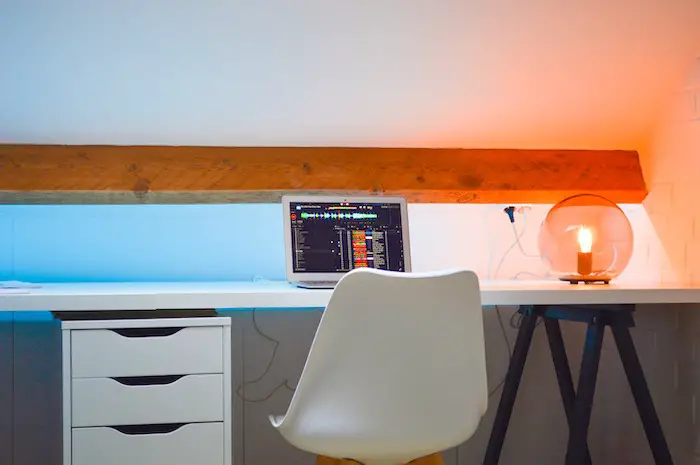 Many kids are learning at home too. Perhaps you need a workstation that gives you the flexibility to share the space. Having a table that organizes all the cables and wires will keep little feet from knocking plugs loose or damaging connectors. Game enthusiasts want a desk that will function for work and play. Picking a tabletop with the right features and size can help for this purpose.
If you cannot stand the look of wires everywhere, then a desk with cable routing is important. Managing the mess of wires requires openings with materials that will not damage the cords. We cover five of the top desks for keeping your cords out of the way and out of sight in this article.
When you need a desk now, then we suggest picking the HLDIRECT Gaming Desk (shop now). This model can support as much as 200 pounds. The top is waterproof, and there is a cup holder to keep your drink from spilling. Plus, a headphone holder keeps your small items tidy.
Comparing the Leading Five Desks with Cable Organization
---
From busy professionals to families and designers, a large desk provides the space to do more work. When you need two screens to stay efficient, then the Bush Business Furniture desk is wide enough at five feet long. If you have two kids doing school at the same time, then desks long enough to fit them and their equipment are essential.
Desk features and benefits
C-leg construction
Laminate top minimizes scratches and dings
Accommodates other Bush Business Furniture items like pencil trays and filing cabinets
Large grommets in the desk and legs
Wire channels in the legs and privacy panel
Impact protection on the sides and edges of the desktop
Desk will hold up to 200 pounds
Levelers on the feet for adjusting the desk
Desk cons
Does not fit most monitor clamps – can only attach short clamps
Screws may damage the laminate top
Consumer comments
Many buyers enjoy the extra space under the desk, allowing them to stretch easier and move around better. Many people say this desk is easy to assemble. The chief complaint about this product is that the wire trays are plastic. Several consumers mention getting trays with cracks or complete separations upon arrival.
Conclusion
We love the length of this contemporary desk. The simple design makes it easy to fit it into any style of office or home. The best feature about the Bush Business Furniture Desk is the wide width allowing us to put up to four 24-inch monitors on it.
---
When you need a desk that will help you stay healthier, nothing beats the Vari Electric model. This unit can grow from 25.5 inches to 50.5 inches tall. There are three settings you can set for different users or heights for easy switching.
Desk features and benefits
60-inch top
Adjustable height allows for standing to burn more calories when working
Five-minute assembly time
No special tools necessary to put the desk together
Easy to configure with other Vari products like side tables
Stylish reclaimed wood design
Metal frame provides a long-lasting design
LED display shows the height as you adjust the desk
Comes with a wire tray to hide unsightly cables
Accommodates multiple monitors and will handle up to 250 pounds
Desk cons
The top is laminate that looks like old wood
Monitor clamps in the picture are separate
Consumer comments
Buyers appreciate the crossbar under the desk that provides more balance when adding heavy items. They say even people who are six feet tall do not bump their knees on the bar. A few people say the desk arrives with only part of the product. However, these desks ship in separate packages. A couple of buyers say the desk comes with damage to the top or side of the top.
Conclusion
We love the convenience of this desk. Having the ability to stand or sit while we work gives up plenty of options. The Vari Electric Sit to Stand model is easy to program for multiple users or height options for one person with three presets.
---
If you are tall, then you know how important it is to find a desk that gives you plenty of room to sit comfortably. When you need to stretch out, then furniture with room to move is crucial. The Radlove Electric Standing Desk II XL is wide open under the top with legs on the side to give you a ton of area for moving around or getting up when your work is done.
Desk features and benefits
Desk has an area below the top to house adapters, wires, and other cords – the space is large enough to store a power strip and several cords
59-inch top gives you tons of room for multiple monitors
Top slides to give you open access to reach cords and wires
Drawer stop at the back of the desk keeps the cable tray from falling out if you push it all the way back
Minimalist design is appealing and modern
Birch legs and trim – solid legs are more durable and hold more weight
Assembly only requires attaching the four legs to the top
Long wire slot gives you tons of room to prevent pinching the cords
23.5 inch leg clearance
Desk cons
Table may not be wide enough for some model computers and keyboards
Not suitable for graphic design or architectural set-ups
Consumer comments
Buyers love the simple lines and ease of construction for this desk. They say it goes together in a few minutes, and there is only one box to unpack. The Radlove Electric Standing Desk II XL is wide. The convenient drawer storage for cables is a favorite feature among buyers. The only disadvantage is the table is a little pricey for some people.
Conclusion
We appreciate the simple style and elegance of this model. The wide open area under the drawer gives you plenty of area for shifting and moving as you work. Our favorite feature is the drawer that allows you to get full access to all your electrical components. The Radlove Electric Standing Desk XL drawer comes out with a flip of the lock.
---
When you need a desk that you can use to work and play, then a versatile model is a must. The HLDIRECT Gaming and Computer Desk is lightweight and comes with several convenient features for gamers. One helpful option is a headphone hook that keeps your equipment safe when not in use.
Desk features and benefits
Two openings for organizing cords
R-shape design lets you get up close to the monitors and peripherals
Green and black color scheme is stylish and fits in with many gaming equipment themes
Rear vertical support with two horizontal braces provides extra stability
Support bar hides cables with an open tray design for organizing wires
Leveling screws are present on each leg
Surface texture mimics carbon fiber for a futuristic look
Comes with a vibrant green and black mouse pad
Built-in cup holder to prevent spills
Desk cons
Only 45 inches wide
Will only hold two small monitors
Consumer comments
Buyers enjoy the sleek design of this gaming desk. They say the top is stable no matter how large your monitor. While you can use two monitors on this desk, many consumers say they prefer to use one because it crowds the desk with two.
Conclusion
We appreciate the dual openings for cords on this model. The desk is sturdy enough to handle a couple of hundred pounds. The HLDIRECT Ergonomic Gaming Desk is appealing, and the curved front makes it easy to reach everything we need.
---
When you need a sturdy desk that fits into tight spots, then the JJS Office and Gaming Desk (see more) may be the one you want. This desk is four feet long by just over two feet wide. It comes with a durable, R-shape design to provide extra support for heavy equipment.
Desk features and benefits
High-pressure top using laminate materials that resist scratching and water penetration
Comes with a free mouse pad that fits the design of the tabletop
Headset hook and ear bud keeper
Includes a cup holder to prevent drinks from spilling on your electronics
Supports up to 110 pounds – will handle two smaller monitors
All four feet come with adjusting wheels for leveling the desk
30-minute assembly with hardware in the kit
Black and blue design is appealing fitting into gaming themes
Lightweight at under 50 pounds
Desk cons
Support beam hits your legs if you are over five feet six inches tall
May be best suited for young adults or short individuals
Consumer comments
Most buyers feel this desk is easy to assemble. They like the way the desk is stable, even when you put it on the carpet. The only problem is many taller individuals feel the desk is too short for them. They say they hit their knees on the back bar when they move around or try to scoot up.
Conclusion
We like the style of this desk. The top is more suitable for gaming than anything. The desk will work for office tasks, however, for long-term work at home, it may not be the best option. The JJS Home Office and Gaming Desk is great for small rooms and homes.
---
Five Things to Think About Before Making Your Desk Purchase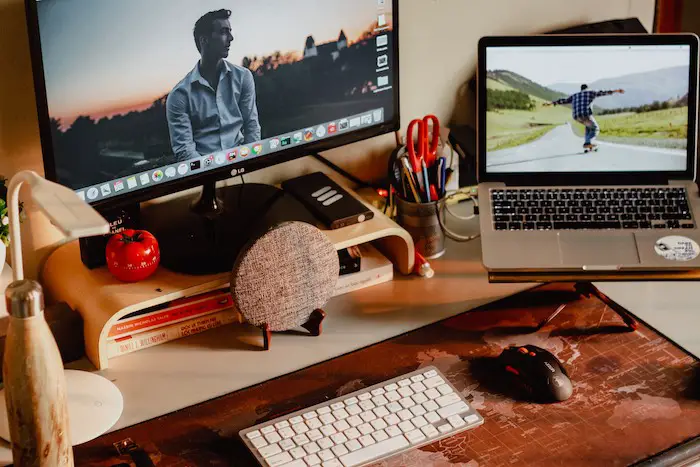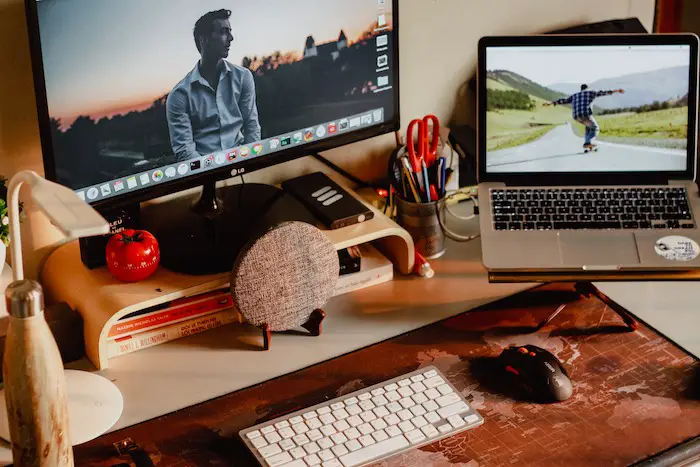 Size
How much space can you afford to use for a desk? This answer will likely guide you to the right size desk for your home. If you can go with a long desk, then the first three options on this list are the best when you need to use multiple monitors. You may need to consider the shape of the desk and how wide it is when you have a very small area to put it in.
Height
How tall the user is may decide which desk you need to purchase. Not every item on this list works well for people around six feet tall. The sit to stand desk from Vari is an appealing option because it is adjustable to over 50 inches. The Blue Lounge Studio II XL is also great for taller individuals.
Weight limit
How much equipment do you need to place on the desk? If you have several monitors or a heavy desktop, then you may want to purchase one of the desks that will accommodate 200 pounds or more. For standard laptop space, then any of these five desks will work.
Durability
Metal frames will last longer than wood. When you need a desk that will hold up to tons of use, then going with the most sturdy frame might be the best option. You can find out the material for each desk by reading the comparison guide at the beginning of this article.
Wire routing
Having a long slot or two holes for cords may be important when using more than one monitor. If you are only hooking up one computer system and monitor, then any of these desks will help you organize the wires and adapters you will use.
Two Questions and Answers About Desks
What is the best way to clean the desk
You can dust any of these models off with a dry microfiber cloth. To remove stains or other debris, then a damp cloth is all you need. You can polish the wood legs with furniture polish if you choose.
Is the desk easy to assemble
Yes. All of the models on this list come with explicit instructions and the hardware to put these desks together. You might need a screwdriver or other small hand tools to assemble these items. You can find out more information in the manufacturer's instruction manual.
See Also:
8 Best Shelves For Funko Pops
6 Best Shelves For Action Figures
7 Best Shelves For Vinyl Records
Can You Put A TV In Front Of A Window