8 Best Wine Coolers for Different Uses for 2023
Wine coolers are a practical storage solution for people who indulge in bulk buying wines or prefer acquiring vintage ones for special occasions. For owners, they are much more than that. Wine aficionados love flaunting their collection and expensive coolers serve as a status symbol for them.
Well, that does not mean you have to spend several hundred dollars for an expensive wine cooler. There are some very basic units that you can get for less than $100 to store a few bottles and save your refrigerator space. Your requirement will of course depend on your collection.
Some people often wonder whether or not they should get a wine cooler at all? Is a refrigerator not enough to store a few wine bottles that you intend to consume in a few days or weeks? Well, we assume that most of you have already thought this over and finally decided on getting a wine cooler.
For those who are still feeling unsure, here's a bit of advice. The ideal temperature for chilling wines is 10 to 20 degrees, which is slightly warmer than the home refrigerator but cooler than room temperature. Furthermore, whites need a cooler temperature than reds.
With an ideal wine cooler, you can maintain a constant and ambient temperature for optimum storage. With so many different brands and models, choosing one product can be a tough job. To make your task easier, we have created a list of best wine coolers for different uses.
Before choosing a wine cooler, stop and analyze the 'need' that brought you here. Do you want to store a large collection that takes up a lot of space in the home fridge? Do you want to store champagne, white or red wines? Do you want the wine cooler to hold your exclusive cigars too? Let's get started.
Editor's Top Picks
---
#1. Best Wine Cooler For Pinot Noir Bottles
Pinot Noir wines are known throughout the world for their characteristic Burgundy-style bottles with gently sloping shoulders. Also known as the Light Bodied Red Wine, this category of wines has a low amount of alcohol and they need to be stored and served at 53-69 °F.
Keeping your Pinot Noir Bottles in a fridge is not a good idea as the red wine may turn faulty if the inside temperature is not chilled evenly. After reviewing several products, we recommend the Ivation 28 Bottle Compressor Wine Cooler. Read our complete review.
This 28 bottle capacity wine cooler comes equipped with compressor technology t ensure that the inside temperature is not affected by external heat sources. The unit hits a minimum temperature that's low enough to store white and sparkling wines that require an ideal temperature range of 41°F to 64°F.
You just need to set the ideal temperature for your Pinot Noir Bottles and the cooler will preserve the optimum aroma and flavor. It includes a built-in fan that helps in maintaining a consistent temperature throughout and provides an ideal environment for long-term storage.
We like the sturdy UV resistant double-paned thermopane glass door that ensures good interior insulation. It also protects the flavor of aging wines from getting impacted by the harmful UV light. It also includes a soft energy-efficient LED light to illuminate your collection for display.
Product features and specifications
Measures 17.7 x 16.9 x 33.1 inches
Weighs 5.69 pounds
Temperature Range: 41- 64°F
Energy-efficient LED light
Bright LCD display
Touch controls and removable racks
Maintains temperature stability
UV-Resistant Thermopane Glass Door
Holds 28 standard 750ml bottles
User/ Customer reviews
Most users feel that the wine cooler is well-designed with a good capacity to store bottles and the temperature setting is also maintained properly. Some customers have said that it is difficult to keep 4 bottles together in the bottom rack. While the temperature control is widely appreciated, a few users have warned that the cooler makes a lot of noise.
Conclusion
This is a gorgeous-looking and well-built wine cooler that does a brilliant job at maintaining the inside temperature optimally for Pinot Noir Bottles. The noise may be disturbing for some, but it more than makes up with its appearance and soft blue light. You will love to flaunt your collection in this one!
---
#2. Best Wine Cooler For Champagne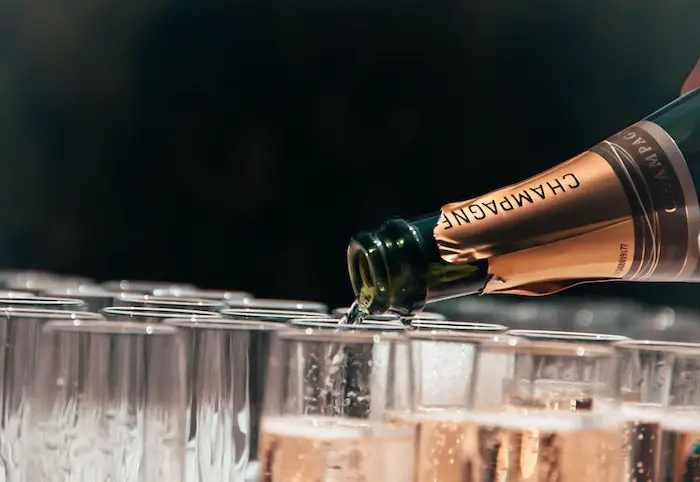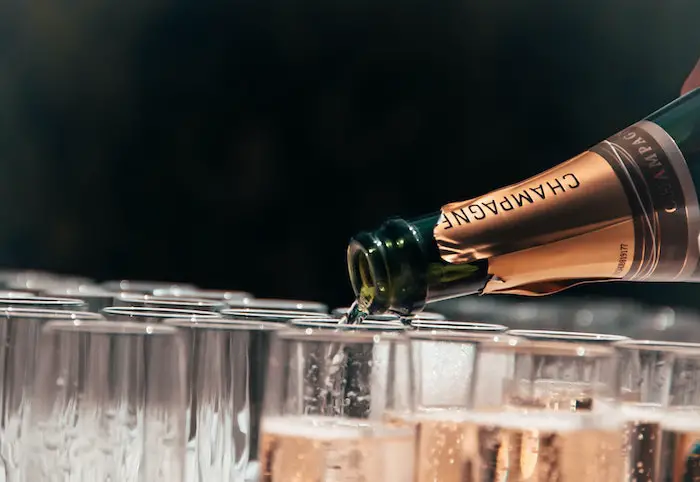 Nothing compares to a good old bottle of champagne and every occasion calls for a celebration with a bubble fountain. If you are an ardent collector of luxury brands or simply a Champagne-lover, you will love collecting the vintage ones.
It's a shame to keep your champagnes in the refrigerator, as they deserve a dedicated wine cooler. After reviewing a plethora of products online, we recommend the SMETA 19 Bottles Wine Refrigerator Under Counter Wine Cooler. Read on for our unbiased review.
This wine cooler or wine cellar from the house of SMETA comes with a 19-bottle storage capacity for keeping champagnes, red or white wines, beers, and beverages. The unit maintains an optimal temperature range of 39.2 to 64.4 degree F, and also allows users to customize the temperature.
The exterior looks sleek and gorgeous, plus the soft blue LED interior lighting further enhances the appearance. It displays the collection without raising the temperature, so there's no impact on the aroma or flavor of the aging champagne bottles. 
Installation under counter or freestanding is easy, and it matches any décor so keep it in the kitchen, living room, or bar area. The compact size fits into any space of the house. The noise level is 39dB, which is considerably low. The manufacturer stands behind the product with a 12 Months warranty.
Product features and specifications
Measures 17.1 x 18.7 x 25.6 inches
Weighs 35 pounds
2.18 Cubic Feet capacity
Maintains 39.2 to 64.4 degree F
Soft LED lighting
Digital touch control
Low noise, only 39dB
Freestanding or under counter
User/ Customer reviews
Most people were able to install it successfully under the kitchen counter where it runs quietly and efficiently with a soft blue light. Users feel that the racks are solid and they can accommodate a good number of champagne bottles, but they can't take 5 side by side for anything that's bigger than the standard size. A few users have complained that the unit lacks feet so it sinks when placed above a carpet.
Conclusion
This is a well-made stainless steel wine cooler that offers good durability and enough space to store a lot of champagne bottles at optimum temperature. It matches with any decor and adds more sophistication to the interiors. If you don't mind the noise it produces, this is a decent product for serious wine lovers.
---
#3. Best Wine Cooler For Burgundy Bottles
All wine bottles are not built alike and they may vary by region and style. For example, the Burgundy bottles tend to have a rounder and fuller base, while the Bordeaux bottles are more rectangular. Burgundy wine is native to the eastern region of France and they taste best when they age.
If you have a good collection of Burgundy Bottles, you will need a suitable wine cellar that can hold these bottles for a long time at ambient temperature. We recommend the WIE 18 Bottle Wine Freestanding Refrigerator. Read on for the complete review.
This is a freestanding wine refrigerator with a capacity of holding 18 bottles and maintaining a constant temperature between the range of 41°- 64°F. By storing your burgundy bottles in the right temperature and humidity level, you can retain its authentic flavor and aroma.
Equipped with a powerful compressor, the wine cooler is capable of adapting to varying room temperatures and additional heat to function more efficiently. It helps in maintaining a stable humidity and temperature level to create a favorable internal environment for wines.
We love the ability to store bottles vertically or convert the shelves into a wine glass rack to store the delicate stemware. There is also a tilting shelf at the bottom to store the opened bottles. With a stylish tempered mirror glass, touch controls, and cool blue light, the compact wine unit matches any decor.
Product features and specifications
Measures 9.8 x 13.6 x 26 inches
52.3 pounds
Temperature range 41°- 64°F
18-Bottle Capacity
Customized Design with Removable Shelves
12 Months After-Sales Guarantee
Powerful Compressor Fast Cooling System
User/ Customer reviews
Most people are thrilled with the stylish exterior facade with reflective glass and accent blue light that enhances the decor. Users have also said that the installation and setup is easy as you just need to press on the 'gear' symbol to activate the controls. A few customers have warned that the temperature display light is bright and the machine makes a humming sound while running.
Conclusion
The wine cooler is sleek, stylish, and compact, just the way you like to flaunt your Burgundy bottles and age it at the right temperature until you like. We love the fact that the unit can also hold various other bottles of different shapes and sizes. With a 12 months after-sale guarantee, this is a worry-free and safe investment for your precious wine collection.
---
#4. Best Wine Cooler For Fermenting Beer
After you are done with mashing and boiling your beer, the next step is to brew in the right temperature ranging between an average of 68-75 degrees F.  Regardless of whether you use of a bucket, carboy, or conical fermenter, you will need a well-insulated storage space that maintains a constant temperature.
Thankfully, you can convert wine coolers into a fermentation chamber for your beers. Some of the models can easily accommodate a large size bucket. We recommend the Magic Chef Black 28-Bottle Single-Zone Wine Cooler. Read on to find our review.
The 28-bottle, single-zone wine refrigerator by Magic Chef is spacious and comes with chrome shelves that can be removed to make extra space. The shelves are beautifully sculpted to accommodate different types of wine bottles and they can be removed to store a beer fermenter.
The mirrored glass-like door is sturdy and lets you view your wine collection with ease. There are touch digital controls that let you monitor and adjust the temperature inside the cooler. The interior lighting helps in displaying the wine collection and adjustable temperature maintains a favorable environment for aging wines or fermenting beer.
The wine cooler sports a sleek and compact design that goes well with any décor.  Thermoelectric cooling with easily modifiable temperature control lets you store your beer and wines at the optimal serving temperature.
Product features and specifications
Measures 20.5 x 18.1 x 29.1 inches
Weighs 46.7 pounds
28-bottle single-zone
adjustable temperature
perfect for countertop use
sculpted chrome shelves
interior lighting
User/ Customer reviews
Users love the ability of this wine cooler to maintain a constant temperature and humidity level for aging wines for 2 to 7 years and more. Some people also prefer using the unit for brewing homemade beers successfully. Most customers have said that installation is a breeze and it takes about 1.5 hours to reach the desired temperature for storing wines.
Conclusion
Wine enthusiasts who wish to get a similar experience of a wine cellar without having to actually invest in one can benefit from the Magic Chef Black Single-Zone Wine Cooler. It is designed to keep your wines and beer cool, not cold and retain the original flavor and aroma. Overall, we feel this is a good wine cooler if you like fermenting your own homemade beer.
---
#5. Best Wine Cooler For Cheese Cave
Do you love making aged cheese more than the fresh ones? One of the biggest problems that arise is finding that perfect appliance that saves your cheese as age them. Some people may use refrigerators for the purpose, but it requires constant monitoring and controlling to maintain the right temperature.
Cheese ages at about 55- 65 degree F temperature and 70% humidity level. Modern home cheesemakers are turning to wine coolers to make aged cheese. We recommend the Danby DWC93BLSDB 36 Bottle Freestanding Wine Cooler.
This is a compact freestanding wine cooler designed and manufactured by Danby. It is a convenient and economical way to store your wine collection at a favorable temperature. The spacious interior is designed to accommodate up to 36 bottles of standard sizes.
The black wire shelving units look impressive and they may be removed to make more space inside the wine cooler. The soft blue LED interior lighting looks great and displays your collection through a stylish tempered-glass door. The reversible door swing is convenient for both right and left-hand opening.
With no incandescent bulb to impact the chilling process and protection from ultraviolet rays, the appliance maintains an ambient temperature ranging between 6°C and 14°C. Pocket-style handle and smooth back design make it more convenient to use. The manufacturer backs it up with a 12-month warranty.
Product features and specifications
Measures 20.08 x 17.52 x 32.76 inches
Weighs 69 pounds
Temperature between 6°C and 14°C
Black wire shelving
Tempered glass door
12-month warranty
36 bottle free-standing wine cooler
Blue LED interior lighting
Recessed pocket style handle
User/ Customer reviews
People find this a good budget wine cooler that looks great and does a great job at storing wines and even aging cheese if you wish. Users have said that the unit looks well-built and solid enough to last for long. A few customers have warned about the wine cooler making a whining noise. Installation and set up is also easy, as per the users.
Conclusion
This is not a high-end wine cooler, but for the price, it delivers a decent performance and has enough storage space to accommodate wine bottles, beverages, and cheese too. With so many multipurpose you, the Danby DWC93BLSDB gives you a good price to performance ratio.
---
#6. Best Wine Fridge For Curing Meat
Wine coolers are not just for storing your beverages. As they help in maintaining a constant temperature and humidity level, they can also be used for curing various types of meat and vegetables. Believe it or not, but a good wine cooler can be an excellent tool for preserving meats and vegetables by salting, brining, drying, or canning.
Temperature, airflow, humidity, and time are the four main parameters when it comes to curing meat. After reviewing dozens of products online, we recommend the 15-Bottle Wine Cooler. Read on to find our unbiased review of the product.
This freestanding countertop wine cooler is capable of accommodating 15 win bottles at once. It comes with four chrome-polished wine racks and one bottom standing rack for proper storage and chilling the drinks. The racks can be removed to make space for curing meat and vegetables.
The wine cooler comes with a built-in compressor with an adjustable temperature setting that can maintain a constant temperature within the range of 41-64° degrees Fahrenheit. It comes with a control panel features that automatically locks 20 seconds after the last button is pressed to prevent an undesired change of settings. 
There is a digital soft-touch control panel that enables users to easily adjust the temperature, humidity, and LED light. As the controls are at the door, you don't need to open it repeatedly to change the settings, making it more energy-efficient. With a reinforced glass door featuring an air-tight seal, it functions without making any noise.
Product features and specifications
Measures 28.1 x 21.5 x 17.5 inches
Weighs 49.7 pounds
15-bottle capacity
Integrated LED Light
Compressor Fan Cooling Technology
Touch Screen Control Button
Ultra-Quiet Operation
User/ Customer reviews
Most people find this wine cooler easy to install and set up on their kitchen counter, matching perfectly with the décor. Users are impressed that the unit holds as many bottles as described by the manufacturer and removable shelves also make more space. A few customers have warned that the temperature does not go below 57 degrees.
Conclusion
If you are looking for a multipurpose wine cooler that you can use to store your precious collection and also cure meat and vegetables when needed, the NutriChef Wine Cooler is a good choice. With variable cooling temperature, you can use the unit for storing white, red, and rosy wines. Overall, we feel it offers good value for money.
---
#7. Best Wine Cooler For Wineador
Wineadors refer to the method of storing a large collection of cigars at an ambient temperature (70 degrees and 67% humidity). As wine coolers are much more reasonable to set up and use, many people prefer using Wineadors to store their wine collection.
To convert your wine cooler into a wineador, you may need a proper humidification device and a hygrometer. After reviewing several products, we recommend the NewAir Wine Cooler and Refrigerator. Read on to find the complete review.
This is a 28-bottle capacity freestanding wine cooler made from stainless steel for durability. It is equipped with a thermoelectric cooling system to allow you to maintain a steady temperature between a range of 54-66 degrees Fahrenheit for both red or white wines.
At 25 dB, this vibration-free wine cooler is significantly quieter than other models. There are push-button controls on the door frame to help you quickly monitor the settings and adjust the temperature as required without having to frequently open the door.
There is an interior LED light illumination to display your wine and cigar collection preserved at the desired temperature and humidity level. The six chrome plated wire shelves can be removed to make more space for easy bottle loading when required.
Product features and specifications
Measures 18.13 x 20.88 x 29.25 inches
Weighs 50 pounds
28 Bottle Capacity
Digital Display
Interior LED Lighting
Noise Level 25 dB
6 chrome-plated wire shelves
User/ Customer reviews
Users have said that although small, this compact unit is a complimentary addition to the kitchen with dedicated storage space for wine bottles and cigar. Most people like the overall design of the cooler and the way, racks slide out and can be removed to create more space. A few customers have warned that the temperature does not go below 54 degrees.
Conclusion
The  NewAir Freestanding wine cooler is a great appliance for any wine enthusiast who is serious about his collection. The bonus point is that you can convert this into Wineadors to store your exclusive cigars at well. So, you get dual benefits with a single appliance. This is definitely good value for money.
---
#8. Best Wine Cooler For Cigars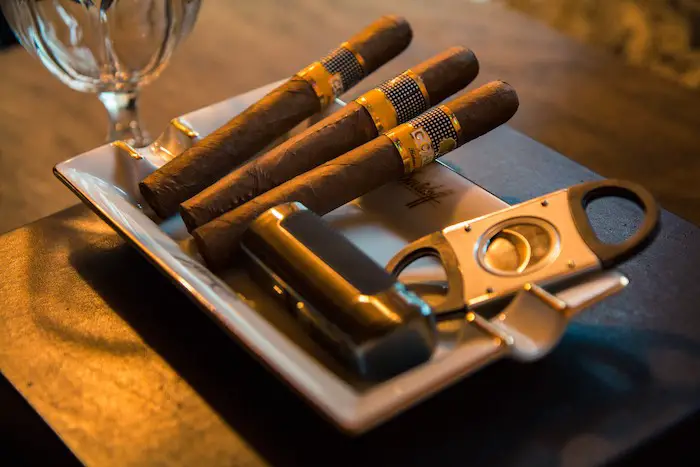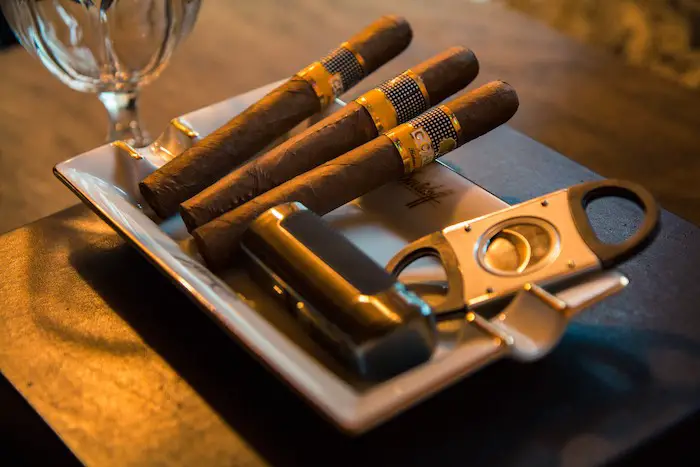 Why buy a wine cooler and humidor separately when you can use them as one? Yes, you can convert your wine cooler into a humidor to hold your cigars when needed. Just like wines, cigar enthusiasts also end up buying a lot of sticks that need to be aged at a contestant temperature and humidity level.
The best wine coolers can also be used for storing your luxury cigars. After reviewing numerous products online, we recommend the Whynter CWC-351DD Freestanding Wine Center Cigar Cooler Humidor. Read on to find the complete review.
This is a dual-zone freestanding winter cooler cum humidor that has the capacity to accommodate 16 standard 750ml wine bottles and up to 350+ cigars. The adjustable thermostat makes it possible to control the temperature range in both zones between 46ºF – 66ºF.
This is a multipurpose wine fridge comprises of seven premium stainless steel shelves that can be removed to accommodate bigger bottles. There are also four removable Spanish cedar shelves and three Spanish cedar drawers. With no moving parts, you get a comparatively silent operation.
The interior of the wine cooler is illuminated with a soft LED light that comes with an on/ off switch to display your collection. Other features include a humidity tray and an inbuilt hygrometer that prevents sun-inflicted deterioration with the help of a protective and tempered double panel glass door.
Product features and specifications
Measures 21 x 21 x 33 inches
Weighs 69.5 pounds
Stainless Steel/Black
28 Bottle Capacity
16 standard 750ml wine bottles
Holds up to 350+ cigars
Interior LED Lighting
Humidity tray and hygrometer
3 removable Spanish cedar drawers
4 Spanish cedar shelves
7 removable premium stainless steel shelves
User/ Customer reviews
People love the fact that this sturdy dual-zone wine cooler looks great and complements any decor where it is placed. Most users feel that the humidity levels are good and the unit holds up to the temperature really well for both wines and cigar. Customers are happy to find a perfect product that holds a good number of cigars and also their precious wine collection on the side shelves.
Conclusion
The assembly part is easy and you just need to season the humidifier before using it. Anyone who loves collecting both wines and cigars can save money as well as space by investing in this beautiful dual zone wine cooler. The thoughtful exterior design with handles and perfectly done shelves with soft lighting make it worth every penny.
---
Related Questions
What other drinks can I store in wine cooler
The ideal temperature for storing red wines is 50-64°F and for white wine, it is 40-50°F. The non-alcoholic drinks stay good at any of these levels. If you struggling for space in your refrigerator, you may store some extra drinks like sparkling water, soda, water bottles, lemonade, and iced tea in a wine cooler.
Can I keep foods inside a wine cooler
 Yes, you may keep most of the perishable foods in a wine cooler to make them last longer. Examples of fruits and vegetables you may store ate pears, apples, bananas, grapes, leafy greens, and herbs. We strongly suggest that you avoid keeping onions and garlic inside the cooler. Cheese can be stored at a temperature between 35 and 45°F. Olive oil is best stored in wine cellars at an ideal temperature of 57°F.
What's the best way to clean a wine cooler
We suggest that you clean the unit once a month or two can help you add more years to your investment. To do this, first, unplug the cooler and remove all items. Clean the side walls with a mild cleaner and warm water. You may also use a baking soda solution to deodorize and remove stains. Use a wood cleaner and soft cloth to clean the wooden shelves and trays. Clean the exterior using a mild detergent and soft cloth.
Do wines expire and how can I get best aging results
Yes, some wines do expire but there are some high-quality ones that can stay good even after 100 years if they are stored in an ambient environment. If your primary objective is to age wines, we suggest that you look for a wine cooler with UV-tinted glass to reduce light disturbance to the beverage and store the unit in a dark place. You may also ensure that a constant humidity around 70% is maintained throughout.