There's a reason why the electric ranges are becoming popular and with the warming drawer attached, it's hard to find a better combination. In fact, we believe that every contemporary kitchen deserves the best electric range with a warming drawer to make dinner times more enjoyable.
We know that an electric range is much sought after because it liberates you from the use of fuel and promotes efficient cooking. But, have you wondered what a warming drawer is? Well, it is an inbuilt cabinet within the range, designed to keep your food heated without the need for an oven.
While you can find warming drawers in the market, as an independent kitchen appliance, some of them come integrated into your range. They are typically found integrated into a slide-in or freestanding range to save you space. The appliances also come with adjustable settings to accommodate the requirements of different types of food.
Most frequently, these warming drawers can be found at the bottom of a freestanding or slide-in range, but you will find these warming drawers as independent kitchen appliances on the market to be built into your cabinets. These appliances come with settings of different temperatures for accommodating different types of food.
If you are in the market to look for an electric range with inbuilt warming drawer, expect to be confused with a plethora of options to choose from. To make it easier for you, we have reviewed more than a dozen products online and handpicked the ones that we feel are the best.
Read on to find the things to consider and our unbiased reviews of the products chosen carefully by our team. If you don't have the time to read until the end, take a look at the quick summary of recommended products given below:
Quick Summary
The SAMSUNG Slide-In Induction Range with convection and warming zone is just what you need to cook a variety of dishes and keep them warm too. With a sleek and stylish design, great features, and one-year limited warranty, this is one of the most reliable electric ranges money can buy.
The Maytag Slide-In Electric Range is a well-built electric range with a warming drawer to give you on the unit with various uses. It sports a nice intuitive design and comes with safety features for the users. We also love the touch controls that make it an easy to use range.
The LG Electronics Slide-In Electric Smart Range is one of the sleekest and practical cooking solutions out there. It has a good capacity and comes with convection and broiler in the oven to help you cook in style and ease, without having to worry about fuel anymore.
This Bosch slide-in electric range with warming drawer has a good capacity and offers different modes to cook/ bake several types of food at once. Installation is easy and it fits well like an extension over the countertop. At this price, this unit offers good value for money.
The Café Smart Slide-In with self-cleaning convection is a gorgeous and well-built electric range made from stainless steel material. With its unique features and superior performance, it makes large gatherings seem like a breeze. Overall, it offers good value for money.
The Kitchen Aid Slide-In Induction Range with warming drawer is an impressive unit that preheats quickly, distributes heat evenly, and cooks different types of food well. With a large cooking zone and adequate warming area, this is the ultimate kitchen appliance you will love to have.
Best Electric Range With Warming Drawer: Things To Consider
Several models of freestanding or slide-in ranges come with an integrated warming drawer under the oven area. If you lack space in your kitchen for a built-in warming drawer, we suggest one of these electric ranges. Here are some of the important things you need to consider:
Temperature settings
In a warming drawer, the temperature is maintained at a range between 80 degrees and 250 degrees Fahrenheit. Some models come with a low-temperature setting to ensure an easy rise of the dough. With the higher temperature range, you get the flexibility to keep prepared food warm until ready to serve.
Inner capacity
Even before you get an electric range with a warming drawer consider the actual use of one in your home. Do you often entertain a lot of guests and need to keep food warm for a party or get-together? Are you looking to keep just a plate or two warms before you eat?
The warming drawers come in a wide range of width, depth, and height, so choose the inner capacity of your warming drawer depending on your actual requirement. To ascertain, consider the number of dinner plates, bowls, or casserole dishes you may want to keep inside at a time.
Additional Features
The design and features of electric ranges differ widely so you may want to consider these too. Some of the warming drawers come with full racks or extra 1/2 racks to let you stack food items inside. In some units, they offer variable moisture levels to prevent the food from drying out.
For example, setting the humidity level high can keep the bread from drying out. You may also want to look for a model that comes with an automatic shut-off feature. So, if you forget to turn off the unit after a certain period of time it will beep and remind you.
Now that you know what important factors you need to consider when looking for an electric range with a warming zone, let's go through the reviews of each product that we feel delivers good performance and value.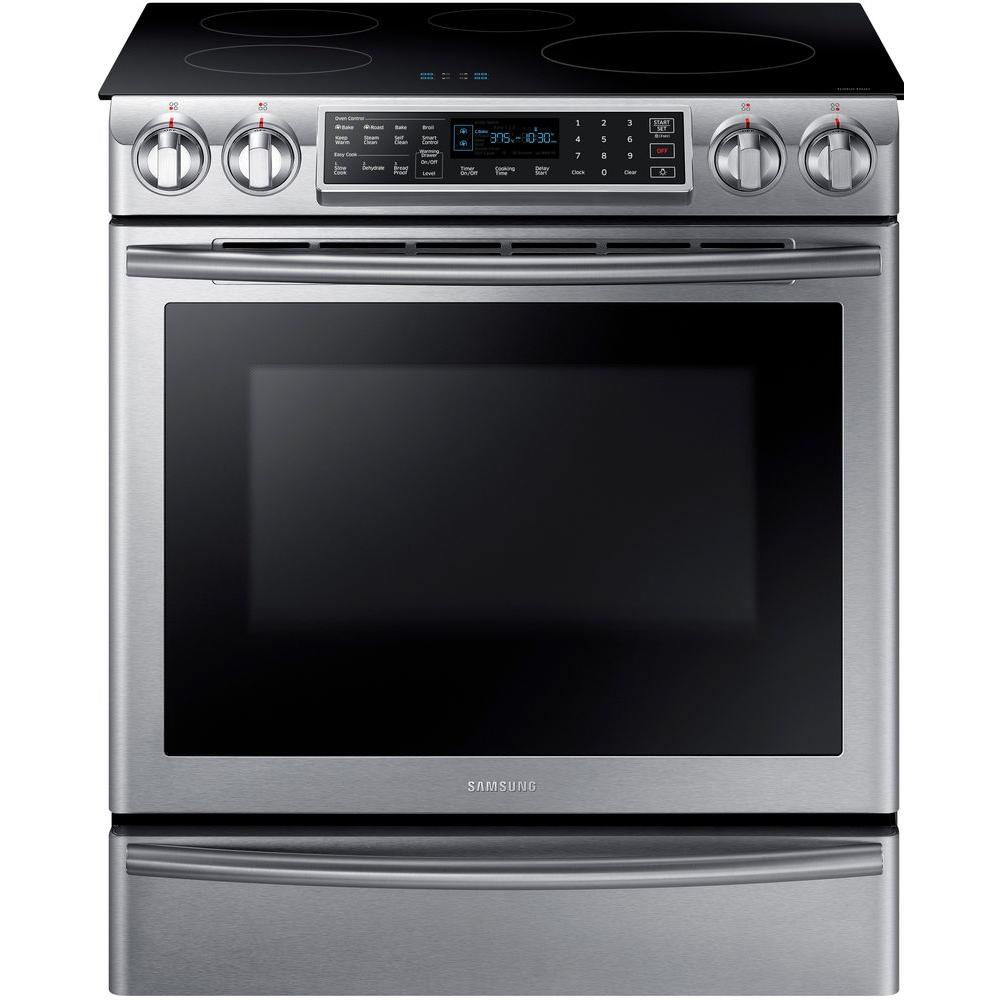 Samsung does not need any introduction as it has a brand value and commitment to service associated with it. We recommend the NE58H9970WS slide-in induction range which offers single or double oven cooking with a virtual flame technology. It ensures even distribution of heat to give you good results.
The unit comprises a four-burner induction cooktop with temperature control knobs to let you cook with ease and quickly too. There is also a warming drawer with ample storage space to help you keep the food warm for long. A separation rack just above the warming drawer allows double oven operation and also offers a good storage position.
What we like:
Dual ovens are extremely useful
Warming drawers store a lot of food
Does not make a lot of noise
Instructions are clear and installation is easy
What we don't like:
Burners are sensitive to the size of pan and cookware type
Power boost does not work if another burner is active
---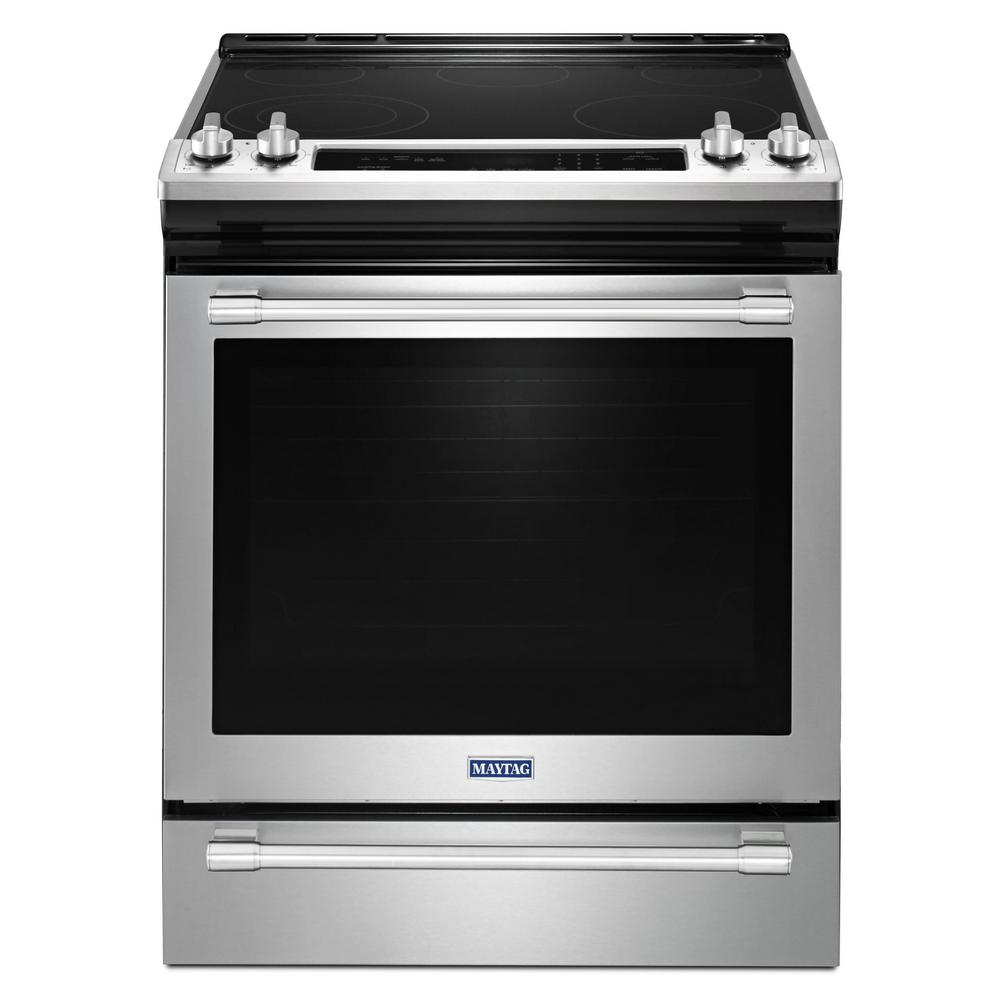 This Stainless Steel Electric Slide-In Induction Range by Maytag comes with True convection that uses a powerful heating element. The temperature range may vary widely and it gives you a better control overheats settings than a gas cooking range. It features a Precision Cooking system that uses better sensor heating to ensure that each meal is evenly cooked.
The Maytag Slide-In Electric Range also includes a warming drawer with 3 different temperature levels for heating plates keeping food warm for longer. Engineered and assembled in the USA, the product comes back by a 10-year limited parts warranty.
What we like:
Easy to install and use
Auto Convect Conversion adjusts as per traditional recipes
Ceramic cooktop, burners, and oven are top quality
Energy save mode and warming feature
What we don't like:
Customer support can be improved
---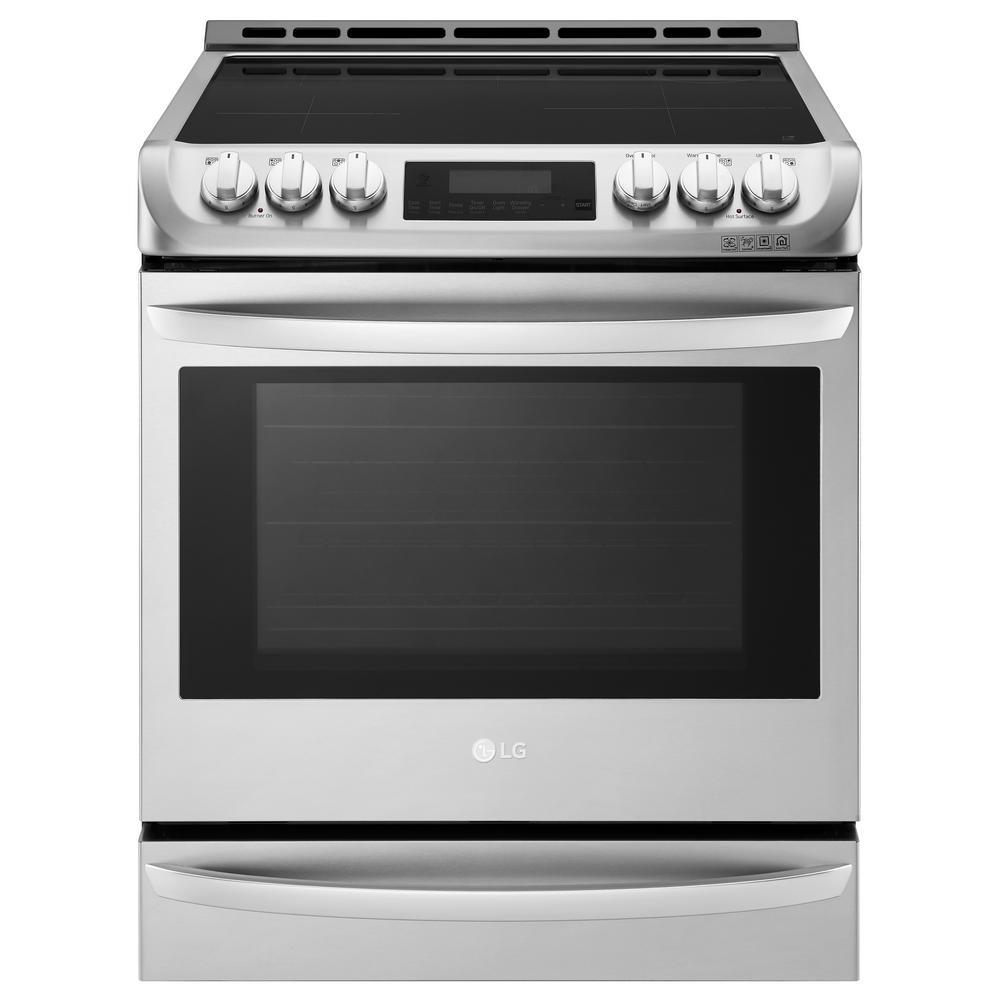 When you don't want to compromise with the taste or flavor, you need the best such as the LG's sleek slide-in range with a large 6.3 cu. ft. capacity oven. It also includes a ProBake Convection to help you achieve your baking goals with perfection.  The induction technology combined with glass controls help in directing the heat towards the bottom of the pot or pan for full effect.
When you want to cook and bake like a professional, this LG slide-in electric range offers the best result with its 3200-Watt dual elements and angled controls available at your fingertips. There are 12 different cooking modes and various settings to help you cook and variety of meals and a warming zone to keep your food warm for long.
What you like:
Sports a streamlined custom appearance
Lets you check the progress of a meal
Easy to operate and clean
What you don't like:
There's no over the counter rim
---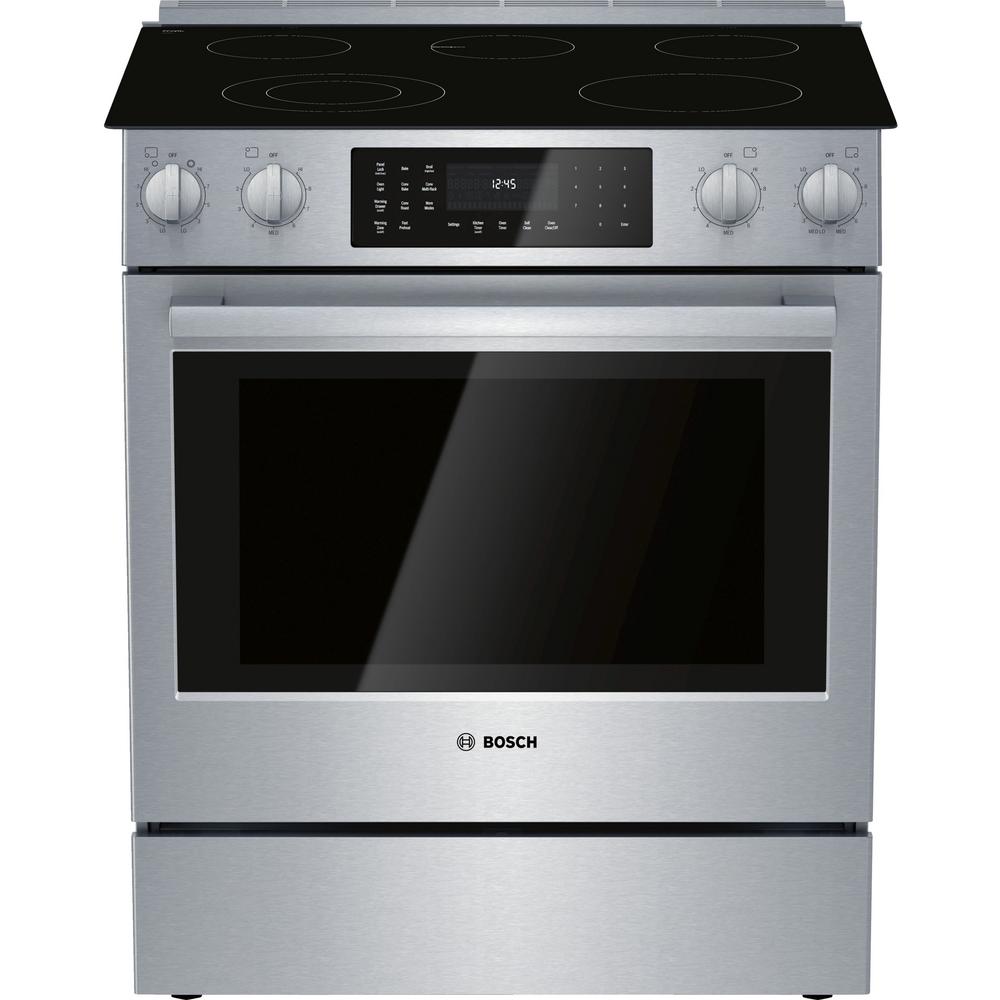 This electric slide-in range by Bosch is engineered with precision to bring reliability and ease to your everyday cooking. With the ability to fit any free stand range, it brings versatility to your kitchen with up to 3,200-Watt power, enabling you to efficiently heat various sizes of pans and pots.
The range includes a European Convection oven that can deliver much faster cooking on all three different racks. There are touch controls for easy operation and metal knobs to lend a premium feel to it. The warming drawer helps you keep food warm and come as a boon for those who like entertaining a large number of guests frequently.
What we like:
Large capacity lets you bake multiple dishes at once
Self-cleaning cycle burns-off the grease
Glassdoor lets you monitor the food
What we don't like:
There is no handle on the warming drawer
---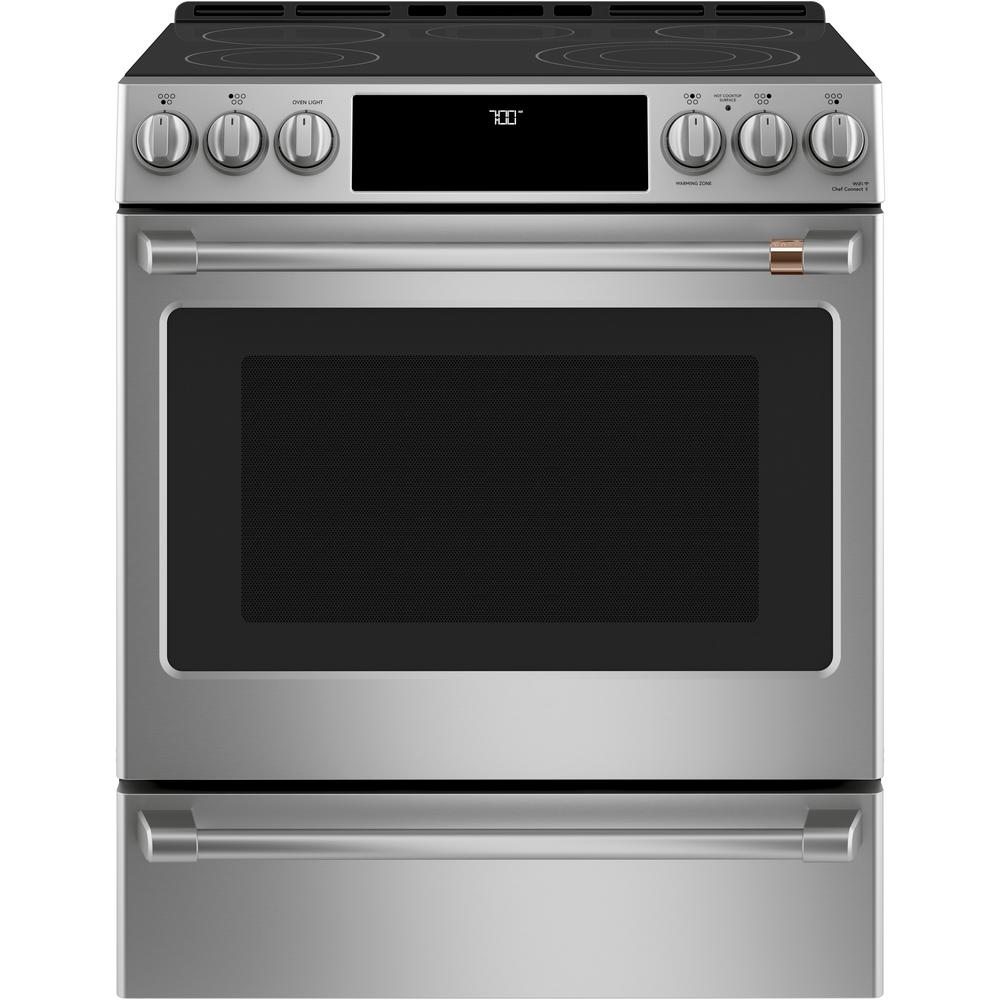 This gorgeous and smart slide-in electric range from the house of Café Kitchen can completely transform the aura of your kitchen. Made from sturdy stainless steel material and powerful elements to complement the appearance of this electric range, each appliance is designed to create an ambiance where everyone loves to cook and dine.
While the seamless glass surface simplified cooking, the tailor-made burners with power boil element give you precise control over the food. The tough-wearing racks ensure easy loading and unloading of the food. It includes an integrated warming zone to keep the cooked food warm until you are ready to eat or serve it.
What we like:
Comes with customizable handles and knobs
Has a temperature sensor that monitors roast in progress
Sports a stylish and sleek backlit glass touch-control panel
What we don't like:
Too noisy to handle for some people
---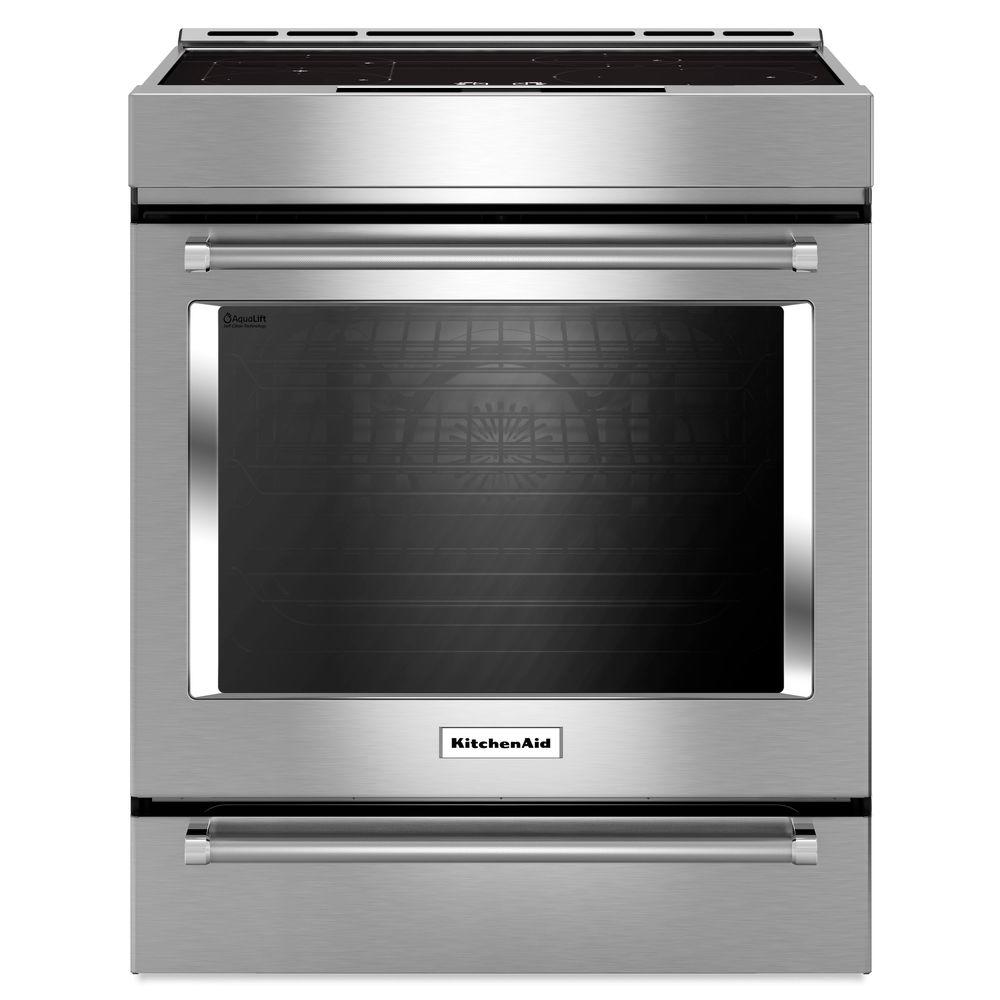 This is a versatile induction range by Kitchen Aid with a built-in baking compartment and warming drawer. Its Even-Heat True Convection facility enables you to bake a variety of food in different temperature settings. There are four induction cooking surfaces and the 7-inches cooking zones with a bridge let you do more on your range.
Made from sturdy stainless steel material, we also love the glass touch controls that provide an easy-to-use touchscreen that makes it convenient for anyone to use the product. It comes with a warming drawer to keep food warm until you are ready to eat or serve and the steaming rack lends the extra moisture to the oven to improve the cooking results.
What we like:
Separate baking compartments
Has a flawless slide-in ranges design
Easy and quick installation process
Water boils in less than 2 mins
What we don't like:
Customer support needs improvement
Final Words
Electric ranges are one of the most cost-effective and efficient additions you can make to your kitchen as liberate you from the worry of fuel, and reduce your carbon footprint too. By opting for the best electric range with a warming zone, you can also reduce utility bills as the food stays warm and you don't have to reheat before serving. 
See Also:
6 Ways Remove Grease From Spaghetti Sauce
Instant Pot Vs. Zojirushi Rice Cooker
How To Toss Wings In Sauce?
How To Make Hot Pockets Taste Better