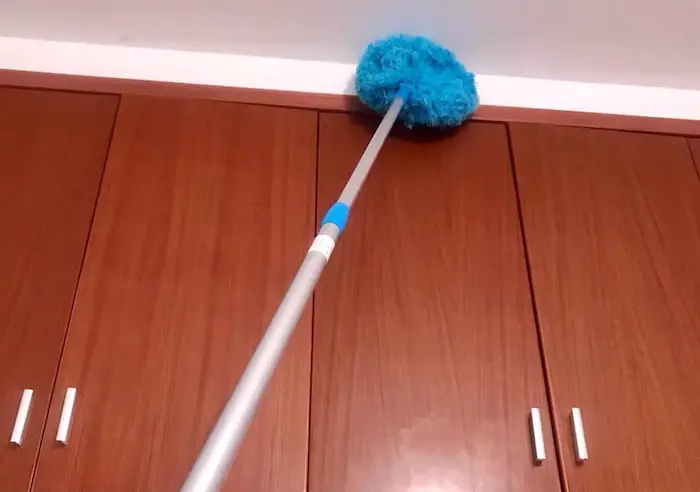 We are reader supported. When you purchase through links on our site, we may earn an affiliate commission. Also, as an Amazon affiliate, we earn from qualifying purchases.
A clean house emits positive vibes all around you, but cleaning the hard-to-reach areas is easier said than done. One of the most notorious places that are hard to clean is high ceilings as you can often not even reach them without a ladder. To make this task easier, you need special tools such as an extendable duster.
These dusters come with interchangeable heads to remove cobwebs and dust from every nook and cranny in your high ceilings and other hard-to-reach spaces. However, not all dusters are made alike. Dusters come in a wide variety of materials, designs, styles, and features to suit different users.
So, if you are looking for the best extendable duster for your home, you'll need to do some research regarding the uses and features of each of your options. There are so many brands and models available online that finding the perfect one can get confusing quickly.
To make your search easier, our team has composed a list of some of the most efficient extendable dusters available on the market. We have reviewed more than a dozen models and compared their uses and features to help you find the best option for you.
Read on to find the complete list of unbiased reviews for each of the products handpicked by our team. If you are too busy to go through the complete set of reviews, we simply suggest that you go with our editor's choice: the DELUX microfiber feather duster extendable duster that comes with a 30- to 100-inch long stainless steel telescopic pole and other features to make your cleaning job easier.
This is an all-inclusive microfiber cleaning kit that comes with everything you need to clean your home from the floor to the ceiling. There are five different microfiber dusters and one extendable pole in the set designed for use by both professional cleaners and regular house owners.
This upgraded model has an improved and sturdier 100-inch pole that does not rotate and can easily reach those hard-to-reach areas. It prevents the need for a ladder to reach those high corners of the home to remove cobwebs and dust.
You can also extend the chenille microfiber hand duster up to 28 inches as well. Positively-charged fibers in the duster easily attract and hold on to the negatively-charged dust particles, ensuring your home gets clean. The handle can be bent to any angle for efficient cleaning, and the duster can be washed and reused many times.
Product features and specifications
Weight: 1.24 lbs.

Attracts dust like a magnet
The handle can be bent to any degree
Can be washed and reused many times
Extendable long pole
Chenille hand duster
5-in-1 kit
User/Customer Reviews
Users are happy with the different types of brush heads that can be used to remove cobwebs and catch any dust. People are also impressed with how easy it is to clean and take care of this fluffy duster. A few users have warned that while it's good for cleaning high ceilings, it cannot properly clean under appliances.
Conclusion
This microfiber duster kit for high ceilings includes a well-made extendable duster that can be efficiently used to clean dust, debris, and even dog hair. With different heads, you can effectively accomplish all types of cleaning with just this one kit. Overall, we feel that—especially at this price—this is one of the best extendable dusters you can get to keep your house clean.
---
The second product on our list is this JOYBOS extendable duster set that includes a telescopic rod-type dust collector, a 3- to 6-foot special extension rod, a ceiling duster, a double-ended fiber dust collector, an extended lint drum, and a clothes fork. The bottom of the telescopic rod is covered in soft rubber for easier use and a better grip.
This duster kit features a flexible double-head design that can also be bent into different shapes for easy cleaning of hard-to-reach areas. It uses static electricity to attract dust and clean high ceilings, walls, cars, furniture, and other many other areas.
We love the easy one-button disassembly handle that allows for easy removal of the handle if needed. With the extended handle, though, the long duster's lint roller attachment can then be used for easy cleaning of floors, carpets, and curtains. The fluff roller also comes with two refills, so you may use it as you like.
Product features and specifications
Weight: 2.64 lbs.

2-in-1 design
One-button disassembly handle
Large lint roller
Gap-dusting brush
Double-ended microfiber feather duster
User/Customers Reviews
Most people have mentioned that the feature duster head is made of a very soft and premium quality feathering that picks up dust with ease. Several users have said that the duster conveniently goes underneath their appliances as well as reaching high up to the ceiling. A few users have warned that while the foldable aspect of the duster is good, it does not stay folded for very long.
Conclusion
The JOYBOS Extendable Dusters are well-made and easy to assemble, with adjustable pole heights that make it easy to clean hard-to-reach places. It is also washable, making maintaining the duster itself quite a breeze. Overall, we feel that this product is well worth the money you pay for it.
---
The next item on our list is this high-reach microfiber duster kit from the LPV PRODUCTS Store. Made from premium-quality soft and lint-free microfiber, the items in this kit let you clean numerous surfaces, including window screens, high ceilings, and even under your appliances.
This set has a 50-inch lightweight duster handle that extends telescopically to reach a maximum height of 72 inches, enabling you to clean high ceilings of up to 12 feet in height. It works great for your home, office, or garage, giving you the freedom to clean without having to climb a ladder.
You can easily clean the washable duster with warm water and hang it to dry to keep it fresh and fluffy for the next use. The product includes two multipurpose duster heads and one large fluffy microfiber cobweb duster. It also comes backed by a lifetime manufacturer's warranty.
Product features and specifications
Weight: 1.5 lbs.

Compact design
Easy storage and bendable
Reach up to a 12-foot-high ceiling
4-foot long extendable pole
Fluffy feather duster
Long ceiling fan duster
User/Customer Reviews
Those who have used the product have said that it is quite sturdy and that the extendable pole also works well to reach high areas with ease. People have also said that the microfiber square duster is removable and comes with a tight elastic band at the bottom, so it does not slide up constantly. A few customers have warned that the duster feels strangely dense but not particularly fluffy at all.
Conclusion
The Best High Reach Microfiber Duster Kit is made from premium quality materials, and the design also works well to reach ceilings and corners in the home. It comes with a sturdy and bendable pole that can be adjusted as per your cleaning needs. Overall, we feel that the duster offers a good value for the money at this price.
---
This 4-piece all-inclusive extendable duster kit for high ceilings is designed to reach high ceilings up to 20 feet in height, making it easier for you to clean the hard-to-access corners in your home. With a 12-foot and extra-thick aluminum telescopic pole, microfiber feather duster, spider web cleaner brush, and a flexible fan blade cleaner, it is a complete cleaning kit for keeping your home tidy.
The exterior duster and extendable pole are designed to clean at all kinds of weird angles as well as awkward surfaces. The set also includes three brush types to meet your diverse cleaning requirements. The extend-a-reach high ceiling duster with an extension pole minimizes the chances of you taking a bad fall while helping you keep your home clean with ease and convenience.
We also like how easily you can store the cleaning kit by simply retracting the pole length to make it fit inside your car trunk or closet with no trouble. The pole's quick-release thumb lever clasps tightly to give you easy extension control, and the non-slip hand grip ensures optimal stability. This set additionally comes backed by an extended 3-year manufacturer's warranty.
Product features and specifications
Weight: 4 lbs.

Multi-functional telescopic pole
Easy to handwash
Short 5-ft retracted pole length
Extended 3-year warranty
User/Customer Reviews
Many users have said that this is an extendable duster that really works for them as it can be extended and retracted as per individual cleaning needs. People have also mentioned that the duster has a sturdy build, yet it feels lightweight anyway. A few customers have warned that it feels slightly wobbly and is not stiff enough to get the dust off the ceilings and corner walls properly.
Conclusion
If you are looking for a highly extendable duster pole that can also be retracted well enough for easy storage, this 20-foot-high reach duster kit is a good fit. It cleans well to keep your home free from spider webs and dust bunnies, no matter where they're located. Overall, we feel that this is one of the best extendable dusters for high ceilings.
---
This ultimate extendable duster kit by DocaPole can be extended up to 20 feet to keep your home or office dust-free. The product includes a telescoping pole, a microfiber feather duster, a cobweb duster, and a flex-and-stay ceiling fan duster that completes the kit.
As the duster is made from scratch-free microfiber material, it can be easily used to clean bookcases, pianos, chandeliers, high ceiling fans, high ceilings, light fixtures, windowsills, mantles, and more. Both the microfiber feather duster and the ceiling fan duster come with removable components for easy washing after you're done cleaning.
There is a 5-foot, premium-quality, lightweight aluminum extension pole that can be extended up to a maximum length of 12 feet. The product also features an adjustable tip that lets you bend the duster to help you clean hard-to-reach places with the use of additional DocaPole attachments.
Product features and specifications
Weight: 3.94 lbs.
5 to 12 feet of extension of the main pole
Rubber handle grips
Easy-use thumb lever clasps
Standard threaded tip
Attachable 180-degree hinge tip
Nail hook for easy storage
User/Customer Reviews
Several people who have used the product have said that the attachments are well-built and designed to help you reach the different corners of the home to keep it clean. Customers have also said that the pole is very sturdy and does not wobble when fully extended. A few users have warned that the pole feels heavy when cleaning the cobwebs and dust on the ceilings, though.
Conclusion
The DocaPole dusting kit with its 5- to 12-foot extension pole is just what you need to clean the high ceilings and corners of your home. As the attachments are removable and washable, keeping them neat and tidy after use is very easy. Overall, we feel that this product delivers a good price to performance ratio.
---
Last but not least, we have the DELUX microfiber feather extendable duster that takes the risk and stress out of cleaning the high areas of your home. The dusters are designed in a way to take care of each of the different corners in your home to leave no dust or cobwebs behind, and the 30-inch pole can be extended up to 100 inches in length to help you clean with ease.
The bendable head of the duster has a wire built into it to keep it sturdy and easily bend to a 90-degree angle. You can bend and move the head at various angles to clean every spot in your home, office, or garage. It comes installed with a unique soft rubber tip to clean dust without scratching anything as you reach to clean.
It also features an innovative split fiber technology wherein the duster becomes electrostatically charged to attract hairs and dust. You may use it dry or wet to keep your home nice and tidy at all times. Durable, sturdy, and lightweight, the duster can also be used to clean household appliances, window blinds, various furniture, and even dust the inside of your car.
Product features and specifications
Weight: 10.2 oz.

30-inch telescopic wand
Durable threaded connections
Innovative split fiber technology
Light-weight, sturdy, and durable
Washable and detachable
Makes it easy to reach high areas
User/Customer Reviews
Most users have said that the telescopic wand on this product is a great aspect that enables them to easily reach high ceiling areas. They've also mentioned that the microfiber feathers work well too. People are happy with how well this duster extends and collapses for cleaning different spaces in the home. A few customers have warned that the rubber tip is flimsy and has a poor design, however.
Conclusion
The DELUX microfiber feather duster extendable duster is uniquely designed to grab dust and debris from all corners and high-reach areas of your home. It is thoughtfully designed to work well for all users, and the rubber tip prevents it from scratching or marring any surfaces. Overall, we feel that this extendable duster is well worth your money.
Buying Guide: Things to Consider When Looking for an Extendable Duster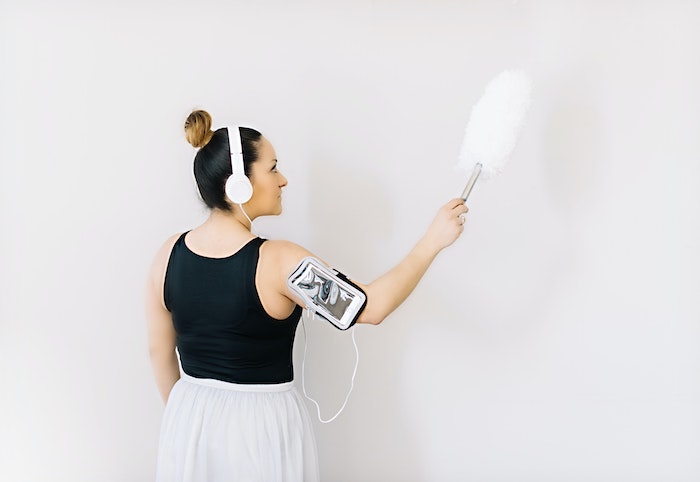 While all the extendable dusters reviewed above work well for cleaning high ceilings, you may still want to narrow down your search a bit further. To make this easier for you, we have compiled the things you need to consider in order to ensure that the product meets your specific requirements.
Type of duster
You will first need to determine the material used to make the duster and what will work best for your personal use. For example, it may be made of microfiber, wool, or feathers. We recommend the microfiber as it has a natural static charge that attracts and holds dust and debris with ease.
Designs
There are a large number of designs available out there, and more than enough to confuse you. Hence, you need to spend some time understanding your personal needs before shopping for one. Do you want to reach the tight spaces or are you more concerned with high ceilings? Are you looking for expandability? Read up on the product features to figure out what will work best for cleaning your home.
Reusability
You know very well that using an extendable duster is not a one-time affair. You will be using it recurrently for cleaning your home at least once or twice a week or so. With this being the case, plan to invest in a product that is easily washable and reusable to get more return from your investment.
Related Questions
Should I vacuum or dust first?
We suggest that you always start with dusting. There is no point in vacuuming the floors if you're simply going to have to vacuum an additional time when any dust or debris from higher up in the home has been knocked down to the floor. After dusting the home, you can finish off with the vacuum cleaner for maximum cleanliness.
Which is better: reusable dusters or disposable dusters?
Well, this depends on your personal preferences and needs as both have their own pros and cons. However, we think that the reusable dusters save you a lot of money while the disposable ones increase your overall long-term costs.
How do you clean microfiber dusters?
You can clean microfiber dusters by simply soaking them in warm, soapy water. After that, you can scrub the duster firmly with your hands to dislodge the dirt if any has managed to get stuck. Finish this off by rinsing the duster with clean water to keep your duster as fresh and clean as possible.
See Also:
3 Dusters For Books Reviews
3 Duster For Log Home Reviews
6 Top Duster For Walls Reviews
5 Top Dusters For Baseboards