8 Best Meat Grinders for Raw Dog Food for 2023
You love your dog the same as if it were your baby, so it's no wonder that you'd want to provide them with the best nutrition to keep them as healthy and active as possible. Raw food is free of chemicals and preservatives, making it the best choice to keep your four-legged family member healthy and happy inside and out.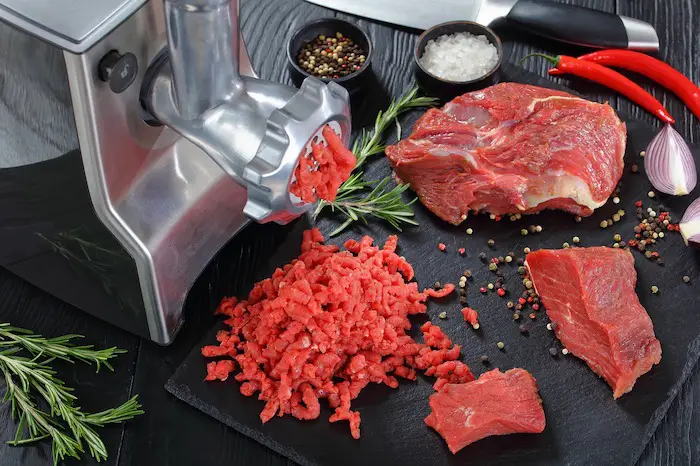 When you buy raw, wholesome meats and foods to ensure that your pet has the shiniest coat and the best stamina for work and play, there is one more thing you will need to consider: finding the best meat grinder to prepare your freshly ground meat for your fur baby.
Finding the perfect grinder for this purpose is much easier said than done. If you are on the hunt to find the best meat grinder for raw dog food, you can expect to get a bit confused and overwhelmed by the wide variety of options available. There are many things that you will need to consider, among these being whether the blades are sharp enough to ground bones as well as meat, whether you want a manual or electric grinder, and more.
To make this process easier for you and take the stress out of figuring out your final buying decision, we have done a thorough review of the current grinders on the market. After an in-depth review and comparison of the best products available, we've made note of the few that we feel are most suitable for grinding raw dog food.
If you do not have time to read to the very end or are simply in a hurry to order, we suggest that you go with our editor's choice: the KitchenAid KSMMGA Metal Food Grinder Attachment. It is sold separately from the classic KitchenAid mixer many know and love, but it has a brand value that speaks for itself. It is also designed for easy use and storage.
When you connect the metal food grinder attachment to any household KitchenAid stand mixer, it uses the motor power to effortlessly run the attachment. It is sold separately from the mixer itself but serves as a very useful tool for creating fresh foods for your pets.
The attachment includes fine, medium, and coarse grinding plates along with two well-built sausage stuffer tubes for preparing additional food options both for your pup and your family. There is a large food tray that makes it easier for you to process the ingredients in one batch, reducing the food preparation time.
The KitchenAid Metal Food Grinder comes packed and well organized in a case for easy access and storage when not in use. We suggest that you pre-chill the grinder in the refrigerator or freezer to maintain a cold grinding temperature for a clean grind each time.
Product features and specifications
Weight: 2.5 lbs.

Comes with a storage case
Includes a large food tray
Made from aluminum
Fine, medium, and coarse grinding plates
Two sausage stuffer tubes included
User/Customer Reviews
Most users have said that this grinder attachment does the job of grinding raw meat for your pets or for making burgers and Italian sausages. Those who were able to hook it up to their KitchenAid mixer have said that it delivered a lot of power, too. A few customers have remarked that the filler tube is slightly more narrow than expected, making it hard to push the raw meat into it.
Conclusion
The KitchenAid KSMMGA Metal Food Grinder Attachment features a fantastic build, but it is not dishwasher safe. It comes with different grinding plates (fine, medium, and coarse) that can be used to grind various types of meats to your desired texture. Overall, we feel that this product is worth the money you pay for it.
---
The second product on our list is this premium-quality commercial meat grinder from Happybuy. It has a strongly built outer casing with a top tray and blades designed to give you the perfect consistency of ground meats that you desire with plenty of convenience and reliability.
This meat grinder, featuring a powerful 1100W motor, has a beautiful appearance with a polished surface that reflects the fine workmanship, speaking loudly about the top quality of this device. It can be used for longer working periods compared to many other models and can also be easily cleaned in preparation for the next use.
It works wonderfully for grinding raw foods for pets because it can be conveniently used to grind small chicken and fish bones as well as larger cuts of meats and additional ingredients. It also features a special thread design with efficiency much higher than any ordinary thread. The machine additionally makes low levels of noise while operating, and the smooth exterior makes cleaning simpler as well.
Product features and specifications
1100W power motor
Grinding speed of 193r/min
54mm/2.1-inch wide feeder tube
Equipped meat tray
6mm grinding plate
Good heat dissipation
User/Customer Reviews
Several users have said that this is a well-built meat grinder that quickly and easily grinds various types of meat and bones for different purposes. Many users have said that this grinder costs way less than other similar products available, saving consumers a lot of money. A few customers have warned that removing the six bolts to clean the grinder can be cumbersome if you use it often.
Conclusion
If you are looking for an excellent quality grinder that will finely crush various types of meat and bones for your pets, this is a perfect choice. The Happybuy commercial meat grinder (see Amazon) not only has a durable construction but also well-designed details to serve various purposes in the kitchen. Overall, we feel that this grinder is well worth the investment.
---
The next option is a heavy-duty electric meat grinder and stuffer from STX Turboforce. It houses a 2000W motor capable of peak output power featuring three speeds: high, low, and also reverse. It is powerful enough to handle the soft bones of rabbits, squirrels, chickens, and quail right along with thick, tough meats too.
This machine comes with a foot pedal control to give you hands-free use if needed, a wonderful feature for reducing contamination and keeping as clean as possible. It also features a patented Quad Air Cooling System that both improves and practically doubles the life of the product. It has a 2 ½-inch diameter output for the ground meat and a 2-inch diameter feeding tube for input.
This product additionally comes with three stainless steel cutting blades, five grinding plates, one sausage stuffing plate, and three stuffing tubes with a Kubbe attachment. We were happy to find that the manufacturer stands behind the product with a 30-day unconditional money-back guarantee as well as a 3-year warranty.
Product features and specifications
Weight: 13 lbs.

Includes 3 sausage tube sizes and a stuffing adaptor
New-style meat pusher
100% polished cast aluminum
3 stainless steel cutting blades
User/Customer Reviews
People who have used this grinder for finely grinding chicken meat and thighs along with bones for their pets have said that the product does a great job. Some users have mentioned that you must always read the instructions provided in the manual carefully and follow them to avoid any problems. Customers have also said that this grinder has simplified their deer processing as well.
Conclusion
The STX Turboforce II Platinum is a powerful and well-built meat grinder that delivers a good performance. It is backed by a solid, money-back guarantee and manufacturer warranty to support your purchase. Overall, we feel that this meat grinder is a wise investment for pet lovers.
---
Next, we have this stainless-steel electric meat grinder by LEM Products, which uses an induction motor to start and run a capacitor. It is powered by a permanently lubricated 110V motor that generates 250 watts of power. It is also ETL Certified.
This meat grinder comes equipped with the company's exclusive Big Bite technology, allowing for much quicker and more efficient processing of meat. It also has all-metal gears with roller bearings and a hole in the head where the pan is inserted. It additionally includes a stainless-steel motor housing and a heavy-duty handle that helps make moving easy.
There is also a built-in circuit breaker, stainless-steel head, meat pan, and auger. The package includes one meat stomper, one stuffing plate, one stainless steel knife, two stainless steel plates (fine and coarse), and three stuffing tubes. We were also happy to discover that the manufacturer stands behind the product with a 5-year factory warranty.
Product features and specifications
Weight: 37.9 lbs.

"Big Bite" technology
5-year factory warranty
All metal gears with roller bearings
Stainless-steel motor housing
Heavy-duty handle
User/Customer Reviews
Those who bought the grinder to make raw pet food have said that it works great and saves users a lot of money. Many users have said that the Big Bite features easily pulled everything right through, and the machine did not skip a beat when it encountered any bone. Some customers have said that the machine comes with a nice warranty and makes an unbelievable difference in their everyday food-related tasks.
Conclusion
The LEM Products W779A Big Bite electric meat grinder is high-quality meat processing piece of equipment that works like a dream. With impressive speed and quiet operation, this meat grinder can take care of chicken thighs, bone, eggs, hearts, livers, and gizzards in minutes. Overall, this is indeed a great buy.
---
The next on the list is this powerful electric meat grinder from the Sunmile store, and it can be powered up to 350W (2000W Max). With a robust motor, this meat grinder is capable of mincing about three pounds of meat per minute. It works great for grinding and stuffing meats quickly and conveniently.
The grinder comes with multiple cutting plates with three different mesh diameters that can be used for fine, medium, and coarse grinding. Besides taking care of both meat and bones, it can also be used for grinding chili, garlic, ginger, and other soft foods as well. You can easily make burgers, meatballs, meatloaf, sausages, and more.
This piece of equipment features a patented technology that allows you to make perfect homemade ground meat that doesn't lose its natural fibers thank to the three spiral circles of the spiral rod attachment. The machine is made of good quality and food-grade material, stainless steel, and thickened aluminum alloy.
Product features and specifications
Measurements: 12.5in. x 6.3in. x 8in.
Weight: 7.5 lbs.
Made of food-grade materials
Whole meat mincer
Easy to use
3 stainless steel grinding plates
User/Customer Reviews
The customer reviews for this product are highly divided. Some people have had a positive response while others feel that the product does not work as described. A few users have said that it is a huge piece of junk, yet several others who followed the instructions closely had a good experience and appreciate the performance of the machine.
Conclusion
This electric meat grinder from Sunmile delivers a power-packed performance, but it should be kept in mind that it is not a commercial-grade machine. It is meant for frequent home use, and users must refrain from putting the grinder parts in the dishwasher, too. Overall, we feel that this meat grinder delivers a good value for the money.
---
This heavy-duty manual meat grinder by CAM2 is made from 420 stainless steel materials that feel robust and strong, but you must avoid allowing it to encounter any alkaline liquids that may cause corrosion. This grinder has a wide-opening clamp that allows you to mount it on any countertop or table for maximum convenience.
There are two stainless steel plates—a fine 3/16″ plate and a coarse 3/8″ plate—along with a filling tube that can be used to make sausages. It also contains two 420 stainless steel blades that can be replaced at any time for your convenience and use.
The machine comes with damage-preventing rubber pads that are used to protect any delicate working areas or surfaces in your kitchen or wherever else you may choose to use the grinder. We were pleased to find that the manufacturer stands behind the product with a one-year warranty to cover any damage to the meat grinder accessories.
Product features and specifications
Measurements: 7.87in. x 3.94in. x 5.91in.
Weight: 1.54 lbs.
Damage-preventing rubber pads
420 stainless steel blades
Two stainless steel plates
Wide-opening clamp
Heavy-duty stainless-steel construction
User/Customer Reviews
Many people have said that if you want to grind bones, this is a must-have product. Several users have remarked that the machine does its job well and grinds raw meat perfectly for use in your pets' food. Some customers have warned that the threads are not finished very well and the edges are sharp, so the meat often gets stuck inside.
Conclusion
The CAM2 304 manual meat grinder is a must-have for all those who wish to grind raw meat for their pet's food. It is not only sturdy, but it also delivers an exceptionally good performance. Overall, we feel that this is a great product and could be even better if the slight design flaw in the threads is improved.
---
This ETL-rated meat grinder by Gourmia (learn more) is powered by a 500W motor. It is powerful enough to grind even the toughest of meat to give you flavorful and fresh sausage, mince, and kibbeh. It can also be used to make raw meat pet foods with ease.
Made with durable and strong materials, metal gears, a copper 500W  motor, and stainless-steel blade, this machine promises to ensure proper grinding. There are three, durable stainless-steel blades that can be used for an assortment of fine, medium, and coarse cuts depending on what you need.
This ETL-certified meat grinder is designed with a heavy-duty food tray, and there is also a 3-way on/off/reverse switch along with a dual safety switch. Various parts of the grinder can be removed for easy cleaning, and they can also lock into place for a steady operation.
Product features and specifications
Measurements: 5.5in. x 13.5in. x 11.75in.
3-way 'On/Off/Reverse' switch
Dual safety switch
Bonus accessories
ETL-certified
Extra strong materials
Easy to clean
User/Customer Reviews
Those who have used this meat grinder have said that this is a great tool for creating delicious and gourmet sausages as well as preparing raw pet food. Several users have said that it gives them a completely new level of personalization and control in their cooking experience. A few users have warned about a design flaw in which meat gets stuck in the parts, though.
Conclusion
The Gourmia GMG525 meat grinder is powerful enough to grind 10 lbs. of meat in less than two minutes. It works amazingly and comes at an exceedingly good price point. Disassembling and cleaning the meat grinder is also easy. Overall, we feel that this meat grinder is well worth the price you pay for it.
---
This 3-in-1 meat mincer and meat grinder is designed in a way to meet nearly any of your various culinary requirements. It comes with a variety of attachments, such as two grinding plates (one fine and one coarse), one sausage stuffer, one cutting blade, and one cookie attachment.
This machine can be used to grind vegetables as well as meats to prepare sausages, meatballs, and other foods to help make your life both better and healthier. It has a strong suction cup at the bottom plus a stainless-steel table clamp that can help prevent the grinder from moving during use.
We love the fact that the blade of the meat grinder attachment is enclosed to prevent your fingers from getting injured while mincing or otherwise using the blades during food prep. It comes with a meat pusher as well to keep your hands and fingers away from the feeder. It is easy to assemble, easy to operate, and easy to clean after use, too.
Product features and specifications
Weight: 2.46 lbs.

Easy to clean and store
Easy disassembly for compact storage
Dishwasher-safe
Heavy-duty plastic body
User/Customer Reviews
Several people have said although the crank and auger are made of plastic, the machine still looks sturdy and well-built. Customers have mentioned that the machine helps in grinding up meat very finely and that cleaning the parts is also very easy. A few users have warned that you should not try to grind frozen meat or else you may end up damaging the grinder.
Conclusion
The LHS manual meat grinder is a heavy-duty machine with high-quality, stainless-steel blades to mince and grind various meats for your dog's food. Besides being well-built and robust, the machine is also multifunctional and very efficient for preparing fresher and healthier food. Overall, this machine is worth every penny.
---
Buying Guide: Things to Consider When Buying a Meat Grinder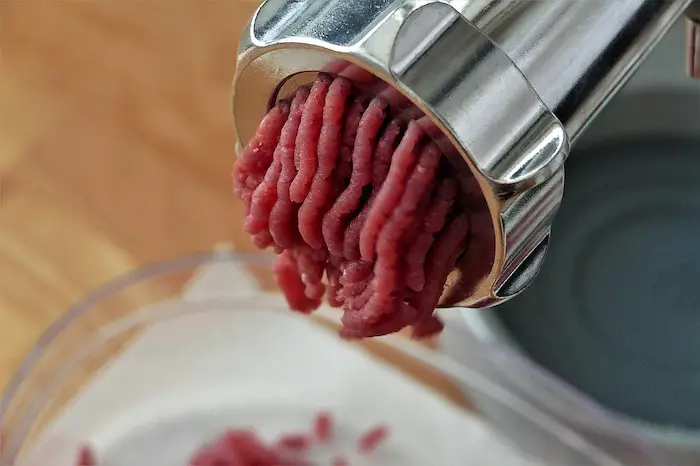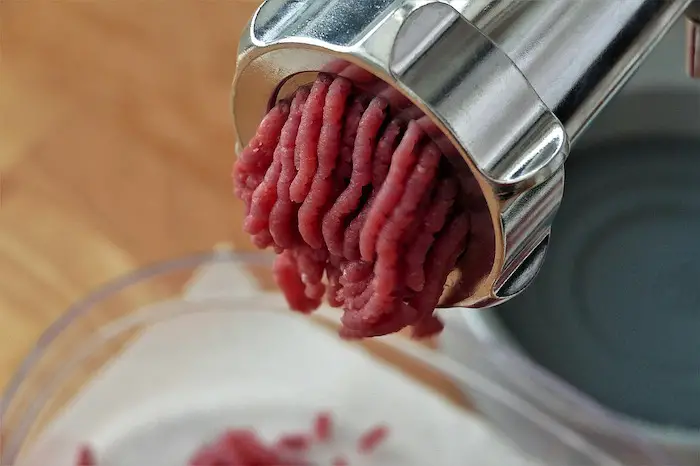 With the right type of raw dog food, you can improve the health of your furry friend, help them with digestive issues, and also reduce allergies. A raw food diet also helps in keeping their teeth healthy and improving their overall well-being. While all the products reviewed above are handpicked by our team and the best of the best, here are a few things you need to consider before choosing the perfect one for your own use.
Wattage
The power of a machine is always of utmost importance, and you'll have to choose from a variety of different wattage ratings. You will need to choose a product for your own use based on how much you intend to grind meats on a daily basis. If you plan to grind every day and also grind a significant quantity of meat, you should choose a product with a powerful motor.
Power
The horsepower of a machine tells you how quickly a machine can get the work done. To put it simply, the HP of these units is more about speed than power. If you have to grind a lot of dog food for multiple pets, you may want to invest in a model with a motor with a higher horsepower rating so that it can operate faster. However, you must remember that horsepower alone is not enough. It must also be combined with the right wattage to get the work done both quickly and efficiently.
Speed
The next important feature to consider is speed. Again, what you'll need to select depends on the quantity of food you will be grinding on a daily basis. For example, if you own only a small dog that eats less compared to larger breeds, you really don't need to seek out too much speed in a meat grinder used solely for preparing your dog's food. However, if you want to make larger batches for bigger dogs, a grinder with more speed is essential (along with adequate horsepower and appropriate wattage to handle the amount of meat that'll be ground on a daily basis).
Ease of use
Ease of use is a significant factor when it comes to making sure you're able to use such an item regularly. We suggest that you choose a unit that is simple in design and easy to use. The control panel should be user-friendly and located strategically to help you use it with confidence. If the process of food preparation gets too slow due to complexity or other factors affecting difficulty, you may not enjoy it at all and find yourself deciding against regularly using your grinder.
Ease of cleaning
You will also be responsible for cleaning your meat grinder regularly in order to keep it in a good shape. If you do not clean the unit after use, this will dramatically compromise the performance as well as make it incredibly unsanitary. This can result in altering the taste of the food as well as putting your dog's health in danger. Hence, we suggest that you choose a unit that has removable parts for ease of cleaning.
Accessories
There are several meat grinders on the market that come with additional accessories to make your food preparation tasks easier. Some of the common accessories that will be included are cutting plates, sausage plates, and tubes. Besides helping you grind meat and soft bones, some models also have shredding blades to help you cut veggies too.
Dimensions
You may also want to consider the dimensions of a meat grinder for preparing dog food, and this factor will help you understand how much space it will take up on the kitchen counter. If it is a bigger unit, it will occupy more space. Clearly, the smaller units will take up less space. If you have limited space in your home or kitchen, you'll want to be sure to invest in a small unit.
Warranty
A manufacturer's warranty is yet another feature that you should consider when buying a new meat grinder for your home. If you get a defective product or something goes wrong after you start using your grinder, there should be a warranty that covers any costly repairs or replacements for the duration of a certain time period. Most of the products we have reviewed above come with a 1-year limited manufacturer's warranty.
Tips to Maintain, Care For, and Clean Your Meat Grinder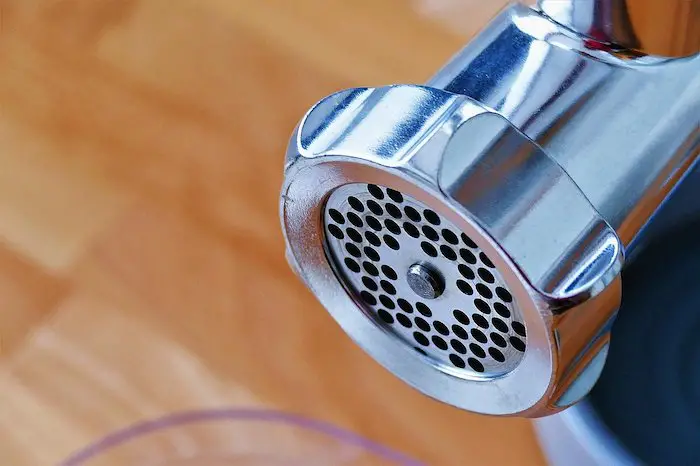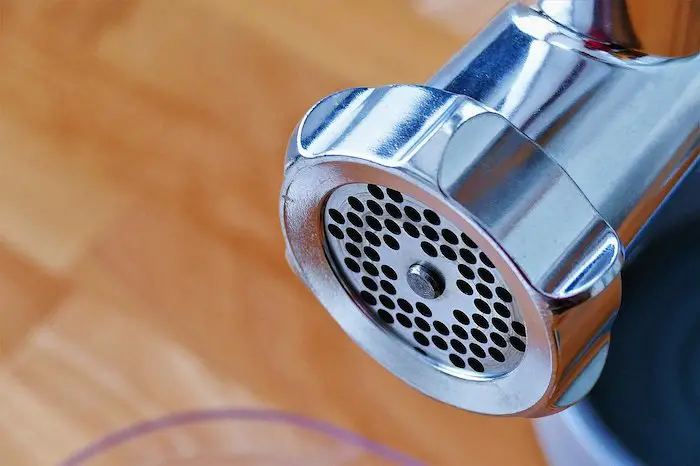 After you've finally selected your ideal meat grinder and have begun actually processing meat with it, now is the time to take care of and clean the equipment. If you allow any stray raw meat to stay stuck inside the grinder, this can lead to food poisoning and contaminate any future food when you use the grinder the next time. Here are a few quick tips that can help you maintain and clean the meat grinder and avoid such dangerous issues.
When you are done grinding your meat, simply add a few pieces of bread to the feeding tube of the grinder and proceed as you have been. This will help gather any tiny pieces of meat residue that may be stuck in the parts.
Next, unplug the grinder and remove the washable parts. Clean them carefully. Please read the instructions closely to see which parts can go into the dishwasher and which must be washed by hand. You should be able to remove the cutting blade, auger, grinding plate, feeding tube, screw, and other gear from the main body to wash them thoroughly.
Be careful when handling and washing the blades as the sharp edges can cut your hands.
If the blades of the grinder are not handled well during cleaning, use, and storage, they may become dull and smear the meat in your next grind.
The feeding tube and hopper will need more effort during cleaning, but you can use a bottle brush for cleaning the inner parts.
After washing everything thoroughly, always use a soft towel to dry the grinder parts.
Let the parts of the grinder naturally air-dry for any remaining moisture to evaporate, then store the parts. However, before storing everything, make sure you coat the pieces of your grinder with a thin layer of oil using a spray bottle. This works well for lubricating the inner and outer parts nicely.
If there is space in your freezer, we suggest that you store the meat grinder parts inside of there as cold parts will grind meat better once the equipment is back in use.
The meat grinding process helps sharpen the blades of a grinder as they rub against the grinding plates, so you will seldom need to sharpen them. However, if a blade becomes too dull, do not hesitate to get it sharpened by a professional.
Related Questions
How long does raw dog food last?
This depends on the type of meat you use and the method used for storing it. Raw ground meat can be safely kept in the freezer for 3 to 4 months, and it can be kept in the refrigerator for about 2 days. If you have not yet ground the meat, various cuts of different protein sources have different time limits, too.
Can I put the meat grinder in a dishwasher?
While the machine itself should be hand-washed, some of the removable parts may be dishwasher-safe. Some of these parts include the cutting blades, sausage tubes, cutting plates, and meat pushers. You'll need to check the instruction manual that's included with your particular model of meat grinder to determine which pieces are dishwasher-safe and which will need to be hand-washed.
What is the safest raw meat for your dog?
The safest type of raw meat for your pet dog can include beef, chicken, or turkey. While most meat grinders can handle all these types of meat, some can even grind the soft cartilages. The type of raw diet best suited for your dog will be determined by their breed, activity levels, overall health, and any food allergies they may have. It's always best to consult with your veterinarian when making such a change to ensure you're meeting your dog's nutritional requirements.
See Also:
KitchenAid Juicer Attachment Review: Is It Worth To Buy?
KitchenAid Cart-Style Charcoal Grill Review – Read This Frist!
4 Best KitchenAid Hand Mixers To Buy
4 Best KitchenAid Spiralizer Attachment