6 Best Humidifiers For Dry Mouth for 2023
Do you often wake up in the middle of the night with a dry mouth? Or, do your lips always feel rough and chapped? This is a condition called xerostomia when the salivary glands do not produce enough saliva to keep the mouth hydrated. As a result, you experience a dry mouth with cracked lips, sticky throat, and frequent thirst.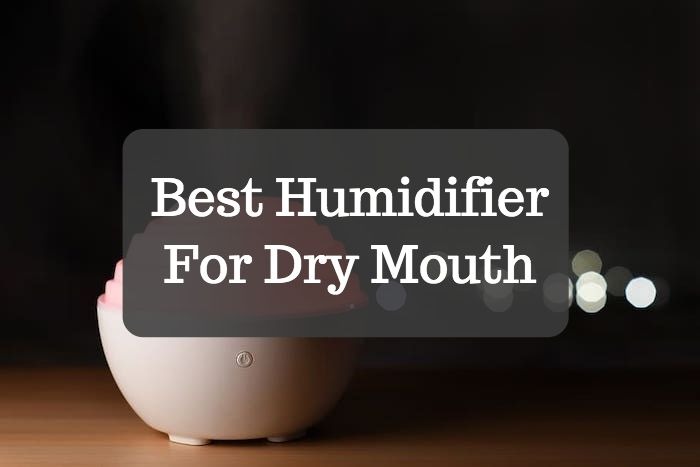 If you experience something similar then consider using the best humidifier for dry mouth to get relief from the symptoms. These devices work by increasing the humidity level in indoor air to enable you to breathe better. They disperse vapor and mist into the room to soothe symptoms of dry lips, throat and mouth.
The humidifiers come in both cool and warm options. While the cool ones can be used all the year round, the warm humidifier is perfect only for the cold season. Regardless of which one you choose, the best humidifier is the one that lasts all night long without requiring a refill.
Our team has selected some of the top-rated products by reviewing the pros, cons and comparing them with each other. If you are in a hurry, you can straightaway pick the Grelife Ultrasonic humidifier (shop now) that is lightweight and has 1.3 gallon tank that provides a run time of up to 32 hours.
---
The AIRCARE SS390DWHT (learn more) is a well-designed and compact evaporative humidifier that matches any décor and does a great job of increasing the humidity level in any room. It comes with an easy-to-fill tank that has a large holding capacity to last through the night. It works in the background to add moisture to the environment through an inbuilt saturated wick filter. This device not only raises the humidity levels by 43% but also eliminates over 80% of the airborne flu virus to relieve symptoms like dryness, irritation, and itchiness of the skin.
The ETL approved evaporative dehumidifier is designed to cover an area of up to 2,300 sq. ft and it boasts a runtime of up to 70 hours. The six-gallon tank capacity ensures that the humidifier lasts longer plus the analog controls help you adjust the settings to match different seasonal requirements. Besides reducing allergies and pet dander, adding moisture to the air can also help you cut back on your energy bills by 20%. We also love the smart indicators such as the 'yellow light' that tells you it's time to refill and the 'auto shut down' feature to prevent accidents when the tank runs out of water.
Product features and specifications
Measures 17.8 x 13 x 22 inches
Weighs 15.2 pounds
Built-in the USA
ETL approved
Up to 2,300 sq. ft. coverage
Up to 70 hours run time
6 gallons tank capacity
3 fan speed
Adjustable Humidistat
Trapmax Filter Technology
User/ customer reviews
Most buyers find this evaporative humidifier one of the best they have bought after using several other models in the past. Users love the large tank capacity which means they only need to fill water once in a couple of days. Also, distilled water is not needed so they can simply fill water from the sink. A few users have complained that the device is really loud but then anything that has a fan and pushes air will make some noise.
Conclusion
If you have a large house and wish to use a powerful humidifier that will effectively add moisture to the air then this is a good choice. It is made from good quality materials and the tank is large enough to last longer. Overall, this product is well worth your money.
---
If you are looking for a quieter humidifier that does not wake up a sleeping baby, check out this one from the house of Fabuletta . This is a high-end ultrasonic humidifier made from BPA-free plastic material and comes equipped with a built-in Ionic Generator to release fresh and healthier air in the environment. Upon review, we are impressed by the 3-in-1 level smart mode and 3 level mist that allows you to adjust the desired humidity levels and the LED screen shows you the real-time humidity in the environment. The Ionic resin filter also softens hard water to reduce the white residue by 90% and increase the life span of the product.
The auto-mode helps in diffusing mist automatically to adjust the humidity level in the air while you are sleeping, and it will turn to a 'sleep mode' if you press the button for more than 3 seconds. You may also set the timer up to 12 hours for it to shut down automatically when the timer ends to save energy. With the options of warm and cool mist, you can choose depending on the weather to stay comfortable indoors even if there's an air conditioner or heater running. There's also a separate aroma box where you can add essential oils to feel more relaxed.
Product features and specifications
Measures 24.8 x 19.7 x 15 inches
Weighs 7.1 pounds
Dual 360° rotatable nozzles
LED light indicator
5.5L Cover Large Room and Remote Control
Large 1.45 Gallon/5.5L capacity
40 hours of continuous use at cold mist
Max 550ml/h mist
12-month Guarantee
Max Warm Mist Temperature104°F
User/ customer reviews
People who have bought the product say that it's an all-round winner that is well-built, user-friendly, and extremely useful for those who live in a desert climate or have dry skin. Many customers chose to buy this model because it operates silently and you will only hear it if you want to. The smart indicators are also highly appreciated by users as you don't have to worry about when to refill the tank.
Conclusion
If you are looking for the best ultrasonic humidifier for dry mouth and skin then this one fits the bill just right. It is well-built with a smart technology that serves its purpose really well. Overall, this is a product worth your money.
---
This is a smart, sleek, and stylish mist humidifier that goes well with any décor. It is capable of producing both warm and cool mist, and the triple purification system ensures that you get good quality indoor air with the right humidity levels. It comes equipped with a 6-liter water tank that is designed to add the right amount of moisture to rooms up to 500 sq. ft area. With a full tank, the humidifier can last for up to 30 hours of continuous operation. There are mainly three types of humidity control – constant humidity, auto mode, and 5 speed levels. It gives both cool and warm mist based on climate changes.
The top filling tank comes with a secure built-in handle and a wide opening for easy refilling and cleaning. With sturdy construction and durable materials, this humidifier does not look like a cheap product. The leakproof operation ensures that it can last for several years to come. There's a special aroma box where you can add a few drops of essential oils to prevent odor and keep the air fresh. Besides improving dryness in the mouth and skin, it also helps in giving relief from cold, congestion, insomnia, anxiety, and stress.
Product features and specifications
Measures 14 x 11.2 x 10.5 inches
Weighs 8.5 pound
6L detachable container
Big LED screen
30 hours humidifying
Whisper Quiet
Top-filling design
1-year warranty and lifetime support
User/ customer reviews
Those who have used this product have mentioned how great it looks and the ease of filling water and operating the device to get good moisture levels in the air. However, many users have had issues starting the device despite following the instructions properly. Some have cautioned that the customer support only gathers information and does not provide any support about troubleshooting the machine.
Conclusion
If you have are looking for an ultra-quiet humidifier that runs smooth enough to let babies sleep then you must invest in this product. Overall, it does a great job but has a limited coverage area of up to 500 sq ft and the customer support is not very responsive. So, you get what you pay for.
---
When talking about the best humidifier for dry mouth that lasts through the night and operates quietly, we can't miss out this product by Grelife . With a large top-filling tank capacity of 5 liters, it delivers a high mist output of 30ml per hour and covers an area of up to 750sq ft. Three stages of built-in filtration remove limescale and soften water to give you purer air. The machine lasts for a good 30 hours between refills and it goes into an auto-shut down mode when the tank runs out of water. Made from high-quality ABS and BPA-free material, the product lasts longer and works best for kids and the elderly.
The 7.8-inch touchscreen display comes with an Ambient Temperature and Relative Humidity (RH) Indicator. You can also set a timer up to 12 hours and choose your desired humidity level to stay comfortable. We love the Whisper-Quiet mode that allows you to run the device at 36 decibels sound and the LED lights turn off to ensure a good night's sleep. The removable tank design also makes it easier to clean the humidifier to keep it working in the best condition.
Product features and specifications
Measures 16.8 x 11.2 x 11.2 inches
Weighs 5.8 pounds
110V/60Hz Power
Max Humidity: 300±30mL/h
1-32 hours Working time
Aroma box
7.8 Inch Touch Screen
Household Helper
3 stages of Filtration
5L large capacity Tank
User/ customer reviews
People find this ultrasonic humidifier stylish and aesthetically pleasing with the blue light not glaring at them. Users find the device easy to use, especially the removable water tank which is easier to take out and fill water. It does not take a lot of counter space and the large tank ensures that it lasts throughout the night to help you breathe and sleep better.
Conclusion
If you live in a dry climate or have extremely sensitive skin that requires hydration throughout the day and night, invest in this model as it has a super capacity water tank. The soft light, beautiful design and touchscreen make this humidifier one of the best money can get.
---
If you want a stylish humidifier to sit pretty in your living room and match with the décor then we would recommend the Miroco MI-AH001 Ultrasonic Cool Humidifier. If you have dry mouth and dry skin throughout the day, let this machine do its job by adding moisture to the indoor air and you will notice an instant improvement in the symptoms. Equipped with a 6-liter water tank and easily adjustable settings, this humidifier provides an output of 300 ml/h. With up to 60 hours of continuous use, it can also be used at night to give you a comfortable sleep without the need for a refill.
We are impressed with the thoughtful design and tiny details such as the 90mm water inlet that makes it easier to refill water and 360 degree nozzle that enables you to direct the mist wherever you want. The LED indicator gives a warning sign when the tank runs out of water to prevent the machine from overheating. The built-in handle makes it easier to carry and the adjunct brush makes it easy to clean. The product comes with a 90-day money-back guarantee so this is a risk-free purchase.
Product features and specifications
Measures less than 26 dB of noise
Weighs 4.5 pounds
LED tank light
90mm Water Inlet
Adjustable Mist
Automatic Shut-Off
Home Office 20-60 Hours
6 liters tank (1.5 gallons)
One-year quality assurance
90-day money-back
User/ Customer reviews
According to users, this humidifier is much better and more effective than the regular sized ones at producing continuous humidification. People like it for the 6-liter tank that can be set on high for a full night or kept at low for up to 60 hours. A few customers have also mentioned that this machine makes very little noise as compared to others.
Conclusion
If you live in a place with very dry climate or you have extremely sensitive skin and dry mouth issues, we would recommend using Miroco MI-AH001 (shop now) to see improvements. It requires less refilling and produces a good amount of mist to help you feel comfortable all day and night!
---
Do you find it annoying to get up in the middle of the night to refill water in your existing humidifier? If yes, then we would strongly suggest you switch to this device that promises up to 60 hours of non-stop mist after one fill. The device comes equipped with an extra-large water tank of 6 liters capacity to last through the night and a 360°swivel nozzle to direct the mist to any direction you desire. Despite the powerful mechanism, the fan is extremely quiet and reduces the noise to 26dB for a peaceful night's sleep.
The humidifier is capable of helping you maintain a humidity level of up to 60% to hydrate your dry mouth and add mist to indoor air so that you can breathe comfortably. Besides relieving nasal congestion, it also prevents static electricity and improves cracks in furniture. There's an inlet filter that removes impurities from the air to ensure a fresh and healthy environment. We love the 'auto shut-off' feature that prevents overfilling of the tank and PCBA Nano-film coating that offers water-resistance to prevent degradation.
Product features and specifications
Measures 17.7 x 11.5 x 7.7 inches
Weighs  5.1 pounds
LED lighting solutions
20-60 hours run time
6 liters water tank capacity
1M High Output
Auto Shut Off
Cozy Night Light
360°swivel nozzle
User/ Customer reviews
Most buyers are full of praises for this cute and compact humidifier with a large tank that keeps it running through the night and produce a good amount of steam to prevent dry mouth. People have noticed a significant reduction in problems like dry mouth, nasal congestion, headache, frequently waking at night, and so on. People also like the light yellow light instead of blue and the negligible humming fan sound that does not disturb sleep.
Conclusion
If you have been looking for a really powerful humidifier that works as advertised and really improves dry mouth problems and helps you sleep better then look no further. At this price, this is the best thing you can buy to improve the quality of living for you and your family.
---
Reasons Behind A Dry Mouth And Throat
Many people have the habit of going to bed with a glass of water kept at their bedside table because they know they will wake up with a parched mouth in the middle of the night. Normally, our body is capable of going into sleep mode for 8 hours without needing water as our mouth generates enough saliva. So, what are the reasons behind a dry mouth and why do you need a humidifier.
If you are on certain diuretics or medications to treat conditions like edema, blood pressure, or heart failure then you will experience dryness in the mouth. Sleeping pills or anti-depressants may also cause dry mouth.
Certain medical conditions such as sicca syndrome, diabetes, Sjogren's, and lupus may also be responsible for dry mouth. If you have been experiencing dry mouth lately, consider discussing with your doctor to find out any underlying disease.
Some people experience dry mouth simply because they breathe from their mouth instead of their nose. This is the primary reason why people snore. Other reasons could be breathing issues, nose structural problems, and so on.
Sometimes a sudden change in climate can also cause dry mouth and skin issues. For example, if you suddenly move to a desert area, your body system and skin are not attuned with extreme temperatures. This is where you would need the best humidifier for dry mouth to balance the indoor environment at home.
Disturbed breathing in sleep is often referred to as sleep apnea and the condition may be worsened if you sleep on your back or drink alcohol close to bedtime. Making changes in lifestyle and taking care of yourself can improve dry mouth problems. Read on to find some quick home remedies.
Remedies To Improve Dry Mouth
Whether you have just moved to a desert location, or you have an underlying disease or you are on medications that cause dry mouth, here are some remedies to get relief from the discomfort. Inculcating these remedies in your daily routine and lifestyle can bring about a positive difference.
Increase your water intake
Studies have shown that dehydration could be the reason for dry mouth. Hence, we recommend that you increase your water intake and sip water in regular intervals to keep yourself well hydrated.
Change your medications
If you are taking any of these medications (antihistamines, hormone medications, antihypertensives, and bronchodilators), talk to your doctor about it. However, never stop or switch medications without consulting with the doctor.
Changes in lifestyle
Small changes in your lifestyle can bring about a big difference and help you get rid of excessive dryness. So, make a conscious effort to get rid of the dehydrating habits such as limiting your alcohol use, avoiding caffeine, quitting or cutting down smoking, and reducing sugary intakes.
Chew sugarless gums/ Suck sugarless candies
You can get some short term relief from the dry mouth by chewing on sugarless gums or sucking on sugarless candies. Some gums or candies may contain ingredients like xylitol that aid in stimulating the production of saliva.
Try herbal remedies
There are certain types of herbs that stimulate your salivary glands to produce saliva and bring about some temporary relief. You can use these herbs in your food or as juices to encourage salivation. Examples of such herbs are ginger, aloe vera, sweet pepper, marshmallow root, nopal cactus, and so on.
Improve oral care
Sometimes bad oral hygiene could be the reason for dry mouth and you may improve this by choosing better oral care. We suggest improving your oral routine by flossing frequently, using alcohol-free mouthwash and fluoride toothpaste.
Using the best humidifier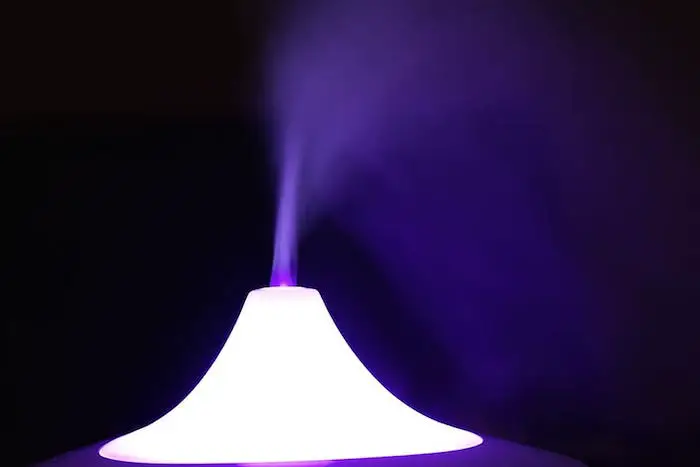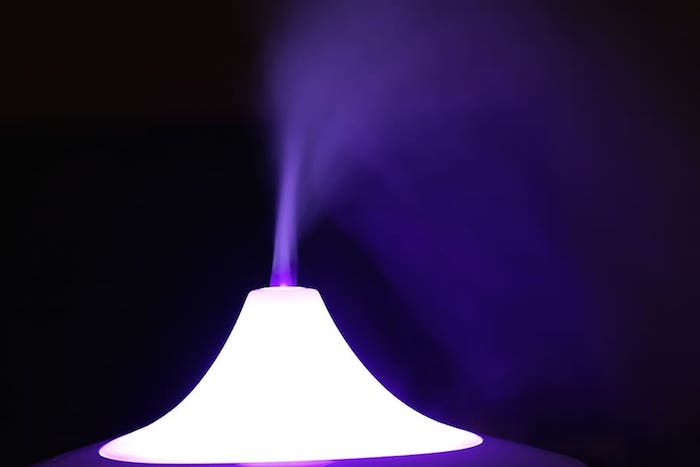 Choose one of the humidifiers mentioned above to increase the humidity levels in your room to avoid waking up with a dry mouth. Consider your specific needs such as area coverage, water tank capacity, etc before selecting a product.
Try over-the-counter substitutes
For those with extreme dry mouth problems, consider using the over-the-counter substitutes from your local pharmacy to get some temporary relief. You may consult your doctor to suggest a suitable brand for you.
Related Questions
Can I use a humidifier 24 hours a day?
Yes, most of them are designed in a way to be used 24 hours a day. Some models come with safety features and indicators that prevent the tank from drying up and machine from overheating.
Related Article: Can You Put Humidifier On Carpet?
What type of vapor is safer – cool mist or hot mist?
If you are concerned about having boiling water in your room, you may switch to using cool mist which is much safer. However, the warm mist is a better option to prevent mold or mildew growth in the device.
Is it okay to add salt to the water?
Some people consider adding salt to the water tank to replicate the ocean-like mist. However, we discourage you from doing so as this can damage the metal components inside the humidifier. It can also clog the filter and impact the overall performance of the device.
Is there anything wrong with my device because I can't see the mist?
Some models are designed to produce invisible mist, so if the water level is dropping and the device is taking air then it is producing mist. Please check with the user manual to find more details about the type of operation.
What size humidifier should I buy for my bedroom?
For an average bedroom, we suggest buying a device that is capable of covering an area of 700 to 800 square feet. Some models are powerful enough to increase the humidity level in the entire house and cover an area over 2000 square feet.
Related Articles:
Can You Use Air Purifier And Humidifier At The Same Time?
Can You Put Vodka In A Humidifier
11 Best Humidifiers For Diverse Purposes