Dry mouth, chapped lips, and cracked skin, they are indications of cold and arid weather that lack enough moisture. If you wake up in the middle of the night with a congested sinus, finding it difficult to breathe then you need a good humidifier to improve your indoor air quality. 
Whether you live in a region with dry climate or you want to combat the effect of cold weather that wreaks havoc on your sinuses and skin, you need a good quality humidifier. These devices work great to inject moisture in the air to balance the humidity level as per your comfort.
The ideal range of humidity for indoor air is between 30 and 60 percent, and you can keep a check on that with the help of a hygrometer. Humidifiers work by releasing warm vapor or cool mist to boost the moisture levels in the air, and thus eliminate the issues caused by dry air.
When you are in the market to get a humidifier, you will need to consider a lot of things, such as the room area to humidify, design, effectiveness, ease of cleaning, and other specific needs. We know it can be daunting for a beginner to make the right choice, so our team has done the work for you.
We have reviewed hundreds of products available online to help you choose the best humidifiers for diverse purposes. From units that improve breathing and are suitable for small grow tents to the ones that are best for pets, plants, and flowers, we have covered them all. So, let's get started.
Editor's Top Picks
---
Best Humidifier For Breathing
The best humidifiers help kids and adults keep their nasal passages clear, loosen congestion, and breathe more easily. If you experience coughing and stuffy nose on a regular basis, getting a humidifier can improve the quality of indoor air and ease respiratory problems such as asthma and so on.
Proper use of humidifiers can also reduce snoring in individuals, but you need to regulate the humidity levels or else your breathing problems may get worse. We recommend the TaoTronics TT-AH018 Warm and Cool Mist, Top Fill Humidifier for breathing. Read on to find a detailed review.
This tabletop humidifier sports a smart and sleek look with touch functions at the front, making it incredibly easy to operate. It has a wide opening at the top to fill water and the removable tank with built-in handle to refill without spilling water around.
With a large capacity of 5.5-liter water tank, the top-fill humidifier can work for about 45 hours with one refill and cover an area of 200-450 ft². There are 3 varying levels of temperature for winter, and the mist temperature can reach a maximum 60°C / 140°F.
Users can personalize the settings based on mist temperature, timer, humidity, mist output, and activate sleep mode. The lights and sound are deactivated in sleep mode to ensure that it does not interfere with your sleep. Warm mist mode is also disabled for safety grounds.
Product features and specifications
Measures 10.2 x 8.07 x 12.6 inches
Weighs 7.39 pounds
1.4 Gallon water tank
Warm and Cool Mist
Covers room size 20-50 m² / 200-450 ft²
Safe and Quiet at Night
Cough and Congestion Relief
User/ Customer reviews
Many people got the humidifier on doctors' recommendations to improve dry cough, and they experienced better sleep after using it. Those who fall sick every winter with dry throat and mouth due to compromised immune system also saw improvement in their overall health condition.
Users are happy that the unit does not make a lot of noise, so you can let it run all day without interfering with your day-to-day activities. A few customers have warned that the bottom part may leak if you use the warm mist option for a prolonged time.
Conclusion
If you are looking for a serious solution to improve the quality of indoor air and your health too then this is a small investment you will make. Although it covers only about 400 square feet, it's enough for a large bedroom or living area. This is not a cheap product but every penny is well spent.
---
Best Humidifier For Cats
If your furry Bella has a breathing problem, a humidifier is what you need to unclog the nose and improve her sense of smell. The reason why you may need to look for a humidifier for your cat is that asthma is a common disease that can impact their feeding habits and reproduction too.
There's no specially designed humidifier made for cats, but there are a few things that you need to consider. After reviewing several products in the market, we recommend the Pure Enrichment MistAire XL Ultrasonic Cool Mist Humidifier for cats, kids, and adults too. Read on for the review.
To start with, we love the cute and visually appealing unit that matches any décor. Equipped with ultrasonic cool mist technology, it safely adds moisture to the indoor air continuously for 10 to 24 hours (based on the type of mist setting) to ease out any breathing problems.
With a one-gallon water tank, the powerful steam output is enough to cover a large bedroom or office of area up to 500 square feet. It comes with optional soothing lighting (blue, green, or red) for utmost relaxation, and it operates in dark without interfering with your sleep.
The humidifier comes with an automatic shut-off feature that safely and automatically turns off the unit when the water level drops low or the tank is missing. We love that the manufacturer stands behind the product with a 5-year manufacturer warranty and solid customer support.
Product features and specifications
Measures 10 x 8 x 13 inches
Weighs 1.1 pounds
1 Gallon Water Tank
Automatic Shut-Off
Optional Night Light
Lasts Up to 24 Hours
Ultrasonic cool mist technology
Covers up to 500 square feet
User/ Customer reviews
Users are pleased with the amount of mist this unit releases and the ability to adjust the amount of steam you need. People have also commented about how nice it looks and its ability to easily cover an area of 400 – 500 square feet.
A few users have commented that the improved humidity in the air not only made them breathe easy but also made the pets happier and healthier, besides being safe for them. Some customers have said that the mechanism of refilling can be a pain.
Conclusion
Low noise operation, the adequate release of mist, and good area coverage – what's not to love about this MistAire XL humidifier? If you are looking for an ultrasonic humidifier to improve the breathing and dry skin issues of your cat then this is a great product that works for both pets and their human. A great investment.
---
Best Humidifier For Dogs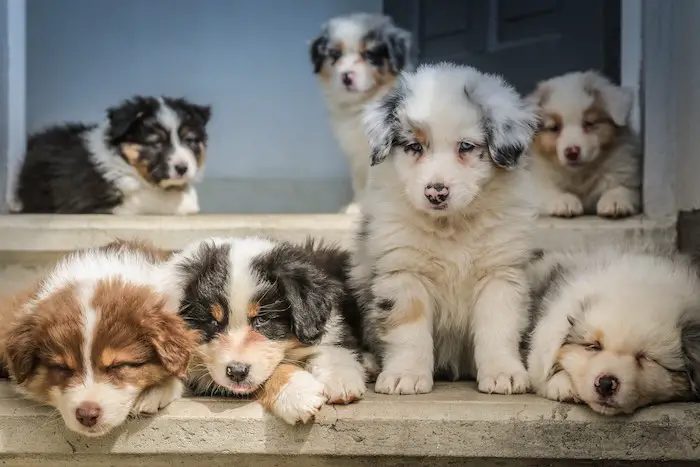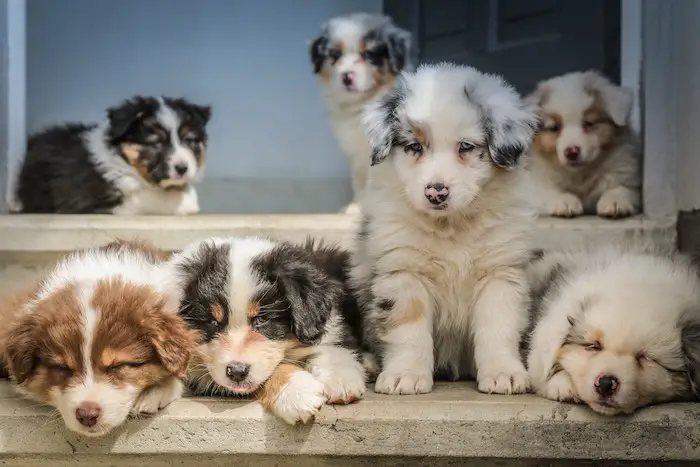 We know humidifiers are good for you but are they good for your four-legged fur babies too? Is it safe to have your humidifier running at night with Fido sleeping beside you? The answer is 'Yes' because dogs suffer from dry skin, dandruff, allergies, and the inflamed nasal passage that may lead to scabs and sores.
With the best humidifier for dogs, you can raise the humidity level in the air to open up the clogged nasal passages in dogs, to help them breathe more easily. We suggest that you avoid ultrasonic humidifiers as their sound can irritate dogs. We recommend the Venta LW15 Airwasher 2-in-1 Humidifier and Air Purifier.
This air humidifier-cum-purifier sports an old school design but promises to give you and your dog relief from allergy symptoms. It helps in improving the indoor air quality throughout the year. It also restores the adequate humidity levels in indoor air when it plummets below the range in the winter months.
Besides injecting moisture to the indoor air, the Venta LW15 also works as an air purifier to remove pollen, dust, allergens, and pet dander. Due to its filter-free and energy-efficient operation, the unit is known to not produce any ozone, ions, or white dust.
Equipped with a 1. 4-gallon water reservoir, the air humidifier can produce enough mist to cover an area of up to 200 square feet. There are water level indicators and auto shut-off feature which make it safe to use around pets and kids. It comes backed up by a 10-year manufacturer warranty.
Product features and specifications
Measures 11 x 12.2 x 10.2 inches
Weighs 7 pounds
4-gallon water reservoir
10-Year warranty
Covers up to 200 square meters
Releases no ions, ozone, or white dust
Filter-free
Energy-efficient operation
User/ Customer reviews
Those who have used the product are thrilled at the amount of dust this little humidifier can absorb while balancing out the moisture level in the air. Many people have experienced relief in their dry skin and allergy symptoms, and have also noticed an improvement in their pet's health.
Most users are happy with how easy it is to use the humidifier and how clean and healthy the air feels. A few customers have expressed concern about the QC performed on units, due to which some people received defective products.  
Conclusion
The Venta LW15 Airwasher is an expensive air humidifier cum purifier, but this is an investment you make for your family including pets too. It saves you from falling sick frequently and money spent after the vet to ease your pet's discomfort. Overall, this product gives you a good price to performance ratio.   
---
Best Humidifier For Small Grow Tent
Who says you need a sprawling garden or a big balcony to grow plants? With the small grow tents, you can cultivate seedlings and clones in a perfect environment conducive to them. Just like there are grow lights of varying capacities to cater to the need of sunlight, humidifiers do the same to maintain the humidity levels.  
We recommend the use of TaoTronics Cool Mist Humidifier to ensure that your small grow tent gets the perfect environment. There is much more to this humidifier than just a great appearance. Read on to find the full review.
The ultrasonic humidifier operates silently in the background to add moisture to any space where it is kept to make the air more breathable for you and plants too. With a tank capacity of 4 liters, it can work all night and give about 12-30 hours of working time, producing less than 38 dB noise.
The humidifier is designed to cover an area of 107-322 ft², which is enough for a bedroom, office, a nursery, or a small grow tent. It includes an informative LED display with built-in Humidistat to inform you about the current RH level. You can set your desired humidity level to 40-60 percent.
The sleep mode with the option to turn on the nightlight ensures that you get an undisturbed sleep. When the tank runs out of the water, the humidifier shuts off automatically. The microporous cartridge filters out any micro-organisms and eliminates bad odor.
Product features and specifications
Measures 8.07 x 5.31 x 11.81 inches
Weighs 3.5 pounds
Hydrates skin and air
Voltage: 120V/60Hz
Noise Level ≤38dB(A)
Working Time 12-30 hours
Water Tank Volume 4L/1.06 Gallon
Applicable Area 100-320 ft2
User/ Customer reviews
People have used the humidifier for 12 or more hours at a stretch to make the environment favorable for indoor plants that need a high humidity setting. Users are also impressed with the amount of water the tank can hold so that frequent refilling is not needed.
Customers are happy that the cool mist does not dampen or make the surfaces wet, plus the bluish light looks attractive. People call it a must-have for dry and arid weather in winter. A few users have warned that every time you turn off and again switch on the device, it loses its previous settings.   
Conclusion
If you are looking for a small, sleek, and compact humidifier to take care of your indoor plants or small grow tent then this is a good choice. Besides taking care of the plants, it also improves air quality to ensure a healthy indoor environment. It's a perfect combination of aesthetics and functionality.
---
Best Humidifier For Large Grow Room
If you love sporting lush green indoor tropical plants in a dry climate then you need to figure out a way to create a favorable environment for them. They thrive in a moisture-laden climate, so you need the best humidifier for large grow room to ensure that enough vapor is released to replicate a tropical weather.
Large grow rooms require a robust and higher capacity humidifier to ensure good health for your plants. We recommend the AIRCARE MA1201 Whole-House Console-Style Evaporative Humidifier for its high runtime and amazing area coverage capacity. Read on to find out more.
Whether you use it in your bedroom, office, or a large grow room, this humidifier from the house of AIRCARE is designed to match any décor. It sports a single-bottle design that houses a 3.6-gallon tank to permeate invisible moisture to the indoor air by moving the dry air via a saturated wick filter.
This ETL approved console-style humidifier is capable of covering a large grow room or a big house of up to 3600 square feet area. It includes a digital display where you can see the current humidity level adjusted automatically to make the environment more comfortable.
When the unit shuts-off automatically when the desired level is reached or the tank runs out of water. The evaporative wick traps the mineral deposits and ensures smooth operation without any pullets or wheels. A full tank provides a run time of up to 36 hours, and besides protecting your plants, it also prevents allergies, reduces pet dander, and protects fine wood furniture.
Products features and specifications
Measures 14.5 x 21.5 x 20.5 inches
Weighs 14 pounds
Console-style humidifier
3 wheels included
Up to 3,600 square feet coverage
Up to 36 hours of runtime
3.6-gallon tank capacity
4 fan speeds with auto mode
Customizable humidity
User/ Customer reviews
People have found this huge humidifier a great relief from bronchitis, asthma, and other respiratory issues. Users have also found this easier to use in large grow houses to replicate a moisture-rich tropical environment for the healthy growth of plants.
A few users have said that the water tank must be filled on time or else mold and mildew can grow and stink the house. Some customers have said that the filters need to be replaced frequently and fan becomes too loud on speed 4.
Conclusion
When you want high capacity and a robust humidifier for the entire house or a large grow room, the AIRCARE MA1201 is undoubtedly a great choice. As a large and effective unit, this robust humidifier does a great job like a 'workhorse' even if it is too noisy at times. That's a small price to pay for an efficient and effective unit that does what it says.
---
Best Humidifier For Growing Mushrooms
If you are planning on cultivating mushrooms at home, you will need to create a constant temperature with high humidity level for optimum growth. You will need to find the best humidifier capable of maintaining a Relative Humidity (RH) in the range of 80-90%.
We recommend using the Crane Drop Ultrasonic Cool Mist Humidifier to maintain a relativity higher humidity level for faster and more flavorful mushroom growth. Read on to find out more about the features, pros, and cons.
To start with, we are in love with the water drop shape of the humidifier. Despite its humble looks, it is capable of achieving any humidity level with the help of variable speed settings. It also comes with an adjustable 360-degree mist lid that can direct the mist in any direction.
With a 1 gallon tank, the moisture produced from this ultrasonic cool mist humidifier is enough for a 500 square feet medium to large room or nursery. As the unit is made from anti-microbial material, it can easily eliminate the growth of mold and bacteria by up to 99.96%.
The humidifier is filter-free but there's an option to use a demineralization filter to get rid of the excessive minerals that damage the water tank. With a full tank, the unit can run for 24 hours so there is no need to worry about refilling in the middle of the night. The auto-shutdown feature when the tank gets empty also ensures safety.
Product features and specifications
Measures 8.6 x 13.4 x 8.6 inches
Weighs 4.5 pounds
Covers 500 square feet
One gallon tank
Adjustable 360-degree mist lid
24 hours run time
Detachable bottom fill tank
Variable speed settings
User/ Customer reviews
People find this a solid little humidifier that's perfect for growing mushroom or increasing humidity levels for tropical plants. Some users have said that it can also be used in the living room or bedroom to ease breathing problems
Customers find it extremely easy to clean the unit as most of the parts including the water level sensor and lid are removable. A few users have warned that the product starts making noise after some months of use.
Conclusion
If you are looking for a humidifier for growing your plants, this can be a good choice. The product does not look very durable for heavy-duty use, but it can produce enough mist to give your indoor plants a favorable environment. Overall, this is a good investment.
---
Best Humidifier For Orchids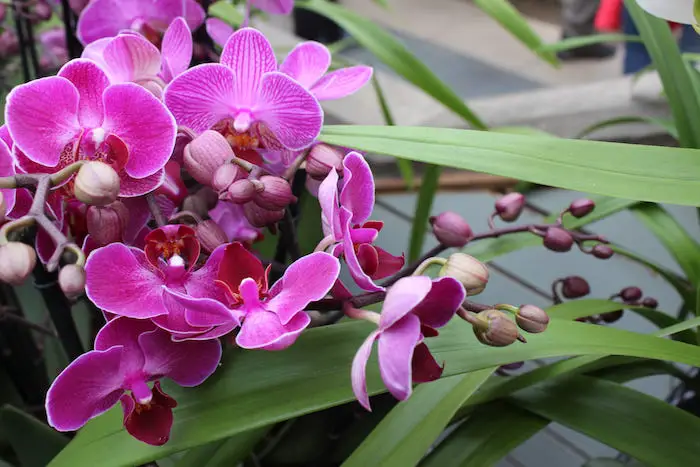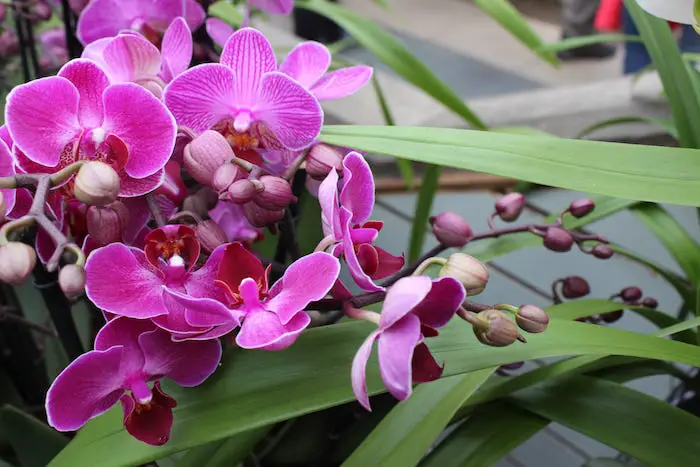 Orchids can add a lot of value and elegance to your indoors if you grow them correctly, and one of the biggest prerequisites is a suitable environment. The plants require a humidity level of 40-70 % depending upon the different types of species.
You will need an evaporative-pad humidifier instead of a mist humidifier so that it does not leave a white film over the flowers. We recommend the Vornado Evap40 4-Gallon Evaporative Humidifier for its compatibility and amazing features. Read on to find out more.
This 4-gallon capacity evaporative-pad humidifier is capable of providing non-stop steam for 24 hours to maintain the high humidity levels of your orchid plant growth. The deep pitched blades draw large volumes of dry air and pass them through two humidifying filters to release moisture-laden air to the environment.
The unit uses Vornado's signature Vortex Action to emit moisture in a uniform way to cover an area of up to 1000 square feet. Once filled, the water lasts really long so you don't need to refill that often. The intuitive control panel lets you select the fan speed and help you achieve the desired humidity level with the help of a humidistat dial.
The water tank is leak-resistant, spill-proof, and easy to remove to clean thoroughly. It is also easy to refill when needed. Evap40 features a smart and intelligent humidification system that senses the current humidity level and accordingly decides how much more is required to maintain a favorable environment.
Product features and specifications
Measures 10.5 x 19.5 x 13.5 inches
Weighs 9 pounds
Power: 43 Watts
Covers up to 1,000 sq. ft
Good customer support
5 year limited warranty
Assembled in the USA
User/ Customer reviews
People are surprised to find that the humidifier is relatively quiet even when on a high and the ability to operate for almost 24 hours without needing a refill. A few users have mentioned that a trade-off for not having to fill them often is that the jug can get really heavy.
Some customers have warned that the wick replacement can be expensive but they are widely available, and you may need to get two sets for winter. The controls are simple so most people find it easy to operate.
Conclusion
If you are looking for a sturdy and robust humidifier that can run for hours to steadily maintain a favorable environment for orchids, we recommend the Vornado Evap40. Although the wicks are slightly pricey, you get a good performance with low noise.
---
Best Quiet Humidifier For Bedroom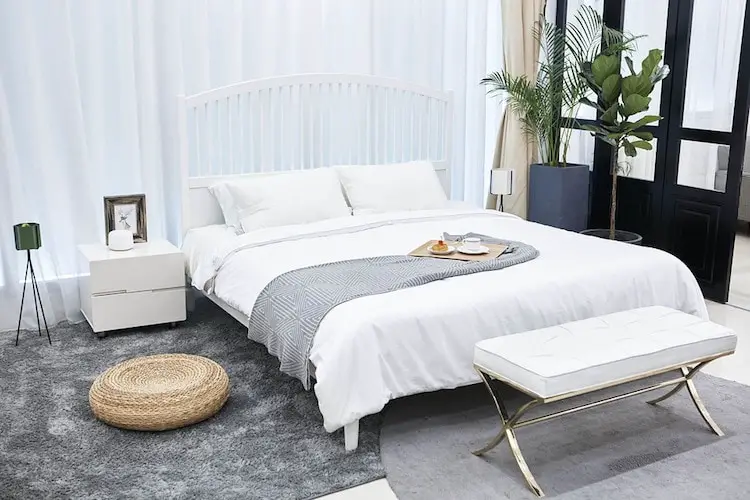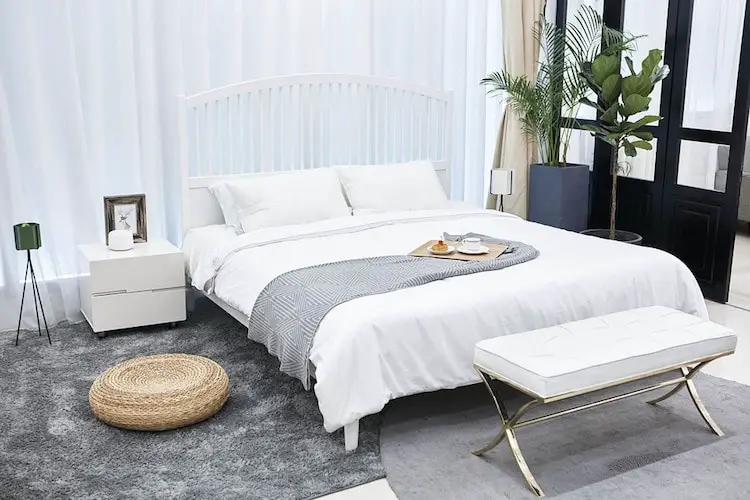 The bedroom is the place where you retire at the end of the day to enjoy a comfortable sleep, and you will not want a noisy humidifier to interfere with your peace. Thankfully there are many products specially designed to help you sleep better, reduce coughing, breathing problems, and make less noise too.
Some of the features you must look for in the best humidifier for bedroom are night mode, low light, warm/ cool mist, adequate run time, and so on. We recommend the Homasy 4.5L Cool Mist Humidifiers for its special features. Read on to find the complete review.
The table-top humidifier can be kept in any corner of the room to cover about 538 square feet area. Equipped with a 4. 5 liters water tank, it can run for 30 hours with a full tank so you don't have to worry about getting up in the middle of the night to check.
This ultra-quiet humidifier produces 28 dB noise so you will hardly know it's running even if you put it on the bedside table. To activate the sleep mode, you simply need to press the touch button for 3 seconds and the light will be turned off with mist spraying continuously.
The mist level can be easily adjusted by touching the button. The top-refill design makes it easier to clean the unit and fill the water tank. It shuts-off automatically if the water runs out or the water level falls down. The manufacturer allows the use of essential oils to improve sleep quality and create a relaxing environment.
Product features and specifications
Measures 9.09 x 7.56 x 12.8 inches
Weighs 3.5 pounds
4.5L (1.2 gal) tank
Top-fill design
Soothes dry skin and enhances sleep
28dB Quieter Operation
3-level Adjustable Mist Output
Essential Oil Compatible
User/ Customer reviews
Most users have said that the Homasy humidifier is super easy to set up and it produces a strong mist to help you breathe and sleep better. People have reported improvement in conditions like sleep apnea asthma, and other respiratory issues.
New parents also find this product extremely useful to help their babies sleep better throughout the night with so less noise that it doesn't disturb their sleep. A few users have said that it's way too powerful for bedroom use as you can almost see the white mist coming powerfully.
Conclusion
The simple and minimalist look of the humidifier makes it the perfect unit you want to add calmness and serenity to your bedroom. Besides increase the humidity levels in the air to give you a good night's sleep, the ability to use essential oils further help you relax. It's a small price you will pay to not get up at night and feel refreshed next morning.
---
Best Humidifier For Hot Yoga
Hot yoga studios require the perfect balance of heat and humidity levels to create an optimal environment for performing the asanas. Lack of enough humidity is one of the biggest complaints that people have because a dry climate is uncomfortable for doing yoga. 
If you are looking for the best humidifier for your hot yoga studio then we recommend the Pure Enrichment HumeXL Pro Warm and Cool Mist Humidifier. The minimalist appearance and compact form is just what you need for your personal yoga space or professional studio.
This ETL-approved humidifier has the looks that mean serious business and with its 5-liters tank, it is capable of providing cool mist for 50 hours and warm mist for 25 hours. There are two independent 360-degree rotating nozzles that release steam in the opposite direction to cover all corners of the room.
It has a built-in humidistat that helps you gauge the humidity level in the room and turn off the device when the desired level is achieved. The sleek LED display panel with touch controls lets you switch on and off the unit with ease, control mist output, and activate night mode for a soft glow.
The water tank has a large opening for easy refill and hand wash the inside walls to prevent any buildup and improve efficiency. The manufacturer backs up the product with a 5-year manufacturer warranty and solid customer support to give peace of mind to the customers.
Product features and specifications
Measures 15.9 x 11.2 x 8.3 inches
Weighs 6.01 pounds
Remote Control Operation
Whisper-Quiet Operation
Automatic Shut-Off
Night mode setting
5-liter water tank
LED display with remote
User/ Customer reviews
Users are happy to report that this humidifier is cheaper than several other competitor products out there but still does a great job. People are relieved that the water tank is enough to release mist throughout the night without disturbing your sleep or turning off automatically.
Customers find this unit adequate enough for a medium to a large bedroom and it's easy to clean without any hassles. A few users had issues with the built-in humidistat and the customer service sent them a quick replacement for which they are grateful.
Conclusion
The HumeXL humidifier has a nice sleek and modern appearance that goes well in a professional set up. It comes with both cool and warm mist for different conditions, plus special features like timer and remote control make it a sure winner.
---
Best Humidifier For Smokers
While there's no such category as smoke humidifiers, they refer to a special segment of products that are designed to tackle smoke. They come with filters to work as an air purifier to remove the bad odor, harmful chemicals, and gases present in the environment.
Choose a humidifier that pulls indoor air, purifies it, and emits back by injecting moisture so that your skin feels hydrated. We recommend the BONECO – Air Washer W200 Humidifier & Purifier that comes with a dual function to improve indoor air quality. Read in to find out more.
What we find unique about this BONECO air humidifier is that it actually washes the air clean and injects moisture to make you comfortable. It comes with an evaporator mat that rotates to increase the humidity level of air. Water acts as the natural filter to remove impurities such as pollen and dust.
The humidifier comes with two operation modes for a day with maximum output and night with low noise operation. It features a self-regulating evaporation principle that maintains the right humidity level in the room, as air draws as much moisture as required from the unit.
The modern design matches with any décor of home or office, and it enables users to directly fill the water base. Besides being an energy-efficient appliance, it also includes a smart automatic shut off feature that ensures safe operation at night time. The manufacturer also allows you to add essential oils to eliminate the smoke odor and infuse fragrance.
Product features and specifications
Measures 11 x 11 x 16 inches
Weighs 11.2 pounds
Air Washer system
3 dimensional evaporator mat
Two operation modes
Easy handling and dual function
User/ Customer reviews
People have said that this humidifier tends to be slightly louder than Venta, but it delivers a great performance and is extremely easy to clean. Users are primarily happy to find that the air filter also needs less maintenance to stay in good condition.
Some customers have said that this is a relatively big machine with a small capacity, so you may not be able to get through an entire night in high mode. Few users have warned about the need to refill frequently to keep it running.
Conclusion
This humidifier is slightly more expensive than other products in the market than other competitor products due to its dual functionality. While it does the job of eliminating smoke and adding moisture to the air with perfection, it lacks due to small capacity.
---
Best Humidifier For Elderly
With age and experience also comes dry and wrinkly skin that feels much more uncomfortable as winter approaches. Getting the best humidifier for the elderly can have a lot of health benefits such as improvement in respiratory issues. However, not all models are senior-friendly as some are difficult to clean while others are tough to refill.
After reviewing several models, we feel that the Elechomes Warm and Cool Mist Humidifier is a good choice for the elderly due to its unique features. Read on to find out the detailed review.
This Elechomes humidifier is an upgrade over the previous version and we love the ability to directly fill water to the tank without any disassembly. As a result, refilling water is more convenient for the elderly. The replacement filters are also easy to install and affordable to eliminate dust and give you cleaner air.
In the whisper sleep mode, the advanced ultrasonic technology of the humidifier releases cool mist continuously with about 20-32 dB noise. The upgraded version of the model also comes with a screen-off setting to ensure a guaranteed peaceful rest during nighttime.
Equipped with a large water tank of 5.5L capacity, this humidifier is designed to cover a large room. It releases cool mist output that can reach about 600 ml/h to accommodate areas up to a maximum of 755 square feet. A humidity level of 40%-60% can help you fight flu risks.
Product features and specifications
Measures 10.4 x 7.2 x 12 inches
Weighs 6.3 pounds
LED Display
755 sq. ft. coverage area
Two 360° rotatable spray nozzles
20db noise level
600ml/h Max Humidity
Auto Shut-off
Top-fill 5.5L water tank
Cool and warm mist mode
User/ Customer reviews
People who have used the humidifier say that it does the job well at improving dry mouth, dry throat, and dry condition. Users feel that it's not only good for kids and adults, but also for the elderly with aged skin. Several customers also think that the easy refill and intuitive controls make the unit easier to use by the senior citizens.
Some customers have pointed out that the unit is quick to install and touch control panel is easy to use. A few have warned about the humidifier using up the water too fast.
Conclusion
If you are looking for an easy to use the humidifier for your elderly parents or grandparents then this unit by Elechomes is a good choice. With the ability to release both warm and cool mist, they can keep the elderly comfortable throughout the year. At this price, this is a great deal.
See Also:
4 Best Double Wall Ovens With Air Fryers
4 Best KitchenAid Hand Mixers To Buy
Speed Queen Vs. LG Washers: A Close-Up Look
4 Best Automatic Pool Cleaners For Concrete Pools