5 Best Ladder for Getting on Roof for 2023
People often ask me 'why do I need a special roof ladder' 'Why can't I use just any ladder for roof repair work.' Well, my answer is simple. You can use almost any type of ladder, but a simple DIY rooftop installation or repair may cost you dearly in terms of time and labor.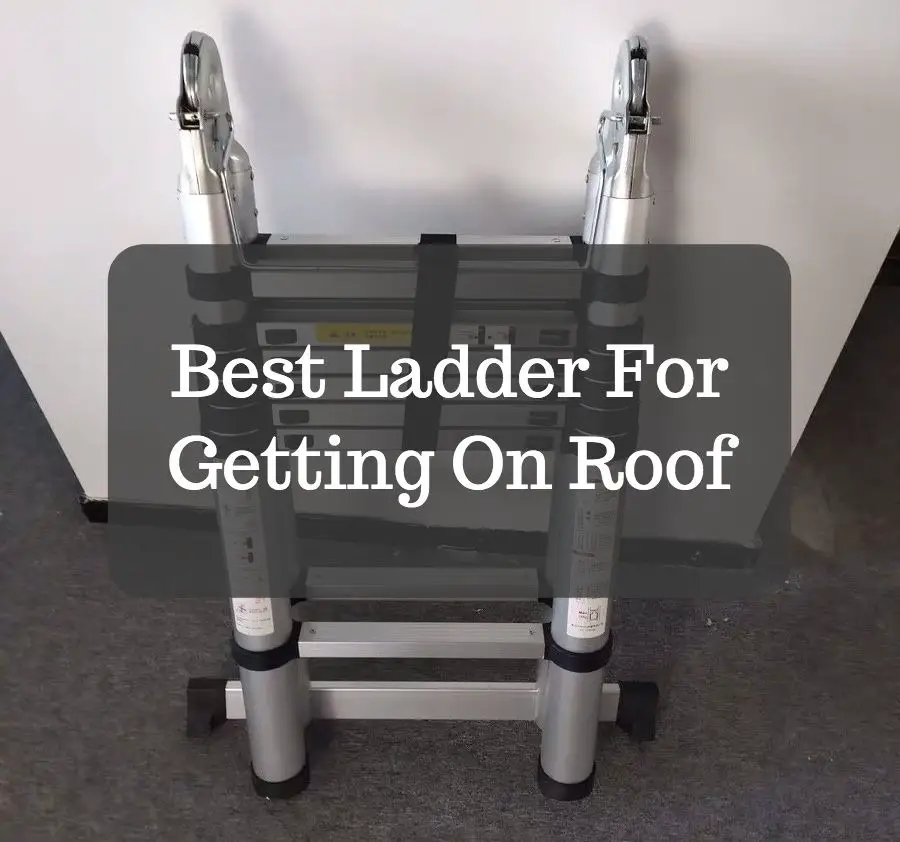 The best ladder for getting on roof not only gives you a specially designed tool to easily access the heights but also support you in the awkward slopes. With a wide range of roof ladders and support accessories available, you can choose the one that suits your needs perfectly.
With the right ladder, you can enjoy a world of difference as it turns a tedious and difficult roof job into a quick and efficient one. When buying a roof ladder, you will need to consider your house specifications and choose the one that can overcome obstacles, if any. You can find more information in our buying guide and tips below.
We know it's confusing for you to pick one product from a plethora of different models and makes available online. Our team has done the research work to take the stress out of your buying decision. Read on to find the reviews of our handpicked products, along with customer reviews and comparisons.
If you are in a hurry to purchase, we would recommend that you opt for the YVAN 12.5 FT Aluminum Telescopic Extension Ladder ( learn more), as the retractable design makes it easier to use and store. It is made from aluminum alloy material, hence lightweight but durable enough to last for several years.
| | | | | | |
| --- | --- | --- | --- | --- | --- |
| Features | Luisladders | Little Giant | Louisville | YVAN | Tri-Arc |
| Size Options | 3 | 4 | 7 | 2 | 14 |
| Dimensions | 40.75 x 14.37 x 11.22 inches | 8 x 27 x 67 inches | 196 x 18 x 6 inches | 40 x 23 x 5 inches | NA |
| Weight | 23 lbs | 39 lbs | 70 lbs | 25.4 lbs | 296 lbs |
| Material | Aluminum Alloy | Special alloy | Fiberglass material | Aluminum Alloy | Steel |
| Formations | 7 | NA | NA | NA | NA |
| Weight Capacity | 330 lbs | 300 lbs | 300 lbs | 330 lbs | 450 lbs |
| Extension Length | 12.1 ft . | 19 ft. | 29 ft. | 12.5 ft. | NA |
---
This multi-purpose folding roof ladder can take various shapes to reach different heights and that's what we like best about this product. Made from high-quality aircraft-grade aluminum, this ladder can be used as a leaning ladder, stepladder, scaffold and so on. The supporting tubes, non-slip rubber angled feet, and square rungs further add more durability to the product and it can take a maximum load capacity of 330 lbs. It can meet diverse needs inside and outside the house.
The ladder is securely connected with six security 'click and lock' system that can be easily opened and locked to form as many as 7 different shapes with the ladder. You can get safety and security with each design. It can also take the shape of zigzag anti-slip foot straps to prevent the ladder from sliding. As the ladder can be folded with ease, you can also carry it with you in your RV or car. When not in use, you can fold the ladder compactly and store it away.
Product features and specifications
Measures: 40.75 x 14.37 x 11.22 inches
Weigh:t 23 lbs
Made from Aluminum Alloy
12 Steps quantity
Multi-Purpose Ladder
7 different formations
Six security locks connection
Anti-slip design
User/ customer reviews
People are happy that this roof ladder is sturdy in construction but still extremely lightweight so they can carry it to different locations with ease. Users have tried it in various shapes and it works great every time to meet various purposes. A few people have cautioned that the buttons used to lock and unlock the joints are difficult to get back and forth.
Conclusion
If you are looking for a roof ladder that can be put into different forms to reach the height for installation or repair work then LANBITOU Folding Ladder is a good choice. At this price, it offers good value for money.
---
We like the name 'little giant' and it goes perfectly with this ladder made from a special alloy. The Model 22 is indeed a compact little extension ladder that can be opened to convert into a giant form. It provides users with an unmatched level of stability with quality construction, wide-flared legs, and dual-pin hinge. The manufacturer claims that their product is constructed in a way to avoid most of the ladder-related accidents. As a true two-person roof ladder, it is twenty percent lighter than other industrial-rated ladders in the market.
It can be folded into five different shapes and sizes such as the A-frame, scaffold system, 90-degree design, and so on. It can reach the most hard-to-access areas and help you get over the obstacles easily.  So, one product can help you with various tasks around the house. Model 22 also complies with all ANSI and OSHA standards to ensure safety. With a weight sustaining capacity of 300 lbs, this one is really the jack of all trades.
Product features and specifications
Measures 8 x 27 x 67 inches
Weight: 39 pounds
19-foot extension ladder
Wide-flared legs
Two-person ladder
Palm & Hinge System-Triple-Locking Hinge
OSHA and ANSI standards
User/ Customer reviews
Most buyers are thrilled with the Little Giant 22-Foot Velocity ladder as it helps them get on the roof for DIY jobs with ease and without depending on a technician. Many users have said that they saved money that they would otherwise have to pay to professionals for petty tasks. People find it extremely sturdy and easy to move, but a few users have cautioned to be careful or else you may hurt your fingers while extending it to maximum length.
Conclusion
If you are looking for a two-person ladder capable of sustaining a lot of weight and staying stable in different formations then opt for the Little Giant 22-Foot Velocity Multi-Use Ladder (learn more). This is a perfect handy tool to have in the house to save money on minor roof installation and repair tasks. Overall, it gives good value for money.
---
Do you keep neglecting small repair jobs around the house because they require you to climb on awkward areas? Take out the stress and impress your wife by doing the roof repair, fan blades cleaning, and roof-top installation like a superhero. This 32-foot extension ladder from the house of Louisville has a load capacity of 300 pounds so there's no fear of falling even if you are slightly overweight. The D shaped rungs are perfectly serrated to give you an anti-slip surface. The mar-resistant rail end caps protect the landing surfaces and add more years to the ladder.
The Louisville extension ladders come with two heavy-duty slide guides at the base area and a stop-lock on the fly section to prevent the ladder from overextending. It also has a heavy-duty and plated steel shoe along with thick rubber treads that make the ladder much safer and easier to use. The Louisville ladders are available in many sizes so you can choose the one that suits your needs. Each one meets the CSA grade1 and ANSI 14.4 requirements. They are the best ladder for getting on the roof for light construction work and other residential Jobs.
Product features and specifications
Measures 196 x 18 x 6 inches
Weight: 70 pounds
Made from Fiberglass material
Shoe Design Swivel Safety
300 pounds load capacity
Model/Duty Rating Label
Rung Shape D-Rung
Limited manufacturer warranty
User/ customer reviews
People have highly praised the ladder for its great built, sturdiness, and usability in doing DIY jobs like painting the roof, cleaning the ceiling and so on. Users have praised how lightweight the ladder is, and it comes with a pulley and rope for easy extension. A few customers had a bad experience related to shipping damage, so you will just need to be a little careful before signing the receipt.
Conclusion
The ladder is extremely well constructed and stands sturdily with stop locks and plated steel shoes that give a good grip. This is an all-purpose ladder you can have in the house to do a lot of residential jobs with ease. Overall, it delivers a great price to performance ratio, hence a great buy!
---
If you thought handling a big roof ladder means a lot of hassle, then the YVAN Aluminum Telescopic Extension Ladder is designed to change your views. It has a one-button retraction system that takes convenience to a different height altogether. You just need to press down the thumb buttons and the ladder will slide down to help you with house jobs. Made from premium-quality aluminum alloy, this telescopic ladder is lightweight and easy to carry around without much effort. It is capable of sustaining a total weight of 330lbs.
The extension mechanism works great and the smartly designed lock pins enable you to hold the ladder in your desired height. It prevents the ladder extensions from collapsing or sudden sliding. Each section and every rung expands slowly to ensure that you don't hurt your fingers. Whether you wish to paint the walls, do some roof installation work, this ladder comes handy for all residential jobs. We love the heavy-duty carrying strap that helps the ladder stay compact and closed for easy storage.
Product features and specifications
Measures 40 x 23 x 5 inches
Weight: 25.4 pounds
One-button retraction
High-quality aluminum alloy material
Compact size in collapsed condition
EN131 and SGS European safety standards
Weight capacity up to 330lbs
User/ customer reviews
People have used this roof ladder for almost everything from decorating lights on rooftops to repairing ceilings and so on. Many buyers have reported that the retractable ladder is easy to store when not in use and can also be transported effortlessly. Users are happy that despite being lightweight, the ladder does not bend or flex and stays sturdy on the ground.
Conclusion
If you have been ignoring the need to buy a roof ladder because of the lack of storage space in your house then YVAN Aluminum Telescopic Extension Ladder (shop now) is the solution to your woes. The modern retractable-design, sturdy construction, and compact form make it a great buy!
---
If you are looking for a 'big top' industrial-grade ladder with handrails then check out this Tri-Arc KDSR110242-D2. It boasts a 20 inches deep platform on the top that performs a stable and comfortable area to stand on and work for longer hours. Users get to choose between the perforated surface or grip-strut tread designs depending on the working environment. Each model produced by the company comes equipped with guardrails and handrails for added comfort and safety while ascending, descending, or performing work from the ladder.
The ladder is gray powder-coated with a paint finish to make the exterior look great. Each step is 24-inches wide and the positive locking system engages as the users takes the first step on the ladder. It is sturdy enough to sustain a weight capacity of 450 lbs so you may carry tools needed for rooftop installation or ceiling work. We love the serrated tread design that gives you a good grip and prevents accidental fall. Each model is engineered in compliance with the ANSI A14.7 and OSHA 1910.29 standards.
Product features and specifications
Weight: 296 pounds
Made in the USA
24-inches wide steps
10-step ladder
Positive locking system
450 lbs weight capacity
Gray powder-coated paint finish
Big Top 20-inches deep top platform
Slip-resistant serrated tread design
User/ customer reviews
People find this product extremely useful as they no more need to climb on a vertical rung ladder but still perform all their roof work with ease. Many users have mentioned that the ladder was easy to assemble although the instructions are a bit confusing. Most customers are happy with the overall design, built, and step-options to help them do a plethora of tasks at home with ease.
Conclusion
The Tri-Arc team has a way with ladders and their 70 years of experience in the industry clearly reflects in the quality of product. The only grudge is that the ladder is made of steel so it is prone to rusting if you don't maintain it well. Overall, we think this is one of the safest roof ladders within budget.
---
Things To Look For In The Best Ladder For Getting On Roof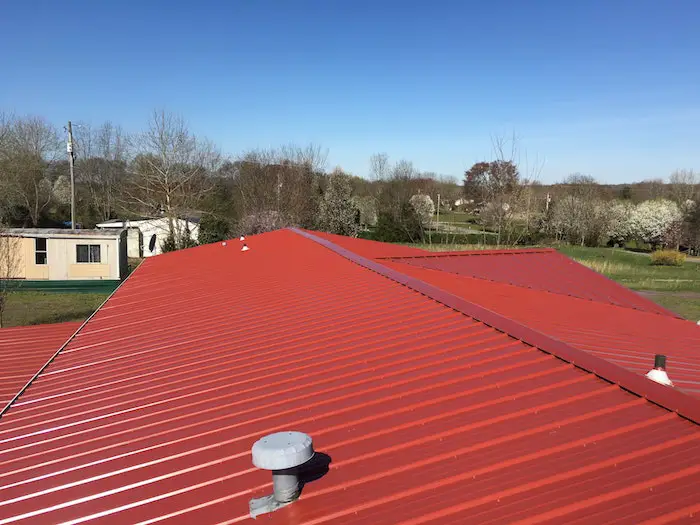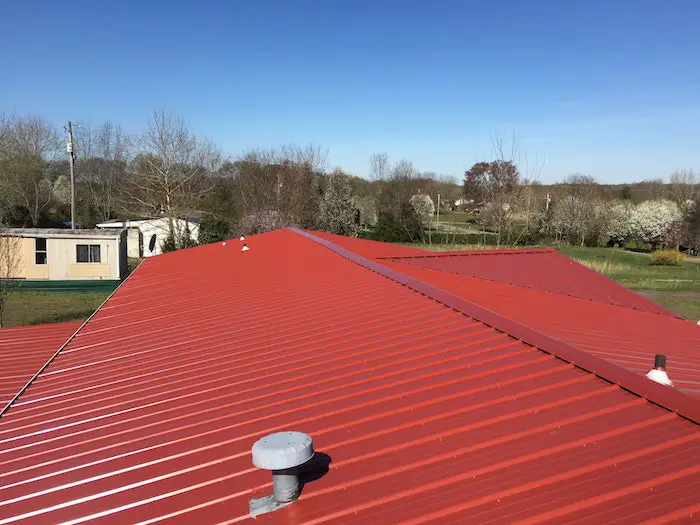 With a good roof ladder in the house, you can get access to reach heights and perform a lot of DIY residential tasks with ease. As the ladders and supporting accessories come in different variations, there are several things you need to consider when buying one.
Consider your specific needs
As the ladders come in different shapes and sizes, consider the height of your roof and the type of jobs for which you may need the ladder. Do you want to convert an elevated ladder into a small work station? You may need an extension ladder to access the roof and a roofing ladder to complete the various tasks. Make sure you always tie the ladder to a solid anchor so that it does not slide sideways.
Ladder style
The ladders also come in various styles such as fixed, mobile, and roofing ladders. Fixed roof ladders are the types that are permanently fixed to a facility for the long-term. You will usually not need this style in a residential setting. Mobile or stepladders are the ones that stand on their own and they are built to sustain a lot of weight. The roofing ladders can be securely attached to the roof slopes to enable to you perform various tasks.
Ladder Size  
The roof ladders come in various lengths ranging from two to 40 feet. If you have a multi-story building then you will need a maximum length to get on the roof. So, you will need to look for multiple layers on an extension ladder. The models may come with a pulley or roll system to give you the maximum length of the ladder. Keep in mind the maximum usable height of a ladder when calculating the minimum height needed to access the roof.
Ladder Rating
Before buying any roof ladder, take into account the ratings provided by the American National Standards Institute (ANSI). This gives you an idea of the maximum weight of a person and tools that the ladder is capable of sustaining. This will again depend upon the type of DIY roof tasks for which you wish to use the ladder and the maximum weight of material or tools you intend to carry. For residential use, we suggest that you look for Type III ladders capable of supporting 200 pounds.
Ladder Materials
While there are a few different materials used in making roof ladders, consider the style, weight, and what you will use the ladder for when considering a material. Our first choice is of course aluminum because it's lightweight, versatile, and highly durable. When it comes to durability, steel is also a good choice but steel ladders are heavy and prone to rusting. Wood ladders are an affordable option but they have a shorter lifespan. Fiberglass ladders are heavier and pricier but are they less prone to damage.
Stabilizers and Hooks
The support accessories do the job of keeping the roof ladder securely tied to the ground, and these include hooks and stabilizers. The hooks should be properly padded so that they do not damage the shingles. When working on a steep roof, you need to use a hook kit made by the same manufacturer. A stabilizer can help you distribute your weight when you are on the ladder. Other features to look for include ladder mount guard, D-Rung, ladders with built-in surfaces and so on.
Safety Tips While Using Ladder For Getting On Roof
Before you take out that roof ladder, you will need to ensure that you wear protective clothing. We suggest that you choose a pair of shoes with a strong grip to prevent slipping while you are climbing the stairs or working on the roof. Wear protective gloves and masks depending on the nature of the task you wish to accomplish.
Weather plays an important role in completing a task easier or making an easy task seem never-ending. To save time and effort, choose a dry day without strong winds for getting on the roof. Before you start with any installation or repair work, remove leaves and debris from the roof.
We would suggest that you choose the most even spot you can find to rest the ladder when not using it. Also, make sure that the spot is firm and dry to prevent the ladder feet from slipping or sinking into the ground. If you are unable to find a solid base, you may use plywood sheets for that purpose.
Avoid putting the ladder near electric wires, power lines, doorways, or obstacles to prevent any sort of injury or fall. If you need to carry any materials or tools with you, make sure you carry them in a bag instead of scattering them around.
While most of the roof ladders mentioned above are built in a way to ensure your safety, we would still suggest that you ask a helper to hold the ladder from below when you climb. If the roof is too steep or high, it's better to have a helper around to help you.
When climbing the ladder, make sure you always have at least three points of contact to stay safer. Use two feet and one hand, or two hands and one-feet depending upon the task you wish to accomplish. If you using a new ladder, secure it with a cord or rope to an anchor point to minimize the risk of slipping.
When you move from the ladder to the roof, never climb up to the extreme top of the ladder. Extend the ladder at least 2-3 feet above the edge of the roof. Hold the ladder with both your hands and then step on to the roof surface. Again, when you have to get off the roof, you will need to follow the same approach.
After you have climbed the roof, consider using some safety equipment and accessories to prevent a fall or injury. Remember to nail the roof brackets at 18 inches away from the eaves, with extra sets of brackets at every 4-feet distance to form slide guards.
If the roof is very high or steep, you must consider using a roof harness like this that can prevent you from falling off the roof. The harness should be fixed to a roof anchor secured to a rafter or truss for enhanced stability.
Never let more than one person climb on the ladder unless it is specifically built to carry two people at a time. Even if a ladder is capable of sustaining a lot of weight, don't presume that it will be fine with two people climbing on it.
Related Questions
What's the best time for roof repairs?
The roof is an integral part of the house, hence the repair work should commence soon after you spot the problem. Ignoring minor issues can lead to aggravated problems later on, increasing the cost of repair. Unfortunately, some issues such as a leakage is not apparent until it rains but for other problems, it is better to act fast than regret later on.
What makes extra-wide rungs better?
If you have large feet or you need better stability while climbing, we would recommend that you look for a ladder with extra-wide rungs. The bigger rungs also add more agility and balance when you move up and down the ladder.
What are the Podium or platform ladders?
If you are looking for a multi-functional ladder to perform repair jobs around the soffit or gutter areas of the roof, then you will need a podium or platform ladder. They look almost like the A-frame ladders but with a flatter top section to help you store tools and other work materials. They give you better stability and balance.
When are Double-sided A-frame ladders used?
This is a type of step ladder designed to be climbed by two people at the same time, unlike the traditional ones where the other side only provides stability. These ladders are also known as twin ladders, trestle ladders of double front ladders.
What's the maximum height for a ladder?
There's no set guideline or rule about the maximum height allowed for a ladder. However, when a ladder rises more than 9 meters above the base, there should be proper resting platforms built at intervals. This provides extra stability to the structure.  
Related Articles:
5 Best Vacuum For Reaching High Places
Can Lawn Mower Get Wet