As a bird owner, I love my two Budgies and a Cockatiel as my kids. They are like family members, but we can't deny that we have to deal with bird dander which includes feathers, particles, and dust matter. A simple flapping of wings is capable of spreading millions of particles in the house and putting your family at health risk.
However, you don't necessarily have to be a bird owner to be at risk of all that air-borne dust. People who live in old buildings inhabited by birds may also experience allergy symptoms. Sometimes people with asthma and compromised respiratory systems have severe allergies, but they hardly know that it's caused by birds around them.
Thank God, there are specially designed air purifiers to take care of anything that is 'not-air' in the air. In our quest to find the best air purifier for bird dander, we have reviewed more than a dozen products available online. We have done thorough research, analysis, and comparison to make sure that you get an excellent value for your money.
If you are in a hurry and do not have the time to read through all reviews, then here's our top pick for you – Rabbit Air BioGS 2.0 Ultra Quiet HEPA Air Purifier (learn more). It is not only stylish and compact but also includes a highly effective BioGS HEPA filter capable of trapping 99.97% of bird dander.
Features
Germ Guardian
IQAir Purifier
Winix HR900
Rabbit Air BioGS 2.0 
Oransi Max
Vremi
Dimensions
6.1 x 9.5 x 27.2 inches
16 x 15 x 28 inches
16.3 x 9.6 x 23.6 inches
16.6 x 9.8 x 22.2 inches
20 x 11 x 25.5 inches
8.7 x 8.7 x 15.5 inches
Filter
True HEPA air filter
HyperHEPA Filter
True HEPA filter
BioGS HEPA Filter
HEPA filter
True HEPA filter
Capacity
99.97%
99.50%
99. 97%
99.97%
98%
99.97%
Area coverage
Up to 180 Sq. feet.
Up to 1,125 sq ft
300 Sq. ft
Up to 550 sq. ft.
Up to 600 sq ft
Up to 300 sq.ft
CADR
Dust (126), Pollen (128) and Smoke (116)
NA
NA

Dust (165), Pollen (185) and
Smoke (116)
NA
129 cfm
---
This is a table-top air purifier equipped with a True HEPA filter capable of capturing 99.97 percent of allergens that include bird dander, pet dander, pollen, dust mites and more. It also uses the safe UV light developed by Guardian Technologies to remove any airborne bacteria, viruses, and germs. The filter includes an additional agent named Pet Pure that restricts the growth of mildew, mold, and odor-causing bacteria. There is also a Charcoal filter that absorbs any form of common odors from cooking, smoking, pets, and smoke.
We love the sleek and stylish tall tower design that can match any décor. It has a 5 digital speed that works best for a room measuring up to 180 sq. feet. The multiple filters used in the device clean the air circulating within the room about four times per hour. This Germ Guardian air purifier consumes less power hence it is Energy Star certified, and you only need to replace one filter in every 6-8 months, so there's low maintenance too. The manufacturer backs it up with a solid 5-year limited warranty.
Product features and specifications
Measures 6.1 x 9.5 x 27.2 inches
Weighs 10.55 pounds
Covers 180 Sq. feet
UVC Sanitizer
True HEPA Filter
UV C light technology
AHAM Verified And Energy Star Certified
5 year limited manufacturer warranty
User/ Customer reviews
People that have pets in the house have experienced almost no-smell and a significant reduction in allergies after installing this air purifier. Most users have mentioned that even after having 2-3 purifiers in the house, they did not experience any noticeable surge in electricity bill. A few customers have cautioned that the replacement filters are expensive.
Conclusion
If you are looking for a powerful air purifier capable of bringing about a big difference in the indoor air quality and help with allergies too then this is a great choice. At this price, we feel that the Germ Guardian True HEPA Filter Air Purifier is several appliances rolled into one compact form.
---
Bird dander includes white powdery dust that keeps their feathers soft and silky, and you need a really powerful filter to capture them. Here's presenting our second product in the list – the IQAir Medical-Grade Air Purifier (shop now) that comes equipped with a tested and proven HyperHEPA filtration technology. It is capable of entrapping the finest dust particles as small as 0.003 microns, ten times smaller in size than a virus. Thus, the air purifier gives you unmatched protection from the fine and ultrafine bird dander and other allergens.
The powerful filtration by IQAir Medical-Grade Air Purifier can remove dust, dander, pollutants, and bacteria in a room size of up to 1,125 sq ft. It comes with a patented Triple-Seal technology to rule out any air leakage. It seals the filter media into the frame in an airtight way. The product also comes with an improved fan and maintenance-free motor to deliver up to 300 cfm using just 27 watts at a low-speed setting. The sophisticated yet user-friendly controls also help you adjust the settings to clean air as you need.
Product features and specifications
Measures 16 x 15 x 28 inches
Weighs 35 pounds
EvenFlow Diffuser
Triple-Seal technology
Covers up to 1,125 sq ft
Delivers up to 300 CFM
27 watts – 215 watts
Indicators for filter change
User/ customer reviews
Many people find this product one of the best air purifier for bird dander, dust, pollen, mold, and bacteria. Users have reported a  reduction in allergic symptoms and also cooking smell faster than before. Customers also find the casters extremely useful to take the product from one place to another, A few users have cautioned that the filter itself emits a strong chemical odor that is overpowering.
Conclusion
Although slightly expensive than the competitor products, the IQAir Medical-Grade Air Purifier does a brilliant job of keeping dust and dander out of the home. All in all, this is a wise investment you can make to ensure good health for your family.
---
Don't let bird dander or cat fur come in the way of your love for pets, leave them to Winix HR900, our third best air purifier in the list. This model is the successor of the extremely popular and effective Winix 9500 Pet Air Purifier. It comes equipped with a True HEPA filter that can trap 99. 97 percent of airborne pollutants, mold spores, pollens, dust mites, and other allergens sized 0. 3 microns. Apart from the HEPA filter, Winix HR900 also includes the washable Advanced Odor Control Carbon Filter which can absorb pet odor, smoke, and cooking smells.
We love the extra pre-filter which acts as the first wall of protection against bird feathers, pet hair, dander, and large particles. It helps in extending the life of your HEPA filter that effectively traps minute white dust. The plasma wave technology is capable of breaking down the chemical vapors, pollutants, and allergens at a molecular level. Total five-stage filtration ensures that you get pure and unpolluted air for breathing. The purifier is AHAM verified and it can cover an area of 300 square feet capacity
Product features and specifications
Measures 16.3 x 9.6 x 23.6 inches
Weighs 18.7 pounds
Captures 99. 97% of particles
5-Stage air purification system
Smart Sensors and technologies
Covers 300 square feet capacity
Pre-filter and True HEPA filter
User/ customer reviews
Pet and bird owners have reported a significant improvement in the quality of indoor air, and their guests were hardly able to get any pet-smell. People also love the clean and linear design that perfectly fits into any corner of the house. The low noise operation is highly appreciated by users, although some people feel that airflow in sleep mode is very weak.
Conclusion
If you like the Winix 9500, you will definitely like the improved Winix HR900 which comes with a better quality HEPA filter and advanced stages to give you purified air. Pet and bird owners who have allergic symptoms and love to welcome guests at home will find this a worthwhile investment.
---
When we looked at the Rabbit Air BioGS 2.0, we were impressed with the ultra-sleek and straightforward design that goes with any décor. With the objective to provide a quiet and highly effective air purifier, the designers of Rabbit Air came up with a device that is easy to use, aesthetically pleasing, and less intrusive. It strips the air of all foreign particles and odors with its four-stage filtration and deodorization. It comes equipped with a BioGS HEPA filter and charcoal-based activated carbon filters that will last up to 3 years if used for 12 hours per day.
When Rabbit Air re-introduced BioGS 2.0 in 2013, it improved the overall design and cut back on impacts on the environment. The light and sound pollution created by the air purifier is significantly reduced while it removes the pollutants from the air. The air purifier is capable of covering an area of 550 square feet and it purifies air twice in an hour. As the purifier is Energy Star certified it will not escalate your electricity bills. The product is backed by a 5-year warranty and it has received several awards such as the Good Design Award, Germany Red Dot award, and Japan Good Design Award.
Product features and specifications
Measures 16.6 x 9.8 x 22.2 inches
Weighs 16.8 pounds
BioGS HEPA Filtration
Covers up to 550 sq. ft.
4 stages of purification
24/7 lifetime technical support
Ultra-quiet BLDC motor
ENERGY STAR certified
Childproof design
User/ Customer reviews
Most buyers are happy with the aesthetically pleasing design and practical features that not only purifies the air and removes pet odor but also reduces the impact on the environment. People have also remarked how durable the product is and it does a great job even after years. However, several users have cautioned that the purifier only works for small to medium-sized rooms, not for the big spaces.
Conclusion
If you want a good form along with excellent function then you must check out the Rabbit Air BioGS 2.0 with improved functionalities. After all, it did not receive so many awards for anything. Be warned that this will only work for small areas so if you have a larger bedroom, you will need to look elsewhere.
---
Love your Amazon Parrot but have a severe allergy to bird dust? Then take a look at our next bird dander air purifier from the house of Oransi Max. This model works best for a spacious bedroom, basement area, or any large room. Rated as number one, the Oransi filters are examined in detail in the university study of air cleaners. They are capable of trapping pet fur, bird dust, dander, mold spores, and allergens. In auto mode, the fan adjusts according to the level of pollution in the air. It is safe enough to be used as a baby purifier or air cleaner for sensitive pets.
This high-end air purifier includes three stages of filtration to clean the indoor air and it is 2-3 times less noisy than other standard products. Each filter comes with a life span of 12 months so there is less maintenance and the electric consumption is also low. On max mode, the device produces some white noise that helps you sleep comfortably. It is capable of purifying air quality in medium to large-sized rooms up to 600 sq ft.  We love that this bird dander air cleaner is backed by a solid 10-year warranty, which is the highest in this sector.
Product features and specifications
Measures 20 x 11 x 25.5 inches
Weighs 19 pounds
Covers 600 sq feet area
90 watts,115V, 60Hz
HEPA filter
3 stages of air filtration
Intelligent Air Quality Monitor
Energy Star certified
User/ Customer reviews
Most people have said that this air cleaner exceeded their expectations in making the indoor environment dander and odor-free. Several users have reported that they noticed an increase in fan speed whenever the air felt polluted by outdoor air, bird dander, or cooking smell. People with asthma and severe allergies have found this product extremely useful. A few customers have complained about the HEPA filter not being the best quality and LEDs being too bright for the bedroom.
Conclusion
If you are seeking a well-built air purifier to clean the indoor air in a large room then look no further. Although it does not use true HEPA filter, it is capable of capturing 96% of the allergens. Overall, we feel Oransi Max HEPA Large Room Air Purifier (shop now) offers good value for money.
---
If you have severe allergies but love having pets, especially birds around you then consider buying the Vremi Air Purifier, which is compactly engineered to fit into your decor. It is equipped with a high-quality true HEPA filter capable of removing up to 99.97% of dust particles, pet dander, allergens, mold spores, and airborne irritants. It can trap minute particles as tiny as 0.3 microns to ensure that the environment stays clear and healthy. The 3-stage filtration level contains a pre-filter, True HEPA filter, and activated carbon filter to remove both allergens and foul odor in an area up to 300 sq ft.
The air filter gives you a run time of nearly 4320 hours (around 180 days) and the inbuilt air quality sensor displays the level of pollution. It adjusts the fan speed accordingly and the reset filter indicator tells you when it's time to change the filter. We are impressed to find that the machine runs more quietly than other air purifiers, with a noise level of less than 52 dB. There's a warm light that has multiple brightness and it can be dimmed while you are sleeping. The manufacturer backs up the product with a free one-year warranty and return.
Product features and specifications
Measures 8.7 x 8.7 x 15.5 inches
Weighs 6.86 pounds
True HEPA Air filter
Powerful 3-Stage Filtration
360-degree aerodynamic air intake
2, 4 and 8-hour timer
Protective plastic sleeve
Built-in Pollution Sensor
User/ Customer reviews
People whose house smelled of birds, dogs, cats, or had a lingering mildew odor have experienced a reduction in the bad odor as well as allergies. Users have reported that the lights turn orange or red whenever the machine senses dust in the environment and the fan kicks up to high speed to purify air within minutes. A few users have cautioned about the air purifier smelling slightly but it's so negligible that you won't notice.
Conclusion
This is definitely one of the best air purifiers for small room (about 10 x 10 ft), and it does a brilliant job at keeping the bird dander, bacteria, odor, and allergens away. Overall, we feel this is a good investment you can make for the health of your family.
---
Tips To Reduce Bird Dander
The first and most important tip is to buy an air purifier designed to keep the bird dander away. Choose any of the products that we reviewed above, based on your specific requirements.
If you already have an air purifier for bird dander, make sure it has a good quality HEPA filter. Remember to replace the filters on time to ensure that they function optimally.
Make sure you clean the room periodically with a specially built vacuum cleaner, designed to keep the allergies at bay. Keep vacuuming regularly so that the area stays as dust-free as possible.
Develop the habit to clean the birdcage as frequently as possible by wiping the surroundings, changing the cage liners, washing the food bowl, and cage itself.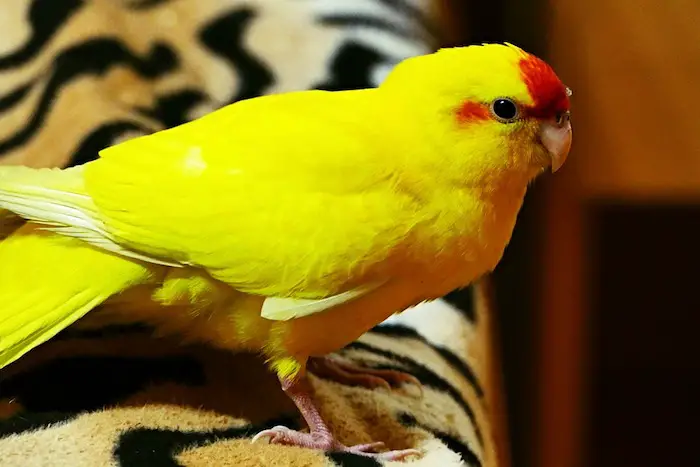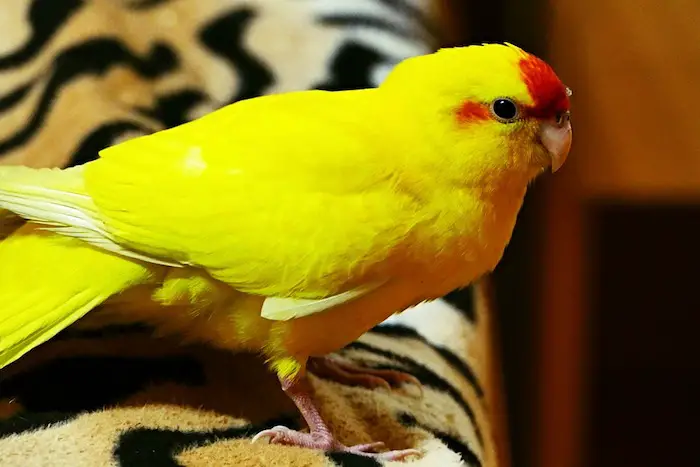 Choose to keep the bird cage in a room that does not have carpets as it's more difficult to remove dander from carpets. We suggest using floorboards in the place of carpets as they are much easier to clean.
We would also suggest you change the type of furniture and upholstery to reduce bird dander. The leather sofa is easier to clean than fabric ones. Plastic curtains and blinds are also easier to clean. Consider vertical blinds in the place of horizontals to prevent dander.
Give your birds a big bowl of water within the cage so that they wash. Also, give them other bathing opportunities to get rid of the dander and dust stuck to their feathers.
Besides using an air purifier and vacuum, you must also have a dander remover spray at home. These come handy when there's a guest with severe allergies and you need to quickly improve the air quality.
You must also consider limiting the number of birds you keep in the house. Too much uncontrollable bird dander will not only pose health risks to you but also those who live near you.
If you have allergic symptoms or you are too sensitive, consider wearing a mask when cleaning the bird cage.
Things To Look For In An Air Purifier For Birds
True HEPA filter
The air purifier must have a true HEPA filter capable of removing up to 99.97% of airborne particles that as small as 0.3 micrometers. Although the devices that are equipped with HEPA filters are slightly more expensive, they the best bet to protect you from the bird dander and dust.
If you are super sensitive to bird dander, you must look for air purifiers that contain medical-grade filters as they tend to be more powerful and efficient at capturing the tiniest speck of dust.
Total coverage area
Look at the total coverage area of an air purifier because if it is designed for a small room, it will be ineffective when kept in an open space or large hall. So, consider the area where you wish to keep the machine and purchase accordingly.
Ionizers
The air purifier should not release ozone to the environment. Hence, you must make sure that the device does not include an ionizer. If you already have a purifier that includes an ionizer then you must ensure that it has the option for switching on or off.
Noise level
You must check to ensure that both the fan and motor are highly efficient, and the noise should not be very loud. If the purifier is noisy, it may alarm your pets and even disturb a sleeping baby. So, look for options with a very low noise level.
CFM Value
Another important factor to consider is the CFM, which stands for cubic feet per minute and it refers to the number of cubic feet of air the machine is able to purify in a minute. If the value is high then it implies that the machine is super effective.
Auto Mode/ Sensing Capability
Look for a purifier that comes with different settings such as sleep mode, auto mode, and so on. We prefer the auto mode setting because the device senses the level of pollution in air and increases or decreases the fan speed accordingly.  
Energy Consumption
Finally, don't forget the energy consumption as you would not want the electric bills to move up drastically if you need to run the purifier 10-12 hours a day. Look for Energy Star rating to ensure that the electricity bills do not escalate unnecessarily.
Related Questions
What is Bird Keepers' Lungs?
If you have severe allergies then it is quite possible that you are suffering from a condition known as the bird keepers lung disease or pigeon breeders lung. This is a type of hypersensitivity pneumonitis wherein the body reacts unfavorably to the organic materials shed by birds – dander, waste, and feathers. It occurs when tiny dander particles accumulate in the lungs of bird owners for a period of time, leading to allergic reactions.
What are the bird dander allergy symptoms?
Some of the common bird dander allergy symptoms include running nose, sneezing, watery eyes, itchy skin, rashes, and shortness of breath. If you have any of these symptoms, consider buying one of the best bird dander air purifiers to improve the quality of the air you breathe.
Which species of birds produce less dander and dust?
If you are highly sensitive to allergies but you love owning a bird, we suggest that you choose your pet carefully. While no bird species is purely hypoallergenic, there are a few birds that produce less dander, hence they are more suitable as pets. These species include Pionus Parrots, Eclectus Parrots, Macaws, Toucans, and Parakeets.
Is bird dander harmful to the birds too?
Yes, the dander and dust are harmful to pets as they are for bird owners. When a bird preens, they produce a secretion that spreads over the wings to waterproof and protect them. As the birds grow, this protective layer breaks into dust particles and spreads in the air every time the bird flaps its wings. Birds do not have noses capable of filtering out the dander, hence they are also at high risk of developing a lung condition.
See Also:
7 Best Air Purifiers For Mold In Basement
Can I Use Air Purifier And Diffuser At The Same Time?
Do Air Purifiers Remove Pet Hair?
Can I Use Air Purifier With Window Open?