New construction technologies in recent times have led to the amazing infrastructural development of the residential blocks, neighborhoods, and cities at large. However, all that growth and expansion comes at the cost of our environment that gets constantly polluted with construction dust.
No matter where you live, there will always be some sort of construction work near you. It could be a building construction site, road development, or innovations to improve your quality of living. While it's impossible to avoid dust and pollution, you can always minimize its effect within your house.
To keep pollution away and improve the quality of indoor air, we recommend you to use the best air purifier for construction dust. These devices come equipped with powerful filters to trap dust and pollutants as small as 0.3 micros or even less.
Different individuals react differently to dust and airborne pollutants. Air purifiers not only help in keeping the construction dust at bay but also reduces allergies such as watery eyes, running nose, and sneezing. It can also help asthmatic patients by improving their quality of life.
If you are in the market looking for the best air purifier, it may be difficult for you to choose from a wide range of products with varying capabilities. We have made your task easier by reviewing the top-rated models that are tested, tried and proven to deliver results.
After reviewing more than a dozen products, we feel that the Medify MA-40 has an extremely powerful filter that can filter dust particles as small as 0.1 microns. It can also purify the air and remove bad odor in a large area covering up to 1300 square feet.
| | | | | | | |
| --- | --- | --- | --- | --- | --- | --- |
| Features | Blue Pure | Hathaspace | LEVOIT | Winix 5500-2 | Medify MA-40 | Winix 5300-2 |
| Dimensions | 13 x 13 x 20.4 inches | 13.5 x 7 x 19.5 inches | 31.6 x 15 x 14.5 inches | 15 x 8.2 x 23.6 inches | 10.5 x 11 x 26 inches | 14.9 x 7.8 x 23.6 inches |
| Weight | 13 pounds | 12 pounds | 24 pounds | 15.4 pounds | 15 pounds | 18 pounds |
| Room Size | 540 sq. ft. | 350 sq ft | 710-1170 sq ft | 360 sq. ft. | 1,300 Sq. Ft | 360 sq. ft. |
| ACH | 5 | 2 | 2 | NA | 1 | NA |
| Noise level | 31 – 56 dB | As low as 18 dB | 25 – 52 dB | 27.8 dB | NA | 27.8 DB |
| Filtration | 3-stage filtration | 5-in-1 filters | 2 filters | 3 stage filter | 3 stage filter | 3-stage filtration |
| Energy Star | Yes | NA | NA | Yes | Yes | Yes |
| | See Price | See Price | See Price | See Price | See Price | See Price |
---
If you wish to enjoy a personalized purification of indoor air, we suggest that you check out this Blue Pure 211+ Air Purifier. Equipped with a Swedish filter technology, the device offers 3 layers of filtration, capable of capturing about 99% of macro and micro dust particles. The first stage is the fabric pre-filter that traps large pollutants and particles. The second stage is a particle filter that entraps the mold, pollen, allergens, and other irritants. The third stage is the activated carbon filter that removes virus, smoke, gasses, and other odor-causing bacteria.
The air purifier draws dust and pollutants from all directions and produces a 360 degrees airflow to ensure that the indoor air within 540 sq. ft stays purified. The inbuilt fan makes a low noise on the highest setting and you can hardly hear it on the lowest setting. The filters are washable and the purifier cleans indoor air about five times in an hour. As the product consumes very less energy, equivalent to 30-60 Watts, it's rated as Energy Star certified product.
Product features and specifications
Measures 13 x 13 x 21 inches
Weighs 13 pounds
Two Washable Pre-Filters
Carbon Filter
Compact design
31-56 dB sound level
Low energy consumption
Energy Rated
One-button control
User/ customer reviews
People who have used the air purifier have remarked that they can tell a marked difference and improvement in the quality of air. Other users have also mentioned a possible reduction in dust allergies and symptoms if you live in an area with lot of pollution and dust. Some people have also said that the purifier blends with the interiors and does not look out of place, plus it is also user-friendly.
Conclusion
If you need a powerful air purifier capable of trapping pet hairs and pollens to pet odor, then get the Blue Pure 211+ Air Purifier. It covers a large area and delivers an effective performance at improving the quality of indoor air. Overall, we feel this product is worth buying.
---
To combat with the air pollutants and construction dust within the house, you need a powerful air purifier such as this Hathaspace Smart True HEPA Air Purifier. Powered by a 5-in-1 air filter system, it promises to keep your home safe from dust mites, pollutants, mold spores, smoke, pollen, and volatile organic compounds (VOCs). The true HEPA filter is capable of filtering 99.97% of particles sized 0.3 microns. By improving the quality of air within the house, it helps in reducing allergy symptoms such as coughing, sneezing, and irritated eyes.
This product works both as an air purifier and odor eliminator, so you have two devices rolled into one compact design. The second filter is the cellular-activated carbon filter that absorbs pet odor, smoke, and other unpleasant gasses. We are impressed by the intelligent air sensing capability that evaluates the air quality and adjusts the fan speed accordingly. You can see the quality of the air you are breathing on the display that shows green, yellow, red light. It comes backed by a two-year manufacturer warranty and solid customer support.
Product features and specifications
Measures 13.5 x 7 x 19.5 inches
Weighs 12 pounds
350 square feet coverage
Whisper-Quiet Sleep Mode
Remote control
5-in-1 Large Room Air Cleaner
Filters 0.3 microns size dust
Ozone-safe and approved by CARB
Automatic air quality sensor system
4-in-1 true HEPA filter
2-year manufacturer warranty
User/ Customer reviews
Those who have bought the product can't stop raving about how this thing indicates a red level when there's even the slightest odor in the air. People have also experienced healthier mornings, thanks to this little a device that works like a savior for those with pets. A few users have complained about the need to replace filters every six months but that's to help it perform optimally.
Conclusion
If you have kids and pets in the house, you can't escape from the pet dander and other pollutants floating in the air unless you have the Hathaspace Smart True HEPA Air Purifier. This is a small price you pay for clean indoor air and good health for your entire family. 
---
The manufacturer describes LEVOIT Air Purifier as ideal for pets owners and allergy suffers. We can't agree more as it comprises of a preliminary filter and true HEPA filter capable of capturing up to 99. 97% of airborne particles sized 0. 3 microns. The filters can trap pet dander, mold spores, pollen, germs, construction dust particles, and allergen. It also has an in-built activated carbon filter that can absorb smoke, gases, and odors from pet, cooking, and fire. The device is capable of purifying air quality within 1170 sq ft in 30 minutes and 710 sq ft in just 18 minutes.
The LV-H134 purifier is equipped with a smart laser sensor that identifies the accurate mass per volume in 30 minutes and adjusts settings based on current air quality. We love the aircraft engine-inspired design that increases the speed of air purification by 50%. If you have kids at home, use the sleep mode with a noise level of 25dB when you want a quieter environment. The purifier has a strong 360° suction capacity to draw airborne pollutants and germs from all around and clean the air you breathe. Even if you use the device 24 hours a day, it consumed less energy than standard air purifiers.
Product features and specifications
Measures 31.6 x 15 x 14.5 inches
Weighs 24 pounds
1-12 Hour Timer
3 fan speeds
Wheeled design
Smart Auto Mode
Lowest Noise Level 25dB
Powerful 360° Suction
LED Display and Timer
User/ Customer reviews
Customers call this a solid and no-frills air purifier that does a brilliant job at removing pollutants and smoke from indoor air. Most users find the product easy to assemble and use based on the instructions provided. People love the smart and compact design with smart sensors and wheels for easy movement. A few users have complained about the lack of a remote control or app-control at this price range.
Conclusion
If you want an air purifier that works on its own and operates quietly without disturbing your sleep then the LEVOIT Air Purifier for Home is a great choice. Although slightly more expensive than competitive products, the kind of performance is worth every penny.
---
This stylish and smart device from the Winix family is the Swiss Knife of air purifiers and you can tell this by simply looking at it. When you look at the Winix 5500-2, the exterior screams seriousness and a no-nonsense attitude. It is equipped with a true HEPA filter that can entrap 99.97% of the airborne pollen, pet dander, dust mites, and allergens sized 0.3 microns. There's also an activated carbon filter capable of absorbing household odor to give you a safe and clean air to breathe. We love the PlasmaWave, which acts as a permanent filter to breakdown the chemical vapors, allergens, and pollutants.
The Winix 5500-2 has smart sensors that can easily detect the quality of air and adjust the fan settings automatically to improve the air quality. With a sound level of 27.8 dB, it renders an almost noiseless operation that does not disturb a sleeping baby or alarm the pets. The air cleaner is capable of purifying the environment in a room-sized 360 square feet. Thus, it works great for bedrooms, kid's room or office. As the machines consume only 70 W electricity, it is rated as an Energy Star appliance.
Product features and specifications
Measures 15 x 8.2 x 23.6 inches
Weighs 15.4 pounds
99.97 % efficient True HEPA filter
3-stage air cleaning system
Washable AOC (Advanced Odor Control) Carbon Filter
Energy Star certified. Wattage – 70 W
360 square feet room size
Filter Replacement Indicator
User/ Customer reviews
Most users love the design and performance of this air purifier that produces clean and healthy air within minutes. Those who have pets in the house or live close to construction sites have seen a marked reduction in pet dander and dust pollution. A few users have cautioned about ozone danger but it's not of a level to raise an alarm.
Conclusion
If you are looking for a high-quality air purifier capable of removing pollutants from the environment and giving you healthy air to breathe then choose the Winix 5500-2. At this price, the product offers the best bang for your bucks.
---
Although not a medical device, the name Medify suits the air purifier's ability to give you healthy air to keep away allergies and diseases. It comes fitted with a medical-grade H13 filter which is even more effective than True HEPA. It is capable of capturing 99.9% of dust particles, pollen, mites and bacteria as small as 0.1 microns size. Despite its sleek and compact frame, this air purifier is more powerful than bulk devices and it can purify a 1,300 sq ft room in just 60 minutes and an 800 sq ft areas in 30 minutes.  When you use it is a small office or bedroom-sized 400 sq ft, it can clean air in 15 minutes.
The Medify MA-40 comes equipped with an inbuilt particle sensor that is capable of indicating the air quality level. It can adjust the settings based on the sensors to make the indoor air healthy enough to breathe. There are four fan speeds, ionizer function, hour timer, child lock, and night mode too. The exterior of the air purifier is made from tempered glass panel that doesn't get scratched like cheap plastic material. Furthermore, it comes backed by a solid USA registered lifetime warranty.
Product features and specifications
Measures 10.5 x 11 x 26 inches
Weighs 15 pounds
Energy Star & ETL certified
110 Volt units
USA registered Lifetime Warranty
99.97% particle removal
Particle sensors
User/ customer reviews
People who faced excessive dust in the house and allergies have experienced a lot of relief after using the product. Some users also find the exterior of the device attractive and it fits well with the home décor. While most customers are happy with the kind of improvement it bought in their indoor air quality and lives, a few users have said that it did not absorb smoke.
Conclusion
If you are looking for a highly potent air purifier that works even better than True HEPA filter and delivers a powerful performance then opt for this Medify MA-40 Air Purifier (shop now). This is slightly more expensive than competitor products but the advanced technology is worth the price you pay.
---
If you liked the Winix 5500-2, then this is an improvement over its predecessor and comes fitted with a  True-HEPA filter capable of trapping 99.97% of airborne dust and pollutants. It can capture pollens and allergens sized 0.3 microns. Besides the HEPA filter, it also comprises of an activated carbon filter capable of absorbing smoke, pet odor, and any bad smell to give you clean and fresh air. The PlasmaWave technology works like a permanent filter to remove chemical vapors, allergens, and other pollutants, without releasing any ozone gas.
The air purifier has smart sensors that help you evaluate the level of pollution in air and adjust the settings accordingly. It works best for medium to large rooms of 360 sq ft size. There are four fan speeds, and you may choose between low, medium, and high for the manual mode. The turbo setting gives you maximum airflow with enhanced cleaning effects. At low and medium settings, the noise level is 27.8 decibels. In the sleep mode, the indicator light is dimmed to ensure that your sleep is not disturbed.
Product features and specifications
Measures 14.9 x 7.8 x 23.6 inches
Weighs 18 pounds
Covers an area of 360 sq. ft.
99.97 percent efficient True HEPA filter
Energy Star certified
3-stage air cleaning system
AHAM CADR certified, CARB certified
User/ customer reviews
Most people who have bought the product are extremely impressed with the way it works and the powerful sensors, indicators, and effective filters. Users have mentioned how good the filters are at absorbing foul odor and cooking smell. A few users have mentioned that the filters are expensive and the night setting has music which is not necessary.
Conclusion
Those who share their house with pets or have respiratory problems find this air purifier extremely useful at improving air quality within the house. Overall, this is a stylish and smart product that matches the décor and does a great job at purifying the air.
---
10 Tips To Keep Dust Away From Home
Using the best air purifier for construction dust is one of the most effective ways of removing airborne pollutants and bacteria. However, there are several other ways to help you keep dust away from your home and improve the quality of indoor air. Here are some tips that you may use to ensure good health for your family.
#1. Change the bedding at least once a week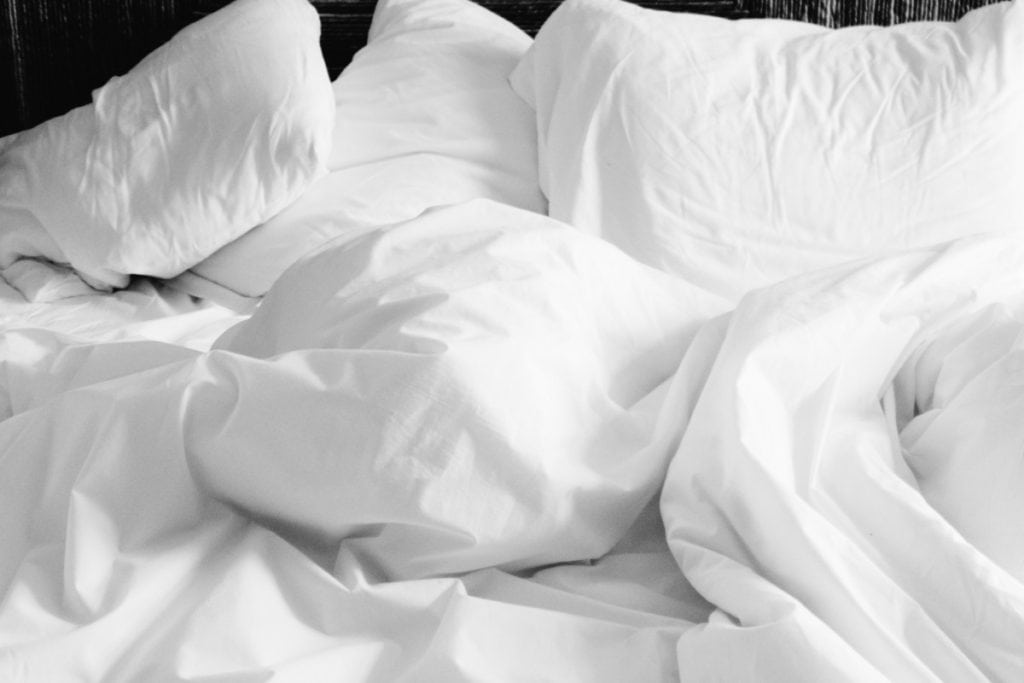 Like it or not, but your bed is the favorite hiding place for dust mites. They love to thrive in the moist pillows, sheets, duvets, and mattresses that have human skin and sweat odor. To reduce the dust mites attack, cover the mattress with an allergen-proof sheet. You must also wash the bedding in warm water at least once a week and dry them in the sun (if the weather is good and there are no pollens).
#2. De-clutter the floor
The more you de-clutter and organize your home, there will be less threat of dust allergies. If there are piles of magazines, clothing, toys, and books lying around the house, don't ignore them. Clean the clutter so that dust does not settle over them.
#3. Avoid carpeted floors
Carpeting the floor may look aesthetically pleasing but they are high maintenance and work like magnets for attracting dust mites. They need to be vacuumed daily, but even that may not be enough for people suffering from severe allergies. If you must have end-to-end carpeting in your house, invest in a vacuum cleaner like these equipped with a double-layered microfilter bag or HEPA filters for best results.
#4. Say no to 'feather dusters'
Yes, we are talking about those cute looking fluffy dusters that may appear like a handy solution but they do nothing but blow dust around the house. They only aggravate the problem and make the dust settle in every corner of the house. You may use a moist towel or damp cloth instead of a dust feather. For excessive dust issues, you may consider investing in a steam cleaner.
#5. Keep dirt at the floor
Restrict the dust and dirt outside your home by using sturdy mats both inside and outside the entrance of your home. This will also give your guests the chance to wipe their feet before entering the house. This can significantly reduce the amount of dust that is tracked indoors. When you clean the rugs or mats, make sure you clean outside by shaking them vigorously.
#6. Keep shoes outside the door
In some countries, it is a tradition to open shoes before entering the house and this helps in reducing a large percentage of dust and dirt that comes along with shoes. If you have dust allergies or respiratory problems, consider applying a 'No Shoes policy' by keeping a shoes stand outside the door. This will effectively reduce 80 percent of the household dust.
#7. Clean the air ducts
Do you remember the last time you removed the vent cover off the floor register to see what it was like inside? If you have furry friends and kids at home, expect to find a lot of things down there. Try the DIY duct cleaning methods to remove the dust in indoor air and improve the environment around you.
#8. Change filters frequently
As a rule of thumb, you will need to change the HVAC filters every three months. However, if you live close to a construction site or in a highly polluted area, consider changing the filters more frequently. You may use the cheaper and disposable filters, but this small change will bring a considerable reduction in the amount of dust.
#9. Remember to clean under the bed and furniture
Often a clean house is actually not as clean as it seems. Look under the bed and furniture, and you will find a layer of dust that may be the breeding ground for dust mites and other germs. These dust particles can easily travel to other parts of the house and even become airborne, so make sure you vacuum clean under the bed, furniture, and other hard to reach areas.
#10. Always tidy the closets
You may think the garment kept inside the closet is safe and dust-free but this is not true. The clothes you have stored inside the wardrobe may also shed a lot of fiber. So, if you don't want to be greeted by a blast of dusty air when you open the door, make sure you tidy them frequently. We suggest that you store garments enclosed properly in plastic containers, bags, or boxes to avoid dust.
For more: How To Organize Your Clothes Closet By Type And Color?
Related Questions
What to do if you get concrete dust in your lungs?
If you accidentally inhale extremely polluted construction air, it may lead to excessive coughing. We would suggest that you immediately drink a lot of water and see a doctor to get proper treatment for the problem. Steam therapy may be used by the professionals to drain out the dust from lungs.
How much time does it take for the construction dust to settle?
Dust particles that are less than 10µm in diameter take about 3 minutes to settle down, while the particles 5µm in diameter will take 8 minutes to settle. The very minute dust particles of diameter 1µm or less with require up to 4 hours or more to settle down.
How can you tell whether or not you have dust mites?
Dust mites are microscopic organisms that will not bite or crawl on your skin, hence it's difficult to judge their presence physically. However, there are certain allergic symptoms that you may experience if you inhale the microscopic fecal matter of dust mites. The symptoms include stuffy nose, sneezing, cough, running nose, and asthma.
Related Article: 24 Easy Ways To Get Rid Of Dust Mites And Get Allergy Relief
How to get rid of dust from rugs and carpets?
Vacuum clean the carpet at least once a week to remove dust mites, allergens, and pet dander. Remove any rug or throw and beat them outside the house at least 2-3 times in a year. Adjust the humidity level in the room to be below 50 percent to check the growth of dust mites and mold.
What is the biggest cause of dust in the house?
The most prominent cause of dust in the house is the cheap HEPA filters that do not work as expected. If the filters appear clean even after several months, they are probably not working and you need to look for a better high-quality filter that captures dust effectively.  
See Also:
8 Best Air Purifier For Bacteria And Viruses
Can I Use Air Purifier And Diffuser At The Same Time?
Do Air Purifiers Remove Pet Hair?