6 Best Microfiber Towels for Waxing Cars in 2023
There's a popular quote that says 'Men won't mind a scratch unless it's on their car". It goes to show the importance of car in a man's life. Not just men, even women associate a lot of pride and social status with the car they own, hence it's important to take care of the investment and prevent deterioration.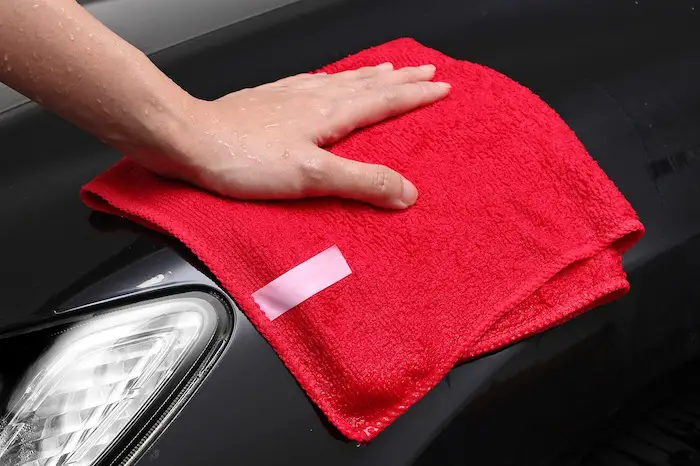 No matter how old your car gets, it's beauty and grandeur will depend on how well you care for it. A new but unkept car will not look as impressive as an old car with a brilliantly polished exterior. Please bear in mind that waxing with an old cloth or a cheap towel can damage paint and scratch on the exterior surface.
To do it right, you need to look for the best microfiber towels for waxing cars. The material has an exceptional ability to trap the dust particles without leaving any scratches. However, there are many things you need to consider when buying a microfiber cloth for detailing cars and we will discuss them below.
To help you choose the right brand and quality, we have done the research work and come up with some of the top-rated products available. Read on to find an unbiased review of each product, along with its features, customer feedback, and comparison.
If you are in a hurry to buy, then we would recommend the Armor All Car Wash Kit (shop now) to large surface and double-layered plush with 1200 gsm density level. Made from organic nylon and polyester materials, the towels are durable, multipurpose, and reusable.
| | | | | | | |
| --- | --- | --- | --- | --- | --- | --- |
| Features | CARCAREZ | Kirkland Signature | Meguiar's X2020 | Chemical Guys | Mighty Cleaner | Armor All Car Wash Kit |
| Dimensions | 16″ x 16″ in | 16″ x 16″ | 16″ x 24″ | 16″ x 24″ | 12"x12" | 23.6" x 11.8" x 11.8" |
| Edges | Plush Edgeless | NA | NA | Silk banded edges | Edgeless design | Reinforced silk edges |
| Density | 450 GSM | 365 GSM | NA | NA | 540 GSM | 1200 GSM |
| Quantity | Pack of 6 | Pack of 36 | Pack of 3 | Pack of 6 | 6 Pack | 4 Pack |
| Color | Blue | Yellow | Yellow | Gold | Yellow, Black | Yellow, Black |
| Combination | NA | Polyester, Polymide | NA | 70/30 blend | NA | Nylon and polyester |
---
When you want to show profound love for your car, treat it with a high-grade microfiber towel like this one by CARCAREZ. They are made from the finest 450 gsm microfiber that has unmatched softness, strength, and absorbency. When you hold the towel in your hands, you can tell the difference because the material is extra thick and super plush. The light blue color not only makes it look sophisticated but highlights the dirt particles so that you know when to flip in order to avoid scratches.
Each pack comes with six pieces of high-quality microfiber towel that can be used for cleaning after a wash, removing dust from car windows or buffing after a polish. They can be used both inside and outside the car with detailing sprays. They also work great for waterless washing when you are in a hurry and want your car to look prim and proper. The edgeless microfiber comes with a unique sonic cut edge which is safe for all types of surfaces.
Product features and specifications
Measures 12×12 inches
100% machine washable
Ultra absorbent
Non-Abrasive material
Dual-sided plush
No Tags, No Seams, Edgeless
User/ customer reviews
People find these microfiber towels of decent size and capable of absorbing a good amount of water. Those who have used the towel for polishing wax have said that it made the car exterior shine like new without any residue or lines. Users are also happy that these towels can be easily cleaned and air dried to become fluffy like new. A few customers have complained that after washing the towel, it left behind a thin layer of lint.
Conclusion
If you are looking for a better alternative to that old rag or towel you use for cleaning and polishing your car then opt for the CARCAREZ Microfiber (shop now). At this price, you get a good performance and six pieces that will last for a long time.
---
These are oversized, soft and fluffy microfiber towels from the family of Kirkland Signature. When we felt the material with our fingers, we immediately fell in love with the high pile, thickness, and premium quality. These are ultra-soft towels capable of trapping dust particles without blowing them and absorbing the moisture well to give you a dry surface. With a density of about 365 GSM, it is capable of absorbing all types of liquid and oil. It also does a great job with waxing and gives you a beautifully polished car exterior without any lint, smudge, or scratches.
We love the fact that these towels can be used for waterless cleaning, thus they are environmental-friendly. These cloths can be used both on the exterior and interior surface of the car to remove dust particles and bacteria. As these microfiber towels are superior in quality, you may wash and reuse them several times. Make sure you do not use fabric softener while washing and also avoid ironing them. One pack includes 36 pieces of yellow-colored microfiber cleaning towels.
Product features and specifications
Measures 16 X 16 inches
365 GSM
Machine washable
Removes 99% of bacteria
Cleans Without Chemicals
Made from 80% Polyester and 20% Polymide
Tumble dry low
User/ Customers
As per a professional car detailer, these microfiber towels are much better in quality than the cheap products available in the market. Users love that the cloth stays fluffy and thick even after several washes, although it gets discolored slightly. Some people have also used them for polishing their RV and other vehicles with good results. A few customers have cautioned that each towel has a tag that must be ripped carefully to avoid damaging the paint.
Conclusion
If you want to get take good care of your car paint and keep it looking like new then invest in this pack of 36 superior quality microfiber cloths. These multipurpose Kirkland Signature towels can also come handy for other cleaning jobs around the house. Overall, you get a good price to performance ratio.  
---
If you grew up using terry cloths, old tee shirts, and baby diapers to clean the car, it's time to make the big switch to Meguiar's X2020. Unlike terry cloths and baby diapers, these superior quality microfiber towels do not push the dirt around the paint or cause swirls. These thick and fully towels gently remove dirt, polishes, spray waxes, and detailers from the paint to keep your car looking like new. You may use the towel both on the exterior surface as well as inside the car to give you an efficient and lint-free cleaning.
These microfiber towels are dual-sided, hence they can absorb dirt two times more than the traditional cloths with comparatively less strokes. As they are light yellow in color, you can clearly see the dirt on the surface so that you know when it's time to flip the towel and use the other side. As the ultimate polishing cloth, it can be used on glass, paint, plastic, and even chrome surfaces to give you shiny surfaces. These microfiber towels can be machine-washed several times and re-used several times, hence one pack can last for a long time.
Product features and specifications
Measure 16 x 24 inches
Weighs 8.8 ounces
Dual-sided microfiber pile
Swirl-free
Mirror-like results
Machine wash
Pack of 3
Highly Absorbent
User/ customer reviews
Those who have used microfiber towels by multiple brands have said that the Meguiar's are the most absorbent and softest of them all. Several users have mentioned that one towel lasts for long as they can be washed and reused, hence they have used other towels for various other purposes such as cleaning windows and so on. A few customers have cautioned that it left behind yellow lint and edges got torn, but you can always ask for a replacement or refund.
Conclusion
If you are looking for good quality microfiber towels that can be put into various uses other than polishing and waxing your car then get the Meguiar's X2020. This is a great deal where you get a pack of three high-quality microfibers. Good value for money!
---
If you want your car to remain your neighbor's envy then invest in these high-quality microfiber towels to wax and polish the car paint without any scratches. These yellow-colored premium-grade microfiber towels by Chemical Guys are designed for sensitive detailing applications. Made from dual pile weave comprising of long fibers at one side and short fibers on the other, they work great for polishing wax to sealant removal jobs. The side with short fibers works best for waxing, buffing away polish and wax residue. The long fibers side is good for waterless car cleaning and quick detailing jobs.
As the microfiber towels are positively charged, they are capable of attracting dirt particles, grease, and dust even without using any chemicals. Maintaining these towels is easy as you can simply toss them into your washing machine for quick and easy care. While you can use any detergent of your choice, make sure you don't expose them to any fabric softener as this will decrease the cleaning power of your microfiber. As the towels are luxurious silk banded, they last longer to give you scratchless and safe cleaning results always.
Product features and specifications
Measures 10.8 x 8.8 x 5.5 inches
Bright yellow color
Premium ultra-soft towel
Luxurious silk edges to reduce scratches
Final-touch buffing and wiping
Lint-free and scratch-free
Made with 70/30 microfiber
Two plush heights
Unlimited versatility
Machine washable
User/ Customer reviews
People are happy with the product to the extent to call it the benchmark for car towels due to its plush design, ultra absorbency, extra thickness, and softness. Users feel that a soft buff is capable of removing gentle wax residue and giving your car a gorgeously polished exterior. Several customers have used the towels for several other purposes such as cleaning windows with equally good results. A few users have cautioned that the new towels ordered were not as plush as the original.
Conclusion
If you wish to pamper your car and treat it with the kind of luxury it deserves, buys the Chemical Guys Microfiber Towels to enjoy great satisfaction. One pack contains six pieces of towels that will last several uses. Overall, we feel it is worth every penny.
---
Taking care of your car's shine should not be tough and these high-quality microfiber towels by Mighty Cleaner promise to make it easier. The edgeless design ensures that there are no stiff seams to scratch the paint or cause a streak. They are so plush and thick that you can use them on almost any sensitive surface. With just a single sweep of the towel, it can pick a lot of dirt without blowing them out and the dust particles get trapped deep within the structure to prevent any scratches on the surface. It can also be used to clean the interior of the car
Besides using these towels for waxing and polishing, they can also be used as drying towels after washing your car. As the fibers are highly absorbent and extremely soft, they are capable of absorbing even the tiniest bit of moisture. When the towels become dirty, they can be machine washed but at a lower temp setting. The towels are also multipurpose, hence you can also put them into various other uses inside the house such as cleaning mirrors, glasses, tiles, dishes, and so on.
Product features and specifications
Measures 12"x12"
Weighs 2.1 pounds
540 gsm thick
Pack of 6 towels
Edgeless design
Compact size
Absorbs up to 10 times
Machine washable
Works great for delicate surfaces
User/ customer reviews
Some people are so impressed with these towels that they consider using them throughout the house and not just as a car wash or detailing towels. Several customers have mentioned that the towels stay good even after machine washing them, but you should not use fabric softeners or else you will damage the product. A few users have said that these towels are too small to dry an entire car however the extra thickness more than makes up for the shortness in length.
Conclusion
If you want a complete pack of high-quality microfiber towels that you can use for waxing cars and various other tasks around the house then get this one. As there are three blacks and three yellows, you can separate them for different uses. Overall, we feel this is a great buy.
Here comes a four-pack of extremely plush and thick microfiber towels, designed for the delicate surfaces. We love everything about the double-layer microfiber that is capable of absorbing two times more than average microfibers. The double-bread side design is capable of increasing the towel's service life and water absorbency to dry quickly. It also works great for car polishing and detailing jobs to make the paint shine like new. As the exterior is non-abrasive, it can be safely be used on your car's exterior, glasses, and mirror without scratching the surface or leaving behind any lint.
Made from an organic mix of nylon and polyester fibers, users get the benefit of two great materials rolled into one. The reinforced silk edges ensure that they are durable and last longer. They can be machine washed and reused several times without losing its fluffiness or absorbency. These towels also do not fade or shrink, hence you will not need to change them frequently. Apart from being one of the best microfiber towels for waxing cars, they can also be used for cleaning the microwave, dishwasher, laminates, and other household items.
Product features and specifications
Measures 23.6″ x 11.8″ x 11.8″
Made of nylon and polyester
Detailing Or Drying Jobs
Up to 1200gsm density
No scratches, no fading, no fluff
2 times more absorbent
Two-tone thick
Multipurpose use
Machine washable
User/ customer reviews
Those who wash and polish their cars by themselves find these high-quality microfiber towels extremely useful to get a professional finish. As per users, they are reasonably good in size and much softer than the average products available in the market. People are happy that these towels not only do a great job at drying car after a wash, but also help in picking up fog, mist, and fingerprints.
Conclusion
With three superior grade microfiber towels and one mitt hand glove, this is a complete car waxing and washing kit for you. This is all you need to keep your car or RV looking like new. At this price, the pack gives you more than you could ask for.
---
Things To Look For In The Best Microfiber Towels For Waxing Cars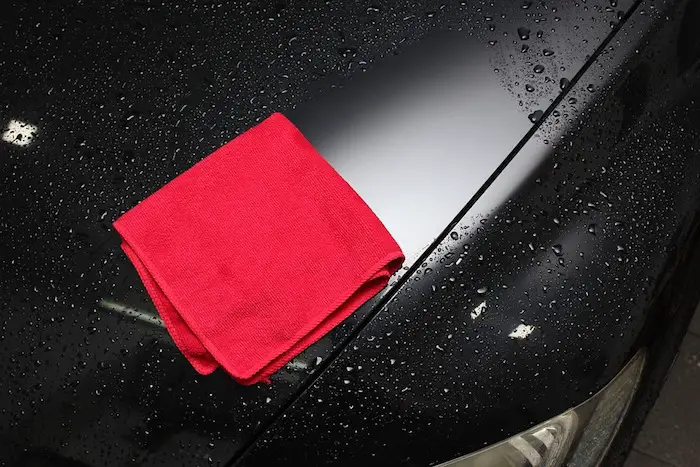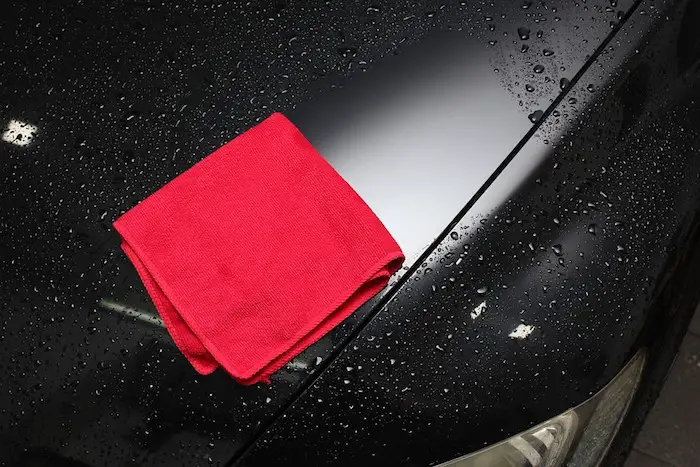 Whether you want to dry your car after a wash, remove the dust, or polish the exterior paint to restore the shine, a microfiber towel comes handy to give you perfect and streak-free results. Here are a few things you need to look for in the microfiber towels.
Size
For waxing cars, a standard size is perfect to get the job done. However, if you plan on detailing your car, consider a large size over 16 x 16 inches. Make sure you buy the right size depending upon the specific requirement.
Quality
Not all microfibers are created alike, hence they differ widely depending on the brand and make. The cheap microfiber cloth you find at the supermarket may be good for household cleaning, but it's not the ideal product for polishing, waxing, or detailing. Look microfiber that is nonabrasive and doesn't shed any fiber.
Reusability
We suggest you buy the machine-washable microfiber towels that can be used repeatedly. They offer the best value for money. Before washing the towels, remember to read the cleaning instructions carefully.
Density
It refers to the thickness or the number of fibers present in one square inch. If there are more fibers, the towel will be highly absorbent, hence more effective at cleaning. The thick microfiber cloth is often described as plush and fluffy, and these are best for polishing or waxing jobs.
Tips To Keep Microfiber Towels Looking And Working Great
While most of the good quality microfiber towels are made from durable polyester and polyamide materials, they still need some care. Here are a few tips to keep them in the best condition:
Never add fabric softeners when washing microfiber towels in the machines. This will destroy the density and reduce its water absorption capacity.
When washing the towels, always use cold water or refer to the specific temperatures mentioned in the manufacturer's wash instructions. This is to prevent shrinking.
If you want the towels to smell fresh and nice, add some distilled white vinegar to the machine during the wash cycle.
Don't wash microfiber towels with cotton or any cloth that leaves lint. Even the smallest particle of lint is capable of clogging the fibers of your cloth.
Always tumble dry the microfiber towels on low heat or no heat settings. If exposed to high heat, the fibers will melt, making the microfiber ineffective.  
Related Questions
Which the best place for waxing your car?
The best place to wax your car is in the garage and if that is not possible, consider doing it in a shade. Make sure you never do it in the sun as the wax will harden, making it difficult to apply and spread. Use the best quality microfiber cloth to buff without leaving any streaks.
How much wax do you need to apply?
If you are using paste wax then we would recommend that you use only a pea-size amount on a damp sponge to get the job done. When using liquid wax, you can apply it directly to the section of the car you wish to polish. There are different types of wax available in the market and the type you buy will depend on what you want from it.
How can I remove streaks and wax stuck between the metal?
Use one of the microfiber towels mentioned above to get a professional quality finish while waxing your car. Buff in a circular motion to get the best results. If there's some amount of wax stuck in between the metal, you may use an old toothbrush to gently remove it.
See Also:
9 Ways To Get Dog Hair Out Of Car Seats
5 Best Longest Lasting Car Air Freshener