5 Best Laundry Hampers For Wet Towels for 2023
I know you're supposed to wash wet towels right away, but I don't always have the time. That's why I went looking for a waterproof hamper that could hold them until my next load of laundry.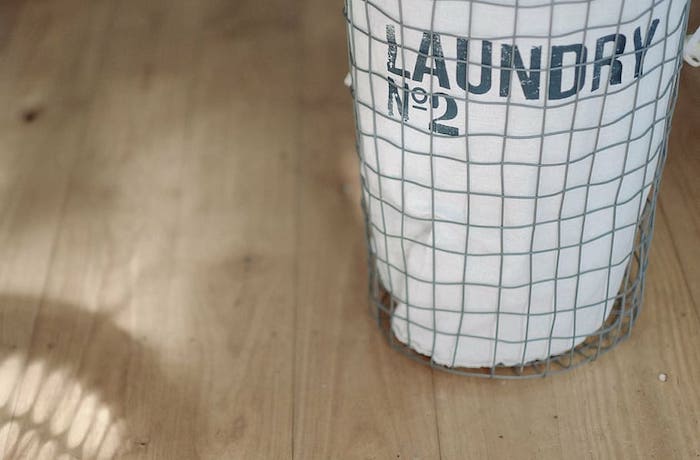 Out of all five of these laundry hampers, I personally think that the Lifewit Freestanding Laundry Hamper is the best. It holds plenty of towels, is easy to carry, and doesn't leak water all over the floor. I also love the stripes, which come in either a smooth gray tone or an adorable shade of pink.
---
The Lifewit Freestanding Laundry Hamper is a sturdy cloth laundry bag. It stands on its own thanks to the cleverly hidden metal support rods. The bag is nearly two feet tall and can hold up to 72 liters of clothing. When it's not in use, the bag folds up for convenient storage.
The Lifewit hamper (shop now) is made from terylene cotton. It's strong enough to hold clothes, but it's also breathable enough to avoid picking up smells. The inside of the bag is coated with PEVA and is completely waterproof.
Probably the best feature of this laundry hamper is the pair of extended and reinforced cloth handles. When you're ready to visit the laundry room, simply grab the handles to treat your hamper like an oversized tote bag.
Features:
Unfolds and stands on its own; no assembly needed

Made from thick terylene cotton

PEVA coating makes the fabric waterproof

Holds up to 72 liters of laundry

Reinforced fabric handles for easy carrying

Comes in gray or pink stripes
Customer Impressions:
Customers love how lightweight and portable these laundry hampers are. However, some buyers wish that the bag was a little sturdier; if you throw a piece of laundry over the side, the hamper might start to collapse under the weight. You can prevent this by making sure your laundry is placed directly inside the hamper every time.
Conclusion:
The Lifewit hamper is a simple and modern-looking laundry solution. I love that you don't need to use a liner bag; when it's time to do laundry, you can just grab the cloth handles and carry the hamper down to the laundry room.
---
With an impressive capacity of 96 liters, the CHICVITA Laundry Basket (see Amazon) is the biggest hamper on this list. Despite its size, the bag is completely portable and has two extended carrying handles.
The CHICVITA hamper is made from sturdy plasticized canvas. The bag can stand on its own, but you can give it a little help with the included metal corner rods. To store the hamper, simply remove and fold the rods before collapsing the bag into a convenient portable bundle.
Features:
Freestanding bag is supported by foldable metal rods

Made from sturdy plasticized canvas

PEVA coating creates a waterproof interior

Extended handles for easy carrying

Holds 96 liters of fabric

Features an attractive gray and white pattern
Customer Impressions:
Customers love the large size of this laundry hamper. It holds more than any other hamper on the market, but it doesn't collapse under the weight. A few buyers noted that the basket was almost too big to carry up and down the stairs.
Conclusion:
If you need more space for laundry, the CHICVITA hamper is the way to go. This durable laundry bag can hold an entire load of wet towels without breaking under the stress.
---
Caroeas is known for making high-quality laundry products. Their Slim Rolling Laundry Basket is yet another excellent addition to any laundry room.
This efficient laundry hamper is made from waterproof Oxford cloth with a PEVA coating. The bag features a mesh drawstring cover that can be closed to keep your clothes or towels tucked safely inside. When you're ready for laundry day, simply roll the hamper along on its four convenient wheels – no lifting is necessary.
Features:
Tall cloth laundry hamper is supported by a metal frame

Four small wheels make transportation easy

Wheels lock to prevent unwanted movement

Mesh cover keeps dust off clothes

Comes in 13 different colors and styles
Customer Impressions:
Buyers have noticed that this laundry hamper is much smaller than you'd expect. Some customers were disappointed, but others think it's the perfect size for the tight space in their laundry room.
Conclusion:
One of the best parts about the Caroeas Slim Rolling Laundry Basket (shop now) is that it comes in so many different colors. Try getting two or three for your laundry room so you can easily sort and distinguish your clothes.
---
The HOSROOME Laundry Hamper is one of the few waterproof laundry solutions that come with a lid. This large and durable hamper is made from waterproof polyester fiberboard with a soft felt coating. Despite its sturdy appearance, the hamper can be collapsed for storage when it's not in use.
The hamper is lined with waterproof polyester cloth. Two small handles on the sides make it easy to transport. The entire design is subtle and attractive; with the lid closed, you won't even notice that you forgot to do laundry. You can purchase this hamper in either beige or gray to match your room design.
Features:
An Attractive felt hamper is lined with waterproof polyester board

Lid closes to hide dirty laundry from view

Lightweight design is easy to transport

Waterproof interior will not mold or pick up smells

Comes in either beige or gray
Customer Impressions:
Customers were surprised to find this hamper both durable and easy to transport. The closing lid is an excellent choice for households with dogs; thanks to the velcro latch, most pets can't get in.
Conclusion:
The HOSROOME Laundry Hamper (check price) is an aesthetic solution for your bedroom or guest room. The closing lid is a great way to hide dirty laundry from pets, guests, and even yourself. Just remember to wash your clothes often so the hamper stays clean and fresh.
---
The Caroeas Laundry Hamper (shop now) is an updated and improved version of the company's previous laundry hamper styles. This slim and stylish laundry basket will fit neatly in even the smallest laundry room.
The updated features of this basket include larger wheels, a bigger storage space, and a removable mesh liner. The liner is designed to be tossed in the washing machine, so you don't even need to touch your dirty clothes.
Like all Caroeas hampers, this one comes in multiple colors. Purchase all three to easily sort your clothes before laundry day.
Features:
Tall and slim hamper fits into tight spaces

Mesh bag can be removed for easy cleaning

Large wheels can roll over most surfaces

Extra wheel brake prevents unwanted movement

Collapses for easy storage

Comes in black, gray, or beige
Customer Impressions:
Customers love that this small hamper can fit in tight spaces while still holding a surprising amount of laundry. The hamper does require initial assembly, but it's relatively durable once it's been put together.
Conclusion:
This is the perfect hamper for that small space between your washing machine and the wall. The mesh bag is a nice touch – I love that you can just toss it in the wash.
---
Caring for Towels and Hampers
Leaving wet towels in your hamper is the quickest way to develop a bad smell. Instead, wash your towels quickly and take care of your hamper to keep everything fresh and nice.
Tips for Washing Towels
There's nothing better than a soft and fluffy towel. Make a few changes to your wash cycle to help your towels smell better and last longer.
Wash with both vinegar and soap to remove unwanted smells.


Don't wash towels with other clothes. Different fabrics require their own wash cycles, so keep your towels separate.


Only wash a few towels at a time. Towels are very absorbent and won't get clean if the washing machine is too full.


Use fabric softener for fluffier towels. Only use your softener once every two to four washes.
Removing Smells from Your Hamper
Some cloth laundry hampers can be tossed in the washing machine, but most require a little extra care. If your hamper has picked up a slight smell, try leaving it out in the sun for a day. The direct light will kill bacteria and leave the hamper smelling much better.
Another way to prevent smells is to place a small odor absorber in the bottom of the bag. Look for an absorber with activated charcoal. In a pinch, use a dryer sheet.
Finally, the best way to permanently kill a hamper smell is with a disinfectant spray. Purchase a cleaning spray from the store, or try mixing a single capful of bleach in with an entire spray bottle of water. Mist the bag lightly and let dry completely before the next use.
Related Questions
How often should you wash a bath towel?
If you only use your towel to dry off after a shower, you should wash it once every 2-4 days. After the third day, you may start to notice a musty smell; this is a sign that bacteria have started to develop.
How long can you leave wet towels in the hamper?
Wet laundry will start to develop bacteria after it has sat out for 8-12 hours. If you live in a humid environment, it could take even less time for bacteria to grow. Don't let wet laundry sit for more than a day, or you'll have a hard time getting rid of the smell.
See Also:
5 Best Washing Machines For Baby Clothes
Where To Store Your Worn (But Not Dirty) Clothes – 11 IDEAS
10 Back To School Organization Tips For Your Home