3 Best Patio Furnitures For Snow For 2023
Love spending time outdoors in your patio or backyard? But, you need to consider the weather in your part of the world before investing in outdoor furniture. You can't bring a large dining set indoors in winter so if your area gets a lot of snow, you may want to look for the best patio furniture for snow.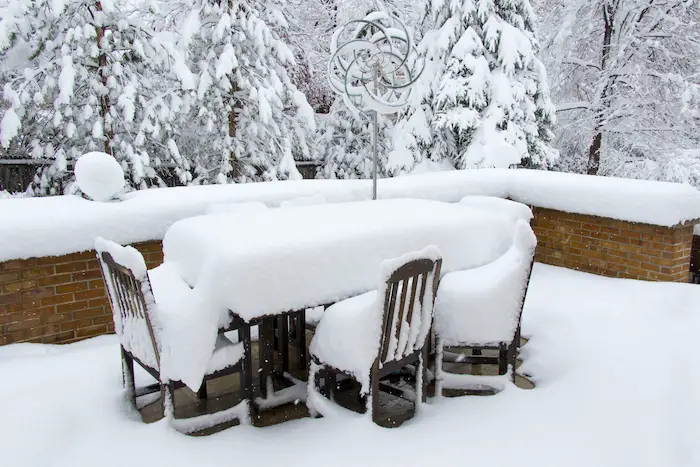 Furthermore, dropping temperatures does not necessarily imply that you stop using your patio or backyard for family time and get together with friends. The cold weather also offers ample opportunities to step out of your home and have fun with your loved ones.
So, you will need to ensure that you choose furniture that can withstand the falling temperature and rise in precipitation. You will need to pay attention to the type of material you choose, usability, style, functionality, and so on to ensure that they last through the snowy weather.
We know finding that perfect piece is easier said than done, hence our team has spent hours researching and reviewing over a dozen products to find the ones that suit your needs. If you are in a hurry and don't have the time to read until the end, below is a quick summary to help you.
Quick Summary
The Elizabeth Cast Aluminum Powder Coated dining set stands for class, elegance, and comfort. Due to its non-rusting, lightweight, and gorgeous appearance, it can be used in blistering summer as well as freezing winter.
Keep it simple, light, and durable with the Kozyard Sofia 4 Pieces Patio/Outdoor Conversation Set made from breathable Textilene fabric. It also has a heavy-duty, rust, and moisture-resistant steel structure for extended durability.
If you want to add a touch of opulence to your patio décor then Palm Tree Cast Aluminum Powder Coated Barstool can set the bar high. It is made from weather-resistant material to stay durable while at the same time look classic and comfortable too.
Best Patio Furniture For Snow: Things To Consider
Before we get into the detailed reviews of patio furniture selected by our team, let's take a look at some of the important things you need to consider before buying patio furniture. With a little thought and care, you can make the best use of your outdoor area in the holiday season.
Resilient Materials
Most important of all, you need to look for furniture materials that can withstand the harsh conditions of the winter months. Some examples are treated woods that are resistant to moisture, synthetic wicker that is durable enough to stay durable outside throughout the year.
Metal is also one of the most durable furniture materials that can last long if you take good care. Sometimes the tables and benches are coated with an additional protectant to prevent any weather damage. So, you will need to choose a material that can last through wet and cold weather.
Style and design
Going for a resilient material does not necessarily mean that your patio furniture has to be boring and bland. There's no use of resilience if you do not enjoy using the products you buy so look for comfort and stylish options available.
If you have kids or pets at home, or you like to frequently have friends gather at your place for barbeque nights, consider these factors before choosing furniture.
Use protective covers
A good way of protecting your patio furniture is to use covers to protect it during the cold season. You can find a plethora of covers made from different fabrics to add more elegance to your patio furniture and also protect it from the snow.
While the covers are not necessarily a compulsory thing, they can also help you remove any debris and ensure low maintenance of furniture besides preventing any weather damage.
We recommend the Duck Covers Ultimate Waterproof Patio 32-inch Cover for chairs; Duck Covers Ultimate Waterproof 79 Inch Patio Sofa Cover for a sofa and a Duck Covers Ultimate Water-Resistant 109 Inch cover for a complete outdoor dining set.
Build shade structures
No matter which material patio furniture you have, you can increase the durability and save it in snowy weather by covering with a suitable shaded structure. At the time of heavy snowfall or thunderstorms, it provides extra protection to your furniture.
Besides being useful in winter, this also comes in handy during summers to protect the patio furniture from the sun's UV rays. We suggest that you look for shaded structures made from tough materials to add aesthetic value to your patio and backyard space.
Maintain your furniture
Depending on the type of material your patio furniture is made of, you will need to take good care of it throughout the winter months. You should be careful when using any type of cushions or fabric as it should be resilient to moisture.
The cast aluminum patio furniture can safely stay outside for as long as you want, but be careful to ensure that water does not get into the frames and freeze. You may add a cover to your natural wicker, wrought iron, or steel framed furniture but don't cover wood furniture as it can lock-in moisture and lead to mold/ mildew growth.
Now, let's take a look at the reviews of some of the most recommended patio furniture for snow, handpicked by our review team
This 9-piece dining set from The World Of Patio sports an antique yet classic design that can add a world of charm to your outdoor space. The frame is made from cast aluminum material for extra strength and durability, plus it has a five-stage powder-coated finish for that gorgeous appearance.
Due to its non-rusting make, the patio set retains its look in the blistering summer and also in rainy or snowy winters. One chair has a swivel base while the rest have standard legs. The chairs also come with walnut color cushions for extra comfort and there's also a Sunbrella option to save you from sun or rains.
What we like:
Reasonable dimension of the dining set making it perfect for small get-togethers
Standard umbrella hole at the center for shade
Cushions are made from thick weaved fabric, nice and comfy
Chairs are heavy, nice, and last for a long time
The set is easy to assemble together
What we don't like:
Cushion fabric cannot withstand the outdoor heat
---
Even when it's cold and wet outdoors, this Kozyard Sofia gives you the freedom to spend time outside in comfort. The seats are enough to fit a lot of people and they are sturdy to sustain a weight of about 300lbs. The chairs are made from breathable textilence material to help you feel comfortable both in winter and summer.
It's aptly named the conversation set as it's something you may love to lounge in and converse with your friends. The table features a high-strength iron frame and comes with a surface tempered glass attached using a built-in screw set. The product comes with all hardware and tool required for the assembly.
What we like:
There are clear instructions for the assembly part
A high-strength iron frame increases the capacity to bear the weight
Enhances the décor of any outdoor space
Very sturdy and comfortable too
What we don't like:
Hard to assemble for non-technical people
---
Do you own a poolside bar? Then the Palm Tree bar stool (see Amazon) can be the perfect seating arrangement even for cold days. The chair cum stool comes with a solid cast aluminum frame that has a non-rust guarantee. It also features a 5-stage powder-coated bronze finish that adds more elegance to the décor.
The set includes two barstools fitted with seat cushions to add a classic yet comfortable appearance to the outdoor space. When you buy a patio furniture from Palm Tree, you can breathe easy as they are covered by a 15-year limited warranty on frame.
What we like:
Chairs are sturdy and gorgeous
They are all-inspected and made of all aluminum
Chairs are heavy and capable of taking a lot of weight
 Very easy to assemble as per the instructions
What we don't like:
They are slightly more expensive than competitors.
Final Words
Winter holidays should be all about making snowmen, grilling outdoors, and spending quality time with friends outdoors rather than cramming by the fireside. With the best quality and all-weather patio furniture, you can ensure that you don't have to hide them away when it snows, but make the most of the winter season.   
See Also:
3 Best Outdoor Trash Cans For Patio
8 Best Patio Umbrella With Solar Lights
6 Best Cast Aluminum Patio Furniture
8 Best Electric Fireplace For Different Purposes