3 Best Pressure Washers with Adjustable PSI For 2023
Cleaning outdoors may seem like a chore, but not really if you have the best pressure washer with adjustable psi.  However, not all surfaces are alike and thus they require different water pressure while cleaning. For example, a concrete floor, patio furniture, and car exterior differ widely in terms of the pressure they can handle.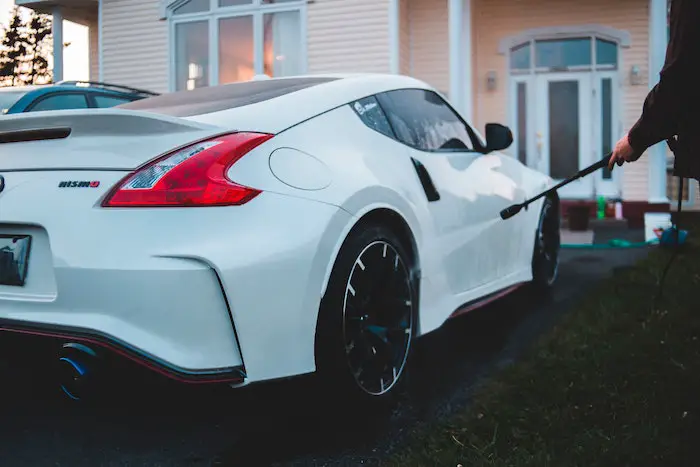 You can't possibly have different washers for different surfaces, hence we recommend that you choose a pressure washer that comes with adjustable psi. By adjusting just the right amount of water pressure depending on the area to be cleaned, you will be able to get the most optimum results.
We know it's not easy for average consumers to look for that perfect model with adjustable PSI, so our review team has done the homework for you. We have extensively studied the market, analyzed, and compared the products to come up with a list of the best pressure washers available online.
Quick Summary
The Yard Force PSI Brushless Electric Pressure Washer is built to perform and deliver good results. With four pressure settings ranging between 1600 PSI and 3200 PSI, it can handle the dirtiest surface.
Elegant, compact, and smart, the Generac 7122 SpeedWash Pressure Washer comes with several attachments and it can clean up to 50% faster.
If you want a beast of a pressure washer to adapt to any cleaning requirement then check out the Powerhorse Gas Cold Water Pressure that is capable of handling home and business jobs.
Best Pressure Washer With Adjustable Psi: Things To Consider
Before we go ahead with the individual reviews of each product handpicked by our team, let's take a look at the few things to consider:
Electric or gas motor – This is probably one of the most important points to consider and we suggest an electric-powered model for home use even if they are not as powerful as the gas-powered ones. The electric versions are preferred for their ease of use and no storage hassles.
Cleaning power – Although the sweet spot for any electric pressure washer is 1,800 to 2,000 psi range, we suggest that you look for a wider range as possible to be able to adjust the pressure for different uses.
The motor may be induction or Universal, but we recommend the former as they are rugged in construction, quieter in operation, and have a much longer lifespan. However, let's not forget that the induction motor will add more weight to the unit so you must ensure that it has good wheels.
Pressure washers are typically heavy and awkward units that you may need to push across bumpy lawns, through street curbs, up and downstairs. So, make sure you have big and nice wheels for easy mobility.
This electric pressure washer by Yard Force comes with a digital controller that enables the user to choose from 4 different pressure settings. You may select between 1300 and 1600 PSI for the light to medium cleaning jobs and opt for 1900 and 2200 PSI for the heavy-duty cleaning applications.
The unit contains an axial cam pump that produces the power you need for a varied range of cleaning applications. It also boasts a brushless motor technology that allows the motor to operate efficiently while producing more consistent power. The manufacturer stands behind the product with a 24-month warranty.
What we like:
Compactly designed for easy storage and use in tight areas
Handles and spinning wheels make the unit more mobile
Ready to use out of the box
Covered by a full two-year warranty
What we don't like:
Motor often delays coming to full pressure
---
When you want to clean smarter, the Generac 7122 SpeedWash helps you perform the job at hand up to 50% faster. It comes with a power dial ergonomic spray gun that lets you adjust the water pressure for different types of tasks – wood, car, concrete, and soap.
Powered by a Generac 196cc OHV engine, the pressure washer offers maximum cleaning performance. The unit includes 25 feet high-pressure flex hose and four quick-change nozzle tips. Attachments also include a turbo nozzle that removes dirt and grime 3 times faster.
What we like:
Has the ability to adjust the pressure via the wand dial
Comes with a lot of attachments (Turbo nozzle, soap blaster and power broom )
This unit is collapsible
Easy to start the engine
What we don't like:
Lack of throttle to control pressure
Plastic parts are flimsy and poorly secured
---
This pressure washer comes equipped with a 212cc OHV engine and a direct drive axial cam pump to tackle the numerous cleaning jobs around your home or business. The adjustable pressure gives you the versatility to handle any type of job while the flat-free tires ensure easy maneuverability. Features like low oil shutdown and thermal protection also provide extra protection.
With a 2.6 GPM and 3200 PSI, you can conveniently blast through dirt, mud, and debris easily, increasing productivity and saving money. It includes four quick connect nozzles, a rear entry gun, 3ft. lance, and a hose with M22 connectors. The rugged steel construction ensures superior support and durability required to take a lot of beating in various job sites.
What we like:
Built-in Powerhorse nozzle holder is within reach at all times
The onboard soap tank adds efficiency and eliminates the mess
Adjustable pressure makes you ready for every job
Recoil pulling is easier and smoother with Easy Start
What we don't like:
Customer service can improve
Final Words
When you have a pressure washer with adjustable psi, you are not stuck to a fixed wavelength but have the liberty to decrease or increase the pressure for a variety of cleaning tasks. As a result, you get more benefits and better utilization out of your investment. 
See Also:
Can You Use Dish Soap In A Pressure Washer
4 Best Pressure Washer For Pool Deck
Can You Pressure Wash A Riding Lawn Mower?