5 Best Robot Vacuum With HEPA Filter for 2023
Runny nose, watery eyes, and incessant sneezes can make your life utterly miserable. There seems to be no way to escape from the pollen, house dust, and pet allergens that go around in the house where you spend most of your time. No wonder people with allergies have flu-like symptoms forever.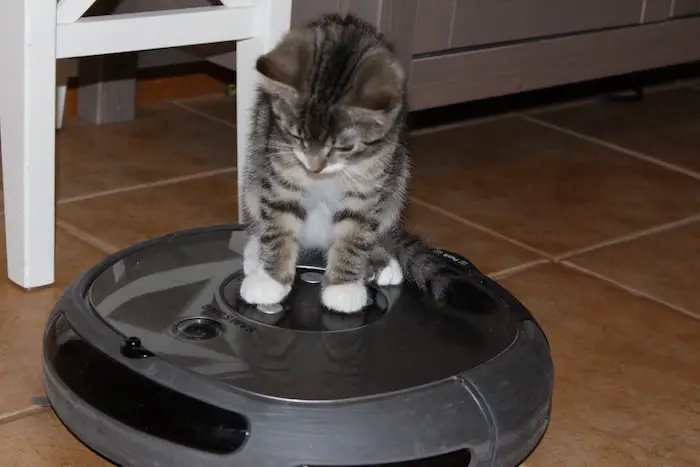 Countless people around the world are allergic to pet dander and dust that stay air-borne and get into the respiratory tract while breathing. These allergens irritate the mucous membranes leading to sneezing and red eyes, so it's important to get rid of the allergens within the house.
This is where the best robot vacuum with HEPA filter comes into the picture. The filter is capable of trapping up to 99% of the air-borne allergens, making it a boon for allergy sufferers. However, the robot vacuums may differ in capacities and various other features.
If you are in the market looking for a Robot Vacuum with HEPA filter, the different types of brands and models may make it hard to choose one product. Don't worry, because our team has done the work for you by reviewing and comparing over a dozen products available online.
After an in-depth study of the features and benefits, we feel that the iRobot Roomba 980 (shop now) is the right choice. It comes with up to 120 minutes runtime, compatibility with Alexa or Google Assistant, auto-charging and wi-fi enabled to help you clean a medium to large size house efficiently.
| | | | | | |
| --- | --- | --- | --- | --- | --- |
| Features | Ecovacs DEEBOT N79S | ILIFE V3s Pro | iRobot Roomba 980 | Shark ION Robot Vacuum | OPODEE Robot Vacuum |
| Weight | 7.05 lbs | 4.5 lbs | 11.8 pounds | 5.51 pounds | 5.95 pounds |
| Runtime | Up to 110mins | 90-100 mins | up to 120 minutes | 180 minutes | 100 minutes |
| Compatibility | Alexa & Google Assistant | NA | Alexa & Google Assistant | Alexa & Google Assistant | NA |
| Charging | Self-Charging | Self-Charging | no | Self-Charging | Self-Charging |
| Modes | 3 cleaning modes | 3 cleaning modes | NA | NA | 5 cleaning modes |
| Dust capacity | 520 ml | 300 ml | NA | 473 ml | NA |
---
This is a multi-surface robot cleaner equipped with two side brushes and the main brush to sweep and vacuum the entire floor. It absorbs the dust, pollen and pet dander without making them airborne, hence you get relief from allergy symptoms. The DEEBOT N79S comes with three different modes – auto mode to cover a large room, spot mode to clean a particular mess, and edge mode to take care of the floor edges. With the max mode, the robot cleaner is capable of a suction power up to two times of any ordinary cleaner.
Although the cleaner is battery-operated, it gives you a good run time of 110 minutes which is enough to cover an average-sized home. It has the ability to auto-charge and start cleaning from where it stopped. The DEEBOT N79S is compatible with Alexa and Google Assistant so it perfectly fits into a smart home. We are also happy that the manufacturer stands behind the product with a one year warranty and good customer support.
Product features and specifications
Measures 33 x 33 x 7.8 inches
Weighs 7.05 pounds
low-profile design
ECOVACS Smart App
Alexa & Google Assistant compatible
Up to 2X suction power
Up To 110 Minute Runtime
1 Year Warranty
User/ customer reviews
People love the fact that this robot vacuum effortlessly goes from hardwood floor to carpet, rugs and tiles. Users have mentioned that it can push aside large things and maneuver through tricky areas with ease. When it comes to performance, most people are happy with the results although it may sometimes miss popcorn or cherry, but it reduces the need for cleaning by half.
Conclusion
If you have kids and pets at home and you are an allergy sufferer on top of that then this Ecovacs DEEBOT N79S robot vacuum cleaner is a must-have for you. It glides with ease and cleans well, reducing the need to vacuum the house only once a month. Overall, a great buy!
Cabiclean Replacement Accessories Kit
If you buy the Ecovacs DEEBOT N79S, don't forget to get this replacement accessory kit that is compatible with the product. The brush fits well, just like the original and you can hardly see any difference in the performance. The kit includes one main brush, 8 side brushes, 6 sets of high-efficiency filters, one screwdriver, and one cleaning brush. It comes backed by a 60-Day Warranty and the customer support is there to help with any issues.
Most users feel that the replacement accessories kit comes handy when one of the brushes stop working or the filter becomes unusable. Customers find it handy to have the kit so that they can replace the worn-out parts and make their robot vacuum usable again. At this price, you get a great deal.
---
If you have naughty kids and pets breaking havoc in the house every moment, this is a must-have cleaning tool for you. Equipped with a tangle-free technology, the vacuum cleaner is designed to pick up dirt, debris, and pet hair from the floor. The low profile design enables the product to go under the bed, furniture, and other hard to reach areas with ease. It works best on laminate, tiles, hardwood, and stone. You can choose from the 3 cleaning modes (auto mode, space mode, and edge mode) to clean as needed.
The ILIFE V3s Pro (see Amazon) comes with a preset timer that enables you to set a programmable schedule in advance. The auto-charging feature ensures that the device goes to home when it runs out of juice and continues from where it left. There are 3 inbuilt infrared sensors and ten sets of front sensors that help in avoiding obstacles and preventing a fall from the stairs. The manufacturer stands behind the product with a 12-month warranty and good customer support.
Product features and specifications
Measures 11.8 x 11.8 x 3 inches
Weighs 4.5 pounds
LED indicators
Low profile design
2600 mAh Li-battery
Automatic Self-Charging
Tangle-free Suction
Wheels Diameter – 65mm
Runtime 90-100 mins
User/ customer reviews
Most users feel that the V3s Pro is capable of picking of dust, fur, and pet dander from a seemingly clean floor and significantly reduce allergens within the house. Customers suggest that you read the directions carefully before using the product as many answers to questions that you may have is in the user manual. People are happy to not have to sweep the house 2-3 times a day because their new friend takes care of all the mess created by pets and kids.
Conclusion
If you are looking for a smart and stylish Robot Vacuum Cleaner that can do its job without your supervision and get your home allergen-free while you are busy, then this is it. With a great price to performance ratio, we believe this product is worth every penny.
Electropan Replacement Consumable Accessories Parts
If you are looking for a replacement accessories kit that goes with the ILIFE V3s Pro then get this one by Electropan. It includes side brush, mop cloth, and HEPA filter that are compatible with most robot vacuum cleaner models from the ILIFE family. Please bear in mind that the brush needs to be replaced in every 2-3 months to ensure that the robot vacuum keeps working at its best.
Users find it easy to remove and replace the parts themselves for regular maintenance work. This accessories kit (shop now) comes really handy to breathe some life into your vacuum cleaner when it gets close to dying. At this price, you get good value for money and the benefit to add more years to your investment. 
---
When we looked at the iRobot Roomba 980, we fell in love with its sleek and stylish appearance that makes it look like a sci-fi object. It comes equipped with an iAdapt 2.0 Navigation and vSLAM technology to map the area of your house and clean the floor, under the bed, furniture and around the obstacles. The powerful lifting suction is capable of delivering 10 times the air power for a great pick-up performance. With Power Boost, you can increase the suction capacity on carpets and rugs to pick the finest dust and pet hair.
The iRobot Roomba 980 works great for houses with multiple pets as it takes the stress out of picking pet dander, litter and fur. It is powered by a 3-stage cleaning system and high-efficiency filter that can trap allergens and dust particles that you can't otherwise see with naked eyes. The robot vacuum is capable of running for up to 120 hours and gets back to Home for auto charge. The device is compatible with iOS Operating Systems 11, and Android Operating Systems 5, and higher versions. It also works with Google Assistant and Alexa.
Product features and specifications
Measures 18.6 x 16.8 x 5.2 inches
Weighs 11.8 pounds
iAdapt 2.0 Navigation
Runs for up to 120 minutes
iRobot HOME App
High Efficiency Filter
Dual Multi-Surface Rubber Brushes
Up to 10x the air power
Visual navigation
Dirt Detect Technology
User/ customer reviews
Most people who have bought the Roomba are happy with the ease of installation and the swiftness with which it moves from one place to another picking pet hair, leaves, and almost anything on the way. Users find it's compatibility with Alexa really helpful as they can sit in another room and still ask Roomba to clean. While most customers did not have any issues with the vacuum getting over the rugs or carpets to clean, a few users have complained that it did not climb over their black carpet.
Conclusion
The iRobot Roomba 980 (shop now) has some pleasant upgrades over its predecessor, and this makes the cleaning tool all the more useful. Although slightly more expensive than other products in the category, we feel that the performance and smartness justifies the price.
Neutop 15 pcs HEPA Filters
If you invested in the iRobot Roomba 980, make sure you only buy the most compatible parts to keep it working in optimum condition. It is recommended that you change filters every 2-3 months for the best performance. This accessories kit (shop now) includes 15 pieces of high efficiency HEPA filters that are compatible with different series of iRobot Roomba. These durable filters fit perfectly and they are easy to clean as well.
As per users, the replacement parts look exactly the same as the original thing. It is easy to replace and install the parts by yourself. You just need to follow the instructions provided. When it comes to performance, users have noted that the replacement parts also do equally good work at picking the dust and debris instead of blowing them out.
---
Shark has remained the market leader in floor cleaning for years and they are now in the robot vacuum arena with their Shark ION. It has a stylish exterior and low profile design to easily get under the furniture, bed, and table to clean every corner of the house. There are two side spinning brushes that pull dust and debris from the corners and a self-cleaning brush roll that traps pet fur, hair, pet dander, and other allergens. With a dust cup capacity of 0.5 quarts and a long-lasting lithium-ion battery, this robot vacuum cleaner can work for hours.
Just like other Shark products, this robot vacuum is also equipped with the latest Detangling Technology to enable the device to manage and untangle strings, hair, fibers, etc. The superior quality brush roll with helix-pattern, high-tensile bristles makes it easier to pick up dust from carpets and rugs. The robot has smart sensors that helps it navigate around obstacles with ease and prevent falling down from the stairs. We also love the fact that the product is Wi-Fi enabled and compatible with Alexa to let you control the device with voice commands.
Product features and specifications
Measures 12.6 x 12.6 x 2.6 inches
Weighs 5.51 pounds
Vacuum Wi-Fi Connected
Voice Control Dual-Action
Works with Alexa
Dust cup 0.5 quarts
Long life lithium-ion battery
Low-profile design
Easy-Empty Dust Bin
User/ customer reviews
Users are mostly full of praise about this little thing working with ease around the house and taking care of their pet hair, dust, and other things. Working individuals are happier because they can connect with the Shark robot through the app and keep control over the cleaning schedule, long hours, and so on. A few users have mentioned that it took 2-3 tries to connect to the app but once connected, it worked just fine.
Conclusion
If you have used a Shark product before, you are probably aware of the quality and you can expect to find the same level of performance. The Shark ION (shop now) is well-built and intelligently designed to help you keep your home clean while you take care of other things. Overall, a great investment.
Mochenli 6 Brushes + 2 HEPA Filters
If your Shark Ion needs a replacement part, rely on the compatible Mochenli accessories kit (shop now) that includes six brushes, two HEPA filters, side brushes, and filter accessories. With this kit, you can keep your robot vacuum working efficiently and deliver its optimum performance always. When the filter or brush wears out, these replacement parts work as good as the original. Installation is quick and easy as you just need to snap the parts into place.
Made from eco-friendly materials, the Mochenli brush is easy to clean. By replacing the parts frequently, you can prevent the motor from getting damaged. It also prevents the debris and contaminants from being released into the air, thus keeping your environment allergen-free. Most users are happy to buy this replacement kit that helps their Shark robot vacuum work like new.
---
If you are looking for a well-built and sturdy robot vacuum cleaner then check out this model from Roborock. This product impresses with a strong 1800Pa suction ability and 5 cleaning modes designed to clean different areas of the house. It comes with a built-in gyroscope that can help the robot navigate with ease so that there are no dead zones. With a low profile design of just 2.9 inches in height, the robot vacuum that effortlessly glides under furniture and narrow spaces to eliminate dust and allergens from your house. It never gets stuck in the corners, thanks to the artificial intelligence that comes into play.
The robot vacuum is powered by a 2500 mAh rechargeable battery and  boasts a coverage area of up to 1615 square feet. It has a continuous run time of 100 minutes that enables you to clean a large house, and if the battery juice runs low, it goes back to its dock station for auto charge. With a low noise level of 65 DB, you can let this robot assistant work for you silently without disturbing anyone. We are also impressed by the wheels that help it climb over 0.63 inches obstacles and move from one room to another freely.
Product features and specifications
Measures 13 x 13 x 3 inches
Weighs 5.95 pounds
5 cleaning modes
Built-in gyroscope
Up to 1615 square feet
2500 mAh rechargeable lithium battery
2.9-inch Low Profile
High Efficiency Particulate Air filter
1800Pa Ultra Strong Suction
Intelligent route planning
Anti-drop sensors
User/ Customer reviews
Users have mentioned that the Roborock robot vacuum cleaner has features that you can expect to find in high-end competitor products. People find the remote control easy to use and the instructions are pretty straightforward for anyone to understand. A few users have pointed out that there is no wi-fi connectivity which is an area of improvement, and the product does not go over anything black colored.
Conclusion
Although this brand is not as famous as the Roomba or Shark, but the well-designed features make it a in winner in various aspects. At this price bracket, the Roborock Robot Vacuum Cleaner (learn more) gives you more than what you expect.
---
Buying Guide Of Best Robot Vacuum With HEPA Filter
When buying a robot vacuum cleaner for your home, there may be various things you need to take care of. For example, if you have kids at home, you may want to ensure that it is safe to use and if there are pets, you would want it to clean up their litter. Here are a few things to consider before making the investment.
Wi-Fi Connectivity
Today, we are in the age where the Internet not just connects people, but also lets people connect to their appliances and enables multiple appliances to connect among themselves. If you have a smart home, look for wi-fi connectivity and app control to be able to send commands to your robot even from office.
Battery Life
Most robot vacuums have enough battery life to clean a medium-sized house with ease, and even if the battery runs out, most models will return home to auto charge. Please ensure that the product has auto-charge ability to get recharged and resume from where it left. If your house is big, you will need to look into the battery life and coverage area.
Hardwood or carpet
Some types of robots, vacuums are good at cleaning carpets while others are better at hardwood. There might be some models that do an equally good job at both. So, you will need to consider the flooring of your house, the number of carpets and rugs before choosing a product.
Ability to avoid obstacles
This is a practical feature you must look for in the product, because you can't empty your house to allow it to clean. There will be obstacles and hurdles on the way. Your robot vacuum should have inbuilt sensors to identify those sensors and find way to go past them. It should also be able to avoid the stairs, edges, large objects, and so on.
Related Article: 4 Best Robot Vacuum To Go Over Threshold
Advanced navigation-algorithm
Modern robot vacuums come equipped with an advanced navigation technology that helps them navigate through the house to clean every corner and avoid getting stuck. Some models have the mapping feature that will take into account the map of your house and then create a cleaning path.
Cleaning modes
Just like a a stand-up vacuum cleaner can be adjusted to clean your carpet or hardwood flooring, a robot vacuum may also have different settings. When you switch a mode, the suction capacity and other functions may change to suit the different flooring. Some models may have sensors to change mode automatically while others require you to do it manually.
Related Article: 3 Best Robot Vacuums With Self-Emptying Bases
Size matters
When choosing a robot vacuum, it is important to choose the right size because the dimensions are important for various reasons. This will determine how easily it is able to get into the tight spots/ narrow spaces, and whether it can clean under the bed, furniture and kitchen cabinets. These devices don't come with expandable dust bags so choose the capacity based on your needs.
Boundary blockers
This is another useful feature that you might want to have in your robot vac cleaner. This includes some type of sensors that tell the device where not to venture into, such as the pet's area or kid's room. A smart hack is to stretch a magnetic tape on the area where you want to restrict the robot vacuum and its sensors will avoid that space.
Related Questions
What mode should you use it for concentrated cleaning?
If you want to clean a specific area where your kid has dropped food or milk has spilled, use the spot mode for concentrated cleaning, This will ensure that the robot vacuum cleans only the spot where you tell him instead of moving around the entire house.
Can I let the robot vacuum clean while I am away from home?
This may sound like a good idea however we would suggest that you give new products some time to get familiar with the surroundings before you let it work on its own. If this is your botvac's first run, it's better to let it clean in your presence. Some houses may have hot spots or a lumpy rug that needs to be taken care of so that they don't come in the way.
What to do if you don't have enough free wall space?
In the absence of free wall space, you may use the space under the cabinet or couch to charge the robot vacuum and store it when not in use. The device will identify this as Home and come back to this place when it runs out of charge.
What's the ideal time to use a mapping robot vacuum?
If you have a mapping robot vacuum, this means the device will use its sensors to cover the entire area systematically. While you might think midnight is the ideal time when even the pets are sleeping, the best time is afternoon. As the botvac has optical sensors that need some light to operate, 2 pm is the best time to run the device.
How is the best robot vacuum with HEPA filter different from others?
While an average botvac can pick all types of debris and dust from the floor, HEPA filters are capable of trapping the allergens. These high-efficiency filters do a good job at keeping your indoor environment healthy so if you suffer from allergies, this one is your best bet.