7 Best Shelves For Vinyl Records For 2023
There's something about original and vintage items that you don't find in the modern and digital. For those who are music-obsessed, a turntable is more than a medium to listen to your favorite tunes. However, as your collection of vinyl records expands, the problem of storage comes into play.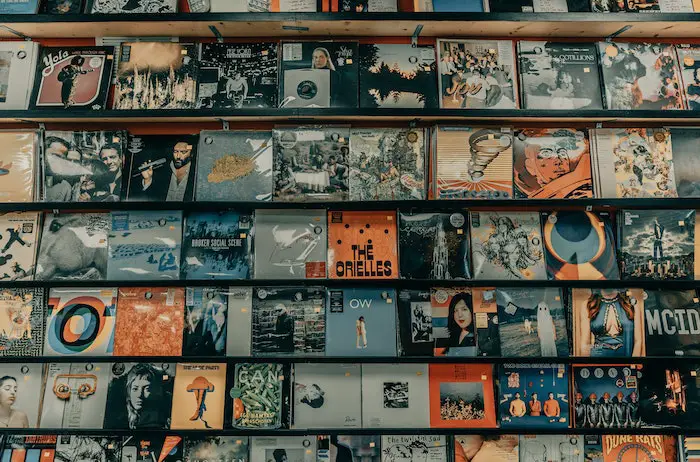 One or a few records are light and slender but think about a collection of 50 or more, and it will feel like a mess until you find a way to organize. When looking for the best shelves for vinyl records, style is an important aspect you will need to look for, but functionality is also equally important
Whether you have a small record collection or you love storing records of your favorite music bands, look for a suitable unit to organize and display your collection. With so many options available, it's not easy to find that perfect shelf, hence we have made it easier for you.
Our team has reviewed some of the best shelves to organize your collection of vinyl records. Read on to find our unbiased reviews of each product, and if you are too busy to read until the end, go with our editor's pick – KAIU Vinyl Record Storage Holder (shop now) for its stylish design, great holding capacity, and awesome functionality.
When you want to flaunt your vinyl records, do it with the multipurpose Way Basics 2-Shelfthat (See Amazon) has enough space to accommodate a large collection. This is not wood but made with a good quality and highly durable zBoard recycled paperboard, which is both non-toxic and eco friendly.
The interior dimensions of this two-shelf storage cube are reasonably good, and it stands upright, not on the back or side. Each shelf is sturdy and capable of sustaining a maximum load of 30 lbs, which means up to 85 LP records (about 170 total records per unit).
Assembling the shelf does not take a lot of time as there are no extra tools required. You just need to peel off the 3M Adhesive strips and stick them together by properly aligning them. We are happy to know that the manufacturer stands behind the product with a lifetime guarantee.
Product features and specifications
Measures 14.2 x 18 x 29.1 inches
Weighs 11.9 pounds
Each shelf holds up to 85 LP records
Easy to assemble
Designed for vinyl records
Maximum load of 30 lbs/ shelf
User/ Customer reviews
Most users are happy that the product is extremely light and so easy to assemble without the need for any special tools. People like the unit as it can be set up in any room and it holds a lot of records. A few customers have warned that the shelves are flimsy and the adhesive keeps coming off.
Conclusion
If you are looking for a temporary solution or you are someone who moves often and hates investing in heavy furniture will love this product. It is not only easy to set up but also extremely light and portable. At this price, this is a cheap and easy solution that you could ask for.
---
When you want a spacious storage unit but don't want to compromise with functionality for style, we suggest that you get the Crosley AC1004A-BK. This is a beautifully designed record storage crate that comes in original woodgrain and numerous colors to match any type of décor.
Made from solid wood, the storage crate not only keeps your vinyl records collection well organized but also amplifies your style. There is plenty of storage space to easily accommodate between 40 and 75 music albums.
The product comes with a stylish integrated handle for easy handling. We love how lightweight and portable this single shelf is, making it possible to carry the unit with you wherever you go.
Product features and specifications
Measures 18 x 13.75 x 9.5 inches
Weighs 2.5 pounds
Finished in Solid Wood
Holds Between 40-75 Albums
Multiple Color Options
Integrated carry handles
User/ Customer reviews
Users find the look of this Record Storage Crate nostalgic as it replicates the orange record crates from the 70s era. Most people have said that the unit is very sturdy and easy to put together with clear instructions available from the seller. A few customers have warned that the storage space is not as expected.
Conclusion
This is a well-designed and cheap shelf for the vinyl record that can be set up in flat 20 minutes to have your vinyl record organizing sorted. If you are looking for a high-quality wooden shelf, this may not be right for you, but if you want a temporary solution then you will be pleased with your purchase. 
---
IKEA furniture looks classic and contemporary at the same time, plus the fact that their products are made in the United States, make them one of the best sellers in the industry. The unit comprises of four spacious shelves that are made from particleboard, fiberboard, ABS plastic, paper, and embossed acrylic paint.
Due to thoughtful practical dimensions and lightweight, this shelf can be mounted on the wall or placed on the floor as you like. The contemporary design of the unit makes it match perfectly with all types of interiors. It is easy to assemble the product following the instructions mentioned.  
The shelf fits well and it can accommodate a good number of vinyl records or other products in the cube. You can also use the top section to keep the turntable and speakers.
Product features and specifications
Measures 32 x 16 x 7.5 inches
Weighs 40.2 pounds
Made in the USA
Made from Particleboard
Max load/shelf 29 lb
Can be hung on the wall
User/ Customer reviews
Users love the design, sturdy construction, and durability of the product, however, many have said that this is probably not a legit Ikea unit. Others have mentioned that although this is an Ikea product, the seller is different and they do a good job with packaging and shipping.
Conclusion
When you want to buy something that looks great enough to accentuate your interiors and also offers a practical solution for storing vinyl records, this is a good choice. We feel that the IKEA Kallax 4 Shelving Unit offers good value for money.
---
If you are an ardent music lover then dedicate a complete section to your passion with a Victrola Wooden Stand. Simple, yet stylish, the wooden music center and record holder shelf are what you need to get your love for music sorted.
Made out of real wood, this is a companion piece for all victrola wooden music centers. The best part is that you can easily assemble the unit without requiring any additional tools. It can also conveniently accommodate more than 50 vinyl records.
With its elegant design, the Victrola Wooden Stand (shop now) serves as a perfect centerpiece in the living room or any part of the house as it blends well with any décor. The top part is utilized for keeping the turntable and the bottom section for keeping vinyl records. It comes in several color options.
Product features and specifications
Measures 20.75 x 27 x 13.75 inches
Weighs 12.8 pounds
Very simple to assemble
Stain & wood grain
Conveniently stores over 50 vinyl records
User/ Customer reviews
Users are impressed with the design of the product and found it easy to assemble and put together with the victrola wooden music center. People love the paint finish and the look that blends well in any décor. A few customers have warned that the meta pieces that are meant to give support to the weight of vinyl records tend to bend slightly under the weight when you pout too many records at once.
Conclusion
This stain and grain of this wooden shelf unit is extremely beautiful to look at and adds a lot of integrity to any place where it is kept. Overall, we love the construction and design of the unit. Even though it appears slightly old school, the shelf is all you could probably ask for at this price.
---
When you want to wow your guests with a uniquely styled vinyl record organizer, it can't get better than the KAIU Vinyl Record Holder (see Amazon). Instead of being a copycat of something, this is an authentic shatterproof vinyl record that gives your record collection the protection they deserve from cracking, warping, or breaking.
Made from solid wood, this record storage comes in five neat colors that match any décor. The vinyl cover features a 360-degree view so you can easily keep your favorites organized. Each record slides smoothly in its place without any friction or abrasion.
The product is so easy to assemble that anyone without any mechanical knowledge can do it. We are pleased to know that the manufacturer stands behind the unit with a 2-year warranty and a 100% money-back guarantee.
Product features and specifications
Measures 13.5 x 7 x 7.5 inches
Weighs 1.5 pounds
Protects 40 Vinyl LP's & Singles
Stylish & Sleek
Assembles in Seconds
Designed in America
360-degree view
User/ Customer reviews
People who have brought the product are impressed with the easy and highly functional design that ensures every record stays well protected and easy to access. Most users are so happy with their purchase that they went on to recommend this product to others.
Conclusion
The KAIU Vinyl Record Storage (shop now) is a perfect example of practical design and great functionality coming together to create something exceptional.  It gets full marks for aesthetics and also for saving space in small apartments and houses. Overall, we feel it's a product you will love to flaunt in front of your friends.  
---
Why store your vinyl records in milk crates when you can display them stylishly in this LABEND HOME 8 Pc Display made from solid pine wood. This is a great way to showcase your amazing collection of records without concealing the gorgeous artwork.
Despite the sturdy construction, the Vinyl Record Shelf is lightweight and can easily accommodate single and double 12 inch LP. As a holder of six records, this shelf boasts a brown or black finish and comes covered with a long-lasting varnish for enhanced protection.
This handcrafted solid pine record-holder comes with all the mounting hardware for hassle-free installation work. The simplistic yet gorgeous floating design adds an air of elegance to any living space. It also serves as a perfect gift for music enthusiasts looking for a designer wall mount.
Product features and specifications
Measures 14.4 x 6.2 x 3.4 inches
Weighs 2.69 pounds
Wooden design
Made of premium pine wood
Holds 6 pieces of vinyl records
User/ Customer reviews
People are thoroughly impressed with the unique floating design of the vinyl record shelf that adds sophistication to any décor. Customers were able to set up the product in about 20 minutes following the instructions.
Conclusion
This is a simple yet ornate shelf that accentuates the décor of any room and lets you flaunt your collection of records in the best way possible. Whether you are looking for modern or vintage décor, this product works great for any décor. Overall, this is a great investment.
---
Easy access and great display, this is a rare combination that is beautifully put forth by this Clear Vinyl Record Shelf by NIUBEE. It lets you display your priceless collection of vinyl records without having to hide the artwork so you get décor benefits too.
With the easy access to each piece of the vinyl record on this shelf, it's easier to find the album you wish to listen to without having to create a mess. The premium sturdy construction and lightweight acrylic allow you to get rid of the bulky record holder, and enjoy this contemporary design.
We love the neat wall mount design concept that adds grace to your living room or any space where you install them, allowing you to create a personal music gallery. The invisible floating effect is what makes this record shelf one of its kinds in the market.
Product features and specifications
Measures 12.52 x 5.24 x 2.24 inches
Weighs 1.43 pounds
Made from PVC and Acrylic
Sturdy and lightweight
Easy access and display
User/ Customer reviews
People find this a great and inexpensive method to style their living room and organize the records too. Users are happy that the product comes with drywall mounts and screws making it easier to assemble the unit.
Conclusion
The NIUBEE Clear Vinyl Record Shelf (shop now) stands true to its name and offers a clear and vibrant solution to store your music records. So, you get to kill two birds with one stone – it organizes your collection and adds a lot of style to your interiors.
---
Related Questions
How to protect vinyl records from environmental damage
The vinyl records should be stored in a dry and cool environment. Heat and light are the two biggest enemies of vinyl records, so you must avoid storing them in direct sunlight. You must also keep them away from dust or airborne particles.
What's the best way to store the vinyl records
They should always be kept in an upright position to make sure that they stay in a good condition. If you keep them slanted for a long time, this can cause warping and damage the records.
Other Articles You May Be Interested In:
6 Best Shelves For Action Figures
8 Best Shelves For Video Game Storage
How To Clean Your Bookshelves Without Removing Books