Best Small Refrigerator With Bottom Freezer – Our 3 Picks
When you are living alone or have a small family, a small refrigerator may be enough. Fortunately, some of the models come with a bottom-freezer that can store a good lot of frozen veggies, meat, and ice creams to last for a week.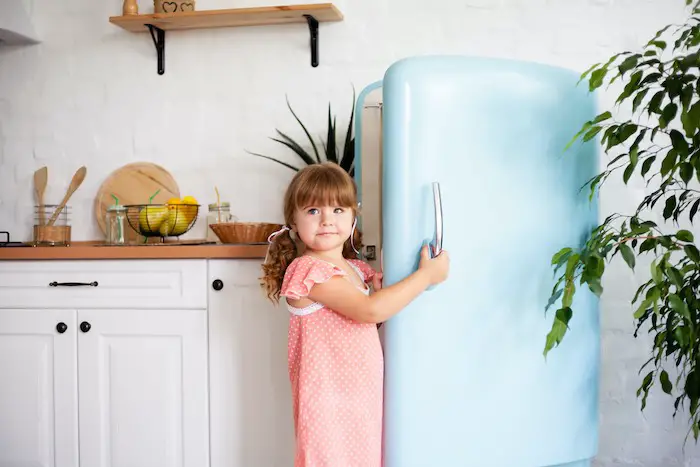 If you are living in an RV then you may require a counter-depth model, and slightly more room for offices or small households. So, you will need to consider these factors along with the budget, lifestyle, and specific needs before choosing a model.
As the market is flooded with brands and models of different kinds, finding the best small refrigerator with a bottom freezer that suits your needs is easier said than done. To make your task easier, we have reviewed some of the highest-rated units and come up with the top 3 picks.
Read on to find the complete and unbiased reviews of the small refrigerators handpicked by our team. If you don't have the time to read until the end, we suggest that you go with our editor's pick – SAMSUNG 11.3 Cu Ft 24″ for its aesthetic looks, great storage capacity, and intelligent Silencer Technology.
The Summit Appliance FFBF181ESLHD (See Amazon) is an Energy Star refrigerator with a bottom freezer, sporting a 12.8 cu. ft capacity. It features a gorgeous stainless steel exterior with a left-hand door. The bottom freezer unit enables easy access to the refrigerator.
As you open the door, there are adjustable shelves inside to accommodate your needs. There are separate digital temperature controls for the refrigerator and freezer units. We love the slim profile that takes less space while standing on the floor.
The FFBF181ESLHD comes with interior LED lighting to illuminate the inside shelves to make it easier to locate things. It also features an adaptive intelligent technology that uses sensors to adjust the controls based on your habits and behavior.
Product Features
Measures 79.25″ x 23.663″ x 25.25″
Weighs 185 pounds
24″ Wide Bottom Freezer
Counter-Depth installation
Energy Star certified
Full 12.8 cu.ft. Capacity
Adaptive intelligent technology
Digital temperature controls
Bottom freezer design
User/ Customer reviews
Most users have said that this is a nice, small, and compact refrigerator that fits easily into small spaces but has ample inner space to accommodate a lot of groceries. People have also appreciated the nice and sturdy construction, along with a gorgeous appearance that matches with kitchen decor. A few customers have mentioned that the refrigerator is slightly on the expensive side.
Conclusion
This is an attractive looking and well-designed refrigerator with a bottom freezer unit that adds a bit of contemporary elegance to any kitchen. It can perfectly fit into small spaces and keep foods fresh for longer. Although slightly more expensive, we feel that the Summit Appliance FFBF181ESLHD is definitely worth the investment.
---
The next product on our list is the SAMSUNG 11.3 Cu Ft 24″ (Learn more), a contemporary and compact mini fridge that comes with a bottom freezer section. With a 4.1 Cubic Feet Capacity, this small refrigerator can perfectly fit in compact spaces like wet bars, smaller kitchens, or a home office.
There are two glass shelves to easily accommodate your lunch and snacks, plus there's an extra shelf on the freezer for frozen food. The unit features a silencer technology that enables it to operate on a37dB noise rating, making it one of the quietest refrigerators you can use at home office or study room.
The fridge with a bottom-mounted freezer comes with a reversible door hinge to let you choose whether you want a left or right-handed door. There is also integrated door shelving to help you with tall bottle storage such as drink bottles, water, juice, and large pop.
Product Features
Measures 18" W x 19" D x 45" H
4.1 Cubic Feet Capacity
ENERGY STAR compliant
37 dB quiet operation
Tall bottle storage
Bright interior lighting
2 full-width glass shelves
Integrated door handle
User/ Customer reviews
Most buyers are thrilled with the performance of this product and its usability at this price range. Those who use the unit in their bedroom, study room, or home office are happy with their quiet operation that does not cause any disturbance at all. A few customers have warned that the lower parts also get ice, which may be alarming for some.
Conclusion
If you are thinking of getting a small size refrigerator with a bottom freezer that can accommodate a good number of drinks and food items then the SAMSUNG 11.3 Cu Ft 24″ (shop now) is a good choice. It has a compact design and noiseless operation that makes it a perfect fit for any space. Overall, it brings you great value for money.
---
RCA is the undisputed leader in the refrigerators and freezers arena, hence this list would be incomplete without the RCA RFR9004, a 9.2 inch cu ft upright combo. It comes equipped with all the advanced featured plus an adjustable thermostat to keep your food in good condition.
We absolutely love the 2. 8-inch cu feet freezer section that includes baskets and a frost-free option s well to make more room when you have extra groceries to store. The 6.4 inches cu feet of refrigerator section comprises of glass shelves to hold favorite fruits and vegetables.
The refrigerator also features a gallon size door accommodation that can hold a variety of large beverage containers. In the door rack, you can easily keep cans of soda or juice. The crystal crisper enabled with a tempered glass shelf ensures that fruits and veggies remain fresh for longer.
Product Features
Measures 59.38 x 28.88 x 26.5 inches
Stainless steel construction
9.2 Cubic Feet total capacity
Reversible door hinges
Door Rack for Can and Beverages
3 Fresh-Food Glass Shelves
Door Rack capacity 355ML
Gallon Size Door Storage
User/ Customer reviews
Several users have said that the small refrigerator looks great and perfectly blends with the décor of any room where you place it. People love the fact that you can increase the refrigerator section by turning the freezer area frost-free. A few customers have warned that the makers need to be careful about taping down the shelves as this caused them to lose the top door shelf.
Conclusion
This is a gorgeous looking small refrigerator with a bottom freezer that can be used in any home or office. With perfectly divided freezer and refrigerator sections, it lets you store a week's groceries or even more without letting them go bad. Overall, we feel that the RCA RFR9004 (see Amazon) offers you a good price to performance ratio.
---
Related Questions
Why are refrigerators with bottom freezer expensive
Top freezer consumes less energy, hence the operating costs are less compared to a bottom freezer, making the latter slightly more expensive.
How long does a bottom freezer refrigerator typically last
An average refrigerator that comes with a bottom freezer should reliably operate for 13 years, if maintained properly.
See Also:
6 Kitchenaid Refrigerators Reviews
Will Rain Ruin A Refrigerator?
12 Ways To Remove Odor From Refrigerator
How Long Does A KitchenAid Refrigerator Last?