When you want to grill the authentic way in a contemporary style, we suggest this Kitchenaid model that brings you the old world charm in a new package. In this Kitchenaid Cart-Style Charcoal Grill Review, we take a closer look into the features and benefits that make it worth considering.
As you set your eyes on the grill, you can say clearly that this unit means serious business as it looks sturdily built, with the perfect features for a barbeque night in your backyard. The unit features a cooking space of 851.1sq. inches which are great for a large family or group of friends.
Besides the main-platform grilling deck, there is also an upper-level warming rack that let the food stay warm in a cold evening. So, you don't have to worry about reheating the food if the guests arrive late or when you want a second helping of the grilled chicken. It also keeps the buns toasty while the side dishes are cooking.
Technical Specifications
Weighs 97.29 lbs
Black and Stainless
Freestanding/Cart Style
Cooking area 851.1 square inch (main)
Secondary cooking area 270 square inch
Charcoal fuel type
20 lbs capacity
Porcelain-Coated Cast Iron
No Ignition System
Assembly required
Accessories include Grease Pan, Heat Thermometer, Removable Ash Catcher, Storage Rack, Tool Holder, Warming Rack
Build and Design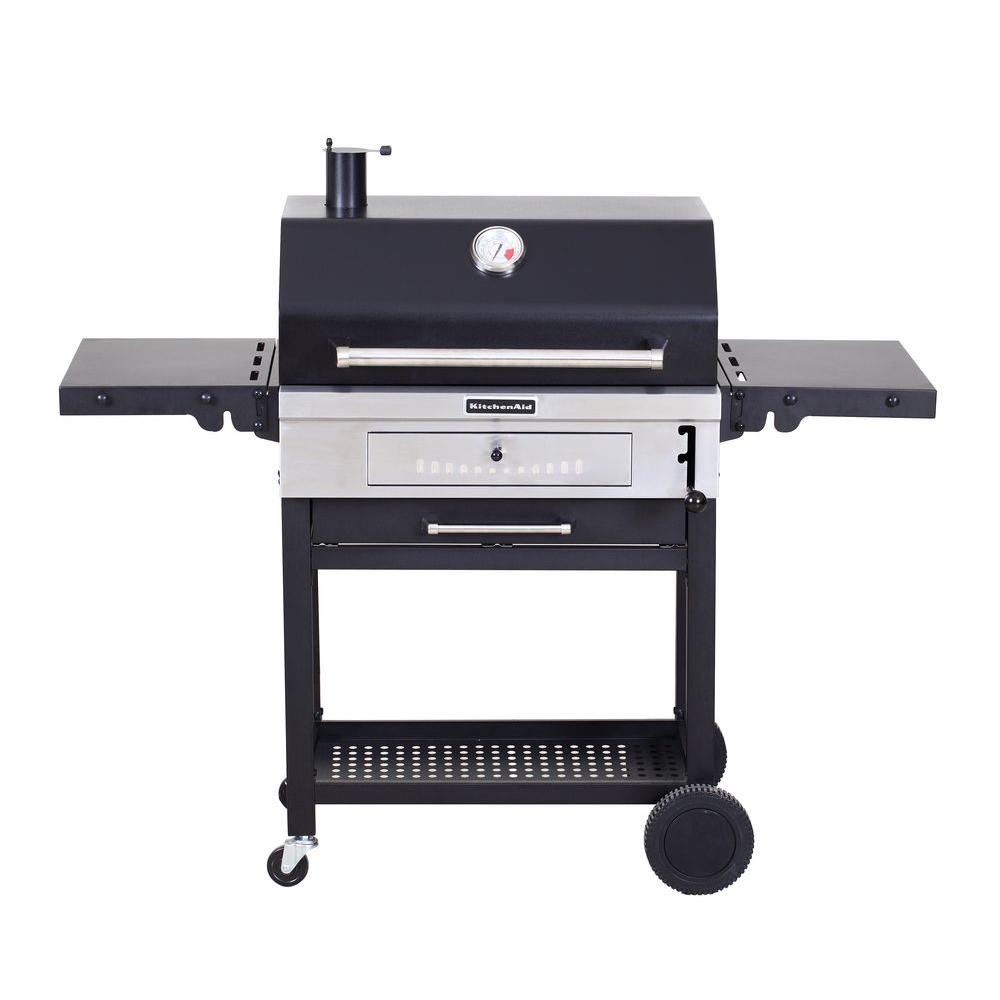 This Kitchenaid Cart-Style unit (learn more) looks both stylish and functional with a large cooking area comprising of heavy-duty cast-iron grates. As they are coated in porcelain and has a matte finish, there is no pre-seasoning needed before you start grilling.
There side shelves at the side that comes in handy to make food preparations and place ingredients, accessories, or even cooked food before serving them. As the side tables are easily collapsible when not needed, it does not eat up a lot of space.
With an easy to slide-out ash drawer, cleaning up the charcoal grill after use is hassle-free and not much time-consuming. There is also good ventilation within the unit to ensure safety and promote even cooking. There is also a grid lifting tool that can move the hot grates in order to add more charcoal.
Features
When it comes to features, the Kitchenaid Cart-Style Charcoal Grill appears to have no dearth of them. The manufacturer has taken great care to ensure that the construction is flawless, highly functional, and equipped with the right features to make it user-friendly.
The unit measures 30" W x 19.5" D and comes with a high-temp power coating steel in gorgeous black color that accentuates the exterior and makes it look attractive.
The orange peel finish legs further add to the exterior appeal and goes well with any kitchen or outdoor backyard décor.
It gives a total cooking area of 851.1 sq. inches including the warming rack allowing the user to make a lot of food for a large family or guests.
There are three well-designed cooking grates that are porcelain-coated and feature a cast iron matte finish that looks great. It also comes with a grid lifting tool to let users add more charcoal safely.
There is a warming rack where you can store the finished foods or keep the buns to make them crunchier.
The unit includes a slide-out ash drawer that collects all the ashes as the charcoal burns. This helps users clean easily after use.
The pre-oiled steel charcoal tray is adjustable to ensure that the height suits you. It allows you to scale back or intensify the heat.
The grill comes with an adjustable damper or ventilator to give you full heat control for delicate vegetables or meat.
The foldable side shelves keep more room to store the finished food or give you that extra working space if you need to chop vegetables or meat.
The inbuilt temperature gauge comes in handy to ensure that the temperature remains consistent to deliver the same great taste every time.
There are two wheels and two swivel casters to add to the mobility of the grill so that you can take it from the kitchen to the backyard and back at any time.
The inner lid features a black powder coat with orange finish legs and oiled interior walls for a more polished look.
The product comes backed by three years warranty on stainless steel parts and one year warranty on the other parts.
Pros
Attractive appearance
Highly portable
Large cooking space
Extra side area
Smokey flavor in food
Easy to assemble
Cons
Top chamber rusts
Pictures in instructions are small for some
User/ Customer reviews
Those who have used the grill are completely in love with the unit as according to them it's so easy to set up that even a teenager can do it. People are also extremely impressed with the authentic charcoal taste of the barbeque food, much better than the propane bbq.
Many users have also appreciated the large cooking surface which is ideal for a large family or someone who likes to entertain a lot of guests frequently. The additional side spaces and handles are also much loved by the customers.
A few users have said that they wished the barbeque came with a nice fitting cover that would go over the chimney properly. Some users have complained that the metal thickness is not too much, but yet there are no durability issues.
About KitchenAid Grills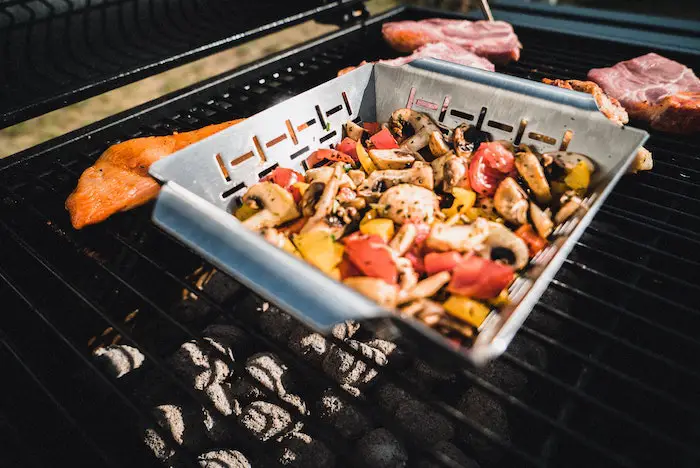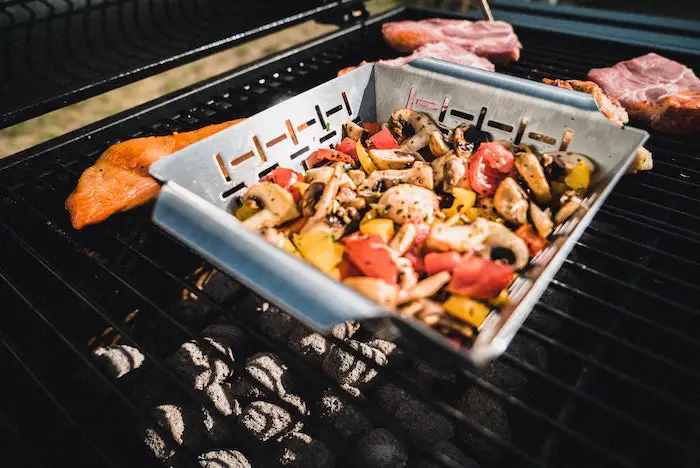 KitchenAid grills are manufactured by NexGrill and their main USP is the perfect combination of specs and features that you usually find on the premium grills. These units are made of almost 304 stainless steel that makes them sturdy.
The biggest advantage of choosing a KitchenAid grill over others is that you get an Even-Heat System that includes angled flame tamers, stainless steel burners, and enhanced grates. They all come together to evenly distribute the heat across the entire surface area and also minimize flare-ups.
Another amazing perk of the KitchenAid grill is that it comes with an easy-to-use electronic ignition that is very well designed. It comes with a built-in hood thermometer that can be read easily to understand the exact temperature within the barbeque.
Conclusion
If you are KitchenAid Grill that does its job with precision and brings you the authentic smokey flavor then the Cart-Style Charcoal Grill is the right choice. It is not only extremely impressive to look at with its black powder coating, but the coking space is also maximized to serve food for a large group.
Whether you want to use it in your backyard or on a camping trip, this KitchenAid grill (shop now) fits in perfectly with your needs. It comes with wheels that make it extremely portable, plus, it can be easily assembled wherever you want to use it. Overall, we feel that this unit may be slightly expensive but is well worth the price you pay.
See Also:
How To Toss Wings In Sauce?
Can You Put A Grill Brush In The Dishwasher?
Cast Iron Vs. Regular Pans: What Are The Differences?
7 Side Dishes That Go Perfectly With Monte Cristo Sandwiches