We can't be amidst nature all the time, but we can certainly add a bit of nature's magic to our indoors. Whether you want to introduce some elements of feng shui or simply relax your mind and soul with the gurgling sound of water, an indoor water fountain can meet your needs.
In this post, we have reviewed some of the best indoor water fountains available online to add a sense of sophistication and elegance to your indoors. River-like sounds, soothing lights, and a great work of art, you name it and we have reviewed them all for you. Check them out below.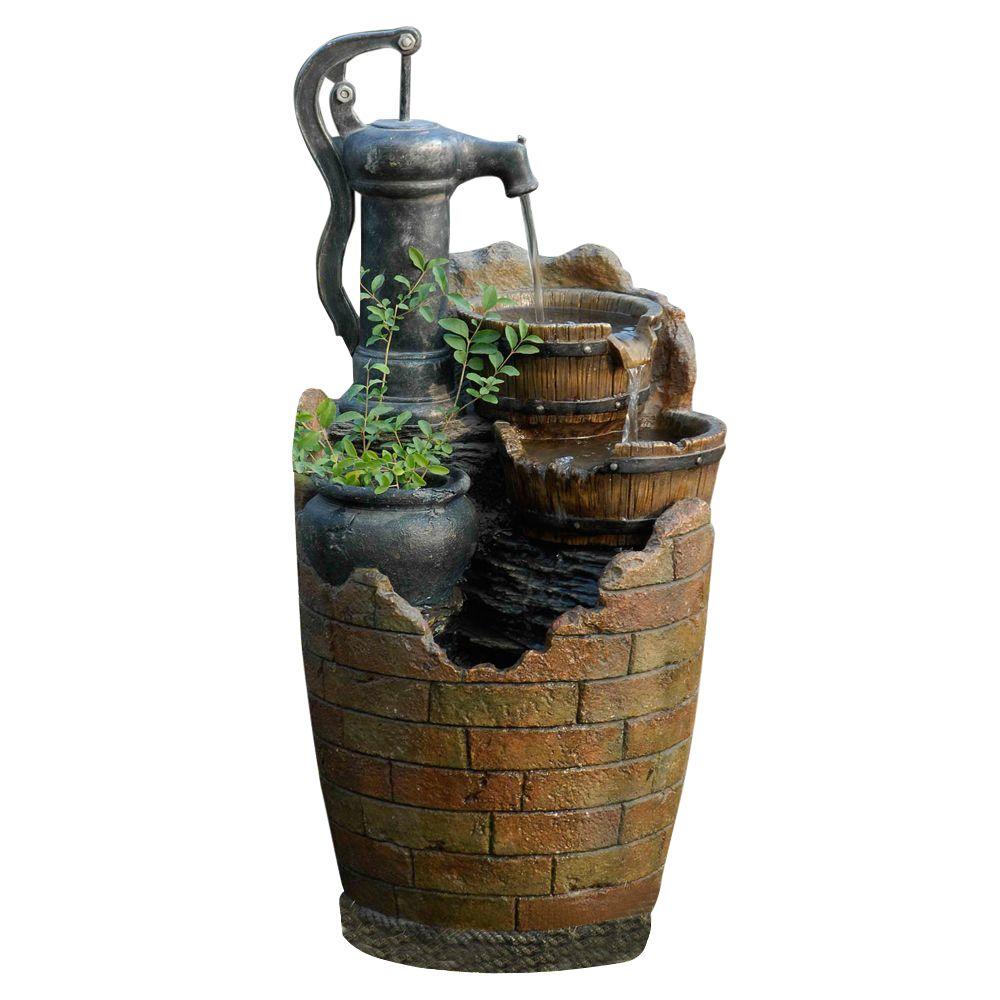 When you want to add a rustic appeal to your indoors and bring back the harmony of mind, body, and soul, nothing can help you like Glenville Cascading Fountain. This tiered water flow system has an old water pump through which water flows incessantly filling the air with its beautiful sound.
Besides adding to the visual appeal of your garden or yard with its gorgeous wood and simulated bricks work, the fountain also helps in creating a peaceful ambiance. Made from sturdy polyresin and fiberglass, the structure is highly durable and weatherproof too.
We love the fact that this cascading water fountain can be installed indoors or outdoors. There are two wooden pails where the waterfalls and creates that perfect music. At the side, there is a pot for planting and this adds a bit of greenery to your indoors.
Product features and specifications
Weighs 22lb
Electric power
Weatherproof
Pump included
For outdoor/indoor use
Comes with a 16.4 ft.
One year warranty
User/ Customer reviews
People are thrilled with the kind of breathtaking effect this two-tiered water fountain brings to their living or outdoor space. Customers have said that it took them about a minute or two to assemble by following the instructions.
Users have said that the water pump does not consume a lot of electricity to run and delivers just the right amount of waterfall effects. Some people have said that the water flow from the pump can be adjusted if you prefer a slow trickling of water.
Conclusion
If you want to add a bit of rustic appeal to your urban abode then this Glenville Water Pump Cascading Water Fountain is a great choice. The structure is made from durable materials then it lasts long to give you a delightful view for years. Overall, it's money well spent to beautify indoors.
---
This Pentole Pot fountain brings you the perfect blend of soothing lights and the relaxing sound of flowing water. It brings indoors a perfect example of contemporary design merged with an aura of old-world sculpture to add an aesthetic appeal to your indoors.
Whether placed indoors or outdoors, this rustic water fountain has the power to steal the show and become the main center of attraction of your guests. It can be kept in the living room, patio, balcony, or backyard to light up any space and induce a sense of relaxation with the trickling sound.
The structure is made from polyresin and fiberglass, hence we give full marks for the sturdy construction. To illuminate the lights, you will need to connect the sculpture to an electric source. We also love that the product is weatherproof, hence it can be kept outdoors in any season.
Product features and specifications
Measures 18 in. L x 15 in. W x 33 in. H
Made from polyresin and fiberglass
Weighs 22.3 lbs
Weatherproof
Electric powered
Pump included
Output: 110 Volt
Line cord: 10 m
User/ Customer reviews
People have said that the fountain is extremely easy to put together and the components fit well, however you should check to see if there are any leaks. Most users have said that the size is perfect for a garden or backyard and they love the compliments received from guests.
A few users have said that the pump is slightly underpowered and they had to get a bigger pump to fix this issue. Some customers found that the fountain was leaking, so keep a watch for that because there is only 90 days replacement.
Conclusion
If you have a corner in the yard or patio that's screaming to get adorned with a stylish piece of sculpture then get the Pentole indoor fountain. It will not only enhance the view but also add a much soothing ambiance to your interiors. Although pricey, the kind of compliments you get and the inner peace it evokes are worth the price.
---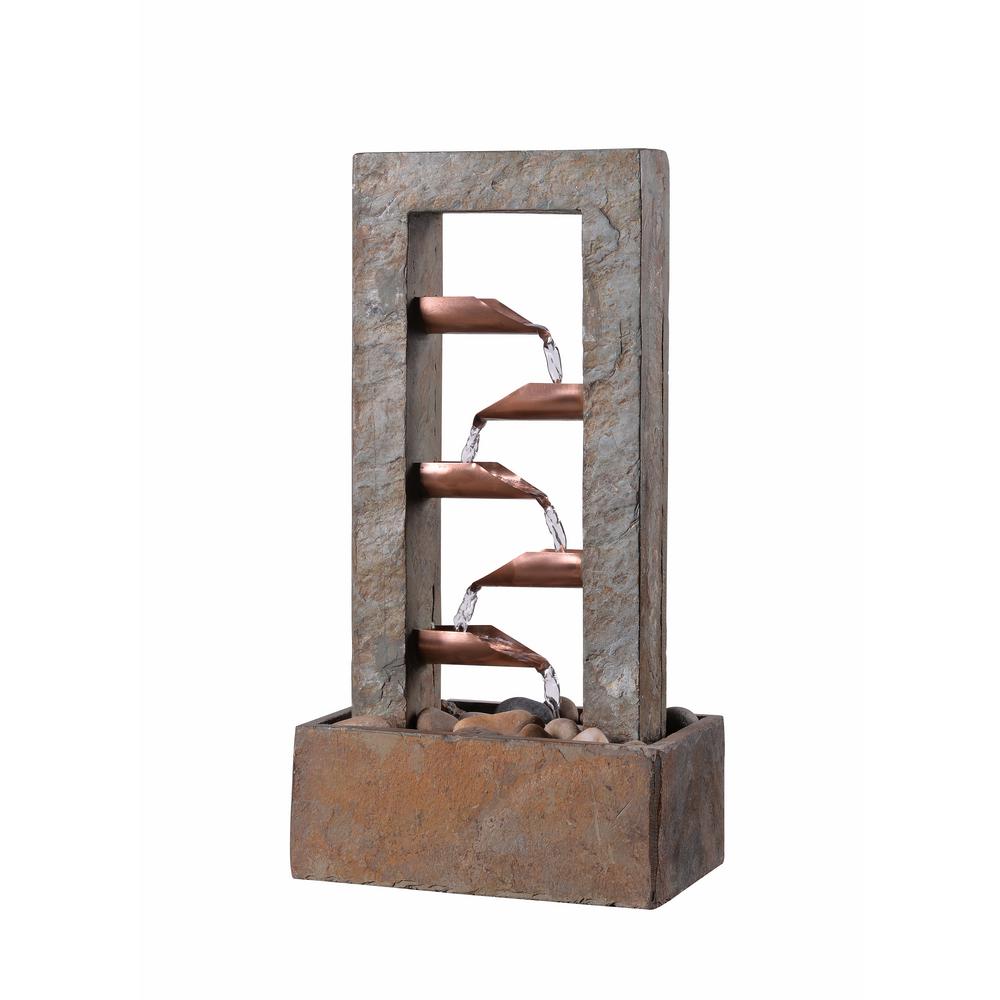 Sometimes less is more and this is perfectly reflected in this gorgeous copper-finish indoor water fountain. Although there is no intricate sculpture or artwork, the minimalist design adds a sense of refreshment and repose to any space you keep it.
The table fountain is enclosed in a tall rectangular archway that comes in a slate and copper finish. It beautifully complements that water falling in a zig-zag pattern from the copper chute into a basin filled with river stones. The delicate fall of water creates a soothing sound that touches the soul.
We love the compact shape of the fountain making it easy to keep it as the side of a table for aesthetic purpose. Whether you keep it in your living room or office, it adds modernity to space and accentuates the ambiance with the tranquil sound of a water fountain. It also helps in humidifying the indoor air.
Product features and specifications
Weighs 21.5lb
Decorative river stones
Made of thick and durable slate
Pumps with motors and components
Easy-to-read instructions
Slate/copper finish
Modern geometric shape
Perfect for home or office
Multi-style usage
1-year defective warranty
User/ customer reviews
People have said that the water fountain is made from high quality and sturdy slate material which makes it much more sturdy than anticipated. Users have said that installing the entire unit by following the instructions are easy and takes only a few minutes to get everything fitted.
Customers have said that the size is perfect to keep on table and it adds a lot of oomph to space it is kept, garnishing attention from the guests. Users are also happy that the water pump does not make any vibration or noise.
Conclusion
The no-nonsense design of water fountains makes it just perfect for residential apartments, houses with a backyard, and offices too. At an affordable price, you get a well built and stylish water fountain to make your indoors or outdoors look more aesthetic. 
---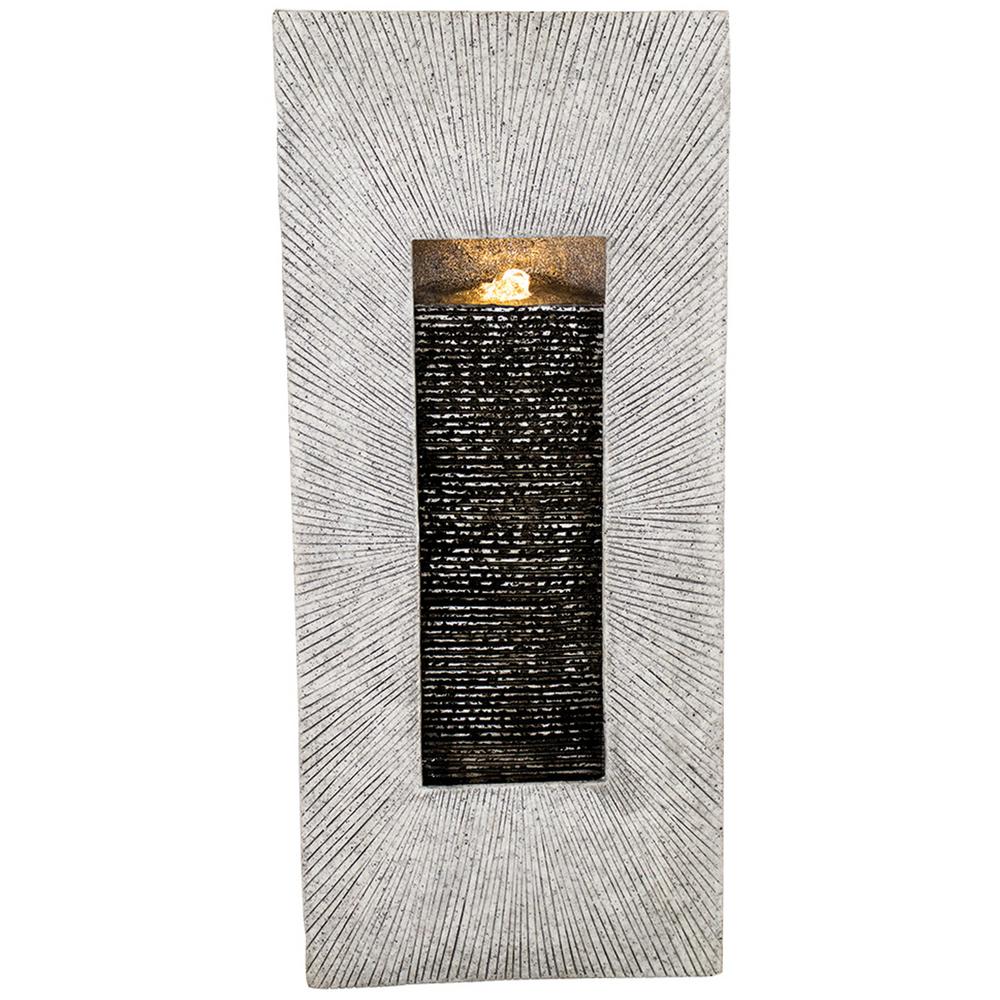 If you would like to install a wall fountain in your wooden interior work or set it up in your patio or garden, this rectangle piece from the house of make Lemonade is a perfect fit. Besides adding a unique aesthetic charm to your indoors, it also resonates the relaxing sound of water to calm your soul.
Made from gray stone, this rectangular-shaped wall fountain sports a minimalist design that goes well with both home and office décor. With its soft and soothing LED lights, it creates a relaxing ambiance around, while the soft waterfall further accentuates the stress-relieving effects.
As the water fountain is rainproof, you may even install it in your garden or backyard for parties to enhance the natural beauty with sound of water. Practically it can be installed anywhere with access to a power outlet. The speed at which the waterfalls can also be adjusted as per your preference.
Product features and specifications
Weighs 8.5 lb
7.8 inch tall
Tranquilizing sounds
LED lights
Mobile and light
Rainproof durability
Stone design
Adjustable speed
User/ Customer reviews
Those who have bought this product find it extremely easy to install the water fountain by following the steps provided in the user manual. Users are also impressed with the ease at which you can add water to the fountain from the top without having to dismount it.
People who have installed it outdoors are happy with the effect it creates in the surroundings and environment. Besides being rainproof, the drain function protects the fountain from getting damaged when the temperature drops suddenly.
Conclusion
We love the unique creations by make Lemonade and this Rectangle Wall Fountain is no exception. If you like to keep it simple yet effective when looking for sculptures to enhance the indoor/ outdoor décor then this is a great choice.
---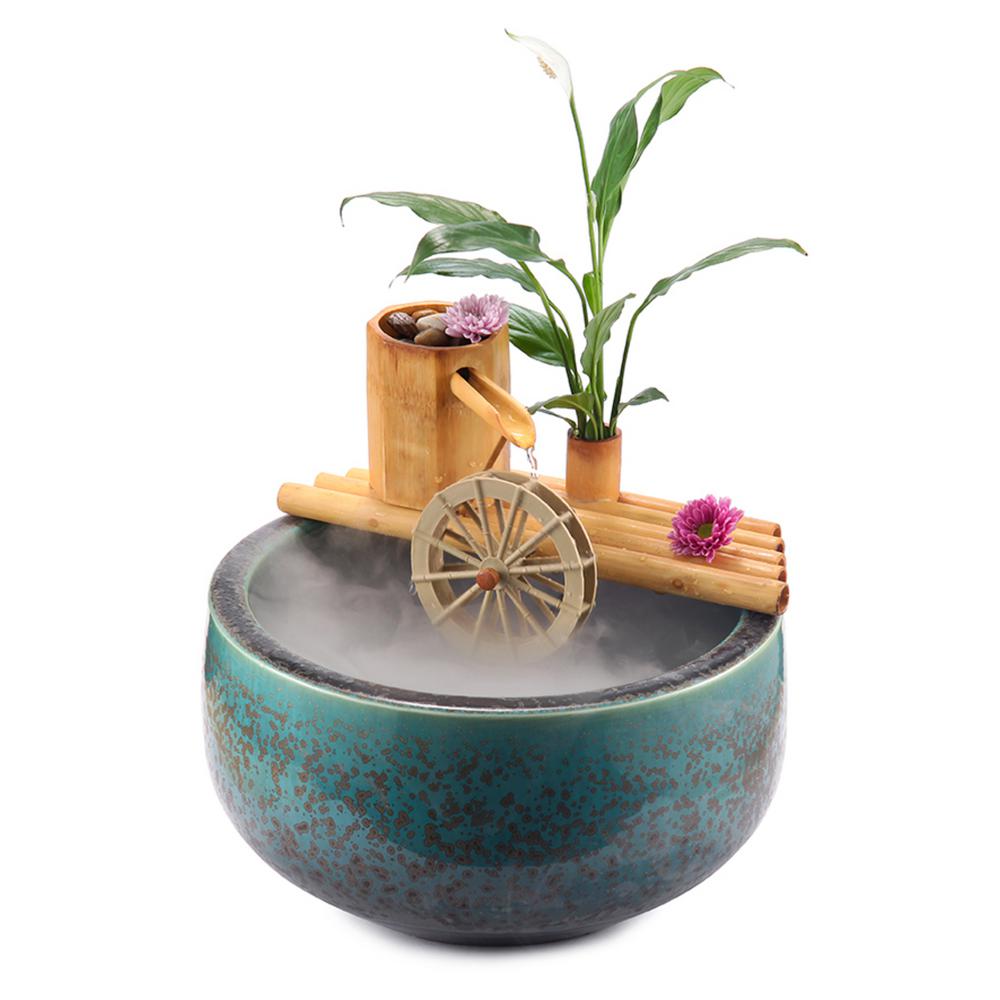 When we set our eyes on this rustic bamboo fountain by Lifeguard Aquatics, we were impressed by the tranquil sound of water and aesthetic design. Handcrafted from 100% real bamboo, this water fountain adds a perfect touch of nature indoors or in your porch or balcony.
The product comes with a little pump and a flexible tube for installation. You can place it over your favorite container (ideally 12 inches diameter) and in the desired location to create the perfect ambiance. It also includes a plant holder to include greenery to your living room or balcony.
As the material is moisture resistant, it can be kept outdoors at any temperature without the fear or mold of fungus. The pump kit comes with adapters – a large one to adjust the high flow and small one for shallow or low water flow.
Product features and specifications
Weighs 1 lb
Bohemian-styled
3 years warranty on motor
Made from Bamboo
Complete with quiet one 100 pump
Six pump power cord
Tubing included
For indoor and outdoor use
User/ Customer reviews
People have said that adding this little water fountain helped them bring in a space like an experience indoors to rejuvenate the soul and mind. Users have said how the soft music of water falling relaxes their senses and transports them to a different world.
Several users have mentioned that the installation part is easy and simple to do by self. Customers also like the freedom using the waterfall unit in the way they like using a pot or container of their choice. The 3 years warranty on the motor is also highly appreciated.
Conclusion
If you would like to recreate a tropical ambiance around you and relax with the soothing sound of waterfall, this bamboo fountain by Lifeguard Aquatics is a perfect fit. At an affordable, you get a beautiful piece of home décor that can transform your interiors.
---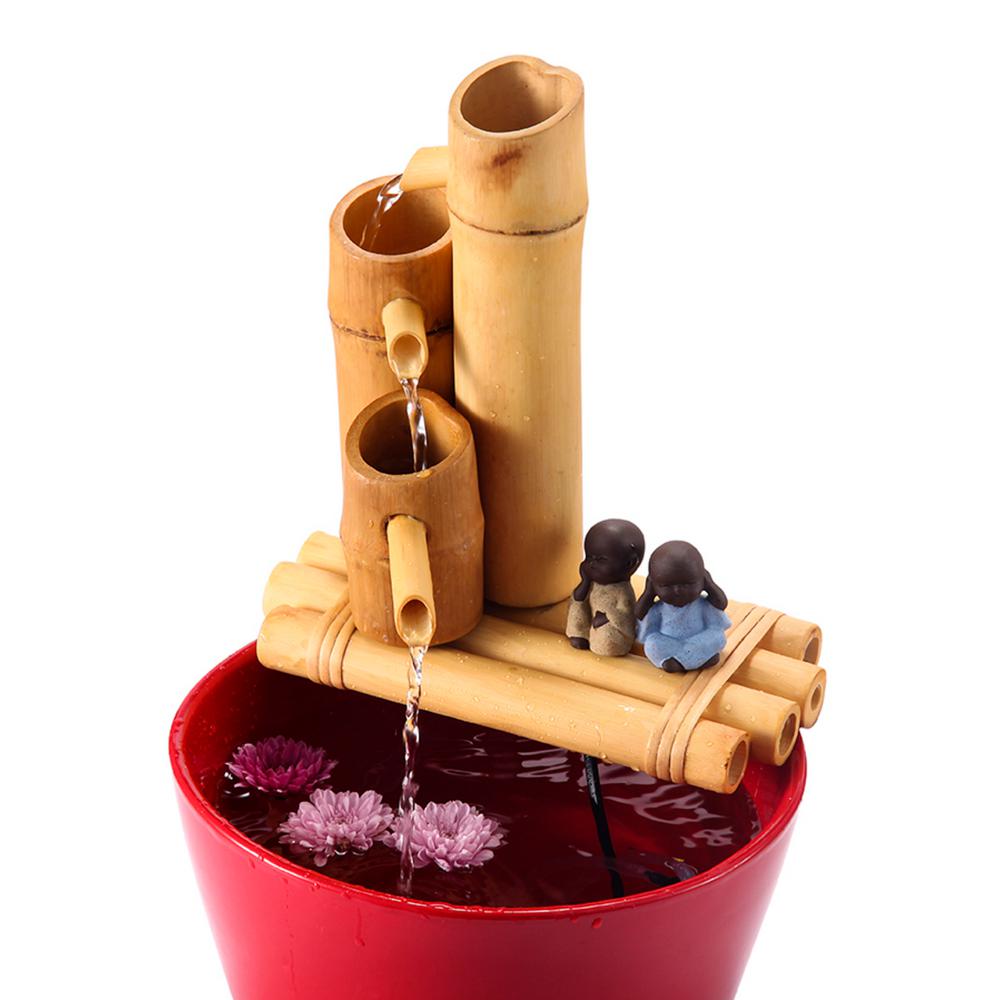 We have also included another beautiful water fountain by Lifeguard Aquatics in our list for its unique appearance and refreshing appeal. The use of bamboo evokes a tropical ambiance within the house or adds mystic beauty to the outdoors.
Made from 100% authentic bamboo, this three-tier water fountain comes with a pump kit to enable water to fall from three sources. It creates a beautiful harmony of sound that envelopes the mind and soul in the feeling of sheer relaxation.
You need to install the water fountain over any container that can complement its rustic appeal. Place the decorative piece in your living room or keep it in your favorite location on the balcony or porch to enhance your outdoors.
Product features and specifications
Weighs 1 lb
18 inches tall
3-tier design
Six pump power cord
Tubing included
Pot not included
For indoor and outdoor use
User/ Customer reviews
People love the fact that they can use this bamboo water fountain to embed into creative forms of indoor and outdoor décor. Users have said that the material is moisture resistant, hence you don't have the fear of getting mold on it.
Customers love the interesting 3-tier design that makes water flow through three different outlets to create a symphony of sound. The water pump is also adjustable to get high or slow water flow as you prefer.
Conclusion
We love the fact that these aesthetically beautiful bamboo water fountains can be used in different ways to add beauty to your indoor or outdoor décor. Keep it in your living area, home spa, office, porch, or balcony to add oodles of charm and a feeling of relaxation.  Overall, it's money well spent.
---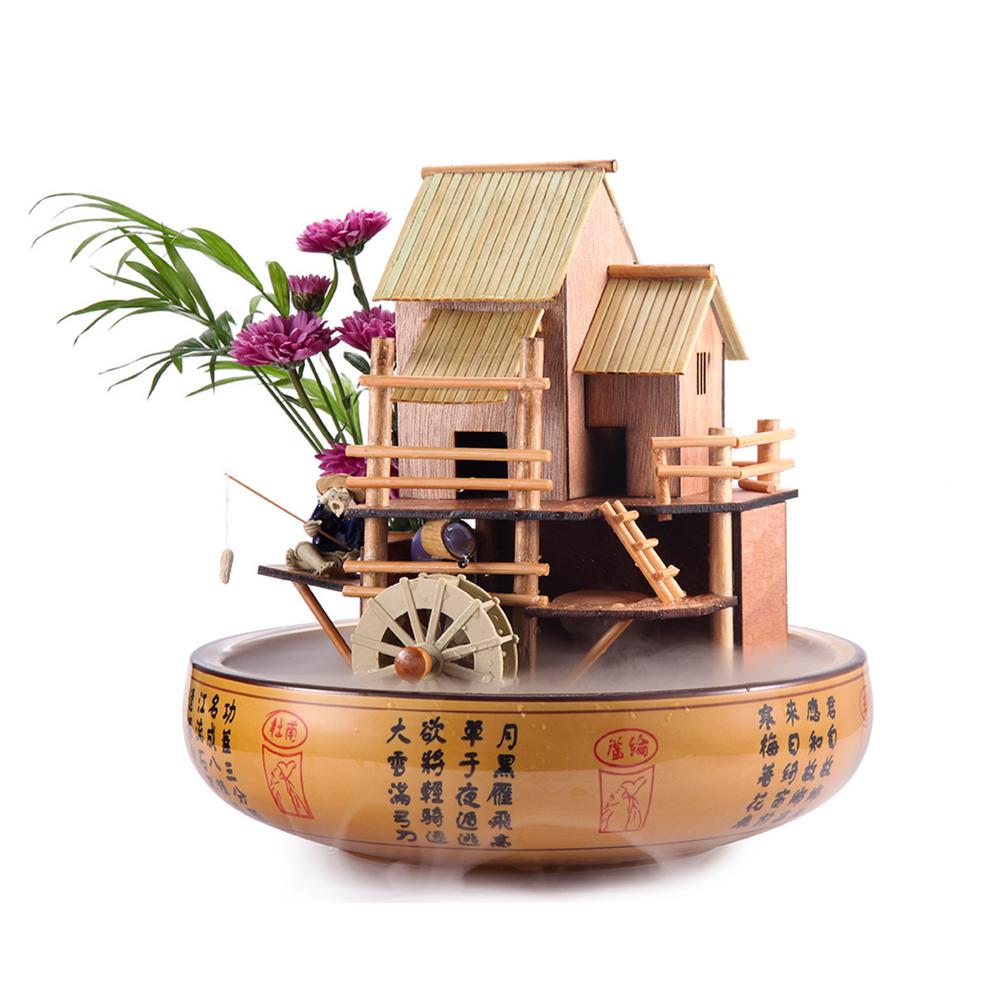 There's nothing more aesthetic than a small bamboo cottage. Add a water fountain to it, and you have a perfect artwork like this bamboo house fountain by Lifegard Aquatics. It completes a picture with tubing, a pump, and a decorative pot.
The tiny details of the bamboo house from the roof to the balcony and stairs are so realistic that it almost feels like real. The gurgling sound of water further adds more beauty to the decorative piece. Place in your living area or a balcony or porch to accentuate the surroundings around you.
Besides soothing the soul and calming the senses, the beautiful bamboo house fountain also adds humidity to the dry air during summers. As the bamboo is authentic is moisture resistant, it can be kept outdoor without fear of damage.
Product features and specifications
Weighs 1 lb
10-inch height
Made from 100% bamboo
Pump kit
Adjustable water flow
Tubing and pot
3-year warranty on the motor
User/ Customer reviews
People are in love with the charming and cute design of the bamboo hut and the little details such as an old man with a fishing line sitting on the porch. Users love the sound of water and the overall serenity it evokes in the immediate surroundings.
Users have said that keeping it in the living room or backyard not only enhances the décor but also adds to positive vibes within the house.
Conclusion
If you want a water fountain that tells a story by itself and works as a conversation starter with guests then get this Bamboo House Fountain by Lifegard Aquatics. It's a little price you pay for relaxing your mind and enlivening your interior or exterior décor.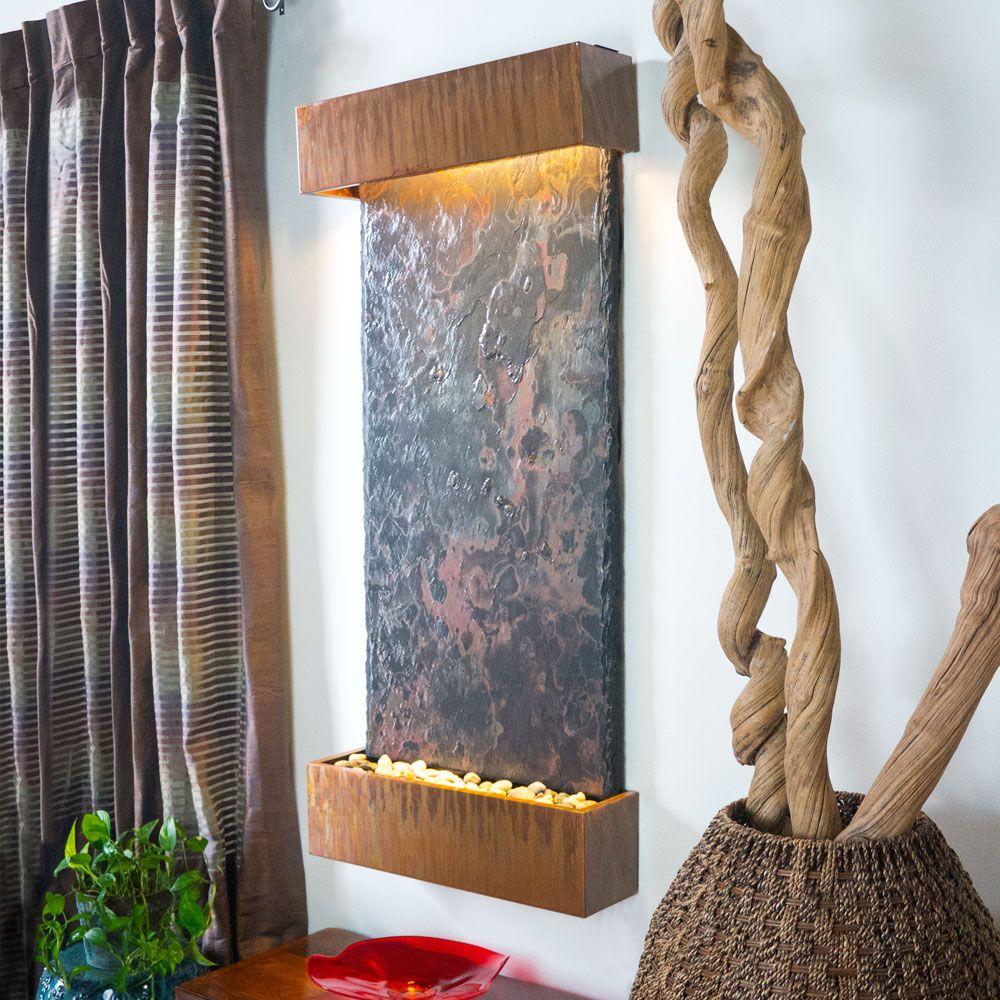 Why have plain walls when you can transform it into something that glistens and create a musical symphony. Here's the Large Nojoqui wall-mounted water fountain with water sheets that shine bright over a multi-colored Indian Rajah Slate.
As the water flows in harmony past the polished river rock, it creates a soothing sound and forms a focal point of attraction. The water fountain is created using Bluworld's splash-free and clog-free design on a lightweight slate. It is hand-painted to give you the aesthetically pleasing hand-chipped edges.
Due to its minimalist design, it can be used as décor in any space, whether home or office. Besides the soothing sound of water that forms a relaxing oasis, this glistening wall fountain also adds an air of sophistication to the décor.
Product features and specifications
Made from Resin
Available in Bronze/copper metallic
LED light with remote control
Polished river rocks
Adjustable flow valve
In-line filterSubmersible pump
Indoor use only
User/ Customer reviews
Customers find this wall-mounted water fountain extremely easy to install as its lightweight and the manual contains easy to follow directions. Users love that the product comes in four different finishes to help you choose the one that matches your décor perfectly.
The easily adjustable water flow and soothing LED lights with remote control are also highly appreciated by the users. Probably the only one complain users may have is that this fountain can only be used for indoor décor.
Conclusion
This magnificent Large Nojoqui slate wall fountain adds an air of regality to the interiors and requires very less maintenance on your part. Although this piece of a decorative water fountain is much expensive than other products in the market, the kind of aura and ambiance it creates is worth the price you pay for it.
---
Reasons To Add An Indoor Water Fountain To Your Home
If you were casually looking for an indoor water fountain to enhance the aesthetics, you will be surprised to know that they can do much more than accentuate the interior décor. Read on to find out the various benefits you can enjoy by adding a wall-mounted, tabletop or freestanding fountain to your home.
Add more charm to your house
This is a no-brainer and probably the reason why you ate looking for a water fountain in the first place.  A well-placed water fountain that boost up the face value of your home and add more charm to the interiors. You can choose from the modern, classical, and custom designs available online.
A pleasant ambiance
Life is stressful and there's nothing like the sound of water to relax your mind and bring the stress hormones down. Placing them at home brings in a lot of positive energy indoors. You can also install one at your office to keep your mind relaxed and increase your productivity.
Improves air quality
Installing a water fountain indoors not only beautifies your indoors but also provides health benefits for you and your family. The soothing lights and soft music of water can reduce stress, induce relaxation, and purify the indoor air. It can make your home more inviting and comfortable.
Doubles up as a humidifier
When the indoor air turns arid and dry, a wall-mounted or free-standing water fountain can increase moisture levels in the room. This helps in making the home environment more conducive for indoor plants and prevents skin dryness and irritation.
Mask unwanted noise pollution
Those who live in a noisy environment can benefit from the gurgling sound of water masking the barking of dogs or noisy neighbors. It helps in creating a quiet and serene ambiance indoors, free from any unwanted distractions. Some people even say that the sound of water has therapeutic effects on them.
A new source of drinking water for pets
Who knows your new fountain may become a favorite spot for your pets to drink water from? So, they can serve a dual purpose in your home. If you need to use chemicals to prevent algae formation, we suggest that you use the Care Free Enzymes Fountain Protector, which is bacteria-free, natural, and non-toxic.
Absorbs negative ions
Shocked? Well, with so many electrical devices around us, there are a lot of negative ions in the air within our home or office. The indoor water fountains can help reduce the negative ions, control the air pollution, and rejuvenate your senses with the relaxing sound.
Related Questions
What do I need to install an indoor fountain?
Just like the outdoor fountains, they use pumps to circulate the water. To install an indoor water fountain, you will need access to a wall outlet in order to operate the fountain. After you hang a wall fountain, use distilled water to fill in the tank to the recommended level, adjust the water flow, and let it flow.
What type of electrical outlet is needed?
The indoor fountains do not need a generator or any other special electrical outlet to function. You will simply need a standard electrical wall outlet to provide power to the motorized pump that comes with the product.
Are there any special plumbing requirements?
No, because the indoor fountains usually come with an internal tubing and built-in motor that are self-contained. Hence, there are no special plumbing requirements.
How to take care of indoor home fountains?
The indoor water fountains are easy to install and maintain. You just need to fill up the reservoir with clean water once or twice a week, depending on the quality of water. Do a deep and thorough cleaning of the unit ever 4-6 months to keep it in the best condition.
Related Article:
6 Best Vases For Gladiolus
Best Coffee Tables For Sectionals: A Detailed Guide
6 Best Shelves For Action Figures