Gladioli are stunning flowers with large blooms in brilliant hues. You may know them by the name sword lily or glads, as many people affectionately call them. The petals come to full blossom about three months after planting.
These flowers grow to a height of two to five feet on average. Each flower can produce between one and nine blooms. These blooms are also large in size. Harvest time for glads is in the summer.
To get the most out of this species, gardeners recommend planting a few seeds, or corms, every week between early spring and early summer to get blooms that last all summer long. You may even find a few pops out at the beginning of fall.
Finding the right vase for these flowers takes a little forethought because of the length of the stems. While you can cut the flower down to fit the vase, many of these plants have several blooms that you might want to show off. For these sprouts, a slender opening with a solid base is important.
Gladioli are often top-heavy plants. If you want to grab a vase in a hurry, then we suggest going with the Hana bamboo vase (learn more). This modern vase is beautiful and simple, allowing the blooms on the flowers to stand out and get all the attention. We like this vase because it is the most affordable option from our list of six from the Home Depot.
Top Six Gladiolus Vases Comparison
---
If you have a garden full of glads, then you may enjoy having a vase where you can show off your prettiest blossoms. The triangle vase from Emissary is a beautiful design and shape for flower arrangements. You may like the white hue because it does not detract from the color of the blooms.
Product features and perks
Heavy weight prevents tipping
Wide opening provides space for several flowers
Affordable option
Glossy exterior
Easy to clean
Cons
Must avoid cleaning with chemicals because they can tarnish the finish
The shortest option on the list
Conclusion
We like this vase for coffee tables and dining rooms. The vase commands attention when empty. After filling it with stunning blossoms, this vessel becomes a showstopper. We appreciate the craftiness and handiwork in the Emissary vase.
---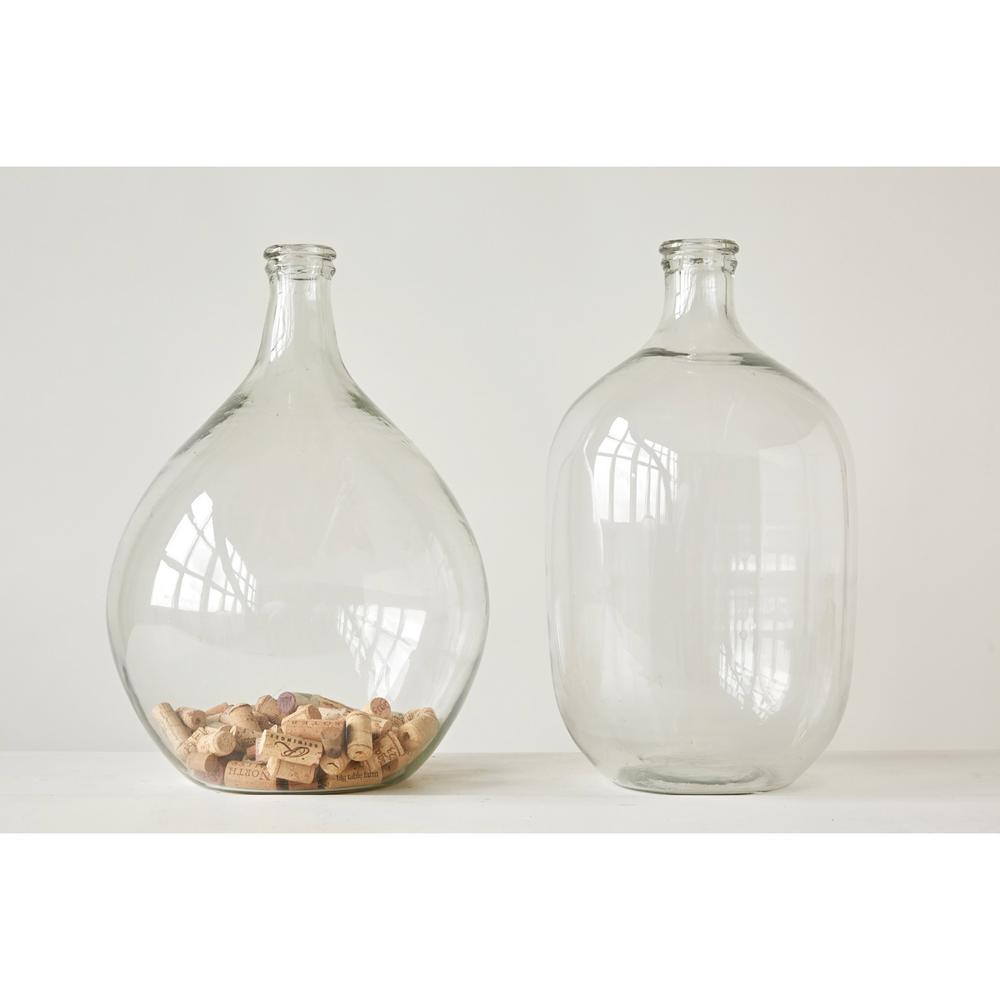 Many consumers appreciate the look of glass decor. Others like it because they can customize it with paint and stencils. The 3R Studios vase is excellent for adding glitter or colored decorations like pebbles. Another option for personalizing this vase is etching. You can even add food coloring to the water for a new style every week.
Product features and perks
Big base for extra stability for tall flowers like gladiolus
Small opening for showing off a few special stems
Blends in with any decor or accessory group
Dust with a dry rag to clean
Can fill with tiny lights, ribbon, construction paper, or many other ideas when not using for flowers

Cons
Requires a large table or a square stand to prevent knocking it on the floor
Opening may not be large enough for some souvenirs

Conclusion
You may find the clear design of this vase the most appealing since you can tailor the piece. Using this vase allows you to change out your theme or the decor in any room with a quick swap of flowers or fillers. We like the round shape of 3R Studios vase for tucking in LED light strips to create a warm glow in any room.
---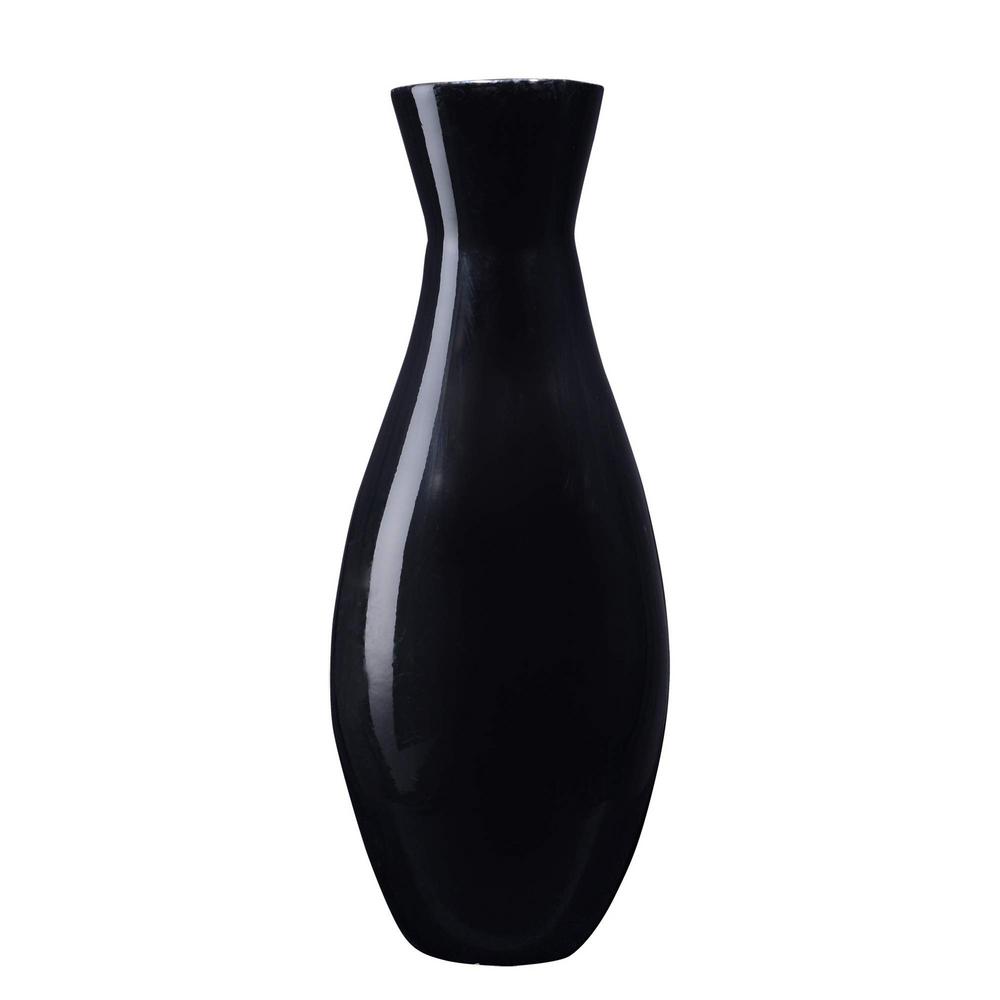 If owning environmentally friendly products is important to you, then you may appreciate the handiwork of the unique Villacera bamboo vase. This accessory is the perfect size for sitting on the side of a beautiful painting or a large mirror. The shape and diameter make it excellent for putting flowers front and center on the mantle.
Product features and perks
Uses sustainable bamboo
Handcrafted as a unique item
Light material for glass and mirrored tables
Excellent size and shape for shelving units, wall shelves, fireplace mantles, and any table
Sleek, modern style
Black, glossy finish lets the flowers take the limelight
Cons
Cannot submerge
May not be the best decor for kitchens and bathrooms
Conclusion
We appreciate the thoughtfulness and attention to detail that goes into every one of these bamboo vases. The time and effort to create such an elegant piece is commendable. This beautiful vase is elegant whether or not there are flowers in it. Plus, you can put in a couple of glads or pile a whole bouquet in the seven-inch wide opening in the Villacera Hana vase.
---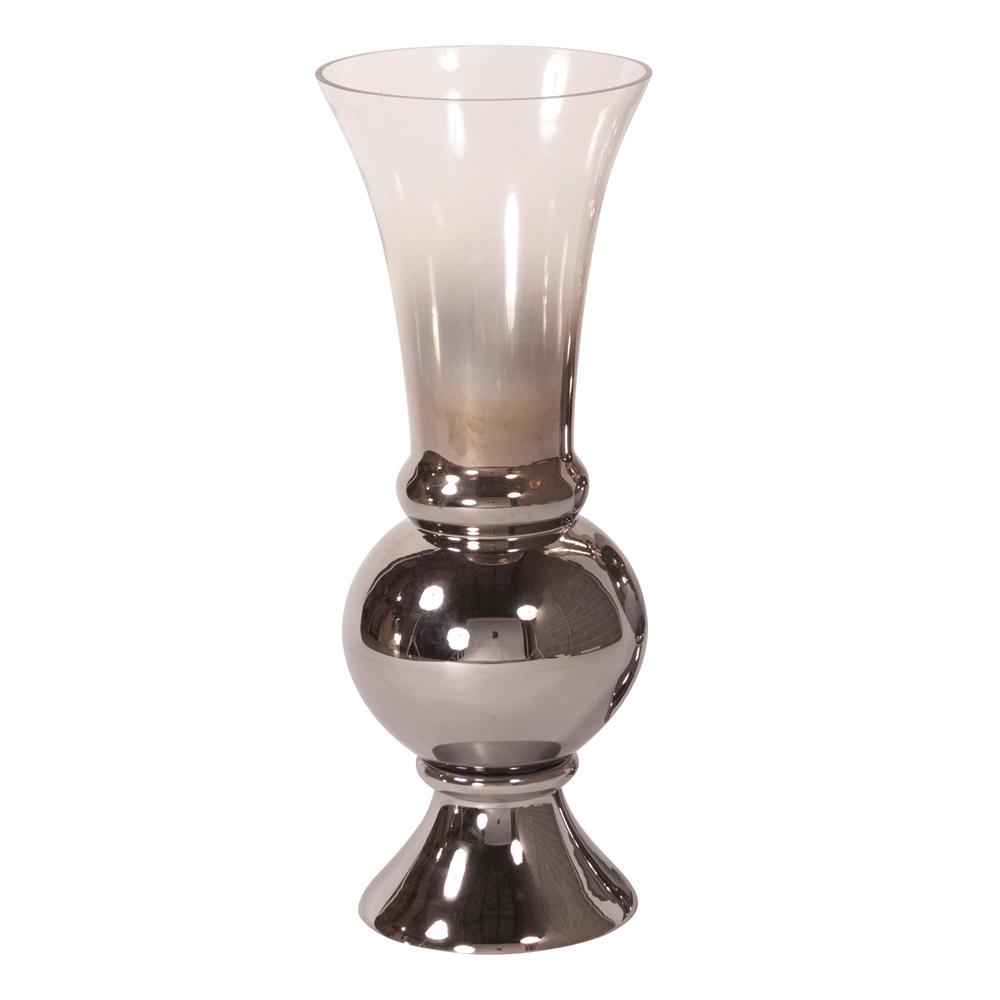 Do you like decor items that spark conversation? If lavish decor is your style, then you might find the Small Smoky Vase from the Home Depot stunningly appropriate for your house. The curvy accessory features an ombre design that goes from clear and smoky at the top to bold and silver at the bottom. Two fluted ends sandwich a round middle, giving this decor piece a distinct profile.
Product features and perks
Unique hand blown style
Wide mouth for spreading out large flower bouquets
Heavy material provides stability for tall flower arrangements
Excellent decor item for condos, apartments, luxury homes, and offices
Almost two-feet tall
Cons
Must use a soft cloth like a microfiber cleaning pad to prevent scratching
Conclusion
We think this vase lends sophistication and opulence to any home. If you want to give a special gift to someone, then this item would make a fantastic choice. You can give this vase as a wedding gift, anniversary present, birthday surprise, or holiday gift. Plus, you can blend this piece into any style with the right color gladiolus. You can use always use silk flowers for year-round decor. The Smoky Fluted vase also holds water for fresh flowers anytime you prefer.
---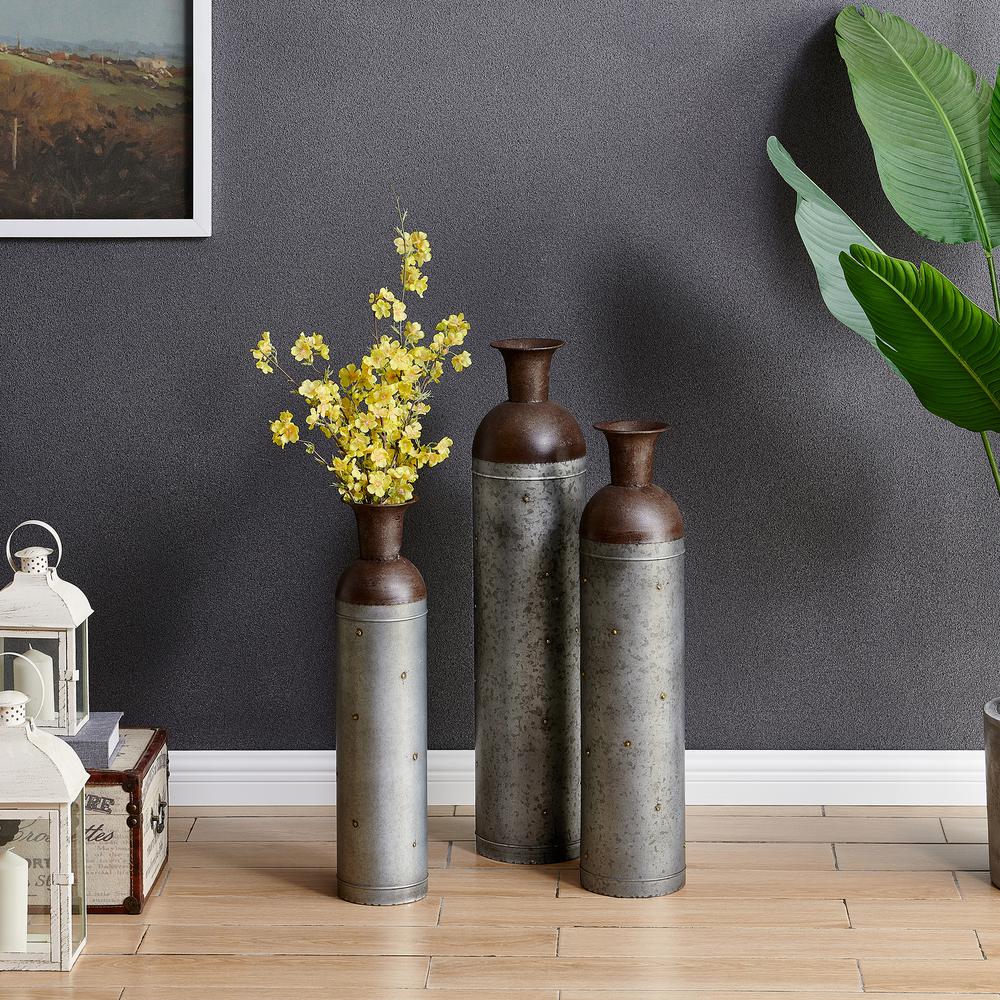 Rustic designs are as trendy and popular as ever. The FirsTime & Company trio of vases features an antique style that you may find alluring. The galvanized aluminum bottom pairs beautifully with the deep brown hue on top providing a stunning contrast. These vases draw the eye immediately. The metal finish may bring out the bright colors of the gladiolus.
Product features and perks
Floor vases for use in niches, corners, and as focal points
Only set of three on the list
Lightweight material
Tall, slender design
Seven-inch opening
The tallest vase is over 31 inches tall
Cons
Vases may fall over if the blooms are too tall or heavy
Might leak with age
Conclusion
We like these vases for redecorating. When you want to change the entire look and feel of your home, then you might enjoy going to a rustic farmhouse style. The FirsTime & Company industrial vases offer metal fashion at an affordable price. We think you may appreciate that these vases stand alone on the floor. They do not need a table because they are the focal point.
---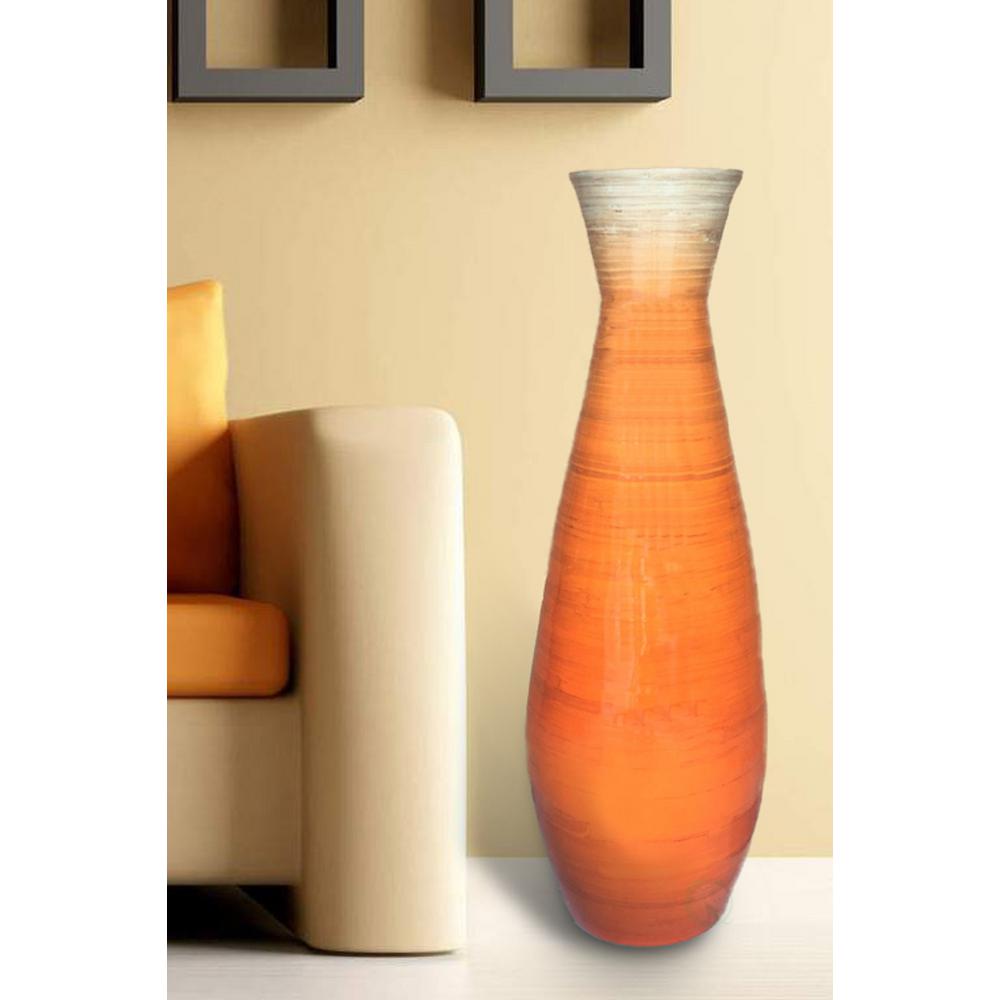 If you are the person who knows what they want when they see it, then the Uniquewise Bamboo vase may be what you need for your next remodel. The vase features an iconic hombre design that showcases a brilliant orange tone that fades to a gray-white hue. The vase commands people to gaze at it because it is over 31 inches tall.
Product features and perks
Wide 10.5-inch mouth
Works with foliage or as a separate decor piece
Eco-friendly bamboo structure
Lightweight at just over three pounds
Trumpet style construction
Cons
May be unsteady on carpets when empty unless you put in a few rocks or a little sand in the bottom
Conclusion
We love the vibrant color of this vase. The fact that it sits on the floor gives us tons of options. Plus, we can move this piece around the room to change up the look whenever we want. The glossy finish lets the Uniquewise vase fit in many modern themes.
See Also:
8 Best Sounding Indoor Water Fountains
A Zen Garden: All You Need To Know
10 Best Poufs For Sitting