6 Best Squeegee For Spreading Epoxy 2023
Are you looking for the best squeegee for spreading epoxy? Read on to find our honest reviews of the top products available online and some useful tips.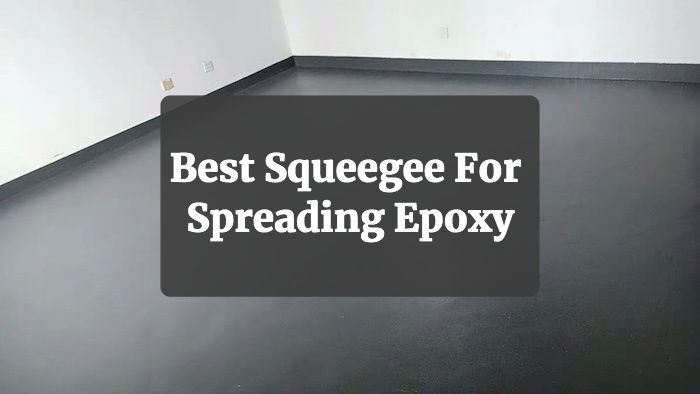 Are you planning an epoxy application on your garage or workshop? It's a great way to breathe life into the dull concrete surfaces, make it attractive, smoother and more durable. Epoxy floors at warehouses and industrial sites also help in providing a cleaner and safer environment for workers.
To ensure that your epoxy application goes as smooth as possible with a perfect end results, we recommend that you use a squeegee instead of a roller. The biggest advantage of using a squeegee is that – unlike a roller, it will not create any bubbles and applications become easier too.
So, before you get started with the project, make sure you have the best squeegee for spreading epoxy in your arsenal. With so many different brands and models available, it may be difficult for you to choose the one that suits you best.
We have made your task easier by reviewing some of the top products handpicked by our team of experts. Take a look at the different features and specifications of each product and how they compare from each other.
After extensively reviewing many products, we feel that the Haviland 01418SE EPDM Rubber Squeegee (see more) is a great choice for those who are in a hurry to buy. It comes in different options for serration depth and height. The easy assembly, sturdy construction, and high-quality rubber blade make it a product worth your time and money.
When you want the perfect tool to help with decorating your concrete floor, get a product that's specially built for the job. This Serrated/Notched Epoxy Squeegee by Concrete Floor Supply is designed to help you spread the epoxy layer evenly over the concrete in perfect thickness and helps with better coverage. It is also the number one choice for deck coating and concrete decorative contractors.
Whether you wish to apply epoxy on a chip floor, or use metallic or solid color epoxy, this serrated/ notched squeegee comes handy. It is also lightweight and dishwasher safe. It comes with an injection-molded high strength socket that can easily fit any threaded broom and extension handle. Please note that the squeegee is only meant to spread the epoxy evenly and you will need to use a Nap roller to finish the job.
Product features and specifications
Blue color
Standard serration is 1/8″
Dishwasher safe and lightweight
ACME threaded handle
Made from FDA-approved ingredients
Dishwasher safe (up to 210 degrees F)
User/ Customer reviews
Most users are happy with the way the squeegee is built to deliver the best performance while spreading epoxy on the floor. Customers are able to use it with ease and fix it with any broom handle or extension rod.
Conclusion
When you want a sturdy and well-built squeegee capable of smoothly spreading the epoxy mixture and feel easy on the hands too, this Concrete Floor Supply Serrated/Notched Epoxy Squeegee is a good choice. At this price, this is a great tool that money can buy.
---
The DSV Standard from the house of Seymour comes with an 18-inch non-replaceable blade squeegee, built for epoxy application, putty coatings, and other general tasks. The improved notching design of the squeegee adds more accuracy to the job and makes it last longer. It comprises a heavy-duty yet lightweight aluminum frame and a polymer threaded handle that is guaranteed to stay durable.
The product is 20 percent lighter than competitive tools and the blade is also comparatively softer. Hence, this is the best squeegee for deck coating, epoxy flooring, and concrete contractors who prefer using a softer blade. Red sanoprene exterior gives excellent chemical resistance to the product and makes it non-marking.
Product features and specifications
Weighs 13.4 ounces
1/8″ Notched Read Rubber
18″ Speed Squeegee
Non-marking
Polymer threaded handle adapter
Made from durable rubber
User/ customer reviews
Those who have used the product for various applications are satisfied with the performance of the squeegee for smoother coatings. Most users have mentioned that the squeegee is easier to clean after use and the job was done smoothly. People also find it easy to use the product with an extension handle.
Conclusion
When you have a DIY project at hand and wish to give it a professional finish, this DSV Standard does a good job. The sturdy construction and unique design ensure that the squeegee will last many uses. Overall, a good buy!
---
The professional design and durable construction of the Haviland rubber squeegee (learn more) make it an efficient tool for applying urethanes and epoxy sealers. The flexible rubber blade glides over concrete surfaces smoothly and spreads the grit and pigment uniformly. The thickness of the rubber squeegee is just right to get the job done smoothly through the pressure applied.
The EPDM applicator squeegee features a stiffer blade that makes it possible for the serration to stay upright. While the standard serration depth and height is 3/16″, the product is available in several other serration options such as 1/8″, 1/4″, 3/8″, 1/2″, and 5/32″. It can be attached to any extension pole to get the job done with ease.
Product features and specifications
Weighs 1.55 pounds
18 inches squeegee blade
Made of high-grade rubber
Non-marking
User/ customer reviews
Most people who have used the product are extremely pleased with the way it helped them move the solids around smoothly and complete the task at hand. Users are happy to be able to use the product exactly as expected and desired. Some people have recommended buying rubber gloves and spiked shoes for better performance.  
Conclusion
If you are looking for a practical solution to do apply real epoxy on the garage floor or deck coating, you need a serious tool like the Haviland 01418SE EPDM Rubber Squeegee. We feel this product is worth your time and money!
---
Do you find it frustrating to call the professionals for every small house repair? Here's the Custom Shop Body Filler Spreaders/Squeegee that can not only help house owners with small repair jobs but also help them with DIY projects such as spreading epoxy on the garage floor or applying putty on the basement wall. The non-absorbent surface of the spreader makes it easier to use and spread fillers, glazes, caulks, and putties without itself getting coated.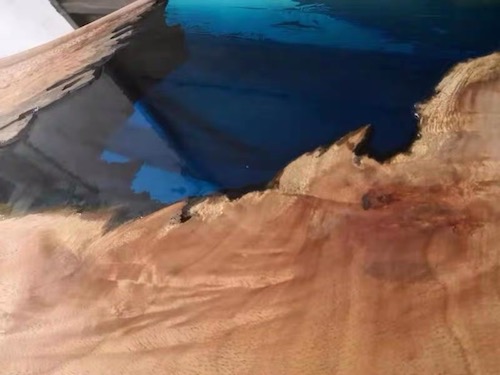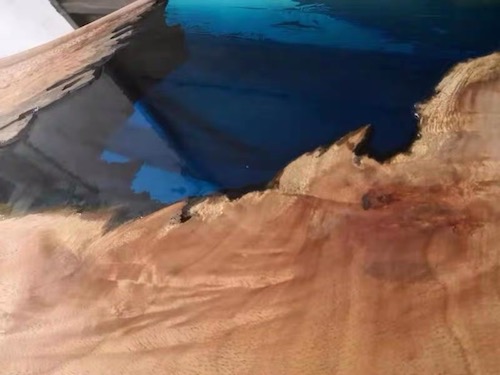 We also love the flexible edges that help you apply, spread and shape the filling materials easily, in less time. These custom spreaders are also reusable as the cured material separates after drying up, leaving the tools clean and ready for the next use. Besides serving as the best squeegee for spreading epoxy, it can also be used to repair auto body parts, canvas, and woodworking coloring.
Product features and specifications
4-inches custom plastic spreader
Non-absorbent surface
Flexible edges
Re-usable spreaders
Made of plastic
Contains 50 pieces
Durable and sturdy
User/ Customer reviews
Both amateur and professionals enjoy using this product because it is capable of giving a professional finish to the DIY projects. Some tradesmen who have several years of experience find this little tool handy for small jobs at the workshop and they like how easily it gets the job done, plus the spreaders are reusable too. Besides serious applications like spreading putty, fillers, and epoxy, the spreaders can also be used for a variety of other recreational jobs like painting on a canvas and so on.
Conclusion
If you are looking for a little magic to help you with spreading putty on the wall, in less time than expected and get results like a professional, this Custom Shop Body Filler Spreaders is a must buy. This is a great little tool to have at home or workshop, and they last for years.
---
Marshalltown Company is known for producing the finest quality tools for the construction industry, to help contractors complete their job perfectly. This straight notched squeegee reflects the company's commitment to delivering quality products. It is made to meter for spreading epoxy on the floor. The accurately designed v-shaped notches help with perfect material management.
We love how well the frame has been built to last longer and deliver seamless performance for both industrial and residential projects. It is compatible with the 14844 wood handle made by Marshalltown, but you will have to purchase it separately.
Product features/ specifications
Measures 24 x 4.5 x 4.5 in
24-inches size
Weighs 1.85 pounds
1/4-Inch Notch
Made from steel
Compatible with 14844 wood handle
V-shaped notches
User/ customer reviews
People who have bought the product for commercial or residential use are pleased with the overall performance of the squeegee. The sturdy construction made from strong steel makes it highly durable and customers find it a perfect fit for DIY projects.
Conclusion
If you have been looking for a well-built and robust tool to help with your epoxy application, this Straight Notched Squeegee by Marshalltown company can get the job done with ease. It leaves a smooth appearance on the floor and gives it the finish of professionals. At this price, it delivers good value for money.
---
Do you have a technician in you who loves to do small house improvement projects by self? Then you will need a few essential tools to get that perfect finish and one such tool is this Stainless Steel Notched Squeegee. Add a few hand tools, power tools, weighing scales, saw, blades, and measuring instruments, and you have a complete arsenal ready for undertaking various projects yourself. The squeegee includes two main parts – the scraping teeth and notched squeegee.
The scraping teeth come in three different sizes – 2mm, 3mm, and 5 mm. The notched squeegee delivers great performance at spreading epoxy on the concrete wall or floor without causing any bubbles. Thus, you get a professional-quality finish on every home project you undertake. The 12 cm handle can be attached to any extension rod to make it easier to spread the epoxy on large areas.
Product features and specifications
Measures 56x6x12cm
Scraping Teeth Height (2mm,3mm,5mm)
Made from stainless steel and iron
Good customer support
User/ customer reviews
Users are happy to find a professional-grade squeegee that can be used at workshops and homes to perform a variety of tasks with ease and in considerably less time. People find it easy to assemble the unit and fix it with an extension rod. Customers are not only happy with the excellent quality of the product but also the after-sale service offered.
Conclusion
This is the finest quality self-leveling gear rake that performs as advertised. It is one of the must-have items in every house owner's toolbox. At this price, the product offers an amazing price to performance ratio. Overall, a good buy.
---
Tips For A Perfect Epoxy Application
When you are planning to apply epoxy on your garage or workshop floor, keeping a few things in mind can bring about a world of difference to your project. Here are some quick tips that can help you:
Maintaining ideal installation conditions
For epoxy to spread and apply well, make sure the humidity level is under 44% and the air temperature is within the 64-74 degree F range. If you try installing epoxy outside these conditions, problems are more likely to occur. For example, bubbling is a common issue in higher temperatures.
Choose a squeegee over a roller
We have already discussed this earlier, but we would like to reinstate that squeegee does a better job than a roller at spreading the epoxy. With a squeegee, you will be able to achieve uniform coverage and the risk of forming bubbles will be low. Read the reviews above to find the best squeegee for spreading the epoxy.
A useful tool to pop bubbles
Sometimes, it's inevitable for bubbles to form and you need a porcupine roller to pop them before the epoxy is cured. When you encounter an unwanted bubble during the epoxy application, the porcupine roller will save the product and your valuable time.
Debris and dirt prevention
Please remember that any amount of dirt or debris that gets on the surface will stay there once the epoxy has cured. So, make sure you prevent them from getting on the fresh application by closing all doors and windows. If you have epoxy applied on the garage floor, leave the door slightly open and hang a sheet on the opening to prevent the debris from blowing in.
Spreading the fleck evenly
You may use a handheld seed spreader to make sure that the flecks are evenly distributed on the floor. This will yield better results than doing it by hand, plus it will also save you time.
Spiked installation footwear
Get a pair of spiked installation shoes like this that will help you walk across the floor without disturbing the fresh epoxy application. You will be able to move around freely to make minor fixes wherever needed.
See Also:
How To Clean Dried Polyurethane From Paint Brush
How To Get Rid Of Concrete Dust In Basement