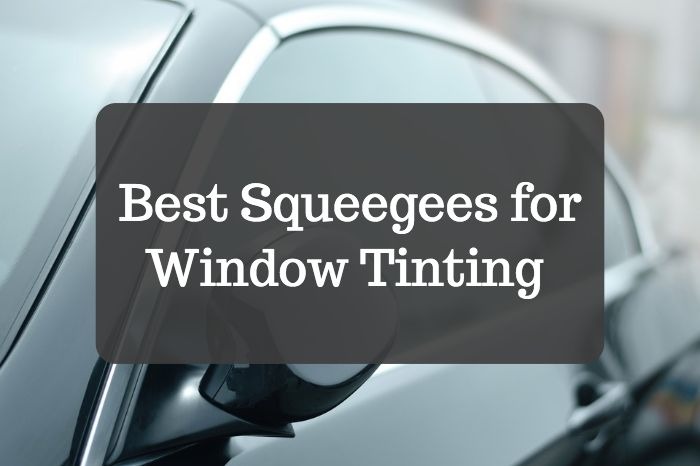 We are reader supported. When you purchase through links on our site, we may earn an affiliate commission. Also, as an Amazon affiliate, we earn from qualifying purchases.
When sunlight passes through windows, it doesn't just heat up your car; it can also fade the seats, warp the dashboard, and damage any items that you keep inside. That's why many modern drivers like to apply a layer of window film to the passenger-side windows on their cars.
I haven't tinted my car yet, but I tinted my living room windows for the exact same reason. The difference in temperature is wonderful, and it still feels like natural light fills the room every day.
I didn't want to pay a company, so I decided to apply the tint by myself. It turns out that the only way to apply window film smoothly is with a window squeegee. Luckily, I found kits that contain many different squeegees for every kind of window tinting job.
All of these squeegee kits are excellent, but I have to go with the Zhuohua Window Tint Application Tools. This kit contains the most important squeegees, and it comes with a double-sided utility scraper that will become a valuable part of your toolbox.
| | Ehdis Car Vinyl Wrapping Tools | Foshio Vinyl Wrap Tool Kit | Zhuohua Window Tint Application Tools | Ehdis Professional Window Film Vinyl Wrap Kit | Gomake Vinyl Wrap Tool Kit |
| --- | --- | --- | --- | --- | --- |
| Pieces | 7 | 10 | 9 | 45 | 5 |
| Squeegees | Felt, conqueror, contour, block, jelly | Felt, conqueror, contour, block | Felt, conqueror, contour, block | Felt, conqueror, contour, block, jelly, roller, serrated, and more | Felt |
| Scrapers | Mini pink | Mini pink, utility plastic | Mini pink, utility plastic/metal hybrid | Mini pink, mini yellow, utility metal, utility plastic | Microplastic |
| Cutters | Art knife | Art knife | Art knife | Art knife, film cutter | Art knife, film cutter |
| Other | Spare knife blades | Extra squeegee felts, spare knife blades | Spare knife blades | Tool pouch, magnetic tool holders, gloves, spare knife and scraper blades | Second felt squeegee, spare knife blades |
---
A set of Ehdis Car Vinyl Wrapping Tools has everything you'll need to complete your first tinting project except the actual window film. The seven-piece kit includes several squeegees, a knife with spare blades, and an extremely convenient scraping tool.
The highlight of the Ehdis kit (learn more) is the long-handled jelly squeegee. This soft tool provides a gentle way to remove air bubbles without causing any scratches. The other squeegees come in a variety of shapes and sizes to help you get a smooth tint from every angle.
Features:
7-piece kit with 5 squeegees, 1 scraper, and 1 knife

Suited for any type of window film

Jelly squeegee doesn't scratch glass or polish

Mini pink scraper is useful in many situations

Customer Impressions:
When using the Ehdis vinyl wrapping kit, most customers were satisfied with the professional quality of their at-home tint job. Many buyers noted that they only used a few of the tools that came with the kit; the rest was unnecessary.
Conclusion:
Ehdis packs everything you'll need to tint your windows into one simple kit. Play around with the different squeegees until you find your favorite. If you have difficulty, try switching to a different tool.
---
The Foshio Vinyl Wrap Tool Kit is designed to help you create a professional-looking tint job. This kit has a total of eight different squeegees, scrapers, and other tools.
The Foshio kit is the only one on this list to come with replacement felt for the blue-handled felt squeegee. The felts are easy to replace and ensure that your glass will be protected from scratches. This kit also features a plastic utility scraper that can be used to remove gum, adhesive, or anything else that might get in the way of a fresh layer of film.
Features:
8-piece kit with 5 squeegees, 1 scraper, and 1 knife

Includes 10 pieces of replacement felt and spare knife blades

Plastic utility scraper can be used to remove adhesive

Has squeegees for both cleaning and smoothing film
Customer Impressions:
Customers who bought this toolkit were pleased to find everything they could possibly need to apply their own window tint. The knife does a particularly good job of cutting film, and replacement blades are included in case the first one goes dull.
Conclusion:
There's nothing lacking in the Foshio Vinyl Wrap Tool Kit. The felt squeegee is very useful, so I'm glad that they included replacement felt strips.
---
Zhuohua knows that window tinting tools need to have sturdy handles and smooth edges. Their set of Window Tint Application Tools is full of items that are well-crafted and ready to get the job done.
The highlight of this toolkit is the orange utility scraper. One side of the scraper features a plastic edge that can be used on troublesome patches of adhesive. The other side of the scraper has a metal edge for difficult projects and rough surfaces.
Features:
8-piece kit with 5 squeegees, 2 scrapers, and 1 knife

Double-sided utility scraper is great for any situation

Film cutting knife comes with a comfortable plastic handle

Tools are durable and stand the test of time
Customer Impressions:
Most customers who bought this toolkit were applying window film for the first time. Buyers thought the tools were easy to use and were pleased to find a brief set of tinting instructions included as part of the kit.
Conclusion:
The utility scraper alone makes this kit a good buy. The squeegees are also well-crafted and will last through many window tinting jobs.
---
If you want to tint like a pro, the Ehdis Professional Window Film Vinyl Wrap Kit (shop now) has everything you could possibly need. This kit contains 45 different ways to clean windows and apply film in a smooth layer.
This kit is the perfect choice for anyone who wants to try different squeegees. The are squeegee blades made from rubber, felt, serrated plastic, and even wool. The squeegees also come in different shapes and with various kinds of handles to help you get the perfect angle every time.
As a bonus, this kit also comes with accessories that every window tint professional ought to have. Store your favorite squeegees in the tool pouch, or clip them to the car you're working on with the magnetic tool holders. You'll also find useful items like tweezers, measuring tape, and a pair of white work gloves.
Features:
45-piece kit with many different squeegees and scrapers

Comes with magnetic tool holders and a tool pouch

Has both a film cutter and a stainless steel knife

Includes tweezers, a squeegee sharpener, and several other useful items
Customer Impressions:
Customers were completely satisfied with this professional window tinting kit. Everything works as expected, and the kit includes a tool for every potential situation.
Conclusion:
This kit is a great choice for tinting windows with a large group of friends. Although every squeegee is different, there are enough similarities to share the tools among everyone who wants to help get the job done.
---
The Gomake Vinyl Wrap Tool Kit is a simple set of window tinting tools that will help you complete the job cleanly and efficiently. This small kit just has two squeegees, a scraper, a film cutter, and a knife.
Both of the squeegees in this kit have blue handles and felt edges. Keep one of the squeegees as a spare, or let a friend help you complete your project. The scraper is small and has a smooth edge that can be used to remove air bubbles from tight corners. Finally, the film cutter is a helpful way to remove unwanted film without scratching your car.
Features:
5-piece kit with 2 squeegees, 1 scraper, and 2 cutters

Contains only the essentials for window tinting

Identical felt squeegees work for most applications

Stainless steel knife comes with extra blades
Customer Impressions:
Customers loved these felt squeegees, but they were even more impressed by the versatility of the small scraping tool. The slightly curved handle is perfect for smoothing out even the tightest corners.
Conclusion:
This essentials-only kit is perfect for nearly any window tinting job. If you could only have one squeegee, felt is always a good choice; I'd recommend this kit to anyone who wants a simple yet effective tint solution.
---
Learning to Use Your Window Tinting Kit
As many customers have noted, a window tinting kit only works if you know how to lay down the film. Go slow the first time you apply window tint, and remember that the squeegees will help you correct any mistakes.
Know Which Squeegee Is Which
Most window tinting kits come with several different squeegees. If you use each one for its intended purpose, you'll do a much better job placing your film.
Felt squeegees typically have a blue handle with a black strip of felt on one edge. Use the felted side to avoid scratching delicate surfaces.
Jelly squeegees feature a metal handle attached to a piece of soft, jelly-like rubber. These squeegees are particularly good at cleaning windows and applying delicate types of film.
Conqueror squeegees are beloved by window tinting professionals. Remove water with the rubber side, banish air bubbles with the plastic side, and use the pointed tip to deal with tight corners.
Contour squeegees are usually yellow and are shaped like a teardrop. This unique shape is perfect for curved windows and car frames.
Block squeegees are long and thin with a rubber blade. These squeegees can cover a wide surface area and work for both cleaning and placing film.
Pink scrapers aren't technically a kind of squeegee, but they're still one of the most useful tools in these kits. These scrapers have rounded rubber edges that can be used just like a squeegee if you apply the right amount of pressure.
Tips for Applying Window Film
Whether you're applying film to the windows on your car or on your house, these tips will make sure you do the best job possible.
Clean your windows thoroughly before applying the tint. Any dirt left on the windows will be trapped there after the tint is applied.
Don't use window cleaner. If there's any residue left over, it might cause your tint to change color.
Cut the film before peeling off the liner. Leave extra room around the edges, and trim it off after you're done.
Wet your windows before application. This will help the film slide smoothly into place.
Press with the squeegee instead of with your hands. The smooth squeegee edge will push any air bubbles out from under the film.
Check your work before trimming. Once you've applied a piece of window film, you won't be able to make any changes.

Related Questions
Can you apply window film without a squeegee?
Don't try to place window film unless you have a squeegee on hand. Even if you're very careful, you'll still end up with air bubbles. Squeegees remove these bubbles and help you get a smooth layer of film.
Is it legal to tint the windows on your car?
It's never legal to put tinted film on your windshield, but many areas allow you to tint the passenger windows. Try asking a nearby mechanic or autobody shop about the restrictions laid down by your local government.
See Also:
Can You Put A TV In Front Of A Window
Can I Use Air Purifier With Window Open?
How To Clean Windows Without Water?
6 Best Microfiber Towels For Waxing Cars
9 Ways To Get Dog Hair Out Of Car Seats
Polaris P965iQ Sport Robotic Pool Cleaner Review
Can You Use Laundry Detergent To Wash A Car