6 Best Vacuum Cleaners For Under Bed for 2023
You may think that your house is squeaky clean until you take a look under the bed and feel repelled by a thick layer of nasty grime. If you suffer from dust allergy like me despite cleaning your house daily, these hidden and hard-to-reach areas of your house are to blame.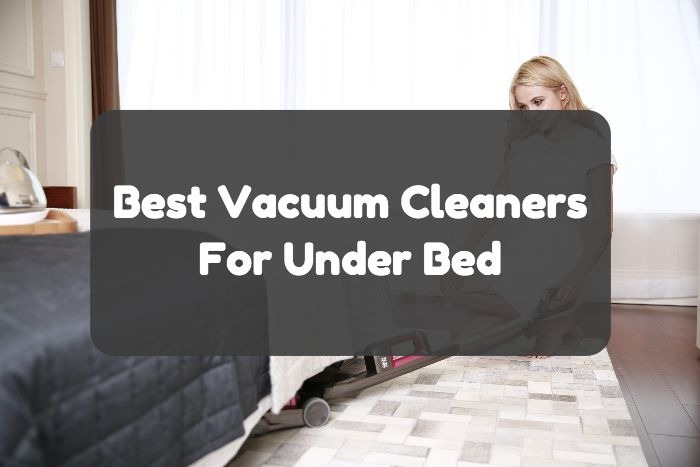 We know how difficult it is to clean under the bed and other furniture with traditional tools, hence today we have reviewed the best vacuum cleaners for under bed. These cleaning systems come with a long hose to move easily around the different parts under the bed and remove all the accumulated dirt.
These vacuum cleaners are uniquely designed with telescopic poles attachments and strong suction capacity to help you reach difficult areas and achieve an excellent cleaning performance. We have reviewed some of the top product available in the market to help you compare and make the right decision.
If you are in a hurry then here's our expert advice for you. After reviewing several vacuum cleaners we feel that the Dyson Cyclone V10 Cordless Stick Vacuum Cleaner does the best job of cleaning under the bed. It has an amazing suction ability, solid filtration system and runs time of 60 minutes to allow you an uninterrupted performance. 
| | | | | | | |
| --- | --- | --- | --- | --- | --- | --- |
| Features | Dyson Cyclone V10 | Eureka Power | Dirt Devil Razor | JASHEN Cordless | DreamTech Cordless | Orfeld Cordless |
| Weight | 5.05 pounds | 7.7 pounds | 13 pounds | 5.07 pounds | 4.8 pounds | 6.61 pounds |
| Type | Cordless Stick | Upright Vacuum | Corded Upright | Cordless Vacuum | Cordless Vacuum | Cordless Vacuum |
| Filter | Fully sealed filtration | Washable filter | Washable pleated filter | HEPA filtration | HEPA filtration | 3-layer HEPA filtration |
| Modes | 3 modes | 5 modes | NA | 2 modes | 2 modes | 2 modes |
| Max (run time) | 20 minutes | NA | NA | 15 minutes | 20 minutes | 25 minutes |
| Standard (run time) | 60 minutes | NA | NA | 30 minutes | 50 minutes | 40 Minutes |
| Charge time | 3. 5 hours | NA | NA | 4-5 hours | 4-5 hours | Auto recharge |
---
When talking about vacuum cleaners, the name of Dyson stands tall and their cordless stick models are some of the best in the industry. As they are lightweight and versatile, you can clean a large part of your house with this tool without hurting your hand with continuous cleaning. The beautifully engineered motorhead can give you 20 minutes of nonstop use in suction mode. A full charge gives a run time of up to 60 minutes when used on a non-motorized tool.
We love the long telescopic handle that enables you to reach the difficult corners of the house, and the low-profile cleaner head easily glides in awkward places like under the bed. The slim design of the cleaner makes it possible to clean areas that you otherwise can't reach with a standard tool. The powerful filtration system traps nearly 99. 97 percent of dust particles to make the air cleaner. You can also transform the stick vacuum into a handheld vacuum to clean the sofa, stairs, and inside the car.
Product features and specifications
Measures 9.8 x 10.2 x 48.9 inches
Weighs 5.05 pounds
Cordless style
3 power modes and settings
Up to 60 minutes of run time
Easy docking station
Lightweight and well-balanced
Deep cleans carpets
additional tools for cleaning
User/ Customer reviews
Most people find this stick vacuum easy to use and the cordless feature enables them to cover a large area for cleaning. The accessories are well made and the battery lasts long enough when used on medium power setting. The elderly are happy to find a lightweight vacuum cleaner that does a powerful cleaning job and removes per dander and dust in less time. A few users have said that they wish Dyson had removable dual batteries for better performance.
Conclusion
If you want an ultimate cleaning tool to keep your house clean even in the difficult to access areas and give you a long run time too then the Dyson Cyclone V10 (shop now) is the best bet. Although slightly overpriced than its competitors, it's well worth the money spent.
---
This lightweight upright vacuum cleaner from the family of Eureka boasts a dust cup capacity of 4.1 liters. It is powered by a high-efficient motor and the Eureka PowerSpeed always delivers a spot-on performance. The vacuum cleaner is capable of trapping even the finest dirt and dust particles to impress you with its incredible cleaning performance. With a weight of nearly 10-pound, the NEU188A can reach up to 8 feet and also hard to reach areas like under bed, furniture, and appliances.
The vacuum cleaner comes with 5 height adjustment settings and also allows you to switch mode for different types of surfaces such as hardwood floors, rugs, and carpets. LED headlights enable users to see under the bed or furniture while cleaning. We also love the bagless dust cup design with a washable filter that makes it easier to empty the cup. The kit also includes a telescoping crevice tool, quick-release handle, pet turbo brush, and an upholstery tool.
Product features and specifications
Measures 11.8 x 14.6 x 34.3 inches
Weighs 16.7 pounds
Easy-to empty Dust Cup
XL Dust Cup
Transparent Brushroll Cover
Quick Release Handle
Telescopic Flexible Crevice Tool
Washable filter
5 height adjustment settings
2 year limited warranty
User/ Customer reviews
Several users have praised the strong suction power of the device, while delivers an awesome cleaning job despite being lightweight. People with dust allergy and asthma find this product really useful at controlling their symptoms and discomfort. However, it can't be ignored that quite a few customers have said that they ran into some technical issues within 2 years of purchase.
Conclusion
The Eureka NEU188A (shop now) delivers a good cleaning performance and we really like the LED lights that enable you to see the area under the bed to ensure its fully clean in the corners. Overall, this product gives a good price to performance ratio, hence highly recommended.
---
Do you find it troublesome to keep managing the filter? Then check out the Dirt Devil Razor Pet Bagless vacuum cleaner with the advanced power of swivel steering to remove dirt, pet hair, and dust stuck in the corner and under the bed. It moves a full 180-degree to cover a large area with ease. There is no loss of suction as you clean and the Endura filter is designed for an incredibly long-lasting cleaning performance with easy maintenance when you need it. The multi-floor brush roll and automatic height adjustment for different tasks make it a pro cleaning tool.
The easily removable extension wand is a highly commendable design as it pops into the vacuum when you are done with the cleaning. In the kit, you will also find a 2-in-1 dusting brush, a pet turbo tool, and a crevice tool. It also comes with an odor-preventing filter and a dirt cup that can trap pet hair and dander. Although the vacuum looks bulky from the outside, the low profile swivel steering makes it effortless to move around the house and under the furniture.
Product features and specifications
Measures 13 x 11.8 x 31.5 inches
Weighs 13 pounds
180-degree movement
No Loss of Suction
Swivel Steering
Multi-Floor Performance
Instant Cleaning Wand
TURBOCLAW™ Pet Tool
Hassle-free Endura filter
User/ Customer reviews
Pet owners are sold at the ability of this vacuum cleaner to pick large balls of fur and deliver superior performance than any other product in the market. Customers love how the swivel head adds, enabling the cleaning tool to get under the bed or furniture with ease. A few users have mentioned that the filter needs to be cleaned often, but it takes just 5 minutes so at this price, it should not be considered as a shortcoming.
Conclusion
Although a corded vacuum, the Dirt Devil Razor Pet Bagless comes with a really long cord that enables you to cover a large area without having to change the plug source. The performance is at par with the superior models, thus it offers great value for money.
---
This is a lightweight cordless vacuum cleaner that is powered by a 180W upgrade motor and features an incredibly powerful suction in max mode. It comes with two snap-on tools and can be easily converted into a handheld vacuum cleaner to such pet hair, debris, and dust from the sofa and car interiors. The sleek and lightweight design makes it easier to glide the tool under the bed, furniture, or appliances. We love the LED lights on the brush head that lets you see in the dark areas and clean every corner.
As this is a cordless device, it is powered by a 2200mAH rechargeable battery that provides 30 minutes of run time in the standard mode. At the max mode, it provides 15 minutes of constant run time. The HEPA filtration system is capable of filtering 99.97% of dust particles. Although the JASHEN cordless vacuum cleaner delivers a powerful performance, we are surprised by its quiet operation. It cleans without making a loud noise to disturbing pets or neighbors.
Product features and specifications
Measures 28 x 7.8 x 7.6 inches
Weighs 5.07 pounds
180W 12Kpa Powerful Suction
Ultra-quiet operation
Improved 2200mAh Li-ion Battery
built-in upgrade motor
Slim With LED Design
Effortless Multifloor Cleaning
Convenient Storage and Charge
Advanced HEPA & Sponge Filtration System
User/ customer reviews
According to customers, this vacuum cleaner can be used on almost any type of surface and it is good for sucking up all kinds of dust, dirt, and debris. Some people have praised it's incredible performance on carpets, especially the matted ones. Users find it easier to install the device and the LED lights come handy to see under the bed and furniture. Housewives find this cleaning tool a boon to help them complete the housework efficiently in less time.
Conclusion
If you are working with a budget but need a vacuum cleaner with the capacity of Dyson then we would recommend that you get this Shark IX141 cordless device. The motor is strong enough to give you good suction power and the battery provides a long run time. Overall, it gives you a high price to performance ratio.
---
This smart device takes vacuum cleaning to a new level with its amazing suction ability of 21 kPa. Powered by a strong 250W motor and solid 2200mAh battery, it provides a long run time of 40 minutes at standard mode and 20 minutes at max mode. The kit comes with three types of cleaning heads to allow you to clean over the sofa, carpet, table, and other difficult to access areas. Despite its strong suction power, the device is extremely quiet with a sound of 65 decibels only. The washable HEPA filter does a great job of trapping the tiniest dust particles to give you clean air to breathe.
We love the low profile head design that enables you to clean under the bed with ease. The flexible head angles allow easy movement to clean the difficult to reach corners. This versatile cleaning tool can be used on multiple floor types such as tiles, wooden floors, short-haired carpet, and so on. For medium and long hair carpets, the makers recommend applying max power and repeat vacuum motion.
Product features and specifications
Measures 30 x 5.9 x 13 inches
Weighs 4.8 pounds
21 KPa Super Suction
Upgraded Brushless Motor
3 distinctive cleaning headsets
HEPA Filtration System
Low profile heads
Flexible head angle
Impressive Suction Power
User/ Customer reviews
People are impressed with the four different cleaning tools that make it easier to clean different corners of the house. Most users have said that the battery life is good and does not take too long to get charged. Customers are also impressed with the suction power which is powerful enough to capture the tiniest of dirt specs. A few users have mentioned that this is slightly heavier than other models, but still operates very quietly.
Conclusion
If you are looking for a vacuum cleaner that has a sleek, stylish, and compact design then you must check out this cordless model by DreamTech. The long-lasting battery life, multiple features, washable filter, and great suction power makes it worth every penny.
---
The cordless convenience and lightweight makes this product one of the best vacuum cleaners for under bed. It is powered by a durable 2200mAh rechargeable Li-ion Battery and the two adjustable modes to help you achieve the speed you want. With a full battery charge, the vacuum cleaner can last for 40 mins on a low setting and 25 minutes of high speed. Made from ABS material, this cordless vacuum cleaner does not hurt your wrist and works best for long term use. Wireless design enables you to clean all corners of the house without having to worry about changing the power source.
Orfeld cordless vacuum cleaner runs on a multi-stage cyclone and 3-layer filtration system that can remove up to 99.97% of dust particles. The free-standing parking and flexible design allow you to fold the unit and store it when not in use. We love the 180-degree folding handle design that allows you to reach difficult areas and extract dirt from difficult areas like under the furniture, appliance, and bed. The LED headlights illuminate the dark spaces to let you do a thorough cleaning.
Product features and specifications
Measures 10.3 x 8.2 x 46.5 inches
Weighs 6.61 pounds
180° folding handle design
Upright charging base
Space-saving design
Easy storage
2-in-1 cordless stick vacuum
2-speed modes
Fully-sealed filtration system
User/ customer reviews
People who bought the product are happy with the ease of assembling the unit quickly by following simple instructions. Users are also happy with the LED charging indicator that shows the current battery condition. This model is also comparatively much quieter than the other units and most customers are sold on this point.
Conclusion
If you have a multiple-story house and need to climb up and down the stairs with your vacuum cleaner, then this product fits the bill just right. As this vacuum cleaner (learn more) can be used both as an upright and handheld tool, we consider this an ultimate cleaning system for the entire house.
---
Buying The Right Vacuum Cleaner For Under Bed: Buying Guide
If you or someone in the family has dust allergies or you simply can't tolerate dust and debris under your bed, furniture and appliance then you will need a smarter cleaning tool. The standard vacuum cleaners are not designed in a way to glide into the tough spots, inaccessible corners, or slim gaps. Here are a few important features you need to look in a vacuum cleaner designed to stretch out to the entire area under the bed:
Suction power
To pull out dust, pet dander, and debris hiding under the furniture and bed, you need a vacuum cleaner with really strong suction power. This refers to the speed at which the air is sucked in along with small and large particles of dust. The suction power depends on various things such as the numbers of filters, engine capacity, and proper assembly.
Low profile cleaner head
When looking for a vacuum cleaner that can get into narrow areas, search for terms like low-profile cleaner head. These head designs are specially designed to be sleek and slim so that they can lay flat and conveniently get to hard-to-reach areas such as under the bed or furniture to extract dust from there.
Lightweight design
This is a no-brainer, yet a very important factor when it comes to choosing a vacuum cleaner. The lightweight design makes it easier to move under the furniture or bed without hurting your wrist. Fortunately, most of the new models these days are lightweight to make them easier to carry up and down the stairs if needed.
180-degree movement
Another important feature you need to look for in a vacuum cleaner is its ability to move 180 degrees to cover a large area. This not only gives you more efficient cleaning in the hard to access areas but also reduces the pressure on your wrists.
LED headlights
Needless to say that the area under bed or furniture will be dark and it's not feasible to hold a flashlight while cleaning. The LED headlights come handy as they illuminate the dark areas so that you don't miss the dust or a ball of pet hair in the corner.
Cordless design
If you have to choose between corded and cordless, we would say a cordless is more convenient when cleaning the difficult to access areas. Although the kind of suction power you get in a corded vacuum is incomparable, a cordless design wins with its ease of use. However, make sure that the battery life is good and the model offers a reasonable run time.
Cost
Last, but not least is the budget you have to buy a vacuum cleaner. Although the more expensive models will come with more features, we would recommend that you don't opt for a device with features that you will not use anyway. Instead, look for a reasonably priced product that has the above-mentioned features.
Five Easy Hacks To Clean Under The Bed
If you have a traditional vacuum and can't buy a new one before the existing one dies out then consider a few easy alternatives that can help you clean under the bed with ease. There are a few simple tools you can use in the old school style to remove the legions of dust bunnies from under the bed.
Duster with a long handle
Most of us have those handy dusters with extendable handles to reach the difficult-to-access areas in the house, such as corners of the ceiling, over the wall hangings, and so on. We would suggest that you use them under the bed and let the microfibers do the wonder at attracting all dust bunnies on the surface.
Get a robot vacuum
These are small and portable devices that can take the stress out of cleaning tasks, especially in the hard to reach areas. You can program these devices to follow a certain path and they will obey your instructions. Some of these models can be easily controlled via a mobile app from anywhere in the house. The gadget comes really handy to cover the area under bed and clean efficiently.  See my previous reviews here.
Use various attachments
You may not have a vacuum cleaner designed to be sleek enough to glide under the bed or furniture, but you may have a few attachments that can help. Take out the kit and check the attachments to see which one works to reach the corners and under the bed to remove dust particles.
Make the best use of duct tape
The handle of a broom or duster can also be put into good use when cleaning under the bed with a simple hack. You just need to wrap the handle in duct tape and then roll it on the dust-laden surface or just push it back and forth to clean the area. Use it as a giant lint roller and it may take a few passes to get the area incredibly clean.
Blow away the dust bunnies
We suggest using a small fan or blow dryer to blow away all the dust bunnies from under the bed or other hard to access areas. With the strong gush of wind, they will be forced out of their hiding places. You can now use a broom, duster, or vacuum cleaner to remove the dust.
Related Questions
How often should you clean under the bed?
You don't need to use a vacuum cleaner under the bed every time you clean the bedroom. We would suggest that you do it at least once or maximum twice a month to ensure that those nasty items don't get the time to pile up. The more frequently you clean these areas, the cleaner your indoor air will be.
Do I need to prepare before cleaning under the bed?
Many people have the habit of hiding a lot of things under the bed. So, remove the old shoes, torn clothes, and other items to make space for cleaning. If possible, discard the unwanted items as they accumulate a lot of dust and make cleaning difficult.
How to avoid dust from accumulating under bed?
If you want to prevent dust from accumulating, we would suggest spreading an electrostatic cloth under the bed. Those who must use the area for storage may consider investing in large plastic boxes with wheels to move the items as per your needs. This will make cleaning easier and less time-consuming.
What's the best way to clean under bed containers?
To clean the under bed containers, we would recommend that you remove the detachable panels at least once a week and wipe with a damp cloth. Use a mixture of water and lemon juice to clean and disinfect the area completely. Wait for the surface to dry before you re-install the panels.
See Also:
Can You Clean A Mattress With A Carpet Cleaner
A Beginner's Guide To The Different Types Of Vacuum Cleaners
8 Best Vacuums For Above Ground Pool