4 Best Toasters for Gluten-Free Bread for 2023
Many people who have gluten allergies keep a separate toaster that has never come into contact with wheat. This reduces the risk of an allergic reaction and lets you have peace of mind while you enjoy your gluten-free breakfast.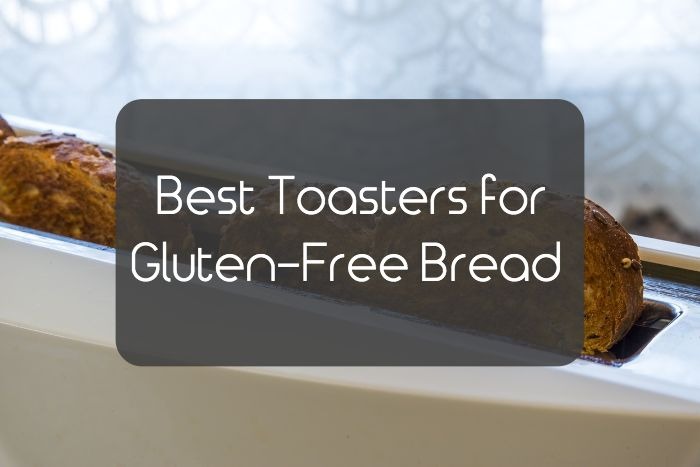 But even if you're not worried about cross-contamination, you still might want to get a special toaster for gluten-free bread. Wheatless breads are often thicker than their traditional counterparts; if you use a normal toaster, the inside won't cook all the way through.
A gluten-free toaster usually comes with a special setting that cooks thick pieces of bread slowly and at a lower temperature. Other features, like high-lift levers and crumb trays, help manage the unique features of thick and crumbly gluten-free loaves.
I've put together a list of 4 great options for gluten-free toasting. Out of all of them, I'd recommend the West Bend QuikServe Toaster (learn more). This toaster comes with both gluten-free and bagel settings, and you can choose from 7 different toasting temperatures. But what I really love is how the toast slides through onto a tray. With the QuikServe, you'll never have to scrape burnt bread off your toaster coils ever again
---
The VIMUKUN 2-Slice Toaster is a classic countertop toaster with a modern gluten-free twist. It's made from stainless steel and BPA-free materials with a shiny finish that looks great in your kitchen. It also comes with a gluten-free setting that will make sure your toast is warm all the way through.
Features:
Extra-wide slots for thick slices of bread
6 different browning options
Reheat setting for easy defrosting
Slide-out crumb tray for easy cleaning
High-lift lever to pull toast out
Gluten free and bagel settings
Cancel function for burning toast
Customer Impressions:
Customers appreciate that this toaster is wide enough for bagels, gluten-free bread, and other pastries. They also noted that the heat settings are very reliable and produce delicious results.
Conclusion:
You can't go wrong with this basic, functional, and stylish gluten-free toaster. The slots are wide enough for any type of bread, and the heat settings let you customize the quality of your toast. I like using the reheat function to defrost gluten-free bread from my freezer before toasting.
The GE 2-Slice Toaster is a countertop companion that will make your breakfast for years. This toaster features a classic design with extra-long bread slots and 6 reliable shade settings. It also comes with a gluten-free option that cooks thick bread to perfection.
Features:
Extra-wide and extra-long slots for large pieces of bread
6 different shade settings plus reheat option
Removable crumb tray for easy cleaning
High-lift lever helps remove toast
Gluten-free and bagel settings
Cancel function stops toasting immediately
Customer Impressions:
Customers have found that the GE Stainless Steel 2-Slice is convenient and easy to use. Many buyers noted that the toaster is the perfect size for their kitchen and looks great next to their other appliances.
Conclusion:
The GE Stainless Steel 2-Slice Toaster (see on Amazon) is an all-purpose device that delivers great toast every time. I love the sleek and modern look of this appliance, and the toast it makes is delicious. But my favorite feature is the extra-long toast slots; they can fit nearly any kind of bread I buy.
---
The CRUX Stainless Steel Toaster (see Amazon) is a trendy-looking toaster that delivers on its promises. This toaster can fit two pieces of standard bread, and it makes 6 different shades of crispy and delicious toast. It also comes with a cancel button and an auto-shutoff to keep your toast from burning.
Features:
Extra-wide slots for thick bread
6 different shade settings with a reheat option
Cancel button, anti-jam, and auto-shutoff features
Slide-out crumb tray for simple cleaning
High-lift lever to reach small pieces of bread
Gluten-free and bagel settings
Customer Impressions:
Customers love how this toaster looks on their counter, and they say the toast is reliably crispy and delicious. Some customers complained that the slots aren't long enough for non-standard bread.
Conclusion:
When I first saw this toaster, I immediately fell in love with the trendy copper lever. It also makes delicious toast, but I can't pretend that the slots are large enough for my bread-buying habits. However, if you love the appearance and don't care about the bread size, this toaster will serve you well.
---
The West Bend QuikServe Toaster has a unique design that you won't find anywhere else. This slim toaster has a single, extra-long slot that can fit multiple pieces of bread. Once your bread is done toasting, it doesn't pop out of the top; instead, it slides onto a convenient lower tray. It also toasts extremely quickly and has 7 different shade settings.
Features:
Single extra-long slot fits any type of bread
7 different heat settings allow complete shade control
Toast slides through onto a serving tray
Cancel button releases toast immediately
Gluten-free and bagel settings
Can deliver toast in 90 seconds or less
Customer Impressions:
Customers agree that the QuikServe design is a great alternative to the traditional pop-up lever. They also love customizing their toast with reliable electronic controls. For many customers, the best feature is how slim the toaster is and how well it fits on their countertop.
Conclusion:
I absolutely love this clever toaster design. Instead of two small slots, it comes with one large toast slot; I can either toast two small pieces of bread or one very large slice. I particularly love how the toast slides out at the end. Gluten-free bread always got stuck in my old toaster, but with the QuikServe (shop now), it's never been a problem.
---
How to Toast Gluten-Free Bread
When I first started eating gluten-free bread, I thought I was a master at making toast. But after my first burnt and crumbly breakfast, I knew I'd need to rethink my methods. Try these tricks to get amazing gluten-free toast every time.
Choosing Your Bread
Not all gluten-free breads are created equal. Some of them are perfect for toasting, but others will turn into a burnt and crumb-covered disaster.
I recommend looking for a loaf that's been sliced to a medium thickness. Extremely thick slices will still get caught in extra-wide toaster slots. Thin slices are ideal if you can find them, but I've found that most gluten-free bread won't hold together if you slice it too thin.
You should also consider whether the slices are too long to fit in your toaster. I've actually had to turn some bread slices sideways to get them to fit in a normal toaster – the slots are deeper than you think, but it still wasn't an ideal situation.
Next, avoid breads that have too many seeds, oats, or other loose grains. These little pieces will fall off into your toaster coils and start to burn over time. If the bread bag has seeds shaking around the bottom, it's not a good choice for an electric toaster.
Finally, find a bread that retains just a little bit of moisture. If you toast bread that's already too dry, it will disintegrate as soon as you touch it. You can also keep bread in the fridge to keep it from going stale.
Heat Settings
The general rule for gluten-free toast is that it needs to be cooked slowly at a low temperature. This will ensure that the toast is warm in the middle without being burnt on the outside.
Obviously, you should press the gluten-free option before you press the lever down. Every toaster's gluten-free setting is different, so keep an eye on your first piece of toast.
Next, select your heat setting. I like to start with a 2 or a 3. Then, I'll change it based on how my first piece of toast comes out. Thicker pieces of bread might need to be cooked on a higher setting.
Remember, a 2 on the gluten-free setting won't be as hot as a 2 on a normal setting. Experiment with your toaster until you find a combination that works for you.
Related Questions
Can you put gluten-free bread in a normal toaster?
Gluten-free toast can be made in a normal toaster, but you may want toast it twice on a low-heat setting. If you have a gluten allergy, avoid using a toaster that has also been used to cook wheat products.
How do you toast gluten-free bread without a toaster?
The best way to make toast without a toaster is to place the bread in your oven. Preheat the oven to 350 degrees. Place the bread directly on the rack. Flip the bread after 1 minute, and toast until you have the desired color.
Related Article:
7 Easy Tips On How To Make Your Kitchen Clean
3 Best Hand Mixers For Macarons
7 Best Stick Blenders For Soap Making