Jute rugs add an elegant touch to any home due to their natural attributes. They enhance the interior of a home and take it to the next level. Also available in burlap variations, these rugs are an interesting addition to any room or home thanks to the natural fibers that make them eco-friendly products as well as unique decor.
As of late, jute rugs have increased in popularity, and they are much sought after by homeowners who prefer a natural and earthy feel to their indoor environment. Made from soft natural fibers, they have a gold-like luster that makes them extremely appealing.
We love that these jute rugs can be designed as well as dyed in a plethora of patterns and shapes to meet the different tastes and preferences of various homemakers. Despite the craze for these rugs, there is one thing you must consider before buying one: cleaning them can be a challenge.
Jute rugs require significant maintenance, and you will need to invest in a good-quality vacuum cleaner. However, if you try looking for one on the market that's well suited for this type of cleaning, you can expect to be a bit confused with the influx of options available. To make your task easier, our team has reviewed and compared more than a dozen vacuum cleaners available online that are perfect for cleaning jute rugs.
After careful review and analysis, we have created a list of handpicked products. Read on to find the list containing complete reviews of each specific product. If you are in a hurry to order, we simply suggest that you go with our editor's pick: the Shark NV356E S2 Navigator Lift-Away Professional upright vacuum. Portable, powerful, lightweight, and versatile—this product works great for deep cleaning carpets and also works well on bare floors.
The first product on our list is the Shark NV356E S2 Navigator professional upright vacuum from Shark. The design of this vacuum lets you conveniently lift away all dust and debris from jute rugs and carpets. It has a dust cup capacity of 2.2 quarts, allowing you to clean without having to empty the cup every time.
For areas that are hard to reach, you simply need to press a button to utilize the hose and any attachments to easily clean those tough-to-access areas. The vacuum comes with anti-allergen seal technology plus a HEPA filter that is capable of effectively trapping 99.9% of the dust and allergens snagged by the vacuum cleaner.
Besides being powerful, this Shark Navigator is also lightweight, so you can easily carry it from one location to another. At just 13.7 lbs., the Shark NV356E is one of the most versatile upright vacuums you can find. Please note, though, that it does not include the "Hard Floor Hero" attachment.
Product features and specifications
Lightweight

HEPA filter to trap dust and allergens
Anti-allergen complete seal
Sharkninja 5-year limited warranty
User/Customer Reviews
Those who have used several other vacuums before have said that this Shark product outperforms its competitors. Some people have also mentioned that despite being lightweight, it picks up all fur, dust, and dirt without burning the motor and still costs less than rival products. A few customers have warned that the 5-year warranty was not as expected, though.
Conclusion
The Shark NV356E S2 Navigator Lift-Away Professional upright vacuum has a good, lightweight design that makes it easy even for seniors or less physically able individuals to use it. The vacuum works like a charm for those who live with pets or in a home that has jute rugs and carpets. Overall, we feel that this product offers you a good value for the money.
---
Next on our list of best vacuums for jute rugs is this upright vacuum carpet cleaner from Kenmore. The lift-up design gives users the freedom to list the unit with ease for cleaning stairs and other elevated areas. There are also easy-to-use attachments as well as quick-release sections of the vacuum to stretch out the hose and reach any difficult areas.
We were impressed with the no-touch bag technology that eliminates the frustration of getting any of the sucked-up dirt and debris on your hands when trying to empty out most full vacuums. You can get rid of all that mess with just a press of a button. The PowerFlow bag chamber gives you a strong suction capacity even as the bag fills.
With a weight of 14 lbs. and the efficiency of swivel steering, this lightweight vacuum cleaner is easy to maneuver indoors, even if you have a multi-story home. There is also a height adjustment feature that enables maximum airflow and cleaning efficiency, along with LED headlights, for a cleaner home.
Product features and specifications
Weight: 14 lbs.

Height adjustments
Optimal airflow
Lift-Up technology for handheld freedom
"No-Touch Bag" technology
PowerFlow bag chamber
Lightweight and maneuverable
High-Grade HEPA filtration
5-year manufacturer warranty
User/Customer Reviews
Those who have used the product have compared it to products like Dyson and said that it's a huge improvement over the rival's old model. People love how lightweight and easily maneuvered this unit is, and they say that it works without making any screeching noises either. A few customers have warned that the price is a bit on the higher side, and they wished the cord auto-retracted or had better storage to compensate for the price point.
Conclusion
The Kenmore BU4022 upright vacuum cleaner (see Amazon) brings first-class power, light weight, and maneuverability together all into one amazing unit. You can use this product straight out of the box and get to cleaning in just 10 minutes. With easy operation and self-sealing bags, you get a no-mess cleaning each and every time. Overall, we feel that although it's a little expensive, this is an investment worth considering.
---
Next, this soft carpet upright vacuum cleaner by Soniclean secures the third position on our list. It was developed with the help of one of the leading manufacturers of premium carpets; however, we did not let that affect our unbiased review. The product is designed for easy cleaning on all styles of soft carpets having about 1 inch or less for their pile lengths, so it's perfect for the jute rugs in your home.
This is the sole available vacuum cleaner that uses patented Sonic Carpet Cleaning Technology. It has a sonic bar at the bottom that produces about 200 vibrations of high-frequency sonic pulses each second. This helps in dislodging the dirt deeply embedded in your carpets and rugs without resorting to the use of aggressive beater bars or other attachments that may damage your flooring.
We were impressed to learn about the ultra-soft bristles on the vacuum's brush roll, designed specifically to be extra gentle when deep-cleaning your home's soft carpets. The vacuum also features a patented "EZ-Push" vent system that's highly adjustable and a lightweight design that enables it to easily be moved across any type of rugs or flooring.
Product features and specifications
Weight: 10.5 lbs.

Digitally-controlled motor
Advanced jam protection
Adjustable vent system
Sonic Cleaning Technology
Patented "EZ-Push" adjustable vent system
Hospital-grade H13 HEPA filtration system
User/Customer Reviews
People who have ultra-soft carpets, as well as jute rugs at home, have said that this vacuum cleaner works like magic to pick up all the dirt and debris their pets and children leave behind. Some users have also mentioned that this unit is solid and well-built to the extent that you can clearly tell the difference after a few days of use. A few customers have warned that it is harder to glide over any hard flooring, however.
Conclusion
The Soniclean soft carpet vacuum cleaner is a high-quality vacuum specifically designed to be gentle on delicate flooring, making it perfect for regular and damage-free use on your jute rugs. Although its price is a bit high, the work and development that went into this vacuum make it well worth the financial investment. We feel that this is certainly a great option for those who only want the best for their rugs.
---
In the fourth position is this upright vacuum cleaner from Oreck, featuring a slim swivel design. We love this product because it enables you to turn the vacuum cleaner without much effort and stays incredibly flat so you can reach even those hard-to-access corners underneath your furniture.
With a weight of less than 8 pounds, this Oreck Magnesium RS vacuum cleaner is light enough even for seniors or those with physical handicaps to use it for cleaning their jute rugs and carpets. It barely weighs more than a gallon of milk! This Oreck vacuum also includes a 5-layer HEPA filter that captures 99.97% of the vacuumed dust particles and seals everything in for when you're ready to discard the debris.
This vacuum cleaner additionally comes with a belt that protects the motor by preventing the brush roll from getting jammed due to any foreign objects accidentally sucked up while cleaning. From carpet to hard floors, this unit works great for cleaning all corners of your home, including your delicate but rather messy jute rugs. It can also automatically adjust to the highest carpet pile without the need for any manual adjustments.
Product features and specifications
Measurements: 12in. x 10.5in. x 47.5in.
Weight: 7.7 lbs.
Slim swivel design
5-layer HEPA filter
HEPA filter bag
Auto shut-off
Versatile and highly effective
User/Customer Reviews
Users have been happy that the product comes well-packaged and ready to use with very little assembly required to get started. People have also mentioned that the suction capacity is excellent, and it picks anything from dirt and fur to crumbs on just the first pass. A few customers have warned that there is a useless cord clip at the back that "looks like a piece of junk," but other than that, there is nothing to worry about.
Conclusion
The Oreck Magnesium RS swivel-steering upright vacuum cleaner is a solid and well-built product with powerful suction ability to deliver a first-class cleaning performance. It gets the job done with great efficiency without giving you any body aches. With a solid warranty to back it up, it is certainly one of the best products you will be glad that you purchased.
---
Yet another model from the Kenmore family secures its place in our list of vacuums for safe use on jute rugs. This vacuum's design features a lift-up canister, making it easy to simply press a button to quickly change it to a lightweight pod meant for stairs and cleaning up high.
The product comes with a hair eliminator nozzle, and the brush roll automatically removes hair from the itself to keep it ready for cleaning without any hassle. At just 14 lbs., the unit is lightweight and highly maneuverable with its swivel steering, ensuring that no dirt is left behind.
The Kenmore Intuition also features "No-Touch" bag technology to do away with the dirty process of emptying and cleaning dust cups. You can simply clean out the vacuum and toss away debris with a single press of a button. The vacuum's self-sealing bags help in keeping the air in your home dust-free as you clean. There is also an advanced HEPA filter system that removes 99.97% of dust inside your vacuum, too.

Product features and specifications
Measurements: 33.3in. x 12in. x 11.25in.
Weight: 14 lbs.
Pet HandiMate attachment
Flawless floor transitions
Powerful 2-motor system
Pet-friendly design
PowerFlow Technology
User/Customer Reviews
Most people love the lightweight design of this product and the fact that dust does not get into the air while using it. Some users have said that it is better than the other models they have used in terms of low operating noise. A few customers have even suggested that if you have a multi-story home with stairs, you should definitely consider getting this vacuum cleaner.
Conclusion
This is a powerful yet lightweight vacuum cleaner with the ability to clean your house like a pro without any mess as the bags allow no dust to escape. It has a neat design, and the suction power is a huge plus. Overall, this is a good deal.
---
BISSELL is a well-known brand in the world of vacuum cleaners, and it has a legacy of trust and experience that spans over 140 years. Each product you purchase from the brand supports the BISSELL Pet Foundation and saves homeless pets, too.
This vacuum cleaner comes with an extra multi-surface brush roll as well as an extra filter for perfectly cleaning even the hard-to-reach areas. This vacuum makes the cleaning process take much less time and can be safely used on multiple surfaces including sealed wood floors, floor mats, laminate, linoleum, area rugs, jute rugs, and more.
Equipped with two-tank technology, this vacuum cleaner keeps the clean water and fresh formula separate from dry debris and dirty water when using its mopping features. Its dual-action, multi-surface brush roll also rotates at a speed of 3000 RMP while mopping or when picking up debris with the primary vacuum function.
Product features and specifications
Measurements: 10.5in. x 12in. x 46in.
Weight: 11.02 lbs.
Two-tank technology
Dual-action brush roll
Vacuum and mop at the same time
User/Customer Reviews
People with kids and pets have gone as far as to call this unit a "magical cleaner" that removes all types of dirt and debris from the floor. Users have also mentioned that this product does a good job at removing caked stains from tiles and grout flooring as well. A few customers have warned that this vacuum cleaner leaves streaks while cleaning, but if your top focus is to use this unit for cleaning your jute rugs, you should have no problems at all.
Conclusion
The BISSELL CrossWave floor and area rug cleaner is an all-in-one, multi-surface floor cleaner that allows you to vacuum and mop floors simultaneously. It can be safely used on different types of floors and help you get rid of stains, too. Overall, we feel that this vacuum cleaner is one of the best you can find on the market.
---
The Shark ZS362 APEX corded stick vacuum houses a dual-brush roll system that is designed to deep-clean carpets and jute rugs. The self-cleaning brush roll efficiently picks up any pet hair to ensure there is no more hair wrap like with other models. A powerful tool, it works perfectly for floors, carpets, and areas like stairs as well as on plush surfaces like furniture.
This is a lightweight, handheld stick vacuum that can easily transform into a lightweight and portable handheld vacuum cleaner for stairs and furniture. It features an advanced swivel steering system that enables you to easily maneuver the unit into tight spaces.
There are also powerful LED headlights on the vacuum cleaner and nozzle to ensure that no debris stays hidden around your home. However, you must take care to never place the filters in a dishwasher or washing machine. They will simply need to be replaced. Additionally, we were happy to learn that the manufacturer stands behind the product with a 5-year limited warranty, too.
Product features and specifications
Measurements: 10.2in. x 9.8in. x 46.4in.
Weight: 10 lbs.
DuoClean dual brush rolls
Converts to a hand vacuum
LED headlights
Advanced swivel steering
User/Customer Reviews
Most people have said that Shark ZS362 may not have the most impressive technological designs, but it still has some of the best cleaning engineering involved. Some users have also confirmed that this product is easy to maneuver and also easy to use. A few customers have warned that the vacuum cleaner is on the heavier side, though.
Conclusion
If you are looking for an ultra-lightweight vacuum cleaner, the Shark ZS362 APEX corded stick vacuum may not be the product for you. However, if you are looking for an excellent blend of engineering and technology, this product is certainly worth considering. Overall, we feel that it has all that is needed to be the best vacuum for regularly cleaning a jute rug.
---
Last but not least is this Miele Complete C3 Marin Canister HEPA canister vacuum cleaner that comes with 16 genuine AirClean filter bags, one HEPA AirClean filter (AH-50), and four pre-motor protection Filters. With its 1,200-Watt vortex motor, this Miele vacuum cleaner is lightweight, quiet, and powerful.
Made in Germany, this Miele canister vacuum cleaner is built to last and has an average lifespan of 20 years. With its AirClean sealed system construction, this unit works perfectly for allergy or asthma sufferers. It also includes a Miele SEB-236 powerhead which works great for deep cleaning and restoring crushed carpet.
This vacuum cleaner does a good job at picking up huge amounts of pet hair from carpets or rugs. It is designed to go low under furniture and any other difficult-to-reach places. It can be kept tight up against kick jams, around the chair legs, and along baseboards. It also comes with a 90-degree twisting rotation to help it reach those tough areas with ease.
Product features and specifications
Measurements: 20in. x 12in. x 10in.
Weight: 23 lbs.
Telescopic stainless-steel wand
Genuine AH50 HEPA Filter
Performance pack: 16 type-GN AirClean genuine filter bags
Miele SEB-236 powerhead
Lightweight, quiet, and powerful
User/Customer Reviews
People love the fact that the floor head sweeps like dream over the floor and underneath furniture to give you a squeaky-clean home in no time. Users find the HEPA filter bag extremely easy to change as well. Several customers have warned about a flaw—that the powerhead stops working after a few days—but you can contact the service center with ease to get it replaced.
Conclusion
The Miele Complete C3 Marin Canister HEPA canister vacuum cleaner is a good quality device, but it comes with a flaw that can be easily rectified. It is one of the quietest vacuums available, which is a huge plus. At this price, you'll be getting about the level of performance you would expect. Overall, we feel that this unit offers a good value for the money.
---
Things to Consider When Looking for the Best Vacuum for Jute Rugs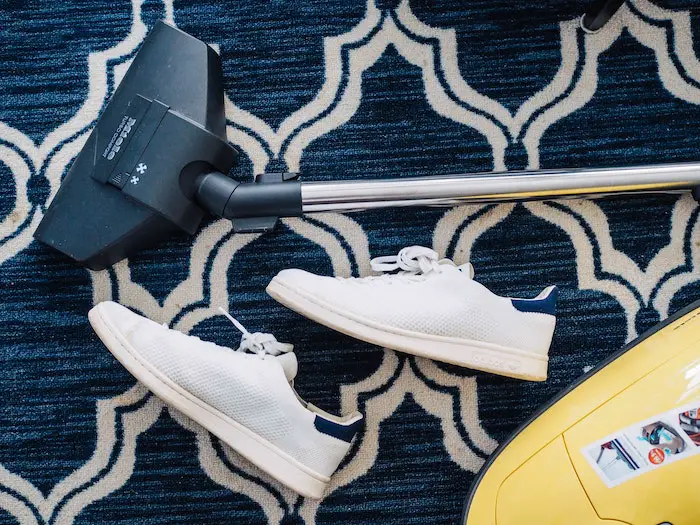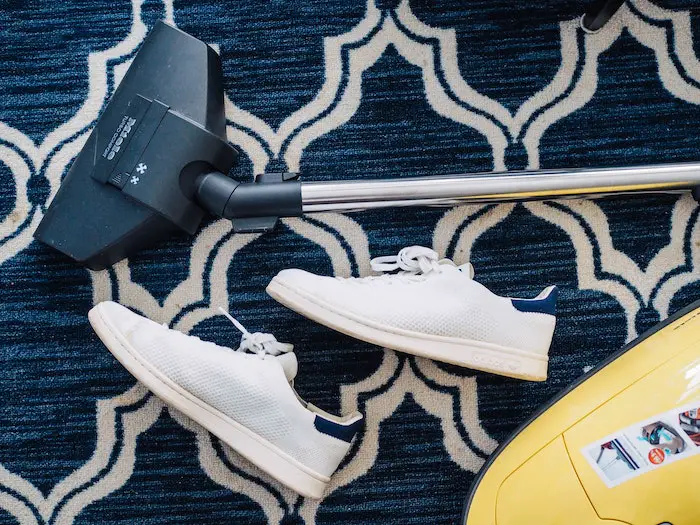 Although all of the products reviewed above are handpicked with great care to deliver the best performance for your home, you may still need to dig a bit deeper to zero on one that works best specifically for you. To help you out, we have created a list of a few things to consider.
Weight
Make sure the vacuum is lightweight so that you can easily lift it and it doesn't press down too hard on the floor below. A heavy vacuum will be difficult to drag over your rug without possibly snagging or causing any damage. Find ones that are light and convenient to use so they'll be sufficient even if you have to take them upstairs or clean a carpeted staircase.
Tank Capacity
We suggest that you choose a vacuum cleaner that comes with a decent tank capacity based on your floors and jute rug sizes. With a small tank, you may not be able to clean all rugs without empty out the dust and debris a lot, so it's essential to consider these factors.
Cordless or Corded
Both types have their own advantages and disadvantages, so you will need to weigh those pros and cons and make your final choice based on your personal needs and preferences. For example, a powerful corded vacuum can bring about a huge difference in your cleaning experience, but you will also have to handle the cables as you clean. A cordless vacuum, on the other hand, liberates you from having to deal with any cords, but you instead run the risk of running out of power or losing suction due to low battery amounts.  
Swiveling Head
This is another convenient feature worth considering if you are looking to buy the best vacuum for your carpets or rugs. With a swivel head, you can save the trouble of bending to clean under a sofa, table, or bed, especially when your rug is placed under furniture. A swiveling head also enables you to access the cramped areas between furniture. It's worth knowing that a swivel head comes in handy and is more efficient than a normal unit for cleaning.
Tips to Maintain Your Vacuum Cleaner and Jute Rug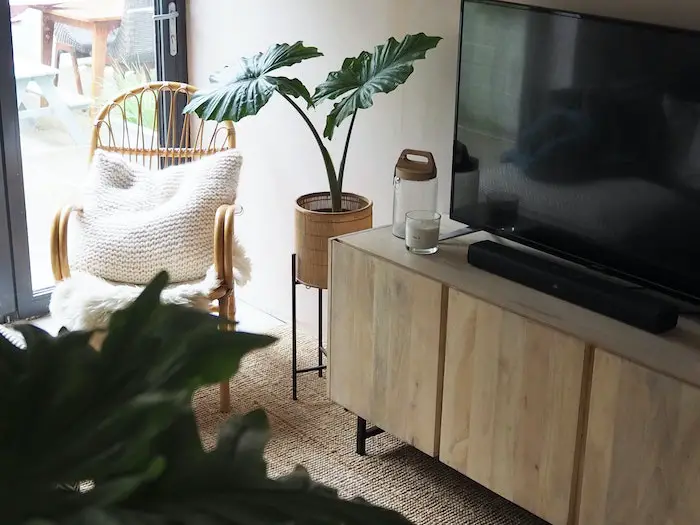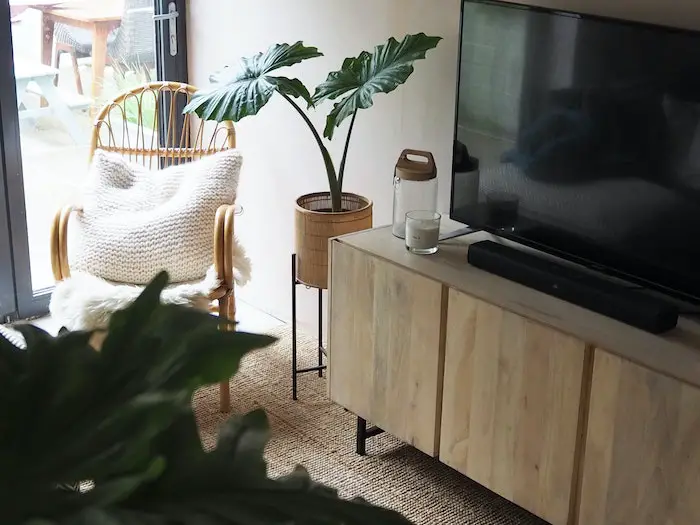 Here are a few tips to help you when it comes to maintaining good care of both your vacuum cleaner as well as your jute rugs.
You must remember to remove all the dust from your vacuum's bin before vacuuming your jute rug to make sure it picks up as much as possible without any interference from a full dust cup.
Never leave the vacuum cleaner unattended while operating it and having the power on. Always have someone standing nearby if you answer a call or doorbell because leaving a vacuum cleaner running can cause a number of problems, but turning it off and propping it up is not always a guarantee that the vacuum won't tip over and damage something or itself.
Use a damp cloth to wipe any liquid spills up from your jute rug immediately. You must also avoid using harsh chemicals like ammonia or bleach on the rugs' natural fibers.
Change out your vacuum's bag often to ensure optimal suction and cleaning of your rugs.
If needing to rinse your rug, let the jute rug dry completely and naturally in shade. Avoid exposure to direct sunlight to avoid discoloration or causing it to become brittle.
Deep steam cleaning is the best way to clean a jute rug, and this also preserve its beauty in the long run.
Related Questions
Are jute rugs a good option with pets in the home?
It depends. If you have pets like dogs and cats in the house, jute rugs are an eco-friendly alternative to other rug options as they are made from natural fibers. They do not contain any harmful chemicals, so they are perfect for pets. However, you will need to clean the rug properly and vacuum it regularly and thoroughly to keep fur, dirt, and debris away. Additionally, if your pet makes a mess on the rug, it will be significantly harder to clean up compared to more durable, safe-to-toss-in-the-washer rugs.
How often should I vacuum and clean my jute rug?
As discussed above, it is important to vacuum clean the jute rug regularly. We suggest doing so ideally about once a week or at least twice a month.
What type of vacuum cleaners works best on jute rugs?
You can use nearly any different model of vacuum cleaner on your jute rugs, such as a handheld vacuum, an upright vacuums, or even robotic vacuums. Most of these varieties come with attachments that can be used to remove stubborn stains as well.
Do you need to place a pad under a jute rug?
Although it is not mandatory, we suggest that you get a decent quality pad to place under your jute rugs. As these rugs are made from natural fibers, they can lose some of those fibers due to friction against the floor. You can avoid this deterioration and shedding with the help of a good quality pad.
See Also:
15 Best Etsy Rug Shops You'll Fall In Love With
Can You Steam Clean A Rug On Hardwood Floors?
5 Best Rug Pads For Tile Floors
3 Best Washing Machines For Horse Rugs